New Age Islam News Bureau
10 Jun 2013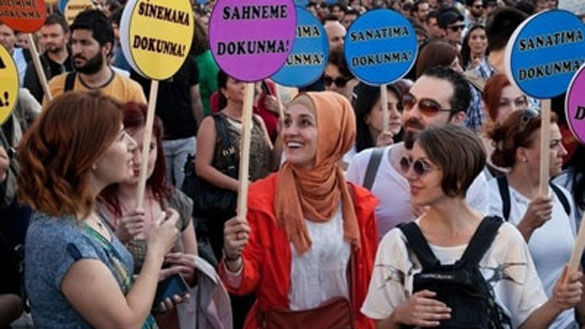 Young female Turks, many of them students, lawyers, teachers and office workers, easily account for half of the thousands of demonstrators in Gezi Park and nearby Taksim Square. (AFP)
---------
• Girl Raped After Kidnap Forcefully Converted To Islam in Bangladesh
• Dropped Charges in Deadly Rape of a Teen Provoke Fury in South Africa
• Displaced Malians Turn to Survival Sex
• Arab Girls Who Do National Service Won't Find Husbands, Says Arab MK
• Rwanda Activists Say Sexual Corruption a Threat to Economic Prospects
• French, German Women Face Court for Tunisia Topless Protest
• Summer Education Clubs for Girls Soon In Saudi Arabia
• Explore New Job Markets Abroad For Bangladeshi Women
• Afghan Group Accuses Police of Significant Violence against Women
• Young, Urban Women: The Face of Turkey's Protest Movement
• My father's wedding: Prayer leader beaten up by children of 50-year-old newlywed
Compiled by New Age Islam News Bureau
URL: https://newageislam.com/islam-women-feminism/teen-egyptian-girl-dies-while/d/11991
--------------
Teen Egyptian Girl Dies While Being Circumcised
10 June 2013
A 13-year-old Egyptian girl has died while being circumcised at a private village in the Daqahliya governorate north east of Cairo, Egyptian media reported on Sunday.
"We left our daughter with the doctor and the nurse. 15 minutes later, the nurse took my daughter out of the operation room to a nearby room, along with three other girls whom the doctor was circumcising," Mohammed Ibrahim, a farmer, told al-Masry al-Youm.
"I waited half an hour, hoping that my daughter would wake up, but, unfortunately, unlike the rest of the girls, she did not," he said.
The doctor who circumcised Suhair al-Bata'a had previously circumcised the victim's elder sister two years ago.
"I want nothing but to hold the doctor accountable and to have justice for my daughter," the victim's mother, Hasanat Naeem Fawzy, told the newspaper.
The police summoned the doctor and ordered an autopsy to find out the cause of the young girl's death.
A health inspector report explained the cause of the death was due to "a sharp drop in blood pressure resulting from shock trauma," the family's lawyer, Abdel Salam, told al-Masry al-Youm.
Egypt's National Council for Women condemned the deadly incident of female circumcision as a criminal act that reflects "extreme savagery," calling on the government to investigate the issue and punish the culprits.
UNICEF Egypt has also condemned the incident, saying female circumcision has no justification, medical or religious.
Abdel Wahab Suleiman, undersecretary of the Ministry of Health in Daqahliya, who said that the Health Directorate had not yet been notified of the incident, described Female Genital Mutilation (FGM) as against the law.
In 1996, Egypt criminalized FGM; however, many families still bring their daughters to be illegally circumcised. In 2009, Egyptian authorities arrested a man for the first time since FGM's ban was introduced. The man was arrested for his illegal circumcision of an eleven-year-old girl in the governorate of Minya, 600 kilometres south of Cairo.
http://english.alarabiya.net/en/News/middle-east/2013/06/10/Egyptian-girl-dies-while-being-circumcised.html
--------------
Girl Raped After Kidnap Forcefully Converted To Islam in Bangladesh
June 10 2013
Police are yet to arrest the five people accused of kidnapping, raping and forcefully converting a 13-year-old girl to Islam in Tongi, even though two months have gone by since the abduction.
Following a phone call the girl was able to make to her mother whilst in captivity, law enforcers rescued her on May 30, 55 days after the abduction, from a remote house in Konabari of Cox's Bazar's Chakaria Upazila.
She told a magistrate later that her neighbour Manik, his younger brother Javed, cousins Faruk and Kaiser, and uncle Harun-ur-Rashid abducted her when she was returning home from school on April 6, said Sub-Inspector Abdul Aziz of Tongi Police Station.
Aziz said, "Manik 'married' her calling in a kazi [marriage registrar]. She was forced to sign a paper where she was renamed Ayesha."
The five along with Harun's wife had leased two rooms next to the victim's home one and a half months before the kidnap and they disappeared on April 6, said neighbours.
They said the youths called themselves fish traders but Sub-Inspector Aziz claimed that they were members of a gang of thieves.
Officer-in-Charge Ranjit Barua of Chakaria Police Station in Cox's Bazar said they had found only the girl and Manik's ailing mother in the remote house she was confined to and that was why they could not arrest anyone.
The girl secured A+ in the recent Primary Education Terminal Exams.
http://www.thedailystar.net/beta2/news/girl-forcefully-converted-to-islam-raped/
--------------
Dropped Charges in Deadly Rape of a Teen Provoke Fury in South Africa
By LYDIA POLGREEN
Jun 10, 2013
BREDASDORP, South Africa — As Anene Booysen lay dying, she whispered to her medics the name of the man who had assaulted her and left her lying in the dirt on a construction site, her bowels spilling from her abdomen.
"Zwai," Ms. Booysen, 17, told at least two people before she died. Zwai — the nickname of a close friend, Jonathan Davids — and his friends had done this to her, she said.
The next day, the police arrested Mr. Davids, 22, and another man, charging them with rape and murder.
The attack, in February, produced such revulsion and outrage that it quickly became a national symbol of the epidemic of violence against women in South Africa, much as other recent cases have forced national soul-searching on sexual violence plaguing India, Egypt and Brazil.
With the swift arrest of two suspects, hopes were high that the attack on Ms. Booysen would be prosecuted quickly. But just as the trial was about to start last week, the prosecutors made a dramatic announcement. Despite Ms. Booysen's dying declaration, they did not have enough evidence to prosecute Mr. Davids, and he was set free.
"We understand the sense of shock and outrage that was induced by the incident," Eric Ntabazalila, a spokesman for the National Prosecuting Authority, told reporters. "However, as the prosecution we can only prosecute successfully on sufficient evidence."
The trial of the second suspect began Monday, but the failure of prosecutors to make a case against Mr. Davids has shaken the public's faith in South Africa's ability to address its rape problem and hold perpetrators accountable.
"Everybody is terribly disappointed and feels incredibly let down," said Rachel Jewkes, an expert on violence against women at the South African Medical Research Council. "The question is, did the police really go all out to investigate?"
About 64,000 cases of sexual assault are reported here each year, and South Africa has one of the highest rates of no partner rapes in the world. But studies show that number vastly understates the epidemic, suggesting that hundreds of thousands of cases are not reported. Of those that are, fewer than 10 percent result in convictions, a product, analysts say, of shoddy police work and ineffective prosecution by a criminal justice system that has largely failed to take crime against women seriously.
The dismal conviction rate leaves victims feeling helpless, Ms. Jewkes said.
Many women wonder why they should bother to report," she said.
Like many others in Bredasdorp, a dusty, remote farming town about 100 miles southeast of Cape Town, Ms. Booysen had a difficult childhood. Her mother died when she was young, and she was passed between relatives and bounced in and out of foster homes, relatives and neighbours said.
She dropped out of high school, and like many young people here, where jobs are hard to come by but alcohol and drugs are omnipresent, she spent her days idly drinking cheap beer and wine with friends. The day she was attacked was no different.
On the afternoon of Feb. 1, Ms. Booysen was at a neighborhood bar, witnesses said. So was Mr. Davids, though the two had not arrived together, and were not seen drinking together, the witnesses said. Another young man, Johannes Kana, was also there.
Early the next morning, Ms. Booysen was found at a construction site near her house, bleeding and near death. She was taken to the hospital but died that day.
What happened after she left the bar is disputed. In an interview, Mr. Davids said that he saw Ms. Booysen at the bar, but did not drink with her, did not know the people she was with and did not see when she left. He said he left the bar to continue drinking at a friend's house. Mr. Kana admitted raping Ms. Booysen, according to the government, but denies killing her. He has been charged with rape and murder and is now the only suspect on trial.
The National Prosecuting Authority did not respond to multiple requests for comment in the case.
Ms. Booysen's rape and murder brought a furious response. The singer Annie Lennox led a protest march in Cape Town. A radio station played a chime every four minutes as a reminder to listeners of how often a woman is raped in South Africa. Politicians gave speeches expressing shock and promising tough new actions to protect women and girls from predators.
"The whole nation is outraged at this extreme violation and destruction of a young human life," President Jacob Zuma said in a statement. "This act is shocking, cruel and most inhumane. It has no place in our country. We must never allow ourselves to get used to these acts of base criminality to our women and children."
Despite the protestations of politicians, such crimes are neither new nor uncommon. A 2009 study by the Medical Research Council found that one-quarter of men admitted to raping someone, and nearly half of those men said they had raped more than once.
One research study on a small town in Mpumalanga Province examined about 250 reported rapes from 2005 to 2007. More than half of the victims were minors. Arrests were made in 60 percent of the cases, but more than two-thirds of those cases were dropped and never came to trial. Ultimately only nine of the accused were convicted, and only seven received jail sentences. Several men were suspects in five or six different rape cases. None of those cases ever made it to court, the study found.
Analysts point to the history and culture of South Africa, a deeply patriarchal society that devalues crimes against women and where 19 years after the end of apartheid the criminal justice system is still struggling to transform itself from a security force aimed mainly at protecting the white minority into a professional crime-fighting organization.
The police do not take rape allegations seriously and fail to perform basic detective work, like collecting forensic evidence, said Lisa Vetten, a researcher who worked on the Mpumalanga study. Victims are intimidated by perpetrators, who are quickly released on bail. Prosecutors shy away from taking tough cases, especially those where physical evidence is not available.
In some cases, appellate court judges set aside guilty verdicts because they simply do not believe the victim. Two young men in Limpopo Province were convicted of raping a 17-year-old girl in the bushes near her home in 2007. The girl had been walking to a public telephone when the two men waylaid her, forced her into the bushes and took turns assaulting her, according to the appeals court record.
But in 2012, an appellate court judge set aside the conviction because her account of the assault "has some defects which cannot be ignored." The victim had failed to run away or scream to passers-by, the judge said. She made up the story about being raped, the judge reasoned, to explain the bleeding from the loss of her virginity.
"It is fascinating that a judge would believe that a girl would wish to have her first sexual experience with two men she never met in a bush," Ms. Vetten said. "The judge simply decided, without any real evidence to support it, that she made it up."
As to Ms. Booysen's dying testimony pointing to Mr. Davids, the prosecution has offered no further public explanation as to why the case against him was dropped.
Mr. Davids, glassy-eyed and reeking of alcohol in the middle of a recent afternoon, was smoking marijuana and fuming about the case. He seemed to regret what happened to Ms. Booysen, who he said was "like a sister" to him, and insisted he had nothing to do with the crime.
What was bothering him was that he spent four months in jail as a suspect, which he found devastating.
"I have nothing left inside me to feel," he said. "My pain is so deep I can't go any further."
Mukelwa Hlatshwayo contributed reporting.
http://www.nytimes.com/2013/06/09/world/africa/rape-and-murder-stirs-fury-in-south-africa.html?pagewanted=print
-----------
Displaced Malians Turn to Survival Sex
June 10 2013
Sévaré/Bamako — More displaced women and girls - some as young as 13 - are turning to sex work to get by in Mali where 14 months of occupation and conflict have forced 475,000 people from their homes in the north, according to NGOs.
NGO Danaya So (House of Trust in the local language Bambara), has registered 3,800 sex workers in central Mali's towns of Mopti and Sévaré, as well as in Bamako, but the real number is much higher, says its director, Kadidjatou Coulibaly.
The UN Children's Fund (UNICEF) has registered 41 girls in Mopti aged 15-18 who have turned to survival sex. "Of the 41 we registered, almost all were without their parents or without their husbands who they said had disappeared or been killed during the fighting," said Aminata Dicko Sangaré, UNICEF's protection project administrator in Mali.
Coulibaly visits the brothels and houses where young women work, three times a week, trying to raise awareness of the health risks associated with sex work and to find women and girls alternative incomes. Most of them are single young women living away from their families.
She said her workload soared following the Islamist occupation in April 2012, and has remained high.
"I first heard about the rebels raping women in May, a couple of weeks after they occupied Gao, Kidal and Timbuktu almost immediately after we received the first group of young women."
Over the past year the number of women living in 'maisons closes' or brothels in Sévaré and Mopti has doubled, while in the street, in bars and some hotels, more sex workers are visible, said Coulibaly.
At the end of 2012, staff at the local health clinic in Sévaré said HIV/AIDS was on the increase among blood donors, according to Sylvia Mollet, who works with the Global Fund to fight AIDS, Tuberculosis and Malaria in Bamako.
Maimouna's experience
In April 2012, Maimouna*, 17, fled 570km south to Sévaré in central Mali, a week after Tuareg rebels - the National Movement for the Liberation of Azawad (MNLA) - and then Islamists, occupied her home town of Gao.
"I came here and there were so many men, mainly Malian soldiers who had fled when the rebels attacked the towns in the north," Maimouna said. Soon they became her clients, she said.
She now takes 3-5 clients a night to pay for her food, clothing and rent; on average she earns US$2 a night. "I do not want to do this, but I have no choice. It is really bad but this is the only way for me to get money at the moment," she told IRIN.
Single females without their parents and who have nowhere to stay are the most vulnerable, according to Danaya So. The conflict has separated many families, said the NGO's project coordinator Marie Denou in Bamako, with husbands working in one town and wives and children in another, leaving them vulnerable.
Many unaccompanied minors may not have told their parents how they will support themselves, and cannot expect any support from their family, said Coulibaly. "They say they work in the market or clean in peoples' homes. If their families found out how they were making a living they would not be able to return home."
"The pressure on the young women to help support their family is high and it is not unusual for a mother or other female relative to push them into going onto the street," said the Global Fund's Mollet.
Risks
Many women do not identify themselves as sex workers and call the men they sleep with boyfriends, which can enable HIV and other sexually transmitted diseases to spread, said Mollet. "The man will argue he is a boyfriend and refuse to wear a condom," she told IRIN.
Danaya So convenes weekly meetings in the homes of sex workers to discuss the dangers of sexually transmitted diseases and how to protect themselves. Waiting for the meeting to start, the young women, all in their teens and early twenties, keep busy gossiping, braiding each other's hair and playing with their Chinese counterfeit smartphones. "My boyfriend bought me this," said Fatima*, aged 20. "We sleep together and he gives me money to buy food and other things I need. Because he is a soldier he is at least paid, even if it is not enough."
UNICEF and NGO Catholic Relief Services will soon give cash transfers to displaced northern who have become sex workers, to try to cover their basic needs.
Though no one can say for sure, many believe the number of sex workers is expected to increase with the arrival of the international peacekeeping troops. There are already 6,000 foreign soldiers in Mali, and in the coming weeks some 5,000 more will arrive to support MINUSMA, the UN Multidimensional Integrated Stabilization Mission there.
Many Malians are also growing increasingly vulnerable. People who were already struggling before the crisis began, are certainly worse off 14 months later," said Mollet. "They have lost it all, maybe even their parents."
http://allafrica.com/stories/201306051438.html?viewall=1
--------------
Arab Girls Who Do National Service Won't Find Husbands, Says Arab MK
June 10 2013
Israeli Arab Knesset member Jamal Zahalka (National Democratic Assembly) has spoken out against national service for Israeli Arabs, saying that young people who volunteer will be ostracized.
"Anyone who does national service should be ashamed," Zahalka said on Saturday. "A young woman needs to know that if she performs national service, there is a chance no one will marry her and she will be ostracized. The same is true for every boy."
Zahalka was speaking at a gathering of the Arab Higher Monitoring Committee, an umbrella group for Arab Knesset members, religious leaders and other leaders of the Israeli Arab public.
Full report at:
http://www.israelhayom.com/site/newsletter_article.php?id=9857
--------------
Rwanda Activists Say Sexual Corruption a Threat to Economic Prospects
June 10 2013
Reluctance to report cases of sexual advances in exchange for jobs, mainly over fear of reprisal, complicate efforts to tackle the crime, activists have said.
The observers, who spoke during the launch of a campaign to tackle gender-based sexual corruption early this week, said this kind of corruption handicaps all sectors of the country since it is not simple to find any evidence.
The campaign, which is being undertaken by the African Parliamentarian's Network against Corruption (APNAC), Rwanda chapter in collaboration with Transparency International Rwanda, the National Women Council, Profemme-Twese Hamwe, among other partners, will be taken to eight districts.
Full report at:
http://allafrica.com/stories/201306070447.html
--------------
French, German Women Face Court for Tunisia Topless Protest
June 10 2013
Two French women and a German went on trial in Tunisia on Wednesday for holding a topless anti-Islamist protest in the capital, Tunis.
The members of the "sextremist" group Femen could face six months in jail for "debauchery".
Femen members Pauline Hillier and Marguerite Stern from France, and Josephine Markmann from Germany arrived in court wearing the traditional Tunisian headscarf, the safsari.
Judge Karim Chebbi called a break in the hearing at the end of the morning becasue lawyers representing Islamist groups asked to participate in the trial as civil parties.
"We are asking for a delay to examine the file and prepare our argument," said Anouar Ouled Ali, who has previously defended hardline Salafists prosecuted for acts of violence.
The defence called for the request to be dismissed, and demanded that the activists, who have been in custody for seven days, be released.
Full report at:
http://allafrica.com/stories/201306051885.html
--------------
Summer Education Clubs for Girls Soon In Saudi Arabia
10 June 2013
The Ministry of Education will open up 200 summer clubs for girls across provinces and governorates. Girls will practice sports and other fitness exercise in these clubs.
This comes at a time when the Ministry of Education has handed over the supervision of summer clubs to Tatweer to develop education. "Tatweer" will open 610 clubs for girls and boys tomorrow and will give them financial allowance.
Full report at:
http://www.arabnews.com/news/454568
--------------
Explore New Job Markets Abroad For Bangladeshi Women
June 10 2013
The government should explore new job markets abroad beyond households for women migrants so as to provide them better employment opportunities, recommends a study.
Currently, Bangladeshi women are mainly migrating only for household jobs, which provides them less salary and less freedom compared to other jobs, it said.
The study, "Women in Foreign Employment: A study of skills diversification for Bangladeshi women workers" was conducted by Bangladesh Ovibashi Mahila Sramik Association (BOMSA).
Samiha Huda, a consultant of BOMSA, presented the study's findings at a programme organised by UN Women, which financed the study, in a hotel in the capital yesterday.
Though women migrants are sending a good amount of remittance, they are also facing some problems in their workplaces, she said, pointing out the vulnerabilities including huge workload, long work hours and less freedom.
Full report at:
http://www.thedailystar.net/beta2/news/explore-new-job-markets-abroad-for-women/
--------------
Afghan group accuses police of significant violence against women
By Miriam Arghandiwal
Jun 10, 2013
(Reuters) - Afghanistan's human rights commission has accused the police of a significant amount of violence against women, saying it threatened to undermine public trust in the security forces as they prepare to take full charge of the country.
Though Afghan women have made gains since the collapse of the austere Taliban regime in 2001, violence against them remains widespread. There are fears the gains made could be lost when most foreign forces leave by the end of next year.
Nearly 15 percent of so-called honor killings and sexual assaults were committed by police, the Afghanistan Independent Human Rights Commission said in a report, citing findings gathered from more than two years of data.
Full report at:
http://www.reuters.com/article/2013/06/10/us-afghanistan-rights-idUSBRE9590JU20130610
-----------
Young, urban women: The face of Turkey's protest movement
June 10, 2013
ISTANBUL: They are young, urban and well-educated, and for the past week they have been sleeping in an Istanbul park: meet the women on the frontline of Turkey's mass anti-government protests.
"We are the women Erdogan would like to see staying at home," said actress Sevi Algan, 37, referring to Turkish Prime Minister Recep Tayyip Erdogan who protesters say is forcing his conservate values on the mainly Muslim but staunchly secular nation.
Many of the women happily admit they are accidental activists who never would have guessed two weeks ago that they would be pitching a tent in the epicentre of nationwide civil unrest.
But now these young Turks, many of them students, lawyers, teachers and office workers, easily account for half of the thousands of demonstrators in Gezi Park and nearby Taksim Square – and they have taken to their new routine with gusto.
Full report at:
http://tribune.com.pk/story/561331/young-urban-women-the-face-of-turkeys-protest-movement/
-----------
My father's wedding: Prayer leader beaten up by children of 50-year-old newlywed
June 10, 2013
FAISALABAD: "They stopped me on my way to the mosque … They took me to their Dera…They were very rude….They slapped me, punched me, kicked me… It was when they tried to cut my beard that I panicked", said Hafiz Muhammad Ramazan the prayer leader at a Mamu Kanjan mosque of his ordeal.
Ramazan said he had been kidnapped and beaten, of all things, for performing a nikah.
Ramazan had pronounced Bashir Ahmad and Malkan Bibi, both 50 something, man and wife on Thursday.
He said the two had freely decided to marry each other. "There was clearly no coercion and the nikah was performed in the presence of two witnesses. It is permissible in Islam as well as in the law of the land.
Full report at:
http://tribune.com.pk/story/561186/my-fathers-wedding-prayer-leader-beaten-up-by-children-of-50-year-old-newlywed/
--------------
URL: https://newageislam.com/islam-women-feminism/teen-egyptian-girl-dies-while/d/11991