New Age Islam News Bureau
20 Dec 2012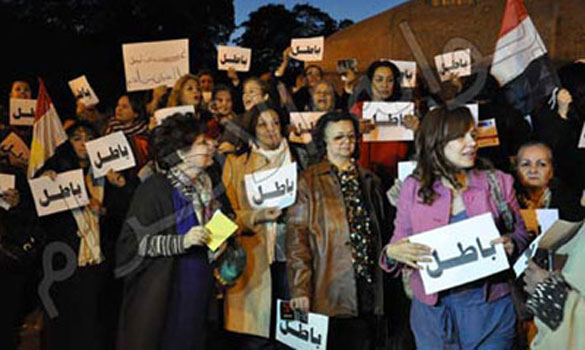 • Discouraging working Saudi women
• Aseefa slams polio workers killing
• Dozens of women protest against constitution in Giza
• Bangladesh: 3 women freedom fighters honoured
• Women's rights in Pakistan: NGOs compile report to show the 'real' picture
• Woman whose son was shot dead in Afghanistan seeks Ministry of Defence apology
• Palestinians seek refuge in Lebanon from Syria battles
• Bosnian War Rape Victims Suffer in Silence, Wait for Justice
• Dr Aafia's case: Final notice sent to man seeking trial of Musharraf
• Woman seeks paternity test after 7 years
• Manama: Wife files for divorce one week after marriage
• Breast cancer cases double in two months
• South Asian women leaders gather in Dhaka
Compiled by New Age Islam News Bureau
Photo: Dozens of women protest against constitution in Giza
URL: https://www.newageislam.com/islam,-women-and-feminism/new-age-islam-news-bureau/technical-college-for-girls-in-dammam-next-year/d/9748
----------
Technical college for girls in Dammam next year
ARAB NEWS
20 December 2012
JEDDAH: Mounira Alulola, deputy governor of Girls Technical Training at the Technical and Vocational Training Corporation, declared that the technical college for girls in Dammam will be open next year after having been delayed for five years due to the scarcity of land. This was in spite of the fact that the college was concluded in the projects plan of the corporation since its establishment seven years ago within its intentions to open 17 technical college for girls.
During the annual meeting of vocational and beauty centers which have been organized by the businesswomen's center at Asharqia Chamber, Alulola said "the Technical and Vocational Training Corporation (TVTC) is the only body that runs training programs oriented to the vocational and beauty centers through new technical and vocational majors which inolved a number of investments."
She revealed that in the near future official permits will be issued for investors and entrepreneurs in order to establish beauty salons after it had previously been unauthorized, thus organizing the market.
The official approval of investment in this field has come after the doors opened to train Saudi women to work in those fields seven years ago, she said, pointing out that TVTC has provided new specializations different from the ones offered in other colleges as well as to partake in the programs that provide support and guidance to technical trainers through nationalization. This is in addition to supporting the private sector and directing investments to the field of technical and vocational training.
She said new specializations at colleges would open in addition to the three existing specializations. The new specializations include food-processing for individuals, Web page design, jewelry design, graphics design and photography.
"The colleges encompass miniature plants for training students on assembly lines, besides contracts with schools and a contract of garment-manufacturing, as well as 129 students who are working in production lines at a factory manufacturing military clothing gear for graduates built by the Ministry of Defense in Alkharj," she added.
She indicated that the trainees enrolled in that college know that their specializations will not entitle them to work in the public sector and that their area of work is only in the private sector, pointing out that this mechanism is one of the factors that prevents students from dropping out.
Alulola said the Colleges of Technology have an industrial curriculum pursuing the orientation to feminize the industry, pointing to the need to create industrial cities within the age range to facilitate the work of Saudis.
Alulola explained during a meeting with more than 100 investors that TVTC isn't responsible for the issuance of visas to bring "hairdressers" to work in beauty salons and cosmetic centers. She pointed out that Ministry of Labor is the authority concerned, which did not open the recruitment door yet because there is no official authorization to practice this activity, which allows the opening of beauty salons.
http://www.arabnews.com/technical-college-girls-dammam-next-year
----------
Discouraging working Saudi women
Sabria S. Jawhar
20 December 2012
A couple of weeks ago Saudi women were treated to the wisdom of a man who calls himself a sheikh when he announced on social media that female fast-food workers were prostitutes.
This week another man who holds the same title said that any man who allows the women in his family to work in the health care profession is a duyooth.
Duyooth means "cuckold" and refers to weak men who allow their wives to commit adultery in front of them. And in Islam, these men will never see heaven.
It is not enough that these so-called sheikhs defame hardworking women who want to help support their families. Now they are going after their husbands, fathers and brothers who encourage and support the women in their families to work as nurses.
It's an affront to any human being to have religious men in a position of trust and authority defame individuals simply because they need financial support from female members of their families or want their women to take advantage of opportunities available to them.
This recent social media diatribe comes from a so-called sheikh who wrote that no man with honor or a sense of pride would allow his daughter to work in a mixed environment in the health sector.
What makes these statements so heinous is this guy has thousands of followers on Twitter. Many followers, I assume, imagine this individual as a role model. Do his followers see through this alleged sheikh's (I can't bring myself to call him a religious man) nonsense? The unfortunate answer is no. It's likely some of his followers are uneducated, and their response is to follow his tweet to the letter and make the lives of the women in their families a living hell.
This obscene attitude toward nursing is personally offensive to me since I teach nursing students at King Saud bin Abdulaziz University for Health Sciences, Nursing College. His assessment that weak men allow their daughters to work in medical facilities that he considers no more than brothels reminds me of an incident that affected us all at the university.
A father had come to the university campus and asked to speak to our dean. He identified himself as the father of one of the nursing students. He wanted to take her out of the university because he believed that working in a mixed environment in a hospital was sinful. The dean replied that the man's daughter was one of her best and brightest students. She reminded the father that it was up to the student to submit a formal resignation from the program.
The father, who was not living with his family, left the campus. A few days later he brought dinner to the family home. The daughter was excited to see her father. She brought him to the guest room and served the dinner. The father asked for a knife to cut lemons. When he was alone with her, he locked the door of the guest room and attacked her with the knife. The girl attempted to escape through a window while her mother and uncle heard her screams and attempted to break down the door. The father repeatedly stabbed his daughter, who died a short while later in the hospital.
We don't know who the followers are of this so-called sheikh. Some could very well be troubled individuals like the father who murdered his daughter. The sheikh, in essence by condemning the nursing profession, is giving license to those troubled individuals to do as they please. The sheikh is making statements without understanding or thinking about the consequences of his remarks and the impact it would have on troubled individuals.
The Saudi government and educators are attempting to change the taboo of working in the nursing profession. The government has acknowledged the country is in desperate need of nursing professionals in the health care industry. The government is spending billions of riyals to develop this field. Yet the very men who should support the government's efforts are sending a message that Saudi women are corrupted and the government is running a brothel, not an institution to give care to the ill, infirm and dying.
Dr. Sabah Abu Zinadah, a nursing consultant, recently filed a complaint against the sheikh who posted on the social media defaming and stigmatizing the nursing profession. It is now in the government's hands whether to punish defamers who insist on labeling dedicated women as having loose morals by enforcing the Kingdom's new cyber crime prevention act. If the new law truly has teeth, then the defamers must face the consequences of their actions.
sabria_j@hotmail.com
http://www.arabnews.com/discouraging-working-women
----------
Aseefa slams polio workers killing
December 19, 2012
KARACHI: Aseefa Bhutto Zardari, Ambassador for Polio Eradication, has strongly condemned violence against anti-polio workers that killed four female workers and a fourteen year old girl.
In a release here Wednesday, she said: "Everyone involved in the polio campaign are selfless volunteers; they do this to save lives, they do this to save Pakistan.
"We must not be deterred. Better security precautions will be taken. Inshah Allah through our passion and dedication we shall eradicate this crippling disease from our homeland, we shall continue to fight in the names of those who have lost their lives for the cause. We shall continue to fight for young girls like Farzana. Terrorists do this to scare us, they do this to try and stop us, we shall not be silenced and we will not stop the need, come what may." (PPI)
http://www.thenews.com.pk/article-80305-Aseefa-slams-polio-workers-killing--
----------
Dozens of women protest against constitution in Giza
19 Dec 2012
Dozens of Egyptian women demonstrate in Nahdet Misr Square in the governorate of Giza on Wednesday evening against the proposed draft constitution, ahead of phase two of the national referendum poll scheduled for Saturday, 22 December.
Women from diverse social backgrounds participated in the march, most of who belong to opposition parties and rights groups. The female protesters in the square held signs saying "void" and raised them in the direction of traffic to promote a 'No' vote against the constitution on Saturday.
The protest, organized by citizenship rights movement Bahia ya Masr, called for women's rights to be protected and promoted. Many rights groups and opposition parties, who criticize the draft charter prepared by the Islamist-led constituent assembly, denounce the draft for falling short of upholding gender equality and women's rights.
The second phase of voting includes the remaining 17 governorates, in which Egyptian residents of Giza, on outskirts of Cairo, will vote on Saturday.
The first phase of Egypt's referendum took place on 15 December across 10 governorates.
Unofficial results of the first round show 56.5 per cent approval for the draft charter, while 'No' votes reached 43.5 per cent.
http://english.ahram.org.eg/NewsContent/1/64/60907/Egypt/Politics-/Dozens-of-women-protest-against-constitution-in-Gi.aspx
------------
Bangladesh: 3 women freedom fighters honoured
December 20, 2012
It was a terrible time--her motherland was attacked and thousands of women were facing extreme tortures. So the 19-year-old girl rose against the Pakistani army and went to the battlefield vowing to protect her motherland as well as herself.
The teenage girl who took arms in hands to liberate her homeland in 1971 is now a 50-year-old woman, Dr Nibedita Daspurkayasta. She was honoured yesterday for her contributions in the Liberation War.
Full report at:
http://www.thedailystar.net/newDesign/news-details.php?nid=261848
----------
Women's rights in Pakistan: NGOs compile report to show the 'real' picture
December 19, 2012
KARACHI: Nearly two dozen NGOs launched a "shadow" report on Tuesday to disclose the condition of women's rights in the country.
Earlier, the government submitted a similar report to the United Nations ahead of the Convention on the Elimination of all forms of Discrimination Against Women (Cedaw). Now both the reports will be presented before the Cedaw committee when it meets in Geneva in February next year.
Full report at:
http://tribune.com.pk/story/481390/womens-rights-in-pakistan-ngos-compile-report-to-show-the-real-picture/
----------
Woman whose son was shot dead in Afghanistan seeks MoD apology
19 December 2012
Helen Perry is not the only mother who has lost a son in Afghanistan, and not the only parent who will find Christmas an agonising test of recovery from grief.
She is unusual, though, in her determination to pursue the Ministry of Defence for the one thing she believes would help her lay her eldest son to rest: an apology.
Not for the fact that Lance Corporal Michael Pritchard died in a conflict zone where he might have expected to come under fire from insurgents. But because Pritchard, 22, was killed by a British sniper. Even in the fog of war, she argues, the army had a duty of care, and in this respect, it failed him.
Full report at:
http://www.guardian.co.uk/uk/2012/dec/19/mother-soldier-afghanistan-mod-apology
----------
Palestinians seek refuge in Lebanon from Syria battles
19 Dec 2012
Umm Khaled's living room in the Baddawi refugee camp in north Lebanon is now a bedroom for Palestinians fleeing fierce battles in another refugee camp -- in the Syrian capital.
"Twenty people from Yarmuk (in Damascus) arrived at my house, among them children, women and elderly people" on Monday, said Khaled, 50, herself a long-time Palestinian resident of Baddawi.
Full report at:
http://english.ahram.org.eg/NewsContent/2/8/60897/World/Region/Palestinians-seek-refuge-in-Lebanon-from-Syria-bat.aspx
----------
Bosnian War Rape Victims Suffer in Silence, Wait for Justice
December 20, 2012
Tuzla, Bosnia. Fika was 15 years old, and her sister 17, when they were captured and repeatedly raped by Bosnian Serb soldiers who swept through eastern Bosnia early in the country's 1992-95 war.
"We were forced to watch each other being raped, and I still feel my pain and the pain of my sister," she said. "They wanted us to admit we were spies, so they beat us till they knocked out our teeth."
Full report at:
http://www.thejakartaglobe.com/international/bosnian-war-rape-victims-suffer-in-silence-wait-for-justice/562768
----------
Dr Aafia's case: Final notice sent to man seeking trial of Musharraf
December 19, 2012
KARACHI: The Sindh High Court (SHC) has sent a final notice to a man who sought action against former president General (retd) Pervez Musharraf, for his alleged role in handing her over to the US.
The petitioner, Anwarul Haq, also cited former interior minister Faisal Saleh Hayat and Dr Aafia Siddiqui's ex-husband, Dr Mohammad Amjad Khan, as respondents.
Full report at:
http://tribune.com.pk/story/481399/dr-aafias-case-final-notice-sent-to-man-seeking-trial-of-musharraf/
----------
Woman seeks paternity test after 7 years
20 December 2012
An Asian woman is demanding a paternity test for her seven-year-old son who she claims is the child of her estranged Emirati husband.
The Al Ain Court of First Instance is looking into a lawsuit filed by the woman demanding a ruling to enforce a paternity test to prove the Emirati man, in his forties, is the biological father of her child, following a civil marriage contract between the two.
Full report at:
http://www.khaleejtimes.com/nation/inside.asp?xfile=/data/crime/2012/December/crime_December46.xml&section=crime
----------
Manama: Wife files for divorce one week after marriage
By Habib Toumi
December 19, 2012
Manama: A Kuwaiti man, upset over his wife's request for divorce after one week of marriage, attacked her and slapped her repeatedly, prompting her to alert the police.
The husband's aggression was reportedly triggered by his wife's claim that she made the wrong decision by marrying him, local Arabic daily Al Watan reported on Wednesday.
He is believed to have borrowed huge amounts of money from his friends and relatives for the wedding, the daily said.
Full report at:
http://gulfnews.com/news/gulf/kuwait/wife-files-for-divorce-one-week-after-marriage-1.1121196
----------
Breast cancer cases double in two months
Olivia Olarte-Ulherr / 20 December 2012
More than double the usual cases of breast cancer were detected in Abu Dhabi over a two month period.
Fifty breast cancer cases were detected in October and November, but according to Dr Jalaa Taher, head of Cancer Control and Prevention at the Health Authority — Abu Dhabi (HAAD), between six to 10 cases per 1,000 screenings are usually diagnosed with breast cancer.
Full report at:
http://www.khaleejtimes.com/kt-article-display-
----------
South Asian women leaders gather in Dhaka
December 20, 2012
ISLAMABAD: The US Department of State recently hosted the South Asia Women's Entrepreneurship Symposium (SAWES), at the Ruposhi Bangla Hotel in Dhaka, Bangladesh.
According to Assistant Secretary of State South and Central Asian Affairs Robert O Blake, this first-of-its-kind Symposium was "designed to explore the challenges and opportunities facing women-owned small and medium sized enterprises and to create cross border economic linkages between women entrepreneurs and leaders across the South Asia region."
The main mission of the three-day event was to arrange panel discussions and breakout sessions that engage women leaders and experts from around the region and globe. Full report at:
http://www.dailytimes.com.pk/default.asp?page=2012\12\20\story_20-12-2012_pg7_22
----------
URL: https://www.newageislam.com/islam,-women-and-feminism/new-age-islam-news-bureau/technical-college-for-girls-in-dammam-next-year/d/9748