New Age Islam News Bureau
22 Sept 2014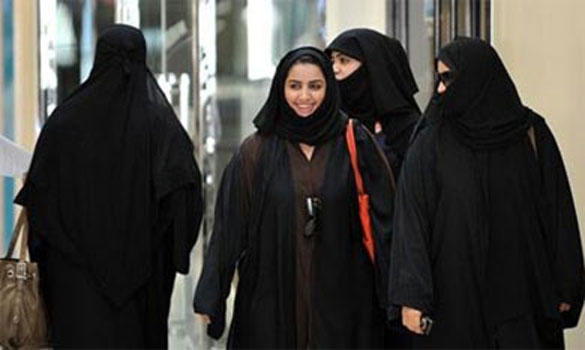 Columbia School of Journalism professor Betsy West during her presentation to Saudi journalists at the US Consulate on Thursday
----------
• Pakistani Squash Star Maria Toorpakay Raises Voice for Equality
• Most Qataris Welcome Mandatory Pre-Marriage Counselling
• Bahrain Support to Women's Empowerment
• Backlash over Britain First 'Ban the Burqa' Poster
• Women can change the world, says US journalist Betsy West
• Riyadh opens first female office for maid recruitment
• Sharp Rise in Divorce Rates In Bahrain
• New Afghan Leader to Name Woman to Supreme Court
• France Charges 5 People Suspected Of Recruiting Women, Girls to Fight For IS
Compiled by New Age Islam News Bureau
URL: https://www.newageislam.com/islam,-women-and-feminism/new-age-islam-news-bureau/teacher-rips-out-girls'-images-from-textbooks/d/99201
-----------
Teacher Rips out Girls' Images from Textbooks
22 Sep, 2014
A video clip showing a schoolteacher ordering his pupils to rip out images of little girls from their school textbooks has gone viral among Saudis on social media sites.
The video shows the teacher making inflammatory remarks against the Education Ministry and ripping out textbook pages before demanding that his pupils do the same and throw the images in front of him to reinforce his sentiment.
A source at the Education Ministry said investigations into the incident are under way.
The source stressed that the ministry has the authority to fire any teacher or civil service employee found guilty of violating state policy or supporting extremist thought propagated by banned organizations.
http://www.arabnews.com/saudi-arabia/news/633741
-----------
Pakistani Squash Star Maria Toorpakay Raises Voice for Equality
22 Sep, 2014
INCHEON: As a child Maria Toorpakay Wazir had to dress as a boy to be able to play sport in Pakistan and now as the country's number one women's squash player she says there is still too much resistance.
Toorpakay, competing at the Asian Games in South Korea, vowed not to stop helping girls in Pakistan overcome discrimination and cultural obstacles even though she has received threats for her work.
"I feel that this is my responsibility," said Toorpakay after she was beaten by Hong Kong's Annie Au in the women's singles late Sunday. "I have to raise my voice for the other girls. "Toorpakay's family comes from Waziristan,
As a child in the deeply conservative tribal area, Toorpakay trained and competed as a boy. Girls were forbidden in sport. Competing without a veil and in shorts was perceived as un-Islamic and the Toorpakays were threatened.
Toorpakay at first competed in weightlifting, frequently beating the boys at tournaments. But her father made her switch to squash, where her gender was discovered.
After being required to produce a birth certificate to play squash at the age of 16, the truth about Toorpakay came out and she was bullied by other players.
Toorpakay said Pakistan is changing -- but very slowly.
"Always there are people who do support this logic but there are people who still resist this logic," she said. But the country's number one women's squash player believes the tide cannot now be turned back. Toorpakay said her rise in international squash should be an example to other young women.
"I have to give them the same opportunity so that they become champions too," she said.
Toorpakay turned professional in 2006 and came third in the World Junior Women's Championship in 2009.
"This is a beautiful sport, and today I feel that God has given me a chance to come up to such position," she said.
She vowed to help women to emerge from the shadows through sport, saying it had helped her overcome her tough life in one of the world's most dangerous regions.
"Squash is my lord and I've worked so hard to get to this position," she said.
http://www.dawn.com/news/1133589/squash-star-maria-toorpakay-raises-voice-for-equality
-----------
Most Qataris Welcome Mandatory Pre-Marriage Counselling
September 22, 2014
DOHA: Most in the Qatari community are happy about a recent proposal by the government to make pre-marriage counselling mandatory to help check rising divorce cases.
They say making pre-marriage counselling compulsory is a welcome idea, while there are others who say the idea is good but should not be made compulsory.
There are still others and they are in a minority who say official interference in marriages is not advisable.
Those opposed to the proposal argue that the personal law should be removed and replaced with the Islamic law.
Many Qataris have commented on the issue on local social networking sites and most said they are in support of the idea of pre-marriage counselling to help check soaring divorce rates.
A commentator, Mohammad Abdullah Al Emadi, who said he was a researcher in sociology, said pre-marital medical test and social awareness have been made mandatory in several countries, including Malaysia and have achieved remarkable success in reducing divorce rate.
He urged the authorities concerned to implement the proposal as soon as possible and asked people to support it.
Earlier, elderly women in families taught girls about the responsibilities of marriage and older men gave such lessons to boys.
But now, such initiatives do not exist anymore, so the proposal is a welcome move, said Al Emadi.
Pre-marriage counselling would include courses on how to behave with spouses, issues of raising children, dealing with the families of husbands and wives and some necessary information about sex.
Extensive awareness drive should be launched in collaboration with media and mosques to make youth accept such proposals, said Amal Abdul Malik from Childhood Cultural Centre.
The idea is excellent but it should be implemented properly by making attractive programmes for youth so they are ready to join the courses, she said.
Qualified trainers should be hired so they can interact with the youths. Critics commenting on the networking sites say personal law and Islamic laws should not be mixed up.
"Doing so is destroying families. People's privacy is being breached," said a commentator opposing the proposal. Another critic said the role of parents is of utmost important as they can help save a marriage which is on the verge of collapse. "The proposal is not a good idea. Don't interfere in marriages," said the commentator.
http://thepeninsulaqatar.com/news/qatar/301033/most-qataris-welcome-mandatory-pre-marriage-counselling
-----------
Bahrain Support to Women's Empowerment
22 Sep, 2014
Manama: King Hamad Bin Eisa Al Khalifa has reiterated Bahrain's support to the empowerment of women.
"Bahrain is constantly striving to involve women alongside men in the nation-building process based on the belief that women are a key element in the development of the country," King Hamad said. "Bahrain is also eager to open wider areas for Bahraini women to serve their country in the political, economic and social areas. Bahraini women are efficient and competent and they have an important role in the development and prosperity of their homeland and in bringing up their children and offering them sound guidance," the King said as he received the board members of the newly formed Bahrain Businesswomen Society.
King Hamad said that the participation of women's societies in international conferences boosts their commitments to the community and helps them to elevate their status.
Bahrain, often cited as a pioneer in the region in championing women's rights, has been pressing for a greater political, economic and social empowerment of women across all areas.
Last week, the three female cabinet ministers were among the top 16 on the Forbes list of the most powerful Arab women holding public positions.
Sameera Ebrahim Bin Rajab, the state minister for information affairs, Fatima Al Beloushi, the Minister of Social Development, and Shaikha Mai Bint Mohammad Al Khalifa, the Minister of Culture, were highlighted for their influence and power.
The ranking was the latest indication of the success of the national drive to empower women in the kingdom.
Bahiya Al Jishi, the Second Deputy Chairperson of the Shura Council, the appointed chamber of the bicameral parliament, was also on the special list.
Several groups
Alongside the Supreme Council for Women, the official body actively promoting women's rights and seeking to elevate their status, several groups have been working to help ensure better deals for women in society.
The rising profile of Arab women was internationally acknowledged when Shaikha Haya Bint Rashid Al Khalifa was elected president of the 61st United Nations General Assembly in June 2006.
Bahrain has several women who hold high positions as ministers, ambassadors, diplomats, and judges.
"When we mention Bahrain, we are talking about a country that has, thanks to the reforms launched by His Majesty King Hamad, been witnessing high levels of women's empowerment," Maysa Al Thawadi, the acting director of Media Follow-up at the Information Affairs Authority (IAA), said at a GCC Forum last year.
Maysa added: "Bahraini women have been essential partners in drawing up and implementing plans and programmes for a comprehensive development of the country. They have had a pivotal role in the nation-building process, thanks to their full political and economic rights enshrined in the constitution and in laws that promote and defend equality and equal opportunities in line with international standards and criteria. We value highly the efforts of the Supreme Council for Women to elevate the status of Bahraini women and to empower them politically, economically and socially."
Bahraini women have had wonderful success stories that could inspire and guide generations, she added. "We have three women ministers, one undersecretary, 12 assistant undersecretaries, 17 judges, three ambassadors, and scores of teachers, bankers, journalists and doctors. Women make up more than 35 per cent of the country's employment force and more than 47 per cent of the public sector. Bahrain has 24 women's societies. Constitutionally, women have the right to run and vote in parliamentary and municipal elections and their latest achievement in the area is the 15 women who are members of parliament, in both chambers, representing 19 per cent of the total members."
http://gulfnews.com/news/gulf/bahrain/bahrain-support-to-women-s-empowerment-1.1388288
-----------
Backlash over Britain First 'Ban the Burqa' Poster
22 September 2014
An image of Afghanistan's first female police officer is being used to promote an anti-Burqa campaign by the Britain First party, causing uproar against the far-right nationalist political movement.
The photographer who took the picture, Canadian Lana Slezic, said she was informed of her photo being used by Britain First without her permission from various media outlets.
Slezic had snapped Lieutenant Colonel Malalai Kakar in action, holding a gun. Kakar was shot dead by the Taliban in 2008. She was known as a high profile policewoman who fought for women's rights and against extremism and terrorism, the Independent reports.
In the Britain First image, Kakar is used to imply a different message. It was edited with a caption that reads: "Terror attack level: severe – an attack is highly likely. For security reasons it's now time to ban the burqa."
The image was shared by Australian Palmer United senator Jacqui Lambie on her Facebook wall.
"Here's a woman whose life was taken by terrorists, extremists in the most horrific way," Slezic told the Australian Associated Press. "She died in front of her son, shot to death outside her home on her way to work.
"Everything she stood for, everything she fought for, for herself, her family, her daughters and future of her country, everything has been desecrated by how Jacqui Lambie and Britain First have used this photograph."
Following Slezic's outrage, Lambie, said criticism of her use of the image is a "gross overreaction" and Kakar would have supported her view, knowing how easy it is to "conceal weapons or bombs" in a burqa.
http://english.alarabiya.net/en/perspective/features/2014/09/22/Backlash-over-Britain-First-s-ban-the-burqa-poster.html
-----------
Women can change the world, says US journalist Betsy West
22 Sep, 2014
Women are a very important part of the community regardless of their race or nationality, said Betsy West, professor at the School of Journalism in Columbia.
West was speaking to Saudi journalists on the sidelines of her presentation at the US Consulate in Jeddah on Thursday.
Her presentation-cum-workshop was entitled "Women in the Media" where she explained how American women, by their participation in the media, had changed it. "Women, Saudi or American, can change the world through their hard work and intelligence," West said.
She is the executive producer of the innovative, multiplatform project, Makers: Women who Make America. Prior to joining the School of Journalism as a faculty member, West had more than 25 years of experience in television news and documentary film production.
Makers was launched on Feb. 28 via the website makers.com with edited stories, excerpts from about 100 interviews conducted with women of achievement, including Hillary Clinton, Oprah Winfrey, Sandra Day O'Connor, Sheryl Sandberg, Barbara Walters, Gloria Steinem, Alice Waters, Ellen DeGeneres, Judy Blume, Condoleezza Rice and many other ground breakers from all walks of life. "The goal is to show how women in American society have been important to the country's economy, development and progress," she said.
West shared the success stories of many American women from media and journalism who participated in the women's movement. She said that whether in America or Saudi Arabia, women are part of the national development and economy and without their contribution, progress is hampered. Her aim is to spread awareness about the contribution of women in American history, their struggle in media, sports and other activities.
She said that success is not achieved in a day; there is hard work behind every success. She also advised Saudi and Arab women that in order to carve out their place in society they should use their pain and anger in a positive way; women should help each other as they can make a difference.
West joined the women's movement as a journalist, working for many publications in the days when American women were taking legal actions to change the law and thinking of society in a media mainly dominated by men. She explained that her motivation behind Makers was to let the world, and especially America, know about the influence of the women of America.
West said she was very surprised and impressed with the number of successful Saudi women she encountered during her trip to the Kingdom. Makers rolls out over the next year, as more stories about women's transformative role in society are added to makers.com every month.
Makers debuted in early 2013, with a broadcast of a three-part documentary series on PBS (Public Broadcasting Service) that drew from the 100 interviews to tell the story of the modern women's movement over the last half century. West and her team at Storyville Films oversaw and conducted most of the interviews. She is currently working on another documentary as executive producer, with producer Barak Goodman.
http://www.arabnews.com/saudi-arabia/news/633726
-----------
Riyadh opens first female office for maid recruitment
22 Sep, 2014
The Labor Ministry opened a women's section in its east Riyadh office on Sunday for recruiting domestic help.
Abdullah Al-Olayan, director-general of the ministry's branch office in the Riyadh region, said it would help businesswomen and other qualified women recruit maids and drivers.
"The women's section was opened to ensure privacy for businesswomen and other females who have fulfilled recruitment conditions," Al-Olayan said, adding that the ministry has plans to open more women-only offices.
The section will issue visas for maids and other domestic workers.
In a related development, the ministry denied press reports that it was increasing visa charges for the recruitment of domestic help from SR2,000 to SR2,300 when they introduce electronic visa services on Oct. 25.
"There will not be any change in recruitment fees, which will remain pegged at SR2,000," said Tayseer Al-Mufrej, media director at the ministry.
"We have not taken a final decision on imposing additional fees for recruitment. Such fees are charged for additional services provided by recruitment offices and companies to get visas, which is optional."
People will be able to get visas without additional charges if they visit the office for recruiting domestic help.
"There is no rule that domestic help visas should be issued only through recruitment offices," he said.
http://www.arabnews.com/featured/news/633776
-----------
Sharp Rise in Divorce Rates in Bahrain
September 22, 2014
DIVORCE rates in Bahrain were higher last year than at anytime in the past five years, according to the latest figures.
The Justice, Islamic Affairs and Endowments Ministry statistics, revealed by lawyer Huda Al Shaer, show that for every five marriages recorded in Bahrain last year, at least one divorce was also being filed.
This gives a divorce rate, which is expressed as a percentage representing the number of divorces each year as compared to the number of marriages, of 23 per cent for Bahrain in 2013.
By comparison in 2012, 6,311 marriages and 335 divorces took place - giving a divorce rate of just 5pc.
Speaking at a recent lecture on child custody at the Hamad Town Community Centre, organised by the Northern Governorate, Ms Al Shaer described the figures as troubling.
"Bahrain has high divorce rates despite couples undergoing counselling to try and resolve their issues before separation," she said.
"Last year, for every 100 marriages, there were 23 divorces - with the divorcees mainly in their early 20s or late 30s."
Representative of Women's Support Centre at the Supreme Council for Women Amal Bado called for a centre to be formed to help resolve marital disputes and bring down Bahrain's divorce rate.
"Women who don't try to resolve disputes can then be appointed a lawyer to follow up their divorce cases in court," she said.
"Our centre already offers full, impartial advice and legal consultancy for civil and criminal cases that include abuse, theft and unfair dismissal from work - besides family-related matters."
Meanwhile Ms Al Shaer, who specialises in marital disputes, went on to explain that differences in the Jaffari and Sunni schools of thought impacted on who had the right to custody over children in the event of a divorce.
"In the Sunni faith, the mother has the right to custody, then her mother, then the father's mother and then the father," she said.
"But for the Jaffari, in normal cases the mother takes care of those below the age of seven and the responsibility then goes to the father, with a judge reserving the right to determine who is most suitable."
The GDN reported last March (2013) that Bahrain's divorce rate for 2012 was 5pc, according to a statement Justice, Islamic Affairs and Endowments Minister Shaikh Khalid bin Ali Al Khalifa made to MPs.
The minister also revealed that in 2011, 5,784 marriages and 533 divorces took place, giving a divorce rate of 10pc, while in 2010 there were 4,755 marriages and 608 divorces (13pc) and in 2009 4,815 marriages and 717 divorces (15pc).
mohammed@gdn.com.bh
http://www.gulf-daily-news.com/NewsDetails.aspx?storyid=386321
-----------
New Afghan Leader to Name Woman To Supreme Court
22 Sep, 2014
Afghanistan's new president-elect says he wants Afghan women represented at the highest levels of government, which includes the Supreme Court.
After being announced by the country's election commission on Sunday as the president, Ashraf Ghani Ahmadzai planned to hold his first news conference on Monday. His opponent for president, Abdullah Abdullah, will fill the newly created role of chief executive in a national unity government.
Ghani Ahmadzai said in a statement that he is committed to ensuring that women are well represented in the government as well as the education and economic sectors.
Ghani Ahmadzai also said Afghans should remember that poverty, lack of education, income equality and insecurity are the country's enemies, and not their fellow citizens. "This victory isn't just about winning an election. It's a victory for democracy, for our constitution and for our future," Ghani said: "Together, we have turned the page and written a new chapter in our long and proud history, the first peaceful democratic transition between one elected president and another."
The announcement by the election commission that Ghani Ahmadzai had won the six-month election process came a few hours after he and Abdullah signed a power-sharing deal following weeks of negotiations.
The deal allowed the international community which included the US and Nato; to breathe a sigh of relief, as the settlement greatly decreases the chances of ethnic vote violence.
Ghani Ahmadzai has also pledged to sign a security agreement that would allow 10,000 US military trainers and advisers to remain in the country next year after the US and Nato combat troops withdraw.
To the annoyance of many Afghans, the election commission did not officially release vote totals of the June runoff, ballots that underwent a long audit for fraud when it announced Ghani Ahmadzai as the winner.
Leaked results showed Ghani Ahmadzai took an estimate of 55 per cent and Abdullah received 45 per cent of the vote.
One of Abdullah's final demands in discussions with Ghani Ahmadzai was that the election commission must not release the vote count because of the fraud he alleges took place.
The four-page power sharing contract says the relationship between president and chief executive; a position akin to prime minister must be defined by "partnership, collegiality, collaboration, and, most importantly, responsibility to the people of Afghanistan."
The deal specifies that the president leads the Cabinet but the chief executive manages the Cabinet's implementation of government policies.
The chief executive will also chair regular meetings of a council of ministers, essentially the same Cabinet group; but designed to manage implementation.
The 13-year war against the Taliban has largely been turned over to Afghan security forces, a development that has seen casualties among Afghan soldiers are on a rise significantly this year.
http://www.dawn.com/news/1133586/new-afghan-leader-to-name-woman-to-supreme-court
-----------
France charges 5 people suspected of recruiting women, girls to fight for IS
The Associated Press
22 Sep, 2014
PARIS – French authorities have filed preliminary charges against five people, including a sister and brother, suspected of belonging to a ring specialized in recruiting young female fighters for the Islamic State group in Iraq and Syria.
A judicial official said Sunday the five were arrested Tuesday and Wednesday in Vaux-en-Velin in central France and were being held in custody.
The arrests came weeks after a series of detentions of adolescent girls around France, including a 16-year-old caught at the airport in Nice as she prepared to leave for Turkey and ultimately Syria, and three teens who were planning to travel abroad together and corresponded on social networks.
France is trying to make it harder both to recruit would-be jihadis, including a plan to let the government seize their passports.
http://globalnews.ca/news/1574923/france-charges-5-people-suspected-of-recruiting-women-girls-to-fight-for-islamic-state/
-----------
URL: https://www.newageislam.com/islam,-women-and-feminism/new-age-islam-news-bureau/teacher-rips-out-girls'-images-from-textbooks/d/99201