24 January 2021
• Tamil Writer Salma On Chronicling The Claustrophobia Of Home
• Fashion Show In Saudi Arabia Redefines The Abaya
​ • Nigerian Authorities Silent On Health Of Sheikh Zakzaky Wife
• A Nurse In Bangladesh To Get The First Jab Wednesday
• National Girl Child Day: PM Modi Hails Accomplishments Of Nation's Daughters In Various Fields
• Tech Can Reach The World's Unbanked Women – But Only If They Tell Us How It Should Work
• Dane Dehaan: I Prefer Working With Women
• 'Choose - I Kill You Or Rape You': Abuse Accusations Surge In Ethiopia's War
• Kuwaiti Architect Hend Almatrouk On The Need For Change For Women
Compiled By New Age Islam News Bureau
URL: https://www.newageislam.com/islam-women-feminism/tamil-writer-salma-chronicling-claustrophobia/d/124140
-------
Tamil Writer Salma On Chronicling The Claustrophobia Of Home
by Amrita Dutta
January 24, 2021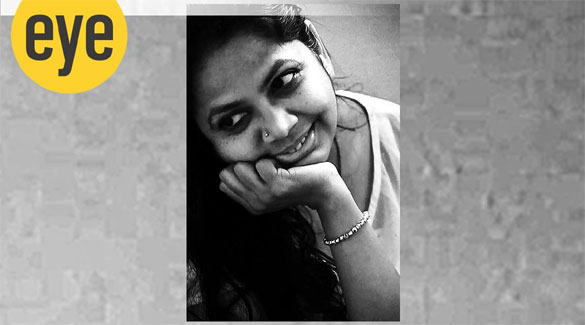 Everything i never told you: Salma
------
The pandemic home might be a novel experience of confinement. But for a vast majority of women, lockdown is less metaphor, more the solid mesh of rules and restrictions that has always held them back. That is certainly true of the characters we meet in the fiction of Tamil writer Salma. In the opening story of The Curse: Stories (Speaking Tiger), a new collection of her stories, three women get into a car. But even as they journey away from their home, the claustrophobia of their shared lives pursues them. The story is told from the point of view of a young woman, who is acutely attuned – in a way that women are burdened by the weight of others' emotions — to the rift between the two elderly women. The ceaseless complaining, their unsaid rage twisted into tussles over little things is a language that only the women hear and respond to – the male relative in the driver's seat is impervious to what's going on. Though about nothing calamitous, the narration unsettles the reader with a persistent nervous anxiety.
Like other stories in this stellar collection of short fiction translated by N Kalyan Raman, 'On the Edge' is an exposition of the power of family ties to bind and incarcerate. "The condition of being forced to live in a very cramped place, of leading a life of restriction and subordination, creates a certain neurosis. It makes the women play this game of one-upmanship. The story is the expression of this neurosis," says Salma, 52, over a video call from Chennai."
Since she began writing in the 1990s, the defining feature of Salma's writing has been the close, uncompromising attention she brings to bear on home and marriage, and the women who live inside its walls. These fictional worlds make space for the tetchiness and tedium of the domestic life. The desire, discomfort and pain of the woman's body finds expression in a way that is not sanitised, that is definitely rare in Anglophone fiction. In this circumscribed world, women nonetheless strain for freedom, as we see in two recent translations – The Curse and Women, Dreaming, the English translation by Meena Kandasamy of Salma's 2016 novel Manaamiyangal.
https://indianexpress.com/article/books-and-literature/tamil-writer-salma-on-chronicling-the-claustrophobia-of-home-7158909/
---------
Fashion Show In Saudi Arabia Redefines The Abaya
LAMA ALHAMAWI
January 23, 2021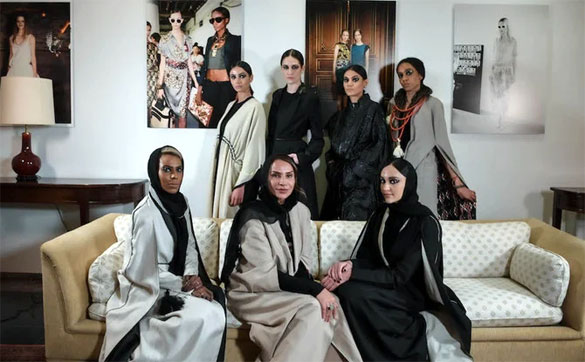 Creative director Princess Safia Hussein Guerras (center) sits next to her daughter Princess Hannah Al-Faisal (right) and the rest of the models following the end of the show. (AN Photo/Basheer Saleh)
------
RIYADH: Saudi Arabia's Princess Safia Hussein Guerras and Belgian designer Christophe Beaufays have collaborated with the Lomar brand to create a new line of abayas that redefine modest fashion.
The designers presented the Khaleeki Chic collection in a private fashion show hosted in the Belgian embassy on Saturday. The fashion line takes the traditional abaya and transforms it into an international garment combining the cultural influence of Arabia with the diverse western themes to create an abaya for all women regardless of origin.
"We have showcased a collaboration between Her Highness Safia and Lomar to show a collection of abayas that reflects both the Saudi and Western culture, modernity and tradition," Beaufays told Arab News.
"We hope to dress not just Saudi women or Arab women; this Abaya is a crossover between western clothes and Saudi garment to be something all the women in the world would like to wear at different occasions," Beaufays said.
In the West, some people still view the abaya as a symbol of oppression or lack of freedom and don't understand the beauty and modesty it holds. By combining international influence and themes the abaya is viewed as a symbol of individuality in conservative fashion.
"In the media the abaya has been depicted as something a bit negative and we just wanted to show the positive side that it is actually a very elegant garment that can be accessorized and elevated into something very chic, traditional but also modern," Beaufays added.
"So it's to change the image of the abaya from negative to something positive, fun, elegant and something all the women would like to wear, not only the Arab women."
When asked how she was inspired to create such a distinctive line, creative director Princess Safia said: "My mom, your mom, my sister, my daughter, us women, all women, it's us. I was just telling them I am sick of the stigma and discrimination of the abaya and the hijab in the west so I thought to myself if I bring some chic into it, some tailoring and some style it will definitely change the image."
When women travel outside of Saudi Arabia they usually take off their abayas, but the designers of the line created a conservative style that is international and stylish for any culture to dress in.
"When I travel, when I go to New York, Paris or Los Angeles, from the plane I usually remove my abaya, but I didn't want to remove it anymore. I want to be proud to come out with the abaya that looks just the way that you saw them today. I want my sisters, the Saudi or Gulf sisters and all of my sisters around the world to be proud, because we should be proud," said Princess Safia.
Lomar founders Loai Naseem and his wife Mona Al-Haddad told Arab News: "We wanted to move the abaya outside of the Kingdom, taking it from our tradition out into the international market to show people what we have here in the Kingdom of Saudi Arabia. We wanted to change the color of the abaya from black, adding some colors and techniques to move it into modern fashion like you saw today."
Princess Safia explained the work in creating the line with a modern twist while maintaining the modesty and tradition of the abaya, saying: "The abaya has become my identity and I love the message behind its modesty. It's powerful, and it needed just a little twist in style, which is where I came in. I really wanted to create silhouettes that bring women from day to night."
"I hope that by giving it a little chicness, Khaleeki Chic, it will have an impact. That is my dream, that it will have an impact, that there is now positivity about the abaya, not negativity anymore," she said.
https://www.arabnews.com/node/1797301/saudi-arabia
---------
Nigerian Authorities Silent On Health Of Sheikh Zakzaky Wife
Source : Hausa TV
January 24, 2021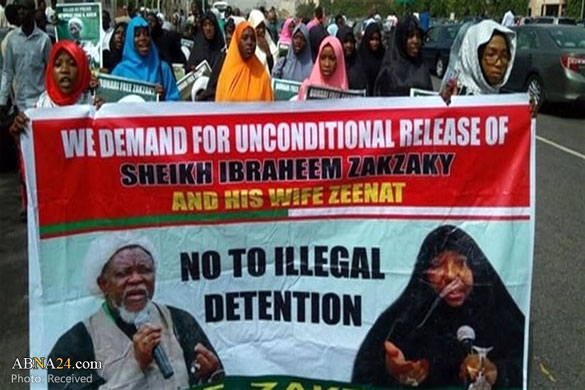 Authorities of the Nigerian prison in Kaduna State where Sheikh Ibrahim Zakzaky and his wife are detained, say they are not aware that the wife of the leader of the Islamic Movement of Nigeria (IMN) tested positive for COVID-19.
The statement came after the IMN called for the release of Mallimah Zeenat after her son announced she has tested positive for Covid-19.
Given Mallimah's underlying medical conditions and her age, her infection places her at heightened risk of severe illness and/or death. Sheikh Zakzaky himself suffers from many underlying conditions which put him at high risk of developing life-threatening symptoms should he contract the virus.
But controller of Kaduna Correctional Service, Ibrahim Maradun, said he has yet to receive test results after a sample was taken on Wednesday by officials of the Nigeria Centre for Disease Control.
"As far as I am concerned, the Nigerian Center for Disease Control (NCDC) officials took her sample on Wednesday around 5 pm and I am yet to receive the result," he said.
"She has been in isolation since the day. Her personal physician has been seeing her from time to time in the company of the doctors representing the state and the correctional service."
Overcrowding in Nigeria's jails, which currently operate at over 150 per cent of capacity, has meant that the virus has spread rapidly within the prison population. Last summer the country released 7,813 inmates from its Correctional Service centers around the country to relieve pressure and help fight the raging pandemic.
Many of those released were freed under presidential pardons issued by Buhari. However, the president failed to act on a request by the Islamic Human Rights Commission (IHRC) for the clemency to be extended to the Zakzaky.
The couple have never been convicted of any crimes and are being held unlawfully in defiance of a 2017 court order ordering their release.
IHRC's letters call for efforts to be made to release the pair immediately on humanitarian grounds so that they can receive the care and protection they urgently need.
What compounds the situation is that Mallimah and her husband should not be in custody in the first place. They are being tried for culpable homicide for allegedly being responsible for ordering violence that resulted in the death of a member of the security forces during a massacre by armed forces of supporters of the Islamic Movement in Zaria in December 2015.
However, despite the fact that over 1000 innocent supporters of the Islamic Movement were butchered in the attack, not a single official has been charged or brought to trial over the killings. The massacre is currently the subject of a preliminary investigation by the International Criminal Court.
The couple are next due to appear in court on Monday 25 January. The length of time they have spent in custody since being arrested in 2015 reinforces the view that the Nigerian authorities are conducting a witch-hunt against the couple and abusing the judicial system in the hope that they will die quietly in custody.
https://en.abna24.com/news//%e2%80%8bnigerian-authorities-silent-on-health-of-sheikh-zakzaky-wife_1108528.html
---------
A Nurse In Bangladesh To Get The First Jab Wednesday
January 24, 2021
Moudud Ahmmed Sujan
Piloting of the government's Covid-19 inoculation programme will launch on Wednesday through vaccinating a nurse at the capital's Kurmitola General Hospital.
Prime Minister Sheikh Hasina will inaugurate the programme virtually, said Abdul Mannan, secretary of the health services division at the health ministry.
After the nurse, 24 other frontline workers, including journalists and members of the civil society, will get the vaccine shot, he added.
From January 28, around 400-500 people will be inoculated at multiple vaccination points in five hospitals of the capital every day. People getting shots will be observed for seven days for adverse effects.
The five hospitals are Dhaka Medical College Hospital, Kurmitola General Hospital, Mugda General Hospital, Kuwait Bangladesh Friendship Hospital and Bangabandhu Sheikh Mujib Medical University,
"Some 80-100 employees will be vaccinated on the first day [Jan 28]," said Col Md Nazmul Haque, director of Dhaka Medical College Hospital (DMCH), adding that there are almost 8,000 employees at his organisation.
"We are planning to start vaccination amid much merriment. There will be pre-and-post vaccination waiting spaces near the booths," said the DMCH director.
As per the National Vaccination Plan, there will be two vaccinators -- nurses or sub assistant medical officers -- and four volunteers in each team. A total of 7,344 teams will be deployed across the country.
The general public will be able to register for vaccination through a mobile app from January 26. The department of Information and Communication Technology (DOICT) will release the app after receiving permission from the Prime Minister's office, officials said.
However, those who do not have a national identity card or a passport will not be able to register using the app, said N M Zeaul Alam, senior secretary at the DOICT.
Beximco Pharmaceuticals Limited, the local agent of Serum, said they have yet to receive the shipping documents for the first shipment of the vaccine doses.
"The tentative date of arrival is January 25 or 26. Once we get the details, we will be able to tell when and how many doses we will receive. Hopefully, we will get the details tomorrow [today]," Beximco Managing Director Nazmul Hassan Papon told The Daily Star.
On January 13, Shamsul Haque Mridha of the Expanded Programme on Immunization, sent a letter to all deputy commissioners, asking for lists of frontline workers. But the health department has yet to receive the lists from every district.
https://www.thedailystar.net/frontpage/news/nurse-get-the-first-jab-wednesday-2032665
---------
National Girl Child Day: PM Modi hails accomplishments of nation's daughters in various fields
By: PTI
January 24, 2021
The central government has undertaken many initiatives that focus on empowering the girl child including access to education, better healthcare and improving gender sensitivity, Prime Minister Narendra Modi said on National Girl Child Day on Sunday.
India celebrates the National Girl Child Day, an initiative of the ministry of women and child development, every year on January 24.
The central government has undertaken many initiatives that focus on empowering the girl child, including access to education, better healthcare and improving gender sensitivity, he said.
EAM S Jaishankar shared a picture with his daughter on Twitter and said, "Daughters – a special joy, a unique bond. Their accomplishments always make us proud."
"Today is also a day to specially appreciate all those working towards empowering the girl child and ensuring she leads a life of dignity and opportunity," the prime minister said in another tweet.
https://indianexpress.com/article/india/national-girl-child-day-pm-modi-hails-accomplishments-of-nations-daughters-in-various-fields-7159680/
----------
Tech can reach the world's unbanked women – but only if they tell us how it should work
22 Jan 2021
Joseph Thompson
Women make up 55% of the world's unbanked population, meaning they have no access to banking or insurance products. For many of these almost 1 billion women globally who have no access to financial services, it means that their money is not protected, they have no access to savings or checking accounts, or financial products like insurance, credit facilities and loans.
Compounding this issue is the fact that the benefits of the digital age are not being shared equally. Women – especially those living in poor and marginalized communities – are most likely to be on the wrong side of a persistent digital divide. Two hundred million more men than women have access to the internet, and women are 21% less likely to own the mobile phone that helps them transfer money, run a business and connect with their community more effectively.
One of the core reasons why women face this problem is due to the lack of a formal identity. According to a recently released G20 paper, Advancing Women's Digital Financial Inclusion, co-authored by the Better Than Cash Alliance, the World Bank and Women's World Banking, one in five unbanked women globally cite lack of a formal ID as a reason they do not have a formal bank account. Sustainable Development Goal 16.9 states everyone should have a legal identity by 2030.
Being outside the financial system has multiple drawbacks, including the inability to get access to loans, insurance or life assurance. We at AID:Tech have been thinking hard about how can we make financial services easier, safer and simpler using innovations such as blockchain and AI. But technology will not solve these problems alone. Just as developed countries use successful new technology, the one thing that all great innovations have is an excellent user experience. While building new products, it is essential to consult the very users that the innovation is intended for.
That is why, with the support and partnership of Women's World Banking, together we have been focusing on innovation for women to access financial services. The gender focus on technology is hugely skewed towards men traditionally. But that is now changing. Despite programs targeted at bringing women into the financial system, "Women face many barriers to accessing the financial products and services they need – mobility constraints, lack of collateral and limited mobile phone ownership, to name a few. One of the persistent and lasting barriers is that financial products are not designed with the needs and constraints of low-income women in mind, because little is known by financial institutions about these customers," according to Mary Ellen Iskenderian, President and CEO of Women's World Banking.
This lack of knowledge in women-centric product design has real economic consequences. The McKinsey Global Institute estimates that fully incorporating women into the economy would add $12 trillion to global GDP by 2025. In other words, realizing gender equality lifts all nations. There is an obvious opportunity for private organizations to innovate and build solutions to achieve financial inclusion for women.
Over the past number of years, we at AID:Tech have spoken with potential end users to better fully understand their needs, their barriers and how they view technology to better serve them. We have run pilots from delivering international aid in refugee camps, to delivering welfare to women to ensure there is full transparency on their entitlements. What we found was that successfully digitizing financial services is linked to women's ability to prove who they are and ensure their personal information is secure. Using a digital ID can help lead to a number of positive outcomes, such as:
One very exciting area is micro-insurance. AID:Tech and Women's World Banking are partnering to build an innovation platform, called Caregiver, that will enable women to access micro-insurance policies. By bundling health insurance together with a loan, women micro-entrepreneurs can mitigate the risk to their households and businesses in the event of a health emergency. At the very core of the Caregiver platform will be a decentralized digital ID, which will enable users to have a verified single source of identification when presenting their details to financial institutions.
Each year, more than 100 million people are pushed into extreme poverty in order to pay for health services, according to the World Health Organization. With UN Women estimating that at least 47 million more women and girls will fall below the poverty line as a result of COVID-19, the clock is ticking.
---------
Dane Dehaan: I Prefer Working With Women
By Celebretainment
Jan 23, 2021
The 34-year-old actor thinks the TV industry is starting to embrace more "female-driven shows" and Dane admitted he'd rather work with women than men.
He explained: "I'm seeing more of an opportunity to be a part of female-driven shows in which the male is playing a part that you would more traditionally see a female play, and I'm all about that. I'm happy to be a part of that world.
"I prefer working with women. So anything that I can do to help from my role as an actor in this business, I'm more than happy to do."
Dane - who previously starred alongside Cara Delevingne in 'Valerian and the City of a Thousand Planets' - admits to being a "momma's boy".
He told The Independent: "I'm a momma's boy. I've always got along better with women; they're generally speaking more peaceful, more collaborative, more caring, and they think more from the heart, you know?
"When you're an actor and you're trying to delve into the intricacies of human behaviour and human emotion, to go on that journey with a person who's more emotionally intelligent is a more gratifying experience."
Meanwhile, Dane admitted he found it tough to watch 'Valerian and the City of a Thousand Planets' flop at the box office back in 2017.
"It was so fun! And like, the fact that it came out and bombed … it was a hard part of my life, but making the movie, and the six months that I was living in Paris and working on these massive sets and being treated so well, it was such a magical time in my life."
https://tulsaworld.com/people/dane-dehaan-i-prefer-working-with-women/article_17296f68-1612-53eb-b366-bd4ae403eaa1.html
----------
'Choose - I Kill You Or Rape You': Abuse Accusations Surge In Ethiopia's War
Hamdayet, Sudan
Jan 23, 2021
The young coffee seller said she was split from family and friends by an Ethiopian soldier at the Tekeze river, taken down a path, and given a harrowing choice.
"He said: `Choose, either I kill you or rape you`," the 25-year-old told Reuters at the Hamdayet refugee camp in Sudan where she had fled from conflict in Ethiopia`s Tigray region.
The doctor who treated her when she arrived at the camp in December, Tewadrous Tefera Limeuh, confirmed to Reuters that he provided pills to stop pregnancy and sexually-transmitted diseases, and guided her to a psychotherapist.
"The soldier ... forced a gun on her and raped her," Limeuh, who was volunteering with the Sudanese Red Crescent, said the woman told him. "She asked him if he had a condom and he said `why would I need a condom?`"
Five aid workers for international and Ethiopian aid groups said they had received multiple similar reports of abuse in Tigray. The United Nations appealed this week for an end to sexual assaults in the region.
Among a "high number" of allegations, particularly disturbing reports have emerged of people being forced to rape relatives or have sex in exchange for basic supplies, the U.N. Office of the Special Representative on Sexual Violence in Conflict said in a statement on Thursday.
Prime Minister Abiy Ahmed`s government and the military did not immediately respond to questions from Reuters about the reports of rape. Ethiopian authorities have previously denied rights abuses, pointing the finger instead at the Tigray People`s Liberation Front (TPLF), the region`s former ruling party whose forces they accuse of insurrection.
"I call on all parties involved in the hostilities in the Tigray region to commit to a zero-tolerance policy for crimes of sexual violence," U.N. special representative Pramila Patten said in the statement.
Women and girls in refugee camps within Ethiopia appear to have been particularly targeted, and medical centres are under pressure for emergency contraception and tests for sexually-transmitted infections, the statement said.
Reuters could not independently verify the accounts of rape. Media have been largely banned from Tigray, aid agencies have struggled for access, and communications were down for weeks.
The five aid workers said other women described their alleged assailants as being militia fighters from Ethiopia`s Amhara region or Eritrean soldiers, both allied with Abiy`s troops. Reuters was unable to determine the identity of the woman`s assailant.
Abiy`s spokeswoman, Tigray`s interim governor, the mayor of the regional capital Mekelle, Eritrea`s foreign minister and Ethiopia`s army spokesman did not immediately reply to requests for comment on rape allegations. Reuters could not reach TPLF representatives.
Ethiopia and Eritrea have both denied that Eritrean troops are in Ethiopia, contradicting dozens of eyewitness interviews, diplomats and an Ethiopian general.
At a meeting of security officials in Mekelle broadcast on Ethiopian state TV earlier this month, one soldier spoke of abuses even after the city had been captured by federal forces.
"I was angry yesterday. Why does a woman get raped in Mekelle city? It wouldn`t be shocking if it happened during the war ... But women were raped yesterday and today when the local police and federal police are around," said the soldier, who was not identified.
Local authorities did not immediately respond to efforts to seek comment on whether any soldiers might be investigated or brought to justice.
Tewadrous, the refugee camp doctor, described two other rape cases he had handled. One woman, who said she had escaped from Rawyan town in Tigray, told of three soldiers she identified as Amhara special forces knocking at her door, the doctor said. When she refused them entry, they broke in and assaulted her.
An aid worker in the town of Wukro told Reuters victims had recounted how a husband was forced to kneel and watch while his wife was raped by soldiers they identified as Eritrean.
A medical worker in Adigrat said he treated six women who had been raped by a group of soldiers and told not to seek help afterwards. They found courage to come forward days later, but there were no medicines to treat them, the medic said.
In Mekelle, one man was beaten up after begging soldiers to stop raping a 19-year-old, according to a medical worker who treated both victims. Mekelle charity Elshadai said it has prepared 50 beds for rape victims.
https://www.wionews.com/world/choose-i-kill-you-or-rape-you-abuse-accusations-surge-in-ethiopias-war-358808
-----------
Kuwaiti architect Hend Almatrouk on the need for change for women
OLIVIA MORRIS
24-01-2021
There is a general tendency to underestimate women working in traditionally male-dominated fields. As a woman entrepreneur in the construction industry, operating in the middle east can be extremely challenging. I have had to challenge the norms and overcome stereotypes to get Studio Toggle to where it is right now. I believe my biggest challenge in the early days was to convince potential clients that being a woman-led team does not make Studio Toggle any less capable of designing and executing projects of any scale and to prove that we can do it better than anybody else. I have learnt that confidence is the key and that the power of success is within us. I have learnt that it is okay to be scared but self-doubt should be banished at all costs. I believe women share similar challenges and obstacles throughout our life, regardless of what the journey is. Sometimes the societal norms may appear restrictive and harsh but I believe there is always room for growth. Barriers can be broken and new horizons can be explored if we want. If my journey became an example of women empowerment in my field then I will be the happiest. I want women to be strong, fearless and understand that their dreams can be true.
Out of the long list of hopes I have for Kuwaiti women, I want to highlight the need to encourage each other to fight for our rights, our freedom of choice and freedom of speech. I believe that we need to be unified, more connected and caring for each other. To ensure a better future for the women in Kuwait we need to step out of our comfort zone and be more vocal about what we want.
I've had the pleasure to be involved in Porsche's most recent campaign around the launch of the new Panamera, where Porsche has shone a spotlight on unique and inspiring stories of Arab women from across the region who are making significant strides within their line of work. I was extremely proud to work alongside the region's most talented females from the world of business, film and beyond. It was a great experience and I hope that the campaign will inspire ambitious young women to challenge themselves in every aspect of their life.
A role model to me means someone who sets an example, someone who inspires you to strive for excellence. I believe that you can have several role models because you relate to them differently. It could be someone's career journey or a life experience or overcoming a tragedy. I do not know if I am a role model to someone, but I really hope I empowered or inspired someone and made that person realize that with hard work and determination, everything is possible.
What do you believe it takes to break down barriers in male-dominated professions to make positive strides for women in this region?
I believe that to break down barriers in this region we need affirmative action to ensure equal opportunities. More training should be offered to aspiring women to equip them for the rigours of careers in male-dominated professions. Leadership training, mentorship programmes and entrepreneurship guidance are vital to ensure quantifiable positive strides in this aspect in my opinion.
I would advise them to be true to their principles, to trust in their capabilities and to be grateful for any challenge they might face because it makes one grow as a person. I would tell them it is ok to be scared, to fail or to be doubtful. To keep it simple, we as women do not need anyone's approval for us to move forward with our dreams. The only thing you need to do is to trust and love yourself.
One of the major hurdles that I have experienced in my career is a general lack of support for women entrepreneurs in the region. Second is an absence of any sort of mentorship which fosters much-needed guidance for female business owners making strides in male-dominated fields. Third and not the least are the restrictive social norms that disadvantage women in general.
I believe the three major milestones that have shaped my career are the following – firstly, one of our very first built projects, Edges Apartments, which won the Residential Project of the Year (Mid Rise) at the Cityscape awards in 2017. Then winning the Young Architect of the Year award at the Middle East Architect awards in 2018 was a particular highlight and then winning the Architizer A+ Awards for our Project Khat (Al Ula) in 2020.
This is 'The Positivity Issue' – how do you plan to instil positivity in your life throughout 2021?
Positivity in life is the key to success, happiness, and a sense of fulfilment. It is difficult to have a positive attitude and maintain positive thoughts when we look back at how the world has been affected by the pandemic in 2020. But as much as there was pain and suffering, there were many silver linings and for that I am deeply grateful. I believe having a positive attitude towards the unknown gives a sense of stability and hope for those around me and helps me to stay focused on my passion in 2021.
https://emirateswoman.com/kuwaiti-architect-hend-almatrouk-need-change-women
---------
URL: https://www.newageislam.com/islam-women-feminism/tamil-writer-salma-chronicling-claustrophobia/d/124140
New Age Islam, Islam Online, Islamic Website, African Muslim News, Arab World News, South Asia News, Indian Muslim News, World Muslim News, Women in Islam, Islamic Feminism, Arab Women, Women In Arab, Islamophobia in America, Muslim Women in West, Islam Women and Feminism