New Age Islam News Bureau
21 September 2021
• Dozens of Girl Students Flee Afghanistan To Settle In Canada
• Islamic scholars to decide role of women in Afghanistan: Kabul Mayor
• Iranian Women Fear Setbacks In Hard-Earned Rights Under Raisi
• Delhi: Muslim Woman in Custody for Minor Alleged Offence Accuses Police Officer of Brutality
• Thailand Urged Not To Deport Trans Woman Charged In Malaysia
• As Kerala's Men Push For 'All Against All' War, Women Provide the Antidotes
• Over 100 Saudi athletes compete in 2nd Women's Karate Championships in Jeddah
• Saudi Arabia women's team win bronze at 2021 Karate 1 Premier League in Cairo
• Saudi speed bike racer and rallyist Dania Akeel felicitated as first REDTAG 'Real Hero'
Compiled by New Age Islam News Bureau
URL: https://www.newageislam.com/islam-women-feminism/girls-afghanistan-zabihullah-mujahid/d/125409
--------
Taliban to Allow Girls to Return To School 'Soon': Spokesman Zabihullah Mujahid
21 September, 2021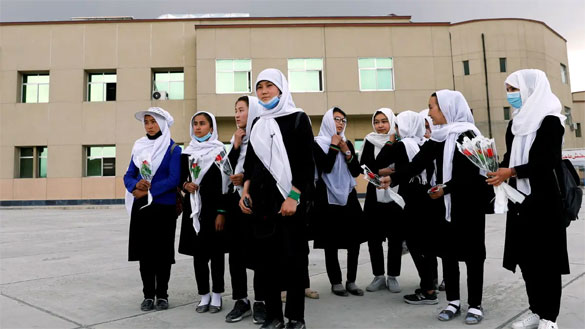 Al Arabiya
Taliban to allow girls to return to school 'soon': Spokesperson | Al Arabiya English
------
Girls in Afghanistan will be allowed to return to school as soon as possible, the Taliban said Tuesday, after announcing the remaining positions in its all-male cabinet.
"We are finalizing things... it will happen as soon as possible," spokesman Zabihullah Mujahid said on girls' education.
It comes after the education ministry ordered male teachers and students back to secondary school at the weekend, but made no mention of the country's women educators and girl pupils.
Mujahid also made no reference to the now-closed women's affairs ministry, which was shut down last week and replaced with a department that earned notoriety for enforcing religious doctrine during the previous Taliban regime.
"These positions are considered important for the functioning of the Emirate," he said announcing the final cabinet appointments, which included additions to the health ministry.
The first appointments to the Taliban interim government were announced earlier this month -- drawn exclusively from loyalist ranks, with established hardliners in all key posts, despite previous promises of an inclusive administration for all Afghans.
Source: Al Arabiya
https://english.alarabiya.net/News/world/2021/09/21/Taliban-to-allow-girls-back-in-school-as-soon-as-possible-Spokesman
--------
Dozens of girl students flee Afghanistan to settle in Canada
Barry Ellsworth
20.09.2021
About 200 girl students and dancers made a daring escape from Afghanistan with the help of the Toronto, Canada Prince Charles charity, Canadian media reported Monday.
The girls and their families will resettle in the Canadian province of Saskatchewan within the next few weeks, said the Canadian immigration minister.
"(We will) exhaust all the options to help Afghan refugees get to safety in our country," Marco Mendicino told the Canadian Press news service. "Offering refuge to women, girls and persecuted minorities is at the heart of Canada's humanitarian response to the crisis in Afghanistan."
The refugees fled Afghanistan to escape Afghanistan's Taliban interim government, which issued a decree late last week that girls could not return to high school.
The refugees tried to get out via the airport in the capital Kabul but it was too dangerous. Rebuffed, the group spent weeks trying to find a safe passage by land and eventually did, reaching Pakistan. The exact route is being kept secret for security reasons.
In 2010, Britain's Prince Charles set up Prince's Charities Canada, whose Toronto branch played a key role in planning the escape. The group expressed relief that the Afghans got out safely.
"They are a highly inspiring community and now they have an opportunity to grow and continue their education in Canada," said Mark Fell, the chair of Prince's Charities Canada.
In about three weeks, the girls and families will travel to Saskatoon, Saskatchewan, where they will settle after going through COVID-19 quarantine.
Saskatoon has a population of about 274,000. There is an Afghan community there. but the number of Afghans was not immediately available. However, some of the refugees who escaped reportedly have family there.
The country's 2016 census shows there are about 76,000 Afghans living in Canada, according to Taylor and Francis, a UK-based company that publishes academic books and journals.
Source: Anadolu Agency
https://www.aa.com.tr/en/americas/dozens-of-girl-students-flee-afghanistan-to-settle-in-canada/2369839
--------
Over 100 Saudi athletes compete in 2nd Women's Karate Championships in Jeddah
SALEH FAREED
September 21, 2021
RIYADH: Women's sport in Saudi Arabia continued its rapid rise with the hosting of the 2nd Women's Karate Championship at the Asian Arts Center in Jeddah this week.
The tournament was attended by Saudi Karate Federation President Dr. Musharraf Al-Shehri, who praised the standard of the competition, the organization of the event and the large number of participants, saying all are an indication of the sport's rising popularity in the Kingdom.
The winners were crowned by Dr. Nouf Al-Hammad, women's sports officer at the federation, and Dr. Iman Al-Husseini at the end of the tournament in which more than 100 athletes from 10 centers from across the nation took part.
In the individual kata competitions, Lama Abdelaziz from the Heroes' Steps Center came first , ahead of Sabah Yamen from the Expressions Fitness Center in second and Malak Al-Khalidi from the Heroes' Steps Center in third.
In the group kata competitions, the Heroes' Steps Center took first place, with the Asian Arts Center and the Sartieh Center second and third, respectively.
In the fighting disciplines, Malak Al-Khalidi from the Steps of Champions Center won the under 50kg category, while Noura Al-Rashed from the same club won the under 55kg competition.
Dana Mansour from the Asian Arts Center won the under 61kg category and Rana Viad from the Bagdo Sports Center claimed top spot in the under 68kg.
Al-Shehri also presented the Shield of the Federation to the Asian Center for Martial Arts in appreciation of their hosting of the tournament.
Source: Arab News
https://www.arabnews.com/node/1932766/sport
--------
Islamic scholars to decide role of women in Afghanistan: Kabul Mayor
Sep 20, 2021
Molavi Hamdullah Nomani, the Taliban-appointed Kabul Mayor, stated that a journalist had falsely claimed that he, as the mayor of Kabul, had stated that women would not be allowed to work.
According to the media reports, he had said that only those women municipal workers in Kabul whose positions men "could not fill" have been permitted to return to their posts. However, those women whose work can be done by men have been asked to stay at home "until the situation is normalised". Their salaries will be paid.
Speaking to WION correspondent Anas Mallick in an interview, he claimed the Taliban have never said that women should not come to work.
The exclusive interview is below:
WION: It's been over a month since the Taliban takeover, how do you see the situation in Kabul city now?
Molavi Hamdullah Nomani: Thank you so much for coming, I welcome you. There are big changes that have come in in the past one month, a new government came in. When we first came to Kabul on day one, the situation was quite bad and people were using the Taliban's name and seeking benefits. At that time, the crime rate was quite high. Since the Taliban took over, the crime rate is at zero. At this point, the situation in Kabul is quite normal.
WION: Will you allow women to work?
Molavi Hamdullah Nomani: About women, we did a press conference yesterday at GMIC. A journalist wrongly alleged that I have as the mayor of Kabul said that women will not be allowed to work. No it's not like that.
About women, the Islamic Emirate government is working out a way to ensure that the rights of women are delivered within the framework of Sharia. Our Ulemas are working on the framework within Sharia and as per the teachings of Prophet Muhammad (PBUH).
This is upon Ulema and they are working on a law to ensure the Islamic framework for women so that they can study, work and do general community interaction, there would be a meeting soon to decide the framework.
WION: Have you assessed the workforce if women are not allowed to work? Because, for the past 20 years, we have seen women are now an integral part of the society. They are literally in every corner and every place, so if you don't allow them over here, would this not serve as a hindrance because the international community wants them to be included as inclusive concept as well?
Molavi Hamdullah Nomani: We have never said that women should not come to work. For the time being, they should come to work, until our Ulemas don't devise a framework for their movement within Sharia then all the women should go out and do their work as per the framework.
WION: Coming to the security situation, we recently saw an attack by ISIS in Kabul. How do you intend on securing the city specifically the area where you govern?
Molavi Hamdullah Nomani: There is no doubt that Daesh is not present in Afghanistan. The Daesh members who were foreigners have left. Those in Daesh now are those who are Afghans. Our, Taliban's intelligence is following Daesh so that we can get rid of them, fight them, and eliminate them. In the past month, we have seen that Daesh's activities have been reduced. For example, what happened in Jalalabad, one or two attacks were claimed by Daesh, but there were no attacks here in Kabul.
WION: Will you be seeking international donors to run the capital city of Kabul because in the absence of recognition by the international community, how do you intend on running the city affairs?
Molavi Hamdullah Nomani: Our request is for the international community on a humanitarian basis. Human beings are living creatures. We want that our relations with all foreign countries should be good, they should assist us and we should help them too. That's the reason government of the Islamic Emirate is trying to ensure it has good relations with foreign governments under the Islamic framework to work out if there are any issues, to solve them.
In the past 20 years, the international community was working with the Kabul municipality, they enjoyed a good relationship which has now stopped. We are now holding meetings with UNOPS, Mercy Corps – German Foundation, European Union, we are trying to get some projects from them so that the city of Kabul can benefit, fundraising can be done through that so that Kabul can be developed through it.
WION: You were previously the mayor of Kabul too, there's a lot of corruption in the capital city of Kabul. How do you intend on getting over it and how different it is from 20 years earlier and now?
Molavi Hamdullah Nomani: There is no doubt that in the previous government's system, there were problems. There was a lot of foreign intervention too.
In Ashraf Ghani and Karzai's government, decision-making ability was not with their men. It's like their hands were tied on and the government went on. That's the reason corruption was rampant.
However, now, since the Islamic Emirate took over, the Emirate has its system in place. There are certain things for which we want lawmaking to be done, and then there are some things on which the laws need to be updated.
Now all the things are in control, and by the grace of God, there would be no corruption in our rule. We are going by the Sharia and Islamic framework and have assured the people the same that in our rule, there would be no corruption.
WION: Among the youth who are here, 50 per cent are women. How do you intend to approach the task with the international community? Because when you are striving to become a better nation with young people, and 50 per cent of them are excluded, how do you intend to do it?
Molavi Hamdullah Nomani: The sort of trust that donors would want, it's not our compulsion. We will be making a working framework for both male and female youth so that they can work according to it.
We will make a system that benefits the young people who have experience. The system will benefit from them. The donors should work here and they should restart their work diligently at the earliest.
Source: WION
https://www.wionews.com/south-asia/islamic-scholars-to-decide-role-of-women-in-afghanistan-kabul-mayor-414484
--------
Iranian women fear setbacks in hard-earned rights under Raisi
By Maysam Bizaer
19 September 2021
Ebrahim Raisi's pick for Iran's vice president for women and family affairs has raised eyebrows across the country, with many fearing the appointment of Ensiyeh Khazali is a harbinger of potential setbacks for women's rights under the hardline president.
Khazali, the only female member of Raisi's cabinet and former dean of Iran's first women-only public university, has previously made controversial remarks in support of early marriage of girls and her objection to Unesco's 2030 sustainable development agenda.
Azam Haji Abbasi, the secretary-general of the conservative all-female Zeynab Society party, reacted to Khazali's appointment on Twitter by describing it a "bitter joke regarding women's rights".
Marziyeh Mohebbi, a lawyer and a women's rights activist in Mashhad, told Middle East Eye that she does not expect Raisi's government and his VP for women's affairs "to have a plan for gender justice or increasing women's participation."
Mohebbi added that appointing Khazali "can never indicate a determination to address the issue of women."
Meanwhile, Iranian journalist Parisa Salehi recalled her first-hand experience as a student under Khazali's management when she was the dean of al-Zahra University.
"Of course it only felt like a university inside the classrooms. Outside, it resembled nothing like a university, but rather a big Basij [militia] base, which only corresponded to ten percent of students there," Salehi wrote in a thread on her Twitter account.
While a great majority of reactions towards Raisi's pick for his only female cabinet member have been negative, there have been some people who welcomed it.
In a short message sent to MEE, Minoo Aslani, the head of the women and family department at Iran's General Staff of the Armed Forces, welcomed Khazali's appointment and described her as "a capable person who adheres to the revolution's principles and values with capacity to build public participation of women in different issues."
Women's rights under the Islamic Republic
Following the Islamic Revolution in 1979 and the change of the constitution, various restrictions were imposed on women under Islamic law, many of which are still in place four decades later, including mandatory hijab and a ban on female singers performing for male or mixed audiences.
This is while other laws such as unequal child custody rights, inability to seek divorce unless otherwise agreed upon at the time of marriage, and discriminatory inheritance laws, remain in place since the rule of Mohammad Reza Shah.
But discrimination against Iranian women also extends to other kinds of restrictions that are enforced by religious authorities for being "un-Islamic" or "against women's values". Running for president or riding a motorcycle are just two examples of the areas where women face discrimination despite there being no legal ban under the law.
For all these restrictions, however, the Islamic republic has encouraged education for women. For years, female students have outnumbered men at universities to the point that authorities have at times placed restrictions or quotas for admitting female students in some majors.
With a population of 84.5 million, according to figures published by the Statistics Centre of Iran, of which 49 percent are women, having a highly educated and skilled female population has resulted in a major transformation of women's expectations in Iran, which has in many cases overturned the traditional roles of women in society.
The struggle of Iranian women fighting for their rights has been dangerous, as the state generally considers activism as a threat to national security and therefore there is no tolerance towards any major activities in this regard.
For instance, last December, lawyer Hoda Amid and sociologist Najmeh Vahedi were sentenced to a total of 15 years in jail on charges of "cooperating with the hostile government of America against the Islamic Republic" on issues related to women and families.
Slow, but continuous progress
While the struggle of Iranian women continued even in the early days of the revolution, it lost its tempo during the devastating war that late Iraqi president Saddam Hussein waged against Iran (1980-1988), and the following years of reconstruction.
However, social freedoms and women's rights in Iran witnessed a degree of transformation during the presidency of reformist Seyed Mohammad Khatami (1997-2005), before being pushed a few steps back under his successor Mahmoud Ahmadinejad (2005-2013).
Despite the setbacks, however, a historic achievement was made for Iranian women when Ahmadinejad appointed Marzieh Vahid-Dastjerdi as his health minister, against all the odds and objections by religious authorities, making her the first and only woman to have served as a minister under the Islamic Republic.
In 2013, the landslide victory of Hassan Rouhani, who had run a presidential campaign with a promise to bring equality for women, hope was renewed for rights activists.
While these changes were not as radical as some had expected, Rouhani made some progress in slowly expanding social freedoms and job opportunities for women. His administration became the first in the Islamic republic to appoint women to senior roles such as ambassador, foreign ministry spokesperson, governor, among others.
Additionally, Iran approved a decade-overdue bill in October 2019 granting women the right to pass their citizenship to their children born of marriages with foreigners.
Despite the progress that Iranian women have achieved over the past four decades, the country's international ranking in gender equality is still among the lowest. According to the 2021 Global Gender Gap Report by the World Economic Forum, Iran ranked 150 out of 156, making it one of the countries with the largest economic gender gaps along with India, Pakistan, Syria, Yemen, Iraq, and Afghanistan.
Future of women's rights
"Both Khazali and Raisi ascribe to 'wives and mothers' first and foremost, and will probably propose policies similar to what we saw during Ahmadinejad's presidency, where mandatory hijab will be enforced more vigorously and women will be policed more intensely in public spaces," said Sussan Tahmasebi, the director of FEMENA, an organisation working to promote women's rights in the Middle East and West Asia.
Fatemeh Hasani, a sociologist and women's affairs activist in Tehran, echoed the same concerns.
"We are worried that, like in the Ahmadinejad era, we will not only not make progress, but also have serious setbacks," Hasani told MEE.
"The ideological background of those in charge of the government is that the presence of women in the community is not important and is actually something against family consolidation."
In regards to the prospect of women's rights in coming years, Tahmasebi added that "women will be encouraged through incentives and disincentives to choose marriage and motherhood over careers and singlehood."
However, she added, due to the country's severe economic woes, "these policies will be difficult to sell to women, and financially difficult for the government to implement."
While the country's unemployment rate among women stands at 27.8 percent, some 71 percent of all female graduates remain jobless. According to Hasani, women make nearly half of the country's population and the government can't easily ignore their demands and needs without significant consequences.
While seeking equality in the economy and the job market might be a major demand for many years to come, there are many others, especially among the younger generation, who aspire for more social freedoms in addition to the right to work.
"There are fundamental gaps between the real demands of women and what is being done by the socio-cultural policymakers," said Hasani, adding that these gaps "could have major consequences for the society if they are not rightly addressed."
Source: MIDDLE EAST EYE
https://www.middleeasteye.net/news/iran-women-rights-fear-setbacks-raisi
--------
Delhi: Muslim Woman in Custody for Minor Alleged Offence Accuses Police Officer of Brutality
Ghazala Ahmad
Sep 21, 2021
New Delhi: A 37-year-old Muslim woman with a disability from Northeast Delhi has alleged that she was brutally beaten in custody by Girish Jain, the station house officer (SHO) of Dayalpur police station, after she intervened in a heated argument between her neighbours and her tenant on August 30, 2021.
Hamida Idrisi filed a complaint on September 3 against SHO Girish Jain at the Seelampur office of the Deputy Commissioner of Police, Northeast Delhi, and demanding strict action against the officer for inflicting "physical and sexual brutality" on her.
A copy of the complaint has been sent to the Delhi Commissioner of Police, the Delhi Human Rights Commission and the Delhi Minorities Commission.
Idrisi was born with no movement in one leg.
The events of August 30
Hamida and her husband, Mumtaz Idrisi, own a single-storey house in Nehru Vihar, Karawal Nagar, and have rented a part of this house to Kareem, whose sons Suhel and Suheb use it as a shop to sell beverages. The rent from the shop is the couple's sole source of income.
On the evening of August 30, a quarrel broke out between Suheb and four of Hamida's neighbours across the street, named Soni, Arif, Suhail and Shahrukh.
When the argument threatened to turn into a fight, Hamida stepped in to mediate and separated the two groups. The shop was then closed and Suheb went to his home.
"But after some time, when everything had settled down, Girish Jain, the SHO of Dayalpur police station, and other police personnel barged into my house and asked me to produce the lease agreement with my tenant and the verification form. I immediately produced an 11-month lease agreement. They then asked me to take them to my tenant's home, but I refused as my husband was not home," Hamida told The Wire.
There were five policemen including Jain, Hamida said. Three of them were in uniform and two in plainclothes. There was no policewoman among them.
Hamida continued: "The policemen dragged me into their jeep and took me to the police station for inquiry. Soni, my neighbour's son, was with them. After we reached the police station, they kept me sitting there till 10 pm, and then a lady constable named Komal tied my hands and pushed me into a small room. Then SHO Girish arrived with a green pipe of the kind used for cleaning and started beating me vigorously on my thighs and back. He used abuses and communal slurs to target my religion and continued to beat me for the next two hours."
Hamida claimed that Jain had taken off her dupatta and hit her with the pipe till her skin was cut and bruised and she was bleeding. "Even 15 days after it happened, my body still has clear marks of the brutality inflicted upon me by the officer."
Eventually, she said, she was let go later that night at 2 am after the officer threatened her with consequences if she ever spoke about what had happened.
"I remember his actual words," said Hamida. "He said: 'Don't say a single word about this or I will destroy your entire family and your future and will do worse to you than I did this time'."
They only released her after she paid them a bribe of Rs 5,000, Hamida added. "They wanted more, but that was all I had," she said.
When Hamida got home, she found that her house and Kareem's shop had been ransacked by the police and several valuable items, including a sofa, had been destroyed.
Counter allegations
Hamida and Kareem allege that Jain had taken her into custody and beaten her at the behest of Soni, her neighbour's son, because Soni's family had wanted the shop the Idrisis had rented to Kareem.
The two of them accused Soni of bribing the police with Rs 50,000 to arrest and beat Hamida.
Soni had been with the police when she had been taken to the police station, Hamida recalled. She said that at the police station, when she had appealed to Soni to sort out the issue through discussion rather than police intervention, he had said: "Bahut bol rahi thi, na, tum ladai khatam karwate waqt. Ab bolo (You said a lot, didn't you, when trying to end the fight. Now talk)."
Girish Jain, the SHO of Dayalpur Police Station, denied Hamida's claims.
"Her claims are false," Jain told The Wire. "I took her to the police station but only for inquiry and let her go after that."
Asked about Hamida's complaint against him, Jain said that Hamida was "dragging him into a conspiracy" because he had brought crime in the area under control.
But Sanjeev Kumar Singh, the deputy commissioner of police, Northeast Delhi, said, "Hamida's complaint was heard and attended thoroughly by a senior official. It has been marked to the public grievance cell and the investigation is underway. Appropriate action will be taken after the investigation."
'Sheer contempt of humanity'
Ever since the communal violence that set Northeast Delhi aflame last February, Muslim residents of the area have been feeling harassed and targeted by the police.
Even Kareem, Hamida's tenant, believes that she was picked up by the police simply because of her religion.
"They took Hamida for no crime of hers. Since the Delhi pogrom in 2020, the police have become more hostile towards Muslims in Northeast Delhi. It has become normal for uniformed men to pick up anyone and put them in jail though they have not committed a crime," Kareem alleged.
Zafarul Islam Khan, former chairperson of the Delhi Minorities Commission, has been following Hamida's case since it was first reported and raises serious concerns about the alleged brutality of the police and their hostility to Muslims.
"No day passes without some such incident of attack on hapless Muslims," Khan told The Wire. "But the attack on Hamida was doubly alarming because the only reason given for taking her to the police station was that she had failed to have her tenant verified. Shecould have been fined or even sent to jail for a few days for what the police believe is such a "grave offence". But to use that excuse to unnecessarily beat a handicapped woman black and blue is sheer bestiality and contempt of humanity."
Ghazala Ahmad is an independent journalist based in Delhi.
Source: The Wire
https://thewire.in/communalism/delhi-muslim-woman-in-custody-for-minor-alleged-offence-accuses-police-officer-of-brutality
--------
Thailand urged not to deport trans woman charged in Malaysia
21 September 2021
Kuala Lumpur, Sep 21 (AP) A human rights group urged Thailand not to deport a transgender businesswoman to her home country of Malaysia, where she is charged under Islamic laws for insulting Islam by cross-dressing.
Malaysian police are seeking to extradite Nur Sajat, 36, who left the country after she was charged in an Islamic court in January for bringing contempt to Islam by dressing in feminine clothing at a religious event in 2018. Sajat, who runs a cosmetics business, faces up to three years in jail for the offense.
Sajat failed to appear for a February court hearing and reportedly received death threats after she mulled renouncing Islam in a video on social media that has now been removed.
Malaysian police said in a statement late Monday that Sajat was detained by Thai authorities on Sept 8 for having an invalid passport. She was charged with immigration offenses and released on bail. The statement didn''t say why her passport was canceled. Police said she is wanted in Malaysia for other offenses, including obstructing authorities in carrying out their duties.
Phil Robertson, Human Rights Watch deputy Asia director, said the U.N. Refugee Agency has granted Sajat refugee status and that she shouldn''t be sent back under any circumstances.
"She needs to be sent to a country that will offer rights protections, not persecuted for being #LGBT which is what will happen if she is sent to Malaysia," he tweeted late Monday. Local media reported that Sajat plans to seek refuge in Australia.
The UNHCR agency couldn''t be reached for comment Tuesday.
Malaysia has a dual-track legal system. Shariah laws govern Muslims, who account for two-thirds of Malaysia''s 32 million people, in family, marriage and personal issues. Ethnic Chinese, Indian and other minorities are covered by civil laws.
Rights activists say the lesbian, gay, bisexual and transgender community has faced increasing harassment with the rise of conservative Islam. (AP) MRJ
Source: Outlook India
https://www.outlookindia.com/newsscroll/thailand-urged-not-to-deport-trans-woman-charged-in-malaysia/2163826
--------
As Kerala's Men Push For 'All Against All' War, Women Provide the Antidotes
N.P. Ashley
Sep 21, 2021
While the last word on how Kerala as a state managed the COVID-19 pandemic will have to wait, one thing is largely felt: Kerala economy is likely to be among the worst hit due to this crisis. This is not surprising given the state's economy has been deeply entwined with the global economy for the last five decades, be that export of human resources or tourism.
With the pandemic putting global capital under suspension and its implications in one's life – in terms of shrinking of economic fortunes and thinning down of opportunities – people have been driven into a state of insecurity and desperation.
There are two ways of responding to such a situation. The constructive way would be to formulate projects and reorganise channels so that, as a people sharing a common destiny, a solution could be found through a social approach. The second is cynical and commonplace in the majoritarian grammar of political organisation: invent external enemies and concoct fears to create a sense of community.
Kerala's men seem to have chosen the second, and the outcomes are rather alarming.
Hate campaigns and majoritarian positions
The Bishop of Pala, Mar Joseph Kallarangatt, was in the news recently for making a case for "narcotic jihad"; the allegation that young Muslim men are trapping Christians by getting them into substance abuse in order to convert them into Islam. The Bishop has been criticised for creating fear and enmity between two communities, and it has been pointed out that he has bothered neither to explain nor substantiate his wild allegation.
Men, at the helm of all political parties, have condoned Kallarangatt's position: the Bharatiya Janata Party, understandably, decided to extend their support to further such allegations, while the ruling Communist Party and the opposition Congress party have both paid visits to the Bishop rather than demand details or condemn such a callous and dangerous statement outright.
This is not surprising given the community arithmetic of the state: Christians have evolved to be the most important political community. In a state where Hindus are only half of the population, without either Muslim or Christian support, there is no way in which the BJP can ever come to power. The North East model of Hindu-Christian alliance is their only hope. The Congress-led United Democratic Front (UDF) loosely had the social base of Muslims, Christians and Nairs through alliances with communitarian political parties. Due to the Nair vote-base shifting to the BJP, Congress has no hope without getting back Christians, who have shifted sides to the Left in the last assembly elections. The Left is aware that, with its largely Ezhava and Dalit votes, in addition to the party votes that cut across communities of religion and caste, it could be re-elected to power because of the Christian votes, and losing them could turn out be damaging. So the male leadership of Kerala parties decided to somehow keep the Bishop with them, rather than engaging with the statements.
Much of the evidence that has surfaced shows that "narcotic jihad" allegation is just one among the many dangerous conspiracy theories that float around in these spaces. This allegation of alluring Christian women doesn't seem to be limited to Muslim men alone. Another parson, Father Royi Kannanchira of Changanassery, in a training programme for teachers has warned believers against the mysterious plans of Ezhava men. The insecurity of Kerala's dominant communities and the resultant arbitrariness of public debates are such that any such wild allegation is lapped up immediately, with cyber warriors lining up on both sides.
One major provocation for enmity between Kerala Muslim-Christian communities was an article by the Indian Union Muslim League leader Sadiq Ali Shibab Thangal in the Muslim League mouthpiece Chandrika, supporting Turkey President Recep Tayyib Erdogan's conversion of Hagia Sophia museum into a mosque. This went against his own party's stated commitment for communal harmony and was completely out of tune with a party that stood for minority rights when the Christian minorities of Turkey – which would also make the Christian minority of the state anxious and feel alienated – were at the receiving end. Thangal's position supporting Muslim majoritarianism elsewhere contributed to the growing apart of the communities in the state. The Taliban capturing of Afghanistan has also contributed to communitarian divide in the state.
The Malayalam social media space is filled with hate messages, making it a war of all against all. Newspapers and TV channels are too scared to address any such issue because criticism of any dominant community is treated with a boycott of the media house by a large section of the community. More so, politicians keep custodians of community vote banks happy regardless of long term implications. What is on display is a tragic farce.
Women countering the male madness
Kerala has four dominant communities, all of whom should be counted among the most powerful communities in socio-economic, demographic and political terms in the entire country: Ezhavas, Muslims, Nairs and Christians. All four emerged significant through communitarian social development – the practice of each community growing in the educational and economic sphere through intra-community work – without any social antagonism against other communities, and hence working as tributaries to the state's common growth. In most cases, this growth necessarily entailed community reform as well. All four have also benefitted substantially from Kerala's journey of economic growth over the last half a century.
But this model, a remarkable possibility, started turning into a liability when community leadership, in the interest of the rich businessmen and powerful politicians, started using the institutions for extracting the wealth brought in by foreign remittances. Financial corruption became naturalised in the educational institutions of Kerala. While being hyper capitalist and plutocratic, the state stayed incorrigibly feudal in attitude and the political rhetoric was all socialist, thanks to long and effective political action and education by the Left.
There were three casualties for this state apportioned by the dominant communities: women of all sections, who have been exploited by the capitalist economy as well as feudal social system; Bahujan groups, who have been systemically denied the economic, educational and political capability and the all-too obsessively exploited ecological system.
Communitarian antagonism always uses women as the site of a community's honour and hence controlling women's bodies and restricting female spaces is in its very DNA. But quite encouragingly, women of both the Christian and Muslim communities have recognised this male design and are standing up resolute to be heard.
Where male politicians and community leaders hesitated and feared to respond to the hate mongering in the church masses, the nuns of Kuruvilangad, under the leadership of Sister Anupama, walked out of a church service saying the priest was making anti-Muslim remarks during the speech in the church. Sister Anupama was earlier in the news as part of the legendary protest on the street against Bishop Franco Mulakkal for sexual exploitation. They categorical said "no" and "not in my name" to the male leadership, all over again to the male matrix that claims the community's ownership.
At the same time, Haritha, the young women's organisation of the Indian Union Muslim League, is ushering in a new debate on issues of gender equality in Kerala. What started as an intra-organisational issue of a member in the male wing slut-shaming the office bearer of the female wing in a meeting of office bearers has gone on to become a compelling debate on gender justice. The senior male leadership has taken the drastic step of dismissing the entire state committee of Haritha and of removing the National Vice President of Indian Union Muslim League's student body, Fathima Thahliya, for supporting the young women of Haritha.
The disbanded state body, led by Najma Thabashira and Mufeeda Tesni, have decided to take the male leadership of the party head on and have gone public with it, including filing a complaint with the Women's Commission. These women give a wonderful sense of sorority, question the gender biases of both the party and the society and claim a tradition of women's political work connecting often side-lined women – from Gauri Amma to Haleema Beevi – and push the agenda of constitutional nationalism with the historical content of gender justice. Their fight "in the party against the party for the party" is giving a sense of direction to the male-ego induced heedlessness to the political debates of Kerala.
When men, in their fear and absolute lack of political imagination or ethical commitment, work to make despair convincing, the women's antidotes to these male designs make the hope possible that there is a more egalitarian, inclusive tomorrow to work towards.
N.P. Ashley teaches English at St. Stephen's College, Delhi.
Source: The Wire
https://thewire.in/communalism/kerala-men-communalism-women-reform-gender-bias
--------
Saudi Arabia women's team win bronze at 2021 Karate 1 Premier League in Cairo
September 06, 2021
The Saudi Arabian women's kata team has won bronze in the third round of the 2021 Karate 1 Premier League in Cairo, Arabic sports daily Arriyadiyah has reported.
The event in the Egyptian capital was part of the second-largest competition organized by the International Karate Federation.
The Kingdom was represented by Manal Al-Zayd, Lama Abdelziz, Shahd Al-Ammar and Raef Buges, with technical staff supervised by May Gamal.
Egyptian Minister of Sports Ashraf Sobhy and Antonio Spinos, president of the International Karate Federation, presented the winning competitors with their medals.
Source: Arab News
https://www.arabnews.com/node/1923601/sport
--------
Saudi speed bike racer and rallyist Dania Akeel felicitated as first REDTAG 'Real Hero'
September 19, 2021
RIYADH — With every step in her extraordinary journey, Saudi motorsport star Dania Akeel has smashed glass ceilings, and left stereotypes in the dust of her racing wheels. Dania has emerged as an icon in her sport, and is an inspiration to millions of fans. Her extraordinary feats are the reason REDTAG, the region's homegrown value fashion and homeware brand, has selected Dania to be their first 'Real Hero'.
REDTAG's 'Real Heroes' initiative acknowledges talent, leaders, and changemakers in the KSA, who have achieved extraordinary things, overcoming the obstacles in their path, to inspire the next generation of youth, and show them that possibilities are unlimited, when they pursue their dreams with passion, perseverance, and commitment to achieve success, in any field.
Dania's journey is especially inspiring in light of the fact that it comes in a non-traditional field for women, and also since women did not even drive in the KSA, until recently. In a series of firsts, Dania has blazed a trail of her own, becoming the first Saudi Arabian woman to qualify for a Speed Bikes Competition License, and the first Saudi woman to take part in an international rally.
Dania recently won the FIA Cross Country Bajas World Cup in the T3 category, after a fourth place finish in the eighth round of the championship, in Baja Italy, with one round still to go. This historic result means Dania is the first woman to ever win this championship. Significantly, this was also her first time participating in the event. By showcasing her story, REDTAG seeks to inspire countless others to pursue their dreams - young or old, man or woman.
"Dania's inspiring commitment to her dream, and her extraordinary achievements, are the perfect example of the dynamism that is characteristic of the new emerging KSA, as the nation's 91st National Day draws near", says Shehbaz Shaikh, chief retail officer at REDTAG. "Our aim, with the Real Heroes initiative, is to showcase such achievers and pioneers, to inspire the next generation of Saudi youth to dream bigger and achieve fearlessly".
Apart from being a trendsetter with her choice of sport, Dania has also faced physical challenges along her journey, which underscore the demanding nature of her chosen field, where even the smallest mistake has consequences. Despite having an accident during the Bahrain Season in March 2020, which resulted in three pelvic fractures and affected her spine — Dania has relentlessly followed her passion. After extended physical therapy in Saudi Arabia, Dania was quick to return to her passion of racing at the earliest.
"My message to any Saudi woman or girl is that if she has a hobby that she would like to pursue, whether in sports or any other field, she should pursue her passion, and personal growth," Dania said. "I've received a lot of support throughout my journey, and I would like to thank REDTAG for making my story a part of their 'Real Heroes' initiative. I am positive that this will encourage other young women in Saudi to make decisions that improve their lives and empower them to follow their dreams, in any field they are interested in."
View Dania's inspirational message for the youth of KSA and for all young men and women, to pursue their dreams with passion - https://tinyurl.com/b3kr5v89 — SG
Source: Saudi Gazette
https://saudigazette.com.sa/article/611087/BUSINESS/Saudi-speed-bike-racer-and-rallyist-Dania-Akeel-felicitated-as-first-REDTAG-Real-Hero
--------
URL: https://www.newageislam.com/islam-women-feminism/girls-afghanistan-zabihullah-mujahid/d/125409
New Age Islam, Islam Online, Islamic Website, African Muslim News, Arab World News, South Asia News, Indian Muslim News, World Muslim News, Women in Islam, Islamic Feminism, Arab Women, Women In Arab, Islamophobia in America, Muslim Women in West, Islam Women and Feminism