New Age Islam News Bureau
13 May 2022
• Women Participate In Saudi Census 2022 as Field Researchers for First Time
• Afghan Women in UK at Risk of Domestic Violence: Rights Charity
• Shireen Abu Akleh Remembered as One of Arab World's Leading Journalists
• Int'l Women's Group Holds Italian Cultural Event 'The Great Beauty'
• UAE: A Fire Doesn't Distinguish Between Man or Woman, Female Emirati Firefighter Says
Compiled by New Age Islam News Bureau
URL: https://newageislam.com/islam-women-feminism/taliban-women-dining-parks/d/126998
--------
Taliban Stop Men and Women from Dining Out and Visiting Parks Together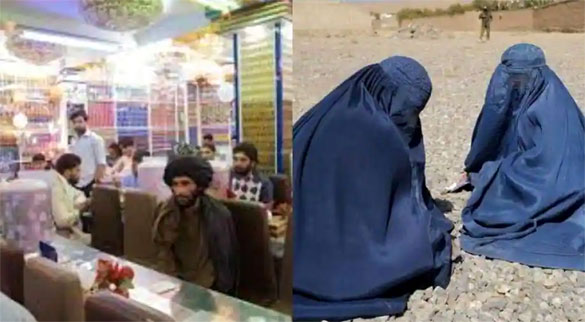 (representative image). Photograph :( Reuters)
-----
May 12, 2022
HERAT: Taliban authorities have banned men and women from dining out together and visiting parks at the same time in the western Afghan city of Herat, an official said today.
Afghanistan is a deeply conservative and patriarchal nation but it is common to see men and women eating together at restaurants – particularly in Herat, a city long-considered liberal by Afghan standards.
Since their return to power in August the Taliban have increasingly imposed restrictions segregating men and women in line with their austere vision of Islam.
Riazullah Seerat, a Taliban official at the promotion of virtue and prevention of vice ministry in Herat, said authorities "have instructed that men and women be segregated in restaurants".
He told AFP that owners had been verbally warned that the rule applies "even if they are husband and wife".
One Afghan woman who did not wish to be identified said the manager told her and her husband to sit separately at a Herat restaurant yesterday.
Safiullah – a restaurant manager who like many Afghans goes by only one name – confirmed he had received the ministry diktat.
"We have to follow the order, but it has a very negative impact on our business," Safiullah said, adding that if the ban continues he will be forced to fire staff.
Seerat also said his office has issued a decree that Herat's public parks should be segregated by gender, with men and women permitted to visit only on different days.
"We have told women to visit parks on Thursday, Friday and Saturday," he said.
"The other days are kept for men who can visit for leisure and for exercise."
Women wanting to exercise on those days should find a "safe place or do it in their homes", he added.
The Taliban previously promised a softer rule than their first stint in power from 1996 to 2001, which was marked by human rights abuses.
But they have increasingly restricted the rights of Afghans, particularly girls and women, who have been prevented from returning to secondary schools and many government jobs.
In Herat authorities have ordered driving instructors to stop issuing licences to female motorists.
Women across the country have been banned from travelling alone, and last week the authorities ordered them to cover fully in public, ideally with a burqa.
Source: Free Malaysia Today
https://www.freemalaysiatoday.com/category/world/2022/05/12/taliban-stop-men-and-women-from-dining-together/
--------
Women Participate In Saudi Census 2022 as Field Researchers for First Time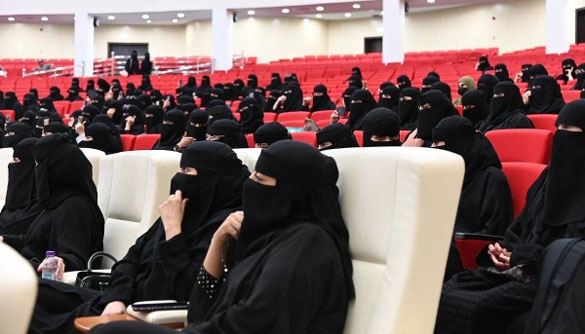 Photo: Saudi Gazette
-----
May 12, 2022
JAZAN — For the first time ever, the General Authority for Statistics (GASTAT) has made it possible for women to work as field researchers within the Saudi Census 2022 program.
According to Sabq news portal, several women candidates to work as field researchers have started the training program for the Saudi Census Project, which lasts four days, at the Prince Sultan Cultural Center theater in Jazan city.
The supervisor of the Saudi census in the Jazan region, Ali al-Hamdi, said empowering women in this session comes as their first ever participation since the launch of the Saudi census.
He indicated that the women have undergone a training program that helps raise their skills in the population enumeration process, in terms of how to use the national address, as well as ensuring data quality and the potential cases during the actual population enumeration process, in addition to the method of dividing and assigning researchers' areas.
GASTAT has confirmed that the outputs of the Saudi Census 2022 from detailed statistical data will be a basis and a reference for decision-makers in urban planning, as it will contribute and help greatly in the development of public services, such as transportation, education, housing, health care and many others.
The census outputs are used by decision-makers in government agencies through the census data in order to develop several fields, GASTAT said.
It said the most prominent fields that are being developed are: the policies related to work, training, housing and investment; public services and development programs; developing urban plans for cities, as well as distributing budgets between administrative regions as much as needed.
Source: Saudi Gazette
https://www.saudigazette.com.sa/article/620415/SAUDI-ARABIA/Women-participate-in-Saudi-Census-2022-as-field-researchers-for-first-time
--------
Afghan women in UK at risk of domestic violence: Rights charity
May 12, 2022
LONDON: Female Afghan evacuees to the UK are facing heightened risks of domestic violence due to Home Office failures to find permanent accommodation for refugees eight months after Britain's exit from Afghanistan, a rights charity said on Thursday.
Human Rights Watch has urged the Home Office to step up efforts to house refugees, with 12,000 of the 18,000 evacuated from Afghanistan still in temporary accommodation.
Assistant women's rights researcher at HRW, Sahar Fetrat, said of five women interviewed by the charity, all, while grateful for being evacuated, were facing increased domestic violence, surveillance, and constraints on their movement while they remained in temporary housing.
"They dealt with a huge amount of trauma before and during their flight and are now dealing with conditions affecting their mental health and keeping them from integrating.
"The women I spoke with are resilient and eager to move ahead in beginning new lives in the UK, but they feel stuck right now, in environments that are often dangerous for women. They need more support from the UK government to rebuild their and their families' lives," Fetrat added.
Having written to the home secretary, minister for refugees, and other relevant UK authorities in April to raise these concerns, HRW said it was still waiting on a response.
The women said that the lack of personal space in temporary accommodation had increased levels of distress, while pressure from the evacuated community members had "intimidated" those women facing domestic violence from reporting it.
HRW reported that one woman said: "A woman was battered by her husband in our hotel. When she tried to report it, the community in the hotel stopped her by intimidating her over the consequences."
Another woman said: "Several times, I have heard a couple fighting next door. The husband shouts and leaves, slamming the door, and the wife cries loudly. She has spent seven months in a hotel room and hasn't seen anything but the hotel premises."
The women said traditional gender roles meant some of the women would have faced limited freedom in Afghanistan, but the strains would be offset by the privacy of their own space.
Women from less traditional backgrounds were facing microaggressions and sexist comments from some men, with one woman describing having returned from a run to be confronted by a man who said, "I see you have integrated too soon, haven't you?"
Young, single women were reportedly receiving harsher judgements, with the environment being described as "getting more toxic and intolerable day by day."
Four of the women interviewed said they had been evacuated because they had worked outside the home, in some cases in prominent jobs, with the fifth woman evacuated due to her husband's role in the previous Afghan government.
One of the women said: "The sense of constantly being watched for every action I take, everywhere I go, getting judged for not wearing a hijab, is restricting me. It is tiresome."
HRW said the government must take the needs and preference of women into account, with special attention to concerns that single women or women-headed households may face, as it addresses the worsening refugee crisis.
"The government should have clear and effective policies to deal with domestic violence in temporary housing, including posted and outreach materials in Afghan languages.
"Staff in these facilities should be trained to recognize and respond to gender-based violence, should be made aware of and sensitive to the residents' diverse backgrounds, and should treat all residents with respect," it added.
Source: Arab News
https://www.arabnews.com/node/2080681/world
--------
Shireen Abu Akleh remembered as one of Arab world's leading journalists
11 May 2022
Shireen Abu Akleh, killed Wednesday while covering clashes in the West Bank between the Israeli army and Palestinian gunmen, was a veteran journalist and among Arab media's most prominent figures.
Abu Akleh, 51, was born in Jerusalem. Carrying both a Jerusalem residency card and an American passport, she began working for Al Jazeera in 1997 and regularly reported on camera from across Israel, the West Bank and Gaza.
Her position as an Al Jazeera Arabic correspondent in Jerusalem made her a household name and a familiar face for tens of millions of viewers around the Arab world.
"I chose to become a journalist to be close to people. It may not be easy to change reality, but I was at least able to bring their voice to the world," Abu Akleh said in a video taped for the Qatari channel's 25th anniversary.
She was born in East Jerusalem to a Palestinian Christian family. Her mother was born in West Jerusalem, before the creation of Israel in 1948, and her father was from Bethlehem, in the West Bank.
In an interview shortly before her death, Abu Akleh, who was also a US citizen, described herself as a "product of Jerusalem," with the Israeli-Palestinian conflict shaping much of her life.
She attended secondary school in East Jerusalem's Beit Hanina, then matriculated at the Jordan University of Science and Technology to study architecture. She later transferred to Yarmouk University in Jordan from which she graduated with a bachelor's degree in print journalism.
Abu Akleh graduated from university the year the Oslo peace accords were signed and then joined the nascent Voice of Palestine radio, before switching to Al Jazeera in 1997, just a year after the network launched, and went on to become an iconic personality in Arab media.
Her prominence grew through her coverage of the Second Intifada from 2000 to 2005, as well as Israeli politics. She also covered five conflicts between Israel and Gaza and the Lebanon war in 2006.
In a sign of her importance to Palestinian audiences, flowers were placed on the side of the road by West Bank residents as the vehicle carrying her body moved towards Nablus, where an autopsy was scheduled before her burial in Jerusalem.
Her name trended across Twitter in Arabic on Wednesday, setting social media alight with support for the Palestinians, and her image was projected over the main square in the West Bank city of Ramallah as mourners flooded the Al Jazeera offices there and her family home in East Jerusalem.
In the hours after her death, young Palestinians described Abu Akleh as an inspiration, especially to women.
"She never tired," Al Jazeera senior international correspondent Hoda Abdel-Hamid told AFP by phone from Ukraine. "She was always there whenever anything happened."
Senior Al Jazeera journalist Dima Khatib tweeted that Abu Akleh was "one of the first Arab women war correspondents in the late 1990s when the traditional role of women was to present from the television studio."
"Shireen was a pioneer in a generation that broke stereotypical gender roles in TV journalism," Khatib said.
In a recent interview, Abu Akleh said she was often afraid while reporting but made sure to avoid unnecessary risk.
"I don't throw myself at death," she told an outlet in the West Bank city of Nablus. "I search for a safe place to stand and how to protect my crew before worrying about the footage."
Abu Akleh had US citizenship and often visited America during the summer months, but lived in East Jerusalem and the West Bank, and her exact relationship to the US was not immediately clear. She leaves behind a brother and her parents.
Last year, Abu Akleh wrote in the publication This Week in Palestine that Jenin, the place where she died, was not just "one ephemeral story in my career or even in my personal life."
"It is the city that can raise my morale and help me fly. It embodies the Palestinian spirit that sometimes trembles and falls but, beyond all expectations, rises to pursue its flights and dreams," she said.
Abu Akleh was shot in the head during a firefight between Israeli troops and Palestinian gunmen in the restive West Bank city. The Palestinians have blamed Israel for the killing, and Israeli officials have said Palestinian gunmen may have fired the fatal shot.
It had started as another routine assignment for Abu Akleh. She'd emailed colleagues that she was heading to the Jenin refugee camp to check on reports of an Israeli military raid.
"I will bring you the news as soon as the picture becomes clear," she wrote.
Source: Times Of Israel
https://www.timesofisrael.com/shireen-abu-akleh-remembered-as-one-of-arab-worlds-leading-journalists/
--------
Int'l Women's Group holds Italian cultural event 'The Great Beauty'
KUWAIT CITY, May 12: The International Women's Group in Kuwait held an Italian Cultural Event on Sunday, May 8, under the title "The Great Beauty", in the presence of a number of distinguished guests.
The program was organised in cooperation with the Embassy of Italy and inaugurated by the IWG President, Mrs. Cristiana Baldocci, spouse of the Italian Ambassador to the State of Kuwait. She welcomed the attendees thanking Sheikha Hanouf Bader Al Muhamad Al Sabah, Honorary President of the International Women's Group and spouse to H.E the Minister of Foreign Affairs, for her constant support. Ms Baldocci explained the special meaning of "The Great Beauty". Taken from an Italian Oscar-awarded movie, the title is expressing a common characteristic of the Italian culture and lifestyle as a "constant search of Beauty".
Ms. Baldocci opening was followed by a welcome address by H.E. Carlo Baldocci Ambassador of Italy to Kuwait. The Ambassador expressed his happiness for participating and contributing in the celebration, congratulating the International Women Group for their work. He highlighted that the cultural itinerary presented across Italy is a relevant and distinguished element of the friendship between Italy and Kuwait. He also underlined the role played by Italy as cultural super power. H.E. Carlo Baldocci concluded his speech by thanking the attendees and welcoming their visit to Italy.
The ceremony included a screening of a documentary film highlighting the magnificence of Italy though design, tourism, fashion and food such as: Italian luxury design; fashion shows; touristic jewel to be discovered by International tourism; attractions and Extra Virgin Olive Oil presentation and tasting and much more.
The ceremony then concluded by the "La Nottedella Taranta" band playing folkloristic and typical music from the South of Italy At the end of the ceremony, raffle prizes were distributed among the guests. As well as door gifts for all participants including special handcraft ceramic pieces from Umbria Region, Extra Virgin Olive samples and "An Italian Food Journey" the book especially published by the Embassy of Italy to Kuwait.
The buffet offered was a triumph of Italian specialities from several Italian Regions with a street food approach including Bruschetta station, pasta station, Cannoli station, Nutella station and the fabulous Italian Ice-cream. Sponsors of the event: Kuwait Airways; Acqua dell' Elba, Dr.Vranjes, Eataly, Cioccolatiitaliani and Cipriani.
Source: Arab Times Online
https://www.arabtimesonline.com/news/intl-womens-group-holds-italian-cultural-event-the-great-beauty/
--------
UAE: A fire doesn't distinguish between man or woman, female Emirati firefighter says
May 13, 2022
Aghaddir Ali
Ajman: Wijdan Ali Abdullah Al Mazimi,23, an Emirati woman firefighter, who works for Ajman Civil Defence, feels that it takes a great deal of self-confidence and determination to break social taboos and be part of a profession that has traditionally been a male domain.
Al Mazimi had joined the force in 2018 as part of the first 15 woman firefighters in the UAE and since then, 'Protection, Rescue, Sacrifice' have been her motto.
Speaking exclusively to Gulf News, Al Mazimi said: "We want to break the barrier that keeps women from working in unorthodox professions. When there's a fire, it doesn't distinguish between a man or a woman. Firefighters are required to work as a team to salvage a situation. When I am rescuing a victim, saving a life is my priority and nothing else matters."
For 15 brave Emirati women who have joined the country's first Women's Firefighting Unit at Ajman Civil Defence, the opportunity was too good to let go. Ajman Civil Defence welcomed their first batch of female firefighters in 47 years who took on a role that was usually reserved for men. This group of female firefighters is believed to be the first such group, not only in the UAE, but in the entire Middle East as well.
Ajman Civil Defence says it is excited to have these women firefighters on board and they are being provided with all necessary training and skill-development opportunities on the job.
Al Mazimi went through an intensive training course, along with her 14 colleagues. Their training regimen included military training and specific training on job-related issues, before they were commissioned into service.
Al Mazimi thanked Lt-General Shaikh Saif Bin Zayed Al Nahyan, Deputy Prime Minister and Minister of Interior, for giving them the opportunity to join the Civil Defence workforce. She also profusely thanked her male colleagues for helping her hone her skills as a firefighter.
Following are excerpts from a free-wheeling chat.
GULF NEWS: How was the experience as the only female member at the state level in a Civil Defence job — especially as a firefighter?
WIJDAN ALI ABDULLAH AL MAZIMI: Working in firefighting is a very unique and interesting experience for a woman. It is tiring and exhausting, but I managed to develop a lot of skills within a short span of time. The job is full of challenges, but we have been able to prove to the world that Emirati women are capable of working in unorthodox roles. The challenges we face on the job encourage and motivate us to do more for the community.
What challenges and difficulties do you face?
At the beginning, it was difficult to adapt to working in closed spaces, with oxygen in short supply and enduring high temperatures during training. Storming into confined and narrow spaces and staying there for long periods of time were really tough. Moreover, we are required to carry fire and rescue equipment and other survival kit — from life jackets to oxygen cylinders — that were very heavy. But we are proud that we succeeded in overcoming all those obstacles and today, thanks to our rigorous training, we have achieved great fitness levels, skills and self-confidence.
Over and above the occupational hazards, we also had to battle against the odds in terms of a section of the society's reservations about women working as firefighters. It is one profession that has always been known to be a male domain. But thank God and thanks to our wise leadership and the care of our officials who accepted us in this unusual role and considered us as competent enough to make the seemingly impossible possible!
What kind of difficulties do you have to face during a firefighting operation?
Among the most crucial difficulties that we face during a fire-rescue operation is evacuation of people trapped in the fire. Again, time is of the essence in all such life-saving operations. Teamwork, cooperation and integration play a very important role in any firefighting or rescue operation.
How many firefighting operations have you been involved in so far?
During the past four years, I have been involved in hundreds of firefighting and rescue operations.
Will you, at any point in you career, consider leaving this occupation and opting for something less hazardous?
I never want to leave this profession. I have ambitions and I want to develop myself as a successful firefighter.
Have you succeeded in maintaining a balance between your career and your commitments as a homemaker?
Yes, I have managed to maintain that fine balance between work and home in the best way I can. Family members have a big role to play if women are to be successful in their careers. Family members ought to cooperate with a working woman and always help her maintain that fine work-life balance. A husband is one of the most important parties in this equation.
Tell us about any emergency situation that you had to handle at work and how did you cope with it?
I dealt with a fire accident in an apartment, where a two-year-old boy was stranded alone in the apartment. He was playing on his iPad, when the fire broke out and all the family members rushed out of the apartment, leaving the child inside. I took the boy out and handed him over safely to his mother, who was still in a state of shock. It was a horrific moment.
Source: Gulf News
https://gulfnews.com/uae/uae-a-fire-doesnt-distinguish-between-man-or-woman-female-emirati-firefighter-says-1.87651530
--------
URL: https://newageislam.com/islam-women-feminism/taliban-women-dining-parks/d/126998
New Age Islam Islam Online, Islamic Website, African Muslim News, Arab World News, South Asia News, Indian Muslim News, World Muslim News, Women in Islam, Islamic Feminism, Arab Women, Women In Arab, Islamophobia in America, Muslim Women in West, Islam Women and Feminism