Age Islam News Bureau
25 Aug 2013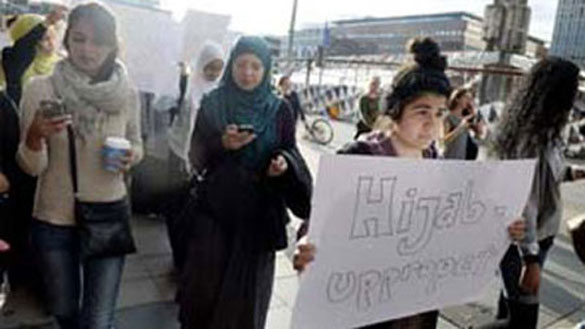 Photo: 'Hijab Appeal' Campaign Divides Sweden
------------
• Honour Killing: Afghan Couple, Minor Daughter Killed In Charsadda
• Terror Suspects' Wives Claim Sexual Harassment by Jakarta Police
• Two Women Activists of Hizb-Ut Tawhid Held in Bangladesh
• West Java Police Hunt Down Woman for Child Abuse
• Female Activists to Observe Go Topless Day
• Don't Put the Blame of Mumbai Rape on Migrants: Shabana Azmi
• Daughters of Expat Workers Can't Work: Saudi Labour Ministry
• 'Hijab Appeal' Campaign Divides Sweden
• Chance Encounter for Two Ethiopian Sisters in Saudi Arab
• Renowned Woman Syrian Artist Paints Human Unity through Arabic Letters
• High Hopes: The UFO Cult 'Restoring' the Victims of Female Genital Mutilation
• Ghana Muslim Women Supports Juaboso Hospital
• Carol Hunt: Egypt Cannot Progress If Women Are Denied Equality
• Are Seductive Images of Feminine Perfection Still Good For Sales?
Compiled by New Age Islam News Bureau
URL: https://newageislam.com/islam-women-feminism/taliban-return-threatens-gains-girls'/d/13190
----------
Taliban Return Threatens Gains in Girls' Education: Ray of Hope Foundation
By Jacob Glass
August 24, 2013
"There has never been a school for girls in this area; no one really offered them this option," says Razia Jan in this week's podcast. "Whenever I see these girls and I talk to my students, I can't tell you how honoured I am that my girls are getting educations."
Since 2008, Jan has managed the Zabuli Education Center, an all-girls school located in Afghanistan's Deh'Subz district. With the support of her organization, Razia's Ray of Hope Foundation, the school provides free kindergarten-through-ninth-grade education to 400 Afghan girls.
The Zabuli Center is contributing to a wave of education initiatives that are putting more Afghan women and girls in school – up to seven million currently, Jan says – than ever before. In a country with one of the highest maternal mortality rates in the world, she believes education can empower young women to live healthier and more productive lives.
"Education is the only way that we can change this," she says. "In my school, there are girls that are engaged and have asked their parents, 'Please wait until I do my 12th grade before I get married.' When they graduate they will be 23 years old, and that is the right age for [them] to get married, instead of 11 and 12."
However, noting recent U.S. negotiations with the Taliban, Jan warned that allowing the conservative and violent group to return to legitimacy could threaten these and other gains by women and girls.
"I know these people will never do what they say," she says. "If there is any chance for the women, for girls to get educated, you have to think 10 times before you negotiate with these murderers. They put acid on girls, cut their throats, cut their noses for just going to school."
"Now we are breathing, and we can't afford any kind of disturbance among these kids. They are very scared…let's make sure that they continue to go forward and make a life for themselves."
Jan spoke via webcast from Afghanistan at the Wilson Center on June 24.
http://www.newsecuritybeat.org/2013/08/taliban-return-threatens-gains-education-razia-jan/#.UhnyGtK-pRI
---------
Honour Killing: Afghan Couple, Minor Daughter Killed In Charsadda
August 25, 2013
CHARSADDA: An Afghan girl, who had married against the will of her family, was shot dead along with her husband and minor daughter seven years after her marriage, sources said.
Zarina Bibi married Ajab Khan seven years ago on her own free will in Afghanistan and shifted to Gidar area in Charsadda. However, the relatives of the girl were unhappy over her marriage with Ajab Khan.
The sources said her relative Naeem Khan broke into the couple's house in the wee hours of Saturday and sprayed the family with bullets. In the firing, Zarina, her minor daughter Salma and her husband Ajab Khan were killed on the spot. The police registered a case on the complaint of Ajab Khan's sister against the accused.
http://www.thenews.com.pk/Todays-News-7-197953-Couple-minor-daughter-killed-in-Charsa
---------
Terror Suspects' Wives Claim Sexual Harassment by Jakarta Police
August 24 2013
Three wives of imprisoned terror suspects filed a report on Friday with the National Commission on Human Rights (Komnas HAM) claiming they were sexually harassed by police while visiting their husbands at the National Police Mobile Brigade's (Brimob) detention center in Kelapa Dua, Depok.
Nausah, the wife of terror suspect Agus Supriyanto, said that a policewoman told her to take off her underwear before entering the facility.
"The officer suspected that I had hidden a cell phone or money inside my underwear. I refused and told her that it was not standard procedure, and I could not do it because I was carrying my child. Suddenly, the officer pulled down my pants and underpants," she said at the Komnas HAM office in Jakarta.
Offended by the officer's action, Nausah left without seeing Agus, who was allegedly involved in the 2011 church bombing in Surakarta, Central Java.
Umu Latif, the wife of suspected terrorist Sugianto, said she had gone through the underpants inspection several times. "I forced myself to endure that. It was the only way to meet my husband. I spent a huge amount of money to travel from my home in Poso, Central Sulawesi, to here," she said.
Sugianto, a cocoa farmer and Quran recital teacher, was arrested on December last year under the suspicion that he facilitated terrorist attacks in Poso and participated in a paramilitary training led by terrorist fugitive Santoso.
The other woman included in the report is Amah Nabila, the wife of Joko, an alleged Poso terrorist.
Komnas HAM commissioner Siane Indriani said that the commission would seek clarification from officials at the National Police about the incidents.
"Body inspection is a normal procedure at the prison. But examining visitors' underwear is outrageous. This is the first time we have received a report on this matter," Siane said.
http://www.thejakartapost.com/news/2013/08/24/terror-suspects-wives-claim-harassment.html
----------
Two Women Activists of Hizb-Ut Tawhid Held in Bangladesh
August 25 2013
Police arrested two female activists of Islamist outfit Hizb-ut Tawhid in Kanaikhali area of the town yesterday morning.
They also seized 11 Jihadi books from their possession.
The arrestees are Tanzina Sultana, 16, daughter of Tarban Ali of Jugiapara village in Kushtia Sadar Upazila and Umme Hani, 19, wife of Mozibur Rahman of Baroharishpur area of Natore.
Aslam Hossain, officer in-charge of Natore Police Station, said on information, a police team arrested the duo while they were distributing books on jihadi.
The arrestees were then produced before a court which sent them to jail, said the OC.
http://www.thedailystar.net/beta2/news/two-women-activists-of-hizb-ut-tawhid-held/
----------
West Java Police Hunt Down Woman for Child Abuse
August 24 2013
The Depok Police in West Java are searching for a woman who allegedly battered her 6-year-old stepson and abandoned him in a department store on Thursday.
Depok Police spokesman Adj. Comr. Syah Johan said that the victim was currently under the protection of Depok's Labor and Social Agency and that police were combing Rawageni village in Pancoran Mas district to find the suspect's house.
"A security guard escorted the victim to our office on Thursday after he found the child alone and crying in fear at the department store at 9 p.m.," he told The Jakarta Post on Friday, adding that the victim repeatedly told the police that he wanted to go to his grandmother's house in Malang, East Java.
According to Syah, the officers on duty decided to keep the victim at the office and feed him before transporting him to the agency's office.
He said that personnel from the police's children and women's protection unit found numerous cuts and bruises on the victim's body.
"Our team members recorded wounds on the victim's face, big bruises behind his ears and a very long laceration on his right leg. His stomach was also badly swollen," he said.
Depok Labor and Social Agency chief Diah Sadiah said she would take the victim to the Depok General Hospital (RSUD) in Sawangan to examine the victim's wounds.
Contacted separately, the victim acknowledged that his stepmother had frequently abused him.
"My father put me in my stepmother's care starting in Ramadhan. Before, I lived with my grandmother in Malang," he said.
"I can't stand her abuse. She has confined me a number of times in a bedroom without giving me any food. My father doesn't know about this because he rarely comes home," he said.
He said that the latest abuse he suffered happened when he stole Rp 20,000 (US$1.84) from his stepbrother. He intended to use the money to run away from his stepmother's house.
"She beat me and scolded me because of that. I was so scared at the time," he said.
This is the most recent child abuse case received by the Depok Police.
On May 8, a six-year-old girl named Widya died after her stepmother beat her in a bathroom.
"We will take preventive measures to avoid things like this from happening again in the future," Diah said on Friday.
Many sides have expressed concern over the increasing incidence of child abuse seen during the past few months, even though the municipal administration was dubbed a child-friendly city in a recent National Children's Day celebration.
http://www.thejakartapost.com/news/2013/08/24/police-hunt-down-woman-child-abuse.html
----------
Female Activists to Observe Go Topless Day
The Jakarta Post
August 24 2013
All humans are born naked and all men and women are created equal. But in practice this is not always true. That is why a group of women will observe Go Topless Day on Sunday in several cities, mostly in the US and Canada, across the globe.
These activists argue that women have the same constitutional right that men have to go bare-chested in public. Go Topless Day falls on the Sunday closest to Women's Equality Day, which is on Aug. 26 every year.
The US-based GoTopless.org was founded by an American spiritual leader Rael in 2007.
"As long as men are allowed to be topless in public, women should have the same constitutional right. Or else, men should have to wear something to hide their chests," Rael said in a statement posted on the website
Being topless has not always been taboo. In Bali, some women often went without anything covering their chest until late in the 1940s. According to the organization's website, men were not allowed to go topless in the US in the 1930s and 1940s.
GoTopless Day was launched in 2007 when American activist Phoenix Feeley won a lawsuit against New York city after she was wrongfully arrested for going bare-chested.
In fact, New York made it legal for women to go topless in 1992. As a result, the city awarded Feeley US$29,000 in damages for its officials' mistake.
http://www.thejakartapost.com/news/2013/08/24/female-activists-observe-gotopless-day.html
----------
Don't Put the Blame of Mumbai Rape on Migrants: Shabana Azmi
Aug 24 2013
Kolkata: Stating that the 23-year-old photojournalist's gang rape case should not be politicised, veteran actress and social activist Shabana Azmi today said blaming migrants for crime against women was unfortunate.
"I think this is a very unfortunate way of saying that migrants are responsible for such incidents. If you look at the statistics of Maharashtra, more than 30 per cent of the migration that takes place in Maharashtra happens from the interiors of the state," Azmi told reporters here.
"I would have hoped that instead of rushing to such hasty conclusions, we should look at the facts as they are and keep our concentration not on politicising the debate, but making sure that each one of us, as active citizens, participate in whatever solutions are required to change the mindset that uses rape as a means of subjugation," she said.
The actress turned activist who has been vocal on social issues, said that making comments about why such crimes were on the rise without going into any social analysis would be a hasty decision.
Condemning the Mumbai gang rape of an intern last Thursday, the 61-year-old said the incident took place after the anti-rape law was passed in Parliament. "With both Houses taking into consideration many of the amendments proposed by the Justice Verma committee, one would have hoped for an actual change," she said.
Demanding that the culprits should get the severest punishment possible, Azmi said, "The fact that it can happen with such impunity points to the fact that people do not have fear instilled in them that law and order will actually take its own course. This is very shocking."
The victim, an intern with an English magazine was gang raped allegedly by five men on Thursday evening when she and her male colleague went to the deserted Shakti Mills compound in Lower Parel area of Mumbai to take photographs for a story. The incident brought back shocking memories of the December gang rape of a paramedic in Delhi which had sparked a nation-wide outrage.
http://www.indianexpress.com/story-print/1159574/
----------
Daughters of Expat Workers Can't Work: Saudi Labour Ministry
August 25, 2013
JEDDAH – The Ministry of Labor has issued a final decision on the ongoing debate on allowing dependents of foreigners to work.
It confirmed that the decision includes only wives who are on their husbands' sponsorship and husbands who are on their wives' sponsorship. They can work if they transfer their sponsorship to their employer.
The ministry said that the earlier decision on the transfer of sponsorship applies to sons but not to daughters.
Answering a question on the cancellation of a 'Huroob' report, a source said, "The cancellation can be done by current sponsor or the new sponsor if the current one is in the red zone of Nitaqat.
The sponsorship can be transferred without getting a sponsor's consent if the transfer is for the green zone."
The source said the firm owner is registered automatically in the Nitaqat Program provided he is not registered in another firm.
This is after confirming that he has been registered in the General Organization for Social Insurance (GOSI).
The source said that the fee for issuing work permits is aimed at boosting opportunities for Saudi workers in the private sector. He said that the Nitaqat Program contributed to the employment of over 500,000 Saudi nationals in two years.
He ruled out any intention to stop recruitment completely in the current stage due to the increasing need for workers amid the current boom in projects.
Last month Deputy Minister of Labor Dr. Mufraj Al-Haqbani had said that allowing dependents of expatriates to work as per specified rules is not a temporary exemption but a permanent proposition.
It is not linked to the rectification of grace period, he explained.
Haqbani said the employment of dependents is the alternative for recruitment from abroad, but not a substitute for Saudization.
The extension of the amnesty by Custodian of the Two Holy Mosques King Abdullah earlier this month allowed dependents of expatriates to work as long as they have a written request from the business that wishes to employ them, are at least 18 years of age and have been listed as dependents to legally resident expatriates for at least one year, and the firm hiring the dependent have the consent of the sponsor of the dependent.
http://www.saudigazette.com.sa/index.cfm?method=home.regcon&contentid=20130825178120
----------
'Hijab appeal' campaign divides Sweden
25 August 2013
AFP, Stockholm
In gender-equality Sweden, a grassroots movement defending women's right to wear hijab has split the nation, backed by politicians and celebrities while critics say it supports a symbol of female "oppression".
Hundreds of Swedish women have posted photographs of themselves wearing headscarves on social media sites to show solidarity with a heavily pregnant Muslim woman who says she was attacked outside Stockholm for wearing a veil.
Police are searching for witnesses to the incident, which is being treated as a hate crime, and has sparked a wave of online protest.
Leftist politicians and celebrities were among those who lent their support to the movement, dubbed "The hijab appeal", by tweeting pictures of themselves wearing the Islamic headscarf.
By Thursday, more than 2,000 people had posted pictures tagged with the "hijab appeal" hashtag on Instagram, mostly featuring women of different faiths wearing the veil.
A Facebook "event" page set up by the activists garnered 10,000 attendees but had to be removed after the comments section was swamped with racist and sexist remarks.
"The number of hate crimes against Muslim women has increased lately," one of the campaign organizers, Foujan Rouzbeh, told AFP.
However, critics say the campaign trivializes the suffering of women forced or pressured into covering their heads, in Sweden and elsewhere.
"I support protesting against the treatment of the woman who was attacked, absolutely. Holding speeches, demonstrating," said Sara Mohammad, the head of a charity for victims of honor crimes.
"Not by wearing the veil, which is known around the world as an Islamic symbol for oppressing women. It's not just being forced on women in Iran and Saudi Arabia, it has also become the flag for political Islam in the west."
The Swedish politicians wearing the hijab this week rarely displayed the same support for those fighting for the right not to wear it, sometimes risking their lives in doing so, Mohammad argued.
"This is an injudicious and populist measure designed to attract votes from the Muslim community," she said.
Rouzbeh said critics of the Swedish hijab campaign had taken it out of context.
"We're not trying to belittle people's experience of having been forced to wear the veil...we're basing this on veiled women who wear it out of choice. Those women should have the right to do that without being attacked," she said.
Muslim women were being used as scapegoats in the face of rising unemployment in Sweden and the rest of Europe, said Rouzbeh, who met the justice minister on Wednesday.
"None of us are saying this started under the current government, but we would argue that it has increased because they haven't taken this threat seriously."
The group is demanding a commission be set up to investigate the problem of violence against veiled women, and also wants the government to ensure a ban on newsreaders for public broadcaster SVT wearing the garment is lifted.
Rouzbeh said the rise of the anti-immigrant Sweden Democrats, which the latest polls indicate would be the third largest party in an election, and a negative image of Muslims in the media had stoked violence and harassment of women wearing the hijab.
But there is little data to support claims of a surge in the number of Islamophobic hate crimes.
The Swedish National Council for Crime Prevention said 306 such crimes were reported last year, compared with 278 the previous year and 272 in 2008.
Social anthropologist Aje Carlbom of Malmoe University said Swedish attitudes towards the hijab were largely positive, unlike towards the full-face niqab sometimes worn by more conservative Muslims.
He said he was not aware of any rise in the number of people who opposed it.
"Ever since we began having immigration from the Muslim world, it's been claimed that (dislike of the veil) is increasing, that it's widespread, and so on," he said.
"I don't know why this is happening right now."
http://english.alarabiya.net/en/life-style/art-and-culture/2013/08/25/-Hijab-appeal-campaign-divides-Sweden-.html
----------
Chance Encounter for Two Ethiopian Sisters in Saudi Arab
25 August 2013
RAFHA – When an Ethiopian maid who recently arrived in the Kingdom was taken to the house of her sponsor's brother, she was expecting to meet another maid from Ethiopia who could teach her how to do house chores and help her improve her Arabic. What she wasn't expecting was to meet her own sister. This is precisely what happened when Nayef Al-Shammari took his maid to his brother's house. When the two maids met, they immediately embraced each other and began crying, which is when the two brothers realized their maids were sisters.
http://www.saudigazette.com.sa/index.cfm?method=home.regcon&contentid=20130825178106
----------
Renowned Woman Syrian Artist Paints Human Unity through Arabic Letters
25 August 2013
Dina al-Shibeeb
The aesthetically appealing curves and dots of Helen Abbas's Arabic calligraphy, found in her paintings, are meant to encourage human unity, communication and portray the human experience. The letters are not meant to be literally read, the renowned Syrian artist explained.
Known for combining traditional calligraphic techniques with a modern touch, the Dubai-based Abbas said art should be about uniting people, especially considering the rough times the Arab region is witnessing.
"At home [Syria], we are one mosaic," Abbas, a mother of two daughters, explained to Al Arabiya English. She was referring to her latest exhibition "Mosaic," which was unveiled together with another collection "Ramad," or "Ashes," last month.
"When I did the two collections Mosaic and Ramad, I wanted to express what is happening right now," she stated.
'MOSAIC' AND 'RAMAD'
In Mosaic, the artist captures the aesthetic beauty of Arabic letters.
The letters are sometimes centered within squares of painted background while in other works, they are free to run unfettered across geometric shapes.
A single painting is made up of "different colors, [different] spaces within, and letters," she explains.
The Ramad collection is quite different; the background in all its pieces are white, a color chosen to symbolize optimism.
The curvaceous Arabic letters are painted in black, brown and other sandy hues to represent the current lack of unity in the Arab world "in a time [when] we need to be united," Abbas explained.
"There is fear of disintegration of Arab unity," the artist lamented. "The Syrian mosaic, which makes [up] Syrian society, is very dangerous if it becomes disconnected."
Art devoid of politics
The artist rejects the act of explicitly expressing her political opinion on her canvases and says politics and art should not be mixed.
"I am not going to draw my political stance," she said. "Art should combine people and collect them together. As a human maybe through my art I shouldn't express political stances because at this stage people need to be united."
On a personal level, the artist was fearful that she would lose friends due to their championing of different political views.
"I have had friends who had different opinions than mine; I was scared that I would lose them as friends," she said.
Despite the insistence that her art will never depict her political views, the artist has been affected by the current conflict in her home country of Syria.
"I will always feel warmth towards my country no matter what happened, no matter what the reasons. I feel very sad for what had happened in my country and for other Arab states. From Iraq to the Maghreb all Arab countries are like my home, but for my own country, I was really scared."
The future
When asked about her future plans, the artist said that she wishes to go back to Syria but started to cry before finishing her sentence.
Her sanguinity soon returned when she described her new exhibition's theme and vowed to continue juxtaposing contemporary styles with traditional Arabic influences to create whole new type of artistic expression.
The artist also explained the underlying theme of her new project; she wishes to borrow verses from renowned Arab poets to develop her work.
Abbas is currently trying to pick and choose some excerpts from Osha bint Khalifa al-Suwaidi's literary work.
Al-Suwaidi, a renowned UAE poetess also known as the "Gulf Laureate Poet," composes "Nabati" poems, the vernacular poetry of the tribes of the Arabian Peninsula and the Syrian Desert.
There is currently no date set for the public exhibition of Abbas' new collections.
http://english.alarabiya.net/en/life-style/art-and-culture/2013/08/25/Renowned-Syrian-artist-paints-human-unity-through-Arabic-letters-.html
----------
High hopes: the UFO cult 'restoring' the victims of female genital mutilation
Victims of FGM are only offered surgery to reduce their pain. But a cult is supporting a few surgeons as they attempt to restore sexual sensation. Joanna Walters reports on the controversial procedure
Joanna Walters
25 August 2013
A nondescript suburb on the outskirts of San Francisco. A plain brick building. Seven nervous women wait in the sunlight. They are here for surgery, which perhaps has as much claim as any other to describe itself as "miraculous".
The little building doesn't shout its purpose, for many reasons. First, this surgery is about female sexuality. Secondly, it is contrary to the beliefs and traditions of millions of families worldwide – brutal beliefs and traditions. And then there's the delightful surreality of the pair behind the procedure: the tall, blonde female surgeon – one of the best in the US – who happens to have been born male, and the cheerful French counsellor who follows the bizarre 1970s Raëlian sect that believes humans were created by extra-terrestrials for the purpose of unalloyed joy.
Soon afterwards one of the first patients, Zaria, 24, is under anaesthetic. "This one's pretty bad," says the surgeon, glancing at me from the stool where she sits between the legs of her patients, scalpel poised.
When I'd met Zaria, just before her operation, I was struck by the energy of this funny, feisty, beautiful young medical student with a tattoo and bundles of raven hair. Now, by her invitation, I am looking at her genitals over the surgeon's shoulder and trying not to cry.
Zaria looks more like a doll than a real woman. Her genitals are featureless, completely smooth apart from the opening. Barbie might actually be more anatomically correct.
The surgeon lifts her scalpel and begins carefully slicing away at the flat skin surface; basically a thick layer of scar tissue. It is the second time in Zaria's life that someone has taken a knife to her most intimate parts. The first was when she was 11 in Sierra Leone, and that time there was no anaesthetic.
Relatives had taken her into the countryside under the ruse of a day-trip to pick oranges. Once there she was lined up with 20 other girls and forced to the ground by a cluster of older women. Her labia and clitoris were sliced off in a ritual once called female circumcision but now known more accurately as Female Genital Mutilation, or FGM.
"I remember I struggled and I was yelling so loudly that one of the women actually sat on my head and practically suffocated me while they cut me," Zaria told her fellow FGM victims as they swapped stories before their operations.
According to the World Health Organisation more than 140 million women worldwide live with the effects of FGM, which is most commonly practised in northeast and west Africa, but also in places such as Yemen and Indonesia. But an infinitesimal fraction, almost exclusively those who emigrated to the west, are now finding their way to an emerging handful of surgeons who offer a radical attempt at rehabilitation.
This surgery doesn't just make intercourse and childbirth easier. Controversially, it also aims to give the women the capacity to feel sexual pleasure – most for the very first time – by rehabilitating the clitoris.
Zaria has travelled to California from her home on the east coast of America, where she moved from west Africa as a teenager. The wounds from Zaria's cuts healed long ago, but in the process have formed a layer of thick scar tissue that has left her genitals numb to the touch.
"My fiancé left me two months ago because I don't want sex," she'd told me when she first arrived at the clinic, her sad and bewildered tone mixed with a note of defiance. "I did start having sex with him, but I don't feel anything and I don't care for it. He's from Sierra Leone, too, so he understands about FGM and was supportive at first, but in the end he went off with another African girl who hadn't gone through it and wasn't inhibited like me," she had said.
While some of Zaria's relatives dealt with her heartbreak by telling her she should just "get on with it" and have sex out of obedience, Zaria had what she describes as a "lightbulb moment" and began searching the internet.
In just seconds she had come across an alternative solution. Next thing, she had taken out a loan, which she has "no idea" how she'll pay back, jumped on a plane and found herself in this plain brick building.
Once at the clinic, she and the other patients (including one who had flown from Australia, who had been "cut" when living in Kenya as a young girl and who had hugged Zaria as she first told her story) were greeted by the two women who were instrumental in encouraging them to break their bonds of cultural taboo. They are an intriguing pair.
One is the surgeon, Dr Marci Bowers, who normally specialises in sex-change surgery, and indeed herself was born male before she transitioned. There's a 14-month waiting list for her $21,000 gender reassignment surgery, but twice a year she clears her diary to operate pro bono on FGM victims – although they must pay a $1,700 fee to the clinic, near San Francisco airport, where Bowers rents an operating theatre. So far she's operated on 50 such women.
The other is Nadine Gary, a Frenchwoman who lives in Las Vegas. A schoolteacher, she was inspired to help FGM victims by her following of the outré Raëlian sect. Founded by Claude Vorilhon ("Raël"), who spouts absurd claims about being taken up in an alien spaceship to meet Moses, Jesus and Buddha, it professes that humans – and all living things on Earth – were created by extra terrestrials using genetic engineering. Followers strive to campaign for world peace, sharing and nonviolence, but also unfettered sexual joy, which is what drives their movement against FGM. They were most recently in the news for offending people with their use of the swastika, often set inside the Star of David.
When I meet her, Gary is wearing this scandalous combination on a gold necklace and, noting my alarm, explains at length why it symbolises infinity for Raëlians and employs the swastika in the ancient eastern sense of sacred goodness "before Hitler hijacked it". I waver between dismay and bemusement.
She comes across as a paradox: an unambiguously dynamic, charming, kind and generous person in all our conversations who, until she starts talking about UFOs, seems rational. I deal with the discomfort by listening politely, but then turning back to the practical and political implications of the charity she helps run, provocatively called Clitoraid. Formed by the Raëlians, it campaigns for the end of FGM and, meanwhile, promotes the surgery to victims and offers free long-term emotional and sexual counselling.
Gary has driven across from Vegas to support the women, many of whom have not told their families about their journey. The atmosphere in the clinic is more than a little surreal. There is much nervous laughter.
On the operating table, however, everything is clinically methodical. After stripping off old scar tissue, Bowers makes deeper incisions to disconnect small ligaments around the area where Zaria's clitoris was before it was removed. At the stroke of the scalpel, a prominent nub of raw pink flesh practically pops up, suddenly protruding from the tissue surrounding it.
"There! That's her womanhood right there," Bowers declares triumphantly. She pauses for effect. "It's like a magnificent tower in the forest." What's barely understood, Bowers explains, is that when the clitoris is cut off in FGM, it's like losing just the visible "tip of the iceberg".
"The clitoris is much larger than previously advertised. Even after they cut off the tip, about 99% of the clitoris is actually still intact, but hidden beneath the surface. We can access that." Apparently women possess another eight inches of unseen clitoral erectile tissue that lies under the skin, arching around the vagina. "Two inches longer than the average penis," says Bowers, archly.
By removing the obstructive and often painful scarring and exposing some of that remaining erectile tissue, then stitching it finely into place, she asserts that after about two months of healing it can function as a new clitoris, restoring the potential for pleasurable sex.
After that procedure, known as clitoroplasty, Bowers then stitches some side folds of spare skin near the vagina to give Zaria the token appearance of labia minora. It can never be her natural perfection, Bowers warns. But even to my non-medical eye, I can see that this travesty, this sub-Barbie, has been transformed into a fair simulacrum of what Zaria had been born with. And, luckily, she has not suffered the infibulation ritual that stitches the vagina partially shut.
After 55 minutes she is wheeled out of surgery and the next patient, Sara, 29, is wheeled in. Sara was cut in Eritrea, East Africa, at the age of just three months and it was more a symbolic slash than a mutilation. But the manner in which her scar tissue formed fused a section of the labia, restricting the vagina and clitoris. Now living on the west coast of America, Sara suffers pain, not only if her boyfriend attempts to touch her there, but even when doing exercise, such as yoga. In just 12 minutes of delicate scalpel work, Bowers removes a lifetime of discomfort for Sara.
Between sessions, Bowers checks her emails, gulps a coffee and chats with the nurses in an ante room. She's exasperated that more surgeons aren't training and research hospitals aren't adopting this operation, describing progress in the field as "glacial".
Compared with the delicate gynaecological, urological and plastic surgery she uses for five-hour gender-reassignment operations, FGM-restorations are a doddle.
"Clitoroplasty isn't rocket science. If I wanted to be controversial I'd say that the three reasons why more surgeons don't train for it are that these patients are African, Islamic and female. There's a cultural bias or indifference there, combined with good old racism and sexism in a traditionally paternalistic medical profession.
"There may be some legitimate fear about interfering with other people's cultures, but when you talk to the husbands and boyfriends of the women they're not happy that their wives and girlfriends cannot respond sexually – and that's even without going into the misery that the women suffer," says Bowers.
There is, as you might imagine, disagreement in the medical world about the effectiveness of the surgery. The pioneer of FGM repair surgery is Dr Pierre Foldès in Paris, who began offering the clitoroplasty two decades ago and has operated on almost 3,000 women. He has trained Bowers, 10 more surgeons in France and one in Barcelona, and another doctor who has started offering the surgery in upstate New York. (The reason, incidentally, why there are so many French trainees is that clitoroplasty is paid for by the state as corrective surgery, not only to increase the chance of sexual pleasure, or at least reduce the chance of sexual pain but, crucially, to make women feel normal again; the French see this as a human right.) Just one surgeon in Britain, Dr Kamal Iskander, based at Northwick Park Hospital in Middlesex, is known to perform the occasional clitoroplasty on a patient but, he explains, only if he's already operating on them for more extensive post-FGM problems, such as chronic pain or infibulation.
There are an estimated quarter of a million women in the US who have suffered FGM or are at risk of it. In Britain there are an estimated 66,000 victims, largely among the African diaspora, and a further 20,000 of their children are believed to be at risk, mostly of being taken abroad for the ritual, even though this is illegal.
An article in the Lancet by Foldès in June last year stated that of those who attended a one-year surgical follow-up consultation (admittedly only 29% of his patients), more than half were now having orgasms and almost 98% felt clitoral pleasure. But leading British doctors Sarah Creighton, consultant gynaecologist at the private Portland Hospital, Susan Bewley, consultant obstetrician at St Thomas's and Lih-Mei Liao, clinical psychologist in women's health at University College Hospital then wrote to the journal countering that his clitoral restoration claims were "anatomically impossible".
Their letter went on to say that his results were not "supported by current evidence" and "where the body of the clitoris has been removed, the neurovascular bundle cannot be preserved". Outraged, Bowers described the letter as "sneering", citing patients who ring her up crying with happiness after their first ever orgasm.
Efua Dorkenoo, who leads the campaign against FGM at the women's anti-violence pressure group Equality Now in London, called on the World Health Organisation to initiate clinical trials on the surgery urgently. She said there was such a lack of information, she could not dismiss either side's arguments.
Bowers tells FGM patients that "there are no guarantees" but that eight out of 10 report improvements in their sex life after her surgery, ranging from eliminating pain and acquiring some pleasure to full-on orgasm.
Gary organises a pre-surgery workshop about the mental transition needed from lingering trauma to embracing sensuality, and sends them all home with a vibrator. Once they've healed she sends them literature on discovering masturbation, and Gary and Bowers give all the patients their phone numbers and email. "The physical surgery is just one step of the journey. Many religions repress women's sexuality – we break the taboo. A woman's body is connected to her self esteem – we explain to the patients the many different things that happen when a woman feels pleasure, and that it's natural," Gary says.
Miriama, 30, who was born in Guinea but now lives in the US, had the surgery with Bowers three years ago and says it's changed her marriage. "Sex with my husband is fun now; it was just a duty before. I haven't reached the orgasm part yet, but I'm working on it."
Travelling to Bowers's clinic had been a huge step. "When I told a cousin what I was getting done she called me a slut," Miriama recalls.
She has a daughter, who is eight, but Miriama refuses to take her to visit her mother, who still lives in Africa and has never met her granddaughter, in case the child is snatched and taken to be cut, as Miriama's mother did to her.
Natasha, 35, who also moved to the US from Guinea, had the first orgasm of her life three months after her 2010 surgery with Bowers, using the vibrator Gary gave her. "I'd never felt anything like it before; these waves of excitement came over me and I lost control – it's very intense, quite amazing."
She now has regular orgasms and in case doubters think they're imagined in a misplaced eagerness to be convinced that the surgery worked, she points out that she climaxes in her restored clitoris despite what's in her head, not because of it – "I was surprised that I actually felt a little bit ashamed, I felt guilty that I was doing something selfish and dirty."
The social conditioning of her upbringing is hard to shake. Her husband is making efforts to reassure her, she said, and she also turns to Gary for support. "I can talk to Nadine freely. She feels like a big sister." Natasha and the other women say that Gary talks of the Raëlian philosophy of sexual freedom, but absolutely deny that the treatment has been used as an attempt to convert them to the outlandish religion.
When I question Gary further on her beliefs, she explains that the aliens who created humans are called "Elohim", which is generally taken as Hebrew for god or gods but which, to the Raëlians, means "those who came from the sky".
"The Bible is essentially an atheist book," she tells me earnestly. "There is no God." Gary says this set of beliefs seemed more "mature" to her when she converted at 17 from the Catholicism that surrounded her when growing up near Lyon. She is now, she adds, a Raëlian priestess.
I turn to Bowers, who shrugs. "The Raëlians are very unabashed about their sexuality and unapologetic about erotic pleasure, but it's a red herring in terms of my work. It doesn't affect the price of bread," she says.
"But they do deserve credit for promoting women's sexual health and Nadine has got me talking much more frankly about sexual matters with my patients."
Bowers was supposed to be travelling to the small west African state of Burkina Faso in October to celebrate Clitoraid opening a hospital there. When it happens, it will be Africa's first clinic specifically for performing FGM-restoration surgery, including clitoroplasty – a highly symbolic act at the heart of a region where the ritual is prevalent.
Clitoraid says local medical staff and surgeons will be trained to work there and that several hundred local women have already broken the taboo to sign up for operations. Critical voices have accused Clitoraid of neocolonialism, and of using the hospital as a fundraising tool. Gary fires back that their motive is purely humanitarianism. Yet the opening, which has been delayed several times, has just been put back to next year.
Campaigners hope FGM will be phased out within a generation, to join Chinese foot-binding as a horror of history. "The idea of reducing women's sexual pleasure with FGM so they can be controlled is falling apart because men are having sex outside their communities and seeing the difference, and it's creating problems within relationships, here but also in Africa," says Efua Dorkenoo, of Equality Now.
The day after her surgery in San Mateo, Sara is tired but ecstatic. Most of the women are dotted around in various cheap hotels near the clinic, recovering, but Sara is collected by her boyfriend, who lives nearby. "I feel free. I'd felt so unheard and my whole life had felt like there was something missing. Now the anger I've had for years has gone," she says.
Her boyfriend Jack, who was born in Eritrea, puts up with the fact that they've been together for three years but don't have sex. "I'm not going to rush. I love her and she is my good match," he says in a soft accent, smiling shyly. "I'm very glad she got the surgery – for her. It's necessary for her to feel like a full woman."
Another of the women Bowers has just operated on, Ayanna, 23, a marketing assistant from the Pacific northwest who fled the civil war in Somalia, is in a quandary after her clitoroplasty, for she is not in love with her current boyfriend.
"I told him I was coming for the surgery and the way he was talking I'm worried he's going to expect me to be an instant sex machine," she says.
Ayanna lied to her conservative mother that she was visiting friends in San Francisco, then sneaked off to Bowers's clinic with her best friend Emma for support. Emma's parents are from Ethiopia, but she was born in America and was never cut. The two exude such an all-American youthful mischief it's hard to believe Ayanna was once steeped in a very different tradition. They banter about boozy parties and dating. They order room service while giggling in their dressing gowns. Ayanna shows off the scrapes on her leg from a skateboarding escapade the previous week.
But then she is suddenly solemn.
"My friends and I will all be in a nightclub having a crazy time, but while they are getting guys' numbers, I hang back," she says. "Technically there's no reason why, just because I'm cut down there, I couldn't feel sexy when a guy is kissing me or touching my breasts. But my mind leaps to what that leads to next and then I shut down," she says.
She has high hopes of a fulfilling sex life now that she's had surgery, but still has years of negative mind games to overcome.
Zaria feels the same and is not in a hurry to find a new man. She turns her eyes to the endless blue sky and lets the sun warm her between takes for the Observer's photo- grapher, 24 hours after the surgery.
Chattering nonstop, she's on a mental roller coaster – wanting to be the "face of Clitoraid" one minute, worrying about repercussions from her family the next. Excited about the notion of erotic pleasure, and equally scared. Weeping, laughing.
She finally pauses for breath. "I didn't do this to get back at my ex-fiancé, or get him back. This isn't about him or my family any more. It's all about me," she says.
Some names have been changed
http://www.theguardian.com/society/2013/aug/25/surgery-for-female-genital-mutilation
----------
Ghana Muslim Women Supports Juaboso Hospital
August 25, 2013
The Ghana Muslim Mission Women's Fellowship (GMMWF), on Friday presented items worth GH¢1,500 to the Juaboso District Hospital in the Western Region as part of programmes to mark its ninth national conference.
The items, including bed sheets, toilet rolls, mops, buckets, toiletries, detergents, and disinfectants, were to support the hospital to cater for the needs of its numerous patients.
Hajia Mariama Obeng, National President of GMMWF, said the presentation formed part of the social responsibility of the organization as well as activities to mark its annual conference.
She said Islam, as a religion, teaches charity and as such the presentation demonstrated the organisation's resolve to follow the teachings of Islam.
Hajia Obeng asked for God's blessings on the staff of the hospital and prayed for healing for all the patients.
Mr Alfred Boateng Forson, Pharmacists, Juabosu District Hospital, who received the items on behalf of management, expressed appreciation to the GMMWF for the kind gesture.
He said the items would go a long way to assist the hospital to cater for the needs of its patients, adding, such items were the basic needs of every hospital.
Mr Forson urged other religious organisations to emulate the example of GMMWF and assured the Fellowship that the items would be used for its intended purpose.
The GMMWF is a wing of the Ghana Muslim Mission, formed in 1967 to bring Muslim women together to instill the fear of Allah in them and educate them on Islamic teachings as well as secular education.
http://www.ghanabusinessnews.com/2013/08/25/muslim-women-supports-juaboso-hospital/#sthash.s9z3y3kF.dpuf
----------
Carol Hunt: Egypt cannot progress if women are denied equality
25 AUGUST 2013
LAST year, just before the election of Dr Mohamed Morsi, I happened to be in Egypt with a group of Irish journalists. For the first time in years, election posters appeared on every available lamppost and billboard and all the talk was of politics and "the revolution". And if some of us Irish hacks raised an eyebrow at the unbridled optimism of young men who envisaged a bright, free future ahead, we hoped it was down to our ingrained Irish pessimism and not just our experience that civil war inevitably follows revolution.
You may note that I mentioned only "young men", the fact being that I rarely got to see, let alone speak with, Egyptian women. Initially we had stayed at the southern tourist resort of Sharm El Sheik where it took a few hours to realise what was missing: females. Every single staff member was male. Where were the girls?
We were told they were kept at home with their families until they married. "Their families preferred it," said our guide. Why? "It keeps the women safe and their fathers know where they are."
A few days' chatting with locals confirmed the view that, in the 15 years since my last visit to Egypt, the country had become increasingly "Islamicised". Meanwhile, in Cairo, what stood out was the utter poverty of many of its people, male, female, young and old.
At Tahrir Square, our young male guide advised me not to attempt to chat with any of the women, as sexual attacks on females – including western journalists – were increasing daily. Five minutes later, I watched as he rudely chastised a group of older women, headscarves properly in place, who had been taking pictures of each other outside the nearby Cairo museum. They moved off with a dignity and weariness that suggested they'd suffered years of this sort of attitude. Our guide then proudly pointed out the picture of the man he was voting for: Dr Morsi, or "moderate Morsi" as he was known then; the benign face of the Muslim Brotherhood who was supposedly more predisposed to tolerating secular values than the ultra-conservative Salafis.
I remember hoping that everything would go well for the women of Egypt under the new regime; these extraordinary women who have for decades fought for freedom and civil rights. Egyptian women didn't just appear on the scene in January 2011, though the numbers involved in the 2011 revolution were certainly unprecedented. Likewise, the marginalisation of women in Egypt didn't start with the Muslim Brotherhood coming to power; women have been fighting it for years
The Egyptian revolution has presented us with what one analyst has called a "gender paradox". Politically women have been divested of gains they made in recent times, yet simultaneously they dominate the cultural and social narrative; through media and art, particularly street graffiti. And, as they try to reassert their rights to a voice in the current struggles, their sexuality is increasingly being used as a weapon against them by both military and religious groups.
All of this, of course, may seem very distant here in Ireland, but the arrest of four of our citizens, three of them women, in Egypt last week, brought it right home.
It's difficult to imagine, looking at the smiling pictures of the four young Halawa siblings, how this family group ended up in a Cairo prison, with unconfirmed reports alleging that they are being investigated for charges that include possession of firearms, attempted murder and belonging to a militant group.
Speaking last Saturday, one sister, Fatima, told Al Jazeera that they were too frightened to leave the mosque they, and members of the Muslim Brotherhood, had claimed sanctuary in, despite the promise of safe passage by the military. They had seen other women set upon by an angry mob as they tried to escape, they said. The three sisters were right to be concerned. They were caught right in the middle of two warring forms of macho authoritarianism – military and religious – both of which have form in using sexual violence as a means of intimidating uppity women who involve themselves in politics, rather than staying at home.
And by Egyptian standards, the Halawa women are uppity indeed. Prior to the demonstration in Ramses Square, the sisters took part in the pro-Morsi sit-in at Rabaa al-Adawiya, one of the encampments broken up by security guards with the loss of more than 600 lives. Nosayba Halawa posted a video showing her sisters as they addressed the crowds under a banner that read: "Egyptians abroad for Democracy."
Many of us will wonder what three emancipated young women, citizens of a Western democracy, are doing agitating for an association that has been denounced by Egyptian women's groups as trying to "marginalise and exclude women from the political scene". Its year in power has been called the "worst and most cruel for women". Even Sanaa al-Banna, the grand-daughter of the Muslim Brotherhood's founder, Hassan al-Banna, is no longer a member. She left the Brotherhood a few years ago, saying: "There's no freedom [in the Brotherhood] for either sex . . . There's no transparency, no permission for the divergence of thoughts or critical thinking. It's their way or you're out."
However, Islamic academic Abou Bakr says that "secular feminists have always been suspicious of Islamist politics", noting that it is "not just within Islam that women fight for equal rights but also within Christianity and Judaism too". And of course this is very true, but it is still impossible to argue with the facts. Statistics show (World Economic Forum Gender Gap 2012) that Muslim majority countries are the worst in terms of gender equality. The bottom 20 countries in the world have a Muslim majority, with Belarus as an exception. Most rich countries are close to the ideal of gender equality, while in the poorest countries women have only limited rights and face widespread discrimination.
Egypt will not progress until its women are accorded equal participation in all areas of public life. Sadly, Egypt's women have discovered that it is easier to topple dictators and religious fundamentalists than it is to achieve equality and human rights. All sides (including the Islamists supported by the Halawa family) locked in this power struggle insist that they believe democracy is the way forward; but true democracy is impossible in a society where women are afraid to walk the streets and denied the right to participate fully in public life.
Sunday Independent
http://www.independent.ie/opinion/analysis/carol-hunt-egypt-cannot-progress-if-women-are-denied-equality-29525782.html
----------
Are Seductive Images of Feminine Perfection Still Good For Sales?
August 24 2013
Contrary to popular opinion, those bikini-clad young models draped over the showroom Ferrari might be doing your sales more harm than good these days.
Marketing executives have long relied on the idealized female image, usually in the form of a celebrity or model embracing a product or draping themselves across it, in the belief that the placement of these images positively influences purchase decisions.
That may have worked when it was men making list of the purchasing decisions, but today women customers are a force to be reckoned with, and they are not amused. New research by INSEAD reveals a fine line between creating a positive, aspirational image – which makes people open their wallets – and a threatening one that turns away a potential purchaser.
In his work In defensive reactions to slim female images in advertising: The moderating role of exposure, Amitava Chattopadhyay, INSEAD Professor of Marketing and the INSEAD Chaired Professor of Marketing and Innovation, examined the blatant versus the subtle positioning of models in advertising which showed two very different results.
Across three studies, he showed that the blatant positioning of the model elicited a negative association with the product, whereas the subtle placement evoked a more positive perception. Consistent throughout, however, was that the very presence of the model led to a loss of self-confidence as the consumer (female) looked at the advertisement. The difference between being turned away and making a purchase depended on how consciously aware they were of the model's ideal features and beauty compared to their own self-image.
Female participants in the studies were shown various advertisements and asked to judge the attractiveness of models, the suitability of the product in the photographs, while also measuring their resulting self-image evaluations afterwards. Those asked to pay closer attention to the model's features felt more threatened.
Customer vs the model
"Essentially when you see somebody who is very attractive, there is a natural comparison with yourself, that's the human nature, it's a default option when you say 'how do I compare with this beautiful person?'
Given that this person has this idealized face and figure, most people don't match up so you feel bad about yourself," said Chattopadhyay.
As his research finds, the placement can mean everything. When the model is in a very obvious, blatant position, the recipient is consciously aware of the model's threatening presence and the intrusion on their self-perception. Their reaction is to attack the source of that threat.
"They start thinking about what the advertiser is trying to do and that then leads them to have a negative reaction towards the advertised product because it's seen as manipulative. They cope with that negative feeling that they derive from not being as perfect by denigrating the source of that negative feeling," he added.
So does this spell the end of the idealized female model in advertising? Not just yet.
As Chattopadhyay goes on to note, although a more subtle placement of the model still evokes a feeling of lower self-worth, consumers of more subtle advertisements react more positively to the advertiser's advance.
"When it's subtle, as in this example which had the product and the model separated on two sides of an open magazine page, they don't necessarily connect the discomfort that this picture is leading to with the model. If the product that's being sold is related to it, as in a beauty product, then you kind of see it as a solution to this discomfort: 'I'm not feeling so beautiful so therefore if I use this perhaps it'll solve my problem' and so then the behavior becomes much more compliant and in line with what the advertiser's original intention was," he said.
Female purchasing power on the rise
As more wealth continues to be generated and spent by the world's increasingly professional and mobile female consumer market, especially in Asia, these findings have important implications for marketing to this segment. According to the Boston Consulting Group, female earnings in China are projected to grow from US$1.3 trillion in 2010 to $4 trillion in 2020. Women in India will be bringing in close to $1 trillion by the same year. Understanding what makes or breaks a purchase in this market will mean the difference between success and failure.
"If the consumer sees what you're trying to do then they're going to react in a way that is not consistent with the goals of the advertiser, so keep that in mind and perhaps when you pre-test the advertising before putting it in media, you would check to see whether people are actually noticing the connection or is the connection sufficiently subtle that people don't naturally think 'I'm being manipulated.'"
Chattopadhyay's study also has implications for marketers in other sectors, not just female beauty products.
"For example, I say 'Have this medication because it's going to improve your mental prowess' targeting it at say elderly consumers who might be suffering memory deficits. Would we get similar results? Our intuition is that the results would be similar because at the end of the day, the underlying mechanism is the same because my self-image is threatened. When my self-image is threatened, I feel bad and I want to repair it," he said.
"Then there are two parts to repair, either I can repair it by improving myself which would be the compliant route and I do what the advertiser wanted me to, go buy the pills and improve my memory…hopefully. On the other side I would say, well, I really don't need it because they're just trying to sell and this is not in my best interest."
"When consumers change, your approaches have to change so I would think that given what we've found, it would suggest that advertisers would have to be far more cautious than they once thought," Chattopadhyay said.
Amitava Chattopadhyay is The INSEAD Chaired Professor of Marketing and Innovation and co-author of The New Emerging Market Multinationals: Four Strategies for Disrupting Markets and Building Brands.
http://www.thejakartapost.com/news/2013/08/24/are-seductive-images-feminine-perfection-still-good-sales.html
----------
URL: https://newageislam.com/islam-women-feminism/taliban-return-threatens-gains-girls'/d/13190