New Age Islam News Bureau
01 October 2021
• 'Anti-Feminist', Believed To Be Ultra-Orthodox Extremists Vandals in Israel Deface Images of Women
• Qatar Calls Taliban Moves On Girls Education 'Very Disappointing'
• Iranian Harasses Woman For Singing in Public, Calls It 'Sin', Gets Schooled By People
• Pakistani Women Are Leading the Struggle for Human Rights
Compiled by New Age Islam News Bureau
URL: https://www.newageislam.com/islam-women-feminism/tajik-prison-islamic-afghanistan/d/125486
--------
Tajik Woman Gets Lengthy Prison Term For Allegedly Fighting With Islamic State In Afghanistan
September 30, 2021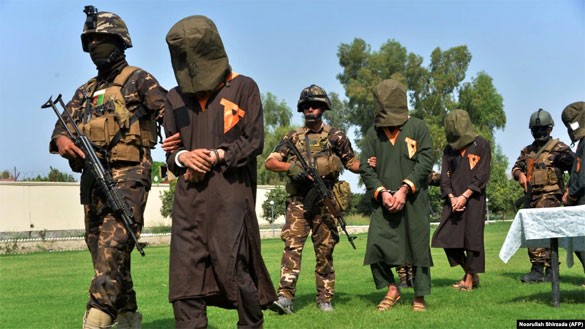 Afghan security personnel escort arrested alleged Islamic State militants during an operation in Jalalabad Province in October 2019.
-----
VAHDAT, Tajikistan -- A Tajik court has sentenced a local woman to 12 years in prison for allegedly fighting alongside Islamic Sate (IS) militants in neighboring Afghanistan in 2015.
The court in the city of Vahdat, near Dushanbe, on September 30 found 31-year-old Olima Kamolova guilty of taking part in the Afghan war in an area of Afghan territory that was at the time under the control of an affiliate of the extremist group.
A prosecutor had asked the court to hand Kamolova a 15-year prison sentence.
The mother of four has pleaded not guilty, saying she was pregnant twice while in Afghanistan, and that she would be unable to take part in any military operations there.
She insisted that her late husband Parviz Sangov brought her to Afghanistan and kept her there against her will before he was killed near the eastern city of Jalalabad.
Kamolova was detained by Afghanistan's government forces before being repatriate along with her children earlier this year after she appealed to Tajikistan's authorities in January, asking them to help her return.
But she was arrested in Tajikistan in July and charged with taking part in a military conflict abroad, which is a crime in the Central Asian nation.
In recent years, thousands of Central Asian citizens have joined the IS group in Syria, Iraq, and Afghanistan. They were in many cases accompanied by their wives and children.
Source: Gandhara
https://gandhara.rferl.org/a/tajik-woman-islamic-state-afghanistan/31486198.html
--------
'Anti-Feminist', Believed To Be Ultra-Orthodox Extremists Vandals in Israel Deface Images of Women
By LAURIE KELLMAN
Oct 1, 2021
JERUSALEM (AP) — The joyful glint in Peggy Parnass' eyes is so sharp it can be seen from the walls of Jerusalem's bustling Old City. Posted across the street at the gateway to City Hall, twin images of the Holocaust survivor and activist gaze out at the ancient warren of holy monuments of Christianity, Judaism and Islam.
But just outside this centre of spirituality, someone saw her image as a problem. Five times since the photos of Parnass were posted as part of an exhibition that began in April, vandals — widely believed to be ultra-Orthodox extremists — spray-painted over her eyes and mouth.
The graffiti was cleaned each time, leaving Parnass smiling again. For many Israelis, however, the short-term fix highlighted a familiar pattern that's all the more painful because the destruction is coming not from enemies across Israel's borders but from within.
"It's not anti-Semitic," said Jim Hollander, the curator of The Lonka Project art installation at Safra Square. "This is anti-feminist."
For all of its modernity, military firepower and high-tech know-how, Israel has for decades been unable to keep images of women from being defaced in some public spaces. Billboards showing women -- including soccer players, musicians and young girls -- have been repeatedly defaced and torn down by religious extremists in Jerusalem and other cities with large ultra-Orthodox populations over the past 20 years.
Even German Chancellor Angela Merkel was erased from a 2015 photograph of world leaders in Paris published by an ultra-Orthodox newspaper.
The pattern is especially uncomfortable now.
"This is not Kabul, this is Jerusalem," said Fleur Hassan-Nahoum, a Jerusalem deputy mayor. "This is a concerted campaign by radicals to erase women from the public space, which belongs to all of us."
The double photo of 94-year-old Parnass, who lives in Germany, is posted on an outside wall of Jerusalem's City Hall complex.
Hollander said he specifically chose it among dozens of others posted around the complex to hang in the marquee spot because it projects vitality, perseverance and survival across one of Israel's most famous expanses. Its central location makes it visible to thousands every day.
The vandalism is widely blamed on a small number of fringe members of the insular ultra-Orthodox community, which emphasizes modesty among women and has traditionally carried outsized influence in Israeli politics. The photo is posted next to a street that borders an ultra-Orthodox neighborhood and is a popular walkway to the Old City's Western Wall, the holiest Jewish prayer site.
Ultra-Orthodox Jews make up about 12.6% of Israel's population of 9.3 million. That community's population is growing faster than those of other Israeli Jews and Arabs, according to the Israel Democracy Institute, a nonpartisan Jerusalem think tank. A majority of Jerusalem's Jewish community is ultra-Orthodox, the institute said.
There is a difference, one expert cautioned, between the more pragmatic mainstream ultra-Orthodox Judaism and the vandals defacing photos of women.
"In the mainstream, they know that the world outside is functioning in a different way," said Gilad Malach, who leads the ultra-Orthodox program at the Israel Democracy Institute. "And they know that in some situations, they need to cooperate with that."
In the mainstream Orthodox community, some women have begun to push back on social media.
"The men aren't in charge there," said Kerry Bar-Cohn, 48, an Orthodox chiropractor and performer who a few years ago started posting YouTube videos of herself singing children's songs. Recently, she tried to publish an ad in a local circular with her photo on it, and was refused.
"It's straight-out discrimination," said Bar-Cohn, wife of a rabbi and a mother of four. "I was thinking I want to sue them, but No. 1, who has the time? And No. 2, you don't want to be that person."
Advocates say erasing women carries dire societal risks.
"You don't see women, you don't hear their needs and their needs are not met," said Shoshanna Keats Jaskoll, 46.
Keats Jaskoll recently launched the subscription-only Jewish Life Photo Bank, a collection of what she calls "positive" images of Orthodox women for the Chochmat Nashim organization. The idea is to sell images of women that are acceptable to an Orthodox audience and better understood by people in general.
None of these initiatives has halted the constant wave of vandalism.
The Israel Religious Action Center, which is connected to the liberal Reform movement of Judaism, has tracked the vandalism and other attacks on women's images for five years and filed a court petition to compel the city of Jerusalem to crack down.
Over time, the municipality has responded by saying it is engaged in "massive, effective and focused enforcement" of city bylaws against vandalism, but it acknowledged difficulty in collecting testimony and prosecuting suspects.
"The Jerusalem municipality has and will continue to condemn any damage to public images and deals with the problem if appears on the spot," the city said in a statement.
Police say they investigate all complaints of vandalism and property damage and try to find those responsible, but had no information about the Parnass case.
By refusing or being unable to crack down, "the state sponsors this practice," said Ori Narov, an attorney for IRAC. "We keep getting this impression that they keep making excuses," ranging from a shortage of labor to even more limits due to the coronavirus pandemic.
The municipality said the Parnass photos have been restored and it has increased patrols around City Hall.
Parnass' niece, Keren-Or Peled, who lives in Israel, says Parnass has been told what happened. After her photos were cleaned for a third time, Peled traveled to Jerusalem to take a photo to send to her aunt.
By the time Peled got there, however, the set of photos had been defaced again. She helped clean it herself.
"They paint over your picture time and time again because you are a woman," Peled wrote to her aunt in an article published in Haaretz. "A beautiful, strong, confident 94-year-old woman."
Source: AP News
https://apnews.com/article/europe-middle-east-religion-jerusalem-israel-0993301783350f326e8970761c5ad34f
--------
Qatar calls Taliban moves on girls education 'very disappointing'
30 Sep 2021
Qatar's top diplomat says the Taliban's moves on girls' education in Afghanistan are "very disappointing" and "a step backwards", and called on the group's leadership to look to Doha for how to run an Islamic system.
Foreign Minister Sheikh Mohammed bin Abdulrahman Al Thani was referring to, among other things, the Taliban's refusal to allow Afghan female secondary school students to resume their studies, weeks after the group took power.
He spoke at a news conference on Thursday with European Union Foreign Policy Chief Josep Borrell in Doha.
"The recent actions that we have seen unfortunately in Afghanistan, it has been very disappointing to see some steps being taken backwards," he said.
Doha has become a key broker in Afghanistan following last month's withdrawal of US forces, helping to evacuate thousands of foreigners and Afghans, engaging the new Taliban rulers and supporting operations at Kabul airport.
"We need to keep engaging them and urging them not to take such actions, and we have also been trying to demonstrate for the Taliban how Muslim countries can conduct their laws, how they can deal with the women's issues," said Sheikh Mohammed.
"One of the examples is the State of Qatar, which is a Muslim country; our system is an Islamic system [but] we have women outnumbering men in workforces, in government and in higher education."
The Taliban has been accused of human rights abuses in recent weeks, including publicly stringing up the bodies of four alleged kidnappers from cranes in Herat last week.
The display of the dead kidnapping suspects, who were killed in a shootout, was the most high-profile public punishment since the Taliban swept to power last month.
It has been seen as a sign the Taliban will adopt fearsome measures similar to their previous rule from 1996 to 2001.
The Taliban follows an extremely strict interpretation of Islamic law that segregates men and women, and have also slashed women's access to work.
It has been almost two weeks since girls were prevented from going to secondary school, and isolated rallies led by women have broken out across Afghanistan in recent days.
Sheikh Mohammed called on the Taliban to "maintain and preserve the gains made in past years" but warned the international community and "friendly" states not to isolate Afghanistan.
Borrell echoed the Qatari top diplomat, calling "some of the things that have happened in Afghanistan recently … quite disappointing".
"Let's hope we can manage to reorient … the Afghan government," he said adding that he hoped Qatar could use its "strong influence" on the Taliban to encourage the group to improve its treatment of civilians.
EU-Qatar relations
Al Jazeera's Zein Basravi, reporting from Doha, said it was "interesting" to see how Qatar has evolved from being a reliable energy partner for the EU to an "equal partner on the international stage to try and solve global problems".
The EU is likely to "lean on Qatar more and more" as a diplomatic ally and partner, Basravi said.
Since the topic of Afghanistan dominated the talks, it is clear that the EU wants to resolve the Afghan crisis and to "contain a potential displacement of people from leaving the region," he added.
Meanwhile, the two diplomats discussed other "international topics including the nuclear agreement with Iran," Sheikh Mohammed said.
Borrell said he believes nuclear talks with Iran will resume within an acceptable period of time.
"We continue to work towards a quick resumption of negotiations in Vienna," he said.
Source: Al Jazeera
https://www.aljazeera.com/news/2021/9/30/qatar-taliban-afghanistan-eu-borrell
--------
Iranian Harasses Woman For Singing in Public, Calls It 'Sin', Gets Schooled By People
September 26, 2021
Aman, who harassed a woman for singing in public, was schooled by a group of people present at the scene for unnecessarily trying to disturb peace in Iran.
In a video shared by Iranian journalist Masih Alinejad, a crowd was seen defending a woman who was harassed by a man for singing in public.
In the video, a woman was seen playing a guitar and singing in the street when a man approached her and stopped her from singing In public. While another woman, who was present at the scene, intervened and asked the man why women were not allowed to sing in public.
To this, the man replied, "It's 'haram' (sin) for a woman to sing in public. You (to the woman who was singing in the street) keep singing but not in public."
Following this, a crowd gathered at the scene and asked the man to focus on other problems in the country including robbery and embezzlement.
They then asked the woman to continue with her singing as they cheered for her.
Earlier, Taliban banned music and female voices on television and radio channels in Afghanistan's Kandahar. This comes after some media outlets removed their female anchors after the Taliban took over Afghanistan on August 15. Local media in Kabul also reported that several women staff members were asked to return from their workplaces since the takeover.
Source: India Today
https://www.indiatoday.in/world/story/iran-man-harasses-woman-singing-public-watch-1857412-2021-09-26
--------
Pakistani Women Are Leading the Struggle for Human Rights
By Hasan Ali
SEPTEMBER 28, 2021
ISLAMABAD—When the journalist Asma Shirazi landed in Lahore on the night of July 13, 2018, she found her Twitter feed awash with insults. She had just been aboard the flight that had brought former prime minister Nawaz Sharif back from London after the courts convicted him, in absentia, of corruption. Her crime—for which she was called a prostitute, threatened with rape, and accused of taking bribes—was that she had interviewed Sharif about the verdict delivered against him.
"We live in a society where the most vulnerable demographic is women, and a single sentence can destroy our reputations," says Shirazi. "It [the trolling] was part of an organized campaign to silence those voices that were speaking up about the manipulation of the 2018 election."
Shirazi—a 20-year veteran of the media industry—is no stranger to threats or political pressure. Her reporting has taken her from Swat to Beirut and put her on the radar of any number of militant outfits, from ISIS and Lashkar-e-Jhangvi to the Pakistani Taliban, all of which have tried to stop her from speaking. "I've never been afraid of death; what used to scare me was insults. Now I'm not afraid of either."
Instead of being cowed, Shirazi has continued to speak up for democracy and to hold the military-civilian rulership to account. "Truthfully, surrendering isn't in my blood. There were many occasions when I asked myself if I shouldn't just compromise but then I would also have to ask myself, 'to what extent?' The demand [from the hybrid regime] is to be completely blind and deaf and silent…and that was something I couldn't accept."
It is one of the peculiarities of Pakistan, a country among the most patriarchal in the world, that the struggle for civil liberties is being spearheaded by women. Indeed, there is a sense in which the reality of having to struggle against men in the public and private spheres has conditioned Pakistani women to resist oppression. Amber Rahim Shamsi, a journalist and political commentator based in Islamabad, says, "It is because of the mettle that women have developed that they are able to exude so much power."
A fervent defender of freedom of expression, Shamsi came under intense pressure in June 2020 when she grilled former finance minister Asad Umar on the drastic increase in petrol prices presided over by his government. She says that while she was on her way home that night, she received a phone call from Col. Shafiq Malik of Inter Services Public Relations, who chastised her for asking too many "political" questions. "It's unfortunate that saying certain names or revealing certain truths or doing certain stories has become an act of resistance," says Shamsi, who was sacked from her job under mysterious circumstances at the end of August 2020. "Because if you're not able to give the full picture to people in a democracy they don't have the information they need to make those decisions."
In the two months between that interview and her termination, Shamsi became a victim of the same sort of organized trolling that had earlier been used against Asma Shirazi. One of Shamsi's former colleagues told The Nation that the PTI government was looking for an opportunity to target her and had organized the campaign as a form of revenge for her criticism. "Pakistan is a country where if a man rapes a woman, conservative elements find a way of blaming the victim," he said. "They knew that by assassinating her character on social media, it would hurt her more than if they had done the same thing to a man."
For Nighat Dad, who heads the Digital Rights Foundation, social media bullying is a legal problem. "Constitutional rights should translate to online spaces," she tells The Nation. "The same mindset that harasses women on the street also harasses them online." Nighat, who set up the cyber harassment help line in 2016, sees her fight to empower women in digital spaces as a wider attempt to "break the patriarchy."
In 2005, a year after completing her law degree, she was forced into an arranged marriage with a man who refused to let her work. "My ex-husband told me that practicing the law was a profession for prostitutes," she says. "Then when he found out I had secretly got my license to practice, he said, 'Oh so you are a whore aren't you?'"
Two years later, after an acrimonious divorce, she represented herself in a custody battle for her infant son and witnessed firsthand what she calls the "misogyny" of the courts. "I had to scream just to be heard," says Nighat. "It was a place where female lawyers would be arguing and the men behind them would be laughing."
Because her own struggles coincided with the explosion of smartphones and the proliferation of social media, Nighat decided to focus her attentions on making the Internet a safer space for women. The Digital Rights Foundation lobbies government on how to legislate for women to have greater access to information, notifies social media companies of threats being made on their platforms, and provides a help line for women to call in and share their grievances.
The issue of women's digital rights is being discussed as part of a larger conversation about female empowerment. The emergence of groups like the Women's Democratic Front—a socialist feminist grassroots organization founded in 2018—coupled with a recent spate of highly publicized attacks against women has ignited a culture war between reactionary and progressive elements in society. Tooba Syed, who organizes the Women's Freedom Rally in Islamabad every March describes the resistance to this new wave of feminist activism as a form of societal censorship. "In Pakistan, the entire concept of chaddar [veil] or chaar divari [four walls] basically means whatever happens to women inside the four walls remains there," she says. "What young women have done in this movement is brought the home to the city square."
It is this publicization of the private sphere that has offended the right. The slogan "My Body, My Choice"—which has become a rallying cry for women around the country—has been perceived as an attack on family values, while the march itself has been targeted by a coalition of conservative and religious groups who have filed a number of blasphemy suits against it. "When the movement started it was really about the intimate," says Syed. "It was about what happens to our bodies…it was about consent and violation of our bodies in all kinds of ways."
In spite of conservative resistance, however, the work of activists such as Tooba Syed has made it much more difficult for the state to ignore cases of gender-based violence. The Islamabad Police force has just introduced a Gender Protection Unit specifically tasked with serving women who are victims of abuse. The policewoman responsible for launching the unit, Amna Baig, told The Nation that she pitched it as a help line with a responding team comprised of female officers. "The reason I insisted on a responding team of female officers was that half of the time we were getting calls about domestic violence and when the police would go and knock on the doors, the women would come out and half of the time would go back inside and not report it."
Baig, who describes herself as a feminist, sees the introduction of the unit as a way of increasing access to justice. "If I'm not making a contribution towards improving the lives of women, there's no point in inducting female police officers."
But for Imaan Mazari-Hazir, a human rights lawyer who works with the Journalist Defense Committee in Islamabad, the subjugation of women, which she describes as an ideological tenet of the state, will not stop unless the military's role in politics is curtailed. "There's a whole state-backed apparatus—the mullah-military alliance—that is opposed to women being active publicly or part of mainstream political discourse," she says. "When women step out of their roles of supporting men and cheering men on and being the good obedient women, they are always looked down upon and there are always justifications for any harm that comes to them."
What makes Mazari-Hazir's case particularly interesting is that her mother, Shireen, is currently serving as minister for human rights in Imran Khan's cabinet. "I think my mother's political career has suffered a lot because of me," says Mazari-Hazir, who has surfaced as one of Khan's fiercest critics. "But whenever this comes up, I always say to her, 'You chose to raise me this way. You taught me to question everything.'"
Mazari-Hazir's work defending journalists from state-sponsored prosecution and her vocal opposition to the country's powerful military have put her life in danger. Threats of violence are routinely made against her, and she claims that her car was once rammed by a motorcyclist in Rawalpindi. But more than her own safety, what concerns her is the future of Pakistan as a cohesive country. "The state's role has been destructive," she says. "If you continue to oppress your own people and carry out acts of violence with impunity against them, you are going towards something that will shake the structure of the country."
Source: The Nation
https://www.thenation.com/article/world/pakistan-women-human-rights/
--------
URL: https://www.newageislam.com/islam-women-feminism/tajik-prison-islamic-afghanistan/d/125486
New ge Islam, Islam Online, Islamic Website, African Muslim News, Arab World News, South Asia News, Indian Muslim News, World Muslim News, Women in Islam, Islamic Feminism, Arab Women, Women In Arab, Islamophobia in America, Muslim Women in West, Islam Women and Feminism