New Age Islam News Bureau
10 Nov 2014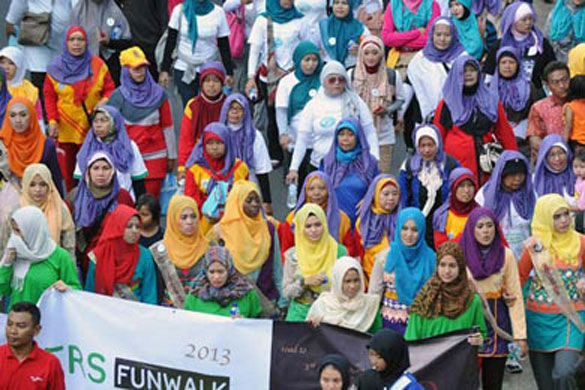 Contestants of the World Muslimah contest (2nd row, wearing sashes) and members of the Indonesian Hijabers community
---------
• Sudan: Mass Rape of 200 in North Darfur
• Namibia's Supreme Court upholds the dignity of women living with HIV
• President Ghani pledges robust investment on girls education
• Vice Principal of 'Muslim Eton' For Girls 'Sacked For Opposing Veil Rules'
• Amman OKs Services for Children of Jordanian Women Married to Foreigners
• College Asks Muslim Girls Not To Attend Classes in a Veil in Karnataka, India
• Indonesia Hijabers Combat Westernization
• Dar Al-Hekma Girls to Show off Interior Design Journey
• Arab Females Dominate Young Entrepreneur Competition '14 Entries
Compiled by New Age Islam News Bureau
URL: https://newageislam.com/islam-women-feminism/syrian-kurds-grant-women-equal/d/99946
-------------
Syrian Kurds grant women equal rights in snub to Islamic State
November 10, 2014
The local government in a majority Kurdish area of Syria has passed a decree granting equal rights to women, as the Kurds continue to fight an intense battle against Islamic State militants that oppose such freedoms.
Last year, Syria's Kurds created autonomous governments in the three regions where they are a majority, establishing self-proclaimed rule that Damascus does not recognize, the Agence France-Presse reported.
The decree stipulates that women have the right to equal labor rights, including pay, and says women must get paid maternity leave for their first three children, AFP reported.
It also bans "honor killings" and "violence and discrimination" against women, and states that women cannot be married off without their consent, AFP reported.
The Britain-based Observatory said the decree is an "affront to laws being passed by the Islamic State, which are highly discriminatory against women."
Observatory director Rami Abdel Rahman told AFP: "While fighting the jihadists, the Kurds also want to send a message to the international community, to say that they want to espouse a culture of democracy and civil rights."
http://www.washingtontimes.com/news/2014/nov/9/syrian-kurds-grant-women-equal-rights-in-snub-to-i/#ixzz3IekKcF9D
-----------
Sudan: Mass Rape of 200 in North Darfur
10 November 2014
El Fasher — More than 200 women and girls were collectively raped in their village on Friday evening, reportedly by Sudanese soldiers belonging to a military garrison south of El Fasher in North Darfur. 80 of the victims were schoolgirls, 105 were unmarried girls. The other victims were married women.
The residents of Tabit have not been able yet to transfer the wounded to other towns or medical centres. One of the elders in Tabit village told Radio Dabanga that the commander of the military garrison, located half a kilometre north of Tabit, came to the village on Friday morning, claiming that one of his soldiers went missing on Thursday evening. He gave the villagers until sunset to retrieve the missing soldier.
"We were caught by surprise when soldiers surrounded Tabit at 8 pm," the village elder told. "They beat the people with rifle butts and chased all of the men outside the village. Then they started to rape about 200 women and girls, which lasted from Friday evening until 4 am on Saturday.
"They also prevented us from transferring the wounded to El Fasher city, the Unamid base, or to Shangil Tobaya," the witness stressed.
He appealed to the human rights and humanitarian organisations, as well as the United Nations, to save the village and bring the perpetrators and those involved in the event to the International Criminal Court.
http://allafrica.com/stories/201411031903.html
----------
Namibia's Supreme Court upholds the dignity of women living with HIV
10 November 2014
GENEVA, / PRN Africa / — UNAIDS welcomes Namibia's Supreme Court decision to uphold the Namibian High Court finding that three women living with HIV were subjected to coercive sterilization in public hospitals without their informed consent.
"This is a great victory for all women in Namibia and the world. This decision reinforces the right to sexual and reproductive health for all women, irrespective of their HIV status," said UNAIDS Executive Director Michel Sidibé.
The Supreme Court's dismissal of the appeal follows the 30 July 2012 ruling of the High Court of Namibia—in the first formal court case of its kind in Africa—that medical practitioners have a "legal duty to obtain informed consent from a patient" and that the health service provider could not obtain consent during labour.
UNAIDS worked closely with civil society and other key partners in the AIDS response in Namibia to ensure that the voices of the women affected were heard. UNAIDS calls on countries to investigate and address all reported cases of forced sterilization as well as other legal and social practices violating the basic rights of all people in health-care systems.
Women and girls, irrespective of their HIV status, should have access to information and be empowered to exercise their sexual and reproductive health rights. UNAIDS will continue to mobilize governments and communities to ensure that everyone has access to HIV prevention, treatment, care and support services.
SOURCE United Nations Joint Programme on HIV/AIDS (UNAIDS)
http://en.starafrica.com/news/namibias-supreme-court-upholds-the-dignity-of-women-living-with-hiv.html
----------
President Ghani pledges robust investment on girls education
10 November 2014
President Mohammad Ashraf Ghani insisted on robust investment on girls education, saying that educating a girl will have it's impact on the coming five generations.
He was speaking during the inauguration of USAID-funded Promote project which will seek to advance opportunities for thousands of Afghan women to help them become leaders in the political, private, and civil society sectors.
USAID has committed $216 million to fund Promote project, making it the largest women's empowerment project in the US Government's history.
President Ghani reaffirmed commitment to make robust investment on women's education and promised that women will have major role in the judiciary system of the country.
He said the first women's university will be opened in Afghanistan with the help of foreign allies of Afghanistan.
President Ghani also called on USAID to help the Afghan women in finding international markets for their products, including the US markets.
The Promote programs will help 75,000 young Afghan women become leaders in their fields over the course of the five-year program. USAID is providing $216 million to Promote, with other donors possibly contributing an additional $200 million.
According to USAID, the Promote program's main goal is to strengthen Afghanistan's development by boosting female participation in the economy, helping women gain business and management skills, supporting women's rights groups and increasing the number of women in decision making positions within the Afghan government.
http://www.khaama.com/president-ghani-pledges-robust-investment-on-girls-education-8948
----------
Vice Principal of 'Muslim Eton' For Girls 'Sacked For Opposing Veil Rules'
10 November 2014
Mother-of-one Ghazala Khan is claiming religious discrimination against the £5,500 a year college after allegedly being branded a 'stupid outsider' by her boss
The vice principal of an Islamic girls' school dubbed the "Muslim Eton" was sacked after opposing rules telling all pupils to wear veils, a tribunal heard.
Ghazala Khan, 37, was also branded a "stupid outsider" by her boss who also said if he had his way would employ her as a "cleaner or tea lady," it was said.
She was eventually sacked after less than a year in the post after questioning why some teachers at Mohiuddin International Girls College in Burnley, Lancashire, would refuse to teach the girls unless they wore veils across their faces, it was alleged.
She claimed the wearing of a veil was not instructed anywhere in the Qur'an, but was allegedly told she knew nothing about her own religion. She also said the college principal have warned of the school being "polluted" because she had "let a Christian in".
Mrs Khan, a mother-of-one from London, was claiming religious discrimination against the college whose motto is: "Inspiring the girls of today to become our leaders of the future" - at an employment tribunal in Manchester.
The school which has fees of £5,500 a year for international students and £4,500 for UK and European enrolments was described as a "Muslim Eton" for girls when plans were originally put forward in 2009.
Founded in October 2010 the school has around 90 students and is run by the Birmingham-based Mohuiddin Trust under the leadership of Sheikh Hazrat Pir Alaudin Siddiqui Sahib, an Islamic scholar based in Pakistan.
Mrs Khan was appointed as vice principal in 2011 but she said she clashed with college principal Amjad Bashir after saying she and some of the students had some Islamic teachings they disagreed with forced upon them. She said one fellow teacher refused to speak to her, as she did not wear a veil, and she had challenged the same tutor after he ordered all his female students to wear the Niqab in his lessons.
Speaking about the teacher's conduct, she said: "There were quite a few times I didn't agree with the way he would make children wear veils across their faces just so he could teach them.
"I said, 'nowhere in Islam does it say they must wear a veil to come to classes.' He said, 'you have no knowledge of anything and have no right to talk with somebody not related to you.' They said it was necessary to make all girls wear the veil."
Mrs Khan said she was also banned from assemblies where the girls would gather each evening because she was 'an outsider' and would have to wait outside. She added: "There were a few occasions when I wasn't allowed into the assembly because they said I was an outsider.
"But when recitation is going on I am a Muslim and I recite the Qur'an. Mr Bashir made me wait outside. He used to say, 'can you wait outside? There are a few things you wouldn't understand. When we have finished you can come in'. I used to say, 'it's all blessings, why can't I come in?'"
She claimed she was also not respected because she was female and not considered a Muslim "scholar", despite being an experienced teacher.
Mrs Khan said: "The only way that we differ is that they say the Sheik, the founder of the college, is going to take them to heaven and everyone who does not believe in him is going to hell."
Mrs Khan said matters came to a head after an Ofsted-type school inspection for Muslim education called the British School Inspectorate, where the college was criticised and she was blamed.
A meeting was called where she said she was called a "stupid outsider" by Mr Bashir and was immediately dismissed.
She added: "I was upset, wasn't feeling well, had a lot of stress related issues and didn't want to come to court.
"For two years I waited and thought 'maybe they might sort things out for me' but they didn't. I was very stressed. I was going through a lot, I had just lost my job. I was very depressed.
"My doctor said I was maybe going to have a nervous breakdown. I had realised I had been wronged. I thought they had been very prejudiced towards me and I thought I had been wronged."
Mrs Khan - who was representing herself - put questions to 45-year old Mr Bashir, a civil engineer who reacted angrily and was warned by tribunal judge over his conduct.
When it was put to him by Mrs Khan that she had actually employed a Christian teacher, he replied: "You don't even have a degree. You're not even qualified. I'm 100 per cent absolutely sure she was not employed as a vice-principle."
Later Mr Bashir's own lawyer Amy Smith asked him: "You are being accused of telling the business teacher that the claimant was incompetent in her work and she was a stupid outsider."
He replied: "I never used the words stupid outsider."
She added: "You are accused of making rude jokes because she was an outsider and she was going to hell and if you had it your way you would employ her as a cleaner or tea lady."
Mr Bashir who is no longer principal at the college replied: "I never said that."
Miss Smith also put it to him that he told students Mrs Khan wouldn't understand them because she wasn't "among them", which he also denied.
He said the school employed Christian teachers so could not be accused of religious prejudice.
Student Fozia Yasin, 19, student who was expelled from the college said: "Mrs Khan was called an outsider by Mr Bashir. I only heard it once. There was a group of girls, it wasn't just me. Mrs Khan was there.
Miss Smith said: "You have also accused him of saying someone had polluted B block by allowing a Christian in."
Miss Yasin replied: "It is true. There was another time she was called an outsider. He mentioned it in assembly in front of everyone."
The college claims Mrs Khan resigned and denies racial discrimination.
The tribunal continues.
http://www.telegraph.co.uk/education/educationnews/11216302/Vice-principal-of-Muslim-Eton-for-girls-sacked-for-opposing-veil-rules.html
-----------
Amman OKs services for children of Jordanian women married to foreigners
10 November 2014
Jordan has passed a bill providing benefits and services to the children of Jordanian women married to foreigners. The move is expected to help the children of more than 88,000 Jordanian women married to foreigners.
http://english.alarabiya.net/en/webtv/reports/2014/11/10/Amman-OKs-services-for-children-of-Jordanian-women-married-to-foreigners.html
-----------
College Asks Muslim Girls Not To Attend Classes in a Veil in Karnataka, India
November 10, 2014
Mangalore: Time and again, the Hijab row continues to haunt Muslim girls in educational institutions across Karnataka, but especially so in Mangalore. This time, a college management on the outskirts of the city at Valachil in Dakshina Kannada district has asked girls not to attend the classes wearing Hijab.
The incidence came to light on Wednesday.
As per a report in ToI, the principal of the pharmacy college called the girls and told them that wearing of scarf is against the dress code for girl students. The girls called their parents, who had a heated exchanged with the school management. Parents insisted the point was not explicitly mentioned in the prospectus and said the management can't now add or impose a new dress code all of a sudden.
The adamant college management then allowed Muslim girls to wear Hijab for this academic year as its own prospectus did not specifically mentioned about non wearing of Hijab or observing of only said dress code as compulsory for attending the college.
The college management, however, has indicated that it will make the necessary corrections in its prospectus so that every girl irrespective of her religion will have to strictly observe the dress code.
This is not a one off incidence but similar incidences were reported earlier from Mangalore where college managements forced Muslim girls not to wear head scarf or Hijab while in college campus.
In August 2009, Sri Venkatraman Swamy (SVS) College, run by the SVS Vidyavardhaka Sangha in the Dakshina Kannada district had directed a 19-year-old first year B Com student not to enter the classroom with a headscarf. Ironically, Mangalore University to which the college is affiliated had not issued any such circular of banning a Hijab in the colleges but the college had imposed the rule on its own. Incidentally, the student had attended the interview with a Burqa on but was not informed about any such rule then. In August 2011, a second year PU Commerce student at the Jain Pre-University College in Mangalore was denied permission to wear the head-scarf in the class by college authorities, prompting her to approach the district administration for justice. Similarly, in July 2012 as many as 107 Muslim students had protested the management of Sri Ramakunjeshwara First Grade College, Ramakunje near Uppinangadi for banning the Hijab in that college.
http://twocircles.net/2014nov09/1415528137.html#.VGCHYjTF84U
-----------
Indonesia Hijabers Combat Westernization
November 10, 2014
JAKARTA – Combating the Western influence in the Indonesian community, several Islamic business networks are promoting Islamic products in a campaign to preserve the Islamic values in the Muslim-majority nation.
"I think Indonesia has become too Western," Risti Rahmadi, a member of Hijabers Community, told Agence France Presse (AFP) on Sunday, November 9.
"Younger Indonesians spend most of their time hanging out at malls, and they forget to pray."
The 37-year-old Muslim woman, Rahmadi, believes that the only way to lure the new segments to the thriving Muslim market is through fighting western consumerism.
Being a member of the Hijaber, an Islamic all-women business network, Rahmadi has noticed an increase in the demand for Islamic products including events that are hosted by Islamic groups.
A once stylish girl who used in her 20s to save up for the latest Guess cloths and Revlon make-up, Rahmadi now dresses modestly as a proud Indonesian Muslim who dons the hijab and uses a mobile app to remind her of prayer times.
Wearing headscarves was often associated with an unfashionable life.
This has all changed nowadays.
In modern Indonesia, hijab turned to be a fashion item, as YouTube viewers can find thousands of Indonesian women offering tutorials on how to fashionably wear hijabs.
Islam sees hijab as an obligatory code of dress, not a religious symbol displaying one's affiliations. Islamic fashion is part of a growing appetite for Shari`ah-related industries and assets, ranging from finance to halal food.
Modesty and religion are the cornerstones behind the fast-growing Islamic fashion industry, which is making a mark on runways from Indonesia and Dubai to Monte Carlo.
The booming Islamic market has apparently succeeded in Indonesia by offering several services like hosting live shows for celebrity preachers and Qur'an text-message services.
Too Islamic
Besides the surging demand for Islamic services, a demand for cloths and jewelry with an Islamic twist has been high during the past few years in Indonesia.
Reny Feby, a jeweller from Jakarta, has joined Hijabers 3,000-member team to combat the Western influence through her designs which prices ranges from $500 (385-euro) for brooches to $50,000 for diamond rings.
"Fifteen years ago, no one wanted to buy my jewelry because it was seen as too Muslim, and I used 'proudly made in Indonesia' as my tagline," said Feby, 42, wearing orange beads and an electric-blue headscarf.
"But now Indonesians are proud to buy local and Islamic fashions, and the elite who buy my pieces use them as status symbols."
Like many business owners, Feby believes that the reason behind the increasing demand for Islamic products is the "fast expansion of the middle class" during the recent years in the Southeast Asian country, with an economic growth of more than 6% annually.
According to the World Bank, the annual per capita income (GDP) has steadily increased from $890 in 2003 to about $3,000 in 2011.
Indonesia is the world's most populous Muslim state with Muslims making up around 85 percent of its 237-million population.
Christians, both Protestants and Catholics, make up nearly 12 percent of the country's population.
The booming global Halal industry is expected to grow from about $1 trillion in 2012 into a $1.6 trillion industry by 2018, according to Dinar Standard, a research firm specializing in Muslim markets.
Locally, Indonesian Muslims are literally "consuming their Muslim faith in a very tangible way", according to experts.
"A lot of the pious Muslims in the middle class want to show to the people around them they're living pious lifestyles — through their clothes, schools, the shopping they do and the books they read," Greg Fealy, an Indonesia expert at Australian National University in Canberra, said.
http://www.onislam.net/english/news/asia-pacific/479539-indonesia-hijabers-combat-westernization.html
-----------
Dar Al-Hekma girls to show off interior design journey
November 10, 2014
JEDDAH — Students from Dar Al-Hekma University are participating in the sixth annual Decofair that starts on Monday at the Jeddah Center for Forums and Events.
The interior design students' work will be displayed next to national and international interior design brands at the three-day event.
"Dar Al-Hekma University is devoted to providing new opportunities for our students that help them learn and flourish, to give them the edge they need to be major players in today's competitive job market," said Suhair Hassan Al-Qurashi, president of Dar Al-Hekma University.
The Dar Al-Hekma University booth this year will take the visitors on a journey in the life of an interior design student.
The concept was generated by four senior interior design students, Ameerah Alesayi, Haya Al-Abaji, Noor Awad and Shahad Bakhashwain.
They said they were inspired by the need to create a physical space out of the experience they have been part of.
Effat Abdullah Fadag, dean of Hekma School of Design and Architecture, said: "The School of Design and Architecture will be proudly represented by the Interior Design Department to raise the bar of artistic design and creativity in the community.
"The cutting-edge designs of our students in the Decofair 2014 will highlight the strength of the Hekma School of Design and Architecture and our capability of supporting young powerful and creative women and their journey to success."
The final display will portray a student's journey starting from the first semester during the foundation year all the way to the final semester with their capstone project.
Faculty member Arij Al-Sebai will give a seminar discussing the impact of war on design and architecture.
Reem Fathallah, coordinator of the Interior Design Department, said: "The Interior Design Department in Dar Al-Hekma University wants to expose the public to a different reality of interior design through its participation this year, a reality further and beyond matching colors, putting up curtains and choosing furniture or fabrics.
"This dimension is translated not only in the booth, but also through the contribution of faculty in the seminar presentations."
The students' projects will be displayed along with day-to-day tools used for developing their work. The booth also features the achievements of Dar Al-Hekma University's alumnae.
http://www.saudigazette.com.sa/index.cfm?method=home.regcon&contentid=20141110223874
-----------
Arab females dominate Young Entrepreneur Competition '14 entries
November 10, 2014
JEDDAH – Over 1,500 projects have been submitted by applicants in the first stage for this year's 10th cycle of the Young Entrepreneur Competition (YEC 2014) organized by Dubai SME, the agency of the Department of Economic Development (DED) in Dubai mandated to develop the small and medium enterprise (SME) sector.
Over 370 projects have been shortlisted from the initial applications and in the next stage the public will be given the opportunity to evaluate the projects on face book and Google+ before the final list of candidates are announced, according to the YEC Organizing Committee. The applicants belong to the 16-25 age group.
YEC aims to inspire entrepreneurial spirit among students in the public and private secondary schools and universities across the UAE. The competition is an opportunity for participants to test-launch their entrepreneurial ideas and skills in a real world of business and also learn the basic principles of starting and operating a business.
Nearly 60 percent of the applicants are females and 50 percent are UAE nationals. Non-UAE nationals who came forward to participate in the competition include other GCC, Arab and expatriate students.
"The Young Entrepreneur Competition is continuing its successful journey in identifying entrepreneurial talent from a young age and helping potential entrepreneurs take their first step into the business world.
"The number and diversity of applicants every year proves that entrepreneurship holds a strong promise for future growth and sustainable development of the UAE and the region," said Abdul Baset Al Janahi, Chief Executive Officer of Dubai SME.
"Every year we look to widen the scope and coverage of YEC to provide maximum opportunities for participants and the community at large. In view of the potential and popularity of social media nowadays we are inviting public to have a look at the projects on facebook and Google+ and provide their feedback," said Abdul Aziz Al Mazami, Head of the YEC Organizing Committee.
Participants register online on www.yec.ae and attend workshops, which are part of the approval process and aimed to help the students learn how to develop their concept. Participants will be allowed to amend project data and number of participants after attending the workshops and until they receive the approval on their projects.
The competition will feature a range of projects spanning fashion, fine arts, handicrafts, traditional or heritage products, health products excluding medicines, environmental awareness products (recycling, renewable energy), educational material (games, tools, modern teaching aids), interior design, cultural activities, and information technology.
http://www.saudigazette.com.sa/index.cfm?method=home.regcon&contentid=20141110223898
-----------
URL: https://newageislam.com/islam-women-feminism/syrian-kurds-grant-women-equal/d/99946