New Age Islam News Bureau
20 Dec 2016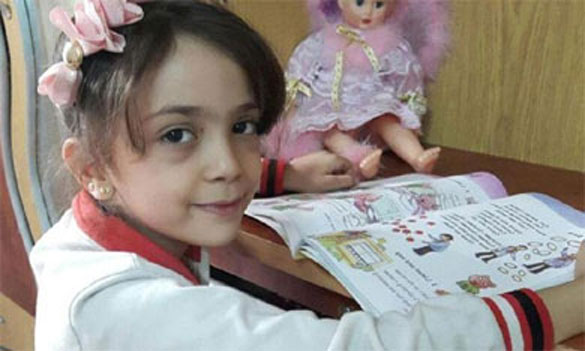 Seven-year-old Bana Alabed, who tweets with the help of her mother Fatemah about the war-torn Syria (Twitter Photo)
----------
• SA Police Tell Women Protesting For Aleppo to Remove Face Veils
• Majority of Women in KSA Believe Labour Laws Are Fair
• Shaikha Fatima's Gender Equality Initiatives Lauded
Compiled by New Age Islam News Bureau
URL: https://www.newageislam.com/islam,-women-and-feminism/new-age-islam-news-bureau/syria-s-twitter-girl-evacuated-from-aleppo/d/109432
-------
Syria's Twitter Girl Evacuated From Aleppo
December 19, 2016
HATAY: Seven-year-old Bana al-Abed, whose Twitter account has offered a tragic account of the war in Syria, was evacuated from the divided Syrian city of Aleppo on Monday, a Turkish NGO announced on social media.
"This morning @AlabedBana was also rescued from #Aleppo with her family. We warmly welcomed them," the Humanitarian Relief Foundation (IHH) wrote on its Twitter account, sharing an IHH aid worker's selfie picture with the girl.
For her tens of thousands of followers, Bana is a symbol of the tragedy unfolding in Syria, although Syrian President Bashar al-Assad's regime has slammed her and her mother's nearly daily tweets as propaganda.
Bana's account has posted pictures of the destruction in Aleppo including her rubble-littered street, while people have tweeted messages of support and concern, notably fearing for her life when tweets became less frequent.
At least 15,000 children are among the more than 300,000 people who have been killed in Syria's five-year war.
Tarakji Ahmad, president of Syrian American Medical Society, also posted a picture of Bana, with an aid worker.
"@AlabedBana and many children arrived to #Aleppo countryside. @sams_usa@UOSSM and partners arr coordinating the response plan there," he tweeted, also announcing the evacuation.
Bana's last tweet with her mother Fatemah before the evacuation made an appeal to Turkish President Recep Tayyip Erdogan and Foreign Minister Mevlut Cavusoglu for putting a fragile ceasefire back on track after frequent delays.
"Dear @MevlutCavusoglu & @RT_Erdogan please please please make this ceasefire work & get us out now. We are so tired. - Fatemah #Aleppo."
Responding in a tweet Monday, Cavusoglu wrote: "Difficulties on the ground won't deter us sister. Rest assured that we are doing all to get you and thousands of others to safety."
An IHH spokesman confirmed to AFP that the young girl was among the first batch of evacuees Friday morning, and was at Rashidin region at the moment.
"She is likely to be transferred to the camps in Idlib province," he said.
The Islamic charity IHH is playing a large role in the transport of aid for Aleppo as well as the transfer of evacuated Syrians into camps in the Idlib province near the Turkish border.
Evacuation from the rebel-held areas of Aleppo has restarted after further delays, which put on hold the ceasefire agreement brokered by Turkey and Russia.
Over 3,000 people -- in two convoys of around 20 vehicles -- left eastern SECTIONS of Aleppo on Monday, after around 350 people got out during the night, marking the first departures since Friday.
http://nation.com.pk/international/19-Dec-2016/syria-s-twitter-girl-evacuated-from-aleppo
-------
SA police tell women protesting for Aleppo to remove face veils
19 Dec 2016
South African women who protested outside the Syrian embassy in Pretoria on Monday were told by police to remove the religious veils (niqab) that covered their faces.
The women were among about 30 people who had gathered outside the embassy to raise awareness about the ongoing atrocities against civilians in Aleppo. Their picket was also a call for the Syrian government to protect civilians and investigate war crimes.
Police reportedly told demonstrators that they did not have the required permit to protest and said women wearing veils over their faces must remove them. At least two police officers made the demand.
"According to the police, their concern is that I could be a suicide bomber. They said people could come here and pretend to be protesters, and then blow themselves up," said Taahira Timol (31), a school teacher.
Timol told police officers that if they wanted to identify her, a female police officer could see her face and compare it with her identity document.
"They are stereotyping people who DRESS like this. South Africa has never had a suicide bombing by a woman in niqab. Why am I being stereotyped like this and why is my democratic freedom of practising my religion being infringed upon?"
The police responded to the allegations, telling the Mail & Guardian that "it is a right for every person to complain if any member of the service treats him/her in a manner that is in contravention of the Constitution".
"Should the protestor comes forward with a complaint, the allegations will be investigated," said Gauteng police spokesperson Lieutenant Colonel Lungelo Dlamini.
Although the Gatherings Act does require protesters to reveal their faces when demonstrating, Chapter 3 of the Act states that "no person shall at any gathering or demonstration wear a disguise or mask or any other APPAREL or item which obscures his facial features and prevents his identification".
But the Constitution also grants every person in South Africa the freedom to practise their religion.
"Maybe they are trying to do what France is trying to do. One thing I can say is that it's not going to happen in this country. We voted for a democratic government. The disappointing thing is that our government is not even standing with us on Syria," said Khadija Khan (50), who also protested.
Solidarity with Aleppo
Protesters negotiated with police and it was agreed that the picket could continue if they left the embassy at 2.15pm. Women who had their faces covered were allowed to remain. The group had applied on Friday for a permit to protest, but had gone ahead with the demonstration on Monday despite receiving no response.
The picket was organised by student chapters of Amnesty International at the University of Pretoria (UP) and the University of the Witwatersrand (Wits).
"The UP and Wits chapters decided from what we learnt from the United Nations, Amnesty and social media that the government killings in Syria need to be addressed," said Alexander Ehlers (21), chairperson of the Amnesty International student society at UP.
The United Nations special envoy estimated in April that 400 000 civilians had died in Syria since the war began in 2011. Humanitarian organisations have struggled to identify the exact death toll because of the violent and difficult environment in parts of Syria. Widespread bombing in eastern Aleppo has led to more than 4500 people being evacuated from rebel-held territories.
The war in Syria has been characterised by continued violence by numerous political groupings. The Syrian government, led by President Bashar al-Assad and backed by Russia, has been accused of war crimes, while opposition groups such as the Al-Nusra Front, known as the Syrian branch of Al-Qaeda, have fought against the government. Protesters say it is nearly impossible to find a political group that cares for the lives of civilians in Syria.
"Any sort of a moderate opposition in Syria in real terms is absent. It's really tragic that, on one hand, there is no real left in Syria and, on the other hand, there's nobody to back from a humanitarian perspective. You could speak in favour of the White Helmets but at the end of the day these aren't political factions, these are people who are doing aid work," said Raees Noorbhai (20), chairperson of the Amnesty International student society at Wits.
The South African government's stance on Aleppo
The protesters say they are standing in solidarity with Syrian civilians, but they are waiting for the South African government to show solidarity too. In their memorandum of demands, the group says the home affairs department has mistreated Syrian refugees in South Africa, and wants the government to investigate.
The protesters planned to hand over the memorandum of demands to a representative from the Syrian embassy, but nobody from the embassy met the group. The Mail & Guardian contacted the Department of International Relations and Cooperation (Dirco) for comment on Aleppo, but they did not respond at the time of publishing. Dirco did, however, release a statement condemning the assassination of the Russian ambassador to Turkey.
Timol said her experience with the police on Monday gave her an insight into what a fascist regime could be like, but it does not come close to the increasingly violent turmoil Syrians are facing as a result of the warfare waged by many political groups who, she says, are tied to fascism.
"We hope that this collective pressure will have an impact and awareness will be raised on what is happening in Syria," Timol said.
http://mg.co.za/article/2016-12-19-police-tell-south-african-women-protesting-for-aleppo-to-remove-face-veils
-------
Majority of Women in KSA Believe Labour Laws Are Fair
Dec 20, 2016
RIYADH – Today, more than half (52%) of female respondents in the Kingdom of Saudi Arabia report that women in their country have reached the same level of workplace equality as compared to working women in western countries, according to the Working Women in the Middle East and North Africa survey released by Bayt.com, the Middle East's number one job site, and YouGov, a leading market research agency.
This survey measures the perceptions of women in the region when it comes to equality at work, motivations for employment, challenges faced at work, as well as career and life ambitions. The survey revealed that more than one third (35%) of respondents in KSA feel that job offers are based on experience and qualifications and gender plays no role in the decision. In fact, nearly half (46%) of female respondents have never been asked questions that made them feel discriminated against as women during a job interview.
When it comes to being employed in KSA, more than nine in 10 (96%) respondents stated that they have some familiarity with the labor laws of their country of residence, with more than half (52%) claiming to be very familiar. Of those familiar with the labor laws, two thirds (65%) stated that they are fair to women, at least to some extent.
The TOP three challenges that women in the region face in their work environment are less opportunity for job promotions (51%), stressful and demanding work environment (39%), and a lack of sufficient job training and coaching (35%).
In KSA, 31% of respondents believe that their future marriage plans will affect their career to some extent. Similarly, across the region, one third (33%) of respondents believe that their marital life has been affected positively by their career choices. "Women are fundamental players in building and shaping the region's economies and contributing to the success of every business. The survey results show a very positive direction towards gender balance in the region, particularly when it comes to opportunities for promotion," said Suha Mardelli Haroun, Regional Sales Director at Bayt.com. "At Bayt.com, we are very proud of our equal opportunity practices. Women are employed at Bayt.com across all roles and departments, including technology, marketing, human resources, finance, sales, and leadership. Our TOP management and executive board has a healthy gender ratio as well. In fact, women occupy a remarkable number of management positions in Bayt.com. Among the positions occupied by women are: Chief Marketing Officer; Regional HR Director; Regional Business Development Director; Head of Ad Sales; International Unit Manager; Senior Technical Consultant; and many more. Our disciplined system of regular monthly, quarterly and annual appraisals is designed to give equal weighting to value adherence as to actual performance. This ensures that there is always place for great people, regardless of their gender, to climb up the ladder at Bayt.com."
According to respondents in the MENA, the top five drivers of happiness in their life are having a successful career (50%), maintaining good health (43%), traveling and visiting other countries (37%), spending time with their family (31%), and MAKING MONEY(29%). The top three reasons women seek employment in the MENA region are to become financially independent (57%), to broaden their perspectives on life (50%), and to be able to support their household (49%).
The top three benefits most IMPORTANT for working women in the region are a higher salary (57%), opportunities for long-term career growth (34%), and flexible hours (30%); and in KSA, one quarter (24%) of women claim that their employer provides some level of special benefits for women employees.
"The opinions gauged by this survey provide an important outlook into the provisions and services employers currently offer their employees in the workplace – while also considering gender balance as a whole. Moreover, this survey also delves into what employers could be doing to further improve the workplace for their female employees – especially those that balance their work with a family," said Arleen Gonsalves, Associate Research Manager, YouGov. — SG
http://saudigazette.com.sa/business/majority-women-ksa-believe-labor-laws-fair/
-------
Shaikha Fatima's gender equality initiatives lauded
December 19, 2016
The International Telecommunication Union (ITU) presented Shaikha Fatima with the Personal Leadership Award 2016
An international award recently bestowed on Shaikha Fatima bint Mubarak, Chairwoman of the General Women's Union, is a source of pride for both UAE and Arab women, Shaikha Manal bint Mohammed bin Rashid Al Maktoum, President of the UAE Gender Balance Council, has said.
The International Telecommunication Union (ITU) presented Shaikha Fatima with the Personal Leadership Award 2016 for her role in helping the UAE achieve global levels of gender equality in the field of telecommunication and information technology.
Shaikha Manal congratulated Shaikha Fatima on this international recognition. Shaikha Fatima has made vital contributions to creating a conducive environment for women's development as part of the UAE's efforts to empower women across sectors based on the firm belief that the development of the nation cannot be achieved without women playing a greater role in society, she said.
"HH Shaikha Fatima is a unique UAE woman role model for people across the world. The award is a clear recognition of her impact on society, and her achievements in empowering women and promoting gender equality locally and regionally."
Council maps future plans
Meanwhile, Mona Ghanem Al Marri, vice-president of the UAE Gender Balance Council, CHAIRED the board of directors meeting of the UAE Gender Balance Council at the headquarters of the Supreme Council for Motherhood and Childhood in Abu Dhabi.
The board members discussed a number of areas including the council's achievements over the year. The board also approved the operational plan for 2017, which covers events, international representation, official visits, the council's activities and local initiatives to promote gender equality.
The board also discussed the hosting of prominent figures in the field of gender equality, media meetings, and the outcome of the UNDP. The board unveiled the balance guide for federal and local entities developed in partnership with the Organisation for Economic Co-operation and Development, as well as the results of the Gender Balance Index. The board also announced the entities it will honour for their contributions to promote gender balance.
Milestones in closing gender gap
> UAE was ranked 1st globally in the 2015 World Economic Forum on the literacy rate indicator
> 56% of the UAE's graduates in Stem course at government universities are women
> The UAE is the first country in the Arab region to introduce mandatory female presence in boardrooms
> Dr Amal Al Qubaisi, Speaker of FNC is the first woman in the Arab world to be elected as speaker of a national council
> UAE is ranked first among 132 countries in 'women treated with respect' indicator in the Social Progress Index 2015 report
> Over 32,000 registered businesswomen in the UAE running investments worth Dh42 billion
> The UAE has 8 female ministers, making 27.5% of ministerial roles
> The UAE is the first Arab country to launch a balance index in workforce
http://www.khaleejtimes.com/nation/shaikha-fatimas-gender-equality-initiatives-lauded
-------
URL: https://www.newageislam.com/islam,-women-and-feminism/new-age-islam-news-bureau/syria-s-twitter-girl-evacuated-from-aleppo/d/109432
New Age Islam, Islam Online, Islamic Website, African Muslim News, Arab World News, South Asia News, Indian Muslim News, World Muslim News, Womens in Islam, Islamic Feminism, Arab Women, Womens In Arab, Islamphobia in America, Muslim Women in West, Islam Women and Feminism, Moderate Islam, Moderate Muslims, Progressive Islam, Progressive Muslims, Liberal Islam