New Age Islam News Bureau
30 Apr 2018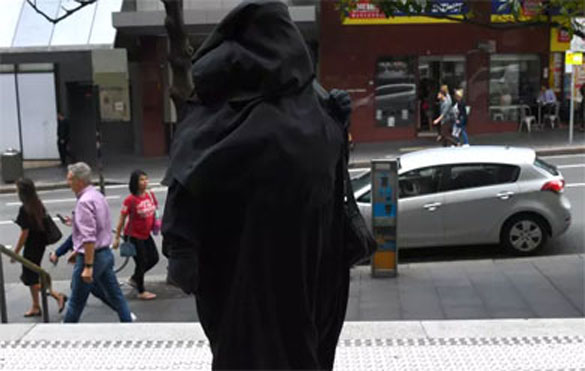 A Sydney Muslim woman who lost her terrorism raid lawsuit suffered a miscarriage of justice as she was not allowed to give evidence with her face covered, an appeal court has been told.
----
• Labour Rights Activists Urge Women Leadership Initiatives
• Egyptian Artist Brings Saudi Women, Men To Same Stage
• Iran: Young Woman Gets Killed In Chase By Moral Police Of Tabriz
• Pak Political Parties in a Fix over Award of Election Tickets to Women
• For Pakistani Women, Labour Day Boils Down To A Cup Of Tea After Work
• Saudi Aramco appoints first woman to the board
• Iran's women workers, victims of institutionalized discrimination
Compiled by New Age Islam News Bureau
URL: https://www.newageislam.com/islam-women-feminism/sydney-muslim-woman-challenges-250000/d/115096
--------
Sydney Muslim Woman Challenges $250,000 Legal Bill over Niqab Ruling
30 April 2018
A Sydney Muslim woman who lost her terrorism raid lawsuit suffered a miscarriage of justice as she was not allowed to give evidence with her face covered, an appeal court has been told.
The "deeply-held religious beliefs" of Moutia Elzahed meant she did not give "crucial" evidence about her version of what police did during the September 2014 raid, her lawyer, Jeremy Kirk SC, argued on Monday in the NSW Court of Appeal.
Ms Elzahed, who lost her civil action and was ordered to pay $250,000 in police legal costs, is challenging the trial judge's ruling that she could not give evidence while wearing a niqab.
Her then-lawyer told the female judge it was against her religion to reveal her face to men.
As well as claiming the judge erred in not letting her give evidence in a niqab, Mr Kirk says she should have been allowed to testify via another method, such as a screen, that revealed her face to women but not to men.
But Dr David Kell SC, for the State of NSW, said no application was made by her then-lawyers for the evidence to be given another way.
Mr Kirk acknowledged the parties had been in "deep and substantially unchartered waters", noting there was only one other Australian case in the WA District Court.
He understood the only appeal ruling in the world involving the niqab was in Ontario.
Dr Kell said in contrast to countries such as Canada, Australia had "no positive right to freedom of religion" and the fundamental right here was for a fair trial to all parties.
Mr Kirk said two police officers testified at the hearing as to what happened in the bedroom at Ms Elzahed's house during the raid, so her version was always going to be crucial, Mr Kirk said.
But he said the trial judge did not appear to recognise the significance that Ms Elzahed stood to lose her case unless she gave evidence.
"The fact is we are dealing with very important issues here about a witness giving evidence and about due respect for religious beliefs," he said.
The judge had ruled that she would be impeded in her ability to assess Ms Elzahed's reliability and credibility if she would not see her face while she testified.
In the broader sense, the case would deter some Muslim women from being involved in criminal and civil proceedings, Mr Kirk said.
But Dr Kell said "the giving of evidence by a person wearing a face covering poses significant challenges to a fair hearing".
He referred to the impact on cross-examination for a lawyer unable to see the witness's face and expressions and also on a judge or a jury.
https://www.smh.com.au/national/nsw/sydney-muslim-woman-challenges-250-000-legal-bill-over-niqab-ruling-20180430-p4zcij.html
--------
Labour Rights Activists Urge Women Leadership Initiatives
April 29, 2018
The press conference was organized by Bangladesh Labour Institute (Bashi) to disseminate findings of the first part of a research titled "Trade unions and the major barriers women face while working in labour organizations."
Labour rights activists urged trade unions and labour organizations to take necessary initiatives to develop women leadership in female intensive industries such as the garment sector, in a press conference held in the National Press Club on Sunday.
The press conference was organized by Bangladesh Labour Institute (Bashi) to disseminate findings of the first part of a research titled "Trade unions and the major barriers women face while working in labour organizations."
The first part of the research analyzed the current state of female participation and women leadership in the export-oriented readymade garment sector.
In the conference, speakers talked about the country's social system where women have to maintain double roles, both as a homemaker and as a working woman, which takes up a lot of their energy. They emphasized the help families could provide in aiding women in their daily chores to ease up their load.
The speakers also urged labour organizations to engage in strong social movements, which could develop female leadership in their organizations.
Bashi member Farhana Afrin Tithi, who presented the keynote paper, identified six major barriers women in trade unions and labour organizations face while stepping up the ladder to become a leader.
The barriers mostly consist of huge workloads at home and outside, male dominance in leadership roles despite prominent female presence at the forefront of labour rights movements, creation of artificial conflicts of interest among women workers in labour organizations, lack of mutual trust among labours, among others.
"Women constitute a majority of the Bangladesh labour sector," said Shah Atiul Islam, president of Bashi Trustee board. "Their participation in and contribution to labour movements are by no means minimal. Yet, their presence as leaders or policymakers is negligible. This reveals the partial failure of labour movements."
Leader of Garment Workers Trade Union Centre Joly Talukder emphasized the need for further research to improve the current situation, where women have a nominal role in decision making, yet play important roles in movements.
According to the speakers, currently, there are 32 national trade union centres, 169 sectoral trade union federations, and 7,289 basic unions in Bangladesh consisting of about 2,300,000 members. 500 of the organizations are export-oriented readymade garment industries. However, women represent only 15% of the total members.
They recommended changing social attitudes, tackling sexual harassment in organizations, identifying strategies to develop women leadership, and other factors to improve the ongoing situation.
https://www.dhakatribune.com/labour/2018/04/29/labour-rights-activists-women-leadership-initiatives/
--------
Egyptian Artist Brings Saudi Women, Men To Same Stage
George Mikhail
April 29, 2018
CAIRO — Saudi Arabia has sought the help of Egyptian artist Ashraf Abdel Baqi to establish a mixed-gender Saudi theater troupe in the framework of the kingdom's social policy of becoming less stringent.
Saudi Arabia recently opened its first cinema, is going to allow women to drive and held the first cycling competition in which women participated. To develop its performing arts sector, the kingdom invited Abdel Baqi, the founder of Masrah Masr theater troupe, to work in the country. Performances by Masrah Masr (Egypt Theater) were broadcast on the Saudi MBC TV network.
Abdel Baqi's efforts to build the Masrah al-Saudia (Saudi Theater) yielded their first results when a cast of 50 Saudi men and women put on two plays in early April. "Dunya al-Alaab" ("Toy World") and "Mamnou Doukhoul al-Sayidat" ("Entry of Women Prohibited") were performed on the stage of the Society of Culture and Arts in Jeddah.
The director of Gulf productions for the MBC Group, Ahmed al-Assaf, who oversees the work of the Saudi troupe, said during a press conference April 5, "The Saudi Theater is echoing the experience of Masrah Masr and aims to train young talents, and to turn some of them into theater and television stars."
Assaf added, "Masrah Masr has given many young actors a platform to shine and they have become famous in Egyptian series. This is the aim of the Saudi Theater, too."
Abdel Baqi told the local press during a news conference April 17 that he chose 50 men and women from the 800 who auditioned over a three-week period; it took another three weeks to train them.
He said the selected plays do not offend local sensitivities. "Conservative voices in Saudi Arabia expressed their gratitude after watching the shows because I was careful to observe the traditions of the kingdom. … The shows received wide public turnout. The first two shows were sold out and tickets were booked for two full weeks," he said.
Abdel Baqi added, "I handle the responsibility of directing the theater shows, and I signed contracts for 20 plays that will be shown on the MBC TV channel."
Collaboration with the Saudi Theater was challenging, Abdel Baqi said. "The accent was the biggest challenge for me. The Saudis do not have a unified accent; Jeddah's residents do not speak like other citizens. I had to be careful because it is a sensitive issue, and it took me a while to learn the nuances of each accent," he said.
In regard to actors and actresses working together for the first time in a theater troupe in Saudi Arabia, Abdel Baqi told the Saudi Al-Arabiya channel March 30, "For the first time men and women took part together in theater performances. I guided them in a way that respected traditions in the kingdom, and I realized how talented they were and respectful of social customs."
He added, "I was surprised to see these amazing talents and love for acting among the young people. We managed to perform the first two plays that both carry a social message and comic scenes that are appropriate for Saudi society."
Egyptian art critic Tareq al-Shennawi told Al-Monitor, "Egypt will play a part in the artistic activity in Saudi Arabia, as it is the country benefiting the most from Saudi social and artistic activity, just as it had been harmed by the kingdom's regression and oppression."
He said, "Egyptian art fits into Saudi society. For this reason, Egyptian singers such as Tamer Hosny and Mohamed Hamaqi performed as part of the first Saudi concert [in March]. Saudi Arabia resorted to Abdel Baqi for theater as he has experience in the field."
Shennawi also said, "The Saudi Theater will succeed if it meets the standards that conform to Saudi Arabia's societal norms. The Saudi Theater will play an important role in reviving theater in the kingdom."
He added, "In the next stage, Egypt and Saudi Arabia will promote their artistic cooperation in the fields of cinema and theater. Egyptian and Saudi production companies will coordinate to produce Saudi films with the participation of Egyptian actors. In Saudi Arabia, Egypt is called 'the Arab Hollywood.' Therefore Egypt must be part of the arts movement in Saudi Arabia."
Saudi writer and director Yasser Madkhali, who is responsible for the content of the Saudi Theater initiative, was quoted by the Saudi newspaper Al Yaum as saying, "Establishing the Saudi Theater emulates the Masrah Masr experience, but in a way that suits the spectator in the kingdom and the Arab world, while ensuring the construction of the Saudi identity."
He added, "We want theater to become part of family entertainment. The Saudi initiative will contribute to creating a market for theater and will motivate creative people to show their plays for a longer time."
https://www.al-monitor.com/pulse/originals/2018/04/saudis-turn-to-cairo-as-model-in-theater.html
--------
Iran: Young Woman Gets Killed In Chase By Moral Police Of Tabriz
29 April 2018
The chasing of a young couple by the State Security Force's Moral Security Police in Tabriz led to the death of the woman and injury of the man.
The Moral Security Police of Tabriz embarked on chasing a young couple driving in a car on Friday, April 27, 2018. During this chase, the driver lost control and crashed with a bus.
The young woman got killed in this accident and the young man was injured, however, the Moral Security Police apprehended the man despite his condition.
Earlier this month, the savage beating of a young women in a park by Tehran's Guidance Patrols provoked tremendous outrage across Iran and abroad.
https://women.ncr-iran.org/iran-women-news/5014-iran-young-woman-gets-killed-in-chase-by-moral-police-of-tabriz
--------
Pak Political Parties in a Fix over Award of Election Tickets to Women
Ali Hazrat Bacha
April 30, 2018
PESHAWAR: Though all political parties are bound to award party tickets to women for at least five per cent of the general seats of the National Assembly and provincial assemblies contested by them, majority of them are yet to make up mind to comply with the law.
Khyber Pakhtunkhwa and Balochistan are perhaps the provinces where direct election for female candidates is quite a new thing. The general elections are fast approaching, but virtually none of the political parties have so far made a decision to allot tickets to female candidates. It is also on record that in some parts of Khyber Pakhtunkhwa the political parties, even those claiming to be liberals, also avoid bringing women to the polling stations for casting vote.
When contacted by this correspondent, a number of political leaders said that they were unable to find suitable female candidates in different districts. The main reason cited by them for this was the particular environment where women were discouraged to come out of their houses in connection with elections.
They said that running the election campaign in the male-dominated society and the huge spending on it were also among the major issues faced by the political parties. Perhaps, PPP is so far the only party which has allowed one candidate, Asma Alamgir, to launch her campaign from NA-27, Peshawar.
Awami National Party provincial general secretary Sardar Hussain Babak said that the party had so far not awarded tickets to candidates, but the issue was discussed in their meetings. He said that ANP had so far not invited applications from female candidates. He said that the peculiar situation in the Pakhtun society might impede the process to campaign for female candidates.
Jamiat Ulema-i-Islam-Fazl's provincial secretary information Maulana Abdul Jalil Jan said that implementation of the ECP's decision seemed to be very difficult because in many areas of KP the people were not allowing women even to cast votes. He said that the decision to nominate female candidates or not would be taken by his party's central executive committee as well as by Muttahida Majlis-i-Amal. He said that so far the applications had not been invited from the female members.
"Currently, we have focused on training of the workers, including women, so that they could play their role during the election campaign and as polling agents," he said.
Jamaat-i-Islami provincial chief Senator Mushtaq Ahmed Khan said that his party's parliamentary board was holding meetings to finalise names of the candidates from different constituencies. About the party's procedure to select candidates, he said that no one could make a request for ticket, but it was the party's prerogative to nominate any suitable person for a seat. He said that female candidates would also be nominated as per the decision of the Election Commission of Pakistan, but after finalisation of the male candidates.
PPP provincial vice-president Syed Ayub Shah said that the decision had been taken by the ECP, but political parties were still indecisive about it as it was not approved by the National Assembly and Senate.
PPP provincial deputy secretary information Gohar Khan Inqilabi said that his party had sought applications from the candidates till May 3 and the top leadership would take the decision to award tickets to candidates.
Pakistan Tehreek-i-Insaf MPA Shaukat Yousufzai said that his party had started work on the issue to field suitable female candidates. He said that scores of women had submitted applications which would be finalised by the parliamentary board soon.
Qaumi Watan Party's provincial secretary information claimed that his party had always tried to encourage women for taking part in the elections. He said that the main issue pertained to lack of resources. However, he said that his party would fulfil the legal requirement to award tickets to female candidates.
PML-N women wing provincial spokesperson Farah Khan said that her party had extended the date for applications and now the aspiring candidates could file applications till Monday (today). She said that the decision about award of tickets would be taken by the party's parliamentary board.
https://www.dawn.com/news/1404775/parties-in-a-fix-over-award-of-election-tickets-to-women
--------
For Pakistani Women, Labour Day Boils Down To A Cup Of Tea After Work
AISHA SARWARI
April 29, 2018
When most women in Pakistan return home from a long, often humiliating day at work, the first thing they do is make tea. For someone else. They serve it eagerly — just the right color and texture, otherwise it might be splattered across a wall by an angry father, brother or husband — with a smile, wiping away any signs of strain or tiredness, because almost every day they are making a pitch for permission to continue with their careers.
The tea is a symbol of women's subservience and domesticity — let us work and we will not falter in the requirement that we serve in the home. As a result, they are workhorses both at home and in the office or factory, as a consequence sometimes falling short at both. Add in a child, a bad marriage or an elderly parent who is ill and everything can easily get out of whack — but only for the working woman.
The participation of women in the labor force in Pakistan stands at 25 percent, according to the latest data from ADB. This is well below the rates for countries with similar income levels, and also much lower than rates for many other Muslim countries. So the social stigma affecting women who work that is prevalent in Pakistan cannot only be blamed on religious conservatism.
Neither is education the only barrier, although it is a significant one. Only 25 percent of women with a university degree in Pakistan are employed. The rest choose, for lack of a better expression, to marinate in the leisure of the patriarchy.
Experts who study the issue of females in the workforce say a lack of mobility is one of the main reasons women do not work even when male guardians allow them to, and even when they need to as a result of gruesome economics. Crime, violence and rampant sexual harassment on the streets are a deterrent to even beginning a job search.
Only 10 percent of women using public transportation in Pakistan are spared routine gropes, shoves and squeezes by conductors and passengers — 90 percent are not. Aurat Foundation, a women's-rights organization in Islamabad, found that harassment is even more rampant than is reported. Even when not bodily assaulted, women on public transport are ogled and made to feel psychologically uncomfortable. They are forced to hide in the corners when they step out into public places, regardless of how they dress.
Lately, Pakistan has been celebrating the rise of Sima Kamil, who was appointed president and CEO of major commercial bank UBL. There have been other pioneering women, too: Alfalah GHP Investment Management, First Women Bank, L'Oreal, and Unilever Pakistan have all chosen women to lead their organizations into commercial growth.
Kamil made her name not only as a woman who survived in a male-dominated industry, but also as one who had intersectionality, overcoming the interlocking systems of power that effect the most marginalized in society. The fact that she made it at the top defies the status quo and also drives home the lesson that when women in Pakistan make a point of playing the career game, they often beat their male peers.
What remains tragic is that our economic and social policies do not reflect the needs of women who often have multiple disadvantages on top of living in a male-dominated society, including existing way below the poverty line and being from a minority religious or ethnic community.
One of the largest employers of women with these intersectionalities is the municipalities where, for example, they sweep streets and clean parks. It would make a tremendous difference if they were the focus of inclusion campaigns, financial inclusion especially, and initiatives to digitally empower them, to economically encourage them to bank and save, to get them to learn basic skills to expand their earning prospects, and also perhaps to give them better health protection. These women are exposed to dust and smoke constantly.
More than 74 per cent of manual laborers in Pakistan are engaged in the informal-employment sector, according to the Pakistan Bureau of Statistics. Domestic workers account for the biggest section of this. Most of these women start off working as children. It is difficult to find a story where such an employee has not been sexually harassed, beaten for minor mistakes or denied a fair wage. This is the most unregulated and undocumented part of the workforce.
Pakistan cannot turn around its economy without reducing the onslaught of violence against women, which affects nine out of 10 of them, according to Thomson Reuters Foundation. The economic cost of this abuse cannot be calculated accurately but it is safe to say this country perhaps would be an economic powerhouse by now had we treated women more like intellectual assets.
An attempted turnaround is somewhat underway. Punjab now has Violence Against Women Centers, laws against harassment of women in the workplace have been updated and strengthened, and the occasional bone is thrown to females in politics.
It is not enough. What needs to happen is a fundamental change in mentality that would allow a woman to come home from work, kick off her shoes, sit on a sofa and have tea served to her, instead of serving it to the men in her life. That proverbial cup of tea must be brought to her as a mark of respect, for her comfort and also as an apology.
– Aisha Sarwari is co-founder of the Women's Advancement Hub, a grass-roots platform for women to amplify their voices. She has been working on women's rights for more than 15 years in Pakistan.
http://www.arabnews.com/node/1293401
--------
Saudi Aramco appoints first woman to the board
April 30, 2018
Riyadh — Saudi Aramco, the world's top oil company which is preparing to go public, said on Sunday it has appointed new members to its board including a female executive.
Saudi Arabian Minister of Finance Mohammed Al-Jadaan and Minister of Economy and Planning Mohammed Al-Tuwaijri were appointed as members of the board of directors, Aramco said in a statement.
They are joined by Lynn Laverty Elsenhans, the former chairwoman, president and CEO of US oil refiner Sunoco Inc. from 2008 to 2012.
Other new members also include Peter Cella, former president & CEO of Chevron Philips Chemical Co. LP, and Andrew Liveris, director of DowDuPont Inc, and the CEO of the Dow Chemical Company. Liveris's appointment is effective as of July 1, Aramco said.
The five new members of Aramco's board will join six returning members including Saudi Energy Minister Khalid Al-Falih, who is also Aramco's chairman, and Amin Nasser, Aramco's CEO. Minister of State Ibrahim Al-Assaf and Managing Director of the government-owned Public Investment Fund (PIF) Yasir Al-Rumayyan also remain on the board.
The outgoing board members are Majid Al-Moneef, adviser to the Saudi Royal Court; Khaled Al-Sultan, Rector of King Fahd University of Petroleum and Minerals; and Peter Woicke, former managing director of the World Bank and former vice president of the International Finance Corporation.
Appointment decisions to the new 11-member board of directors are made by the Saudi government.
Elsenhans was named by Forbes as one of the world's most powerful women in 2008. Prior to her role at Sunoco, Elsenhans was the executive vice president of global manufacturing for Royal Dutch Shell, where she worked for more than 28 years.
She also served on Baker Hughes's board of directors from 2012 to July 2017 and sits on the board of GlaxoSmithKline .
Last year, the Saudi Stock Exchange appointed Sarah Al-Suhaimi, as its first female chair. She was the first woman to chair a major government financial institution in the kingdom.
In 2004, Lubna Olayan became the first woman to be elected to the board of Saudi Hollandi Bank, now called Alawwal Bank. In 2006, Lubna was one of four new appointments by PIF to the board of Ma'aden, the Gulf's largest miner. — Reuters
http://www.saudigazette.com.sa/article/533801/SAUDI-ARABIA/Saudi-Aramco-appoints-first-woman-to-the-board
--------
Iran's women workers, victims of institutionalized discrimination
April 30, 2018
The International Workers Day is the day to defend justice, equality and human rights for workers on whose toil and efforts, the society's welfare and happiness depend.
In Iran, however, workers' rights have been violated altogether since the clerical regime seized power in 1979.
The mullahs' regime has left no windows for defending the rights of workers so much that today, workers' wages and monthly salaries are not paid for months and even over a year.
Workers have to get loans and pay interest, sell their organs and sometimes set themselves alight out of despair.
In light of such tortuous conditions for all workers, one can conceive of the grave situation of women workers in Iran, since women are systematically discriminated against in the law, in employment and job market, and in every other realm of life.
The grim working conditions of women workers do not comply with any international norms or standards, let alone the more advanced ILO conventions and protocols or the UN Women's Economic Empowerment in the 2030 Agenda for Sustainable Development.
The Iranian regime, which is a member of the UN Commission on the Status of Women (CSW), has not adopted any of the CSW recommendations to improve women's economic empowerment, and is moving in the opposite direction.
Instead of "eliminating structural barriers and discriminatory laws" and "creating equal economic opportunities," the regime sanctions more discrimination against women and its legislations marginalize women even further.
The mullahs' Supreme Leader Ali Khamenei reveals the misogynist vision of the regime by stating that women "physically and emotionally have been created by God for a special role in life" and "the issue of women's employment is not among the main issues." As a consequence of such visions and laws, Iranian women who need to make ends meet for their family are forced to accept just any job with a small salary. They get hired by small workshops to work under unsafe conditions without insurance coverage, bonuses, or job security.
Some experts have best described the harsh conditions of women workers as "slavery."
Most women heads of household are workers
Systematic discrimination against women in employment and the Iranian job market, forces extremely oppressive conditions on women who have to support their families. Most of women heads of household are hired as workers with meager incomes, and yet, there benefits and bonuses are slashed from their wages.
Speaking about the New Year's budget and the Sixth Development Program, Zahra Sa'ii, spokeswoman for the parliamentary social committee, revealed that child benefits had been deducted from the payrolls of women heads of household in Autumn 2017.
The decision was implemented abruptly and the amount that had been previously paid to these women were withdrawn at once from their accounts. (The state-run salamatnews.com - March 28, 2018)
Parvaneh Salahshouri, head of the so-called women's faction in the mullahs' parliament, had previously asserted that the new budget bill contributed to poverty rather than eliminating it. She said more than 30 per cent of the credit for insurance coverage of housewives with three or more children had been cut. (The state-run ISNA news agency – December 18, 2017)
There are 3.5 million women heads of household in Iran, most of whom do not have any form of employment due to numerous obstacles for women's education and employment. Only 180,000 of women heads of household are covered by the Welfare Organization and receive a monthly financial aid of 70,000 toumans (or $18 which is less than 10 per cent of the minimum wage). Women heads of household thus resort to unconventional means, including sale of their body parts, to earn for their families' needs.
Women workers, the first victims of economic bankruptcy in Iran
With the bankruptcy of many production units and factories, women are among the very first to be laid off in every crisis. So, they have no job security whatsoever.
According to the Deputy Minister of Labor and Social Welfare Abolhassan Firouzabadi, 100,000 women are being dismissed every year. )The official IRNA news agency, September 6, 2015(
More and more employers have been firing married women and hiring single women in their stead because the former cannot work for them during their maternal leave. Fatemeh Sadeghi, a university professor, has revealed in 2015 that, "Every year during the past 10 years, 74,000 women have been fired from their jobs after going on maternal leave." (The state-run Fars news agency - June 16, 2015)
The Iranian regime recently took a further step of sanctioning dismissal of women during their maternity leave.
The state-run Tasnim news agency wrote on September 15, 2017, "The General Board of Directors of the Administrative Court of Justice rescinded a directive by the general director of the Labor Ministry which had banned laying off working mothers for two years while they nurse their children. The Administrative Court of Justice pronounced the directive as unlawful and outside the jurisdiction of the body that had adopted it."
Workers without contracts or insurance coverage
Institutionalized discrimination in employment has hindered young women's advancement. Educated women with higher education are forced to engage in menial jobs with low wages due to lack of job opportunities and a patriarchal job market.
Sussan Bastani, deputy for strategic studies in Rouhani's presidential directorate for Women and Family Affairs, told the state-run ISNA news agency, on February 13, 2016, that despite graduation of 2million girls from Iranian universities over the past 20 years, comprising over 60 percent of college graduates, the unemployment rate among women has increased.
The state-run press write that "educated women are known as workers who work with wages lower than the legal minimum wage, without insurance or official contracts."
The state-run Shahrvand newspaper, on June 28, 2017, recounted the stories of educated women who had to work in jobs that are in no way related to their field of study or level of education. These women receive only 150,000-300,000 toumans a month ($46-92) while the minimum wage in Iran is 1 million toumans ($237) and the poverty line stands at about 4 million toumans ($474).
Many educated women who cannot overcome the obstacles of employment, have to resort to peddling in the streets which is generally not considered a decent job but has become common among women. While Rouhani boasts of peddling as a job created for women by the government, female peddlers are routinely brutalized by municipality agents and their small items get confiscated or damaged.
Women workers sell body parts to make ends meet
Unemployment is rampant among women. From the 27 million women in Iran over the age of 10, only three million are employed and over 24 million Iranian women are not present in the workforce. (The state-run Mehr news agency, June 8, 2016)
At the end of the day, women are compelled to resort to unconventional ways such as sale of body parts, panhandling, sale of their infants, etc. to make ends meet.
An official in Kermanshah admitted: "Often we witness women heads of household taking desperate measures and resorting to unconventional methods to provide the needs of their families including selling their kidneys!" (The state-run Mehr news agency, October 8, 2015)
Rouhani's deputy for women's affairs, Shahindokht Molaverdi said, "Today, we witness sale of unborn infants in their mothers' uterus and before they are born. We do not know the exact numbers but their numbers are large enough to make news." (The state-run ILNA news agency, June 22, 2016)
Increasingly, women's voices are gaining power and their demands grow louder as they protest against the regime's destructive policies. They have had a key role in at least 200 protests over the past year. Furthermore, they actively participated at the forefront of Iran protests in December and January calling everyone to join in and continue the uprising.
https://women.ncr-iran.org/articles/5017-iran-s-women-workers-victims-of-institutionalized-discrimination
--------
URL: https://www.newageislam.com/islam-women-feminism/sydney-muslim-woman-challenges-250000/d/115096
New Age Islam, Islam Online, Islamic Website, African Muslim News, Arab World News, South Asia News, Indian Muslim News, World Muslim News, Women in Islam, Islamic Feminism, Arab Women, Women In Arab, Islamophobia in America, Muslim Women in West, Islam Women and Feminism