New Age Islam News Bureau
29 March 2018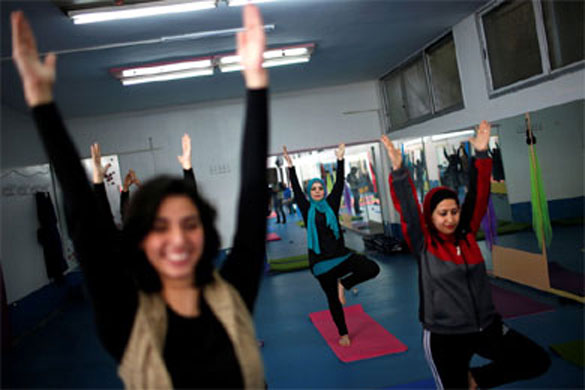 Palestinian women take part in a yoga session in Gaza City on March 28, 2018. (Photo: Reuters/Mohammed Salem)
-----
• Malala Makes First Trip to Pakistan since Taliban Attack
• First Women's Yoga Centre Opens Doors in Gaza
• Mumbai: Muslim Women Wing to Stage Protest against Triple Talaq at Azad Maidan on March 31
• Islamic State and the Kidnap of Nigerian Schoolgirls from Dapchi
• International Biennial Muslim Women Conference Opens in Kaduna Northern Nigeria
• NCB, Sayidaty to Launch a New Award to Support Saudi Female Businesses
• Turkish Gov't Detains More Than 70 Women over Their Alleged Financial Support For Jailed Gülen Followers
Compiled by New Age Islam News Bureau
URL: https://www.newageislam.com/islam-women-feminism/switzerland-promotes-tourism-exclusively-saudi/d/114757
-------
Switzerland promotes tourism exclusively to Saudi women
March 29, 2018
JEDDAH — Realizing the importance of women in Saudi Arabia in Switzerland's tourism, Switzerland Tourism and seven female partners representing top Swiss hotels arrived here to present Switzerland's beauty directly and exclusively to the ladies in Saudi Arabia.
During their visit, the delegation which consists of representatives of Switzerland Tourism in Dubai and female partners from stunning destinations such as Crans-Montana, Bern, Lugano, Flims, Interlaken, and Zurich, met with several female VIPs and royals through a total of seven events and gatherings.
Numerous experiences, attractions and fantastic hotels are presented to the exclusive guests throughout the events.
In a press conference held on Tuesday here in Jeddah, Matthias Albrecht, director of Switzerland Tourism in the GCC said: " Switzerland offers not only an unrivalled nature, fresh air and a fantastic climate but everything which is on the wish list of Arab ladies: Exclusive spa treatments, delicious foods with natural and pure ingredients, strolls along deep blue lakes and green parks, as well as stylish shopping facilities in authentic and peaceful cities and cosy villages."
In an official statement issued by the Switzerland tourism, it says: "Worldwide the same phenomena can be observed, women are the ones who decide where to go on holiday. Mothers and wives take the lead when it comes to planning the next vacation for their families. Another trend, noticeable in the GCC, is that more and more ladies enjoy the beauty of Switzerland together with their friends, sisters, and mothers; they travel in women-only groups and focus on what they like. And there are plenty of reasons why Switzerland is a perfect destination for women to travel together."
The tourism office also stated that Switzerland offers a wide range of attractions for families, but also for women who would like to travel independently.
During the press conference with Saudi media, representatives of Switzerland Tourism presented the Grand Tour of Switzerland, which is a nationwide tour spanning more than 1,600km.
The Swiss Women Delegation were Hotel Schweizerhof, Bern, Ms. Dominique Haslebacher, Appart hotel Helvetia Intergolf, Crans-Montana, Ms. Béatrice Benz, Lugano Tourism, Lugano, Ms. Vanessa Luperti, Victoria, Jungfrau Collection, Interlaken, Ms. Stéphanie Myter, Ambassador & Opera Hotel, Zurich, Ms. Andrea Pietsch, Waldhaus Flims Alpine Grand Hotel & Spa, Flims, Ms. Marika Zanoletti, Landquart Fashion Outlet, and Landquart, Ms. Kathrin Spiller.
http://www.saudigazette.com.sa/article/531486/BUSINESS/Switzerland-promotes-tourism-exclusively-to-Saudi-women
-------
Malala makes first trip to Pakistan since Taliban attack
29 March 2018
ISLAMABAD: Nobel peace laureate Malala Yousafzai returned to Pakistan on Thursday, officials said, in her first visit to her native country since she was shot in the head by a Taliban gunman for advocating education for girls in 2012.
Precize details of her itinerary have been "kept secret in view of the sensitivity surrounding the visit," a government official said of the trip, which is expected to last four days and include a meeting with Prime Minister Shahid Khaqan Abbasi.
Accompanied by her parents, the 20-year-old Yousafzai was escorted through Islamabad's Benazir Bhutto International Airport under tight security, according to still photographs broadcast on local television.
Malala has become a global symbol for human rights and a vocal campaigner for girls' education since a gunman boarded her school bus in the Swat valley on October 9, 2012, asked "Who is Malala?" and shot her.
She was treated for her injuries in the British city of Birmingham, where she completed her schooling.
Winner of the Nobel Peace Prize in 2014, she has continued her campaigning while pursuing her studies at Oxford University.
http://www.arabnews.com/node/1275431/world
-------
First women's yoga centre opens doors in Gaza
March 28, 2018
Gaza: A small group of Palestinian women in Gaza are stretching their limbs with yoga to help them teach others to cope with the stresses and traumas of living in the embattled territory.
The Gaza Strip, which is dominated by Hamas, has been the victim of three wars launched by the Israeli regime in the past 11 years.
There are few recreational activities for women in the densely-populated enclave of two million people, which is under a blockade imposed by Israel and Egypt and has the highest unemployment rate on earth.
Amal Khayal, who teaches the class in a makeshift gym and also heads women's activities for Italian charity Cooperazione Internazionale Sud Sud (CISS), said the project was aimed at training some 30 women to teach.
"We are trying to use physical activities to help release psychological pressures so that women here can form a support network for one another," Khayal said during one of her classes.
Some of the participants are also involved in learning juggling. Nineteen will become yoga instructors and 13 will learn to teach circus tricks, Khayal said, adding that more women had expressed a wish to participate in future classes.
"Everyone in Gaza, specially women, needs yoga because we live in a tough place. There are no entertainment facilities where we can unload our depressions which come in addition to our daily life issues," said Amina Al Zraiay, a sports teacher and occupational therapist.
http://gulfnews.com/news/mena/palestine/first-women-s-yoga-centre-opens-doors-in-gaza-1.2196299
-------
Mumbai: Muslim women wing to stage protest against Triple Talaq at Azad Maidan on March 31
Mar 29, 2018
MUMBAI: Women wing of All India Muslim Personal Law Board (AIMPLB) will stage protest at Azad Maidan against Triple Talaq Bill on March 31. Thousands of women are expected to arrive for the morcha from across the country. The march will be organised by AIMPLB and Kul Jamat.
Salamat Ullah Nadvi, convener of the protest said, "We are against the bill because instead of protecting Muslim women, it would deprive them of the rights which they are getting now. Hence, the bill has more disadvantages than advantages, and will harm the Muslim women."
Board members are expecting around 30-40,000 women from more than 75 cities across the country, adding that it will be a women-only morcha and all male members will be standing outside the maidan. "Even the speakers will be women. It is our battle now and we will fight for what is right," said Munisa Abidi, member of Mumbai AIMPLB. The board says although the bill is a step in the right direction, it should have a window for reconciliation between husband and wife and also some other clauses to prevent its misuse by vested interests.
Rauf Lala, from Kul Jamat, said, "Triple Talaq is a part of our religion, and the government should not interfere in the Islamic law. The thousands of women who have participated in the march share this sentiment." The Central government introduced the bill after the Supreme Court had outlawed the controversial divorce practice in August and asked the government to frame a law within six months. The Muslim Women (Protection of Rights on Marriage) Bill 2017 makes instant triple talaq, or 'talaq-e-biddat', a criminal offence with a jail term of up to three years.
http://www.freepressjournal.in/mumbai/mumbai-muslim-women-wing-to-stage-protest-against-triple-talaq-at-azad-maidan-on-march-31/1246397
-------
Islamic State and the kidnap of Nigerian schoolgirls from Dapchi
March 29, 2018
The recent kidnapping of 110 schoolgirls from Nigeria shows that Boko Haram is still a dangerous force in Nigeria - despite President Muhammadu Buhari claiming that the group had been technically defeated.
BBC Africa security correspondent Tomi Oladipo looks at the strength of the militant Islamists, and their links to the Islamic State group.
Was IS involved in the kidnappings?
Not directly. However, a Boko Haram faction loyal to IS was behind the abductions, as well as that of the wives of police officers and university lecturers last year in Maiduguri, the main city in the north-east.
The faction is known as the Islamic State's West Africa Province (Iswap) - a name aimed at showing that IS has expanded beyond the Middle East and North Africa.
It is officially recognised by IS, with Abu Musab al-Barnawi as its leader. He is believed to be the son of Boko Haram's founder, Mohammed Yusuf, who was killed in police custody in 2009.
IS helps Iswap run a sleek propaganda campaign. Apart from this, direct links between the two appear to be minimal.
Despite the fact that Boko Haram leader Abubakar Shekau pledged loyalty to IS in 2015, the splinter group opposed his leadership style and operational methods, which included using child suicide bombers and attacking Muslims.
It is unclear which of the two factions is dominant within Boko Haram, but both operate across the Lake Chad Basin region.
The Shekau-led faction seems to be most active in the north-east, towards Cameroon, while Iswap's terrain of operation seems to be closer to the border with Niger.
Are there talks with the militants?
The government said it had relied on back channels - involving a "friendly country, [an] international organisation and trusted facilitators" - to secure the release of most of the Dapchi girls.
There is a precedent for this.
Last year, some of the more than 276 Chibok girls, whose abductions in 2014 drew global attention to Boko Haram, were freed by the Shekau-led faction with the help of the Swiss government and the International Committee of the Red Cross.
Their release was part of a swap, which saw the government freeing some top Boko Haram commanders.
After the release of the Dapchi girls, Information Minister Lai Mohammed told BBC Focus on Africa that the government was in talks with the militants to negotiate a ceasefire. This is despite the fact that Mr Buhari has previously insisted that there will be no negotiations with the militants.
"We are actually talking. That's why we were taken aback when this abduction took place," Mr Mohammed said.
He denied that any ransom had been paid, or any prisoners exchanged.
The government may feel that the successes in securing the release of the hostages could eventually lead to a ceasefire.
However, this goes against the core objective of the militants - to fight the government with the aim of creating an Islamic state.
Overall, is the security situation improving?
This year started with Nigeria, Niger, Chad and Cameroon embarking on major offensive against Boko Haram. It was called Operation Deep Punch II, and the Nigerian army claimed significant successes.
There is no indication that the offensive will cease any time soon, though the government did say that operations were halted to open the way for the safe return of the Dapchi girls, who were dropped off in the town by the militants almost a month after the abductions.
Five of the girls reportedly died in captivity, while one - a Christian who refused to convert to Islam - was not released.
The military's progress on the battlefield has led to some key roads reopening, allowing for the resumption of commercial activity in north-eastern Nigeria.
However, this could also make travel easier for Boko Haram, and it could return to areas from where it was driven out.
In the final analysis, there are not enough troops to fight Boko Haram, and to guard every town, village or school in north-eastern Nigeria - when they released the Dapchi girls they warned them not to return to school.
Relief operations are also threatened, as seen by the 1 March attack on United Nations staff in the town of Rann.
Abu Musab al-Barnawi has previously denounced Western-linked aid agencies tackling the humanitarian crisis, saying their efforts were a veiled attempt to Christianise the population.
His stance suggests that the conflict in north-eastern Nigeria is far from over.
http://www.bbc.com/news/world-africa-43570488
-------
International Biennial Muslim Women Conference Opens In Kaduna Northern Nigeria
28/03/2018
The sixth Biennial conference of the Nasrul -Lahi-L- Faith Society (NASFAT) has begun in Kaduna, with about 1,000 delegates from across the globe attending.
The 3 – day conference tagged "Preparing the Muslimah for the Challenges of Our Time" is aimed at inspiring and empowering women with knowledge that would enable them to stand out as role models
Addressing a news conference on Wednesday in Kaduna NASFAT National Secretary Women Affairs, Alhaja Samiat Omolara Mumuni said the theme of the event was selected based on the trendy issues in the contemporary society which include insecurity, molestation, kidnapping, poverty and health challenges as well as Unfair treatment unleashed on women.
A paper on "The Role of Women in Combating Drug Abuse", will be presented by an official of National Drug Law Enforcement Agency at the conference.
The conference,she said , would profer solutions to these challenges with a view to have a peaceful and God fearing society.
Commenting on the abduction of Chibok and Dapchi school girls, Omolara Mumuni described the incidents as immoral saying that the Holy Prophet taught all Muslim faithful to be humane and not to treat any one with humiliation.
https://www.africaprimenews.com/2018/03/28/islam/international-biennial-muslim-women-conference-opens-in-kaduna-northern-nigeria/
-------
NCB, Sayidaty to launch a new award to support Saudi female businesses
March 29, 2018
JEDDAH — National Commercial Bank (NCB) and Sayidaty magazine have signed an agreement to start an award on first of April to support Saudi women in the business sector. The winners will be provided with funding and other services to boost their businesses.
Mohammad Al-Harthi, editor-in-chief of Sayidaty, said, "Ahalina and Sayidaty Award will fund a number of businesses for ambitions women." He explained that they will be spending SR2 million to providing funding as well as other supportive services including consultation, logistics, and media support. The main two goals of the competition are to increase awareness and highlight success stories, Al-Harthi said, adding that the best three best ideas will be supported.
Basma Al-Jawhari the head of corporate responsibility department (Ahalina) at NCB said that they pay special attention to entrepreneurship and to women empowerment thus they support Saudi women to start their own businesses. Ahalina was launched in 2004 by NCB to provide different corporate responsibility programs to support different segments of the society. The programs provide education, training opportunities to both genders.
http://saudigazette.com.sa/article/531485/BUSINESS/NCB-Sayidaty-to-launch-a-new-award-to-support-Saudi-female-businesses
-------
Turkish gov't detains more than 70 women over their alleged financial support for jailed Gülen followers
29 Mar 2018
The Turkish government detained more than 70 women on Wednesday evening in five provinces across Turkey as part of a Balıkesir-based investigation targeting alleged members of the Gülen movement.
According to a report by online news outlet Kronos, 600 police officers took part in the operations led by Balıkesir Police Director Cengiz Zeybek and conducted raids to the 63 addresses in İzmir, Manisa, Uşak, Denizli and Balıkesir provinces. Police detained more than 70 women over their alleged links to the Gülen movement during the raids.
It was claimed that the detained women have been helping financially to the relatives of those who were jailed or escaped from the persecution of the Turkish government over their alleged links to the movement. The detained women were allegedly visiting frequently the families of the victims of the Turkish government led by autocratic President Recep Tayyip Erdoğan which has conducted a massive post-coup witch hunt campaign against the alleged members of the Gülen movement.
On Tuesday, at least 13 women were also detained by police over their alleged ties to the Gülen movement in a Karaman-based investigation. According to reports in Turkish media, Karaman Chief Prosecutor's Office issued detention warrants for 18 women over their participation in the Gülen movement's activities on March 22. Police carried out operations in 11 provinces and have detained 13 of them so far, according to media reports on Tuesday. Out of those 13 detained, 5 were later released on judicial control.
Women who have been jailed in an unprecedented crackdown have been subjected to torture and ill-treatment in detention centers and prisons as part of the government's systematic campaign of intimidation and persecution of critics and opponents, a report titled "Jailing Women In Turkey: Systematic Campaign of Persecution and Fear" released in April 2017 by SCF revealed.
In several cases, women were detained in the hospital immediately after the delivery of a baby and before they had a chance to recover. Many women were jailed as they were visiting their imprisoned husbands, leaving the children stranded in the ensuing chaos.
Turkey survived a controversial military coup attempt on July 15, 2016 that killed 249 people. Immediately after the putsch, the Justice and Development Party (AKP) government along with autocratic President Recep Tayyip Erdoğan pinned the blame on the Gülen movement.
Fethullah Gülen, who inspired the movement, strongly denied having any role in the failed coup and called for an international investigation into it, but President Erdoğan — calling the coup attempt "a gift from God" — and the government initiated a widespread purge aimed at cleansing sympathizers of the movement from within state institutions, dehumanizing its popular figures and putting them in custody.
Turkey has suspended or dismissed more than 150,000 judges, teachers, police and other civil servants since July 2016. Turkey's interior minister announced on December 12, 2017 that 55,665 people have been arrested. On December 13, the Justice Ministry announced that 169,013 people have been the subject of legal proceedings on coup charges since the failed coup.
A total of 48,305 people were arrested by courts across Turkey in 2017 over their alleged links to the Gülen movement, Interior Minister Süleyman Soylu said on Dec. 2, 2017. "The number of detentions is nearly three times higher," Soylu told a security meeting in İstanbul and claimed that "even these figures are not enough to reveal the severity of the issue."
https://stockholmcf.org/turkish-govt-detains-more-than-70-women-over-their-alleged-financial-support-for-jailed-gulen-followers/
-------
URL: https://www.newageislam.com/islam-women-feminism/switzerland-promotes-tourism-exclusively-saudi/d/114757
New Age Islam, Islam Online, Islamic Website, African Muslim News, Arab World News, South Asia News, Indian Muslim News, World Muslim News, Women in Islam, Islamic Feminism, Arab Women, Women In Arab, Islamophobia in America, Muslim Women in West, Islam Women and Feminism