Age Islam News Bureau
21 Dec 2017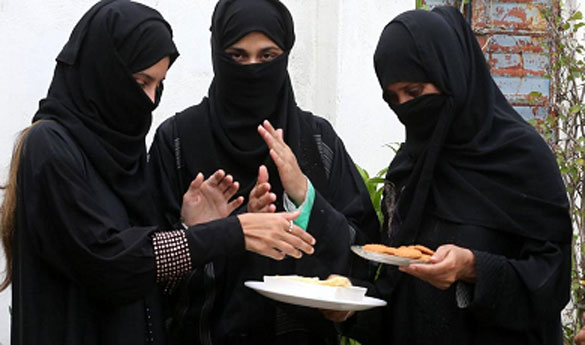 Photo: Islamic instant divorces granted in a different country using the "triple talaq" custom are not legal under EU law, the European Court of Justice ruled on Wednesday. Sanjeev Gupta/ EPA
-----
• 'Triple Talaq' Divorce Not Legal In EU, Top Court Rules
• Nike Begins Selling Sports Hijab for Muslim Female Athletes
• Israel's Air Force Recruiting More Women for Pilot Training, Increasing Gender Integration
• WWE Announces First Women's Royal Rumble
• Kuwait City: African Maids Say Cheated, Seek Return – 'Rescue Us from This Hell'
• Women Who Slapped Israeli Soldiers Arrested
Compiled by New Age Islam News Bureau
URL: https://www.newageislam.com/islam-women-feminism/swiss-executive-opposes-nationwide-ban/d/113648
------------
Swiss executive opposes nationwide ban on face coverings
DEC 20TH, 2017
GENEVA (AP) — Switzerland's executive council says it opposes a referendum to ban face coverings such as the veils worn by some Muslim women but plans a "counter-project" that would prohibit requiring anyone to cover his or her face.
The Federal Council said in a statement on Wednesday that it thinks the question of banning concealing garments such as costume masks and burqas is better left to regions to decide.
The council says its project is "clearly indicating that it doesn't accept constraints placed on women."
The Italian-speaking Ticino region of Switzerland already bans face wear, while five other Swiss regions rejected similar proposals.
The government says regions "must themselves decide the approach to have toward veiled tourists from the Arab world."
Far-right groups have successfully petitioned for a nationwide referendum on the issue.
wthr.com/article/swiss-executive-opposes-nationwide-ban-on-face-coverings
--------
'Triple talaq' divorce not legal in EU, top court rules
December 20, 2017
A couple with dual Syrian-German nationality cannot have their divorce, which was granted in a Sharia court in Syria, legally recognised in Germany
Islamic instant divorces are not legal under EU law, the European Court of Justice ruled on Wednesday.
EU countries do not need to legally recognise private divorces including so-called "triple talaq" divorces, which are granted in some Sharia courts, as they have not been given by a state court.
In very few countries, a Muslim man can divorce his wife quickly by saying the word "talaq" three times in a Sharia court.
The ruling was brought about in relation to Syrian couple Raja Mamisch and Soha Sahyouni, who married in Syria and live in Germany. They both hold dual Syrian-German citizenship.
The battle over 'triple talaq' in India goes far beyond Muslims alone
Mr Mamisch ended the marriage in 2013 by having a representative say the word "talaq" three times in a court in Latakia, Syria.
Ms Sahyouni, who married Mr Mamisch in Homs in 1999 and first moved with him to Germany in 2003, acknowledged the divorce in writing but later contested it in Munich when her husband applied for it to be formally recognised.
The state court in Munich ruled that the EU's "Rome III" regulation applied, granting Mr Mamisch's application. Rome III is a regulation concerning the applicable law regarding divorce in 16 EU countries and dictates which law should be applied in cross-border divorces.
"In the absence of a valid choice of applicable law and a common habitual residence of the spouses in the year preceding the divorce, the applicable law is determined in accordance with Article 8(c) of that regulation.
"Where both spouses have dual nationality, the decisive factor is their effective nationality within the meaning of national law. At the time of the divorce at issue, their effective nationality was Syrian," the Munich court said.
However, after Ms Sahyouni appealed, the ECJ said that Rome III does not apply to "private" divorces.
The regulation "does not apply, by itself, to the recognition of a divorce decision delivered in a third country," the EU's top court said.
The ECJ has sent the case back to Munich to be decided under national law.
Triple talaq divorce was banned in India in August after women's rights campaigners and Muslim women who had been divorced in such a way filed petitions against the custom.
Three of India's Supreme Court judges called the practice "un-Islamic, arbitrary and unconstitutional" in a landmark ruling.
Triple talaq has already been banned in most Islamic countries including Pakistan and Bangladesh, however, the instant divorce system continued in India, which has a provision for personal laws for all religious groups.
thenational.ae/world/europe/triple-talaq-divorce-not-legal-in-eu-top-court-rules-1.689424
--------
Nike begins selling sports hijab for Muslim female athletes
Doug Stanglin, USA TODAY Published 4:16 p.m. ET Dec. 20, 2017
On its U.S. shopping website, Nike says the Nike Pro Hijab is made with lightweight, breathable fabric "that wicks away sweat, and stays tucked in during any workout or competition."
"The pull-on design and long back keeps the Hijab in place, while mesh fabric provides a breathable, personalized fit," Nike said. It features tiny, strategically placed holes for "optimal breathability" but is otherwise opaque.
The hijab sells for $35 and is available in black in sizes from extra-small to large.
While most Muslim women wear the hijab for religious reasons as an expression of modesty, other Arab or Muslim women choose to wear it to express cultural identity.
"It's not just about making a product available for Muslim and Arab women, but it is also giving a chance to those women who are putting off the idea of wearing the veil completely in order to compete," Manal Rostom told Al Arabiya English earlier this year.
Nike said it has been developing the garment for a year, drawing upon the experiences and recommendations of such athletes as Emirati figure skater Zahra Lari, Egyptian runner and mountaineer Manai Rostom, and Emirati weightlifter Olympica Amna Al Haddad, who have wear-tested the garments since early 2016.
In 2012, two Saudi runners competed in hijab at the Olympic Games in London. One of them, sprinter Sarah Attar, also completed at the Games in Rio, in a uniform designed by Oiselle, an Oregon-based company, according to The Guardian.
Nike.com
✔
@nikestore
--------
Israel's Air Force Recruiting More Women for Pilot Training, Increasing Gender Integration
Posted by David Gerstman - December 20, 2017
Israel's Air Force Recruiting More Women for Pilot Training, Increasing Gender Integration Hamas Warns Gazans Not to "Like" Israel's Arabic Facebook Page
Former Treasury Official: Trump Administration Needs to Target Hezbollah's Drug Smuggling
Israeli Traffic Management Technology Makes Commutes Safer, Faster
Israel's Air Force Recruiting More Women for Pilot Training, Increasing Gender Integration
The Israeli Air Force (IAF) is encouraging more women to enlist in their prestigious pilots courses, in an effort to increase gender integration in the military, The Jerusalem Post reported on Wednesday.
"A plane doesn't care if it's a woman or a man flying it. The Air Force wants the best of the best, and not enough women try out for the pilots course," said the Head of the Personnel Directorate Brig.-Gen Nathan Israeli at Haterzim Air Force Base outside Beersheba.
"Our decision to encourage more women to join the course is from operational needs; they can improve the flight school and the entire corps," he stated.
Despite IAF efforts to recruit women to the role, only 48 have so far completed the course since a Supreme Court ruling in 1995, which opened up the pilots course to women. One more female pilot will join their ranks next week when the latest course will finish, which includes ultra-Orthodox recruits as well as a member of the Ethiopian community.
The IAF is expected to continue to promote female officers to senior positions, such as Capt. Y, who in November became the first female pilot to be appointed deputy commander of a combat squadron. She will serve in the Spearhead Squadron as an F-15 navigator out of Tel Nof Airbase in central Israel.
Last year, the Israeli military decided to test women's ability serve in infantry and special forces units and in January 2017, Israel's first female tank operators completed their training.
theisraelproject.org/the_daily_tip_israel_s_air_force_recruiting_more_women_for_pilot_training_increasing_gender_integration
--------
WWE Announces First Women's Royal Rumble
By J.R. Lind, Patch Staff | Dec 20, 2017
The world's largest wrestling promotion continues its "Women's Revolution" with women getting their own version of the popular Royal Rumble.
STAMFORD, CT -- It wasn't so long ago that the women featured on WWE's wrestling shows participated primarily in matches seeming conceived by overheated pubescent boys: pudding matches, lingerie matches and the like.
In the last two years, though, the company has taken strides to distance itself from that ignominious past, proclaiming a "Women's Revolution," adding numerous women to its top roster and renaming the division from the "Divas" to "Women." In the meantime, women now routinely main event the promotion's weekly television broadcasts and participate in high-profile matches praised by critics. In particular, Sasha Banks and Bayley's pair of matches in 2015 for the WWE's developmental promotion NXT received widespread acclaim and attention both inside and outside of wrestling.
On a recent tour in Abu Dhabi, Banks and reigning Raw Women's Champion Alexa Bliss became the first women to wrestle in the United Arab Emirates - albeit in bodysuits, rather than their normal ring gear - and the crowd chanted "This is hope!" during their bout.
On Monday night, the women took another step, as WWE Chief Brand Officer and on-screen Raw Commissioner Stephanie McMahon announced the women will get their own Royal Rumble at the eponymous pay-per-view Jan. 28 in Philadelphia.
The Royal Rumble is that rarest of wrestling events in that it's universally beloved. Conceived in 1988 by wrestling legend Pat Patterson, the match consists of wrestlers -- in the men's event, there are typically 30 competitors - entering the ring at predetermined intervals - usually 90 seconds or two minutes. Wrestlers are eliminated if their feet hit the floor after being thrown over the top rope. The winner of the men's Royal Rumble typically gets a title shot at the following Wrestlemania.
The WWE has not announced how many women will participate in the event, though recent call-ups from NXT have beefed up the women's rosters on both Raw and Smackdown and this summer's women's tournament, the Mae Young Classic, introduced a number of women into the WWE fold. The Royal Rumble historically includes surprise entrants of debuting competitors or returning legends, as well.
While the event will be the first-ever all-woman Royal Rumble, three women - the late Chyna (who participated twice), Kharma and Beth Phoenix - participated in past Rumbles alongside male competitors.
WWE Raw Women's Champion Alexa Bliss at Wizard World 2017 at the Pennsyvania Convention Center in Philadelphia on June 3, 2017. Photo: Star Shooter / MediaPunch/IPX
patch.com/us/across-america/wwe-announces-first-womens-royal-rumble
--------
Kuwait City: African Maids Say Cheated, Seek Return – 'Rescue Us From This Hell'
KUWAIT CITY, Dec 20: A domestic worker from Ivory Coast sent a plea to her country's government to rescue her from what she describes as hell, reports Al-Qabas daily. She asked the government to help her and a number of her compatriots in Kuwait to retrieve their passports and return home. "Our dear parents please make a move! Our officials in our country, come and help us out", she said in a video she posted on social networking sites in which a large group of women and men from her country can be seen.
She explained, "We are facing problems in Kuwait. Do you see this room? All these people came here to work honorably, including qualified employees, pregnant women and patients. Every one of us has an educational certificate, but our brothers cheated us, tricked us, took millions of African francs from us and then sold us. We are suffering. We were beaten in the houses where we went to work and deprived of our salaries, food and good treatment".
The woman revealed, "I used to work as a cashier but I left my three-month-old son to come to Kuwait only to find myself working as a maid here. I do not eat or sleep. Look at the traces of beatings on my shoulders. We wake up at 5 am and work continuously until 1 am the next day".
arabtimesonline.com/news/african-maids-say-cheated-seek-return-rescue-us-hell/
--------
Women who slapped Israeli soldiers arrested
AFP | Published — Wednesday 20 December 2017
Palestinian Ahed Tamimi, 17, right, a well-known campaigner against Israel's occupation, appears at a military court at the Israeli-run Ofer prison in the West Bank village of Betunia on Wednesday. (AFP)
Palestinian wave of violence marked by increased female role
RAMALLAH: Israeli forces arrested a third Palestinian woman on Wednesday in connection with a viral video showing Israeli soldiers being slapped in the occupied West Bank.
Soldiers arrested Nour Naji Tamimi, 21, from the village of Nabi Saleh north of Ramallah in the West Bank, residents said.
Cousin Ahed Tamimi, 17, a well-known campaigner against Israel's occupation, was arrested on Tuesday along with her mother.
The video shot last Friday, apparently with a mobile telephone, showed two Palestinian girls approaching two Israeli soldiers, before shoving, kicking and slapping them while filming on mobile phones.
The heavily armed soldiers do not respond in the face of what appears to be an attempt to provoke rather than seriously harm them. They then move backward.
The army confirmed it had made a third arrest.
The cousin is expected to be brought before an Israeli military court on Wednesday.
The video appears to have been filmed on the steps of the Tamimi house, during a day of protests against US President Donald Trump's controversial recognition of Jerusalem as Israel's capital.
It has been widely picked up by Israeli media, which often accuse Palestinian protesters of seeking to provoke the army into responses which are then filmed.
Israeli politicians hailed the restraint of the soldiers as evidence of the military's values.
Palestinians on social media criticized Ahed's arrest in the middle of the night, arguing it is the people's right to resist military occupation.
A member of the Tamimi family was shot in the head with a rubber bullet during protests on Friday, the family said.
arabnews.com/node/1212066/middle-east
URL: https://www.newageislam.com/islam-women-feminism/swiss-executive-opposes-nationwide-ban/d/113648