New Age Islam News Bureau
20 Aug 2013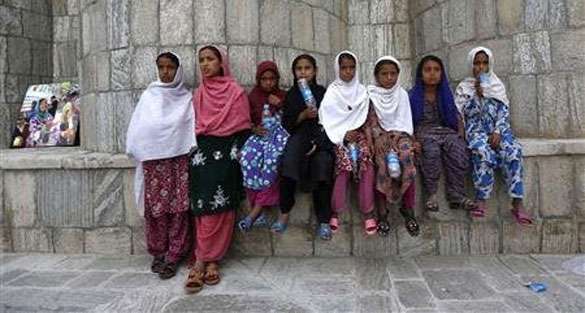 Afghan girls watch as others perform from the Mobile Mini Circus in Kabul Aug 17, 2013 (Reuters)
----------
• Afghanistan's Circus Gives Children Fun with a Future
• Saudi Wife Angered After Husband Compares Her to Car
• Investigation Initiated into Woman's Self-Immolation
• Indonesian National-Team Footballer Reported for Assault by Female Student
Compiled by New Age Islam News Bureau
URL: https://www.newageislam.com/islam,-women-and-feminism/new-age-islam-news-bureau/swedish-women-don-headscarves-after-assault-on-a-muslim-woman/d/13115
------------
Swedish Women Don Headscarves after Assault on a Muslim Woman
19 August 2013
Swedish women have been posting photos of themselves in traditional Muslim headscarves in solidarity with a woman attacked apparently for wearing a veil.
Among the protesters from various faiths were politicians and TV hosts.
The "Hijab outcry" campaigners urged the government to "ensure that Swedish Muslim women are guaranteed the right to... religious freedom".
The victim was taken to hospital after the attacker tore off her Hijab and hit her head against a car on Saturday.
The assailant also shouted racist insults at the woman - who was pregnant - during the attack on Saturday in a Stockholm suburb, the victim's friends told Sweden's media.
Police are now investigating the incident.
'March of fascism'
Using the hashtag #hijabuppropet (hijab outcry) a number of women across Sweden published pictures of themselves on Twitter and other social media websites on Monday.
Among the protesters were lawmakers Asa Romson and Veronica Palm, and also TV host Gina Dirawi.
The campaigners said they wanted to draw attention to the "discrimination that affects Muslim women" in Sweden.
"We believe that's reason enough in a country where the number of reported hate crimes against Muslims is on the rise - and where women tie their headscarves extra tight so that it won't get ripped off - for the prime minister and other politicians to take action to stop the march of fascism," they wrote in the Aftonbladet newspaper.
In response, Justice Minister Beatrice Ask said such attacks "must be taken very seriously", according to the TT news agency.
The minister is expected to meet the campaigners on Tuesday.
http://www.bbc.co.uk/news/world-europe-23761737
------------
Afghanistan's Circus Gives Children Fun with a Future
2013-08-20
KABUL: Flinging sparkling clubs into the air, the girls showed off their juggling skills as the boys executed dazzling acrobatics and climbed into a four-storey human pyramid.
Afghanistan's Mobile Mini Circus for Children would have been heretical under the Taliban, when music was banned by the Islamic fundamentalist movement and girls were forbidden from performing in public and going to school.
But today the circus, founded by Danish dance instructor David Mason to teach cooperation and creativity to children scarred by years of war, is one of few projects expanding despite a drop in international aid to Afghanistan.
"Left on the street, kids turn to bad things, becoming suicide bombers or street thugs," said Murtaza Nowrozi, an 18-year-old juggler from the western province of Herat. "It's better for them to go to school and join programmes like this."
Nowrozi found out about the circus at school but many of the members are orphans or from refugee camps. The most talented children have been on tour to Denmark, Germany, Italy and Japan, and some have stayed on with the project to become teachers.
Mason started the circus with his own money and got the first donation of $1,000 in 2002, the year after U.S-led forces invaded Afghanistan to oust the Taliban.
Despite the dangers, the project has grown so popular that it now runs centres in seven provinces and has about 300 regular students. With dozens of donors and workshops to raise money, the budget is close to $500,000 and its tours of 25 of the country's 34 provinces have reached nearly 3 million people.
Doing things the Afghan way
The brightly painted circus "funtainers" - shipping containers converted into practice and performance areas - are hard to miss, but the shows are tailored to regional customs.
In eastern parts of the country, girls do not perform. In the ultra-conservative south, performances run without music.
Passages from the Koran, the central religious text of Islam, are always recited at the start.
"We are doing things in a very Afghan and Islamic way," said Mason, noting that all of the circus staff, children and customs are native to the country. "We are not trying to come up with new ideas unfamiliar to Afghans."
Mason refuses to be dispirited by the prospect of a Taliban revival. He is confident the circus will thrive despite the deterioration in security conditions accompanying the withdrawal of foreign troops from various areas as they prepare to leave Afghanistan by the end of 2014.
"It's just a matter of mutual understanding and accepting each other," Mason said.
That message also applies to the National Circus Festival run by the project each year to bring together circus children from different provinces and ethnic groups to encourage them to work together and become friends.
"What we do at the social circus is, for example, making the pyramid," said Mason. "You have 10 people that have to, with all their bones and muscles, understand themselves and the others."
The festival, including a juggling championship, was held in and around Kabul in mid-August. On the last day, the winners of a photography competition were invited on stage to show poster-sized images of their work.
All turned out to be girls, including Shazia, 13, from the northern Panjshir Valley.
"When they first gave me a camera, I felt very intimidated. I was a poor Afghan girl who had never held a camera before so I was terrified my pictures would be bad," said Shazia, who like many Afghans has only one name.
"Now I'm so happy I won, I feel like I can succeed at many things I haven't tried before."
http://www.dawn.com/news/1037089/afghanistans-circus-gives-children-fun-with-a-future
------------
Saudi Wife Angered After Husband Compares Her to Car
August 19, 2013
Manama: A Saudi woman has walked out on her husband after he compared her to the car he bought through a bank loan.
A man familiar with the case said that the husband told his wife in her thirties that he had taken out a loan from a bank before their marriage to buy the car and to pay for her dowry. He added that one loan was enough and that while he expected returns if he ever wanted to get rid of the car, he did not anticipate any if there were similar plans for the wife, Al Weam news site reported. The wife, angered by her husband's remarks, decided to leave him and take their children back to her parents' home.
"There are now serious attempts to contain the situation by narrowing gaps and having the husband apologise to his wife," the man said. "It is very important for spouses to assess and measure the impact of their words before they utter anything. They should be fully aware that they can hurt the dignity of their spouses or make them suffer," he said.
Most readers sympathised with the wife and insisted on a more considerate attitude from the husband.
However, some readers said that the wife had overreacted and that rushing to a negative decision could end their union and deeply affect the future of their children.
http://gulfnews.com/news/gulf/saudi-arabia/saudi-wife-angered-after-husband-compares-her-to-car-1.1221947
------------
Investigation Initiated into Woman's Self-Immolation
20 August 2013
Governor of Asir region Prince Faisal bin Khaled has ordered law authorities to reinvestigate the Hanan Al-Shaheri's suicide case.
The 25-year-old woman drank petrol and then set herself on fire after her brother refused a marriage proposal to her. The brother, identified as Ali Al-Shaheri, is also accused of beating his sister.
Al-Shaheri also faces accusations of impiousness, theft of his sisters' money and torture and violence. The uncle of the woman is also accused of assaulting and torturing her. The two men beat the woman on the pretext of discipline, according to authorities.
The uncle had been released from custody a day before Eid Al-Fitr.
The lawyer for Hanan Al-Shaheri's family, Fayez Al-Shahrani, said the investigation will include all the accused parties in this case, including Hanan's statements before her death. The court has ordered to provide protection to the victim's mother and Hanan's younger sisters, Atheer and Amal.
Al-Shahrani has demanded transfer of the mother and sisters to a more safe place. The lawyer also said there were attempts by certain relatives to talk with Hanan's brother, persuading him to compromise with the mother to return money belonging to Hanan. Hanan's brother refused to compromise on the mother and sisters' guardianship. At the same time, Aisha Al-Shaheri, another sister of Hanan, said her mother rejected all meditations and refused to meet her son Ali Al-Shaheri and Hanan's uncle.
http://www.arabnews.com/news/461847
------------
Indonesian National-Team Footballer Reported for Assault by Female Student
By Bayu Marhaenjati
August 19, 2013
Indonesian national team footballer and Arema club captain Gregory Junior Nwokolo was being investigated by police on Monday over allegations that he assaulted a female university student in the early hours of Saturday morning, an accusation the footballer has denied.
"Yes, he was reported for assault, but not for attempted rape," South Jakarta Police spokesman Comr. Aswin told the Jakarta Globe. "I haven't coordinated with the detective as to whether he will be questioned soon — at the moment, we're questioning witnesses."
Frans Paulus, the lawyer for the victim, said that the incident happened on Friday night at Nwokolo's house in West Cilandak, South Jakarta.
Frans said Nwokolo's had visited the victim in her rented accommodation on Thursday to ask her out.
"After dining at 4 p.m., the victim was taken to Greg's house in West Cilandak, South Jakarta," Frans said at the South Jakarta police office, adding that Nwokolo had asked the victim and her friends to go to X2, a popular nightclub in Senayan, later that night.
Later the group would return to Nwokolo's house, the lawyer said, where the footballer made a sexual advance toward the victim.
The lawyer said the victim had rejected Nwokolo's advances, after which he is alleged to have turned violent. Police are investigating claims that Nwokolo dragged the victim to his room, groped her, placed his hand over her mouth and threatened her.
Frans said that he had slapped her "right cheek, lip and left shoulder" and had taken the victim's two mobile phones.
"It's not true," Nwokolo told the Jakarta Globe. "It's impossible I did something stupid like that. It's slander. Big slander. I don't care about it; I just want to focus on practicing [football]."
When asked how he intended to proceed, Nwokolo said "we'll see; there will be action taken from my lawyer."
Police have yet to question Greg Nwokolo and he has not been charged with a crime. An investigation is ongoing.
http://www.thejakartaglobe.com/news/indonesian-national-team-footballer-reported-for-assault-by-female-university-student/
------------
URL: https://www.newageislam.com/islam,-women-and-feminism/new-age-islam-news-bureau/swedish-women-don-headscarves-after-assault-on-a-muslim-woman/d/13115