New Age Islam News Bureau
12 March 2015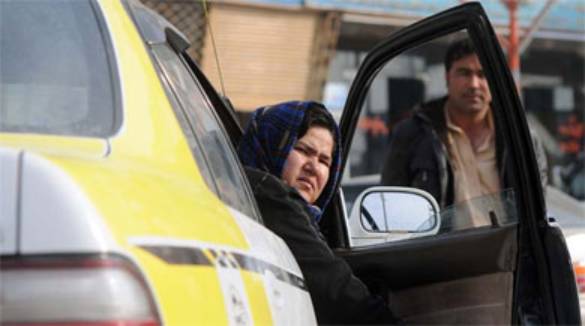 Sara Bahai, 40, waits for customers, in Mazar-i-Sharif city, Afghanistan (AP Photo)
--------
• Iran Women Being Reduced To 'Baby-Making Machines': Amnesty
• Defying Taboos, Afghanistan's First Woman Taxi Driver Steers Change
• Over 5,000 Saudi Women in Industrial Cities Bolster Work Force
• Kenya Muslims Criticize Biased Hijab Ban
• Turkish man bites off wife's fingers during quarrel
• Can't do away with a bunch of flowers
• Women Are More Dedicated To Their Work than Men
• After Swallowing 68 Meth Capsules, Kenyan Woman Arrested At Airport
Compiled by New Age Islam News Bureau
URL: https://newageislam.com/islam-women-feminism/swabi-rights-activist,-gulalai-ismail,/d/101924
-----------
Swabi Rights Activist, Gulalai Ismail, Honoured In UK
MUQADDAM-KHAN
March 12, 2015
SWABI: Gulalai Ismail, a 28-year-old rights activist belonging to Marghuz village of Swabi district, received 'Youth Award for Excellency in Development' in London, United Kingdom the other day.
She is daughter of Prof Mohammad Ismail, a known social worker of the region. The award recognises outstanding young people under 30 whose development projects and programmes have significant impacts on their communities, countries and the world.
Ms Gulalai along with other award winners also met Queen Elizabeth-II one day before the award ceremony.
She received the award in recognition of her efforts for protecting rights of young women and girls and strengthening the political participation of young women in Khyber Pakhtunkhwa province.
Ms Gulalai had launched a rights organisation, Aware Girls, when she was only 16 to empower young women by strengthening their leadership capacities so that they could act as agents of change, to sensitise the communities for creating a conducive environment where young women could exercise their human rights and to advocate for laws and policies which could protect the rights of young women and girls.
She also works for countering violent extremism in Khyber Pakhtunkhwa by promoting non-violence, pluralism and tolerance. She is a staunch supporter of the role of young women in peace building and development.
Ms Gulalai, when contacted by this scribe, said that she believed that if young people especially young women were not engaged in the decision making processes then the dream of living in a decent, developed and peaceful world couldn't be materialised.
About receiving the award, she said it meant the voice of Pakistani and South Asian girls working for their rights was being recognised.
"While I receive this award, there are millions of girls, who are denied their right to education and are forced into marriages. They are victims of domestic abuse and violence in their communities," she added.
Ms Gulalai urged people to break the silence and speak up for supporting the cause of human rights and political participation of women and girls. In 2013, she received International Democracy Award in the US Congress. She was invited by White House to attend Obama Civil Society Summit in 2013.
In 2014, she received the International Humanist Award and is one of Foreign Policy Magazine's 2013 'Leading Global Thinkers'.
http://www.dawn.com/news/1169048/swabi-woman-honoured-in-uk
-----------
Iran women being reduced to 'baby-making machines': Amnesty
March 12, 2015
Draft legislation aimed at boosting a flagging birth rate threatens to reduce Iranian women to "baby-making machines" and set their rights back by decades, Amnesty International warned on March 11.
The London-based human rights group said that a first bill, which has already been approved once by parliament, would restrict access to contraception, forcing women into unsafe backstreet abortions.
It said the second draft law, which is to go before parliament next month, would close many jobs to women who choose not to or are unable to have children.
"The proposed laws will entrench discriminatory practices and set the rights of women and girls in Iran back by decades," said Amnesty's deputy director for the Middle East and North Africa, Hassiba Hadj Sahraoui.
"The authorities are promoting a dangerous culture in which women are stripped of key rights and viewed as baby-making machines rather than human beings with fundamental rights to make choices about their own bodies and lives."
The draft legislation comes in response to a call by supreme leader Ayatollah Ali Khamenei to double Iran's population to 150 million within 50 years.
Iranian officials have expressed alarm at its ageing population, with an official at the national birth registry, Mohammad Nazemi Ardekani, warning last April the population growth rate could fall to zero "within 30 years".
The bill, which is now undergoing amendment, would ban voluntary sterilisation and end state subsidies for contraceptive services.
Amnesty said it would inevitably lead to an increase in backstreet terminations in a country where abortion is illegal except in very limited circumstances.
The second bill would require both public and private employers to give priority to men and women with children when hiring for certain jobs.
It would also make divorce more difficult and restrict intervention by the state in family disputes, which Amnesty said would expose women to increased risks of domestic violence.
Women currently make up around 60 percent of university students in Iran and 10 percent of economically active women are employed, according to official figures.
http://www.hurriyetdailynews.com/iran-women-being-reduced-to-baby-making-machines-amnesty.aspx?pageID=238&nID=79564&NewsCatID=352
-----------
Defying taboos, Afghanistan's first woman taxi driver steers change
March 12, 2015
Sara Bahai's decision to become Afghanistan's only known female taxi driver was motivated less by ideals of equality than by the need to support an extended family — and a love of driving that has confined her conservative detractors to the rear-view mirror.
She still remembers her first time behind the wheel, shortly after the Taliban were driven from power in the 2001 U.S.-led invasion. "I felt like I was in the sky, and I totally fell in love with driving," she said. There was no turning back.
Bahai, now around 40 years old, had already spent much of her life defying taboos in Afghanistan, where women are widely regarded as inferior to men and discouraged from working outside the home.
She never married, she said, because she had to support her parents and siblings and feared a husband would prevent her from working. With no children of her own she adopted two boys, now both in high school. When Taliban insurgents shot and killed her brother-in-law, she took in her sister and seven nieces and nephews. She now supports a dozen people.
To put food on the table, she drives around the northern city of Mazar-i-Sharif in a spotlessly clean yellow and white Toyota Corolla with sparkly woven seat covers and a good luck talisman in the front window.
"I receive threats from unknown callers who tell me to not drive in the city because I am a woman, because it is against Islam. Some tell me that if I continue to work as a taxi driver they will kill me," she said.
"Male passengers are very jealous and often abuse me, but I don't care what they think of me, I am not afraid. I will change the country with whatever ability I have to do so," she said.
She got her driver's license in 2002 and is also a mechanic. She earned a university degree in education and now teaches other women to drive so they can be more independent.
Attitudes about women have been slowly changing in Afghanistan since the fall of the Taliban, and gender equality is enshrined in the constitution. But local authorities have been slow to adopt change, and outside major cities deeply conservative traditions prevail.
Women who step out of their homes unaccompanied by male relatives often face verbal and sometimes physical harassment. Domestic violence goes largely unpunished and girls are still married off against their will, often to much older men, as payment for debts or as swaps for property.
At the same time, millions of girls are today attending school, and many graduate from university. Maternal mortality rates are falling as health services improve, and it is no longer unusual for women to travel abroad alone, or even to live alone in major Afghan cities. A recent spike in rape reports reflects the effectiveness of public education campaigns, according to Najia Nasim, country director for a women's rights organization called Women for Afghan Woman, which also runs shelters.
Afghanistan's First Lady Rula Ghani has adopted a rare public profile since her husband, President Ashraf Ghani, took office in September. She is the first wife of an Afghan leader to routinely appear in public and has campaigned for women's issues and poverty alleviation.
In a speech to mark International Women's Day on Sunday, she said "women should be respected both inside and outside their homes and play an active role in society as doctors, engineers, soldiers, police officers."
She also called on the world to rethink the widely held view of Afghan women as victims.
Bahai would agree. The pioneering taxi driver sees more and more young women attending school, graduating college and living their own lives, as she has done.
"They are building the confidence to live independently. Step by step everything is going to be all right," she says. "My message for Afghan women is to stand up for yourselves, set goals and achieve them, and help to make Afghanistan a happy place to live."
http://indianexpress.com/article/world/asia/first-woman-taxi-driver-in-afghanistan/2/
-----------
Over 5,000 Saudi Women In Industrial Cities Bolster Work Force
12 March 2015
The number of female employees in major industrial cities has reached 5,480 distributed across 132 factories.
They now make up 4.7 percent of the total industrial work force, said Sami Al-Husseini, director of marketing and public relations at the Saudi Industrial Property Authority (Modon).
Al-Husseini said the total number of factories that hire women in Jeddahs First Industrial City has reached 2,120, which is 5.8 percent of the total number of productive factories in the city. In Riyadh, it is 2,119 women, making up 4.4 percent of the total industrial work force. The number of working women in Dammam second industrial city reached 933, totalling 5.9 percent of workers distributed over 34 factories. In Al-Ahsa, nine factories collectively employ 141 women, while in Makkah four factories employ 100 women.
Industries varied in attracting females due to their different characteristics and suitability. Food stuff factories attracted 52 percent of the total number of women in Modon, while electrical appliance factories come second in terms of attracting female employees with 7.81 percent.
This was followed by pharmaceutical factories with 7.28 percent, chemical products with 7.08 percent, textiles with 5.46 percent, beverages with 3.96 percent, plastics and rubber with 3.91 percent, nonferrous metals with 3.30 percent, paper products with 3.18 percent.
Al-Husseini said this industrial leap conforms to the Kingdoms plans to benefit from the expertise and abilities of Saudi women, especially in the industrial sector. To this end, the Council of Ministers has issued a directive related to land and provinces to prepare them to establish industrial projects where women can work, and to assign the Modon permission to establish industrial cities that are suitable for female employment in the Kingdoms various provinces.
In 2013, Modon launched first industrial city suitable for female work in the Kingdom. The city is located to the south of Al-Hufuf city next to the airport, on a space of 500,000 sq. meters. In February 2014 the cornerstone was laid to develop the second industrial city that suits womens work (Yanbu Modon Oawis) in Madinah with a space of 500,000 sq. meters, to the north of Yanbu airport and 10 km from the center of the city.
Al-Husseini said Modon established the Modon Oases according to international specifications and special designs that take care of womens privacy to attract the largest number of female industrial projects, which are located next to urban areas, and to facilitate their involvement in the workforce, in addition to being modern, clean and environmentally friendly.
The involvement of women in the industrial workforce is the topic of the first session of the Industrial Opportunities Forum which will be launched this week. A number of experts will gather to study the involvement of women in industrial investment, with the participation of a number of major companies and funding and consulting bodies, and a number of investors and economists.
The forum (in its fourth iteration) aims to achieve a number of goals such as shedding light on the service and incentive systems, and facilities offered by the state and funding institutions for industrial projects, in addition to presenting industrial opportunities that are based on the comprehensive needs of emerging projects. The forum aims to introduce business pioneers to the achievements of small and medium industrial establishments, and introduce them to the services of funding institutions, financial and consulting facilitation.
http://www.arabnews.com/saudi-arabia/news/717141
-----------
Kenya Muslims Criticize Biased Hijab Ban
10 March 2015
CAIRO – A Muslim member of assembly of Kisumu post city on the western Kenya coast has criticized the High Court decision to ban Muslims students from donning Islamic headscarf as breaching freedom of worship.
"The constitution is very clear that one has a right not to be forced to do any act that will contravene his / her belief or religion," Farida Salim, nominated Member of County Assembly (MCA) told The Star on Tuesday, 10 March.
"If a court can rule that Muslim girls are barred from putting on Hijab then that court is out of order. We must be tolerant, we do not want this country to be polarised along religious lines."
Muslim students in a church-sponsored school in Isiolo county have lost their bid to wear a hijab in school.
The school is sponsored by the Methodist Church.
On Friday, High Court judge Harun Makau ruled that Muslim girls at St Paul Kiwanjani Secondary School have no right to wear the veils in school as it is contrary to the school's rules and regulations.
The judge said a decision by the director of education allowing Muslim students in the county to wear hijab and white trousers is discriminatory, unlawful and unconstitutional.
The ruling followed filing a lawsuit by the Methodist Church which complained that the move by the county education office permitting Muslims girls to wear hijab and white trousers had created disparity among students.
The Muslim MCA criticized the court ruling, asserting that Islamic hijab symbolises culture and peace.
"God's given rights should not be taken away and we must be tolerant because we do not want this country to be polarised along religious lines," she said.
Salim confirmed that Christian leaders supported Muslim students' rights, including acting speaker Gabriel Ochieng who said Islam and its beliefs should be upheld.
There are nearly ten million Muslims in Kenya, which has a population of 36 million.
Islam sees hijab as an obligatory code of dress, not a religious symbol displaying one's affiliations.
Scholars believe that it is up to women to decide whether to take on the veil.
http://www.onislam.net/english/news/africa/483865-kenya-muslims-criticize-biased-hijab-ban.html
-----------
Turkish man bites off wife's fingers during quarrel
March 12, 2015
A Turkish man has bitten off his wife's fingers in an argument over firing a rifle during their hunting trip in the southern province of Antalya, according to a criminal complaint.
The 24-year-old barber, identified only by the initials K.D., convinced his estranged 17-year-old wife, who he married nine months ago, to come on a hunting trip with him, hours after the two reconciled their long-running differences on March 6.
However, the couple started to argue again after K.D. tried to get his wife to fire a shot with his rifle in Antalya's Bucak forest.
The quarrel quickly turned into a physical fight, during which K.D. allegedly bit off parts of his wife's fingers. A truck driver who was passing by heard screams and called the police, which led to K.D.'s detention.
The man has been released pending trial. The woman was taken to hospital, but has no life-threatening injuries.
"He tried to kill me. He bit my fingers and tried to rip them off. I felt my flesh being removed," the woman told the police.
Her mother and father described the attack as "barbarism," saying they were initially not able to recognize their daughter after the incident as her face was badly bruised and swollen.
K.D. has pleaded not guilty, claiming that the woman "beat herself" and her family "put a spell" on him.
"I have caught her messages to my uncle's son. I think she is cheating on me ... But I still love my wife. I don't wantto see our relationship end like this," he said.
March/11/2015
http://www.hurriyetdailynews.com/turkish-man-bites-off-wifes-fingers-during-quarrel.aspx?pageID=238&nID=79536&NewsCatID=341
-----------
Can't do away with a bunch of flowers
March/09/2015
Turkey has an acute problem. Ethnic Kurds, non-Muslims, non-Sunni Muslims, women, disabled people, everyone suffers from a chronic problem: The lack of a democratic culture. Should we assume that women have all become very happy because they were presented with flowers over the weekend, while husbands and boyfriends took a few of them out to dinner and while those in power delivered lofty statements about "heaven being under the feet of mothers"?
I would not have remembered that Sunday was International Women's Day if I had not come across the Pinocchio with an almond moustache talking in the street vendor style. Will marking such a day change anything in this country?
Sending a bouquet of flowers or inviting them to dinner cannot solve the many problems of Turkish women, as women's problem are in essence little different from men's or children's problems, or the problems of ethnic, religious, or cultural minorities. A resolution to the Kurdish problem – if can be achieved – will perhaps help defuse the officious efforts of deputies to create a "police state" demanded by their absolute patron. Consolidation of the climate of democracy in the country would of course have a positive impact not only on the living conditions of women, but also on men and children.
Wider and consolidated democracy will mean justice becoming more independent of political manipulation, and therefore more trustworthy. Confidence in justice will make it more difficult for allegiant "journalists" to concoct phony suicide stories to serve the designs of the absolute chief. Not only will scores of newspapers carrying the same headline, but the eight or more columnists giving exactly the same heading to their articles on the same day will no longer be defendable with "advanced democracy."
Unfortunately, the draft security bill currently being negotiated in parliament will turn Turkey into such a police state that no woman with any brains can be fooled and made happy with a bouquet of flowers.
The atmosphere of intolerance, enmity, hatred and polarization has reached such dimensions that a shop owner can kill a journalist playing snowball on the grounds that his front window and thus "very expensive window glass" was hit by a snowball. Meanwhile, someone unhappy with what a journalist wrote attacked them in Bursa, smashing their head. What kind of "advanced democracy" has this country become that a journalist can be killed because he hurled a snowball on the window of a shop, while another was attacked and hospitalized with head fractures because he wrote an article against someone's interests?
The Özgecan Aslan tragedy brought crimes committed against women to the agenda, as if there was anything new in that rather fertile area in this country. Of course a woman harassed, dismembered and burned by a bunch of vandals should be very big news at all times everywhere in the world. But countries that really bother with the security and wellbeing of their women should try to protect them.
The police, for example, shouldn't wait in front of the house while hopeless screams for help from a woman come out. What are they waiting for, for the husband, boyfriend or whatever that beast was to finish his crime?
In the first two months of 2015, a total of 47 women were killed by their husbands, boyfriends or family members. According to cases that appeared in the media – that means only reported cases – 15 girls and women were raped, and 31 women were forced into prostitution. Over 640 cases of violence against women were reported to the police.
Violence against women is not an exceptional affair, it is a problem of the whole society. The resolution of it can come only through wider democracy and respect for rights and liberties at all levels. If the media continues its male chauvinistic approaches in reporting such cases, it is nonsense to accuse politicians, police or the killer's relatives. Who is responsible for a murder? The one who pulls the trigger? Or the one who incites and provokes murder? We do not have a women's problem; we have a problem of the entire Turkish society. It must be the duty of the Turkish state to provide an atmosphere of secure living for women and everyone else, irrespective of their sex or sexual preferences.
http://www.hurriyetdailynews.com/cant-do-away-with-a-bunch-of-flowers.aspx?PageID=238&NID=79358&NewsCatID=425
-----------
Women are more dedicated to their work than men
March 12, 2015
The article "Would you like a woman boss?"(Mar. 10) is a literary piece par excellence which manifests subtle humor at its zenith. One can really perceive a beautiful blend of reality and fiction. I personally feel that women should be encouraged to make the best use of their managerial skills. Research shows that women are more dedicated and committed to their work than men. They are more successful in management, more so in school management. In some countries, the performance of women is found to be better than that of men.
Dr. Jameel Ahmad, Online response
There is nothing wrong with female bosses. I have worked for 41 years including time served in the British military and five years in the civil service. I had no problems whatsoever having women as bosses. I admit I was surprised at first, and maybe a little resentful, as 1974 was a different time in the UK for equality of the sexes. There are differences yes, but I think that makes life interesting.
G-Jubail, Online response
If the author was trying to make fun of all the backward ideology, poor logic, silliness and prejudice that existed centuries ago, then I say to him: well done! Very funny! Sadly, I think he is actually revealing his true opinions. This reminds me of the documentary "India's Daughter", in which the murderer happily states his woman-hating opinions with no idea that they are disgusting to the entire civilized world.
Amira, Online response
I know that my comment will not be welcomed by my own clan, but let me say that I agree with the writer. I am a woman myself and I am having a hard time working under women bosses. I don't know if it is only limited to Saudi women who often consider their subordinates as their slaves and say things which are purely unethical in the workplace or among women in general.
Sehrish, Online response
Thankfully, the new generation of young Saudis does not share the views of the author. Women are becoming more and more empowered and such chauvinism will no longer be tolerated by society.
http://www.saudigazette.com.sa/index.cfm?method=home.regcon&contentid=20150312236647
-----------
After swallowing 68 meth capsules, Kenyan woman arrested at airport
March 12 2015
A Kenyan woman, identified by her initials OS, 33, has been arrested at the Soekarno-Hatta International Airport in Tangerang, Banten, for attempting to smuggle drugs by swallowing 68 capsules of methamphetamine.
"The woman works at a beauty parlor in her country. She graduated from a university," deputy chairman of the drug unit of the airport police Comr. Subekti said as quoted by tempo.co Thursday.
Subekti said that the woman swallowed the capsules in order to get US$3,500 in cash under the orders of a Nigerian citizen identified as S. "S ordered OS to swallow 70 capsules, two of which had been discharged at a toilet in Hong Kong," he said.
The smuggling attempt started when S contacted a Nigerian citizen, identified as JP, who has stayed in Jakarta for several months. JP, 33, who acted as a textile trader at Tanah Abang market, has an Indonesian girl friend, identified as IM, 39.
S told JP there would be someone who will bring something to Indonesia. "Based on information from the arrest of OS, we summoned IM, telling her that the substance was available at a hotel," Subekti said. Police managed to arrest IM and also JP.
Okto Irianto, head of the Soekarno-Hatta airport immigration office, said that OS was arrested by immigration officers on Feb. 24. "Her flight route was Nairobi-Doha-Hong Kong-Jakarta aboard Garuda GA873," Okto said.
The methamphetamine capsules swallowed by OS weighed 654 grams. "The police are still investigating the case," Okto added. (hhr)
http://www.thejakartapost.com/news/2015/03/12/after-swallowing-68-meth-capsules-kenyan-woman-arrested-airport.html
-----------
URL: https://newageislam.com/islam-women-feminism/swabi-rights-activist,-gulalai-ismail,/d/101924