New Age Islam News Bureau
26 March 2016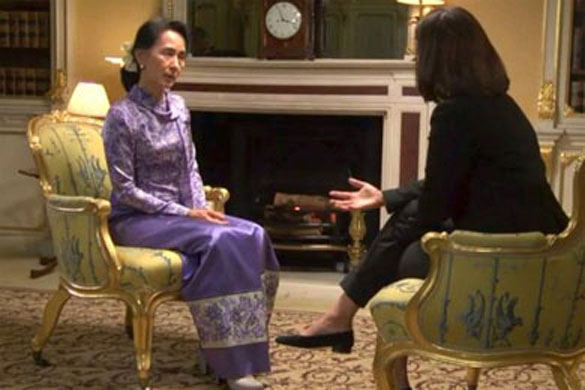 Suu Kyi 'angry at being interviewed by Muslim'
----------
• Suu Kyi: No One Told Me I Was Going To Be Interviewed By a Muslim
• Four Women Among Suspected IS Militants Held In Malaysia Crackdown
• More Turkish Women Consider Writing Code as Career
• Women Wearing Headscarves Rally Planned At Shaw Library Tomorrow
• Men Are From Mecca, Women from Medina
Compiled by New Age Islam News Bureau
URL: https://www.newageislam.com/islam,-women-and-feminism/new-age-islam-news-bureau/suu-kyi--no-one-told-me-i-was-going-to-be-interviewed-by-a-muslim/d/106770
------
Suu Kyi: No One Told Me I Was Going To Be Interviewed By A Muslim
"No one told me I was going to be interviewed by a Muslim," she was heard muttering after the interview with BBC Today presenter Mishal Husain, according to a new book.
Mar 26, 2016
Suu Kyi, Suu Kyi anti muslim remark, suu kyi muslim remark, Nobel Peace Prize, Nobel Peace Prize laureate, Aung San Suu Kyi, BBC presenter, Myanmar, Myanmar violence, Rohingya Muslims, Rohingya, Muslims, world news Aung San Suu Kyi.
Nobel Peace Prize laureate Aung San Suu Kyi lost her composure and made an anti-Muslim remark about a BBC presenter after she was grilled about Myanmar's violence-hit Rohingya Muslims. "No one told me I was going to be interviewed by a Muslim," she was heard muttering after the interview with BBC Today presenter Mishal Husain, according to a new book.
Suu Kyi, who led her National League for Democracy party to a historic win in Myanmar's November 8 elections, made the off-air comment about Husain after losing her temper during an interview where Husain asked her to condemn anti-Islamic sentiment, British newspaper The Telegraph reported.
Pakistani-origin Mishal Husain, 43, is the first Muslim presenter of BBC Radio 4's Today programme. The comments were revealed in Peter Popham's new book 'The Lady And The Generals: Aung San Suu Kyi And Burma's Struggle For Freedom'.
Her response, according to The Telegraph, was: "I think there are many, many Buddhists who have also left the country for various reasons… This is a result of our sufferings under a dictatorial regime."
Tens of thousands of Rohingya Muslims of Rakhine state have fled poverty and persecution in western Myanmar since religious violence erupted there in 2012, prompting international calls for investigation into what some analysts called "strong evidence" of genocide.
Last year Suu Kyi faced criticism for not speaking out in defence of the persecuted Muslim minority. Buddhist nationalist activists, including some firebrand monks, had whipped up anti-Muslim sentiments during a charged election campaign.
Meanwhile, Amnesty International urged Aung San Suu Kyi and her party's new government to release all political prisoners when they take office next week, saying Thursday that Myanmar's historic transition is an opportunity to break away from the repression of the former junta rule.
"Myanmar's legal framework reads like a textbook of repression, and authorities have in recent years increasingly used it to silence dissent," Champa Patel, Amnesty International's Southeast Asia director, said.
Serious questions remain unanswered about the new government's power to improve human rights given that the constitution keeps several key institutions under the military's control.
http://indianexpress.com/article/world/world-news/no-one-told-me-i-was-going-to-be-interviewed-by-a-muslim-suu-kyi/
----
Four Women Among Suspected IS Militants Held In Malaysia Crackdown
South East Asia Post Friday 25th March, 2016
KUALA LUMPUR, Malaysia – Police in this Southeast Asian predominantly Muslim country have detained at least 15 suspected Islamic State members who were allegedly planning attacks and were acquiring chemicals for bombs in Malaysia.
Police chief Khalid Abu Bakar said documents related to the Islamic State were also recovered from the suspects detained.
Abu Bakar said late on Thursday that the suspects were aged between 22 and 49 and included four women.
A police official, an airplane technician, a Muslim cleric and a student were also among the detainees.
Abu Bakar tweeted the announcement and said that Malaysia's Bukit Aman Special Branch Counter Terrorism Division (E8) raided terror cells with Islamic State links across the country.
"Congratulations to E8 after successfully raiding cells with links to ISIS yesterday. 13 people were arrested and ISIS documents were also seized," the Straits Times quoted a translated tweet from Bakar.
The police chief said that the suspects were detained over three days from Tuesday in Kuala Lumpur and six other states of Malaysia. He said they had allegedly received orders to launch attacks in the country from a Malaysian man who had joined the Islamic State in Syria.
The police chief said in an interview, published on Thursday by local daily The Star, that police will set up a counter-terrorism unit in every state in the country.
Abu Bakr said that the deadly Brussels airport attack on Tuesday made it clear that Malaysian authorities have to take action "on the slightest information" and that they "cannot afford to wait and see" if there could be an actual attack.
Malaysian police arrested 145 people between 2013 and January 2016 for having links to Islamic State.
Neighbouring Indonesia was also said to have beefed up security measures and made several arrests of people suspected to have Islamic State links.
The arrests follow the January 14 Jakarta attack after which Islamic State's Malaysian-Indonesian unit threatened the two countries with more attacks.
In a video released by Katibah Nusantara, the Malay-speaking arm of Islamic State, the group said that they would continue to grow in numbers if the two Muslim-majority countries kept arresting its members.
"If you catch us, we will only increase in number but if you let us be, we will be closer to our goal of bringing back the rule of the Khalifah (caliph). We will never bow down to the democratic system of governance as we will only follow Allah's rules," Malaysian newspaper the Star cited the video as saying.
http://www.southeastasiapost.com/index.php/sid/242516153
---
More Turkish Women Consider Writing Code As Career
ISTANBUL - Anadolu Agency
Mar 26, 2016
"Your resume seems fine but we prefer a male programmer because I don't think that women are suitable for flexible schedules," one employer told Melek Elmas.
Just one event among many that shattered her dream of becoming a code writer despite the fact that she had trained for precisely that line of work since 2003. Having studied coding in her high school years, she graduated from the Computer Technologies and Coding Department in 2009 at the Istanbul Trade University. She even took private courses on coding and database.
To no effect.
Elmas remains sour to have been judged on her gender rather than her skills.
"I was pretty much annoyed by this stance. That's why I decided to change my career path despite the fact that I have trained as a coder and loved this job," says Elmas, 27, who now works on search engine optimization for websites.
Elmas's experience captures challenges waiting or affecting female coders around the globe and also in Turkey.
Made of words, numbers, brackets - incomprehensible to a layman - code directs programs to accomplish set tasks.
Behind any shiny graphic interface, complex computer game, smartphone app, there is coding.
The computer world, and specifically coding, has long been seen as male-dominated environment. Figures appear to support this.
A 2013 survey indicated that 11.2 percent of software developers worldwide were women.
Moreover, the U.S. research suggested that women faced double standards even though they turned out to generally be better at coding than men.
The research on GitHub - one of the largest open-source software communities in the world – showed that 78.6 percent of proposed code changes made by women were accepted compared with 74.6 percent of those made by men.
When these women revealed their identity, the rate dropped to 62.5 percent. The researchers concluded that bias against female code writers "exists."
In Turkey, the percentage of female code writers surpasses 20 percent, according to Nuri Ödemiş, deputy chairman of the Istanbul-based IT and Software Authors Association, or BİYESAM.
At least 160,000 coders have been employed by the Turkey software sector, Doğan Ufuk Güneş, chairman of Istanbul-based Software Industrialists Association, or YASAD, told Anadolu Agency.
At the national level, there has been no academic study or survey on whether or how women programmers face prejudice. But, female code writers and prominent figures of the industry speak of a rampant bias against women.
"I can say that there has been discrimination against women within the sector," Ödemiş told Anadolu Agency.
He believes reason behind this bias was a reflection of problems within society.
Özge Kasap, a 28-year-old programmer, conceded that irrespective of any working environment, being a woman is a challenge.
"During a job interview, an employer questions a woman's plans to marry or to have a child. I did not hear such questions being asked to male candidates," Kasap noted.
Elmas stated that her story presented prejudice against women programmers during hiring process.
Another problem facing women in coding stems from a tendency for male workers to stick together.
Özdemiş said that male workers tended to isolate the - most often than not, lone - female worker.
Kasap added that she heard of other female coders switching departments due to pressure from male workers or because their ideas were not well considered.
"If a person is good coder, gender should not make a difference," Kasap said.
The Software Industrialists Association's chairman Güney argued however that the software sector was a most convenient place for female workers.
"Our work is free from time and place. You don't have to be here to do the job. A woman coder can work from home even if she gets pregnant," he said.
Despite existing difficulties, Elmas and Kasap were confident that a bright future awaited tech-savvy women.
Elmas said self-confident women solidarity among women coders was beginning to flourish.
PhD candidate Kasap said she observed that the number of girls enrolled in the coding department had surpassed the number of male students.
"When I enrolled into university [in 2009], we were two girls at the Coding Engineering Department [at Istanbul-based Bahçeşehir University]," Kasap said.
On March 21, the Ministry of Education revealed that it had set up a commission to revise coding class to teach programming at an early age. Coding will be taught at middle school, according to senior officials of the ministry.
In recent years, Turkish girls have outperformed boys at the central university placement exams.
Nationwide results released in March 2015 showed that, for example, 72 percent of girls scored the 180 points needed to apply for the second round of Turkey's national university entrance exam.
Only 66 percent of boys made the grade, according to the government-run Measurement, Selection and
Placement Center (ÖSYM).
Not only are girls outscoring boys in tests, they are also enrolling into universities in higher numbers.
"In the future, I believe there will be successful female coders whose names will be written in gold letters," Kasap said.
http://www.hurriyetdailynews.com/more-turkish-women-consider-writing-code-as-career-.aspx?pageID=238&nID=96942&NewsCatID=341
-----
Women Wearing Headscarves Rally Planned At Shaw Library Tomorrow
MAR 25, 2016
Following an alleged act of harassment at Shaw Library, protesters will respond tomorrow afternoon to "reclaim safe space for Muslim women."
Collective Action for Safe Spaces and the Muslim American Women's Policy Forum are organizing a 2 p.m. rally to get public institutions to better address harassment and discrimination. The Women Wearing Headscarves event was planned in response to an alleged incident on Wednesday afternoon where a library officer asked a Muslim woman to take off her hijab, and then threatened her with arrest when she refused.
On Wednesday afternoon, Jessica Raven was sending emails from a computer at Shaw Library when she says she saw the interaction.
"All I heard was he started asking her to take off her hijab. My jaw dropped," Raven said. "The man next to her spoke up, but the officer continued to harass her. Ultimately he came towards her in an intimidating way, pulled out his handcuffs and said if she didn't want to take off [the hijab], she had to leave." The woman left.
Raven, the interim executive director of Collective Action for Safe Spaces, contacted Darakshan Raja, the co-founder of the Muslim American Women's Policy Forum, who posted on Facebook about the incident and asked people to contact the D.C. Public Library and others about it. The tweets poured in.
The library apologized and said it removed the officer in question from the location as it investigates the incident.
Huffington Post tracked down D.C. Public Library Officer Timothy Craggette, the officer at the center of the incident. He said he accidentally mistook the woman's hijab for a hoodie.
"I would apologize to her if she was Muslim," he told Huffington Post. "She never identified herself as Muslim. I'm sorry for the library and I'm sorry for her. I hope something positive comes out of this."
The organizations behind the rally are encouraging people to tweet their own experiences with harassment with the hashtag #HoodieOrHijab.
Additionally, Collective Action for Safe Spaces, Muslim American Women's Policy Forum, and Many Languages, One Voice in a statement are calling upon the DCPL to do more than apologize.
"We urge D.C. institutions to examine and strengthen their institutional procedures and responses to address discrimination and harassment, particularly against Muslim communities," it says in part, including a public information campaign and improved staff training at DCPL, and a listening session for Muslims at the D.C. Council.
For those who want to attend Saturday's event, organizers ask that attendees "please bring a headscarf and signs," or bring a hoodie as a non-Muslim ally.
http://dcist.com/2016/03/women_wearing_headscarves_rally_pla.php
----
Men Are From Mecca, Women from Medina
By Benita Fernando
26-Mar-2016
The title — Men are from Makkah, Women are from Medina — should give you a big hint about a new workshop that approaches the battle of the sexes, the Muslim way. "Makkah and Medina are two very different lands," explains Dawood Vaid, former patent attorney and the founder of Nerul-based NGO Burooj Angels.
"In the Quran, Makkah is a barren land and known for its tough terrain. Medina, on the other hand, is greener, for it rains often [there]," he continues. With this metaphor for describing how men and women can at times end up seeming like different species, Vaid, for the first time, will host a workshop for couples.
The day-long session this Sunday at Country Club, Andheri West, draws from well-known self-help books on relationship psychology, such as John Gray's Men are from Mars, Women are from Venus, and Allan and Barbara Pease's Why Men Don't Listen, and Women Can't Read Maps. Vaid, hoping not to slot the genders in stereotyped definitions, will lend these ideas "a contemporary Muslim touch" by borrowing anecdotes from the Quran and classical Arabic text Ring of the Dove and Ibn-Jawzee's Garden of the Lovers. For instance, a chapter in the Quran narrates how the Prophet Muhammed explains the virtues of husbands to his wife Aisha. Or, what happens when children become the sole focus of a partner? "Kids are a joy, but you cannot overlook the needs of a spouse. The Quran advises this hierarchy — God, spouse and children — and it is useful to maintain it," says Vaid, adding that couples need to get out of their pajamas and dress better, while at home.
The workshop has already seen full registrations, with 70 participants in the 25-35 age bracket, and about 80 per cent of them women. Many of them, Vaid expects, are from conservative families. Burooj Angels conducts faith-based weekend classes for children across 42 cities in the country, and Vaid has also been holding parenting workshops. The need to hold a relationship workshop arose after he met children coming from turbulent households.
While modern relationship aspects (such as "an office-husband") will be discussed, the workshop will essentially deal with some of the specifics that Muslim couples are bound to encounter, such as talaaq and polygamy. The aim is to bridge the gap between what is often seen as conservatism and the needs of modern relationships. "I advise husbands not to treat polygamy as sarcasm or as a joke. Polygamy is a cultural issue. In the Gulf, it is pretty common, but in India, that is not the case," says Vaid, who had spent five years working in Dubai and Moscow.
And what about the Talaq? "I have seen how Muslim women live with a sword hanging over their heads. Divorces are common now; it is not divorce itself that is scary, but the idea of divorce. We can't change these laws, but we can surely look for ways to deal with them. Husbands need to control their tongues and temper, and make sure they don't say something that they will regret for the rest of their lives," he continues.
And does he expect the young men and women to open up about intimacy? "Maybe not in person, but I am expecting a lot of phone calls after the workshop."
http://www.mid-day.com/articles/men-are-from-mecca-women-from-medina/17073187
----
URL: https://www.newageislam.com/islam,-women-and-feminism/new-age-islam-news-bureau/suu-kyi--no-one-told-me-i-was-going-to-be-interviewed-by-a-muslim/d/106770