15 May 2022
• Women From Pakistan's Tribal Areas, Bound By Socio-Cultural Taboos, Denied Basic Human Rights
• Number Of Afghan Families Moving To Iran On Rise After Taliban Ban Girls Going To School
• Hindus & Muslims Together Cremated An 80-Yr-Old Woman In Kulgam. Her Life Wove The Solace Of Kashmiriyat
• Surat Woman Comes To Andhra Pradesh's Kadapa To Marry Muslim Man, Sent Back After BJP's Intervention
• 5 Clean Beauty Brands Launched By Arab Women
• Best-Known Women Writers From Pakistan
Compiled by New Age Islam News Bureau
URL: https://newageislam.com/islam-women-feminism/surat-woman-marry-muslim/d/127009
--------
Surat Woman Comes To Andhra Pradesh's Kadapa To Marry Muslim Man, Sent Back After BJP's Intervention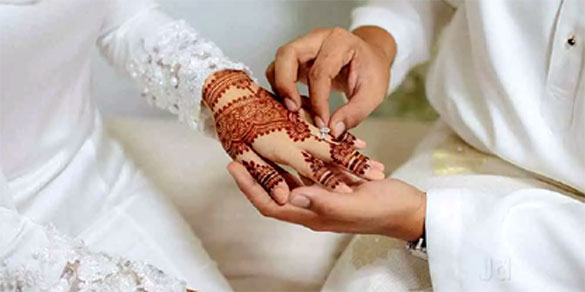 Representative Photo
----
15th May 2022
By Express News Service
KADAPA: A woman, who reached Badvel of Kadapa from Gujarat to marry a person whom she met on Instagram, was counselled by the police in the presence of the family members of the two and was sent back. BJP leaders from Gujarat and Delhi alerted the party leaders in Kadapa who intervened and spoke to the families of the two in the presence of the police.
As both families decided not to perform the marriage, the girl left for Gujarat. According to the police, Miraj (25) from Surat and Sohail (25) from Badvel met on Instagram three months ago. They informed their parents about their plans to marry and on Thursday, the girl along with her family members and a police constable reached Sohail's house.
Meanwhile, the BJP leaders from Gujarat and Delhi sought Kadapa BJP president C Yella Reddy's help over the "disappearance" of a Hindu girl. BJP AP co-incharge Sunil Deodhar spoke to Badvel Urban CI Venkata Subbaiah, who convened a meeting with both the parents at the police station on Friday.
Sohail's parents informed that they come from a middle-class background and gave their nod for the marriage based on the interests of Sohail, Miraj and her family members. The parents of the woman were convinced that she could not live with Sohail, and convinced their daughter to return home.
Sourse: New Indian Express
https://www.newindianexpress.com/states/andhra-pradesh/2022/may/15/surat-woman-comes-to-andhra-pradeshs-kadapa-to-marry-muslim-man-sent-back-after-bjps-intervention-2453774.html
-----
Women From Pakistan's Tribal Areas, Bound By Socio-Cultural Taboos, Denied Basic Human Rights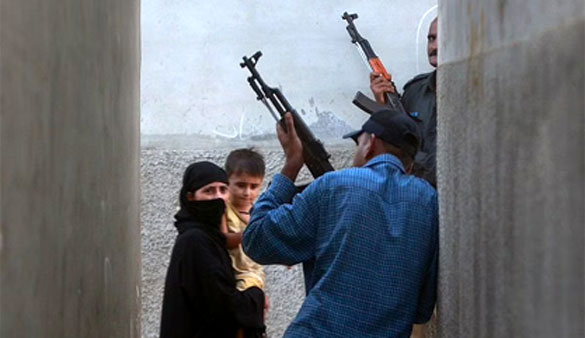 Representative Image/ The Print
----
14 May, 2022
Peshawar [Pakistan], May 14 (ANI): Women from the tribal areas of Pakistan, formerly governed under the Federally Administered Tribal Areas (FATA) agency, face a life deprived of basic education and healthcare, and bound by socio-cultural taboos, a media report said.
Women of this region live under slavery, bound by family traditions and surviving generational curses, the Daily Times reported, adding, women have to suffer immensely sometimes at the cost of their life.
The region is difficult to access by local state authorities due to its volatile nature and militarized status for decades and even after its merger with the Khyber Pakhtunkhwa province, the conditions are still the same, the report said while noting that discrimination against women is ubiquitous all over Pakistan but the situation of women's rights in FATA is far worse than in any other region.
Political instability has given rise to miserable conditions that could still not be addressed and resolved. During all the years, no law or regulation of the country was found applicable in FATA given the prevalence of jirga culture and decisions made by the elders of the tribe. The archaic tradition upheld oppressive customs, damaging women's Islamic and social standing in the affairs affecting them, the report said.
Dowry is considered legal in FATA and women are denied access to their share in the property. A woman is considered her family's honour whereas the latter is given the right to sell her and do her trading in exchange for wealth and property, the report further said.
"Women risk punishment, even death if the honour of the clan is violated", Sakeena Rehman, an Awami National Party (ANP) representative from Mohmand Agency told Daily Times.
Another senior member of ANP, Bushra Gohar addressing the women's rights in FATA said, "FATA has always been treated as a strategic space where people have been denied their political rights for 70 years."
Most of the schools in FATA got damaged during the Taliban era with their infrastructure never repaired due to lack of funds and negligence of the government authorities. Literacy rates in FATA are the lowest throughout the country. The overall literacy rate here is 19.9 per cent, with the literacy rate of boys near 34.2 per cent and 5.75 per cent for girls which is below average.
There is a dire need to strengthen the health system of FATA by providing basic health services to its inhabitants especially women who are dependent on men to survive. The availability of quality medicines, maternal health care units, child health services, separate female attending rooms, and highly qualified female doctors should be ensured on an urgent basis, the report said.
Experts insist the awful status of women's rights in FATA can only get better if it is brought in parallel with the other provinces of Pakistan. It is high time the people of FATA, especially its women, are included in the mainstream society of Pakistan, giving them equal rights and sources of equal development, the report concluded.
Sourse: Theprint
https://theprint.in/world/women-from-pakistans-tribal-areas-denied-basic-human-rights/956409/
-----
Number of Afghan families moving to Iran on rise after Taliban ban girls going to school
May 15, 2022
Source: Press TV
A rising number of Afghan families have moved to neighboring Iran after the Taliban government failed to deliver on its promise to allow girls to recommence their education at schools following a disgraceful US pullout.
Before and after the Taliban's return to power following the withdrawal of US troops from Afghanistan, the group kept telling girls that they would be allowed to attend schools, but as thousands of teenage girls across the country were prepared to return to schools on March 23, the decision was reversed.
"They would look at the girls and say: 'Go home. Even studying this much should be enough for you all'," the Middle East Eye quoted Nilofar, a teacher in the western province of Herat, as saying.
Following the Taliban's move, sources, who spoke to the Middle East Eye in Iran's northeastern city of Mashhad, said that enrollment at schools catering for Afghan refugees had increased over the last six weeks, particularly for young girls.
A principal at one such school said that although education might not be the primary factor pulling people towards Iran, it was a significant one.
"There are major issues with insecurity and the economy," the principal, who spoke on condition of anonymity, said. "But if education isn't the number one reason for these families to come here, it's definitely high up."
Zainab Sajadi, the principal at a non-governmental school for Afghan refugees in Mashhad, told MEE that the enrollment of undocumented students had risen since the Taliban takeover last summer.
"We received hundreds of new students. Our classrooms are completely full," Sajadi said. "We don't have enough chairs. Some students stand in class, others have to share their chairs."
The principal added that the school had started to hold three different shifts of classes a day as 60 percent of the pupils were Afghan girls, with the teachers doing extra lessons voluntarily and without additional pay.
"They are the most intelligent students in our school," she told MEE. "I can see just how much they are starving for education. Even If we keep teaching three shifts a day and continue enrolling students, there will still be thousands of other students who will be unable to attend school."
Afghanistan has been in turmoil since the Taliban which took power on August 15 last year amid a chaotic US troop withdrawal from the war-torn country.
Since then, the country has been the scene of recurrent terrorist attacks, some of which have been claimed by the Daesh terrorist group, with the Taliban having failed to bring security to Afghans.
Multiple bomb blasts targeted Afghan schools last month, leaving dozens of students dead or injured.
Sourse: Press TV
https://en.abna24.com/news//number-of-afghan-families-moving-to-iran-on-rise-after-taliban-ban-girls-going-to-school_1257562.html
-----
Hindus & Muslims Together Cremated An 80-yr-old Woman In Kulgam. Her Life Wove the Solace of Kashmiriyat
MAY 15, 2022
In the times of grief and despair over the killing of a Kashmir pandit employee, the Valley found a silver lining as Muslims and Hindus came together to bid a final adieu to an 80-year-old woman.
Kashmiryat and Insaniyat, for a while, resided over the despair after the brutal murder of Rahul Bhat, a clerk, who was gunned down on Thursday by militants inside the Tehsil office in Chadoora. The police had blamed Lashkar-e-Toiba for the attack and claimed they killed two foreign terrorists in Bandipore, after they had travelled to Chadoora to carry out Bhat's assassination. The 36 year-old employee, who was working with the Revenue department in the Valley for the last 11 years met a tragic end; sparking gloom and tension across the country.
On Saturday, barely two days after the dastardly act, villagers of Yar Khushipora in South Kashmir district of Kulgam arranged a special funeral of Dulari Bhat, an 80-year-old Hindu woman who died while attending a marriage of a relative in a nearby village.
Early on Saturday morning, she was brought to Y K Pora for cremation. Since a very few Hindu families put up there, local Muslim youth were tasked to make the funeral arrangements by the village elders.
They quickly arranged everything - to fetch pieces of wood to setting up a funeral pyre, making an open casket to carry the body to the crematorium, petals and incense - till she was consigned to flames.
Dulari had gone to Mattan, Anantnag to attend a marriage ceremony of her relatives when her condition deteriorated and she breathed her last. She was taken to her native village Y K Pora where scores of her Muslims neighbours waited for her body. Women lined up in rows near her house with tears in her eyes.
"We would celebrate festivals and attend marriages together and it never crossed us we are from different faiths," she said. "Her death is a personal loss to me and the entire village. I will miss her."
Neighbours remembered her as a kind and wise person who would help them with chores and worldly matters. Even the younger women were fond of her and would often turn up for advise.
"Our village is called Wakipora and it is know for brotherhood for centuries. Our great grand fathers have lived together in this village. I and Rinku Bhat, her younger son, are friends for last 30 years. We share special bond," a villager was heard saying and added "the village is the best example of bonhomie and oneness and we are proud of this legacy".
Subhash Kumar Bhat, Dulari's son acknowledged the help from the Muslims and said this is not unusual and people should not get surprised.
"Our family was in grief but they arranged everything for the cremation. This is how communities should live," he said. Others said the village 'holds out hope to Kashmir at a time when polarisation and negativity has damage the fabric of the country'.
Village elders recalled since Dulari's marriage in the village, she has spent all her years at Y K Pora, making friends and holding long conversations.
The Bhats did not leave Kashmir inspite of the killing of Dulari's husband in the early 1990s. Over a period of time, the family wounds healed but Dulari never let it come her way. "Both Muslims and Hindus suffered in the early 90s and she never grudged against a community," said Chunni Lal, her relative who had come to participate in the funeral.
The Kulgam bonhomie comes close on the heels of tragic killing of Rahul Bhat and series of targeted attacks on the minority members, non-local labourers, police personnel and politicians.
Kashmiris of all hues have condemned the incident and staged protests and candlelight vigils to express solidarity with the Hindus on the selective killings.
The LG government in Jammu and Kashmir have promised a government job in Jammu to Bhat's wife besides bearing the expenses for education for her lone daughter. The government attached Station House Officer of Chadoora and ordered a probe by a Special Investigation Team into the killing to assuage the hurt of Kashmiri Pandits. Employees of the community working in Valley however want the government to relocate them to Jammu till a foolproof security is entailed for them.
Sourse: News18
https://www.news18.com/news/india/hindus-muslims-together-cremated-an-80-yr-old-woman-in-kulgam-her-life-wove-the-solace-of-kashmiriyat-5177269.html
-----
5 Clean Beauty Brands Launched By Arab Women
BY AMRITA SINGH
15-05-2022
Beauty brands are continually working towards a greener and cleaner industry when it comes to the consumption of effective skincare, and, in the Middle East, where natural home skincare remedies have existed for centuries, it seems that Arab women are setting new industry standards with products that contain only natural ingredients. These are 5 female led clean beauty brands to get on board with now…
Sourse: Abouther
https://www.abouther.com/node/49311/beauty/skincare/5-clean-beauty-brands-launched-arab-women
-----
Best-Known Women Writers From Pakistan
Aurangzeb Wattoo
15 MAY 2022
There was a time when women writers used to write by using pen names to avoid social judgments and moral policing in male-dominated Europe and America and some of the greatest names include Jane Austen, George Eliot and Emily Dickinson who tried to avoid sexist rebukes from the then traditional western societies. Time was little changed with the first wave of feminism and finally reaching the ambitious goal of universal suffragette and Virginia Woolf still had to write A Room of One's Own (1929) to express the desires and needs of women writers.
This segregation and castigation have been an intrinsic part of the male-dominated Postcolonial world and its literature as well where women in Spivak's words remained doubly colonized. Pakistani-English literature emerged as a distinctive field of postcolonial literature in the early decades after the partition though things seem astonishingly different in this case where women writers seemed to dominate Pakistani-Anglophone literature. Having predecessors like Atia Faizi and Surraya Hussain and comrades like Ismat Chughtai and Qurat ul Ain Haidar in Urdu fiction, Pakistani-Anglophone poets, novelists and fiction writers have eclipsed their male counterparts. This story of great success begins with Attia Hossain and getting strength from writers like Bapsi Sidhwa and Sara Suleri, ascending to new heights with the emergence of Kamila Shamsie as one of the most prominent faces in 21st-century world literature. Pakistani writers have explored a wide range of subjects and they have experimented with all leading genres of fiction including poetry, novels, short stories and memoirs. Though Pakistani Anglophone women writers have tried to give a voice to female subjectivity in their works, their literary canvas and range are not limited to sex and gender issues only. Pakistani women writers have very successfully tried to meddle with the issues of politics attached to the female body, partition trauma and its effects upon the collective consciousness of the nation, displacement and immigration, diasporic experience and hybridity, identity issues and marginalization, violence and wars, colonial past and postcolonial present. It requires a very detailed discussion to include all those names and their contributions in this body of amazing and versatile literature and this precise article would never be able to encompass such a gigantic task, I would like to include some of the most inspiring and influential women writers who have been very strong voices and their voices are louder and saner than any of their counterparts.
A Pakistani novelist of Parsi origin, the godmother of Pakistani-English novel, Bapsi Sidhwa enjoys a very similar stature in Pakistani literature that Jane Austen occupies in English literature. Bapsi Sidhwa like a lone warrior started writing novels when Pakistani English novels had a barren landscape. She took it as a challenge to establish a novel as a distinctive form in her native country and began her illustrious career with The Crow Eaters in 1978. Her first novel revolves around the Parsi community and its experiences in Pakistan though her later novels including Ice-candy Man (1988), The Bride (1983), An American Brat (1993) and Water (2006) deal with the issues related to partition, feminism, violence, hybridity, religious fundamentalism migration and war. Sidhwa continued to write and inspire Pakistani readers in a time when there wasn't any strong voice to stand side by side with this wonder woman of Literature in English. Her popularity doubled with the publication of Ice Candy Man in India with an alternative title Cracking India (1988) and it was later adopted as a critically acclaimed Bollywood film.
Sourse: Out Look India
https://www.outlookindia.com/culture-society/best-known-women-writers-from-pakistan-news-196822
-----
URL: https://newageislam.com/islam-women-feminism/surat-woman-marry-muslim/d/127009
New Age Islam, Islam Online, Islamic Website, African Muslim News, Arab World News, South Asia News, Indian Muslim News, World Muslim News, Women in Islam, Islamic Feminism, Arab Women, Women In Arab, Islamophobia in America, Muslim Women in West, Islam Women and Feminism