New Age Islam News Bureau
15 October 2021
• Women Take Lead in Expo 2020's Climate and Biodiversity Week in UAE
• How More Women Can Be Encouraged To Take Up STEM Careers In The Middle East
• Safe From Taliban: 100 Afghan Women Football Players, Their Families Evacuated From Afghanistan To Qatar
• WWE Superstar Becky Lynch Looks To Inspire Saudi Women At Crown Jewel In Riyadh
• Caritas Pakistan Focuses On Women For Disaster Relief
Compiled by New Age Islam News Bureau
URL: https://www.newageislam.com/islam-women-feminism/sun-sea-conservative-sex/d/125578
--------
Sun, Sea And The Opposite Sex As Deeply Conservative Saudi Arabia Slowly Loosens Up
Haitham El-Tabei
October 15, 2021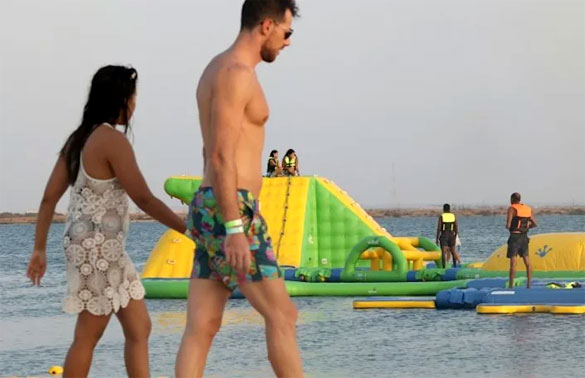 Saudis are being permitted to mix at parties attended by both sexes, as the kingdom continues a liberalisation drive (AFP/Fayez NURELDINE)
-----
For Asma, spending a day on the beach with her boyfriend was unthinkable until recently in deeply conservative Saudi Arabia.
Now, the 32-year-old is dancing with her partner on white sands fringing the Red Sea, to music thumping from loudspeakers.
It's a small reminder of the changes underway in the Islamic kingdom, which is attempting to ease some of its tight social strictures in a modernisation drive at the same time as a crackdown on dissent.
Music was banned in public places until 2017, a measure enforced by the religious police, and women were only allowed to drive a year later. Beaches are still usually segregated between men and women.
But for 300 Saudi riyals ($80) each, Asma and her boyfriend can enter Pure Beach near Jeddah, with its music, dancing and inflatable water park spelling "Saudi Arabia" in English when viewed from above.
"I am happy that I can now come to a nearby beach to enjoy my time," she told AFP, wearing a blue dress over her bathing suit.
"It is the epitome of fun... it was our dream to come here and spend a beautiful weekend."
Beachgoers swim in the turquoise waters and women wear bikinis, some of them smoking shisha. As the sun sets, performers dance to Western music on a lit stage as a couple embraces nearby.
In many countries, these would not be unusual scenes but they are different for Saudi Arabia, which houses Islam's holiest sites and espouses Wahhabism, a rigid form of the religion.
They are also not seen outside of the Jeddah area, which is known as the country's most relaxed region. Pure Beach is at King Abdullah Economic City, about 125 kilometres (about 80 miles) north of Jeddah's city centre.
"I was raised here, and a few years ago we weren't even allowed to listen to music, so this is like heaven," said Egyptian Hadeel Omar.
- Phones confiscated -
The country is experiencing change under the crown prince and de facto ruler, Mohammed bin Salman, who came to power in 2017.
But 'MBS' has also launched a sweeping crackdown on dissent, detaining women's rights activists, clerics and journalists. A US intelligence report accused him of approving the 2018 brutal murder of journalist Jamal Khashoggi in the Saudi consulate in Istanbul.
The Gulf kingdom's social reforms are spurred by a desire to diversify its oil-reliant economy, including by stimulating tourism and domestic spending.
Only business travellers and Muslim pilgrims could visit until 2019, when Saudi Arabia began offering tourist visas.
Bilal Saudi, head of events at King Abdullah Economic City, said the beach was targeting "both local visitors and (foreign) tourists".
"I feel that I no longer have to travel (abroad) to have a good time... because everything is here," said Dima, a young Saudi businesswoman, as she swayed to the music.
Staff at the beach said they did not know whether the couples were married or not. It was only two years ago that unmarried foreign couples were first allowed to share hotel rooms.
For the sake of "privacy", as staff put it, mobile phones are confiscated and kept in plastic bags.
"I was surprised at the freedom and openness at the beach, something that would be experienced in the United States," said beachgoer Mohammed Saleh.
One thing still missing, visitors said, was cocktails, with a nationwide ban on alcohol still in place.
"Life is normal (in Saudi Arabia)," said Asma, adding: "It wasn't normal before."
Source: Yahoo News
https://news.yahoo.com/sun-sea-opposite-sex-saudi-090433732.html
--------
Women Take Lead in Expo 2020's Climate and Biodiversity Week in UAE
October 14, 2021
DUBAI: The world is at a turning point on climate change. Now is the time when the global community must take decisive and collective steps to protect the planet from future harm before more irreversible damage is done.
One of Expo 2020's driving tenets is to be an event that accelerates transformative global change — and this message was delivered loud and clear through Expo's Climate and Biodiversity Week.
This first themed week, from Oct 3-9, was staged in association with the UAE Ministry of Climate Change and Environment, and DP World, the global trade partner of Expo 2020.
The week included several conferences led by global thought leaders with the aim of generating new ideas, inspiring different perspectives and constructing blueprints for long-lasting calls to action.
Key speakers included the internationally recognized leader on global climate change, Christiana Figueres; co-chair of UN Energy, Damilola Ogunbiyi; filmmaker and climber, Jake Norton; Eden Project founder, Sir Tim Smit, as well as environment ministers from around the world.
Climate and Biodiversity Week constituted the first of Expo 2020's ten themed weeks, anchored in Expo's program for People and Planet, aimed at finding solutions for the world's most pressing problems.
One key takeaway from Climate and Biodiversity Week was the role that women play in environmental and societal change.
"We are confident that by bringing together people, policy-makers, NGOs and business leaders from 192 countries for Climate and Biodiversity Week, we can inspire the world to take positive steps toward a more sustainable future. We have the opportunity to take our place in history as the generation who stopped climate change," said Nadia Verjee, chief of staff, Program for People and Planet, Expo 2020 Dubai, in a statement.
Leadership in climate change was particularly apparent in one of the first conferences, titled "Women Leading the Fight to Save our Planet," at the Cartier-sponsored Women's Pavilion.
Expo 2020 is the first World Expo since the 1900s to dedicate an entire pavilion to women.
The inspiring session focused on the disproportionate impact of climate change on women, and how women can play a greater role in climate-related decision-making.
The session was moderated by Hind Alowais, vice president, participant management, at Expo 2020, who said the fact that Expo 2020 was led by a woman demonstrated the capability of Arab women as well as the UAE's commitment to female empowerment.
Maha Al Gergawi, senior vice president, political affairs, at Expo 2020, confirmed that during Emirati Women's Day on Aug. 28, 2021, more than 50 percent of the workforce at Expo was comprised of women, and that 60 percent of Emirati women were in leadership positions.
Women, Alowais told Arab News, had a major role to play in addressing climate change. She said that one of the most important points from the discussion was emphasizing how climate change affected women differently.
"Women are disproportionately affected by climate change and by natural disasters," she said.
Source: Arab News
https://www.arabnews.com/node/1948306/world
--------
How more women can be encouraged to take up STEM careers in the Middle East
October 14, 2021
DUBAI: Apps, artificial intelligence, fifth-generation telephony, the internet of things, drones, advanced metallurgy, microchips, algorithms and coding. Buzzwords of the moment, to be sure — but also growth areas of the current and future economy.
Young people today who want to succeed in these fields will require strong quantitative skills based in hard sciences such as mathematics. And technology. And engineering. Call it STEM.
In the Middle East, much work needs to be done to shift education patterns for its youth, particularly women. The good news is that some have started. Experts in the field told Arab News that mentoring, instilling a culture of experimentation and overcoming failure, and breaking down stereotypes will go a long way to ensure further progress.
Around the world, only 18 percent of women in college and universities are pursuing studies in science, technology, engineering and mathematics, compared with 35 percent of men, according to the UN. This means that there is a dire shortage of software engineers but, at the same time, strong demand for more young people to learn how to work in the digital space.
"These figures aren't surprising as we've known for a long time that there is a STEM gap around the world and here in the region," said Eslam Hussein, co-founder and CEO at Invygo, a car rental app based in Dubai. "But this is a time of positive change and there's so much happening to boost STEM education, particularly for women."
In the Middle East, women already account for almost half the total STEM student population. Hussein pointed to Saudi Arabia, where he said the government is leading from the front to resolve the STEM gap by encouraging learning and careers in the field.
The Kingdom has created Saudi Codes, a Misk Foundation, Ministry of Communications and Information Technology, and Saudi Telecom Company initiative to teach computer programming in an accessible and relevant way.
Saudi entrepreneur Nora Al-Nashwan and her friend Deema Alamer set up Code for Girls in 2018 to give Saudi women the skills necessary to join the tech industry.
In 2017, Dubai created its One Million Arab Coders initiative, offering prizes of up to $1 million. In February, it said that 1.2 million people had signed up.
"Complementing these initiatives is the rise of the startup ecosystem. Women entrepreneurs are also encouraging young female students to take up learning in STEM fields," Hussein said.
Nevertheless, studies have shown that women prefer to pursue studies in biological sciences, business administration, psychology, human resources and social work.
Dr. Rita Zgheib, assistant professor at the faculty of engineering, applied science and technology at the Canadian University Dubai, believes the findings are consistent across much of the world.
"The figure is the same in many European countries, too. It has been linked to cultural history, where women are oriented toward simple tasks, and also to preconceived notions about engineering," she told Arab News.
"Most women with high capabilities and the skills to integrate and excel in engineering have a false understanding of engineering," Zgheib told Arab News. "They think that it is hard, and they are often afraid."
She recommends more orientation sessions at school, as well as high-profile women describing their experiences. Nevertheless, challenges persist. Stereotyping and a lack of knowledge around education in STEM subjects are common.
Zgheib highlights marriage and female domestic responsibilities as barriers, pushing women to pursue less-demanding jobs. "There's a lack of orientation and motivation," she said.
Dr. Yousef Al-Assaf, president of the Rochester Institute of Technology in Dubai, said that not all regional universities fall into the low-figure bracket for women in STEM, highlighting the institute's 23 percent ratio as an example.
"There are girls who would like to study computing more than mechanical engineering," he told Arab News.
"So, we have to make the right initiatives and encouragement for them to be more (motivated). The region lacks coders because it's accustomed to just adopting solutions and implementing them, but having software engineering as a discipline is new and we need more. What we make of those figures is what we have to think about carefully."
Creating awareness of the career paths and opportunities available while studying and working in STEM may help.
Nathalie Chamaa, head of products at FlexxPay, an online platform based in Dubai that allows employees to access their pay, said that tech companies need to recruit female talent into their teams and invest in professional growth.
"Technology companies in the region, which are predominantly male oriented, need to establish a gender-equal culture that will help drive communication, teamwork and leadership in the workforce," Chamaa said.
"This will create a more inclusive work environment where women feel empowered to excel in their roles."
According to Hussein, the possibilities for women who join and stay in technology companies are endless. Equipped with just a computer and an Internet connection, young talent can achieve a great deal, he said.
"With the rise of new learning platforms and teaching methods, the barriers to STEM education are being removed rapidly. This is a time to achieve the impossible."
So how to get there? There is a need for more mentorship for young students, especially females. In Saudi Arabia, 38 percent of Saudi graduates in STEM are women, but only 17 percent of these go on to work in related fields.
"It is critical that education is able to translate into long-term careers," Hussein said. "We also need to encourage a culture of experimentation. This will create a major mindset shift, driving young talent to test their skills, create new concepts, and bring new, ground-breaking ideas to life."
Providing scholarships and training to young women can shape ambition.
According to Al-Assaf, research by RIT showed girls perform better than boys academically. "We need to change the mindset, whether from government, NGOs or academia, because, to date, women have been encouraged to study subjects that are compatible with society's norms," he said.
"It's changing, but maybe parents and teachers can encourage more."
Vandana Mahajan, founder of Futures Abroad, a Dubai-based consultancy that helps students choose courses overseas, said that small changes in departments such as physics and computer science, and provision for a broader overview of the introductory courses on offer, can make a significant difference.
"Institutions can employ more female professors to change this perception and to motivate girls. Mentoring programs can help along with effective work-life balance policies for all faculty members. We have to make a conscious effort at home to eliminate this gender bias and to encourage girls to explore STEM-related courses," Mahajan said.
Enabling students to solve real-world problems through early direct-learning experiences can inspire and motivate for the long term. Inculcating a sense that it is not the end of the world to fail is also important.
"In our industry, many problems have many solutions and it's OK to experiment with different ways and fail more than once," said Charbel Nasr, chief technology officer at FlexxPay.
"Experimentation is key to keep improving and innovating. Students should be taught how to overcome failure, not fear it."
With a population of over 500 million across the region, and as legacy industries undergo digitalization, investment in talent today will reap dividends for future generations.
"Innovation-centric initiatives, like Saudi Codes by Misk and Code for Girls, are already attracting a high number of participants, and the levels of interest in coding being shown by young Saudi women is indicative of their potential," Hussein said.
This will be critical for the future of the Arab region, as it will need to have the right skills to keep pace with the rest of the world.
"STEM encourages innovation and creativity," Mahajan said.
"Scientists and engineers are working on solving some of the most vexing challenges of our time: Finding cures for diseases, providing clean drinking water and developing renewable energy sources. When women are not a part of the design of these products, the needs and desires unique to women may be overlooked."
Source: Arab News
https://www.arabnews.com/node/1948201/middle-east
--------
Safe from Taliban: 100 Afghan women football players, their families evacuated from Afghanistan to Qatar
Oct 15, 2021
by Meenakshi
As many as 100 women footballers, including members of the national football team, were evacuated from Afghanistan, which is under the Taliban, on Thursday on a flight to Doha, the Qatari government said. "Around 100 footballers & their families including female players are on board," Lolwah Al-Khater, Qatar's assistant foreign minister, said in a tweet.
Sky Sports News reported that the group includes at least 20 national women's team footballers. The players along with other evacuees were taken to a compound to undergo coronavirus testing. It is unclear how long they will stay in Qatar.
The 8th passengers flight from Kabul just arrived in Qatar. This is the biggest flight thus far with 357 passengers on board and for the first time we have citizens from New Zealand 🇳🇿. Also around 100 footballers & their families including female players are on board 🙏🏼 pic.twitter.com/93ehot2urN
— لولوة الخاطر Lolwah Alkhater (@Lolwah_Alkhater) October 14, 2021
FIFA, the football's world governing body, has been working closely with the Qatar government to coordinate the evacuation of players from Afghanistan. FIFPRO, the international players' union, in August helped secure seats on a flight out of Kabul for players from the Afghanistan women's national team. After the Afghan government fell in August and the Taliban took back control of Kabul after 20 years, concerns were raised for the safety of women athletes.
Khalida Popal, the former Afghan women's football team captain, even urged players still in Afghanistan to burn their sports gear and delete their social media accounts to avoid reprisals from the Taliban regime. Many of the country's female footballers have gone into hiding since the Taliban's takeover.
In August soon after the Taliban took over the country, a former player in the Afghanistan women's national soccer team Fanoos Basir fled and said there was no future for her under the Taliban rule. "We had lots of dreams for our country, for our future, for the future of women in Afghanistan. This was our nightmare, that the Taliban would come and capture all of Afghanistan. There is no future for women... for now," she told Reuters outside the reception centre, where she arrived after being evacuated from Kabul on a French-organised flight.
Last month, women players from Afghanistan's junior national team crossed the border into Pakistan. The girls spent weeks in hiding amid fears of a crackdown on women's rights by the Taliban, according to reports.
The last time the Taliban ruled over Afghanistan, women were barred from taking part in sport, or from working outside the home, and had to cover themselves from head to toe when in public. The Islamist movement was ousted in the US-led invasion in 2001, but 20 years later has taken power again.
Source: Hindustan Times
https://www.hindustantimes.com/world-news/safe-from-taliban-100-afghan-women-football-players-evacuated-to-qatar-101634259526130.html
--------
WWE Superstar Becky Lynch looks to inspire Saudi women at Crown Jewel in Riyadh
October 14, 2021
WWE Superstar Becky Lynch says is looking forward to her first visit to Saudi Arabia and hopes to inspire the next generation of women in the Kingdom.
The RAW women's champion will be in action at Crown Jewel in Riyadh on Thursday, Oct. 21, when she will put her title on the line in a Triple Threat match against Sasha Banks and Bianca Belair.
"This will be my first trip to Saudi Arabia, but I have only heard great things about the country from the guys who have already been over," she said.
"Everyone is so nice when the guys go over, and the people there are so grateful and appreciative of us going there and performing, so I can't wait to be there and see all this for myself."
Lynch said that she is looking forward to connecting with women at the show, and hopes to deliver a positive message to those seeking inspiration.
"Being able to inspire people is the most important thing; that's why we do this," she said. "We are seeing a whole new generation, and hopefully are showing them what is possible and what can be done. It is hugely important for us to go over there and steal the show."
Lynch is a former simultaneous holder of both RAW and SmackDown women's titles, and is known for forging her own path in WWE.
The Ireland-born star believes "we should all trust our intuition a little more in life," adding: "I think it is all about being true to yourself and trusting your gut."
She said: "As women, and as people, we often don't trust ourselves enough and I don't know where that comes from. As you grow up, we are always told to be careful, and don't do this or that, but I do think you have an inner voice that never serves you wrong. I don't recall ever thinking in my life that I wish I didn't trust my gut. Once we follow our intuition is always brings us to good places."
Nicknamed "The Man," Lynch returned to WWE at SummerSlam in August following the birth of her first child, and is aware of her position as a role model, and how her actions can influence so many.
"One thing I find I look at differently now is social media and how that affects people, and young people, in particular," she said.
"You may have noticed but I don't really post as much any more, and it very much around the narrative of how we empower woman to use our voices in an appropriate way, especially when there is so much noise all the time. I think I am very much still trying to figure all that out, but I think anything I do has that much more weight to it now I am a mom."
The champion is ready to put on a show alongside Banks and Belair for the Riyadh crowd, and expects to leave with her title intact.
"People can expect me to walk out there still the Smackdown women's champion," she said. "But in addition to that they can expect a barnstormer of a match. Any time you get myself, Sasha Banks, and Bianca Belair, three of the best in the industry regardless of gender, you know you are going to be watching something very special, and there is no doubt that match will steal the show."
Lynch will take on Banks and Belair for the RAW women's championship at Crown Jewel at the Mohammed Abdo Arena — Boulevard in Riyadh on Thursday, Oct. 21. Tickets available from ticketmx.com starting at SR50 ($13.30).
Source: Arab News
https://www.arabnews.com/node/1947801/sport
--------
Caritas Pakistan focuses on women for disaster relief
October 15, 2021
The International Day for Disaster Risk Reduction was observed by the Caritas Pakistan Karachi chapter focusing on the role of women in times of disasters.
John Rehmat, the program coordinator, said women had a vital role to play in disaster response. Real community resilience to disasters may not be achieved without their full participation and contribution in decision-making and leadership, he said.
The community, therefore, needs to recognize the productive and constructive role of women to encourage them to move forward and share their knowledge and experiences in disaster planning and management to build a resilient community, Rehmat added.
The International Day for Disaster Risk Reduction has been observed every Oct. 13 since 1989 after a call by the United Nations General Assembly to promote a global culture of risk awareness and disaster reduction.
This year Caritas Pakistan Karachi held a conference with the theme "Strengthening Communities Copping Practices to Response Disaster" with the objective of building the capacity of its volunteers, strengthening communities and adopting best practices in response to disasters.
In his opening remarks, Mansha Noor, executive secretary of Caritas Pakistan, said: "We do observe this day with our volunteers to build their capacity and appreciate and recognize their selfless services and contribution for the emergency and humanitarian interventions."
Antony Naveed, a Catholic member of the Sindh Assembly who was the chief guest, appreciated Caritas for organizing a disaster management conference for grassroots community workers, especially women, to build their capacities to respond to any disaster in an effective way.
As highlighted by the UN, disasters hit hardest at the local level with the potential to cause loss of life and great social and economic upheaval. The sudden onset of disasters displaces millions of people across the world every year. Disasters, many of which are exacerbated by climate change, have a negative impact on investment in sustainable development and the desired outcomes.
Pakistan is one of the most disaster-prone countries in South Asia. The country has suffered about $18 billion in damages and losses from natural disasters over the past decade, according to a 2017 World Bank report.
The report further said nearly 3 million people are affected by disasters in Pakistan each year with the country prone to natural hazards such as drought, floods, heatwaves, extreme cold, and earthquakes.
Source: UCA News
https://www.ucanews.com/news/caritas-pakistan-focuses-on-women-for-disaster-relief/94569#
--------
URL: https://www.newageislam.com/islam-women-feminism/sun-sea-conservative-sex/d/125578
New Age Islam, Islam Online, Islamic Website, African Muslim News, Arab World News, South Asia News, Indian Muslim News, World Muslim News, Women in Islam, Islamic Feminism, Arab Women, Women In Arab, Islamophobia in America, Muslim Women in West, Islam Women and Feminis