New Age Islam News Bureau
17 Sept 2018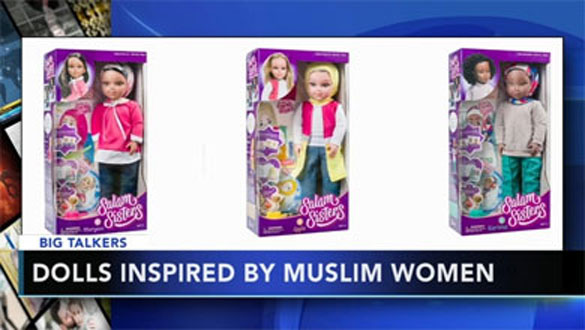 Father creates dolls to help young Muslim girls connect to their identities. Alicia VItarelli reports during Action News at 4 p.m. on September 14, 2018.
-----
• Father Creates Dolls to Help Young Muslim Girls Connect To Their Identities
• Australian Ambassador for Women and Girls Arrives In Pakistan
• Why Aussie Muslim Mum Backs the Burqa Ban
• UAE Expats among 100 Most Influential Women In Middle East
• UK Police Drop 18 Month Terror Probe into Hate Preacher's Wife Who Was • Filmed Promoting ISIS and Abusing 'Filthy Jews'
• Adelaide Woman Found Guilty Of Being a Member of Islamic State Terrorist Group
• Huge Potential for Saudi Women In Environmental Field
• Saudi Arabia's Hail to Have Women-Only Hotel Soon
Compiled by New Age Islam News Bureau
URL: https://www.newageislam.com/islam-women-feminism/student-texas-illustrates-book-celebrating/d/116402
--------
Student in Texas Illustrates Book Celebrating Muslim Females
BY HANNAH ORTEGA
September 16, 2018
RICHARDSON, TEXAS
Aaliya Jaleel was preparing for her first year of college, not work as a children's book illustrator.
But her work kept showing up under the "hijab" and "hijabi" tags on the microblogging website Tumblr, and that's just where Cheryl Klein had taken her talent search.
The Dallas Morning News reports Klein, editorial director for New York-based Lee & Low books, was in need of an artist for the upcoming children's book "Under My Hijab" in the summer of 2017. The story focuses on the different ways women wear the Islamic head covering, so Klein wanted to recruit a Muslim, hijab-wearing woman for the job.
When Klein saw Jaleel's art on Tumblr, she was drawn to its "bright colors and emotional warmth." To make things even better, Jaleel was a hijabi — someone who wears a hijab — who moved to the U.S. from Sri Lanka at age 2.
As she searched further, Klein also discovered Jaleel was just 18 and about to start college at the University of Texas at Dallas as an animation major.
Jaleel, now 19, illustrated the book as a freshman after Klein reached out to her that August. The artist said she'd always wanted to illustrate a children's book but never imagined she'd get to do so at such a young age and while pursuing a degree.
"Under My Hijab," written by Hena Khan and scheduled to be released in February, is Jaleel's first gig with a professional publisher. She illustrated a book as a sophomore at Brighter Horizons Academy in Garland, but it was self-published with her English teacher.
"It was my first big illustration project, and it helped me gain the skills I needed to work as a children's illustrator," Jaleel said.
Jaleel lived in Boston before moving to Richardson six years ago. She was drawing long before her college studies and book-illustration ventures, and she began to take the craft seriously when her parents bought her a tablet in the seventh grade. That's when she knew she wanted to be an artist.
"I started posting my art online through web pages like Tumblr and DeviantArt when I was 12, and through those, I met many artist that were studying or already working in the art/animation industry," Jaleel said.
When Klein approached Jaleel about "Under My Hijab," the editor didn't want the project to interfere with the freelance artist's studies. Fortunately for Jaleel, her college courses gave her a flexible schedule. But a different obstacle came her way several times: doubt.
"There were definitely a lot of moments where you're just like, 'Am I even the right person for this?'" Jaleel said. "'I don't want to let them down, they took this chance on me. I need to make sure I reach their expectations, as well.'"
It was a feeling Jaleel said she simply had to work through as she created illustrations that showed "there's no one way to see a woman in a hijab." She said each person's experiences shape the way they don the covering and live their lives.
Jaleel hopes that Muslim girls will see themselves or people they know in the characters of "Under My Hijab," which she said would've been a beneficial read for her younger self.
"Seeing this book as a child would've been a confidence boost — being able to see yourself reflected in fictional characters," Jaleel said.
The artist later found a Muslim character to connect with in the "Ms. Marvel" comic books by G. Willow Wilson and Sana Amanat. In them, young Kamala Khan is the secret identity of heroine Ms. Marvel. The challenges the teen faces while trying to strike a balance between her American and Pakistani heritages resonated with Jaleel.
Klein said that Jaleel never missed her deadlines, which were organized into different rounds of drafts and sketches Jaleel made on Procreate or Photoshop. Throughout the "matter of evolution" that is a picture book, Klein said, Jaleel was open to collaborating with her and the art director.
Now that Jaleel has finished illustrating "Under My Hijab," she's working on "Muslim Girls Rise" with Salaam Reads, an imprint of New York-based Simon & Schuster. The book will be comprised of 19 small biographies about progressive Muslim women.
With books like "Under My Hijab" and "Muslim Girls Rise," the sparse canon of Muslim children's books is growing, especially as publishers push for more diversity. It's a push that Jaleel welcomes.
It's important for Muslim girls "to be able to relate to a character and know that just because there's not a lot of representation in the media doesn't mean there won't be in the future," Jaleel said. "We're slowly building paths towards that, so it's like one of the smaller steps on the way there."
https://www.thenewstribune.com/entertainment/celebrities/article218329830.html
--------
Father Creates Dolls to Help Young Muslim Girls Connect To Their Identities
September 16, 2018
A father was having a hard time finding dolls for his two young daughters to connect to their family's Muslim identity, so he made them himself.
They're called the Salam Sisters.
It's a series of five dolls, with re-arrangeable hijabs, loosely inspired by real-life Muslim women.
The company in Dubai selling them hopes they inspire young Muslim girls to take pride in their faith, and their identities.
There are stories and apps to bring them to life, to give all kids a chance to connect with a toy that looks just like them.
https://abc30.com/society/father-creates-dolls-to-help-young-muslim-girls-connect-to-their-identities/4261584/
--------
Australian Ambassador for Women and Girls Arrives In Pakistan
September 17, 2018
ISLAMABAD: Australian Ambassador for Women and Girls Dr Sharman Stone on Sunday arrived in Pakistan on a three-day visit to exchange views on gender equality and the rights of women and girls.
According to a press release, Dr Stone said her country has made gender equality a key objective of foreign policy because they recognise the benefits that flow to whole communities from women's full and equal participation.
She said gender equality is not only a basic human right but also a fundamental basis for a peaceful, innovative, prosperous and inclusive world.
The ambassador for women and girls said that he is excited to be here in Pakistan and talking about such important issues with Pakistani friends at a time when both Australia and Pakistan are serving on the United Nations Human Rights Council, and flowing from Sustainable Development Goal no. 5 and our two countries' commitments under the UN Convention on the Elimination of All Forms of Discrimination Against Women.
During her visit, Dr Stone will meet with senior officials, including the minister for human rights and the foreign secretary.
https://www.pakistantoday.com.pk/2018/09/16/australian-ambassador-for-women-and-girls-arrives-in-pakistan/
--------
Why Aussie Muslim Mum Backs the Burqa Ban
September 17, 2018
AN AUSSIE Muslim woman has thrown her weight behind the idea of banning the Burqa in government buildings.
Liberal Party member Mina Zaki said she believes security concerns outweigh the "liberal ideal" of women being "to wear whatever the hell they like".
"At the same time, there's a time and a place for everything and government buildings, there are safety risks," she told Sydney 2GB presenter Ben Fordham.
The Canberra-based writer and mother-of-three told the station she is backing Conservatives senator Cory Bernardi's call to ban Muslim face covering at Centrelink offices and airports.
The Australian Conservatives' leader on Tuesday introduced a bill banning facial coverings at commonwealth sites, including all public places in the Northern Territory and ACT.
"Burqas essentially I'm personally against because I feel that in a Western society, the purpose of a burqa in a non-western society or in a Muslim country like Saudi Arabia, for example, is to detract unwanted attention," she said.
"In a place like Australia, it does the exact opposite.
"If you see somebody wearing a full covering, you're going to look at them twice."
She also said she believes her party is welcoming towards Muslims.
"I'm not the only Muslim member of the Liberal Party. There are quite a few," she said.
"Generally, when you tell people that you're a member of the Liberal Party, firstly their face changes and then you actually see them walking away, just slowly stepping back.
"Because the Liberal Party is seen, unfortunately, as intolerant towards Muslims and it's not the case at all."
Mr Bernardi's draft laws are unlikely to be enacted, with both major parties opposed to restricting the Islamic garment.
However, the former Liberal Party senator believes part of his draft laws which bans facial coverings at federal government-owned sites could extend to Australia's six capital city airports.
The legislation says it is designed to ensure national security and safety is paramount, while ensuring Australian values and cultural norms are respected including equality of women.
Labor and the coalition have emphatically rejected calls for burqa bans in the past, with One Nation leader Pauline Hanson drawing a stinging rebuke for wearing the garment into parliament last year.
https://www.news.com.au/lifestyle/real-life/news-life/why-aussie-muslim-mum-backs-the-burqa-ban/news-story/aa62a5d244ea6b64c1830b8b8f256ab8
--------
UAE Expats among 100 Most Influential Women In Middle East
September 17, 2018
Dubai: At least 18 expatriates have been named among the 100 most influential women in the UAE and the rest of the Arab world, proving that the female gender can make huge career strides while working overseas.
The Forbes' Most Influential Women for the Middle East 2018 has recognized for the first time successful expat females who have scaled heights in their jobs, and among those recognized are from India, Malaysia, United Kingdom, France, Germany , Australia, United States and South Africa.
Forbes' latest recognition pays tribute to 100 women who either work for major companies or run their own business, a strong indication that women have broken the proverbial glass ceiling and advanced across industries, including oil and gas, banking, automobiles and fintech. Most of the women are leaders in the organisations, occupying positions like CEO, CFO and president.
Ten other females heading government departments across the region have also been recognized.
"The region is undergoing a paradigm shift with women-led businesses dominating major sectors. Countries like the UAE and Saudi Arabia have showcased most gender diverse cabinets and the landscape is ever evolving," said Khuloud Al Omian, editor-in-chief of Forbes Middle East.
At the top of the list of expat women is UAE-based Renuka Jagtiani, the Indian CEO of retail conglomerate Landmark Group. Jagtiani was named the third most influential women in the region.
Social media influencer-turned-entrepreneur Huda Khattan, also based in the UAE, bagged the ninth place. The American-Iraqi national is the founder and CEO of the billion-dollar cosmetics brand Huda Beauty.
Rafiah Ebrahim, a Malaysian expatriate who currently serves as the president for Ericsson Middle East and Africa, landed the 13th place, followed by British CEO Asil Attar of Alyasra Fashion in the 29th place, French national Celine Bremaud, vice president for Microsoft Middle East and Africa in the 33rd position, and Carmen Haddad, German CEO for Citi's Private Bank Family Office Middle East and Citibank Saudi Arabia in the 35th place.
Indian expatriate Shrimati Damal, CFO of another UAE retail conglomerate Majid Al Futtaim, bagged the 40th place, while Donna Benton, Australian founder and chairman of another successful UAE-based firm The Entertainer, took the 51st spot.
American expatriate Donna Sultan, who is the president and CEO of KEO Capital, emerged as the 52nd most influential woman, followed by Indian national Zanubia Shams, co-chairperson of Zulekha Healthcare Group, in the 58th place.
Another British expatriate, Cynthia Corby, partner audit and assurance at Deloitte, landed the 63rd position, while Poonam Bhojani from India, CEO of Innoventures, took the 65th place and Alida Scholtz from South Africa, CEO Middle East for G4S Security Services emerged in the 68th position.
Here are the rest of the expat women who made it to the list:
Shafeena Yusuff Ali from India, CEO of Tablez Food Company (Rank: #77)
Jane Drury from UK, group CEO, Middle East Digital Group (Rank: #84)
Giselle Pettyfer from UK, CEO, Falcon & Associates (Rank: #88)
Jenny Hunt from UK, partner and CEO, Gateway Group of Companies (Rank: 94)
Kritika Rawat from India, co-founder of K Kompany (Rank: #97)
Full list of 100 most influential women
1.Lubna Al Olayan, CEO, Olayan Financing
2.Raja Easa Al Gurg, Managing Director, Easa Saleh Al Gurg Group
3.Renuka Jagtiani, CEO, Landmark Group
4.Rania Mahmoud Nashar, CEO, Samba Financial Group
5.Khawla al-Asadi, General Manager, Rafidain Bank
6.Eaman Al Roudhan, CEO, Zain Kuwait
7.Shaikha Al Bahar, Deputy Group CEO, NBK
8.Mona Almoayyed, Managing Director, YK Almoayyed & Sons
9.Huda Khattan, Founder and CEO, Huda Beauty
10.Amal Bahwan, Managing Director, Suhail Bahwan Group
11.Huda Al Rostamani, Managing Director and Board Member, AW Rostamani
12.Henadi Al-Saleh, Chair, Agility
13.Rafiah Ebrahim, President, Middle East and Africa, Ericsson
14.Randa Sadik, Deputy CEO, Arab Bank
15.Muna Al Hashemi, Group Deputy CEO, Batelco
16.Elham Mahfouz, CEO, Commercial Bank of Kuwait
17.Nabilah Al-Tunisi, Chief Engineer, Saudi Aramco
18.Mona Zulficar, Founding Partner, Zulficar & Partners; EFG Hermes
19.Suzanne Al Anani, CEO, Dubai Aviation Engineering Projects
20.Dalia ElBaz, Head , Risk, Banking Operations, Information Technology, Deputy Chair National Bank of Egypt
21.Hind Bahwan, Founder, Bahwan CyberTek
22.Haifa Al Khaifi, CFO, Petroleum Development Oman
23.Sahar El Damati, Managing Director, Union Capital
24.Rawan Ahmed Al Said, CEO; Chairperson,Takaful Oman; National Bank of Oman;
25.Rita Maria Zniber, CEO, Diana Holding
26,Miriam Bensalah Chaqroun, CEO, Les Eaux Minerales d'Oulmes
27..Elissar Farah Antonios, CEO, Citibank U.A.E.
28..Nadia Al Saeed, CEO, Bank Al Etihad
29.Asil Attar, CEO, Alyasra Fashion
30.Nevine El-Messeery, CEO, Ahli United Bank—Egypt
31.Mervat Zohdy Soltan, CEO, Export Development Bank Of Egypt
32.Maitha Al Dossari, CEO- Strategic Projects at Emaar Properties From Jan 2018 ( she was CEO at Emaar Entertainment) Emaar Properties
33.Céline Brémaud, Vice President, Microsoft Middle East and Africa
34.Haifa Dia Al-Attia, CEO, Queen Rania Foundation for Education and Development
35.Carmen Haddad, CEO, Citi's Private Bank Family Office - Middle East & Citibank Saudi Arabia
36.Dalya Al Muthanna, President and CEO, GE Gulf
37.Maysa Jalbout, CEO, Al Ghurair Foundation for Education
38.Iman Mutlaq, Founder and CEO, Sigma Investments
39.Devaki Khimji, Executive Director, Al Tasnim Group
40.Shrimati Damal, CFO, Majid Al Futtaim
41.Suha Karzoon, CFO, Bahrain Mumtalak Holding Company
42.Jalila Mezni, CEO, Societe d'Articles Hygieniques
43.Sahar Farahat, Senior Executive Vice President, Egypt Kuwait Holding
44.Latifa Homoud Alsabhan, CFO, Arab National Bank
45.Rasha El-Azhary, CFO, Vodafone Egypt
46.Hania Sadek, COO and Executive Director HSBC Bank Egypt
47.Marwa El-Ayouti CFO, Orange Egypt
48..Farah Foustok, CEO, Middle East Lazard Asset Management
49.Ghada Y. Al-Amer, Vice President—Finance and Administration, KUFPEC
50.Nisreen Shoucair, President and CEO, Virgin Megastore Middle East & North Africa
51.Donna Benton, Founder and Chairman, The Entertainer
52.Donna Sultan, President and CEO KEO Capital
53.Salwa Idrissi Akhannouch, CEO, Aksal Group
54.Hend El Sherbini, Group CEO, Integrated Diagnostics Holdings
55.May Al Mudhaf, CEO, Kuwait First Abu Dhabi Bank
56.Simona Sabella Bishouty, CEO, Managing Director Arab Banking Corp. (Jordan)
57.Mona Bawarshi, CEO, Gezairi Transport
58.Zanubia Shams, Co-Chairperson, Zulekha Healthcare Group
59.Laila Mamou, CEO, Wafasalaf
60.Ingie Chalhoub, President and Managing Director, Etoile Group
61.Huda Al Lawati, Chief Investment Officer, Savola Group
62.Randa El Assaad, CEO, Arif & Bintoak Consulting Architects and Engineers
63.Cynthia Corby, Partner Audit & Assurance, Deloitte
64.Reem Asaad, CEO, Raya Contact Center
65.Poonam Bhojani, CEO, Innoventures
66.Halla Sakr, Managing Director, Attijariwafa Bank—Egypt
67.Hala Fadel, Partner, Leap Ventures
68.Alida Scholtz, CEO Middle East, G4S Security services
69.Deema Sukhtian, CEO, Munir Sukhtian Group Company
70.Shaikha Al Maskari, Chair Al Maskari Holdings
71.Areej Mohsin Darwish, Chair Mohsin Haider Dawrish LLC
72.Ghosson Al Khaled, Deputy CEO, ACICO
73.Dona Abdelhaq, Co-founder & Executive Partner, ESKADENIA Software
74.Karine Labaky, General Manager and Country Chair- Levant Sanofi
75.Joumana Chelala, Deputy General Manager, Head of Consumer Banking Byblos Bank
76.Leila Hoteit, Managing Director & Partner, Boston Consulting Group
77.Shafeena Yusuff Ali, CEO, Tablez Food Company
78.Hoda Mansour, Managing Director, SAP Egypt
79.Randa Bessiso, Founding Director, Middle East Manchester Business School, University of Manchester
80.Kawthar Makahlah, CEO, BCI Group
81.Christine Sfeir, CEO, Treats Holding
82.Nashwa Al Ruwaini, CEO, Pyramedia
83.Enji Al-Ghazzawi, Executive Vice President, Operations Riyad Bank
84.Jane Drury, Group CEO, Middle East Digital Group
85.Noha El Ghazaly, Managing Director and Head of Investment Bankin, Pharos Holding
86.Shahira Zeid, CEO Vice Chair, MZ Investments, Maridive Group
87.Najla Al Shirawi, CEO, Securities & Investment Company
88.Giselle Pettyfer, CEO, Falcon & Associates
89.Rana Adawi, Managing Director, Acumen Asset Management
90.Nadia Cheaib,Founder, CEO,Clingroup Holding
91.Nadia Zaal,CEO, Zaya
92.Manal Jarrar,General Manager,National Insurance Company (Watania)
93.Myrna Soufan,COO,Banque Bemo
94.Jenny Hunt,Partner and CEO,Gateway Group of Companies
95.Amna BinHendi,Deputy Chair,BinHendi Enterprises
96.Soha El-Turky,CFO,Banque du Caire
97.Kritika Rawat,Co-Founder,K Kompany
98.Sumaya Al-Nasser,Founder,Sumaya 369
99.Sana Khater,CFO,Waha Capital
100.Jinan Zoya,General Manager,Family Business Council – Gulf
Top 10 women heading government departments
1.Noura bint Mohammed Al Kaabi Minister; Chair Ministry of Culture and Knowledge Development; Media Zone Authority-Abu Dhabi and twofour54, UAE
2. Sarah Al Suhaimi, Chair; CEO Tadawul; NCBC, Saudi Arabia
3.Lobna Helal, Deputy Governor, Central Bank of Egypt
4.Nezha Hayat, President, Moroccan Capital Market Authority,Morocco
5.Maitha Bin Adai, CEO, RTA, UAE
6.Majida Ali Rashid, Head, Real Estate Investment Management, Dubai Land Department, UAE
7. Maryam Al Suwaidi, Deputy CEO - Licensing, Supervision, Enforcement Securities & Commodities Authority UAE
8. Nevein Gamea, CEO, The Micro, Small & Medium Enterprise Development Agency 'MSME', Egypt
9. Shahla Abdul Razak Bastaki, Deputy CEO, Dubai Silicon Oasis Authority, UAE
10. Maryam Mohamed Fekri, Executive VP, COO, Head of Clearing, Settlement and Depository Division, Dubai Financial Market UAE
https://gulfnews.com/business/sectors/careers/uae-expats-among-100-most-influential-women-in-middle-east-1.2279215
--------
UK Police Drop 18 Month Terror Probe into Hate Preacher's Wife Who Was Filmed Promoting ISIS and Abusing 'Filthy Jews'
17 September 2018
Police have dropped a terror investigation into the wife of jailed hate preacher Anjem Choudary ahead of his release from jail.
Rubana Akhtar, 43, faced an inquiry by Scotland Yard's counter-terrorism command after being filmed leading a secret group of British women supporting IS.
The mother of five, who has spent years living on benefits, previously admitted to being the leader of the female wing of Choudary's banned terror group Al-Muhajiroun.
Akhtar, pictured below, was filmed promoting IS by an undercover reporter and abusing 'filthy Jews' while her husband was being investigated by police in 2015.
But after an 18-month inquiry, police say she has not committed any terror offences.
The news comes as government figures reveal that one terrorist is being released from jail nearly every week.
The Home Office says 46 prisoners held for terror offences were let out between March 2017 and 2018.
Of those, 17 had sentences of four years or more while one was released after being given an indeterminate sentence for public protection.
The number of terror suspects in jail hit a record 218 last year.
The failure of the case against Akhtar follows news that her husband, a notorious hate preacher who inspired a generation of terrorists, is being prepared for release from prison next month.
Choudary, 51, will be freed after serving half a 66-month sentence for drumming up support for IS in 2016.
For 20 years he espoused poisonous views with impunity, delivering sermons inspiring beheadings and bomb plots worldwide.
He is thought to have helped 110 British jihadists travel to Syria to fight for Islamic State.
Five of his followers will also be freed after being convicted of atrocities including plots to blow up the London Stock Exchange and Royal Wootton Bassett, the Wiltshire town where the bodies of soldiers killed in Afghanistan are honoured.
His wife's role running a secretive Islamic sisterhood remained under wraps until the group was infiltrated by an undercover reporter for Channel 4 Dispatches who spent a year covertly filming their clandestine meetings.
Akhtar, who admitted running the female wing of Al-Muhajiroun before it was banned in 2010, was secretly filmed in 2015 praising IS as an Islamic caliphate at the study group to recruit Muslim women with children.
Referring to IS as the Khilafah, Choudary's wife, who now calls herself Umm Luqman, said: 'The good days have already begun, nobody ever have thought in our lifetime we would see the establishment of the Khilafah.'
She claimed in front of children that what the Government calls extremism was simply being a good Muslim, adding that the statement 'There is no god but Allah... makes you Muslim' and 'is a rejection of democracy and the rule of law'.
Nazir Afzal, the former chief prosecutor for the Crown Prosecution Service in the North West, said Akhtar's support for IS was 'extremely dangerous'.
Following the broadcast of the programme in November 2015, police began an investigation.
But after almost two years, officers have dropped the probe.
A police spokesman said yesterday: 'Inquiries found no evidence of terrorism or other offences having been committed.'
https://www.dailymail.co.uk/news/article-6174049/Police-drop-18-month-terror-probe-hate-preacher-Anjem-Choudarys-wife.html
--------
Adelaide Woman Found Guilty Of Being a Member of Islamic State Terrorist Group
September 17, 2018
A 23-year-old Adelaide woman has been found guilty of being a member of Islamic State in South Australia's Supreme Court.
Zainab Abdirahman-Khalif was detained at Adelaide Airport in July 2016 trying to board a plane to Turkey with just hand luggage and $170, but released without charge.
In May last year, she was again arrested and charged by Australian Federal Police with knowingly being a member of a terrorist organisation.
Following a three-week trial, it took the jury of five women and seven men about three hours to reach an unanimous verdict.
The court heard 378 audio files associated with IS were found on her phone, along with 125 videos from an IS media organisation, 62 of which contained extremist material including vision of buildings being blown up, captives being executed and dead bodies on the ground.
Abdirahman-Khalif was also in communication with three young African women who carried out a bombing in Mombasa, Kenya, in September 2016, for which IS later claimed responsibility.
The court heard she had been repeating oaths and singing songs connected to Islamic State in her bedroom.
But her defence lawyer, Bill Boucaut SC, told the jury the prosecution had not proven beyond reasonable doubt that his client ever planned to go to Syria to join the terrorist group.
Ms Abdirahman-Khalif lived with her mother and two brothers at Mansfield Park, in Adelaide's north-west.
She studied at the Islamic College of South Australia until 2011 and completed Year 12 at Roma Mitchell Secondary College.
In March 2016, she quit her diploma of science and technology at the University of South Australia, which she had been studying with the hope of becoming a nurse, and decided to "follow a different path".
The court heard her family was "shocked" when they were told she had been detained because they thought she was at university.
Mr Boucaut, told the court Abdirahman-Khalif had no plans to join the terrorist group in Syria and was travelling to Istanbul with the hope of visiting a particular mosque and exploring aid work opportunities.
"It would not be the first time a young person has done something incredibly stupid and impulsive without their mum knowing," he said last week.
The court heard she did not know how videos of beheadings got on her mobile phone but she did not believe beheadings and murders carried out by IS was "the appropriate way of Islam".
Abdirahman-Khalif will be remanded in custody until sentencing, a sentencing date has not yet been set.
http://www.abc.net.au/news/2018-09-17/zainab-abdirahman-khalif-found-guilty-of-terrorism-offence/10256972
--------
Huge Potential for Saudi Women In Environmental Field
Mohammad Dawood
September 17, 2018
Jeddah — The first senior Saudi female official at of the General Authority of Meteorology and Environmental Protection (GAMEP) wants to help Saudi women interested in working in the environmental field.
Talking to Okaz/Saudi Gazette Deputy Director of the GAMEP branch in the Eastern Province Buthainah Ahmed Awadh said that she will try to raise the environmental protection efficiency in line with the international environmental standards and regulations to check pollution.
She praised the leadership for opening many fields for Saudi women to participate in nation building and development.
Awadh said GAMEP's support to employ female environmental inspectors will help make them productive members of society.
She said Saudi women have entered many fields such as education, health, industry, commerce, media etc. They should work in protecting the environment as inspectors and supervisors to check the adverse effects of environmental pollution on human health, Awadh added.
"We have witnessed a flurry of activities in the past two years in the environmental field and a number of plans to check pollution as well as raising the efficiency in line with the environmental regulations," she said.
Awadh has a Master's degree in applied science and management and diplomas in environmental and human rights fields.
http://saudigazette.com.sa/article/543575/SAUDI-ARABIA/Huge-potential-for-Saudi-women-in-environmental-field
--------
Saudi Arabia's Hail to Have Women-Only Hotel Soon
September 17, 2018
HAIL — A hotel for women only is expected to open soon in the northern city of Hail, according to Al-Watan newspaper on Sunday.
The hotel will be the second of its kind in the Kingdom after the first one was opened in Riyadh.
The hotel will be solely managed by women who will work as administrators, receptionists, room-service staff, restaurant workers, engineers and security guards.
Omar Ali, supervisor of the project, said women customers would have absolute privacy especially that all the staff would be female.
He said the hotel would have more than 25 rooms in addition to suites, which are specially designed for women.
Ali said voice mail and room service would be available 24 hours a day while adding that there would be special services for businesswomen.
He said more than a thousand women so far applied for jobs in the hotel, which is expected to open soon.
Asked about the prices, the supervisor said it would not be more than the prices of other facilities.
"All the services a woman may need are available under one roof in a luxurious setting," he said.
Ali said the idea of the hotel was warmly welcomed by the local community and that a number of residents visited the site to know more about the project.
He said the idea might be expanded and that a number of hotels for women might be established in various parts of the Kingdom.
http://saudigazette.com.sa/article/543567/SAUDI-ARABIA/Hail-to-have-women-only-hotel-soon
--------
URL: https://www.newageislam.com/islam-women-feminism/student-texas-illustrates-book-celebrating/d/116402
New Age Islam, Islam Online, Islamic Website, African Muslim News, Arab World News, South Asia News, Indian Muslim News, World Muslim News, Women in Islam, Islamic Feminism, Arab Women, Women In Arab, Islamophobia in America, Muslim Women in West, Islam Women and Feminism