New Age Islam News Bureau
18 March 2017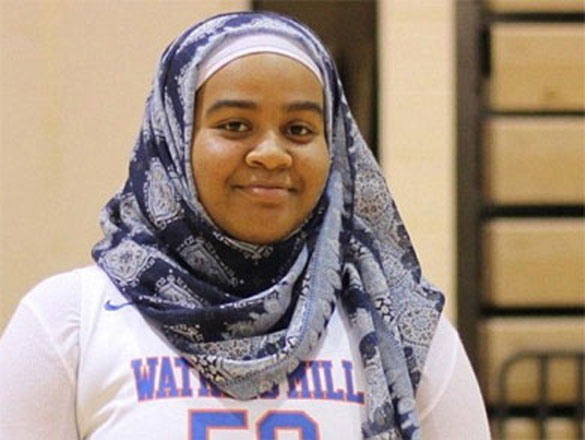 Je'Nan Hayes stopped from participating in a high school Basket Ball game because of her Hijab PHOTO: DAILYMAIL
---------
• Stop 'Un-Islamic' Divorce by Social Media, Says Omani Imam
• Muslim Teen Barred From Basketball Game Because Of Her Hijab in Maryland, US
• Women-Only Swim Night at Auckland 'Very Popular' Among Muslim Community
• Mahiraa Jaan Pasha, the First Muslim Woman to Launch "Bhagvad Gita on Wheelchairs" Across the World
• 7 Muslim Women Speak Openly About Faith, Fashion and Modesty
• This 'Modest Fashion' Startup Is Giving Muslim Women More than Clothes
• JFK Airport: Man attacks Muslim woman yelling, "Trump will get rid of all of you"
Compiled by New Age Islam News Bureau
URL: https://www.newageislam.com/islam,-women-and-feminism/new-age-islam-news-bureau/stop-'un-islamic'-divorce-by-social-media,-says-omani-imam/d/110446
-------
Stop 'Un-Islamic' Divorce by Social Media, Says Omani Imam
March 18, 2017
Muscat // An imam at Muscat's main mosque spoke out on Friday against the trend of divorcing through social media among younger couples in Oman.
Such divorces are against the principles of Islamic law, Sheikh Yusuf Al Hamdani said in his sermon at the Central mosque in the Omani capital.
Marriage in Islam is a serious commitment that binds two lives into one and cannot be annulled by tapping quick messages in the social media, he said.
"Young people in Oman now divorce each other by sending messages on social media using their phones. It is against Islamic principles to use this method to end a marriage. They should not be in a hurry to go separate ways," Sheikh Yusuf said. "Social media is not a solution to any of their problems. They have to go back to the basics of Islam to find ways to stay married."
Muslims — both men and women — can notify their spouse of their intention to divorce either verbally or in a written message. Unlike some Muslim societies there is not even a specific word of phrase that must be used. Court approval is not required unless one of the partners launched legal proceedings to contest the divorce.
While there are no statistics on how many divorces in Oman were initiated through social media, about a third of the divorces currently being contested in the courts were issued in this way, according to the records of the sharia court.
"The popular one is WhatsApp — couples use it as the favourite channel to tell each other they need to end their marriage. They find it easy that way to prevent emotional scenes or a fight," said Asma Al Khalidi, a marriage counsellor.
The divorce rate in Oman is 1.6 per 1,000 couples, according to the Ministry of Awqaf and Religious Affairs. Divorces among young people between the ages of 25 and 35 make up just over 60 per cent of the total number.
The rate of divorce in Oman has increased by 3 per cent in 2016 compared to the previous year, according to the records of the ministry of awqaf and Islamic affairs. But the ministry has given no specific reasons for the rise in divorce.
There were 3,788 divorces in Oman in 2016.
foreign.desk@thenational.ae
http://www.thenational.ae/world/middle-east/stop-un-islamic-divorce-by-social-media-says-omani-imam
------
Muslim Teen Barred From Basketball Game Because Of Her Hijab in Maryland, US
March 18, 2017
A teenager was stopped from participating in a high school Basket Ball game because of her Hijab, on March 3 at Oxon Hill High in Prince George's Country.
Je'Nan Hayes, a high school junior, was told by the head official of a rule in the National Federation of State High School Association rule-book that requires a state-signed waiver to allow covering her head.
Je'Nan has previously played 24 games of the season without facing any objection from the school or coach.
"I felt discriminated against, and I didn't feel good at all," Je'Nan said. "If it was some reason like my shirt wasn't the right color or whatever, then I'd be like, `Okay.' But because of my religion it took it to a whole different level, and I just felt that it was not right at all."
Nike unveils Pro Hijab for Muslim athletes
Her coach, Donita Adams, who was unaware of the rule until a night before, waited for the game to be over before informing Hayes.
"I didn't even want to look down at Je'Nan in that moment," Adams said. "I had not yet told her that she wasn't allowed to play in the game because of her headscarf."
After the team lost to Oxon Hill, Adams took Hayes aside to apologise and explain the reason she did not get to play in the game.
The rule states that "for religious reasons — In the event there is documented evidence provided to the state association that a participant may not expose his/her uncovered head, the state association may approve a covering or wrap which is not abrasive, hard or dangerous to any other player and which is attached in such a way it is highly unlikely it will come off during play."
While the referees were correct in asking for a state-signed waiver, the administrators from Prince George's County and Maryland Public Secondary School Athletic Association did not approve of the ruling.
"The officials of the game there took a strict interpretation of the rule, instead of the spirit of the rule," said Andy Warner, executive director of the MPSSAA. "Does this fundamentally alter the game? Does this create an inherent risk? Does it create a competitive advantage?"
"It doesn't do any of those things, so why are we denying what would be approved if they were to put a simple request into the association?" she asked.
Hijab-clad models walk ramp at Tokyo Modest Fashion Show
Her stance was supported by the county's athletic director, Earl Hawkins who believed that the referees made a mistake in not letting Hayes play. "Everybody has apologised. If the situation happens again, we'll deal with it in a better fashion, much better fashion," he said.
Je'Nan's mother, Carlitta Foster-Haye, Warner and Adams echoed the same opinion that a headscarf should not need documentation. "It's almost like you're singling out different religions, you know?" Foster-Hayes said. "With the way the rule is, you have to take an extra step to play because you're Muslim."
While the MPSSAA and referees association apologised to Je'Nan and her family, the Hayes' are set to challenge the rule.
"I just want to be an advocate for boys or girls, anybody who is trying out for a sport and has a religion and they feel like their faith can interfere with the way they play sports," Je'Nan said. "It shouldn't be that way. And because of rules like these, I feel like it makes people scared or turn away from sports, and I don't want that to happen to anybody else in the future."
"I know definitely next year I'm going to try out for basketball," she stressed. "It does not stop here."
https://tribune.com.pk/story/1358950/muslim-teen-barred-basketball-game-hijab/
------
Women-Only Swim Night at Auckland 'Very Popular' Among Muslim Community
Friday Mar 17, 2017
A public pool is being partially closed one night a week to give Muslim women the opportunity to enjoy some uninterrupted time in the water while they learn to swim.
WaterSafe Auckland is behind the initiative which sees a dedicated teaching pool at Cameron Pool and Leisure Centre managed by YMCA in Mt Roskill closed for two hours every Thursday night for Muslim women-only swimming lessons.
The programme, born of an identified need for a culturally appropriate programme delivered in a culturally appropriate space, has attracted a lengthy waiting list of mainly migrant women in addition to the almost 50 already participating in the classes.
Despite the name, the lessons are inclusive of all women, who for a variety of cultural, religious and health reasons, feel more comfortable swimming in a relaxed female-only environment.
The lessons are aimed at improving the confidence of women in and around the water, encouraging physical activity and building quality relationships, while developing knowledge of water safety, which the women share with their own families.
"A lot of these ladies do come from difficult backgrounds, so it is a place for them to feel safe and secure while they integrate into the community," said Cameron Pools centre manager Sarah Clarke.
Clarke said some of the women, who are aged16 to 60, have migrated to New Zealand from war-torn countries.
"Some have gone through some horrendous stuff that we can't even comprehend and [swimming lessons] are the only social aspect of their new lives."
Continued below.
Prime Minister Bill English, right, and Finance Minister Steven Joyce, announcing the government is to raise the age for national superannuation to 67 by 2040. Photo / Mark Mitchell
Gayas Fathima, 33, is one of the migrant women who attends the classes at Cameron Pools.
Fathima said she was scared of the water when she moved to New Zealand from India, with her husband and three children.
"This programme is so important to me as it gives me an opportunity to learn a vital skill. I didn't know how to swim before this and didn't have comfort time or a facility like this [in India].
"Having this programme available for us Muslim ladies helps us to learn swimming, stay fit and be able to learn water survival skills too."
With the help of YMCA instructor Bernadine, Fathima said she has become a more comfortable and confident swimmer and is now able to ensure the safety of her children while spending some quality time with them in and around the water.
There are four, half hour lessons every Thursday ranging in ability level and run by female instructors.
The beginner classes are fully funded to lure more women who have never had any exposure to swimming, into the water. More advanced sessions are subsidised to $5 a class, a fee which helps ensure the programme is sustainable.
"We are fully booked out, the classes are very popular," said Clarke.
"The goal is to put more classes on."
Islamic Women's Council of New Zealand spokesperson Anjum Rahman said it was important that swimming lessons were available to everyone.
"Some women will not have gone through any swimming training. It is important that those services are available to all ratepayers and the needs of all ratepayers," Rahman said.
"It isn't wrong to ask for public facilities to be responsive to the needs of the community."
Rahman said there was a nation-wide demand for these classes from the Muslim community as well as other women.
"It is not just Muslim women that these classes are important for. There are quite a few women interested from other communities.
"For us [the classes are important] for religious reasons but for other women it may be about their body or confidence."
The Muslim women-only swimming classes run back-to-back from 6.30pm to 8.30pm every Thursday night in the 'learn to swim' pool at Cameron Pools in Mt Roskill.
http://www.nzherald.co.nz/nz/news/article.cfm?c_id=1&objectid=11820161
------
Mahiraa Jaan Pasha, the First Muslim Woman to Launch "Bhagvad Gita on Wheelchairs" Across the World
Mar 17, 2017
New Delhi [India], Mar 17 (ANI-BusinessWireIndia): Mahiraa Jaan Pasha, the first Muslim Woman to launch "Bhagavad Gita on Wheelchairs" across the globe. This is a unique, first of its kind initiative in the world, to showcase the "Bhagavad Gita" through innovative choreography using Wheelchairs and Crutches.
The 18 chapters of Bhagavad Gita comprising of 700 verses in Sanskrit, is a
part of the great epic Mahabharata. In this performance wheelchairs transform into chariot, horses, the crutches transform into bow and arrows, showcasing the ultimate purpose of human life. In this production, one can see the Cultural Equality, Social Inclusion and in the end carry back a message of ' Vasudeva Kutumbakam' meaning the whole world is one family. It reaches beyond the conventional imagination and familiar world of television or film.
Mahiraa Jaan Pasha, is the dynamic force in discovering, nurturing and showcasing outstanding abilities of Persons with disabilities across the Nation for more than two decades. Trained in Indian classical dance, Mahiraa Jaan Pasha is a creator and a visionary in the arts who sees unity within the diversity of all of her "Miracle On wheels Dance Company's" artistic endeavours. In India, Mahiraa Jaan Pasha is acclaimed as a pioneer in Inclusive Arts.
Join hands to spread the message of The Gita, by organising our shows to celebrate the extraordinary abilities of specially abled artists which has transformed millions of lives across the world, which will be a life changing experience for every individual who witnesses it. (ANI-BusinessWireIndia)
http://www.aninews.in/newsdetail-Mw/MzA0NTgz/mahiraa-jaan-pasha-the-first-muslim-woman-to-launch-bhagavad-gita-on-wheelchairs-across-the-world.html
------
7 Muslim Women Speak Openly About Faith, Fashion and Modesty
By Kayla Greaves
03/17/2017
With media depictions of "oppressed" Muslim women, and last summer's failed burkini ban in France, as well as the European Union's recent discriminatory rule against Hijabs in the workplace, women of Islam have become a target for hateful ideals and ignorant rhetoric.
While many are aware that most imagery spread about this group and their attire is simply untrue, who better to speak on religion, modesty, feminism and fashion other than the women of Islam themselves?
Speaking to seven Muslim women from a range of diverse backgrounds, we got a first-hand take on their day-to-day lives and surrounding communities as it relates to their religious practices and style. Their responses give those looking from the outside in a refreshing new perspective on these women's realities.
jana alakhras
"I chose to wear a Hijab when I was about 13 years old. My reasons have varied over the years, but at this point, my Hijab is one of many ways I choose to express myself. Every day we make conscious choices as to how we wish to be perceived by those around us — and I choose to be perceived visibly as a Muslim woman. I am proud of my faith, and I'm happy to be a symbol of it. Wearing long sleeves and pants even through the summer, making small adjustments to let current fashion work for me, all while wrapping a Hijab on my head and staying on trend. Modesty varies between cultures — in some spaces, it is commonplace to show more skin, in others the opposite — but I think the constant theme is not being ostentatious.
I view modesty in the same way I view humility, and it encompasses far more than your dress; it's about how you carry yourself, how you speak to those around you. To me, modesty in fashion is less about how much you cover, and more about how you present yourself. Hijab does not define modesty because a simple piece of cloth will never accomplish that on its own — rather it is the individual who gives the Hijab its meaning. I am thankful that within my Muslim community I am accepted as the individual that I am. My community recognizes that Hijab is a personal choice and that each woman who chooses to wear it has the agency to decide what that entails. I'm sure that I may not fulfill every expectation of what a Muslim woman should wear, but I am also not here to fit into narrow boxes."
meriam waqas
"My style leans toward the eccentric and so I have a wardrobe full of patterns and bright colours. I use my Hijab as a stand-alone statement piece or as a complementing factor. The Hijab is meant to serve as a positive force in your life. For me, it means serving as an ambassador for Islam in the most colourful way possible. Unfortunately, I think the idea of 'modesty' in Islam has been, to a degree, corrupted by the traditions of those who practice the faith. One side of my family is conservative Pakistani, with them, being modest doesn't require a Hijab, and instead subservience and a soft tongue. Needless to say, I think that wearing a Hijab made me the opposite of a traditional modest Pakistani girl. It made me brave and confident enough to voice my opinions and fight for what I believe in. I don't think older, conservative Muslims rooted in cultural traditions understand why I dress the way I do and I tend to get a lot of backhanded compliments from the 'aunty community.' Luckily, I come from a line of resilient and fiercely independent women, so I don't pay much attention to those who try to bring my self-confidence down."
fatma othman
"I can't remember exactly when I wore the Hijab full-time, but I might have been about 12.
There are so many pressures to being a Hijabi — as if how you dress is directly indicative of how religious you might be. That's not really the case, my relationship with God is exactly that, my relationship with God. I know my Hijab makes me visibly Muslim — and I'm proud of that. It makes me even stronger in my faith. But just because I wear the Hijab doesn't mean I make more trips to the mosque than the girl who doesn't wear one.
In my everyday wear, I try to have fun with my outfits. Culture plays a big role — being Yemeni-Canadian, I love pops of colour and long tunics, but also prefer layering patterned shirts with heavier fall knits. There's also the ability to tap into traditional wear for fancier gatherings or as a statement piece. Over the years, my style has evolved and has been influenced by so many things — but one thing remains stagnant, and that's my commitment to it being an extension of my very self. I love that I'm in a space where I don't have to hide who I am to make other people comfortable.
fahmida kamali
"In the western world, even in Canada, I know that my Hijab is seen as a political statement. Both within and outside my community, there are those who think a Muslim woman should dress a certain way — that is, not be interested in looking good. But that's unfair to both the religion of Islam and Muslim women. There is a saying, Hadith, from the Prophet Muhammad, 'God is beautiful and He loves beauty.' When the Prophet was asked, 'What if someone likes that his clothing and his shoes are beautiful?' the Prophet replied, 'Allah loves to see the effects of His grace upon His servant.'
My Hijab has become so much of my personal identity that I can't imagine life without it. The experiences I have had while wearing my Hijab have shaped me into the person I am today. My Hijab has shaped my personal style, too. While I was a teenager, I gravitated towards Vogue and Teen Vogue, in an attempt to learn more about high fashion and personal style. I have always found it hard to adopt fast fashion trends, but much easier to learn how to build a personal style that is unique."
asma karimi
"I decided to wear the Hijab solely based on my own personal choice. It was a huge step for me as an adolescent who was discovering her identity. When I first began wearing the Hijab, I was not too comfortable in it since I was not familiar with incorporating it in my everyday wardrobe. However, over the years I began to grow a huge interest in fashion, which helped me develop my sense of style. I am proud to say that my Hijab has impacted my life in a very positive way and has played a huge part in shaping my identity growing up, into the individual that I am today. By wearing the Hijab I am not conforming to the societal beauty standards that are set for me to follow as a young woman. Rather, it is my way of resisting the negative social and political backlash as well as the societal expectations of how I should look or dress as a woman. In fact, wearing the Hijab makes me feel beautiful, confident and resilient.
Especially with the rise of modest fashion, I feel empowered and inspired by Muslim women fashion designers and bloggers such as, Dina Tokio and Dian Pelangi, who are sharing their unique personal styles on social media. This is critical in our ever-changing global society, as the fashion industry needs to be more representative of our current society. As a modest fashion blogger, I love sharing and showcasing my personal style on my Instagram account in order to make Hijab wearing Muslim women more visible in the fashion world."
Sumaya Karimi
"I have always loved dressing up since I was a little girl, in fact, it is one of the ways I choose to express my femininity, which is a core part of my identity. So having to separate my Muslim identity, from my female identity, is almost impossible, because the Hijab is a core part of who I am.
Islam is an extremely diverse religion of 1.6 billion people. This means that based on the culture and the customs of the country the definition of modesty varies for both men and women. What is interesting is that when people think of modesty, they think of one's clothing, especially as it pertains to women, which is inherently sexist. It should be highlighted that there is a clear distinction between culture and religion. The Quran clearly states modesty for both men and women. In fact, the Quran emphasizes the modesty of the eyes first, in Surah Al-Nur (The Light), in which God commands men not to gaze at women lustfully. When in fact, in most cultures, including the west, the women are often blamed and held accountable for the actions of men in regards to rape culture. When in fact, as the Quran states, it is the men who should be held accountable for their actions and not gaze at women lustfully, regardless of the way they choose to dress."
Moonz Abdi
"I wore the Hijab at a young age. My mother wore it, my aunts and sisters wore it. All the female adults in my presence wore it. I knew why a Muslim woman wore the Hijab, the reasons behind the teachings, but it took me couple years of self-reflection to come to terms that yes, I am my Hijab, and my Hijab is me.
I love fashion. I'll hit the mall and grab an outfit from Aritzia or Club Monaco, you name it. And I'll take that outfit and 'Hijabanaze' it a.k.a. turn it into Hijab friendly outfit.
What I want folks to stop doing is assuming Muslim women are oppressed. I am a feminist, and for me, I choose to cover my body and celebrate it. And with that, we all celebrate our differences. Women from different cultures may dress modestly with their cultural-infused taste. A woman from Pakistan will dress different compared to a woman from Somalia. Both modest, both culturally infused styles.
And to anyone who thinks Hijabs are worn because a man said so, the reality is, the Hijab is not to protect men. Matter of fact it has nothing to do with men — it's to honour the women."
http://www.huffingtonpost.ca/2017/03/17/muslim-women-fashion_n_15411952.html
------
This 'Modest Fashion' Startup Is Giving Muslim Women More than Clothes
By Rishi Iyengar
March 17, 2017
This startup is a growing platform for Muslim women
Muslim women are flocking to a startup that promises them fashionable clothes that fit with their faith.
Nafisa Bakkar and her sister, Selina, launched Amaliah from their mother's kitchen table in 2015 as an Instagram page to curate Muslim-friendly clothes from top brands.
Since then, that page has grown into an online community of more than 250,000 Muslim women.
The sisters grew up in the U.K., born to Indian immigrants from the eastern city of Kolkata.
Nafisa Bakkar told CNNMoney they grappled with multiple identities throughout their upbringing, but soon realized how big a role Islam played -- and the challenges they faced as a result.
One of those was how to find clothes that were stylish but allowed them to adhere to their religion.
"Amaliah started as a personal frustration," the 24-year-old said. "We realized that it was a big pain point for Muslim women to find clothes that were modest but also fashionable."
Related: Employers can ban headscarves, Europe's top court rules
That Instagram page has grown into a platform that allows Muslim women to share their perspectives, experiences and, of course, find the right clothes. The company's website features a curated collection from leading stores such as H&M, ASOS and Zara, which customers can order directly online.
It also features blogs and articles with titles such as "My journey to being a part-time Hijabi" and "Empowerment looks different to everyone."
"I see Amaliah as a ... tool for cultural change," Nafisa Bakkar said. "I don't really see us as just a clothing brand."
nafisa bakkar amaliah startup
The ultimate objective is gradually to change the perception of Islam in an increasingly polarized world.
"In today's political turmoil... it's never been more important for Muslim women to be heard," the young CEO told CNNMoney. "What we're seeing in the Islamic economy [is] a lot of start-ups rising out of frustrations, out of feeling that we're not catered for."
Related: Nike has a new 'Pro Hijab' for Muslim women
That market is growing, and big global brands are beginning to notice. Bakkar says fashion powerhouses such as Dolce & Gabbana and DKNY have started catering more to Muslim women over the past couple of years.
But there's still a long way to go.
"In an ideal world, Amaliah wouldn't exist," Bakkar said. "It wouldn't be difficult for a Muslim woman to find the right clothes that she doesn't feel compromises her culture and values, it wouldn't be difficult to hear the opinion of a Muslim woman in the mainstream news."
http://money.cnn.com/2017/03/17/technology/muslim-fashion-amaliah-nafisa-bakkar-india-uk/index.html
------
JFK Airport: Man Attacks Muslim Woman Yelling, "Trump Will Get Rid Of All of You"
Mar 17, 2017
New York [U.S.], Mar. 17 (ANI): A traveler has been indicted on charges of unlawful imprisonment and aggravated harassment, after he went on a racist tirade, yelled threatening slurs and even kicking a Muslim Delta employee in the leg at the at John F. Kennedy Airport.
Robin Rhodes, 57, who was returning in January from a trip to Aruba, also faces hate crime charges, reports CNN. He was released on $50,000 bond and ordered to return to court in June. He faces up to four years in prison.
Rhodes was waiting for a connecting flight to Worcester, Massachusetts, when he entered the Delta Sky Lounge at JFK. He came up to the office of the employee, who has not been identified, and said, "Are you [expletive deleted] sleeping? Are you praying? What are you doing?", said Queens District Attorney Richard Brown.
The criminal complaint states that Rhodes punched the door, which hit the back of the employee's chair. The employee then asked Rhodes as to what she had done to him and he replied, "You did nothing but I am going to kick your [expletive deleted] a**," the complaint said.
Rhodes then kicked the employee in the leg, after which she tried to get away, but Rhodes persisted, kicking the door and stepping into her office and blocking her from escaping.
Another person, also not identified, tried to calm Rhodes and moved him away from the door, while the employee ran out of the office to the lounge's front desk.
Rhodes allegedly followed the employee, at one point getting down on his knees, bowing down in imitation of a Muslim praying.
He shouted, "[Expletive] Islam, [expletive] ISIS, Trump is here now. He will get rid of all of you. You can ask Germany, Belgium and France about these kind of people. You will see what happens."
According to the charges, the victim suffered substantial pain and redness in her right leg and was placed in fear of physical injury, annoyance and alarm.
In the wake of the attack, New York Gov. Andrew Cuomo proposed the Transportation Worker Protection Act, which would make any assault against an airport worker a felony, punishable by a maximum of seven years in prison. (ANI)
http://www.aninews.in/newsdetail-NA/MzA0NTE0/jfk-airport-man-attacks-muslim-woman-yelling-trump-will-get-rid-of-all-of-you-.html
------
URL: https://www.newageislam.com/islam,-women-and-feminism/new-age-islam-news-bureau/stop-'un-islamic'-divorce-by-social-media,-says-omani-imam/d/110446
New Age Islam, Islam Online, Islamic Website, African Muslim News, Arab World News, South Asia News, Indian Muslim News, World Muslim News, Women in Islam, Islamic Feminism, Arab Women, Women In Arab, Islamophobia in America, Muslim Women in West, Islam Women and Feminism