New Age Islam News Bureau
17 Aug 2016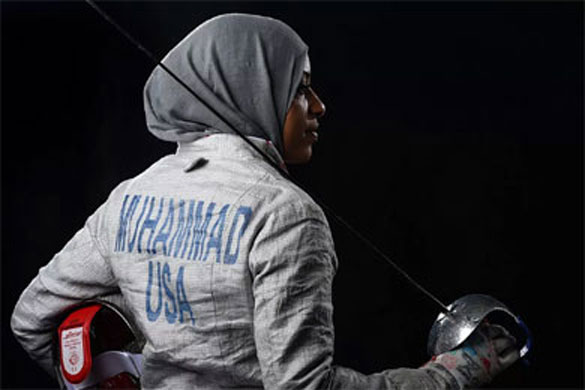 US Fencer Ibtihaj Muhammad
----------
• Women Who Escaped ISIS Slavery Create Trained Battalion to Fight Back, Rescue Others
• Over 3 million Saudi women without IDs
• Half of women in UK have been sexually harassed at work, study finds
• Romances by Women Authors in Nigeria Challenge Traditions
• Escaped Chibok Girl: I Miss My Boko Haram Husband
• Angela Merkel Ally Says Germany Should Ban Burqas
• Afghan IS Commander 'Pressured' Wife to Become Suicide Bomber
• Former Somali Refugee Woman in Minnesota May Become First Elected Muslim Representative
Compiled by New Age Islam News Bureau
URL: https://newageislam.com/islam-women-feminism/stop-with-'bikini-vs.-burqa'/d/108288
---
Stop it with the 'Bikini vs. Burqa' Headlines; Let's Focus on Women's Athleticism
By Shireen Ahmed: August 16, 2016,
These Olympic Games have been flooded with women's sports badassery — in events of all types, from women all over the map. But one of the most striking things about this Olympic Games has been Muslim women's participation.
Fencer Ibtihaj Muhammad was the first Muslim American athlete to compete in a hijab, a headscarf that covers the face and neck, at the Olympic Games. Her presence as an outspoken black Muslim woman has certainly been powerful. Time magazine named her to its 100 Most Influential People list, calling her a new face for Team USA.
And after marching out in front of the US delegation during the opening ceremony and competing earlier this week, she has become the first hijab-wearing American to win a medal. Meanwhile, indomitable teenager Sara Ahmed won Egypt's first medal of the games and is the only Arab woman to ever stand on the podium for weightlifting.
As exciting as these accomplishments are, the media doesn't always examine or present them in the most nuanced fashion. Muhammad's hijab seems to garner more media attention than her athletic prowess. A thoughtful, unwavering black Muslim woman draped in red, white, and blue is an important image, particularly in the current toxic political climate of the United States that has shown systemic anti-Muslim and anti-black hostility. But like any athlete, what she wears — in this case, her hijab — should not define who she is.
To constantly emphasize what she's wearing and not her athletic skill is tiresome. This is especially important to note since sports media seldom pays attention to women athletes in general and specifically leaves out other challenges of Muslim women in sports, including rules against hijab in sport or recreation or stadiums that ban women.
It would seem that mainstream media will only speak of Muslim women athletes if it can serve up stereotypical tropes. But Muslim women have competed at the Olympic games for decades. Why is it only notable when they wear a hijab, or if they're not dressed just like everyone else?
At the Rio games, Doaa Elghobashy and Nada Meawad of Egypt became the first beach volleyball players to compete in the Olympics wearing full sleeves and pants, instead of the previously FIVB mandated two-piece swimsuit. The coverage didn't focus on the match itself, but on what they were wearing.
The juxtaposition of a fully covered woman engaging in a sweaty and sandy competition against an athlete with much less clothing is noteworthy, but the media remained fixated. Besides, it's not like every team wears bikinis to compete, either. The Swiss and Dutch teams have donned less revealing uniforms to deal with low temperatures on Copacabana Beach.
Yet headlines such as BBC Africa's "Rio 2016: Bikini vs Burqa" reverberated through social media. Elghobashy was, in fact, not wearing a Burqa, but a hijab. She and Meawad (who does not wear a hijab) opted for long sleeved shirts similar to rash guards and fitted pants similar to the selections from one of the many modest sportswear companies specializing in outfits for Muslim women.
Not only did this needlessly incite an unnecessary wardrobe battle, the headlines were misinformed as to what this Muslim woman's attire actually was.
I recently attributed this problem to the reality that 90 percent of sports writers are white and the same proportion are male. The lens through which they look at women — particularly women of color — in sports can yield narratives that are uncreative at best. After Elghobashy and Meawad's beach volley debut, further reductive discussions of "culture clashes" ensued with an underlying tone of gendered Islamophobia.
In some cases, writers inject an ignorant view of the athletes and their hijab. In a Toronto Sun column on hijab at the Olympics, columnist Candice Malcolm asserts, "The hijab, very often, is coercion disguised as freedom." In majority-Muslim countries such as Malaysia, Turkey, Egypt, Bosnia, Kosovo, or Somalia, hijab is not mandatory for sport. In others, including Iran and Saudi Arabia, athletes must wear hijab to represent those nations.
Even though not every majority-Muslim country mandates a headscarf for its female athletes, Muslim women athletes face criticism for their choice to wear one. For example, Egypt, Palestine, and Pakistan sent women to compete in swimming events in Rio; neither Farida Osman, Lianna Swan, nor Mary Al-Atrash wear long sleeves, pants, or hijab in the pool. Although Turkey's volleyball team did not qualify for Rio, the women did go to the 2012 games in London, and they were not "Burqa"-clad.
Before them, there's been a long history of Muslim women at the Olympics and Paralympics, both veiled and unveiled. Turkish fencer Halet Cambel was the first Muslim woman to compete in the Olympics, at the 1936 games in Berlin during the rise of Nazism. Cambel famously rejected a meeting with Adolf Hitler because of her political beliefs. In 2004 in Athens, Greece, Bahraini sprinter Ruqaya Al Ghasara became the first woman to wear a hijab at the Olympics. Years later, Muhammad and Elghobashy are not the first women to compete in hijab, but they will certainly not be the last. By doing so, they inspire girls and women by lifting spirits and unveiling possibilities.
Muhammad says her sport further empowers her because her uniform does not differentiate her from other fencers. "In fencing, I've always loved in my sport once I put my mask on, I'm like everyone else," she said to CNBC. "My uniform doesn't seem different in any way. People don't see I'm African American in a sport that isn't diverse, or that I'm a Muslim woman in a sport that isn't diverse. I'm just solely known for my kind of athletic ability first and foremost."
If only sports media had the same view.
In a world that still debates whether a hijab can have a place on the court, these formidable athletes make the impossible seem possible — uninformed sports reporting notwithstanding. The sooner that media stops making an article of clothing the sole focus of a female athlete's identity, the faster sport can be elevated for all women.
http://www.vox.com/2016/8/16/12497824/Burqa-bikini-olympics-muslim-women-athletes
----
Women Who Escaped ISIS Slavery Create Trained Battalion to Fight Back, Rescue Others
Aug 16, 2016
After two years of their people being hunted and displaced by the black-clad soldiers of ISIS, these women will not tolerate it any long.
A team of over 100 escaped Yazidi female slaves – and 500 more in training – have created a military unit known as 'The Force of the Sun Ladies' to counterattack ISIS's stronghold in Mosul.
Considered devil-worshippers by Islamic State militants, the Yazidi people's faith combine Christian, Zoroastrian, and Islamic beliefs. In 2014, over 200,000 Yazidi people were attacked by the jihadi organization and fled to refugee camps in Kurdistan.
Over 5,000 of the women and children were enslaved – but not for long.
The 600 escaped Sun Ladies – plus another 1,400 Yazidi men – plan on using their knowledge of the terrorist base to team up with Kurdish Peshmerga forces and seek revenge, as well as protect the survival of their people and free the remaining enslaved women.
"Whenever a war wages, our women end up as the victims," Captain Khatoon Khider, a member of the Sun Ladies told Fox News. "Now we are defending ourselves from the evil. We are defending all the minorities in the region. We will do whatever is asked of us."
http://www.goodnewsnetwork.org/women-escaped-isis-slavery-create-trained-battalion-fight-back-rescue-others/
----
Over 3 million Saudi women without IDs
ARAB NEWS | 17 August 2016
JEDDAH: More than 3 million Saudi women, aged 15 and above, do not have national IDs.
The number of applications from women for IDs has jumped from 70,000 to 104,000 in just seven days, said Mohammed Al-Jasser, Civil Affairs spokesman.
Many citizens have complained about the difficulty in getting appointments at the Civil Affairs offices, especially in the Eastern Province.
This has forced the applicants to wait several months for IDs and as a result, they have missed employment opportunities because IDs are mandatory for Saudis seeking jobs.
To deal with it, Al-Jasser said the Civil Affairs prepared a plan to receive a large number of applicants and reduce crowding by opening more offices for women in all regions.
The plan also includes increasing the capacity of employees to process applications at some offices during weekends and evening hours in order to serve as many women as possible.
Several bodies and agencies, such as the General Directorate of Passports, colleges, telecom service providers, courts, and the National Center for Assessment, made the national ID mandatory for completing employment procedures. This resulted in overcrowding in the Civil Affairs offices all over the Kingdom.
http://www.arabnews.com/node/971021/saudi-arabia
----
Half of women in UK have been sexually harassed at work, study finds
10 August 2016
More than half of women have suffered sexual harassment in the workplace, including sexual assaults and comments about their bodies, research has found.
Researchers from the Trades Union Congress and the Everyday Sexism Project found that 52% of women had experienced unwanted behaviour at work including groping, sexual advances and inappropriate jokes. Among women and girls aged 16-24, the proportion reporting sexual harassment rose to 63%.
Around one in eight women reported unwanted sexual touching of their breasts, buttocks or genitals or attempts to kiss them at work, which the report's authors point out would be considered sexual assault under the law. And 1% said they had been raped or seriously sexually assaulted in their workplace.
Almost a fifth said they had been harassed by their boss or someone else with authority over them.
But four in five women said they did not report the incidents to their employers, with many fearing that it would harm their relationships at work or that they would not be taken seriously.
The findings, described by the TUC as the biggest study of its kind for a generation, are published in a report on Wednesday, Still Just a Bit of Banter?.
One woman described how a colleague said on her last day "his biggest regret was that he didn't get the chance to rape me in the store room before I left". She had been afraid to go in there for months because of the man's previous comments, she said.
Another woman told the researchers: "The most senior person in the organisation made a series of 'jokes' ... about how I might want to give my boss a 'rub down' or a 'massage'. Another director gestured to grab my breasts at a social gathering."
Frances O'Grady, the TUC's general secretary, said: "How many times do we still hear that sexual harassment in the workplace is just a bit of 'banter'? Let's be clear – sexual harassment is undermining, humiliating and can have a huge effect on mental health ... It has no place in a modern workplace, or in wider society."
Angela Rayner, Labour's equalities spokeswoman, said she was shocked by the findings. She said: "There is nothing funny about one in three women being subjected to inappropriate jokes of a sexual nature when they are simply trying to do their jobs.
"The law is clear: sexual harassment is discrimination and therefore illegal. Perpetrators must feel the full force of the law."
She added that the government is failing to provide adequate protection for women.
Labour is backing a call by the TUC to reinstate parts of the Equality Act making employers responsible for protecting staff from harassment by third parties such as customers.
Rayner said: "We support the report's recommendation to reinstate section 40 of the Equality Act 2010 that was shamefully abolished by the Tory government. Employers have a duty of care to protect their workers from sexual harassment."
The TUC is also calling for the government to scrap £1,200 fees for employment tribunals, which it says restrict access to justice for women.
Laura Bates, founder of the Everyday Sexism Project and Guardian columnist, said: "People say [sexual harassment] doesn't go on in the workplace any more. There's a perception that because of equality laws it's something people aren't putting up with. This research shows there's a huge gap between that perception and the reality of what women are facing."
The higher proportion of younger women saying they had been harassed could reflect "power dynamics at play", with younger women perceived as more vulnerable by perpetrators, Bates said. The TUC notes that younger women are also more likely to be in junior roles, casual work or fixed-term contracts, all of which could be factors.
But it could also reflect evolving ideas of what is acceptable in the workplace, Bates added. "Perhaps for some older women, there's a sense of normalisation," she added.
Women working in the manufacturing and hospitality industries were significantly more likely to have experienced such harassment, the research found.
O'Grady called this a "scandal", adding: "Employers must be clear they have a zero tolerance attitude to sexual harassment and treat any complaint seriously."
Annelise Tracey Phillips, a senior employment lawyer at Burges Salmon, said bosses can face legal action for harassment in the workplace "even if they are not aware it is taking place". She said: "It is vital that employers make clear the standards of behaviour expected of everyone in the workplace."
The TUC commissioned online polling from YouGov of 1,553 women who said they would be willing to respond to questions about sexual harassment. A TUC spokesman said nearly nine in 10 of women surveyed by YouGov were happy to answer such questions. The TUC conducted a survey of members to gather testimony.
A government spokesman said: "No one should experience harassment or abuse of any kind in the workplace – the law on this is very clear and employers must take swift action to tackle this issue.
"Section 40 has not been scrapped and any employee who experiences harassment is protected by the Equality Act – regardless of who the perpetrator is."
https://www.theguardian.com/lifeandstyle/2016/aug/10/half-of-women-uk-have-been-sexually-harassed-at-work-tuc-study-everyday-sexism
----
Romances by Women Authors in Nigeria Challenge Traditions
AUG. 17, 2016
KANO, Nigeria — Nestled among vegetables, plastic kettles and hand-dyed fabric in market stalls are the signs of a feminist revolution: Piles of poorly printed books by women that advocate forcefully against conservative Muslim traditions such as child marriage and quick divorce.
They are part of a flourishing literary movement centered in the ancient city of Kano, in northern Nigeria, where dozens of young women are rebelling through romance novels. Hand-written in the Hausa language, the romances now run into thousands of titles. Many rail against a strict interpretation of Islam propagated in Nigeria by the extremist group Boko Haram, which on Sunday posted video showing dozens of the 218 girls militants abducted from a remote school in April 2014.
"We write to educate people, to be popular, to touch others' lives, to touch on things that are happening in our society," says author Hadiza Nuhu Gudaji, whose views have gained a recognition unusual for women in her society.
Gudaji's novellas are so popular that she is invited to give advice on radio talk shows. She describes how she was able to influence the future of a 15-year-old who called in, begging the novelist to persuade her father not to force her into marriage.
"We said: 'The father of this girl, you are listening to us, you hear what your girl is saying," Gudaji recounts. "'If you force her, maybe the marriage will not end so well, maybe the girl will run away and come to a bad end.'"
A few weeks later, the girl called to say thank you, and that she was back in school — a striking example of the kind of power the author wields.
The novellas are derogatorily called "littattafan soyayya, meaning "love literature," Kano market literature or, more kindly, modern Hausa literature. Daily readings on about 20 radio stations make them accessible to the illiterate.
Continue reading the main story
"It's a quiet revolution," says Ado Ahmed Gidan Dabino, a male novelist, essayist, actor and head of the Kano branch of the Nigerian Writers' Association. "Nothing hard-hitting, but small, small, and gradually challenging."
They have become so popular that young girls call in to say they're learning to read because they want to follow more stories. That is no minor feat in a region that has more children out of school than almost anywhere on earth.
In northeast Nigeria, the birthplace of Boko Haram, only one in five girls has had any formal education. Parents routinely pull 13- and 14-year-olds out of school to get married, and even the name Boko Haram means "Western education is sinful."
Boko Haram denounces the Western influences that are inextricably entwined with the romance genre — an argument Gudaji firmly rejects. Her 16-year-old son was blinded in one eye and took seven bullets during a 2014 Boko Haram attack on Kano's Grand Mosque. Boko Haram has also kidnapped girls from the Chibok school and married them off to militants.
"What they are preaching and doing is not in the Quran, it's un-Islamic," she says, waving a hand with a flower painted into the palm in violet-colored henna. "They are not really against education — their problem with the education of girls (masks) their own agenda."
Although the romance industry caters largely to women, it's often men who profit. The best-known reader on the radio is a man, journalist Ahmad Isa Koko, who raises his voice an octave to imitate a woman's.
Book hawker Adamu Said buys 70 novellas at the market one recent day, boasting that he can deliver them via motorbike to villages inaccessible by car. He purchases them for about 130 naira (65 cents) and sells them for 200, and has been doing so for 12 years.
"I make a comfortable living," says the 30-year-old, who makes enough to support his wife and 6-year-old boy.
The Maharazu Bookshop has piles of paperback novels reaching to the ceiling, some gathering dust on the floor. Two teenage girls look at posters of just-published books but are unable to read the titles. They say they just like the pictures.
Owner Suleiman Maharazu is going through a list from a middle-aged woman reader who is too shy to be interviewed without the permission of her absent husband. They have titles that translate as "The Importance of Love," ''Big Tragedy," ''Your Face is Your Passion," ''The Beauty of a Woman is in Cooking," and "The Woman Who Lost Control."
"I don't read them, I just sell them," says Maharazu.
Only a couple of the Hausa novels have been translated into English. "Sin is a Puppy that Follows You Home" was translated by Indian publishers and subsequently made into a Bollywood movie. The book is available on amazon.com, which describes it as "an Islamic soap opera complete with polygamous households, virtuous women, scheming harlots, and black magic." Author Balaraba Ramat Yakubu, a veteran founder of the movement, was herself a child bride twice, after her first husband returned her to her family, and she only learned to read and write as an adult.
Critics say the novellas give girls unrealistic expectations, inspire rebellion and are un-Islamic. The most famous disgraced book is "Matsayin Lover," about lesbian love at a girls' boarding school, dating back to 1998. Abdulla Uba Adamu says his own friends and fellow writers forced him to remove the book from the market, though he insists it reflects reality.
The books may sound dramatic, but they often mirror life. In one recent Kano court case, a prosecutor sought the death sentence for a girl forced into marriage at 13 to a 38-year-old man whom she poisoned and killed. A human rights lawyer managed to get the girl freed, but her family rejected her because they had to return the bride price paid for her.
Sometimes the reaction is violent. Last year, one young writer was badly beaten. Young men gang-raped another in her home after she published a book about women's rights in politics, according to Gidan Dabino.
Some books are also banned or censored for steamy content. Gudaji says the Censorship Board has seized many books from the market. She hasn't had problems because she's careful.
"If I want to write about a husband and wife, there is a limitation," she explains. "A kiss is allowed but nothing deeper, or I will be fighting with that Censorship Board."
Gudaji has an iPad and smartphone, but says she writes best by hand, lying on her stomach on her bed. The completed story is taken to a business center, where a clerk types it up and puts it on a memory stick. With that, she's ready to go to a bookseller or publisher and bargain. Sometimes, a bookseller will buy a book and have it published himself. Often, however, the writers pay a printer and then take the books to a seller.
The romances are cheaply printed with covers of photo-shopped stars from Nollywood, Nigeria's burgeoning film industry, or Bollywood, the Indian variety some writers are accused of plagiarizing. Many writers end up losing money.
Gudaji's first novel challenged a tradition where poor rural parents will send a child to family members in the city, hoping the child will be educated. Often they are turned into domestic slaves instead, ill-treated and raped by men in the home.
Her second novel addresses the scourge of divorce and how to deal with problematic husbands. In northern Nigeria, a man can divorce a woman simply by pronouncing three times, "I divorce you." When that happens, the former wife leaves alone and may not know what has happened to her children.
Not all the romances challenge the status quo. They range from the universal Cinderella story of a poor girl marrying a prince to how to behave when your husband takes a second wife.
And even for Gudaji, tradition still holds. Happily married, she still has to seek the permission of her husband to allow two male journalists into her home. She was not a child bride, she insists, though she is 38 and her oldest daughter, Khadija, is nearly 21. Khadija is studying physics at Kano's Northwestern University.
Gudaji explains the role of a dutiful daughter when parents want to arrange an unwelcome marriage.
"A girl may love a boy but if they don't suit, you have to stop her, and a girl has to obey her parents — 100 percent," she says, looking at her daughter and brooking no argument. "She must obey your rules and regulations."
http://www.nytimes.com/aponline/2016/08/17/world/africa/ap-af-nigeria-subversive-love-stories.html
--
Escaped Chibok girl: I miss my Boko Haram husband
August 17, 2016
Abuja, Nigeria (CNN)Escaped Chibok girl Amina Ali Nkeki says she misses her Boko Haram fighter husband and is still thinking about him three months after escaping the militants' camp.
Amina Ali, who was held hostage by the terrorist group for more than two years, says she was married off a year into her ordeal and later had a baby girl, Safiya.
The couple and their daughter were found on the outskirts of Nigeria's Sambisa Forest in May. She says they fled the camp by themselves and were not rescued by the Nigerian military, contrary to reports.
Her husband, identified as Mohammed Hayatu at the time of their escape, told a witness that he too had been kidnapped by Boko Haram.
He was placed in military detention for interrogation by Nigeria's joint intelligence center.
Amina Ali says she has no idea where he is now and is keen to be reunited with him.
"I'm not comfortable with the way I'm being kept from him," the painfully shy 21-year-old told CNN in her first worldwide interview, at an undisclosed location in Abuja Tuesday.
Addressing the father of her child directly, she says: "I want you to know that I'm still thinking about you, and just because we are separated doesn't mean I have forgotten about you."
Courage to flee
Her statements came two days after the terrorist group released a grisly video showing the dead bodies of young women, taken in the aftermath of what Boko Haram says was a Nigerian airstrike.
Amina Ali says a dozen captives died in a bombing more than a year ago, which suggests that the footage is not new, according to a spokesman for Nigeria's National Security Advisor.
The video also shows a Chibok girl reciting a scripted plea for the release of Boko Haram fighters in exchange for the kidnapped girls.
Amina Ali was one of 276 schoolgirls abducted at gunpoint from their boarding school in Chibok in April 2014, by Boko Haram fighters. As many as 57 girls were able to escape almost immediately, but more than 200 remain missing.
The kidnapping sparked global outrage and prompted global figures, including activist Malala Yousafzai and first lady Michelle Obama, to support the campaign to #BringBackOurGirls.
Amina Ali refuses to talk about the attack, saying only she cannot remember what happened that fateful day.
For a year after they were taken, the abducted girls were kept together, she says. Then some of the teenagers -- including her -- were "given" to the terrorists as wives.
She says she was desperate to see her mother again and that the thought gave her the courage and strength to flee the camp.
Asked how she felt about becoming a mother herself while in captivity, her face clouds over and, speaking through an interpreter, she insists: "I don't want to answer."
Family reunion
Her mother has spent the past two months staying with her in the capital. But Amina Ali has still not been back to Chibok and says she wants to go home and return to school.
"I'm not scared of Boko Haram. They are not my God," she said.
The whereabouts of the rest of the girls remain a mystery, though they are believed to be somewhere in the Sambisa Forest, a Boko Haram stronghold in the country's northeast.
The current Nigerian government has said via Facebook that it is in touch with Boko Haram and working to secure the girls' release.
Over the past two years, successive Nigerian governments have been criticized for failing to recover the young hostages.
This is a government which is not only in denial mentally, but in denial about certain obvious steps to take
Wole Soyinka
"This is a government which is not only in denial mentally, but in denial about certain obvious steps to take," Nigerian author Wole Soyinka, a Nobel laureate who is often referred to as the conscience of his nation, told CNN's Chief International Correspondent Christiane Amanpour in May 2014.
"It's one of those rather child-like situations that if you shut your eyes, if you don't exhibit the tactile evidence of the missing humanity here, that somehow the problem will go away," he said.
Amina Ali remains the only long-held hostage who has escaped.
But she has a defiant message for her "sisters" still being held: Don't lose hope. She managed to get away, she says, and one day they will be able to return to their families too.
"Be patient and prayerful," she said. "The way God rescued me from Sambisa Forest, he will rescue you too."
http://edition.cnn.com/2016/08/16/africa/chibok-girl-amina-ali-nkeki-boko-haram-husband/
--
Angela Merkel ally says Germany should ban burqas
August 17, 2016
A senior German politician and key ally of Angela Merkel has described the burqa veil as being "contrary to integration", as ministers continue to consider whether to ban the garment across the country.
The general secretary of the Christian Democrat (CDU) party, Peter Tauber, confirmed conservative ministers had agreed the veils were "not in keeping with our country" and that a ban would be considered.
"The CDU agrees that the full-face veil is contrary to integration", Mr Tauber said in a short statement to German media. "We therefore reject it."
The idea for a ban was proposed at the German Bundestag and was vocally welcomed by the country's right wing politicians, although interior minister Thomas de Maiziere remains opposed to a general ban, saying: "You can't forbid everything you reject."
At a meeting on Monday, the minister highlighted that a ban on burqas would be "constituionally problematic" and potentially illegal according to Germany's religious freedom laws.
In 2014 the Bundestag decreed that "there is no right in public spaces to be protected from religious influences", shortly after the European Court of Human Rights confirmed it was legal for France to ban full-body veils, on account of the country's constitutional secularism.
Mr de Maziere meanwhile announced the ministry was taking a number of measures in reaction to growing concerns over violent attacks in the country, including boosting police numbers and tightening laws around obtaining dual nationality.
CDU politican Jens Spahn was the first to propose the ban in late July, telling Die Welt newspaper: "A ban on the full veil is overdue and would be a signal to the world. I don't want to encounter a burqa in this country. In that sense I am burqaphobic."
"Anyone who is on their way to Germany [from another country] must be aware that life here will be very different than at home. They should be even more careful if they really want to live in this Western culture."
It appears likely the interior minister will propose a compromise, and prohibit the wearing of burqas in public situations including court visits and official events.
Meanwhile a number of towns in France and on the island of Corsica have announced they are banning the 'burqini' Islamic swimming costume on the grounds of "provocation".
Germany continues to look for solutions to the problem of Islamic terrorism in the wake of a series of terror attacks in major cities over the past few months.
Austrian far-right politician Norbert Hofer, who is favourite to become the country's next president, also recently proposed banning the burqa.
http://www.independent.co.uk/news/world/europe/germany-burqa-ban-islamic-veils-should-be-banned-by-angela-merkel-says-general-party-secretary-a7195066.html
--
Afghan IS Commander 'Pressured' Wife To Become Suicide Bomber
August 16, 2016
An Afghan woman has surrendered to police claiming that her husband, a local commander for the militant group Islamic State, (IS) was pressuring her to carry out a suicide bombing, officials said.
The woman, whose name has not been revealed, turned herself in on August 16 in the northern province of Jowzjan, along the border with Turkmenistan.
The case underscores the ongoing threat from militants in Afghanistan, where IS fighters appear to have been building a presence for more than two years as they compete with the Taliban to spearhead antigovernment and anti-Western efforts.
IS devotees have claimed responsibility for a number of recent deadly attacks against Afghan civilians and security forces.
The would-be bomber reportedly remains in custody, and the details of the case were provided to RFE/RL's Radio Free Afghanistan by Afghan authorities.
They say her husband, Qari Zia, is a former Taliban commander from Jowzjan Province who crossed over to IS and is now based in the extremists' stronghold of Nangarhar, in eastern Afghanistan.
"Qari Zia...encouraged his wife to carry out a suicide attack," Rahmatullah Turkistani, the police commander of Jowzjan Province, said. "He wanted his wife to come to Nangarhar to receive training in preparation for a suicide attack."
Turkistani said the woman was traveling to Nangarhar when she surrendered to security forces in Jowzjan's provincial capital, Sheberghan. She is being held in a women's shelter in the city while police investigate her claims.
The police commander said Zia had repeatedly telephoned his wife to urge her to go to Nangarhar's provincial capital, Jalalabad, where authorities believe he is hiding.
"She said her husband pressured her but she didn't want to be a suicide bomber and she wanted to surrender to the government," said Najiba Quraishi, the head of the provincial department of women's affairs in Jowzjan, who has interviewed the woman.
Quraishi added that the woman was 32 years old and had been married to Zia for three years, during which time he had constantly pressured her to carry out a suicide bombing.
IS Threat
The case comes one week after police detained Mawlawi Baz Mohammad, the shadow IS governor of Jowzjan, in a security operation in Qush Tepa district. Officials have said the militants' ranks include members of the Islamic Movement of Uzbekistan (IMU), a primarily Uzbek group known by Afghans as Jundullah.
IS militants are mostly based in pockets of territory in the Nangarhar, Kunar, and Zabul provinces, along Afghanistan's porous border with Pakistan. They have reportedly established recruitment and training camps in the region.
The group claimed responsibility for a suicide bombing last month that tore through crowds of minority Shi'ite Hazara protesters in Kabul, killing more than 70 people in the deadliest attack in the capital since the U.S.-led invasion to oust the Taliban and pursue Al-Qaeda's leadership in 2001.
In July, Afghan forces launched an offensive against IS fighters in the east of the country, backed by U.S. forces and air strikes. Last week, the Pentagon confirmed that the leader of IS in Afghanistan and Pakistan, Hafiz Saeed, was killed weeks ago in an American drone strike in Nangarhar.
Despite the blow, analysts say the IS threat in Afghanistan is far from over. U.S. military officials have said that there are between 1,500 and 3,000 IS-linked militants in the eastern region, most of them former Afghan and Pakistani Taliban fighters. The United States said last week that an estimated 300 IS fighters had been killed in July.
http://www.rferl.org/content/afghanistan-islamic-state-pressure-wife-suicide-bombing/27926492.html
--
Former Somali Refugee Woman in Minnesota May Become First Elected Muslim Representative
August 16, 2016
Ilhan Omar, a 33-year-old Muslim Somali-American woman, won a historic victory earlier this month in the Democratic primary for Minnesota state legislature.
If Omar wins the general election in November, she would become the first Somali-American Muslim woman lawmaker in the United States.
Omar, a Somali activist who currently serves as Director of Policy Initiatives at Women Organizing Women, beat out her Democrat primary opponent, 22-term incumbent representative Phyllis Kahn.
The district where Omar lives and would serve if she won is comprised primarily of University of Minnesota students and surrounding neighborhoods that have large Somali and East African immigrant populations.
Mohamud Noor, who was the third person running in the primary, immediately congratulated Omar.
"I want to congratulate Ilhan Omar for winning the race for district 60B. The community won today," he said.
Former Minneapolis Mayor R.T. Rybak, who endorsed Omar, told the Star-Tribune that Omar's journey from Somalian refugee in her childhood to potentially an elected state representative is remarkable.
"From a refugee camp to the State Capitol with intelligence and insight," Rybak said. "This is a wonderful story to tell as Americans, and a great source of pride for the state of Minnesota's open arms."
Kahn, the incumbent who Omar unseated, also had praise for the young Somali-American.
"Ilhan obviously ran a very good campaign and mobilized a lot of people that we didn't see before in previous elections. This is a new historic event … our district is the home of historic events," she said.
But some on the other side of the political aisle, many of whom have warned for years about the build-up of Somali enclaves leading to what they call cultural jihad, were far less complimentary.
Jan Markell, the Minnesota-based founder of Olive Tree Ministries, who is also a Christian radio host and co-author of Trapped in Hitler's Hell, said she and others pray Omar is "a productive part of our political process and not an advocate of Sharia law."
Debra Anderson, the Minnesota chapter coordinator for ACT For America, a watchdog group deeply opposed to Sharia Law, echoed those sentiments as well, although she seemed far less optimistic.
"She believes America is oppressive … classic Islamic worldview," Anderson said. "Throughout, she uses progressive speak, policies that, if enacted, will ultimately promote the incremental accommodation to Islam. She is following the example of Mohammad: Settle. Seek power through politics. Once power is achieved, impose Islamic law."
Former U.S. congresswoman Michele Bachmann, R-Minn., agreed with Anderson about the danger of Omar's candidacy.
"Democrats don't realize that Sharia-sympathetic politicians see the supplanting of the U.S. Constitution by Sharia, in addition to other U.S. laws, as their ultimate goal. This isn't far-fetched," she said.
Omar will face school teacher Abdimalik Askar in November's general election, an opponent most observers feel has very little chance of winning based on the demographics and typical voting practices of the district.
What do you think? Scroll down to comment below.
http://www.westernjournalism.com/former-somali-refugee-in-minnesota-may-become-first-elected-muslim-representative/
--
URL: https://newageislam.com/islam-women-feminism/stop-with-'bikini-vs.-burqa'/d/108288
New Age Islam, Islam Online, Islamic Website, African Muslim News, Arab World News, South Asia News, Indian Muslim News, World Muslim News, Women in Islam, Islamic Feminism, Arab Women, Women In Arab, Islamophobia in America, Muslim Women in West, Islam Women and Feminism