13 February 2022
• Steady Uptick In Muslim Girls Going To Schools, Colleges In Karnataka
• Tamana Zaryabi Paryani , Afghan Woman Activist Released After Arrest In January
• Alicia Keys, Princess Reema Push Message Of Hope In Alula
• Taliban Have Detained 29 Women And Their Families In Kabul, Says US Envoy
• Afghanistan: US Envoy Claims 29 Women & Their Families Are Detained By Taliban In Kabul
• Fatima Sana Khan: The Powerpuff Girl
Compiled by New Age Islam News Bureau
URL: https://www.newageislam.com/islam-women-feminism/muslim-girls-karnataka-zaryabi-paryani/d/126360
--------
Steady Uptick In Muslim Girls Going To Schools, Colleges In Karnataka
But one trend is unquestioned: as with girls of other faiths, there has been a steady increase in the number of Muslim girls going to schools and colleges in Karnataka — and, indeed, across the country. (File)
------
by Sourav Roy Barman
February 13, 2022
IS HIJAB an essential practice in Islam? Does the student's right to wear one over-ride the school uniform code? These questions are now being contested in the High Court, with the Supreme Court watching.
But one trend is unquestioned: as with girls of other faiths, there has been a steady increase in the number of Muslim girls going to schools and colleges in Karnataka — and, indeed, across the country.
Their numbers, as a share of their population, are still lower than that of non-Muslims but the uptick is significant and steady, show several government surveys.
Between 2007-08 and 2017-18, the Gross Attendance Ratio (GAR) of Muslim women in higher education in India increased from 6.7 per cent to 13.5 per cent, according to a unit-level data analysis of the 64th and 75th rounds of the National Sample Survey (NSS) by Khalid Khan of the Indian Institute of Dalit Studies.
In Karnataka, where a ban has been imposed on hijab — and upheld by the court in an interim order — in government educational institutions, GAR of Muslim women in higher education rose from a low of 1.1 per cent in 2007-08 to as high as 15.8 per cent in 2017-18, data shows.
According to Unified District Information System for Education (UDISE) data on elementary and secondary education, nationally, the share of Muslim enrolment to total enrolment of girls in upper primary (Class 5 to 8) has risen from 13.30 per cent in 2015-16 to 14.54. In Karnataka, it rose from 15.16 per cent to 15.81 per cent.
"This rise in enrolment of girls and women cuts across religious and social groups. We are seeing this across states," said a top expert with an education non-profit that works primarily in the area of school education. "Hindu or Muslim, Sikh or Christian, girls and young women are beating odds at many levels including in their families across the country. Many issues crop up, like the current one over what to wear, but I am quite certain and hopeful that the surge will sustain because women are not going to look back."
For Afeeda KT, who teaches sociology at Mount Carmel College in Bengaluru, more Muslim girls in schools and colleges are "hard-earned gains that need to be sustained."
"The hijab row clearly extends the political targeting of the Muslim community by Hindutva forces," said Afeeda. "If we look at its impact on Muslim women's higher education, it's early to predict. But it will influence life choices, especially for women who also have to tackle the embedded patriarchal system in this country."
More so, for Muslim girls and women. Khan, who has studied the GAR data, said that restricting young women from attending colleges based on their attire will push them back to the "same patriarchal trap which the Karnataka government thinks to remove".
"One may think that wearing a scarf is a patriarchal imposition of the dress over the body of a girl. In such circumstances also, the entry of Muslim women with scarf is the only way to address this problem. If they are wearing a scarf under the pressure from their family and the society, they will remove it once they find themselves economically independent after getting higher education," said Khan.
Former Planning Commission Secretary N C Saxena said he is concerned over the hard lines in the current debate. "Equal bias does unequal harm. Muslim women have a moral and legal right to wear hijab but it's a bad strategy because it will lead to further polarisation and bias outside the community which will affect them in many ways. It will further widen the gap," Saxena said.
Going to schools or colleges is what will empower the girls, said Poonam Batra, a professor of Education at Delhi University. "It's education which can enable young women to understand how a hijab or a ghunghat are symbols of patriarchy. So what is regressive here, is to deny them an education in the name of adhering to rules of school uniform. The agenda is to invisibilise Muslims further," Batra said.
Source: Indian Express
https://indianexpress.com/article/india/steady-uptick-in-muslim-girls-going-to-schools-colleges-7769897/
-----
Tamana Zaryabi Paryani , Afghan Woman Activist Released After Arrest In January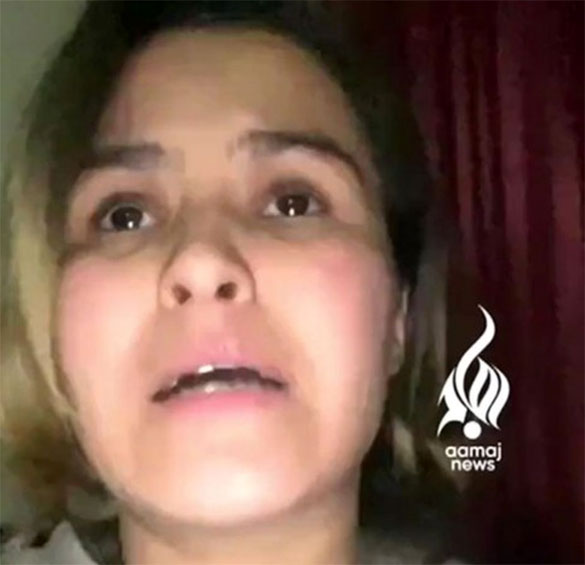 Tamana Zaryabi Paryani posted a video of herself pleading for help before she was arrested
------
13-02-2022
A female activist who was arrested by armed men in Afghanistan in January has been released, two sources have confirmed to the BBC.
On 19 January Tamana Zaryabi Paryani was arrested in her apartment in Kabul's Parwan 2 neighbourhood after taking part in a women's rights protest.
But a few days later she posted a video on social media pleading for help after armed men had arrived at her house and arrested her.
After her disappearance, neighbours told BBC correspondent Quentin Sommerville that Ms Paryani had been taken away along with two of her sisters, and no-one had been to the apartment since. They said only that an "armed group" had taken them.
In an interview with the BBC the day after the arrests on 20 January, Suhai Shaheen, who hopes to become the Taliban's ambassador to the UN, said: "If [the Taliban] had detained them, they would say they have detained them, and if that is the allegation they will go to court and they will defend themselves... This is something legal, but if they are not detained, and they are making such fake scenes and shooting films in order to seek asylum abroad."
But under their rule, Afghanistan has become the only country in the world which publicly limits education on the basis of gender.
The regular protests by women highlighting the issue are a source of embarrassment to the group.
Source: WWW.bbc
https://www.bbc.com/news/world-asia-60362532
-----
Alicia Keys, Princess Reema push message of hope in AlUla
JASMINE BAGER
February 12, 2022
ALULA: Fresh off her sold-out concert on Friday at The Maraya Concert Hall in AlUla, singer-songwriter Alicia Keys joined Princess Reema Bint Bandar Al-Saud, the first female Saudi ambassador to the US, and a group of other creative Saudi women in an intimate conversation under the theme "Women to Women."
The off-the-record dialogue, hosted by Good Intentions, a newly launched Saudi-based creative consultancy, was held in a town hall style, where audience members asked questions, made comments and interacted with the panel. It felt like an extension of Friday's super-hit show.
Acknowledging the forum's location at Madrasat Addeera, AlUla's first art and design center, Keys told the attendees how excited she was to learn from the Saudi women at the table — and those beyond in the audience.
"I'm here to learn and I would love for you to teach me and continue to be allies together. We are all very special and very important in this room and nobody is more important than anybody else. We are all at the same level," Keys told the audience.
Princess Reema said: "Many of the women that you see, whether they are on the stage or perhaps seated to your right or left, are women of a generation that were born of women of a generation that were told 'no.'
"Those of us that insisted on a 'no' being a 'yes' filled in cracks, filled in corners, filled in holes and we stuffed ourselves anywhere that we couldn't find somebody else to stuff themselves into. So we look like we have crazy CVs. We look like we've had erratic career paths — but it's not erratic. The singular unifier of all of us is the fact that we needed another woman to support us and fill the space — but we couldn't find her."
"If you were not inspired, be the one that inspires. If you did not have a mentor, be the mentor. If you didn't have the resources but have access to them, give them. Because your generosity and your kindness of spirit is what is going to make the community we all deserve. And that is how women to women transfer of power happens and that is how men recognize that when they create a space for us, magic happens," Princess Reema said.
Keys' husband, Grammy award-winning producer Kasseem Daoud Dean, known professionally as Swizz Beatz, said: "We feel confident that Saudi Arabia is exactly the right place for the headquarters of our new creative consultancy. We're ready to go full force with Good Intentions and collaborate with the powerful creative talent in the region," he told Arab News exclusively.
The agency aims to amplify the voices of women across the Kingdom, with the AlUla town hall being just the first step in that direction.
Perhaps the most simple yet thoughtful solution came from Saudi actress Fatima Al-Banawi, who said: "Never, never give up. And always support one another with no hidden agenda."
Source: Arab News
https://www.arabnews.com/node/2023516/saudi-arabia
-----
Taliban have detained 29 women and their families in Kabul, says US envoy
Emma Graham-Harrison
Sat 12 Feb 2022
The Taliban have detained 29 women and their families in Kabul, a senior US diplomat said on Saturday, adding to concerns about rising numbers of people seized and held indefinitely in Afghanistan.
Rina Amiri, US special envoy for Afghan Women, Girls and Human Rights, said that women were among 40 people seized on Friday. "These unjust detentions must stop," she said in a tweet.
It has since been deleted, but other sources confirmed that multiple women had been detained in Kabul. The state department did not respond to requests for comment on why it was removed.
Earlier on Friday, the Taliban released a group of journalists including two foreigners, after news of their detention caused an international outcry. They also freed an activist who had disappeared after a women's rights protest, amid mounting diplomatic pressure including from the UN secretary general.
"I am increasingly concerned about the wellbeing of missing women activists in Afghanistan. Several have 'disappeared', some not heard from in weeks," António Guterres had said on Twitter on Thursday. "I strongly urge the Taliban to ensure their safety so that they can return home."
But other female activists, some of who were abducted from their homes in the middle of the night, have not been set free. The Taliban police and the interior ministry denied any role in their arrests.
Rights groups denounced the disappearances as a campaign of intimidation, after the Taliban brought in oppressive rules including barring girls from secondary education, and women from most work outside the health and education sectors.
"Every disappearance highlights one of the huge gaps in Afghanistan today, the lack of rule of law," said Heather Barr, associate women's rights director at Human Rights Watch.
"This is not how you act when you are trying to be a government, and it highlights the callousness with which they seem to think they can just abduct women and sloppily deny it."
There are also concerns about Alia Azizi, a senior prison official who has been missing for more than four months after reporting for work. Several women who worked for the security forces under the previous government have been attacked and killed since the Taliban came to power.
The British government has also raised concerns about citizens who have been held for several months. The family of cameraman-turned-businessman Peter Jouvenal have gone public with their concerns about his health since he was seized in December.
He is married to an Afghan citizen and was in Kabul for work and to settle family affairs. Friends are concerned about his health and safety; he requires medication for high blood pressure and Covid is rampant in the Afghan prison system.
Source: The Guardian
https://www.theguardian.com/world/2022/feb/12/taliban-have-detained-29-women-and-their-families-in-kabul-says-us-envoy
-----
Afghanistan: US Envoy Claims 29 Women & Their Families Are Detained By Taliban In Kabul
By Rohit Ranjan
13th February, 2022
In Kabul, Afghanistan, 29 women and their families have been detained by the Taliban, a senior US official claimed on Saturday. As per the reports of the Guardian, these women were among the 40 people apprehended on Friday, as per Rina Amiri, US special envoy for Afghan Women, Girls, and Human Rights. On Twitter, the envoy stated that these unfair detentions must end, but the Tweet was later deleted for unknown reasons.
Last week, Rina Amiri stated in a Tweet that these arbitrary detentions have to end and that if the Taliban are to gain legitimacy among Afghans and the rest of the world, they must respect Afghans' human rights, particularly women's rights, including freedom of expression. She then urged the Taliban to release these women, their families, and other activists immediately.
After an international outrage over their arrest, the Taliban freed a group of journalists on Friday, which included two foreigners, according to the Guardian. They also released an activist who had been missing since a women's rights march. Other female activists, some of whom were kidnapped in the middle of the night and are still being held captive, have not been released. The Taliban police and the interior ministry denied having anything to do with their detention.
UN Secretary-General stated that he is concerned for the safety of Afghanistan's missing female activists. On Thursday, António Guterres claimed on Twitter that a number of people have disappeared, some of whom have been missing for weeks. He further stated that he implores the Taliban to ensure their safety so that they can return home.
I am increasingly concerned about the well-being of missing women activists in Afghanistan. Several have 'disappeared', some not heard from in weeks.
After the Taliban imposed laws that barred girls from secondary education and women from jobs outside the health and education sectors, rights advocates labelled the disappearances as a campaign of intimidation. Heather Barr, Human Rights Watch's associate director for women's rights, stated that every disappearance exposes one of Afghanistan's most serious problems today, which is a lack of law.
She further said that this is not how a government acts and that it demonstrates their callousness in thinking they can just take women and deny them, according to the Guardian.
Source: Republic World
https://www.republicworld.com/world-news/us-news/afghanistan-us-envoy-claims-29-women-and-their-families-are-detained-by-taliban-in-kabul-articleshow.html
-----
Fatima Sana Khan: The Powerpuff Girl
Zeeshan Ahmed
13TH FEB, 2022
Before becoming the first female cricketer from Pakistan to receive an International Cricket Council (ICC) accolade, Fatima Sana Khan used to play in the streets of Nazimabad Block 1 with her brothers.
She was breaking many stereotypes by playing a sport, which is usually associated with boys. She was backed by her brothers, who made her play with them on the thoroughfares.
The recipient of ICC's Woman Emerging Player of the Year award was young, as young as 10, so she was not given the opportunity to bat as her brothers and their friends were afraid that she might sustain an injury and everyone would get in trouble.
"I used to bowl only because boys didn't allow me to bat," she shared while talking to Bol News. "They had a fear that what if a ball hit me while batting. So, I got interested in bowling from that point. My deliveries didn't use to reach the batter. Therefore, they advised me to run fast and bowl. This was where I got my bowling action from."
Seeing Fatima's passion for the game and the hunger to learn, her brothers decided to find out about the different avenues in Karachi for female cricketers from where she could learn and progress.
One day, the young Fatima saw two girls carrying kitbags near her house who were heading for training. The sight intrigued curiosity in the then-budding cricketer, who asked one of her brothers to find out where they are going.
Soon, her brother found out that there was a women's team camp set up at the National Stadium Karachi where numerous youngsters, including Karachi-based national stars, were honing their skills and fitness under the supervision of the then head coach Tahir Mahmood.
"I saw two females near my house with kitbags and I still don't know who they were," she shared. "However, I got to know about the women's team camp at the National Stadium where names like Javeria Khan and Syeda Nain Abidi were training."
When Fatima met Mahmood, he suggested her to join either Custom or Zaka Academy. She wasted little time and enrolled in Custom Academy.
The selection in the U-17 squad gave Fatima the confidence and a boost that if she can make it this far, there is no reason why she cannot make it into the national squad. She started targeting the national cricket team's members in the nets and tried to dismiss them during the training sessions.
Her strategy came in handy and she was named in Pakistan's U-19 squad and was also called to take part in Pakistan Cricket Board's triangular competition. She was impressive in the campaign and emerged as the highest wicket-taker in the last two editions.
At a tender age of merely 20, Fatima has already claimed one of the most prestigious awards in women's cricket, ICC Emerging Women's Cricketer of the Year, which has surely put her under the spotlight.
"I never thought of achieving this but my aim now is to make Pakistan proud," said the determined pacer. "I now look to enjoy my cricket and take responsibility as the world recognises me now. The award will motivate me to do well in the future."
Fatima accredits her family for whatever she has achieved so far in her brief career. The father and daughter bond is always special, to say the least. In Fatima's case, her father was at the forefront in providing her everything she needed in her journey and was one of her biggest supporters.
"My father used to take me to different places that were far from home [to play games]," she shared. "If there was a match from the morning till evening, he would stay at the ground just for me. My goal was to be a player on whom my father is proud of because of the time he has invested in me."
"My mother also helped me a lot. I was given everything I needed from her side to reach the very top," she said. "We are five siblings and being the youngest one in the family, they backed me fully to go forward and achieve things in life."
"They especially worked on me. They made me feel that I can work on my batting and serve the team as an all-rounder," she maintained.
While growing up as a fast bowler, Fatima idolised England's fast bowling legend James Anderson. His control over the ball and fitness are some of the things that the young pacer loves about him.
"I loved watching James Anderson. I made him my idol and follow him. His wrist position of inswing and outswing attracted me. He has been playing for so long." she shared.
However, apart from her childhood hero, she is also in awe of her Pakistani male counterpart and a fellow ICC's award recipient, Shaheen Shah Afridi.
"Besides him [Anderson], Shaheen Shah is also my favourite," she mentioned. "I watch them and try to learn what different things they do that we don't do in women's cricket."
The talented young cricketer, who has taken 21 wickets in 15 games and scored 28 runs in 14 innings, will represent Pakistan for the first time in a World Cup, starting from March 4 in New Zealand.
Moreover, she will take part in the mother of all contests, the game against the arch-rivals India on March 6 to kick off the team's campaign.
However, the 20-year-old is not overwhelmed by the situation. Instead, she is looking at this challenge as an opportunity to shine at the biggest stage and carve her name in the history books.
"The match is viewed by millions and everyone loves watching Pakistan-India games," she said. "One awaits to play in this kind of match and I will look to give my best."
The right-arm pacer wants to replicate the recent performance of her local hero, Shaheen Afridi, against India, where he single-handedly pulled the game in Pakistan's favour with a deadly spell of bowling.
"Babar Azam's side had a stellar year and our aim is also to take women's cricket forward just like men's cricket. Against India, they gave it all and we look to do the same," she said. "World cup is a tournament where everyone sets eyes on you. I want to make an impact in this competition. We will have seven matches and will look to play with the same intensity in all of them."
"If we play to our true potential, Allah will also help us in achieving our goals," she maintained. "What happened in the past is not our focus. This is a big tournament and our goal will be to make Pakistan win."
In a virtual press conference before leaving for the mega-event on Tuesday, Bismah Maroof said that they will look to start their campaign on a positive note by standing victorious in their opening match against India.
Pakistan will take on the top teams of the world during the competition, including Australia and England. The eighth-ranked ODI team do not have a decent record against the leading sides; however, the skipper is hopeful to have better results this time around.
"We've studied the teams well and analysed their strengths and weaknesses," she said. "Each match will have its own pressure since it's the World Cup."
Maroof, who is returning to the team after a maternity leave of about two years, has set her eyes to reach the knockout stage of the global competition.
"We have worked hard in the training camp and the aim is to reach the semi-final of the event," she stated. "The best training opportunities were available at the camp under the supervision of Head Coach David Hamp."
The 30-year-old claimed that the fitness of the players have improved and they have specifically worked hard on the fielding and bowling departments.
She added that the authorities have tried to pick the best combination of players, having a good amalgamation of young and senior cricketers.
The playing conditions in New Zealand are expected to be fast-bowling friendly, therefore, Pakistan's pacers will have an integral role to play. She is hopeful that Fatima will continue her top-notch show with the ball in hand.
"New Zealand conditions are favourable for fast bowlers. Pakistan's fast bowling attack consists of Ayman Anwar, Diana Baig and Sana Fatima," she said. "Fatima has been consistently giving good performances. I hope it will continue in the World Cup."
Source: Bol News
https://www.bolnews.com/sports/2022/02/fatima-sana-khan-the-powerpuff-girl/
-----
URL: https://www.newageislam.com/islam-women-feminism/muslim-girls-karnataka-zaryabi-paryani/d/126360
New Age Islam, Islam Online, Islamic Website, African Muslim News, Arab World News, South Asia News, Indian Muslim News, World Muslim News, Women in Islam, Islamic Feminism, Arab Women, Women In Arab, Islamophobia in America, Muslim Women in West, Islam Women and Feminism