New Age Islam News Bureau
6 March 2013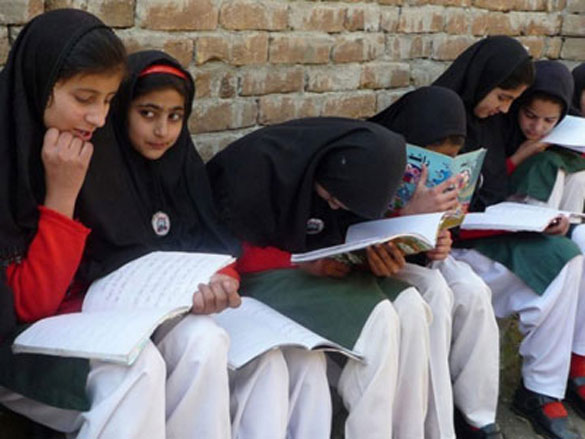 Photo: Schools are reopened following the deployment of a large contingent of security personnel in different parts of Peshawar, Pakistan. PHOTO: REUTERS
-------------
• An Open Letter to the Preachy Married Friend All Pakistani Singles Have
• Egypt Women Wage War against 'Sexual Terrorism'
• Maldives Police Return Seven Underage Girls to Orphanage after Escape
• Laila Ali to Deliver another Knock-Out Performance in Abu Dhabi Fitness Class
• Girls in FR Peshawar Finally Go Back To School
• 23-Year-Old Afghan Graffiti Artist, Says Victimized By Taliban
• Iran Voices Concern about Global Violence against Women
• Female Afghan Boxers Could Miss UK Bout
• Saudi Women Council Members Visit Britain's House Of Lords
• Kerry to Honour Egyptian, Syrian, Afghani as World's 'Extraordinary' Women
• HIV 'Cured' In Baby for First Time, Could Impact Mideast
• Qatar Clinches the Women Table Tennis Gold Medal
Compiled by New Age Islam News Bureau
URL: https://newageislam.com/islam-women-feminism/staunchly-islamic-aceh-bemoans-growing/d/10664
-----------
Staunchly Islamic Aceh Bemoans Growing Sexual Promiscuity
Nurdin Hasan | March 06, 2013
Banda Aceh. Women's empowerment officials in the staunchly Islamic province of Aceh say they have uncovered a growing practice of women getting together to raffle off a man to sleep with.
Dahlia, the chairwoman of the Aceh Women's Empowerment and Child Protection Agency (BP3A), said on Tuesday that her office first observed the practice a year ago among affluent, young and often married women.
"These young mothers get together in a cafe or a hotel and hold a raffle in which the prize is a sum of money that the winner uses to pay to sleep with a good-looking young man," she said.
"The amount paid can be negotiated. For a single encounter it can range between Rp 5 million and Rp 10 million [$515 to $1,030]. So the women involved are those who can afford to pay such sums."
Dahlia added that the wives of certain public officials and prominent businessmen were known to participate in the raffles "just to get satisfaction from these young men," but declined to name them.
"We're actually very ashamed of this practice happening here in Aceh because it's really bad," she said.
She warned that paid sex was also on the rise among teenage girls in Aceh, some of whom she said were selling themselves to older men for millions of rupiah.
She blamed the spread of sexual promiscuity in Aceh, which partially employs Islamic Shariah law, on the lack of strong punishment for extramarital sex.
Those convicted under Shariah bylaws of extramarital sex, Dahlia said, were usually "only caned a few times," and called for changes to the bylaws to allow for offenders to be jailed.
"I really hope that stronger bylaws can be truly enforced. Whoever violates these bylaws must be fully punished under the true terms of Islamic Shariah that we have been calling for," she said.
Dahlia also called on parents to be stricter about monitoring their children's activities away from home, blaming teen sexual promiscuity on poor parenting and negative household influences.
"Education is important, but if there's no attention from the parents, it's very hard to tackle this kind of behaviour," she said.
Another factor that she highlighted as having a nefarious influence on impressionable teens was the provision of free wireless Internet at cafes and other hangout spots popular with young people.
"How can we guarantee that they're not accessing forbidden sites? It's these sites that compel them to experiment and have sex. We need to find a solution to this immediately," Dahlia said.
http://www.thejakartaglobe.com/home/aceh-official-bemoans-growing-sexual-promiscuity/577204
-----------
An Open Letter to The Preachy Married Friend All Pakistani Singles Have
By Noor Masood
March 6, 2013
Dear friend,
Let me start by telling you I love you and I love our time together.
All except your breathless speech about how to find a "good man", "settle down", "stop being an idealist", and "stop evaluating too much". I know you want me to get married this second, but I want to tell you, that's not possible.
When you recommend people I should meet and I say I am not sure about them and you attack after a pause, when you remind me that I am a thirty-something and this is the time to settle if I want children, I want to tell you that I love you; I love your children; but they do sometimes scream too much. I am not sure children will give meaning to my life.
I think I have been in my head too long, but I am pretty comfortable being alone and, sorry to burst your bubble, but I am not dying to tie the knot today. Your lectures, and the lectures of others like you, are stressing me out though. All around, I see intelligent, beautiful and amazing women and men breaking down and throwing themselves at possible partners who do not deserve their attention one bit. They are disrespectful, useless and, frankly, just juvenile.
I am not sure which life problem you and these people think marriage can actually solve: What meaning can it provide? What fun? Or stimulation? People nagging you will never stop. Isn't marriage a natural expression of a strong, almost spiritual, bond between you and a romantic partner? Did I miss the memo that declared it the answer of your life's woes?
Marriage, to me, is a delicate balance of freedom and connectedness. I want to continue to live freely, to explore, to wonder, and to run around, to create. And I certainly want to be connected, come back 'home' to someone who respects me and loves me for who I am. Do you, my married friend, who feels so entitled to bestow your wisdom on me, honestly say that you have both freedom and connectedness?
For the record, I do want to get married. But more than that, I want to meet the right person for me. If that takes time and I wait like a hopeless idiot, and don't have children, then so be it. But I won't let your cynical view of the world make me jump in the same blackhole of self-righteousness that you feel so comfortable disappearing in.
With love,
— Your Single 30-Something Friend
Noor Masood studied International Development at the Harvard Kennedy School of Government, and has worked at The World Bank and Harvard University. She is passionate about teaching adaptive leadership, singing, and spirituality.
http://tribune.com.pk/story/513874/an-open-letter-to-the-preachy-married-friend-all-pakistani-singles-have/
-----------
Egypt Women Wage War against 'Sexual Terrorism'
06 March 2013
Faced with a spike in sexual violence against female protesters, Egyptian women are overcoming stigma and recounting painful testimonies to force silent authorities and a reticent society to confront "sexual terrorism."
The victims of the attacks have been talking openly about their ordeals, insisting they will not be intimidated by a campaign they believe is aimed at shunning them from public life.
"We are not victims, we are revolutionaries. What happened to us has made us stronger and we will continue" to take to the streets, said activist Aida al-Kashef.
Harassment of women is by no means new on Egypt's streets, where they were often the target of verbal abuse and sometimes groping.
But since the revolution that toppled long-time president Hosni Mubarak in 2011, the problem has snowballed, with women now being regularly attacked by mobs of men in and around Tahrir Square.
The attackers have stripped women of their clothes with knives, sexually assaulted them and penetrated them with their fingers.
Yasmine al-Baramawy, who was assaulted in November, highlighted the degree of violence when during a talk show she held up the ripped trousers she wore the day she was attacked.
"They gathered around me and started ripping my clothes off with knives," Baramawy told AFP.
She was then dragged several hundred meters (yards), while being touched and groped, until residents of a neighbouring area saved her from the crowd.
"I didn't feel sad or feel that my pride had been damaged. I felt angry, and I want justice," Baramawy said.
Outraged Egyptians came together to form groups such as Operation Anti Sexual Harassment and Tahrir Bodyguard that bring together volunteers to intervene to stop the attacks in Tahrir Square where police are largely absent.
The groups also offer medical and psychological support to the victims.
On January 25, as thousands of Egyptians marked the second anniversary of their uprising, at least 19 women were assaulted, according to Operation Anti Sexual Harassment.
Some argue the attacks are politically motivated.
"These attacks aim to exclude women from public life and punish them for participating in political activism and demonstrations. They are also an attempt to ruin the image of Tahrir Square and demonstrators in general," said the group.
"This phenomenon requires urgent attention and treatment, and is linked to the broader social problem of endemic and daily sexual harassment and assault of women," it said.
"We do not want to use the term 'harassment.' What is happening today is sexual terrorism," said Inas Mekkawy, a women's rights activist with the group Baheya.
Indifference and scorn
A large part of the problem lies in the indifference of the authorities and society's scorn.
"They ask the victim: 'What were you doing in Tahrir? How were you dressed? What time did you go?" Soraya Bahgat of Tahrir Bodyguard told AFP.
Another member of the group, Ahmed Shokri, who intervened in "six or seven" of such attacks, recounts one of the incidents.
"Some people had belts in their hand, others had knives. You don't know who is doing what. We try to form a cordon around the women and try to pull them [to safety] into the entrance of a building or a shop," he told AFP.
"The problem is that there are people who say they are coming to help, but we don't know if it's true.
"That day, five men told me: 'I'm the brother of the girl.' I believed the first one, but then there was a second then a third then a fourth. I understood then that these people know what they're doing," Shokri said.
To the fury of many activists, members of Egypt's upper house – the Islamist-dominated Shura Council – recently heaped blame on the victims because they "know they are going somewhere where there are thugs," according to local press reports.
One senator even called for the segregation of men and women during demonstrations, while another said the tents used for the sit-ins in Tahrir Square had become a place of prostitution.
Abu Islam, a controversial Islamic preacher who owns a satellite television channel described the women as "naked, non-veiled," and said they go to Tahrir "to get raped."
The National Council for Women said it had been tasked by the prime minister with drafting a comprehensive law against all forms of violence against women.
But activists say they are skeptical about the impact of such a law in the absence of a real will to apply it.
http://english.alarabiya.net/articles/2013/03/06/269872.html
-----------
Maldives Police Return Seven Underage Girls to Orphanage after Escape
By Ahmed Nazeer | March 5th, 2013
Police have returned seven underage girls who escaped from the Villi-Male' orphanage 'Kudakudhinge Hiya'.
Police told local media they were called to the orphanage at 8:00pm on Sunday and informed that seven girls had fled the building.
According to local media, police refused to disclose where and when the girls were found, but confirmed they had been returned.
Local newspaper 'Haveeru' reported that another two girls who escaped from the orphanage were found on a 'bokkura' – a small local vessel – in the lagoon near Villi-Male' with two boys.
Staff at the orphanage are not allowed to speak to the media.
State Minister for Gender Ministry Dr Aishath Rameela has told newspaper Haveeru that the ministry has not been able to clarify the reason why the girls tried to escape.
Rameela told the paper the girls were found in different areas of Villi-Male' at around 8:30pm – half an hour after their escape – after police, staff at the orphanage and residents of Villi-Male' searched for them.
In January police detained two girls who escaped the orphanage, prompting the Human Rights Commission of the Maldives (HRCM) to call for their immediate release.
At the time local media alleged that the two girls, aged 15 and 16, had escaped the orphanage in the middle of the night to fraternise with some boys.
The case was then tabled at the parliament's National Security Committee which summoned the head of the Department of Penitentiary and Rehabilitation Services (DPRS), the Minister of Gender, Family and Human Rights, the Human Rights Commission of the Maldives (HRCM), and representatives from the Villingili orphanage.
Sources familiar with Maafushi prison at the time confirmed to Minivan News that the two underage females were being kept with two other underage female inmates completing their sentences.
http://minivannews.com/society/police-return-seven-underage-girls-to-villi-male%E2%80%99-orphanage-after-escape-54002
-------------
Laila Ali to Deliver another Knock-Out Performance in Abu Dhabi Fitness Class
Kelly Clarke / 6 March 2013
In a world obsessed with technology, many people are choosing to bury their heads in phones, iPads, and laptops… basically anything that entertains the visual aspect of their body.
But the repercussions of such a motionless hobby has left many inactive, and instead ridging out a permanent spot on the sofa.
Full report at:
http://www.khaleejtimes.com/kt-article-display-
-----------
Girls in FR Peshawar finally go back to school
By Riaz Ahmad
March 6, 2013
PESHAWAR: There was finally some good news for education in the region when girls schools in Hassan Khel and Jina Kor, Frontier Region (FR) Peshawar reopened last week.
The schools had been closed down in fear of retaliation from militants and were reopened following the deployment of a large contingent of security personnel in different parts of the region.
Full report at:
http://tribune.com.pk/story/516275/classes-resume-girls-in-fr-peshawar-f-inally-go-back-to-school/
-----------
23-year-old Afghan graffiti artist, says victimized by Taliban
06 March 2013
Young graffiti artist Malina Suliman on Tuesday said she was threatened by the Taliban in Afghanistan after painting graffiti of a skeleton wearing a burqa, or Islamic headscarf, reported India's NDTV.
Suliman, a talented young painter whose works have reportedly been admired by Afghan President Hamid Karzai, told the Mumbai Mirror the skeleton item was a self-portrait illustrating violations against women in Afghanistan.
Full report at:
http://www.globalpost.com/dispatch/news/regions/asia-pacific/india/130305/afghan-graffiti-artist-malina-suliman-flees-india-un
-----------
Iran voices concern about global violence against women
Mar 6, 2013
The Iranian president's advisor on women's affairs has voiced concern about global violence against women.
Addressing the 57th session of the UN Commission on the Status of Women in New York on Wednesday, Maryam Mojtahedzadeh said that women were the victims of armed conflicts, occupations, human trafficking, targeted killings and other forms of violence.
Full report at:
http://www.presstv.ir/detail/2013/03/06/292161/global-abuse-of-women-worries-iran/
-----------
Female Afghan boxers could miss UK bout
The three women were due in London on International Women's Day but have been stuck in Delhi waiting for paperwork
Amelia Hill
5 March 2013
Three young Afghan women boxers risk missing an official invitation to train and fight in the UK because of "excessive" red tape.
Sadaf Rahimi, Fahima Mohammad and Shabnam Rahman have overcome a host of cultural and financial barriers to pursue their sport in Kabul.
They were due to visit London for their first bout with UK rivals as part of International Women's Day on Friday. Instead, they have been forced to wait for days in Delhi for paperwork that has already been approved to be "officially processed".
Full report at:
http://www.guardian.co.uk/world/2013/mar/05/female-afghan-boxers-uk-bout
-----------
Saudi women council members visit Britain's House of Lords
05 March 2013
Saudi Arabia's Shura Council members visited London on Tuesday upon an official request from Britain's House of Commons and House of Lords to discuss ways to promote parliamentary elections in both countries.
For the first time, the visiting delegation included two female Shura members, Nihad Al-Jishi and Thuraya al-Arrayed, who will be working with the British parliament's Representatives and Lords.
Full report at:
http://english.alarabiya.net/articles/2013/03/05/269809.html
-----------
Kerry to honour Egyptian, Syrian, Afghani as world's 'extraordinary' women
05 March 2013
U.S. Secretary of State John Kerry and First Lady Michelle Obama will honour Friday an Egyptian, Syrian, and Afghani among the world's 10 "extraordinary" women this year as part of the Secretary of State's International Women of Courage Award.
The list of inspirational females includes Malalai Bahaduri from Afghanistan, Samira Ibrahim, a Coordinator for the Know Your Rights group in Egypt and Razan Zeitunah, a human rights lawyer in Syria who will be awarded in absentia.
Full report at:
http://english.alarabiya.net/articles/2013/03/05/269749.html
-----------
HIV 'cured' in baby for first time, could impact Mideast
05 March 2013
Researchers say they have, for the first time, cured a baby born with HIV - a development that could help improve the treatment of babies infected at birth.
The findings were presented Sunday at the 20th annual Conference on Retroviruses and Opportunistic Infections (CROI) in Atlanta, the U.S.
The health of the mother largely determines the fate of her child, in fact an overwhelming majority- over 90 percent- of HIV infections in infants are passed on by mothers during pregnancy, labor, delivery or breastfeeding.
Full report at:
http://english.alarabiya.net/articles/2013/03/05/269735.html
-----------
Qatar Clinches the Women Table Tennis Gold Medal
05/03/2013
Manama, March 5 (BNA) -- Qatar today clinched the table tennis gold medal as hosts Bahrain finished third overall in the Third GCC Women's Games at the Bahrain Table Tennis Association gym in Isa Sports City in Riffa.
On the second and concluding day of the team event single round robin tournament, top seed Qatar lived up to many expectations to win their third and last tie against Bahrain 3-1 to top this four-team event with a 100 per cent win record and six points to their credit.
Full report at:
http://www.bna.bh/portal/en/news/549764
-----------
URL: https://newageislam.com/islam-women-feminism/staunchly-islamic-aceh-bemoans-growing/d/10664