New Age Islam News Bureau
7 Nov 2019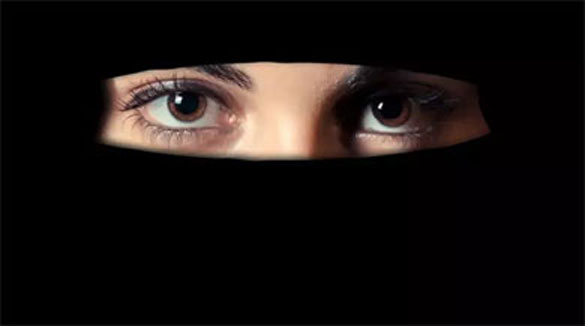 Representational image:
------
• Muslim Women and Refugees Won Historic Victories across the US In Tuesday's Elections
• FBI, Police Investigating 'It's OK To Be White,' 'Islam Is Right About Women' Flyers Posted On College Campus
• Loss Of A Mother Figure: Sarah Cohen's Closest Aide Thaha Ibrahim Mourns Her Death
• Nigeria: Muslim Women in Business and Professions Hold Conference in Ghana
Compiled By New Age Islam News Bureau
URL: https://www.newageislam.com/islam-women-feminism/sri-lanka-muslim-women-remove/d/120203
-----
Sri Lanka: Muslim Women Must Remove Face Cover When Entering Polling Centres
November 7, 2019
Muslim women can wear either the Burqa or Niqab when they come for voting but should remove their face cover at the entrance to the polling centre, Election Commission (EC) Director General Saman Sri Ratnayake said.Speaking to Daily Mirror, he said what was required was to prove her identity inside the polling centre when she was given a ballot paper.
"Her identity should tally with the face on the identity card. For that, she has to remove the face cover," Mr Ratnayake said. "This is not only to help the presiding officers but the polling agents as well."
He said it was absolutely necessary to verify the identity of an individual, who comes for voting.
"We can't forbid the wearing of burqa and niqab because it is connected to their culture. What we expect from the voters is to verify their identity before a ballot paper is given to them," Mr. Ratnayake said. "How can we allow someone to cast her or his vote without identifying themselves," Mr. Ratnayake said.
When asked what could be done if some one refuses to remove the face cover, Mr. Ratnayake said the respective presiding officers would have to refuse such a person to cast her
https://www.eurasiareview.com/07112019-sri-lanka-muslim-women-must-remove-face-cover-when-entering-polling-centers/
--------
Muslim women and refugees won historic victories across the US in Tuesday's elections
JOHN HALTIWANGER
NOV 6, 2019
Ghazala HashmiVirginia State Sen-elect, Ghazala Hashmi speaks to supporters at a Democratic victory party in Richmond, Va., Tuesday, Nov. 5, 2019.Steve Helber/AP
State and local elections on Tuesday ushered in historic firsts for women and minorities across the country.
Democrat Ghazala Hashmi, for example, became the first Muslim woman elected to the Virginia state Senate.
Somali-American women who came to the US as refugees also won big victories.
Meanwhile, Boston's city council will now have a female majority for the first time in its history as well as more minorities than ever.
Visit Business Insider's homepage for more stories.
The 2018 midterm elections saw voters elect a record number of women to the House of Representatives, with a number of individual candidates achieving historic firsts with their victories.
That trend continued in many ways on Tuesday, as women and minorities - including Muslim women and refugees - won historic victories in state and local elections across the country.
These victories come after a summer in which President Donald Trump repeatedly attacked women of color serving in Congress, including those who won historic victories last year. Trump's rhetoric toward Muslims and on racial issues has long been controversial and even ventured into outright racism.
https://www.businessinsider.in/politics/elections/news/muslim-women-and-refugees-won-historic-victories-across-the-us-in-tuesdays-elections/articleshow/71944695.cms
--------
FBI, police investigating 'It's OK to be white,' 'Islam is right about women' flyers posted on college campus
Connecticut university president promises 'severest disciplinary actions' for 'attack on our university community'
DAVE URBANSKI
Flyers declaring "It's OK to be white" and "Islam is right about women" were found Thursday night on the campus of Western Connecticut State University, the Hartford Courant reported — and now the Federal Bureau of Investigation as well as state and local police are on the case in an effort to identify who distributed them.
University President John Clark penned a strongly worded message on Friday to the campus community condemning the "hate-filled flyers" and asking people to come forward with information.
Clark said the "full-scale investigation" includes a "review of footage from our surveillance cameras as well as interviews with individuals who may have witnessed any of this despicable and utterly unacceptable behavior."
He added, "Have no doubt that we are treating this as an attack on our university community and making every effort to see that those responsible are caught and properly punished. I am fully committed to the absolutely necessary goal this does not happen again. We must be ever vigilant to protect our university against these hateful attacks."
More from Clark's message:
There is a distinct possibility this is the work of outside agitators. If correct, we will take the appropriate action to defend our university against such virulent attacks and take action against these individual(s). I want to state directly and without equivocation that if any member of our university community is found to be party to these revolting actions they will be subject to the severest disciplinary actions, including dismissal as well as possible civil and criminal actions.
I am both shocked and immensely saddened about this sick and outrageous behavior, especially since our university has worked so hard to be a warm, diverse and caring community for all, no matter their race, color, gender, sexual orientation/identification, disability and age. All members of our community should feel comfortable, safe and secure at the university. Indeed, we all should feel that WCSU is our second home.
Again, please rest assured that we are taking every measure possible and working with our law enforcement agencies to find and prosecute these sick individuals and defend our university.
Other incidents at other schools
Inside Higher Ed noted an uptick in the number of "It's OK to be white" flyers found on college campuses around the country, adding that they've typically been posted by off-campus individuals and organizations.
More from the outlet:
Last weekend leaflets with the "OK to be white" message turned up in Vermont, at the University of Vermont and Champlain College.
Since then the posters have appeared at American River College, Duke University, North Carolina State University, Tufts University, the University of Delaware, the University of Denver and the University of St. Thomas, in Minnesota.
The trend is not confined to the United States. One Canadian institution, the University of Manitoba, also had the posters turn up. In Australia, the use of the phrase by some politicians has set off a major political debate (and appearance of the posters), but in that case, the focus is not in higher education.
Also last week, white nationalist posters turned up at California State University at San Marcos.
Here's a report on "It's OK to be white" flyers found at Eastern Tennessee State University last week:
https://www.theblaze.com/news/fbi-police-investigating-its-ok-to-be-white-islam-is-right-about-women-flyers-posted-on-college-campus
--------
Loss of a mother figure: Sarah Cohen's closest aide Thaha Ibrahim mourns her death
Neethu Joseph
Tuesday, September 10, 2019
When Sarah Cohen, Kerala's oldest Jewish person, passed away on August 30 she was just five days shy of turning 97. "According to the Hebrew calendar, it is Sarah aunty's birthday today (Wednesday)," says Thaha Ibrahim, a Kochi native and Sarah's closest aide for over 35 years.
Sarah's demise was a big loss to the already dwindling Jewish community of Kochi, but for Thaha, the loss was personal. For him, it was the loss of a mother figure. The residents of Kochi rarely saw Sarah without Thaha by her side.
Sarah Cohen and Thaha Ibrahim
Forty-nine-year old Thaha is a Muslim, he and Sarah shared a unique relationship, one cherished by both. Speaking to TNM as he was preparing to leave to the Jewish cemetery in Mattancherry where Sarah was laid to rest, to light candles on her birthday, Thaha recalls how they formed a friendship.
"Since I was not into studies, my uncle had taken me to work with him in Mattancherry when I was around 12 years old. I used to work on the footpath in Jew Town near Sarah aunty's house, and used to sell postcards and other items to tourists. One day, a ship that was supposed to arrive with tourists didn't turn up, and I had to keep my things safely somewhere. That is how my uncle approached Sarah aunty and I encountered her for the first time," he says.
Thaha, his wife Jasmine (left) and Celine (right) who took care of Sarah Cohen at her tomb
However, their first encounter wasn't pleasant. It was only over the next two years that the two developed a friendship. "She wasn't impressed by me and nor did she like the idea of keeping my stuff at their house. It was only after an hour of requesting and pleading that she agreed to let me leave my things there. But her husband, Jacob Cohen, was very supportive of me. Later on, he even tried to get me a job abroad, which didn't work out," recalls Thaha.
A bond sealed by tailoring
However, the one thing that brought them closer was tailoring. Although Sarah didn't have a full-fledged tailoring unit at the time, she was the one who stitched the religious attire and decorated items for the Paradesi Synagogue of Mattancherry.
"Once, she was asked to stitch a cover for a special cushion inside the synagogue. It was a bit challenging and she and one of her assistants were struggling for a couple of days. Since my father was a skilled tailor and I used to observe his work, I jumped at the occasion and told Sarah aunty that I will do it. And she was like 'What can you do?'. I took her reply as a challenge and did the work with much vigour. When she saw me work on it, she was quite impressed," says Thaha.
Years after that incident, Sarah Cohen started 'Sarah's Hand Embroidery', a unique shop in Kochi which sold hand-embroidered Kippahs, the traditional cap worn by the Jews.
Sarah Cohen at her shop in Jew Town
Sarah and Jacob Cohen did not have children, but Thaha was as good as a son to them.
"Before Cohen uncle passed away in 1998, he had only one thing to say to me -- to look after Sarah aunty after his death. Earlier, I used to make fun of Sarah aunty by telling her that my mother won't like seeing me hanging around her more than I used to with my mother herself. 'Your mother has three other children to look after, so this will be fine' she used to reply," he recalls emotionally.
Thaha's family, including his mother, wife and children, also shared a warm relationship with Sarah Cohen.
Religion never a barrier
Although Thaha is a devout Muslim and Sarah was a staunch Jew, religion was never a barrier to their friendship. Thaha was one of the few Muslims who was closely associated with a Jewish synagogue.
Jasmine (Thaha's wife), Sarah Cohen, Celine (care taker) and Thaha Ibrahim
"I consider myself to be really lucky. Though I set foot in Jew Town in 1982 and had a couple of chances to enter the synagogue, I entered there for a first time with Sarah aunty because of that tailoring incident. But from then on, I have worked very closely with the synagogue. I have had the rare chance to even touch some sacred things in the synagogue as part of the work. I consider all this as blessings," says Thaha.
Thaha also remembers how supportive Sarah was when he felt insecure about whether anyone would oppose a Muslim man working closely with the synagogue.
"When I started to hear about the fight between the two communities elsewhere in the world, I was surprised, because both communities share a lot in common. Being a Muslim and living closely with Jews, from the prayers, prayer timings to even the food habits, I could see the similarities we had," he says.
Both of them also mutually respected the small differences between their communities. "Muslims cannot eat certain food items, and it's the same with Jews. When we were together, we cooked what we both could eat," he recalls.
Thaha says that Sarah continues to be in his life, through memories and through the lessons she taught him.
https://www.thenewsminute.com/article/prakash-karat-condemns-use-uapa-kerala-students-arrest-calls-it-unjustifiable-111892
--------
NIGERIA: MUSLIM WOMEN IN BUSINESS AND PROFESSIONS HOLD CONFERENCE IN GHANA
BY ALTERNATIVEAFRICA
AUGUST 17, 2019
London, August 17, 2019 (AltAfrica)-The Vice President of the Madina Institute of Science and Technology in Accra, Ghana, Prof. Mohammed Kamil and an Associate Professor of Physiology at the Lagos State University (LASU), Lagos, Nigeria, Simiat Elias will join other scholars for 10th biennial Conference of The Criterion, an association of Muslim women in business and professions.
The event will hold at the Madina Institute of Science and Technology and Accra Technical University (former Accra Polytechnic) both in Accra, Ghana.
The professional Muslim group with bias for education and women empowerment is holding its 1st international Conference outside the shore of Nigeria.
Hajia Fatymah Yewande Oyefeso National Ameerah of The Criterion
The Criterion (Ghana District) will host their Nigerian counterparts between August 28 and 31.
According to National Ameerah of the Organisation, Hajia Fatymah Yewande Oyefeso, the conference will discuss issues of women and Child upbringing.
Hajia Oyefeso, who is the Chief Host, said the theme of the conference is "The Role of Muslim Women and Child Upbringing."
Other guest speakers include a Clinical Psychologist Revd Father Anthony Amposah, Chief Executive Officer of GDA Media Ltd, (producers of The Standpoint TV programme) Gifty Anti and Counseling Psychologist Asmau Ayub among others.
The Criterion Ghana Ameerah, Hajia Rashidat Malik, said the climax of the deliberation would be the second leg of the programme planned to hold at the Madina Institute of Science and Technology, Accra under the theme: "Muslim Child and Technology".
Hajia Malik said eminent personalities from Nigeria and Ghana are expected at the event.
Hajia Oyefeso (the National Ameerah) added that the organisation had been in existence for about 30 years.
"Our membership cuts across professionals from all fields of life and business juggernauts and technocrats e.g. Professors, medical doctors, lawyers, lecturers and business professionals, " she said.
She gave the assurance that The Criterion would work hard to change the lot of Muslim women and children across the globe.
The name "The Criterion" is the English meaning of the 25th chapter of the Holy Quran Al Furqan, the embodiment that Islamic scriptures which defines the difference between good and evil.
https://alternativeafrica.com/2019/08/17/muslim-women-in-business-and-professions-holds-criterion-conference-in-ghana/
--------
URL: https://www.newageislam.com/islam-women-feminism/sri-lanka-muslim-women-remove/d/120203
New Age Islam, Islam Online, Islamic Website, African Muslim News, Arab World News, South Asia News, Indian Muslim News, World Muslim News, Women in Islam, Islamic Feminism, Arab Women, Women In Arab, Islamophobia in America, Muslim Women in West, Islam Women and Feminism