New Age Islam News Bureau
29 March 2022
• Qatar, Indonesia's Women Ministers Urge Taliban to Allow Girls In School
• Reforms Pay Dividends As Saudi Women Enter Jobs Market
• Shaima Dallali New NUS President Posted Islamic Chant Threatening 'Jews' and Sympathised With Hamas
• Gulmaki Dalawzi Habib, a Muslim Woman Creates History In Odisha, Heads Bhadrak Municipality
• Alleged Creators of Apps That Put Muslim Women 'Up For Sale' Granted Bail by Delhi Court
• Not Against Uniform, Allow Girls To Wear Same-Colour Hijab: Samastha Kerala Jamiatul Ulema
• UAE: Woman Demands Dh 1M Compensation After Losing Foetus Due To Work Stress
Compiled by New Age Islam News Bureau
URL: https://www.newageislam.com/islam-women-feminism/spotify-arab-female-artists-times-square/d/126681
--------
Spotify Sheds Light on Arab Female Artists in Times Square In New York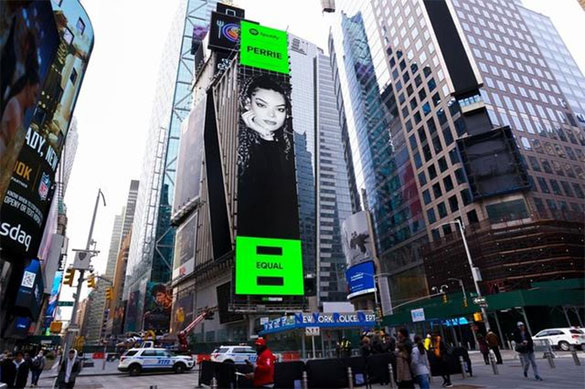 Perrie Billboard on Times Square, New York
-----
March 29, 2022
Spotify shed the light on the first female ambassador for Spotify's EQUAL Arabia, Egyptian-Moroccan rap star Perrie by featuring her on a billboard in the heart of New York's Times Square on 23 March.
Her appearance on the billboard is part of EQUAL Arabia, a program launched in celebration of International Women's Month, which aims to turn up the volume on Arab women creators and bring their voices to the world.
In addition to being featured in Times Square, Perrie appears on Spotify's editorial space, where she is featured on the playlists EQUAL Arabia, EQUAL Destination, and EQUAL Global Playlist, which helps her get global exposure. Perrie started singing at the age of eight.
Over the past year, she has been making waves in the rap scene and collaborating with some of the genre's key figures, which helped her make her way to Spotify's Top 50 Egypt. Her music has been listened to by fans in Germany, United States, Saudi Arabia and more. In early March, Perrie released her song "El Sa3a Tes3a" which she wrote, composed and produced.
Source: Daily News Egypt
https://dailynewsegypt.com/2022/03/29/spotify-sheds-light-on-arab-female-artists-in-times-square-in-new-york/
--------
Qatar, Indonesia's Women Ministers Urge Taliban To Allow Girls In School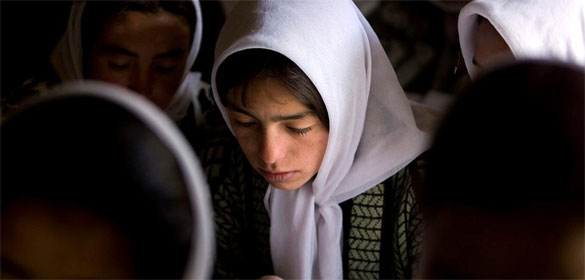 The girls' education ban has been widely condemned after the Taliban, which retook Kabul in August, gave commitments that girls would be allowed to study. (Reuters)
-----
March 29, 2022
Doha: Two women ministers, from mainly Muslim nations, on Monday put international demands that Afghan girls be allowed back in school to a top member of the Taliban government, officials said.
Indonesia's Foreign Minister Retno Marsudi and Qatar's Deputy Foreign Minister Lolwah Al Khater together held talks with the Taliban's acting foreign minister Amir Khan Muttaqi in Doha amid mounting concern over rights in the country, especially for women.
Foreign governments have warned that the Taliban actions could cause a backlash at a fund-raising conference for Afghanistan on Thursday, as aid agencies warn of a growing food and health crisis in the country of 37 million people.
Marsudi and Al Khater were the first foreign representatives to meet a Taliban leader since the fundamentalist group sent girls home last Wednesday, a few hours after letting them back into secondary schools.
In a Twitter comment, Marsudi said that she and Al Khater "discussed (the) humanitarian issue and education for all in Afghanistan" with Muttaqi.
"Girls in education as well as women's rights were discussed in the meeting," added a source briefed on Monday's discussions.
The United States cancelled planned talks with Muttaqi in Doha at the weekend in protest at the school action.
In a further blow, the hardline Islamists have also ordered airlines to stop women flying unless they are accompanied by a male relative. It has also stepped up restrictions on foreign media.
The US special envoy on Afghanistan, Thomas West, told a gathering of policy leaders in Doha at the weekend that he expected the school ban to be quickly reversed.
Muttaqi's planned appearance at the Doha Forum was cancelled though he eventually arrived in Qatar, where the Taliban have a representative office.
"No US official met with so-called interim foreign minister Muttaqi during this visit to Qatar, including at the Doha Forum," a US State Department spokesperson told AFP.
"The international community wants to send the message that what is happening is unacceptable," commented one diplomat after Monday's meetings.
The girls' education ban has been widely condemned after the Taliban, who retook Kabul in August, gave commitments that girls would be allowed to study.
And there are now fears that the action could damage an UN appeal to raise $4.4 billion to cover Afghanistan's food and health needs this year.
Germany and Britain are organising a fund-raising conference on Thursday.
Germany gave 600 million euros in aid to Afghanistan last year, but its ambassador designate to the country, Markus Potzel, said: "It's very difficult to convince our politicians, our public, our media to give public money to a country where they deprive women of education.".
Nobel Peace laureate Malala Yousafzai, who was shot in the face by a Pakistani Taliban as a 14-year-old, said the hardline group was "misusing the name of Islam" by stopping girls studying.
But she predicted the ban would not last as Afghan women feel "empowered".
Source: ND TV
https://www.ndtv.com/world-news/afghanistan-qatar-indonesias-women-ministers-urge-taliban-to-allow-girls-in-school-2848997
--------
Reforms pay dividends as Saudi women enter jobs market
March 28, 2022
RIYADH: Women's empowerment in the Saudi labor market is gathering pace with the ambitious aim of increasing the female contribution to the Kingdom's overall economy to 28 percent.
The Shoura Council has enacted a number of laws and proposed amendments to other regulations in order to protect women's rights, including initiatives to reduce unemployment, as well as increase female representation in positions of authority and decision-making.
Legislative efforts are expected to broaden employment opportunities, paving the way for women to work in different sectors.
The objective is also to lift women's participation in the labor force from 22 percent to 30 percent by 2030, as well as strengthen female economic involvement by encouraging remote and flexible work.
Other goals include leadership guidance for female cadres, programs to support daycare centers, training to help women meet labor market requirements, and the improvement of job creation mechanisms.
Hala Al-Tuwaijri, secretary general of the Family Affairs Council, told Arab News that "accurate indicators" based on labor market data will help empower women economically and enhance productivity.
The Kingdom has increasing women's workforce participation as part of its Vision 2030 reform targets, she said.
Legislative changes also have a positive impact on the Kingdom's international indicators, and "this supports the continuation of resolutions, the launch of programs, and future plans and solutions to support the empowerment of women to access opportunities and services."
She said that women's economic empowerment will boost productivity, and contribute to greater economic diversification and income equity, as well as assist positive development outcomes and growth in gross domestic product.
Companies and institutions benefit from increasing employment opportunities and women's access to leadership positions, enhancing the efficiency of the organization. As a result, according to Al-Tuwaijri, the Kingdom has paid special attention to women's strong and active participation in social and economic development.
She said that an integrated system for empowering women in the labor market should be provided. Economic progress and encouragement of women to enter the labor market can help balance women's lives and enhance their role in the family.
"A family-friendly work environment should be created through, but not limited to, various labor policies and patterns such as flexible work policies, part-time work, the provision of soft loans to women entrepreneurs," Al-Tuwaijri said.
"It is important to support policies, programs, and initiatives that assist women in meeting the challenges of the labor market and that are provided by the Kingdom to facilitate women's access to and promotion of entry into the labor market."
Other experts also shared their views about women joining the labor market in Saudi Arabia.
Gareebah Al-Twaiher, supervisor of the Department of Female Students at Arab East Colleges, said that government resolutions in support of women had enabled them to become an effective player and partner in the region's comprehensive and sustainable development.
These resolutions view women as strategic partners in driving comprehensive and sustainable economy across the country, she added.
Al-Twaiher, who also chairs the Future Women Society,) said: "Indicators are an important scientific tool for monitoring women's participation in development and measuring progress toward Vision 2030 targets, and the Kingdom's overall trends toward achieving women-related sustainable development goals, which will have a positive impact on women's economic empowerment to participate in regional development."
She said that for decision-makers and market policymakers, "accurate indicators" based on labor market data are critical.
"It assists in diagnosing challenges and assessing the current situation by understanding the structure of the current market, understanding the demographics of the labor market, identifying the main indicators of the market, in general, and of women in particular, and contributing to the Kingdom's progress in global indicators, thereby supporting and strengthening efforts to improve the mental image of Saudi women."
Al-Twaiher, who recently finished a joint study on "The Impact of Artificial Intelligence and Automation on Future Jobs in Saudi Arabia," highlighted the importance of "carefully selecting qualified people and enabling women to develop their skills for future jobs by providing incentives that encourage them, enhance their technical capabilities, and increase their share in leadership positions."
Saudi journalist Sukina Bu Haliqa believes that woman's presence in the labor market has been modest and restricted to roles such as receptionists, cashiers and saleswomen, "but we haven't seen women in executive positions or other senior positions."
She hopes the rate of women's participation in the labor market will rise, but said that "a lot is needed to achieve that."
Bu Haliqa added that women's independence in obtaining employment, including the ability to drive and choose whether to work, will have a host of implications for the national economy.
Independence will help women work in schools, nurseries and restaurants, for example, and increase their purchasing power, demand for basic services, and consumption of fuel and perfumes, for example — all of which have an impact on local economies.
Huda Al-Rasheedy, a specialist in scientific research, said that Saudi women's empowerment has accelerated as a result of legislation to strengthen their position in society.
"They have become an effective partner in national development in all fields: Economic, social, scientific, cultural and others. Many decisions have been made that demonstrate the leadership's faith in women and support their endeavors to hold leadership positions."
According to Al-Rasheedy, author of "Innovation in Universities," women are a major component of the Kingdom's human capital, and constitute an important part of the economic value of human resources.
"Their integration and cohesion, as well as the effective investment of their skills and capabilities, are the basis for the demographic reconfiguration that achieves growth.
"The economy, as well as the belief in women's pivotal role as a cornerstone in the development process and a flourishing economy, provided the Kingdom's Vision 2030 with a great opportunity for their participation and enhancing their value in society," she said.
Source: Arab News
https://www.arabnews.com/node/2052366/saudi-arabia
--------
Shaima Dallali New NUS President Posted Islamic Chant Threatening 'Jews' And Sympathised With Hamas
March 28, 2022
The National Union of Students has voted for a new president who only last week had to apologise for a historic tweet in which she posted the words of an infamous Islamic chant threatening "Jews" with an attack by "the army of Muhammed."
Shaima Dallali was confirmed as the next NUS leader following a vote at the student body's annual conference in Liverpool on Monday.
The former City University Students Union president will replace current NUS leader Larissa Kennedy later this year.
The Union of Jewish Students reacted to Dallali's election by issuing a statement urging her to "come to the table" to discuss concerns over her "extremely challenging views" for Jewish students.
Last week Jewish News revealed how Dallali had in 2012 posted an inflammotory tweet stating:""Khaybar Khaybar, ya yahud, Jaish Muhammad, sa yahud."
In Islamic tradition, the chant – which means, "Jews, remember Khaybar, the army of Muhammad is returning" – is used as a battle cry when attacking Jews or Israelis.
It refers to the Muslim massacre of the Jews of the town of Khaybar in north western Arabia in 628 CE.
In a statement issued last week Dallali said: "Earlier today I was made aware of a tweet I posted 10 years ago.
"During Israel's assault on Gaza I referenced the battle of Khaybar in which Jewish and Muslim armies fought. I was wrong to see the Palestine conflict as one between Muslims and Jews.
"The reference made as a teenager was unacceptable and I sincerely and unreservedly apologise."
Further evidence shown to Jewish News confirms that other deleted tweets posts by the new NUS leader included one from November 2020 in which she wrote that Jeremy Corbyn "should never have been suspended" from Labour "in the first place."
It referred to Corbyn suspension after he claimed the EHRC report into antisemitism had exaggerated the extent of the problem for political reasons.
Other deleted tweets made by the new NUS leader included statements supportive of the Islamic terror organisation Hamas.
In a statement released on Monday evening the Union of Jewish Students said:"The NUS delegates have voted in Shaima Dallali as the next NUS president. Jewish students have spoken to us and raised their concerns over much of the messaging Dallali has put out on her social media in the past – attacking the Jewish community, attacking UJS, and supporting speakers with extremely challenging views. "We hope that she will come to the table, work with UJS and understand how to support Jewish students.
"There have been many bridges broken between NUS and Jewish students over the past few weeks, and we call on Shaima and her team to join us in rebuilding those bridges to ensure that NUS becomes a space where Jewish students once more feel welcomed in rather than sidelined and excluded."
Source: Jewish News
https://www.jewishnews.co.uk/new-nus-president-posted-islamic-chant-threatening-jews-and-sympathised-with-hamas/
--------
Gulmaki Dalawzi Habib, a Muslim Woman Creates History In Odisha, Heads Bhadrak Municipality
By Aishwarya Mohanty
March 28, 2022
The Biju Janata Dal (BJD) may have swept the recently concluded civic polls in Odisha, but one of its defining moments was the election of the first Muslim woman as the chairperson of a local body in the state.
The story of this history-making election in the town of Bhadrak becomes even more remarkable when one factors in that the winner is a 31-year-old Independent candidate who bested the ruling party's nominee. The seat was reserved for women this year after the delimitation process and went to Gulmaki Dalawzi Habib, who defeated the BJD's Samita Mishra by 3,256 votes.
Habib, who is a Business Administration graduate and a professional data entry operator, attributes her victory to people's trust and the mutual goal of Bhadrak's development. She claims to be a political novice but comes from a family with a political pedigree. Her husband, Sheikh Jahid Habib, is the BJD's district vice president.
"My uncle, aunts…they are all active in the political sphere for the last 30 years. My maternal uncle was a councillor and my maternal aunt was elected as vice-chairman many years ago. I even married into a politically active family. So it was impossible to be detached from politics as such but I had never in my wildest imagination thought that I would contest an election and even win it," Habib tells The Indian Express over the phone.
The 31-year-old is a resident of the town's Purana Bazaar area, which consists of half of the municipality's 30 wards. In the run-up to the polls, there was a strong demand to nominate a Purana Bazaar resident as locals allege that the area is ignored and left to its fate every time.
"I was born here and the place has not changed a bit. There has been no development in the area at all, be it roads or drainage…none of it has come to this part of the town," Habib says.
After the BJD did not nominate a candidate from Purana Bazaar, she decided to contest as an Independent. "I was reluctant initially since this was new for me. But people here know my family well and everyone insisted that I take this up. Their trust and cooperation throughout the journey, from filing the nomination to the counting day, ensured my win," Habib says.
Of the town's 1.21-lakh populace, 40 per cent are Muslims. It has witnessed two major riots in the past — one in 1991 in the lead-up to the Ramjanmabhoomi movement and again in 2017.
"I had the support of the people of Bhadrak, irrespective of religion," says Habib. "It is foolish to think that I won with the support of only one community. Nobody treated me any different. My brothers from the Hindu community campaigned for me, took to the stage to ask for votes. And I will work for everyone."
Asked about her objectives, the new chairperson says she wants to "work on ground issues" and ensure the overall development of the town.
Source: Indian Express
https://indianexpress.com/article/india/political-pulse/newsmaker-odisha-muslim-woman-bhadrak-civic-polls-7841287/
--------
Alleged creators of apps that put Muslim women 'up for sale' granted bail by Delhi court
March 29, 2022
A Delhi court on Monday granted bail to Niraj Bishnoi and Aumkareshwar Thakur, who are accused of creating separate apps that illegally posted photographs of Muslim women as part of an "online auction" aimed at harassing and abusing them, ANI reported.
The court said the accused men were first time offenders and their continued incarceration would be detrimental to their overall wellbeing.
Bishnoi is accused of creating an open-source app on the Microsoft-owned Github platform called "Bulli Bai", while Thakur is the alleged creator of "Sulli Deals" application. Both "bulli" and "sulli" are derogatory terms to describe Muslim women.
In January, images of more than 100 Muslim women were displayed on the app for auction as "Bulli Bai" of the day. This was the second such attempt in less than a year. In July, photographs of nearly 80 Muslim women were "put up for sale" on the "Suli Deals" application.
At Monday's hearing, the court also imposed conditions on the accused persons so that they do not threaten any witness or tamper with the evidence. The court directed Bishnoi and Thakur to provide their contact details and addresses to the investigating officers and to keep their phones switched on.
Deputy Commissioner of Police KPS Malhotra told IANS that the main grounds for granting bail to the accused men was that the forensic results and replies from intermediaries were still awaited.
"The trial court had relied upon the evidence against the accused persons and no shortcoming in the investigation was pointed out," Malhotra added.
Bishnoi has been named in a 2,000-page chargesheet filed by the Delhi Police as the "mastermind" who committed an "inhuman" act by targeting girls. He was arrested on January 6.
Thakur has been named in a 700-page chargesheet filed by the Delhi Police and faces charges under the Indian Penal Code pertaining to promoting enmity, causing disharmony and sexual harassment. Bishnoi is also facing similar charges. The Delhi Police had arrested him on January 9.
Source: Scroll
https://scroll.in/latest/1020599/alleged-creators-of-apps-that-put-muslim-women-up-for-sale-granted-bail-by-delhi-court
--------
Not Against Uniform, Allow Girls To Wear Same-Colour Hijab: Samastha Kerala Jamiatul Ulema
28th March 2022
KOZHIKODE: The Samastha Kerala Jam-Iyyathul Ulema has approached the Supreme Court challenging the Karnataka High Court's ruling that wearing hijab is not an essential part of Islam. Samastha, however, said it is not against the imposition of uniforms in educational institutions, but only wanted permission for Muslim girl students to wear headscarves of the same colour as that of the prescribed uniform.
In a special leave petition filed in the Supreme Court seeking a stay on the implementation of the High Court order banning hijab in classrooms, Samastha said "the Holy Quran speaks of a mandatory requirement for women to cover their head and neck on more than one occasion."
Quoting the two verses from Quran cited in the High Court order, Samastha said the HC "erroneously" took these two verses out of their context and put them together to hold that wearing hijab is not mandatory in the Islamic faith. There are authentic 'hadis' to prove "it is a farz (the commandments of Quran) for women to cover their head and neck and exposing the female body otherwise is forbidden."
The petition says the High Court erred in solely relying on the footnotes of Abdulla Yusuf Ali in his translation of the Quran in arriving at its conclusion. "Footnotes of Yusuf Ali are only his personal opinion about the Quranic verses concerned and their historic background. This opinion cannot be considered as a source of Islamic law," it said.
'Compulsion to remove headscarf contrary to ideas of pluralism'
Kozhikode: Making clear that it is not against the imposition of uniform in educational institutions, the petition said "the plea is only to permit Muslim girl students to wear a headscarf of the same colour as that of prescribed uniform along with the prescribed dress code."
Compelling girl students to remove headscarves and insisting that all students wear the same style of dress in classrooms are contrary to the noble ideas of pluralism and inclusiveness, the petition said. The high court passed the order on March 15 after controversy erupted over the ban on hijab in some colleges in Karnataka.
Source: New Indian Express
https://www.newindianexpress.com/states/kerala/2022/mar/28/not-against-uniform-allow-girls-to-wear-same-colour-hijab-samastha-2434904.html
--------
UAE: Woman demands Dh 1M compensation after losing foetus due to work stress
28th March 2022
Abu Dhabi: A woman in the United Arab Emirates (UAE) has approached a court seeking one million dirhams in compensation from her former employer for allegedly losing her foetus due to work stress, Sharjah police reported on Sunday.
According to the Abu Dhabi Court of First Instance, the woman had filed a lawsuit against the firm asking them to pay her a leave allowance of Dirhams 180,000, a bonus of Dirhams 694,000, a land commission of Dirhams 510,000, a 9-year building rental commission of Dirhams 500,000 for each year of the lease and an additional one million compensation.
In the details of the lawsuit, the woman claimed that she had been working day and night for the company for nearly 20 years at a wage of 77,000 Dirhams and was forced into early retirement. The woman also demanded that she be reinstated at the firm.
It is reported that when the firm called her to discuss her early retirement, the woman was not in a position to attend the meeting and submitted relevant health-related documents, requesting a postponement.
However, the company turned down her request putting her in a stressful situation that she claimed caused her to lose her foetus.
As reported by Khaleej Times, after considering the matter, the court had earlier ordered the firm to pay Dirhams 324,000 in unpaid wages, other allowances in addition to her end of service benefits, however, others were rejected.
The firm challenged the ruling in Abu Dhabi's appeals court which reduced the amount to Dirhams 165,000.
Source: Siasat Daily
https://www.siasat.com/uae-woman-demands-dh-1m-compensation-after-losing-foetus-due-to-work-stress-2298399/
--------
URL: https://www.newageislam.com/islam-women-feminism/spotify-arab-female-artists-times-square/d/126681
New Age Islam Islam Online, Islamic Website, African Muslim News, Arab World News, South Asia News, Indian Muslim News, World Muslim News, Women in Islam, Islamic Feminism, Arab Women, Women In Arab, Islamophobia in America, Muslim Women in West, Islam Women and Feminism