New Age Islam News Bureau
8 Jun 2017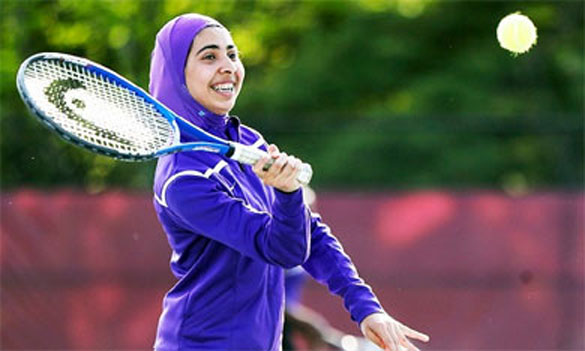 In this May 24, 2017, photo Tabarek Kadhim, a sophomore at Deering High School in Portland, Maine, wears a sports hijab while playing a tennis match.—AP
----
• Naelofar Hijab Now Part Of AirAsia Female Pilots' Uniform
• South Africa: Principal Instructed to Allow Muslim Pupil to Wear Hijab
• Toronto: Muslim Woman Screaming 'Allah u Akbar' Attacks Store Employees, Pledged To ISIS
• Saudi Arabia Jails Human Rights Activist Who Defied Women's Driving Ban
• Bangladesh: Teen Girl Killed By Brother Over Love Affair
• 30 School Girls Poisoned In Ghazni Province of Afghanistan
• American-Born Muslim Women Harassed in Chicago Restaurant
• Kenya Rape Trial Named as World's Worst Case for Women's Rights
Compiled by New Age Islam News Bureau
URL: https://www.newageislam.com/islam-women-feminism/sporty-hijabs-encourage-muslim-girls/d/111463
--------
Sporty Hijabs Encourage Muslim Girls to Hit Field of Play
08 June 2017
Muslim student athletes at one US high school no longer have to be slowed down by worries that their headscarves might fall off.
Deering High School in Portland, Maine, is providing sport hijabs with the goal of making Muslim girls comfortable and boosting their participation in sports. The lightweight scarves stay put and are less bulky than other hijabs, garments that cover the hair and are worn by many Muslim women to express their faith.
"We're more confident on the field," said junior lacrosse player Fadumo Adan. "This one doesn't fall off. No matter what I do, it won't fall off."
Tennis co-captains Liva Pierce and Anaise Manikunda raised more than $800 online to buy the sporty hijabs for their Muslim teammates after the school's athletic director learned of the product. They solicited private donations to avoid criticism for using taxpayer funds on religious apparel, and ended up with enough to outfit all teams, including lacrosse, soccer, volleyball, softball, field hockey and track.
The high school is believed to be the first in the United States to provide hijabs for Muslim athletes, as opposed to students providing their own headscarves, said Ibrahim Hooper, spokesman for the Council on American-Islamic Relations.
The move is part of a trend around the world of more Muslim women finding ways to play sports while wearing hijabs. Some Muslim countries, like Saudi Arabia, impose severe limitations on women engaging in sports, while cultural sensitivities and family opposition can also pose hurdles.
The International Basketball Federation and the international soccer organisation FIFA lifted bans on head coverings in recent years, and Ibtihaj Muhammad became the first American to compete at the Olympics while wearing a hijab when she won a bronze medal in fencing at the 2016 Rio Games.
Muslim students at Deering said they were grateful for the support at a time when Republican President Donald Trump has pushed to ban travel from several Muslim countries.
Israa Enan, a senior who was born in Iraq, said she stayed off the school's tennis team because her parents had concerns about the uniform and lack of hijab.
"I wished I was one of these girls who wear the hijabs and play with it, but it's OK," Enan said. "I'm too late now." She said she's "happy for the other girls who have the opportunity now to wear the hijab and be more comfortable doing the things they like to do."
Maine the nation's whitest state is becoming more culturally and racially diverse with immigration. There are about 10,000 African newcomers, mostly from Somalia and Sudan in Maine's two largest cities, while others have come from the Middle East.
The tennis co-captains are not Muslim, but Pierce said there was a "duh!" moment when she discussed the idea with Melanie Craig, the athletic director. "This makes so much sense. If there's something that we can do to make our teammates feel more comfortable, then why not just do it?" Pierce said.
Her Muslim teammates appreciated the effort. "There are some people who actually care, respect and love others, and they are actually accepting of others, which makes me really happy," said sophomore tennis team member Tabarek Kadhim, who moved to Maine four years ago from Jordan.
Nike announced last month that it'll begin marketing a sport hijab next year, bringing the product into the mainstream. But Craig didn't wait, finding a sport hijab manufactured by Asiya, a company that raised more than $39,000 in November to expand beyond selling locally in Minnesota.
Asiya is preparing to move manufacturing to New York to keep up with demand, said Fatimah Hussein, a Somalia native who coaches basketball and co-founded the business. The apparel company is named for Asiya bint Muzahim, a key figure in Islamic history known for standing up to injustice.
The market has potential: There are more than 610,000 Muslim women under 20 across the United States, according to the Pew Research Centre.
"We're hopeful that this does encourage more Muslim female athletes to participate," said Craig. "I do believe it has held some of them back. It takes courage for them to stand out here and honour who they are and their diversity. "
Source: https://www.dawn.com/news/1338247
--------
South Africa: Principal Instructed to Allow Muslim Pupil to Wear Hijab
6 JUNE 2017
A Cape Town school principal has been instructed by the Western Cape education department to allow a Muslim pupil to wear her hijab after he initially wrote a letter to her mother saying, despite his research into Islam, he could not find anything stipulating that a hijab must be worn.
"As a hijab is not part of De Grendel School's school outfit, according to the school conduct and school dress code policy, we cannot permit [the student] to wear such attire (a hijab) to school," De Grendel School of Skills principal, Renier Peterson, wrote in a letter at the end of May to a student's mother after her daughter was told to remove her hijab.
The WCED has since said the pupil would immediately be allowed to wear her hijab.
In the letter to the mother, Peterson explained that while he is "not familiar with all the different believes [sic] and cultures within the school", he decided to take it upon himself to find out more information from the Islamic Association of Raleigh about the Islamic month of fasting, Ramadaan and the "people of the Muslim religion".
Constitutional values on religious practice
He detailed what he had since learned about Ramadaan, including things that nullify the fast and things that are permissible.
"Unfortunately, I could not find any rule or recommendation that can proof [sic] the fact that wearing a hijab is compulsory during the month of Ramadaan," he wrote.
Peterson goes on to say that while he wanted to wish the parent well over Ramadaan, the hijab was not part of the school attire and allowing her to wear it would mean allowing an influx of other religious requests in terms of dress code, among other things.
When News24 contacted the school on Tuesday morning, the receptionist said that the principal did not wish to comment.
The pupil's mother also declined to comment on the matter, saying it had since been resolved.
Education department spokesperson Millicent Merton said that the department encouraged schools to follow the Constitution on issues pertaining to the school uniform, which says that headscarves and yarmulkes should not be prohibited as they form part of one's religious practice.
"The principal is newly appointed and will receive the necessary guidance on the issue. The learner will immediately be allowed to wear a headscarf," said Merton.
"According to the guidelines, schools should take religious and cultural diversity into account. We believe the simplest approach would be for the school to adjust dress codes to meet these requirements."
http://allafrica.com/stories/201706070158.html
--------
Toronto: Muslim Woman Screaming 'Allah u Akbar' Attacks Store Employees, Pledged To ISIS
JUNE 7, 2017
TORONTO – A Scarborough woman swore allegiance to ISIS in a Scarborough courtroom where she appeared to face allegations that she swung a golf club at hardware store employees while screaming threats and Islamic chants.
Before Tuesday's proceedings started, Justice of the Peace Alice Napier asked Rehab Dughmosh, 32, to identify herself in court — but the accused woman didn't initially answer the question.
"ISIS — I pledge to the leader of the believers — Abu Bakr al-Baghdadi," blurted the woman through an interpreter.
Al-Baghdadi is the leader of the Sunni militant jihadist group known as the Islamic State of Iraq (ISIS) and the Levant.
Dughmosh, who wore a black niqab and a forest-green prison sweat suit, agreed to "stay in jail," rather than have a bail hearing at College Park courts Tuesday.
Dughmosh was remanded in custody and will appear via video at Scarborough Court of Justice on June 21.
Sources told the Toronto Sun that a woman, wearing an ISIS bandana, allegedly entered Cedarbrae Mall in Scarborough Saturday afternoon and then the Canadian Tire store, where she walked to the paint section.
She allegedly ranted "Allahu Akbar" — God (Allah) is greater — before swinging a golf club at employees — at the same time of bloody terrorist attacks in London, sources said.
The woman was restrained by several employees, after she pulled out a large knife from under her clothing, according to police. The knife was pried from her hand and an employee suffered non-life-threatening injuries, said a police release.
Dughmosh is facing seven charges including two counts of assault with a weapon, assault, two counts of possession of a weapon, threaten death or bodily harm, and carrying a concealed weapon.
https://creepingsharia.wordpress.com/2017/06/07/toronto-muslim-allahu-akbar-mall-attack/
--------
Saudi Arabia jails human rights activist who defied women's driving ban
June 7, 2017
Saudi Arabia has re-arrested women's rights campaigner Loujain al-Hathloul, who is best known for her defiance of the kingdom's driving ban.
Ms al-Hathloul was detained at King Fahad International Airport in Dammam on the country's east coast near the border with Bahrain on 4 June and is expected to be taken to Riyadh for questioning by the Bureau of Investigation and Prosecution.
She has had no access to a lawyer and has not been allowed to contact her family, Amnesty International reported.
The exact reason for her arrest has not been made public but Amnesty said they believe it is due to her human rights activism in the country.
The 27-year-old is most famous for defying the kingdom's ban on female drivers after attempting to drive into Saudi Arabia from the United Arab Emirates.
Following the stunt she was arrested and detained by the Saudi authorities for 73 days.
She then went on to stand as a candidate in the 2015 Saudi election – the first time women were ever allowed to stand – but her name was never added to the ballot paper.
Samah Hadid, Director of Campaigns for Amnesty International in the Middle East, said: "The Saudi Arabian authorities' continuous harassment of Loujain al-Hathloul is absurd and unjustifiable.
"It appears she is being targeted once again because of her peaceful work as a human rights defender speaking out for women's rights, which are consistently trampled in the kingdom. If so she must be immediately and unconditionally released.
"Instead of upholding its promise of a more tolerant Saudi Arabia, the government has again shattered any notion that it is genuinely committed to upholding equality and human rights."
The kingdom is notorious for having one of the worst records when it comes to women's rights.
All women living in the kingdom are required to have male "guardians" – usually a male relative such as a husband, father or brother – who can decide whether they are able to work, go out in public and or study at university.
http://www.independent.co.uk/news/world/middle-east/saudi-arabia-woman-driving-ban-jailed-loujain-al-hathloul-activist-a7777696.html
--------
Bangladesh: Teen Girl Killed By Brother Over Love Affair
June 08, 2017
Locals said Tajul Islam, 20, found his sister Tamanna gossiping with her boyfriend Chan Mian after returning home around midnight
A teenage girl was slaughtered reportedly by her elder brother at Alichhara village of Gowainghat Upazila of the district on Wednesday morning for gossiping with her boyfriend.
The deceased is Tamanna Akter, 14, daughter of Abdul Hashim of the village.
Locals said Tajul Islam, 20, found his sister Tamanna gossiping with her boyfriend Chan Mian after returning home around midnight which angered him. This led to an altercation between the duo.
Following the incident, Tajul slaughtered Tamanna by their house around 8am, they said.
Md Delwar Hossain, officer-in-charge of Gowainghat police station said they recovered the body and sent it to Sylhet MAG Osmani Medical College Hospital for autopsy.
Tamanna had love affair with Chan Mian, said the OC.
Tajul was also arrested, he added.
http://www.dhakatribune.com/bangladesh/crime/2017/06/08/teen-girl-killed-brother-love-affair/
--------
30 school girls poisoned in Ghazni province of Afghanistan
07 2017
At least thirty school girls were poisoned in south-eastern Ghazni province of Afghanistan today, the local officials said.
The incident took place in a girl's school located in Jaghoori district and the health condition of the students has been reported as satisfactory.
Provincial governor Abdul Karim Matin confirmed the incident took place around 12 pm local time on Tuesday in Shahyar Sultan School located in Almito village.
He said the school girls were immediately shifted to the hospital and the majority of them have returned to their homes as receiving treatments.
The main reason behind the poisoning of the school girls has not been ascertained so far but governor Matin said an investigation is underway in this regard.
This is not the first time the school students have been poisoned in the restive provinces, including Ghazni province.
Over 80 students were poisoned in a school located in the central city of Ghazni late in the month of May.
Meanwhile, several unknown armed men destroyed a school located in Jaghoori district of Ghazni province by detonating explosives near the school compound around two weeks ago.
https://www.khaama.com/30-school-girls-poisoned-in-ghazni-province-of-afghanistan-02886
--------
American-Born Muslim Women Harassed in Chicago Restaurant
By Constance Renton
June 7, 2017
17-year-old Sawin Osman and three of her friends were just looking for a quiet place to enjoy their Iftar meal at Pedro's restaurant in Chicago on Monday. They ended up getting a lot more than they bargained for. After sharing the video with Yahoo News, Osman described the encounter in detail.
At some point in the evening a man who has not yet been identified noticed their headscarves and began making unsolicited remarks about them in front of the other patrons. He began with a disparaging remark about the weight of one young woman saying, "That girl could break a camel's back."
As one of the young women started to record the encounter on her mobile phone, Osman took exception to the remark and confronted the man about it. He became defensive then belligerent, telling her "You can go and beat it. If you don't like this country, leave."
Confused and offended, Osman replied, "It's our home too. What do you mean?" The exchange prompted one of Osman's friends to call the man "disgusting," which made the made rise from his seat.
Fearing an physical escalation of the incident, the young women beat a hasty retreat from the restaurant. Incensed at their departure, the man yelled "F***ing goddamn, camel-jacking mother f***ing c***s!"
So far, no comments have been issued by the restaurant's management.
Osman herself comes from a bi-religious family. "We live in a very charged climate. I think the furor at the presidential level has sort of exacerbated this feeling and given a platform for those who might not have spoken out so aggressively," said Osman's mother, Catherine Bronson, a professor of Islamic Studies at the University of Notre Dame.
As for Osman herself, she described her feelings this way:
"It's honestly very terrible and disgusting, especially the comment, 'If you don't like it, then just leave.' I mean I was born here. I was raised here. Leave to where?" She concluded by reminding people watching the video and reading her story that "Just because we have the headscarf on doesn't mean we're not from here."
https://www.moroccoworldnews.com/2017/06/219106/american-born-muslim-women-harassed-chicago-restaurant/
--------
Kenya rape trial named as world's worst case for women's rights
7 June 2017
LONDON: A Kenyan man's acquittal for having sex with a 13-year-old because she seemed willing was named on Wednesday as the world's worst court decision for women's rights in the past year.
It beat off tough competition from Europe — where an Italian woman did not scream loud enough to prove her rape — and an Asian ruling that restricted birth control to Philippine women.
The Gender Justice Uncovered Awards recognize court decisions that affect the rights of women and girls around the world, in both good and bad ways.
The Kenyan judge in the most egregious case ruled that if only the age of victims was taken into account, "young girls would freely engage in sex and then opt to report to the police whenever they disagree with their boyfriends."
According to court documents summing up the April 2016 judgment, age is immaterial if a girl acts beyond her years.
"Where the child behaves like an adult and willingly sneaks into men's houses for purposes of having sex, the court ought to treat such a child as a grown up who knows what she is doing."
The awards cover all aspects of gender equality, including those related to sexual and reproductive rights, violence, and discrimination. Cases under consideration came from as far afield as Uruguay and Chad, with all continents represented.
"In every country, political systems, traditions, and religious beliefs inform the decisions of judges, who have the power to affect women and girls' rights, for better or for worse," Blakeley Decktor — a lawyer at women's rights organization Women's Link, which gives out the awards — told the Thomson Reuters Foundation.
"The public has sent a clear message that they will not tolerate courts all over the world discriminating against women and girls and failing to protect their rights," she said.
A Spanish court which ruled that the law should treat men and women differently — citing domestic violence, pension and divorce cases — was praised as the best decision.
Many of the rulings, which were nominated by members of the public, related to sexual assault cases.
In March, a survey of laws in 73 countries found rapists could avoid punishment if they married their victim in at least nine jurisdictions, including Bahrain, Iraq, Philippines, Tajikistan and Tunisia.
United Nations data suggests a third of women worldwide have suffered sexual or physical violence, and one in 10 girls have been raped or sexually assaulted.
http://www.arabnews.com/node/1111486/world
--------
URL: https://www.newageislam.com/islam-women-feminism/sporty-hijabs-encourage-muslim-girls/d/111463
New Age Islam, Islam Online, Islamic Website, African Muslim News, Arab World News, South Asia News, Indian Muslim News, World Muslim News, Women in Islam, Islamic Feminism, Arab Women, Women In Arab, Islamophobia in America, Muslim Women in West, Islam Women and Feminism