New Age Islam News Bureau
26 March 2013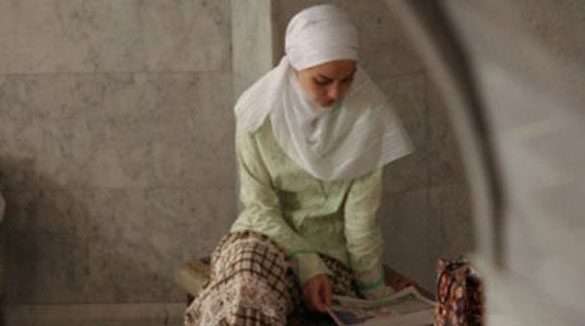 Photo: Spiritual Management of Muslims in Kazakhstan Explains Right to Wear Hijab
-----------------
• Israeli dancer choreographs tribute to Delhi gang rape victim
• Topless Tunisian Femen Protester Amina 'Admitted To Psychiatric Ward by Her Family'
• Nigeria: Youth Leader Seeks More Investment in Women, Girls
• French Want Tougher Anti-Veil Laws
• 0ver 900 Communities Abandoned Female Circumcision in Gambia
• Pre-Marriage Genetic Blood Tests Cast Unwarranted Doubt on Young Women's 'Virtue'
• Pakistan's female Rangers: Life on the base
• Family Size Negatively Impacts Girls' Enrolment: Study
• Cosmetic Surgery Rising Among Saudi Women
• Child Rape Protesters Call on Tunisia Minister to Quit
• Egypt's Future in a Brave Little Girl's Hands
• IDs a Must for Saudi Women
• Salvation Front Forms Permanent Women Rights Committee
• The Restoration of Human Dignity in the Women of Yemen
• Afghan Women Tell Kerry of Security Fear
• Women Project in Riyadh to Share Knowledge
Compiled by New Age Islam News Bureau
URL: https://newageislam.com/islam,-women-and-feminism/new-age-islam-news-bureau/spiritual-management-of-muslims-in-kazakhstan-explains-right-to-wear-hijab/d/10905
---------------
Spiritual Management of Muslims in Kazakhstan Explains Right to Wear Hijab
26.03.2013
The Spiritual Management of Muslims of Kazakhstan has explained the rights of Muslim women to wear Hijabs and declared that it does not contradict with the country's laws, Azan.kz writes.
The Spiritual Management issued a fatwa in relation to many requests from different organizations regarding Hijabs and related problems. The first part of the fatwa has a religious justification of Muslim women's obligation to cover their body, except for hands and face when in the presence of men who are stranger to them. The fatwa writes that "this has always been part of traditional Kazakh women behaviour, despite of the attempts to scratch out these facts from the history of Kazakh people that are made by Hijab antagonists". Kazakh women have traditionally worn a scarf or kimeshek (Kazakh national headdress) and modest clothes that covered the whole body.
According to the Spiritual Management, the correct way to wear clothes in compliance with Shariat is to wear the above-mentioned set. Which is similar to Arabic outfits minus niqab (face-veil covering all but the eyes) to create a positive image of Islam in Kazakhstan? "Kazakh's culture is unique and traditional Kazakh clothes for women always complied with Shariat principles. That's why there is no need to copy Arab or Pakistani styles. The most important is to make sure that the Aurat (the parts of the body that have to be covered according to Shariat laws) is covered," the fatwa writes.
Citing the Kazakhstan law On religious activities and religious unions, the Spiritual Management of Muslims of Kazakhstan notes that "forcing someone to take the head cover off, as well as non-admission to studies because of their refusal to take the head cover off is considered an obstruction to lawful religious activities, violation of the civil rights of the individuals on the grounds of biased attitude to a religion and insult to their religious feelings".
The Spiritual Management also notes that "the right to wear a head cover is "the civil right of individuals grounded based on their attitude to a religion". And the head cover itself is "the object honoured by the followers of certain religions" and tearing it off from the head or a demand to take it off is considered a defiling of this object and insult to religious feelings of Muslim women and all Muslims, which is strongly prohibited by this law".
In this relation the Spiritual Management considers it unlawful to oppress Muslims in relation to Hijabs, as their rights are reserved by the law. First of all, this is related to the cases when employers or educational facilities try to prohibit wearing of Hijabs.
http://en.tengrinews.kz/religion/Spiritual-Management-of-Muslims-explains-right-to-wear-hijab-in-Kazakhstan-17957/
---------------
Israeli dancer choreographs tribute to Delhi gangrape victim
Mar 26 2013
New Delhi : The December 2012 brutal gangrape of a 23-year-old in Delhi has touched a chord with a group of dancers from abroad, who are launching a project to train local women to dance and perform with them in schools and colleges across India.
The project managed by Israeli choreographer, dancer and teacher, Shaked Dagan assembles a cast of women, representing five countries (Israel, Denmark, USA, Poland, Canada) and different performative and artistic fields (music, dance, theatre, video art and more).
For a period of two months, the group plans to stay in the village of Challal in Himachal Pradesh, and create a performance piece to be performed in schools, and open shows for audiences around India.
"At this point of time in my career I needed to change my path and follow my dreams. When the project was being formulated by me, the gangrape incident on December 16 took place, which shook not only me but the entire world outside India and I suddenly found my project's aim which was women empowerment which I would want to do through dance and spread awareness among people," says Shaked.
The troupe of seven women includes Ayelet Yekutiel from Israel, Carson Reiners from US, Birgitte Lundtoft from Denmark, Keren Bossin from Israel, Kaeridwyn Newman from Canada and Monika Smekot from Poland.
Dagan says her teammates will undergo a formal training in Indian classical dance and vocals.
"A few Indian classical dancers and vocalists have come forward to help us train and we plan to train for atleast 10 to 15 days and adapt ourselves accordingly," says the choreographer.
This unique project to empower women through dance and music is also being made into a documentary by an Israeli documentary filmmaker, Eyal Ben Zeev.
"The entire workshop and our daily living and surviving in Himachal will be documented by him from Day 1," says Shaked.
The young choreographer is hopeful that people will come forward to see their performance and if it is a success in India then she would like to take her troupe across the world to sensitise the people about women empowerment and will hold such projects across the world.
"My main focus is right now India, because it is the need of the hour to spread the message of women empowerment more. These cases from India never used to be flashed in the Western media but now the gangrape case being spread across the world by media has opened our eyes and we need to do something about it. What better way to make people understand is through dance and music," says Shaked.
http://www.indianexpress.com/news/israeli-dancer-choreographs-tribute-to-delhi-gangrape-victim/1093587/
-------------
Topless Tunisian Femen Protester Amina 'Admitted To Psychiatric Ward By Her Family'
Huffington Post UK | By Sara C Nelson
25/03/2013
A 19-year-old Tunisian activist who was threatened with death by stoning after posting topless pictures of herself online has reportedly been admitted to a psychiatric hospital.
The woman, known only as Amina, posted the photographs - including one of herself with the words "Fuck your morals" written across her chest, to the Femen-Tunisian Facebook page.
Another image showing her smoking a cigarette with: "My body belongs to me, and is not the source of anyone's honour", written in Arabic script across her bare chest, was also posted.
As a prominent preacher called for her death by stoning, Femen leader Inna Shevchenko told The Atlantic she has received reports Amina had been "delivered by her parents to a psychiatric hospital in Tunis."
Shevchenko told the online newspaper: "Amina and I were in contact by phone until four days ago, when she disappeared.
"Her phone went dead and her Facebook page was removed, which also meant I lost all my correspondence with her. I can't get hold of her."
Shevchenko added she had been alerted to a video in which Amina's aunt claimed the aspiring Femen member "is now with her family. She had decided to kill herself and so posted nude pictures of herself online."
Shevchenko described the move as "a typical way of reacting to a woman's demand to be free - they say she's gone crazy or is being too emotional."
On March 16, Amina appeared on the popular Tunisian talk show 'Labes' to discuss her desire to bring Femen to Tunisia, Jezebel revealed. (Scroll down for video)
Twitter user Saida Manoubia points out the programme host suggested committing Amina to an institution during his interview.
Hundreds of women have since submitted topless pictures of themselves to the Femen Facebook page supporting Amina. The organisation has had to blur the nipples of the women featured to comply with Facebook rules on nudity.
Following the publication of the pictures, Tunisian newspaper Kapitalis quoted the Wahabi Salafi preacher Almi Adel, who heads the Commission for the Promotion of Virtue and Prevention of Vice, saying: "The young lady should be punished according to sharia, with 80 to 100 lashes, but [because of] the severity of the act she has committed, she deserves be stoned to death.
"Her act could bring about an epidemic. It could be contagious and give ideas to other women. It is therefore necessary to isolate [the incident]. I wish her to be healed."
If she committed the offence in Tunisia, Amina could be punished by up to two years in prison and a fine of 100 to 1,000 dinars [between £40 and £400], local media said.
A petition and an international day of action on April 4 to highlight the threats against Amina have been organised by activists.
http://www.huffingtonpost.co.uk/2013/03/25/topless-tunisian-femen-protester-amina-psychiatric-ward--femen-_n_2949465.html?utm_hp_ref=mostpopular
---------------
Nigeria: Youth Leader Seeks More Investment in Women, Girls
25 MARCH 2013
Mr Abubakar Bachaka, the Chief Whip of the Nigerian Youth Parliament, has said that investing in women and girls can help to promote gender equity in Nigeria.
Backaka made the statement in Abuja on Monday in a telephone interview with the News Agency of Nigeria (NAN).
He said women's rights were guaranteed by the law and as such gender discrimination and violence against them violated their fundamental human rights, equity, justice and good governance.
He identified traditional acts, such as female genital mutilation, child marriage, widowhood practices, among others, as forms of discrimination and violence against women.
Backaka called for more investment in women in the area of education and proper health care delivery to promote gender equity in Nigeria.
He said: "violence against women is the most discriminating form of gender inequality in Nigeria.
"It is important for governments at all levels to invest more in women and the girl child, as means to achieve growth of gender equity.
"Gender discrimination can affect the girl-child and women throughout their lifetime; they are often the ones that suffer most.
"This is not a problem of Northern Nigeria versus Southern Nigeria; it is a national issue which governments must tackle to strengthen the nation building process.
"Investing in women and girls will help to increase the nation's productive capacity and boost sustainable gender equity," he said.
Backaka advised governments to make laws to punish people indulging in discrimination and violence against women to serve as deterrent.
"Law has a major role to play in ensuring social change and should be seen as a catalyst in development of our citizenry, especially women and children.
"Governments must establish laws to protect women and girl-child," he said.
Backaka said plans were underway by the parliament to organise a seminar to promote the fight against discrimination and violence against women.
http://allafrica.com/stories/201303260315.html
---------------
French Want Tougher Anti-Veil Laws
26 March 2013
PARIS – Putting the Islamic headscarf in the heart of a new controversy, a new poll has found that more than 80% of French people supported imposing tougher anti-hijab laws in the European country, demanding extended ban on the outfit in the private sector as well.
Eighty six percent of French people back introducing legislation that would ban "all signs of religious or political affiliation" in private schools and nurseries, a new survey which was conducted by French marketing and opinion centre BVA and published in the daily "Le Parisien" was cited by France 24 on Monday, March 25.
According to the same poll, 83 percent support imposing a law making it illegal in all privately-owned businesses.
The results of the survey are expected to put the debate over the Islamic veil back in France.
The French obsession with the Islamic veil in all its forms is partly rooted in the country's attachment to secularism.
Full report at:
http://www.onislam.net/english/news/europe/461973-french-want-tougher-anti-veil-laws.html
---------------
0ver 900 communities abandoned female circumcision in Gambia
26 March 2013
FGM/C is defined as "the practice that involves partial or total removal or alteration of the external female genital organs for non-medical reasons."
From 2007 to 2011, over 565 communities all around the Gambia dropped the knife of female circumcision.
The first dropping of the knife, a public ceremony in which the circumcisers publicly declare their abdication of the practice, was held in 2007. The second one in 2009, and the third one was held in 2011.
Again, 30 circumcisers from 336 communities from Central River Region (north) have recently abandoned the harmful traditional practice and are also going to make a public declaration to that effect.
Full report at:
http://en.starafrica.com/news/over-900-communities-abandoned-female-circumcision-in-gambia.html
---------------
Pre-Marriage Genetic Blood Tests Cast Unwarranted Doubt on Young Women's 'Virtue'
26 March 2013
One day in 17-year-old Amani Mosed's high school class, her teacher presented a lesson about hereditary illnesses. These genetic ailments, such as sickle cell anaemia and thalassemia, are found in Yemen where their prevalence is related to the custom of marriage within families and between cousins.
If untreated, genetic disorders can be fatal.
To reduce the chance of inherited diseases, Amani's teacher advised her class to get blood tests before they marry, to be sure that they will not pass any defective genes to the next generation.
It's a simple test - a small drop of blood is drawn and goes through a routine analysis - the teacher assured her students.
But even though Amani is engaged to her cousin, there's no chance she will undergo an examination.
Full report at:
http://www.yementimes.com/en/1661/health/2142/Pre-marriage-genetic-blood-tests-cast-
---------------
Pakistan's female Rangers: Life on the base
By Sara Faruqi
March 25, 2013
Since the inception of Pakistan, women have been a part of the military service. Whether it has been a part in the healthcare or logistics sector or more recently in combat units and as fighter pilots, women have played a role.
In 2008 the Punjab Rangers announced their intentions to recruit women. A Rangers official, who did not want to be identified, remarked this move was made by then president, Pervez Musharraf, as part of his "enlightened moderation" agenda. However, since the first batch of female Rangers were inducted; there have been no more recruiting calls. Of the 30 or so female Rangers living on base at the Punjab Rangers headquarters, majority of them are still on the Sepoy ranking. In the last five years, only a handful have been promoted to the Sub-inspector position. The duties these women perform vary from protocol for female VIPs, duty at the Wagah and Ganda Singh Border and administrative work. "One wonders why there has been no recruitment since 2008," remarked the same officer.
Full report at:
http://dawn.com/2013/03/25/pakistans-female-rangers-life-on-the-base/
-------------
Family size negatively impacts girls' enrolment: Study
March 26, 2013
Beside poverty, social, cultural and administrative factors must also be addressed to improve girls' education in Khyber-Pakhtunkhwa (K-P). This was the crux of a seminar discussion on Monday, according to a press release.
Titled "Female Education in Khyber -Pakhtunkhwa" the seminar was organised by Sustainable Development Policy Institute (SDPI) to launch an impact assessment study to study the outcomes of a stipend programme. Initiated by the K-P government, a stipend of Rs200 was given to each girl in sixth to 10th grades from 2006 onwards to increase girls' enrolment in secondary schools across the province under the programme.
Full report at:
http://tribune.com.pk/story/526333/family-size-negatively-impacts-girls-enrolment-study/
---------------
Cosmetic surgery rising among Saudi women
26 March 2013
There has been a noticeable rise in the demand for cosmetic surgery in the Kingdom as Saudi women succumb to the bombarding conceptions of beauty and perfection propagated by mass media.
According to a study conducted by the International Society of Aesthetic Plastic Surgeons (ISAPS), Saudi Arabia ranks 22nd among the top 25 countries with the highest rates of cosmetic procedures in the world.
The study revealed that Turkey and Saudi Arabia are the only Muslim countries with a total number of 104,767 and 46,962 surgical procedures performed in 2011 respectively.
Full report at:
http://www.arabnews.com/news/446089
---------------
Child rape protesters call on Tunisia minister to quit
Tunisian demonstrators accuse government minster of defending a children's nursery where a young girl was raped calling for her resignation
25 Mar 2013
Protesters on Monday demanded the resignation of Tunisia's minister for women's affairs, Sihem Badi, accusing her of defending a children's nursery where a three-year-old girl was raped.
The protesters, among them relatives of the victim, gathered outside the ministry in Tunis shouting slogans against Badi, including "Minister of shame, get out!" and "Ministers who protect paedophiles have no place among us."
The young girl was raped repeatedly by the caretaker of the nursery in La Marsa, an upscale suburb of the capital, according to the police.
Full report at:
http://english.ahram.org.eg/NewsContent/2/8/67717/World/Region/Child-rape-protesters-call-on-Tunisia-minister-to-.aspx
---------------
Egypt's future in a brave little girl's hands
26 March 2013
As soon as I landed in Cairo, I could feel the heaviness of life, economy, politics and breath. It didn't take long for the first Egyptian to blurt out that things were "better under Mubarak's dictatorship than they are in the Muslim Brotherhood's lair." A slew of similar observations followed, mostly from poor people like a taxi driver who told me he sometimes works all day long to barely avoid sending his kids to sleep hungry. Not that life was much better before, but now they are "unbearable," he said as he asked god's forgiveness for wishing death over "this life of indignity!"
After spending a few days around Cairo the reality sinks in: Egypt is at a dangerously boiling point only waiting for a major explosion to occur, and its people are on edge. We've seen the danger and insecurity in the streets where knife-wielding gangs break into groups. The outcome can be anything between intimidation and threats until they're paid off to leave or beating and even killing.
Full report at:
http://english.alarabiya.net/en/views/2013/03/26/Egypt-s-future-in-a-brave-little-girl-s-hands.html
---------------
IDs a must for Saudi women
26 March 2013
The Council of Ministers yesterday issued a new law making independent national identity cards mandatory for Saudi women within a period of seven years. Saudi males 15 years old and older should also obtain separate identity cards.
"A Saudi citizen completing 15 years of age must have a national ID card of his own, and this shall be optional for those between 10 and 15 years," the new law said. The card shall be issued on the basis of the Central Civil Registry.
The new law added: "A Saudi woman must have a national ID card on the basis of a phased plan, but without exceeding seven years. Afterwards, a national identity card shall be the only way to prove her identity."
Full report at:
http://www.arabnews.com/news/446108
---------------
Salvation Front Forms Permanent Women Rights Committee
25 MARCH 2013
Egypt's National Salvation Front (NSF) announced on Sunday that it has formed a permanent committee to defend women's rights and address the attack on their entitlement to these rights.
"The targeting of women is in fact an attack on the identity of the nation. It curbs the goals of the revolution, which were highlighted in the calls for freedom, dignity and social justice," said a statement issued by the NSF.
The statement added that the "latest months have seen an unprecedented uptick in the severity of aggression on women and their rights in Egypt."
The statement said that violence against women is part of the violence that is currently inflicted upon all Egyptians by the ruling authority.
Full report at:
http://allafrica.com/stories/201303252253.html
---------------
The Restoration Of Human Dignity In The Women Of Yemen
25 March 2013
It is characteristic of the American condition that we want to save the world. This may be seen economically, politically, in terms of human rights, consumption of resources, education or healthcare - any way one chooses. Like the missionaries that knock on my door every week, the idea that America has "got it" and can save the world based on whatever "it" is, is often the product of good intentions and a genuine desire to help others. Yet this desire is often founded on a superficial knowledge, at best, of other peoples and can do genuine damage in movements that are gaining their own home-grown momentum - by speaking languages we don't bother to learn or understanding social systems we dismiss as "primitive".
It can be argued that the lives of women are an arena in which this pattern of "saving" is quite visible, and it has not gone unnoticed. Yemen is a country with a violent and beautiful history, whose women are often not given the opportunity to speak about their own lives to the wider world. The lives of women in Yemen gain international attention when issues like child marriage arise - such as in the vivid portrayal given by Nujood Ali in her book I am Nujood, Aged 10 and Divorced - or that of the role of women in Yemen's revolution as part of the recent Arab Spring.
Full report at:
http://www.yementimes.com/en/1662/opinion/2154/The-restoration-of-human-dignity-in-the-women-of-Yemen.htm
---------------
Afghan Women Tell Kerry of Security Fear
By Anne Gearan
26.03.2013
KABUL — Accepting a challenge from the captain of the Afghan women's soccer team, Secretary of State John F. Kerry playfully hit a header Tuesday while hearing the success stories of a handful of Afghan women entrepreneurs.
"Hey!" Kerry called when he hit his shot and directed the ball to Zahra Mahmoodi, a founding member of the women's team in 2006 who told him girls were not allowed to play soccer during the reign of the Taliban. Now they play regular matches, but only before select crowds, mostly of family members, because women playing sports outdoors is still taboo in much of the country.
Full report at:
http://www.washingtonpost.com/world/afghan-women-tell-kerry-of-security-fear/2013/03/26/ab60d1b4-95e9-11e2-8219-3a24602783a7_story.html
--------------
Women project in Riyadh to share knowledge
26 March 2013
Women in Riyadh recharged their intellectual selves recently at the Women's Skills Bureau's (WSB) Making Connections program. The event was held at the Outback Steakhouse and the theme was "Collaboration," with the idea that women can find common ground and share resources and experiences through their time in Riyadh.
Women's Skills Bureau Director, Sarah Hassaine, welcomed guests and explained the rationale behind Collaboration and detailed the event's structure.
WSB contends that the overall participation of expatriate spouses in the community holds self-evident advantages for all members of various cultures in the Kingdom. Through interaction and sharing, WSB is creating a medium for knowledge-sharing and cultural understanding that builds stronger and more creative teams and output.
Full report at:
http://www.arabnews.com/news/446091
---------------
URL: https://newageislam.com/islam,-women-and-feminism/new-age-islam-news-bureau/spiritual-management-of-muslims-in-kazakhstan-explains-right-to-wear-hijab/d/10905