New Age Islam News Bureau
11 Nov 2017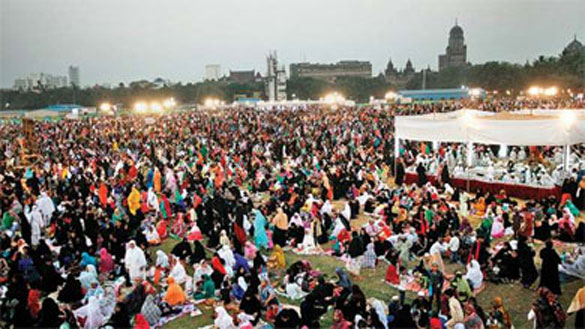 Large number of Muslim women was seen at the annual Sunni Ijtema on Friday (DNA)
------
• Spend On Education For Girls, Not Marriage, Says Maulana Shakir Ali Noorie
• Headscarf Ban Unfair and Discriminatory To Muslim Women — Hazlin Chong
• Teacher Suspended After Video Posted Of Schoolgirl's Hijab Being Removed
• Discrimination against Muslim Women In EU States Spreading Like A Virus, Erdoğan Says
• Maintenance Course to Teach Saudi Women How To Repair Cars
• Reducing Water's Heavy Burden off Kohistani Women's Shoulders
• Story of Hindu Woman Who Converted to Islam to Live With Muslim Man as His Fourth Wife
• Zardari Calls to Enlist Women Voters Missed In Electoral Rolls
• Angelina's Animated Film about Afghan Girl Hits Screens This Month
• Iran: Plundered Women and Men Protest In Gatchsaran
Compiled by New Age Islam News Bureau
URL: https://www.newageislam.com/islam-women-feminism/spend-education-girls-marriage-says/d/113190
--------
Spend on education for girls, not marriage, says Maulana Shakir Ali Noorie
Nov 11, 2017
Spend more money on education when it comes to choosing between a girl's education or her marriage. This was one of the many answers heard on the first day of the 27th annual Sunni Ijtema that saw thousands of Muslim women gather to seek religious answers to their questions at Azad Maidan on Friday.
An Ijtema is popular among Muslims as it gives them an opportunity to seek religious answers and knowledge about Islam. An Islamic scholar, who is entitled to give answers, addresses numerous questions that are of concern to the community.
On Friday, which was the first of the three-day conference, was reserved only for women and their issues. Among the issues raised were spending on education and marriage of a girl, superstition, marriage, mehram, and divorce. The other two days which are mainly for men will have topics like roles and responsibility of Muslim community, attributes of a good Muslim, laws of inheritance and rights of Prophet.
"If you have doubts on how much money you should spend on education and marriage of a girl, spend it on education. There is no better gift that can be given to children than education," said Maulana Shakir Ali Noorie, president of Sunni Daawate Islami.
On divorce, the Maulana said that it is among the things disliked By God. "Divorce has to be done in a process. If a person has given a divorce, the parties have to first try to amicably resolve the issue. If that does not work, then families of the two should be called to resolve the issue," said Shakir.
http://www.dnaindia.com/mumbai/report-spend-on-education-for-girls-not-marriage-says-maulana-shakir-ali-noorie-2559196
--------
Headscarf ban unfair and discriminatory to Muslim women — Hazlin Chong
November 10, 2017
NOVEMBER 10 — In light of the recent news concerning the banning of headscarves amongst hotel employees [1], the International Women's Alliance for Family Institution and Quality Education (Wafiq) sees the hijab ban as discriminatory and unnecessary, while questions the need for such restriction in Malaysia where Muslims make up the majority of its citizens.
Recently, we have been made aware that employees from certain hotels are forbidden to wear the headscarf at work, based on complaints made to the Malaysian Labour Centre of the Union Network International (Uni-MLC). There were also reports on students being advised to remove their headscarves to apply for internship. Wafiq also receives feedback by hotel employees across Malaysia that have faced similar situation where wearing the headscarf at work is disallowed. Some are not even "front-liners" (i.e. those who interact directly with hotel guests) and work "in the background", but the no-headscarf policy still applies to them.
Given that Muslims comprise of approximately 60per cent of the multi-diverse Malaysian population, banning headscarves shows insensitivity towards the Malaysian culture and religious needs of its people. Many Muslim women choose to adorn the hijab as a fulfilment to the Islamic faith, and can easily be spotted across the country, both in rural and urban areas alike. Companies who choose to commit to such ban show an ill understanding of the above reality. This also reflects poorly on their diversity and equality policy.
Wafiq learns that the majority of the headscarf bans come from 5-star international chain hotels, of which local owners are required to adhere to a set of rules and regulations set by the headquarters. This includes what employees should and should not wear, which unfortunately translates into the banning of headscarves.
However, it is not impossible for the hotel owners to raise this particular matter to the headquarters for some change or flexibility in their policies that allow employees to adhere to both their religious and work requirements. Wafiq does not see wearing the hijab as deterrence to any Muslim woman to perform her best at work any more than a person who does not wear the headscarf.
Therefore, Wafiq urges hotel owners and those of similar position in any other industry to be sensitive to their employees' needs to uphold their religious beliefs, including the wearing of headscarves. We need to understand that such ban is a blatant form of religious discrimination, and suggestive of Islamophobia. Both of these elements are not Malaysian, and should never be part of any company or entity that values respect and cultural and religious sensitivity in their workplace.
* Reference: [1] "Improper tu ban headscarf at workplace, says MEF". Free Malaysia Today, 7 November 2017.
** Hazlin Chong is the secretary of International Women's Alliance for Family Institution and Quality Education (Wafiq).
http://www.themalaymailonline.com/what-you-think/article/headscarf-ban-unfair-and-discriminatory-to-muslim-women-hazlin-chong#Z4SoqWG0CiC3VKax.97
--------
Teacher suspended after video posted of schoolgirl's hijab being removed
Nov 11, 2017
A teacher has been suspended after video footage was reportedly posted from one of her social media accounts, showing a schoolgirl having her hijab removed.
Film of the girl clutching her head as the religious headscarf is pulled off, appeared on the educator's Snapchat feed, alongside the caption "pretty hair".
A second video was then posted with the caption: "Lol all that hair cover up!!!"
The video was recorded at the New Vision Academy Charter school in Nashville, WSMV-TV reported.
The incident was first brought to light after someone spotted on the teacher's Snapchat account and sent it to the Tennessee news channel.
Before their suspension, the teacher had denied making the video and said the girl's hijab was not removed out of disrespect, said the school's head, Tim Malone.
They have nonetheless been suspended without pay while the incident is investigated.
"The actions depicted in the Snapchat video do not reflect the values, culture or climate of New Vision Academy," Mr Malone said in a statement.
He added that the school would "continue to emphasise that all staff members act in a way meant to empower and inspire our students," and "use this video as an opportunity to press forward with increasing cultural sensitivity and awareness among all members of the New Vision community."
He added that the school apologised for the "unfortunate incident" and said it "will be better in the future".
http://www.independent.co.uk/news/world/americas/teacher-schoolgirl-hijab-take-off-muslim-suspended-nashville-tennessee-new-vision-academy-charter-a8047686.html
--------
Discrimination against Muslim women in EU states spreading like a virus, Erdoğan says
Nov 11, 2017
President Recep Tayyip Erdoğan criticized discrimination against Muslim women in EU states on Friday, saying headscarves are gradually being banned with a public - personal space trick, in an attempt to bar Muslim women from entering social life.
Erdoğan's words came at a women's entrepreneurship event held for the Organization Islamic Cooperation's (OIC) Women's Advisory Council at the Presidential Palace complex in Ankara.
"Attempts to incarcerate Muslim women in their homes is spreading like a virus," Erdoğan said.
"Today, most EU countries actively restrict Muslim women from working and getting access to education. Those who are teaching us lessons on human rights are unfortunately applauding as the most basic human rights are being trampled in their countries," the President said.
Erdoğan also said Turkey has spent $30 billion on refugees from Syria and Iraq alone, whereas the EU has pledged to give 6 billion euros for the refugees, but gave only 800 million euros so far.
"As developed countries are searching for peace and comfort with strict security policies behind high walls, Turkey has embraced millions of people regardless of their ethnicity, religion, language and sect," he said.
https://www.dailysabah.com/diplomacy/2017/11/10/discrimination-against-muslim-women-in-eu-states-spreading-like-a-virus-erdogan-says
--------
Maintenance course to teach Saudi women how to repair cars
10 November 2017
RIYADH: Technical and Vocational Training Corp. (TVTC) Gov. Ahmed bin Fahd Al-Fuhaid revealed that the corporation is preparing education and night courses to teach women how to repair cars in urgent situations.
Saudi women welcomed the initiative saying that it is something they really need if they get driving licenses in June. They said that they have no idea about repairing cars and in case their cars break down, they would be calling their fathers for help.
http://www.arabnews.com/node/1191251/saudi-arabia
--------
Reducing water's heavy burden off Kohistani women's shoulders
By Pooja Dawani
Nov 11, 2017
Most of the time we take the running water in our homes and surroundings for granted. We are so accustomed to not having to worry about water that we can hardly imagine having to walk miles every day to access clean, safe water for drinking, cooking, washing or bathing. But an approximate 2.1 billion people around the world face this challenge every day according to a report from UNICEF and the World Health Organisation. And both the physical and time burden of water-hauling primarily falls on women and girls who make up 72% of those tasked with fetching water.
In the dry and arid land of Kohistan, a town within Thatta district in Sindh, the situation is similarly dire.
Millions of people from urban and rural communities in Thatta face a severe water crisis, and some towns, including Kohistan, are impacted more than others. The continuous shortage of water has resulted in rural communities resorting to using unsafe water from wells, canals and hand pumps. Not only is this water unhygienic, women have to walk for miles searching and collecting water, carrying back heavy containers in scorching temperatures. Young girls join this effort when they are old enough, sometimes having to skip school, and both women and girls spend countless hours to access this basic life necessity.
In Kohistan, the main sources of water for drinking, livestock and irrigation are springs and dug wells along with the rainwater reservoirs. Responsibility of maintaining the rainwater reservoirs usually falls on the residents, and these have remained non-functional for some time now.
Recently, Coca-Cola has partnered with Indus Earth Trust (IET) for the 'Water for Women' project aiming to provide access to water in Kohistan through replenishment of groundwater and harvesting rainwater to the remote communities in the district. This will mainly be done by focusing on water harvesting through 28 water reservoirs and rehabilitating 10 existing dug wells along with capping and installation of hand pumps.
An in-depth baseline survey was conducted in Kohistan to collect information on socio-economic characteristics, and Water Sanitation and Hygiene (WASH) status in households and schools before the project started. Through this survey, it was found that 92% of women from the surveyed households are responsible for fetching water using containers weighing 15-20 kilograms, walking 6 to 20 kilometers in temperatures ranging up to 45 degrees on their heads and shoulders. In contrast, only 8% of men collect water on their donkey carts.
Along with physical problems associated with carrying heavy burdens, like strained backs, necks and shoulders, the number of hours spent by women and girls collecting water means represents lost opportunities for women who can instead use this time for other economic, educational or leisure activities. The poor water quality in Kohistan has resulted in the people of the area suffering from diarrhea, malaria, typhoid, paratyphoid, enteric fevers and hepatitis, leading to an increase in the mortality rate. Women also suffer the additional burden of tending to the sick if any of the family members fall ill due to water borne diseases.
IET's Water for Women project aims to alleviate hardship faced by these women by making clean water sources accessible to them within their area. IET, a not for profit organisation that specialises in interventions for the socio-economic uplift of marginalised communities in Sindh province, decided late last year to plan and implement a comprehensive water management project in Kohistan which will greatly increase water storage capacity during the rainy seasons, considerably lessen water losses through runoff into wide open spaces where it cannot collect, increase availability and quantity of water through rehabilitation of dug wells, greatly facilitate the drawing of water through installation of hand pumps, yielding other long-term, sustainable and life-changing benefits.
When such programmes are initiated to improve access to water, it is critical to ask women about their needs and experiences. Although women and girls play key roles in obtaining and managing water globally, they are rarely offered roles in water improvement programmes or on local water committees. They need to be included as a right and as a practical matter. Numerous water projects in developing countries have failed because they did not include women.
IET strongly believes in inclusion and gender equality at all levels, and all of IET's previous and existing projects have a strong emphasis on women empowerment. IET is currently working with more than 100 women community organisations in rural areas of Sindh and Balochistan and has developed a manual of Community Management Skills Training to build the capacity of local women leaders. Keeping in line with this practice, Water for Women project will form community organisations with both women and men participating at all levels of decision-making and implementation for the project.
This focus on training the community furnishes the stakeholders with knowledge, skills and capabilities to plan and manage developmental activities and to utilise the available local resources on their own. This will equip the community to take ownership, to identify problems, decide priorities and eventually adopt practices that serve community needs.
Coca-Cola Pakistan has been financing and assisting in the implementation of several water conservation, availability and replenishment projects in different parts of the country in partnership with well-reputed organisations like the WWF-Pakistan, UNDP and Rotary International as the implementing agencies. The proposed Kohistan project was largely in line with both the other water projects already undertaken, and with The Coca-Cola Company's Global Water Stewardship programme objectives. With Coca-Cola Foundation's grant of US$180,000, the much-needed Water for Women project directly targets Sustainable Development Goal (SDG) 3 (Better health and Wellbeing) and SDG 6 (Clean water and Sanitation) and benefits about 15,000 inhabitants in 34 villages in Kohistan.
In addition to projects like Water for Women, Pakistan needs broader strategies to reduce gender disparities in water access. More data needs to be collected on women's water burden and how it affects their health, well-being, and personal development. Women need to be involved in creating and managing targeted programmes to mitigate these risks. These programmes must be evaluated to determine whether they are truly improving women's lives. And finally, social messaging affirming the idea that water work belongs only to women must be abandoned. Former UN secretary general Ban Ki-moon has called empowerment of the world's women "a global imperative." To attain that goal, we must reduce the weight of water on women's shoulders.
https://www.pakistantoday.com.pk/2017/11/10/reducing-waters-heavy-burden-off-kohistani-womens-shoulders/
--------
Story of Hindu Woman Who Converted to Islam to Live With Muslim Man as His Fourth Wife
November 10, 2017
New Delhi, Nov 10: Neither religious boundaries nor the court of law could stop Jabalpur's Shama Khan (previously Shiva Parihar) from reuniting with her husband. The Hindu woman adopted Islam to live with the love of her life but her parents objected to the relationship as the man already had three wives.
Shamim Khan, a resident of Damoh, had filed a petition before a court in Jabalpur alleging that Shama, his fourth wife, was kept under houses arrest by her parents and urged the court to set her free. The court ordered the police to drop Shama to her husband's house under full protection.
Arguing the matter, public prosecutor Akshay Namdev told the court that Shamim, who is tailor by profession, already had three wives and three sons and thus, Shama would find it difficult to adjust.
However, Shama, 26, told the court that she was ready to live with Shamim as his fourth wife despite the fact that he hasn't divorced his other three wives. " I know he has three wives and has not taken divorce from them. Despite this, I am ready to live with him," Dainik Jagran quoted her, as saying.
Shamim, 42, was in a relationship for last seven years before the two decided to marry a few months ago. The family of Shama, who holds a degree in Computer Science, objected to her decision and didn't allow her to leave the house after she told them about her marriage to a Muslim man. The matter reached the court, which asked concerned authorities to keep Shama at Nari Niketan till the case is being heard.
A few days ago, Shama's parents forcibly took her home and kept her under house arrest. Shamim had then approached the court seeking a relief.
http://www.india.com/news/india/jabalpur-hindu-woman-converts-to-islam-to-live-with-muslim-man-as-his-fourth-wife-2620648/
--------
Zardari calls to enlist women voters missed in electoral rolls
NOVEMBER 11, 2017
ISLAMABAD: Pakistan People's Party (PPP) Co-chairman Asif Ali Zardari has expressed grave concern over women voters missed in the electoral rolls and called upon the government and all relevant state institutions to address the issue at the earliest for the credibility of the 2018 polls.
Speaking at a briefing at the Zardari House on Friday, the former president of Pakistan said that the voters' registration issue was important for empowering women by enabling them to participate in the decision-making processes.
A four-member Free and Fair Election Network (FAFEN) team comprising Shahid Fayyaz, Mudassir Rizvi, Yasir Javed and Javed Minwa gave the briefing.
The meeting was informed that the Election Commission had also stated recently that over 13 million women were not in the voters' lists and hence not eligible to vote in the upcoming general election.
Zardari said that the Sindh Chief Minister Murad Ali Shah would raise the election and delimitation-related issues at the meeting of the Council of Common Interests (CCI) on Monday.
He also sought the number of above 18 years old in the country – both males and females – to make a fair assessment as to how many citizens were still not registered as voters. "The issue of under-registration must also be addressed speedily," he said. He also called upon the party's office-bearers to keep abreast on the progress made in this regard,
PPP leaders, including Nayyer Hussain Bokhari, Farhatullah Babar, Chaudhry Manzoor and Mustafa Nawaz Khokhar, were also attended the briefing.
https://dailytimes.com.pk/137338/zardari-calls-enlist-women-voters-missed-electoral-rolls/
--------
Angelina's animated film about Afghan girl hits screens this month
November 11, 2017
An animated film produced by Angelina Jolie depicting the life of a young Afghan is due to be exhibited in Afghanistan.
The trailer of the animated movie "The Breadwinner" was released last month with the film to be exhibited in the theaters on 17th November.
Directed by Nora Twomey, the animated film depicts the life of an 11-year-old Afghan girl Parvana who lives under the Taliban rule in war-torn Kabul.
The film shows the challenges the young girl faces after her father is arrested wrongfully, leaving her and her family without a way to make any money.
With the women prohibited to leave the home without a male relative under the Taliban regime, Parvana is forced to cut her hair short and wear her brother's clothes in a bid to earn for her family.
By doing so, Parvana experiences the freedom she has never enjoyed before despite facing the tough challenges.
The film also covers the efforts by the young girl to figure out where her father is so that she can rescue him.
https://www.thenews.com.pk/latest/243546-Angelinas-animated-film-about-Afghan-girl-hits-screens-this-month
--------
Iran: Plundered women and men protest in Gatchsaran
10 November 2017
A group of plundered women and men gathered in protest outside the office of Melal Institute (Arman) in the city of Gachsaran, (in Kohgilouyeh and Boyer Ahmad Province, southern Iran) on Wednesday, November 8, 2017.
They demanded to have their money back from the financial institute which is affiliated with the Islamic Revolutionary Guard Corps (IRGC). They held placards which read, "We are against theft", and "for six months, we have heard only lies."
http://www.women.ncr-iran.org/iran-women-news/4485-iran-plundered-women-and-men-protest-in-gatchsaran
--------
URL:https://www.newageislam.com/islam-women-feminism/spend-education-girls-marriage-says/d/113190
New Age Islam, Islam Online, Islamic Website, African Muslim News, Arab World News, South Asia News, Indian Muslim News, World Muslim News, Women in Islam, Islamic Feminism, Arab Women, Women In Arab, Islamophobia in America, Muslim Women in West, Islam Women and Feminism