New Age Islam News Bureau
25 March 2018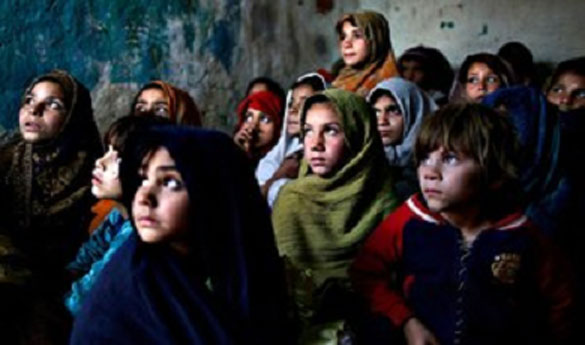 Photo: : South Korea has announced its support for Unesco's Girls' Right to Education Programme in Pakistan with the signing of an agreement between Unesco Director General Audrey Azoulay and South Korean Ambassador to Unesco Lee Byong-hyun in Paris on Friday.
------
• 48 Women from WB to Undertake Haj Pilgrimage without Male Guardian
• Saudi Arabia Committed To Participation of Women in National Development
• A Meeting of Women: Glimpses from a Small Italian Town
• Save Our Girls: Change Comes From Below For Rajasthan's Women
Compiled by New Age Islam News Bureau
URL: https://www.newageislam.com/islam-women-feminism/south-korea-fund-girls-education/d/114709
-----
South Korea to fund girls' education project in Pakistan
The Newspaper's Reporter March 25, 2018
ISLAMABAD: South Korea has announced its support for Unesco's Girls' Right to Education Programme in Pakistan with the signing of an agreement between Unesco Director General Audrey Azoulay and South Korean Ambassador to Unesco Lee Byong-hyun in Paris on Friday.
The $3.4 million project, with the Korea International Cooperation Agency, would support national capacity building to realise girls' right to education in Punjab and Gilgit-Baltistan, through interventions targeting officials, community leaders, teachers and parents.
"South Korea's growing support to Unesco, especially to education, is extremely valuable and a proof of trust in our organisation, which we deeply appreciate," said Ms Azoulay.
Institutions in Punjab, Gilgit-Baltistan to benefit from programme
"Your country's success story is not just about economic development, it also shows the links between education and building a culture of peace, which is coherent with the values of Unesco," she added.
Ambassador Lee recalled the role that foreign assistance and education had played in rebuilding his poverty-stricken country after the Korean war.
The cooperation with Unesco, reflected in some 30 projects under way in education, science and culture, exemplified the country's policy to return what it received from the foreign community in the past, he added.
Pakistan's Ambassador to UnescoMoin-ul-Haque appreciated the support affirming that "girls in these areas are passionate about education".
The government contributed $10m to the Malala Fund for Girls' Right to Education established in 2012 of which $7m was earmarked for the programme in Pakistan launched in 2015.
dawn.com/news/1397424/south-korea-to-fund-girls-education-project
---------
48 Women from West Bengal To Undertake Haj Pilgrimage Without Male Guardian
ZeeshanJaved | TNN | Mar 25, 2018
Maqsooda Begum, Fatema Bibi and HalemaKhatoon did not know each other even till a few weeks ago, but 'divine intervention' will have them play each other's guardians for over two months later this year thousands of kilometres from home.
The trio of women, along with 45 other women from Bengal, will be among the first to undertake the Haj pilgrimage to Mecca and other holy sites in Saudi Arabia without a mahram (male guardian).
Haj
The women will be flying to Saudia Arabia in clusters of at least four in June to perform the pilgrimage, considered one of the five pillars of Islam.
This became possible after the Saudi government reformed its Haj requirements that made it mandatory for a woman to be accompanied by a male chaperone for the pilgrimage. The Indian government is implementing the new guidelines from the batch undertaking the pilgrimage in 2018.
Seventy-year old Lali Begum's dream of undertaking the pilgrimage will finally come true. "It has been a long-cherished dream to visit Mecca and Madina," she said.
"The Almighty has given me the opportunity to do so this year," added the Topsia resident who is travelling in a cluster of four women, one of them her daughter Saheena Begum. "As soon as we came to know that women, from this year, will be allowed to undertake the pilgrimage without a male guardian, we immediately applied," said Saheena, 46.
Nearly half of the 1,70,000 pilgrims who had undertaken the Haj pilgrimage from India in 2017 were women. Muslims who are physically and financially able undertake the Haj pilgrimage at least once in their lives to Mecca and the nearby holy sites in Saudi Arabia. It is one of the five pillars, or duties, of Islam along with professing faith in one God, prayer, charitable giving and fasting during the holy month of Ramzan.
Razia Bibi, whose husband passed away years ago, has waited almost 15 years for this moment. "I am a widow and I don't have a son either. It is a dream of every woman to perform this duty but I could not because of the mahram rule of the Saudi government. But my prayers have been answered and I will be going with other women this year," said the South 24-Parganas resident.
The website of the royal embassy of Saudi Arabia mentions clearly that in order to apply for a Haj visa, women who are under 45 years of age must travel with a mahram and possess papers that provide proof of relationship. Women who are over 45 years of age may travel without a mahram, with an organised group of women. They must, however, submit a notarized no-objection letter from the husband, son or brother authorizing the travel.
Later this month, the West Bengal Haj Committee is organising an interaction of the 48 women who will be undertaking the pilgrimage without a male guardian.
timesofindia.indiatimes.com/city/kolkata/pilgrims-progress-total-strangers-turn-haj-sisters/articleshow/63448046.cms
---------
Saudi Arabia committed to participation of women in national development
ARAB NEWS | Published — Sunday 25 March 2018
RIYADH: Saudi Arabia has affirmed its keenness to expand the participation of women in the areas of national development, and to overcome all obstacles in order to achieve this.
This was announced in the speech of the Kingdom at the closing session of the Commission on the Status of Women at its 62nd session, which was delivered on Friday by the First Secretary and to the Permanent Mission of the Kingdom to the United Nations, Noura Al-Jabreen.
"The Kingdom has been keen to expand the participation of women in all areas of national development and Saudi women have proved their worth, efficiency and ability to participate in various fields," she said.
arabnews.com/node/1273091/saudi-arabia
---------
A meeting of women: Glimpses from a small Italian town
Aliya Salahuddin March 25, 2018
My course book for the Italian class contains many dialogue texts. In the chapter on the future tense, there is a conversation between two friends. One of them is telling the other about his plans to visit Tuscany with his girlfriend. They will be taking her car but he will drive because, as the saying goes, donna al volante pericolocostante! (a woman behind the wheel is a constant danger).
My teacher rolled her eyes and made an exasperated hand gesture as one of the students read the text aloud, and the all female classroom of foreign women ranted away in broken Italian in protest, clearly offended by the sexist stereotype.
During class last Monday — Father's Day in Italy — my Egyptian classmate decided to voice her passionate disapproval for this tradition. "What do they do? We clean, we cook, we bring up the kids, and deal with all their problems. What does the father do?" She was speaking about her own life. But it turned out to be a collective experience.
My teacher pointed out that her husband worked hard to earn for the family, "He works five days a week, I work seven. And he even gets a lunch break". Another Egyptian and a Moroccan woman chimed in, "This is the problem of all men in the Arab world". The student from Spain disagreed, "Not just the Arab world. My husband has never picked up his dishes from the table."
In an onslaught of complaints, a lot of genuinely frustrating and painful moments were released in embarrassed laughter between a group of girls.
After the venting, my Italian teacher said the final words and set the bar quite low: "If your husband doesn't raise his hand at you, doesn't say offensive words and does not order you around, be grateful. Look at what is happening in the world around you."
She was talking about the situation of women in Italy — a western, European, G7 country — where domestic abuse and violence against women is alarmingly high (one murder every three days last year, according to Eures.
"I heard on the radio…" is a favourite conversation starter here and very often Italians wake up to news of young and old women killed by a former or current partner.
A woman looks at one of the many obituary boards across town
Casual sexism remains rife in Italian conversation, media and politics. Single women still cannot adopt children. Mother after mother from my town will share traumatic tales of being refused the epidural during childbirth to keep the suffering natural as it was intended for women. The Berlusconi era was humiliating for women and sexist humour continues to win great applause publicly. My British friend who is a writer and activist, and has been living in Italy for two decades, has no doubt that Italy turned her into a feminist.
While we all come from countries with their own horror stories, shortcomings and prejudices, we do have higher expectations from the new counry that we now call home. After leaving behind everything that is dear to you, if this new situation isn't quite ideal, it seems like a bad compromise.
Perhaps that's why I found it personally satisfying when I read the story of what happened to a young Pakistani man who was caught off guard when he tried to sexually assault a 75-year-old Italian woman, forcing himself on her at her home when he came to deliver some leaflets. She responded with a kick in his private parts and punched his face, before he could do more harm. He ran off, and even after the beating and humiliation perhaps put it past an old lady's abilities that she would call the police. He continued distributing leaflets in the area as if nothing had happened but his shameless manhood landed him in jail within a few hours.
It took me a while to find my feet. I stereotyped. I felt out of place in a land of 'rich suburban ladies' as I described them. But then I had to do what strangers who build a new home must do — swallow the pill and get on with this whole adventure thing.
A month into moving here, I attended my first coffee meeting of a group of international women held in a large, intimidating room of a posh club. To my great surprise, there were about a hundred women. The room was full of conversations, blow dries, fragrances, and expensive attire.
I have begun my life many times in many new places and the dynamics were familiar. Walking into a large gathering of people who already know each other and are potential players in your new life, is a very frightening experience, yet full of possibilities.
It took me a while to find my feet. I stereotyped. I felt out of place in a land of 'rich suburban ladies' as I described them. But then I had to do what strangers who build a new home must do — swallow the pill and get on with this whole adventure thing.
Five years later, it is this club that gave me my closest friends, made me a part of this city and became a family away from home. It was the coming together of the 'outsiders' who needed each other and wanted much more from the town than what it offered.
I began building my own village. A wonderful Italian friend took me on as a daughter and taught me all the important verbs and idioms. I welcomed into my life friends who enriched me with their diversity — anti-vaxxers (gulp!), bored housewives, working women, hardworking women, women with talent and those without any, moms struggling to relate with their kids, moms who grew up without moms, cancer survivors, divorce survivors, grief survivors.
I also edited a monthly magazine for the club and it introduced me to the members of my club on a deeper level. There were women who volunteered with hospices, feeding and comforting terminally ill patients; women who gave years of their lives volunteering at shelters for abused women; women who ran small charities collecting children's clothing and toys for Syrian refugees; women who left their families and spent days cooking food for earthquake survivors in central Italy. There are women who just show up by your bedside when you have a surgery, hold your hand when your mother dies or your husband leaves.
During frustrating language lessons, it comes easy to shed a tear over someone's medical diagnosis or a death of a family member far away. We share the disappointment of a classmate for not being able to attend her brother's wedding in her country and celebrate when another passes her Italian exam to get the residence permit. A lot of us have cried together, laughed together and of course, gossiped shamelessly as well.
We are the women from (if not of) the world, trapped in a small town, bringing bits and pieces of our lives and struggles with us. And we have created our own Monza — bringing to this old town in northern Italy, a new, vibrant and diverse community of women, ready to write their own stories.
tns.thenews.com.pk/glimpses-small-italian-town-meeting-women/#.WreLE4hubIU
---------
Save Our Girls: Change Comes From Below For Rajasthan's Women
IANS | Jhunjhunu
Last Updated at March 25, 2018
Sending her elder daughter Manushree to an English-medium school in Jhunjhunu (Rajasthan) was a distant dream for SushilaThakan some eight years ago. Though she had her husband's moral support, she received little cooperation from her in-laws after she gave birth to a girl child.
"Everyone wanted a male child and female newborns were considered no less than a curse. No one wanted a girl child," the 32-year-old homemaker Sushila told IANS.
As per the 2011 census, Jhunjhunu district of Rajasthan had the worst child sex ratio in the state with 863 girls per 1,000 boys and got tagged because of its regressive traditional practices not only as a "socially backward" district in official statistics but also as a microcosm of the wrongs that ail Indian society.
The child-sex ratio in Rajasthan as per the 2011 census was one of the lowest in the country -- 888 females per 1,000 males as against the national ratio of 919 females per 1,000 males. Noted economist Amartya Sen had once said that India had some 40 million "missing women" and this skewed sex ratio has improving slowly, district by district.
Jhunjhunu, itself, is rapidly changing, claims Sushila. She said that although she later gave birth to a son, her daughter is the most pampered and loved one in the family now, an indicator of how society is transforming.
Today with a ratio of 951 girls per 1,000 boys, the district has become a role model for other districts in the country that are attempting to improve their child-sex ratio.
"This is because there has been awareness in the region about the importance of girls and impact of education. The state government came up with many schemes for girls and highlighted the need for equal sex ratio. Now the discrimination has almost ended here," Sushila emphasised.
However, the road to success was not a smooth one for the Rajasthan district. There were many hiccups which motivated and persevering district officials had to overcome in their mission.
"It's not something which improved overnight. It's a continuous process and a collective effort by everyone -- former district collectors, women welfare and health departments, NGOs and others," Dinesh Kumar Yadav, Jhunjhunu's District Collector, told IANS.
Yadav, who was posted in Jhunjhunu last year, said the biggest challenge for him and the administration was battling the mindset of the people -- misogynist thinking and male child-oriented approach of families.
"It was very difficult. We had to chase people, knock doors of every household, engage them with our schemes and make them understand through examples. Many girls from Jhunjhunu have joined the army, become government officers, or are working with multinational companies in big cities like Delhi. And we promoted such success stories, especially among families with girls," he added.
In order to encourage people to have a girl child, the administration started several schemes, some involving financial incentives, and even pushed for the celebration of rituals like 'kuan-poojan' (worship of a well), which were earlier performed only after birth of a son.
"We had to fight certain misconceptions... that only a male child will support them during old age. We showed them how girls have been supporting their families as well," he said.
Jhunjhunu also had a low literacy rate among women and to improve that the district administration started felicitating meritorious girls who outshine boys in exams.
"We started this felicitation programme called 'Jhunjhunu Gaurav Samman' where schools would put up pictures of meritorious girl students. We also took out rallies in honour of such meritorious girls," Yadav explained.
Jhunjhunu was also facing a high school-dropout rate among girls and to increase the enrolment of girls in schools, the administration first identified families where girls were either not enrolled or had dropped out.
"Then we contacted many women officials in administrative posts for help and made teams who would visit the families and motivate them to enrol their girls in school," he said.
Not just Jhunjhunu, but nearby Sikar district -- which also had a poor child sex ratio of 885 girls per 1,000 boys in 2011 -- also improved to 944 girls for every 1,000 boys.
"We understood that change would come only if we managed to engage with local people. We went on to select female brand ambassadors within the community who had already broken the ceiling to create a self-identity," Naresh Thakral, District Collector of Sikar, told IANS.
Women then started attending awareness classes organised by the Anganwadi centres and NGOs.
"Slowly and steadily, women started raising their voice against discrimination and difficulties faced by them in raising girls. They became vocal and aware of the need for a balanced sex ratio and the importance of having a girl child," Thakral said.
Although lowering the socio-cultural barriers was the first target, both districts were facing another major challenge -- female foeticide.
"There were many cases of female foeticide, which beside being illegal also posed threat to the pregnant women. Initially we connected with families with pregnant women and tried to know if they were seeking for sex determination tests. In such cases, the women activists would try to convince them against foeticide," Yadav said.
Both districts have succeeded in putting an end to female foeticide with implementation of strict laws and strong vigilance.
"We also started an operation where women became our informers. We stopped about 106 foeticide attempts, of which 60 were reported by women. In some cases, our volunteers chased such families to other districts and states. In some cases, volunteers even chased the families to Haryana to stop foeticide," Yadav said.
But just a check on hospitals was not enough. Even more important was educating women to stand against female foeticide. And to encourage female births, several schemes for mothers of girl children were started, not just by the state government but also by the Central government.
Prime Minister Narendra Modi's flagship "BetiBachaoBetiPadhao" (Save her Educate her) scheme which started off from Panipat in Haryana in 2015 also reached Jhunjhunu.
"Every year, we get around Rs 1 crore under this scheme , which helps our campaigns. Earlier we had to approach people for resources, but now the government has come around to help," Yadav said.
Modi had on International Women's Day this year launched the pan-India expansion of the scheme to all the 640 districts of the country and chose Jhunjhunu as the venue for the event. He honoured several officials, including one each from Jhunjhunu and Sikar, who had contributed to uplifting the status of women in their respective districts.
(The weekly feature series is part of a positive-journalism project of IANS and the Frank Islam Foundation. Somrita Ghosh can be contacted at somrita.g@ians.in <mailto:somrita.g@ians.in>)
business-standard.com/article/news-ians/save-our-girls-change-comes-from-below-for-rajasthan-s-women-ians-special-series-118032500173_1.html
URL: https://www.newageislam.com/islam-women-feminism/south-korea-fund-girls-education/d/114709