New Age Islam News Bureau
12 May 2013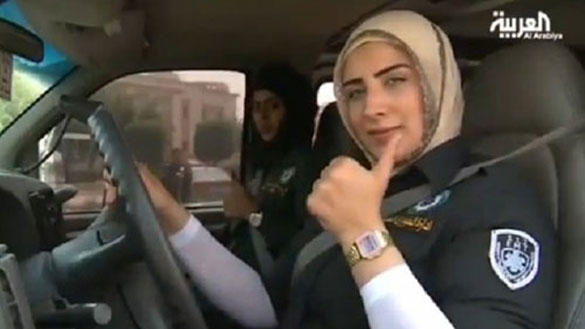 A Kuwaiti female medic told Al Arabiya that one of the medic's most important characteristics is patience. (Al Arabiya)
----------
• Sounding Sirens, First Female Paramedics Hit the Road In Kuwait
• 'Indian Women Must Come Together To Achieve Gender Equality': Salma Ansari
• Call for setting up judicial body to protect female inheritance
• Pakistan Political Parties Pledge Empowerment of Women
• Micro Fund for Women Sponsors Umra for 200 Women
• Pakistani Women: To Vote or Not To Vote?
• Ayatollah Khamenei stresses respect for women
• UAE Marks International Nurses Day
• First Official Bangladeshi Maids Arrive In Hong Kong
• New School Opens a New Chapter for Parung Kids
• Blair's sis-in-law 'wed a bigamist'
• Inspirational conference for women planned
Compiled by New Age Islam News Bureau
URL: https://newageislam.com/islam-women-feminism/sounding-sirens,-first-female-paramedics/d/11536
-------------
Sounding sirens, first female paramedics hit the road in Kuwait
12 May 2013
Kuwaiti females have finally made it as staff members at the country's paramedics teams after the first female unit graduated on Saturday.
Abdulaziz Bou Hamyed, a paramedic official, told Al Arabiya this week that ever since the department's establishment in 1988, its staff members have been men.
Hamyed said it was important to raise society's awareness that females now play a role in the department.
"There are three phases. The first one is raising awareness in society. The second one is dealing with the injured via phone calls. The third one is dispatching female members to the field," he added.
The department's call center receives daily calls on pregnancy cases, home accidents in which children or old people are injured and car accidents.
A female medic told Al Arabiya that one of the medic's most important characteristics is patience.
"A medic must first be patient because he/ she may be dealing with a neurological or psychological case. So patience comes first," Abdullah said.
Generally, women in Kuwait enjoy more comprehensive labor rights than their Gulf counterparts.
In 2010, the government of Kuwait allowed women to work night shifts at hotels, restaurants, pharmacies, press offices, banks and various other businesses.
The amendment was to a labor law that barred Kuwaiti women from working between the hours of 10 p.m. and 7 a.m.
http://english.alarabiya.net/en/life-style/variety/2013/05/12/Sounding-sirens-first-female-paramedics-hit-the-road-in-Kuwait.html
-------------
'Indian Women Must Come Together To Achieve Gender Equality'
May 11, 2013
Salma Ansari, wife of Vice President Hamid Ansari, Saturday said that gender equality could only be attained if Indian women, cutting across political, religious and linguistic barriers joined hands to fight for political, economic and social empowerment. Delivering the keynote address at a workshop at Advanced Centre for Women's Studies at Aligarh Muslim University (AMU), Ansari contended that the political dispensations are hardly sensitive to the aspirations of women.
Recalling her student days at AMU, she said that the institution has always welcomed new ideas and provided equal opportunities to girl students.
AMU Vice Chancellor Lt. Gen. (retd) Zameer Uddin Shah said that the university will construct a new hall of residence to accommodate 1,500 girls while the I.G. Hall will be handed over to Women's College for accommodating undergraduate girls.
He said that university would provide a grant of Rs.5 lakh for purchase of books for the Women's College library. He asked the girls of Women's College to identify books available in the Maulana Azad Library and they will be delivered to them next day.
Gen. Shah said that he would not tolerate any any act in the varsity that lowered the dignity of the women.
Indu Agnihotri, secretary, Association of Women's Studies, said that Indian women are still facing many problems and equality and gender justice is a major issue today.
Prof. Zakia A. Siddiqui, founder director of the Centre for Women's Studies, recalled that it was set up during the time Hamid Ansari was AMU's vice chancellor.
http://www.business-standard.com/article/news-ians/indian-women-must-come-together-to-achieve-gender-equality-113051100386_1.html
-------------
Call for setting up judicial body to protect female inheritance
12 May 2013
DAMMAM: Female participants at a symposium entitled "Women, Commercial Inheritance and Family Rule" have called for "an independent body of a judicial nature" to protect their inheritance.
This body should distribute inheritance money amongst heirs according to Islamic law and should protect women against social pressure to give up their rights. They called for a distinction between "traditions, customs and wrongful social practice and judicial rulings."
One of the participants emphasized "the protection of women's rights by educating men and women about the importance of conducting a speedy inheritance inventory and not delaying the matter for years and decades."
Aisha Al-Mana, a participant, said: "Denying women their inheritance is one of the main reasons behind family feuds."
She categorized inheritance as one of the most sensitive issues in society because it is often confused with tribal tradition, adding that differentiating between heirs is a dangerous phenomenon because it overlooks women's rights as stated in the Qur'an.
She said that many women are persuaded by their brothers to give up their rights as heirs. "Women from merchant or rich families are rarely given their full rights," she added.
She called on scholars, intellectuals, lawyers and religious leaders to rectify this injustice. The courts are filled with thousands of cases related to inheritance disputes. She said that while this issue concerns society at large, it is an infringement on women's rights in particular.
Al-Mana said it was unlawful to ask women to give up their right to inheritance, especially when it is done for traditional and tribal reasons.
President of Businesswomen Forum Princess Mashael bint Faisal bin Turki, praised the role of the forum.
"The forum focused on female participation in the national economy and placed special emphasis on its importance and the necessity to forge strategic women's alliances. This is in addition to forging economic alliances and entities that can compete and succeed in the market place," she said.
Princess Mashael said these ambitions are embodied in the establishment of the first female investment company, the Eastern Forum for Development. This company has 24 female shareholders who are members of the Businesswomen Forum. This company helps women build a financial and economic base and has an impressive presence in the region and the Kingdom.
The forum aims to concentrate on female issues that have a negative effect on women's social and economic status and obstructs their participation in economic development of the Kingdom.
The forum aims to overcome regionalism and unify women's efforts in the whole of Saudi Arabia through various seminars and initiatives in Riyadh and Jeddah.
The symposium includes a number of lectures. Abdul Aziz Al-Qasim gave a lecture entitled, "Commercial Inheritance in the Kingdom: Suggested Solutions."
Hanan Al-Qahtani gave a lecture about "Women's Actual Rights in Inheritance: Real Practices and Results."
Dr. Ahlam Al-Awadi gave a lecture about "Distinction and Injustice in Inheritance."
Dr. Amal Quray spoke of "Differences in Applying Shariah in Arab Countries in Relation to Family Rules."
http://www.arabnews.com/news/451283
-------------
Pakistan Political Parties Pledge Empowerment of Women
May 12, 2013
Sunday, May 12, 2013 - Karachi—All major political parties in their respective election manifestoes for polls 2013 have committed themselves towards the cause of political empowerment of women in the country.
Among them Jamiat Ulema-i-Islam (JUI) has categorically assured to make Women "Equal Citizens" and to bring them at par with their male counterparts in all walks of life.
The JUI manifesto claims that women's rights will be protected in line with Islamic principles and the constitution. "Women's right to livelihood will be endorsed in all departments' areas and that their dignity will be preserved," it said.
Awami National Party maintains that it is committed to gender equality and that in light of its vision, constitution and policies, the party will continue with its efforts to increase women's participation in decision-making at all levels to a minimum of 33%. ANP also promises to evolve consensus on direct elections for women to all elected positions including on reserved seats/ quota, as the party believes that there is no substitute for direct elections.
Muttahida Qaumi Movement (MQM) proposes to gradually increase the representation of women to 50 percent in all walks of life, particularly in the parliament and provincial assemblies and in the government and semi-government offices.
Awami Workers Party pledges to promote women participation in political process and give them at least 33 percent representation.
Pakistan Muslim League (Functional) promises to ensure equal female representation in all boards and councils so as to cater to their unique needs and perspective. Pakistan Tehreek-e-Insaaf commits to ensure significant and meaningful participation of women at all levels.—APP
http://pakobserver.net/detailnews.asp?id=206505
-------------
Micro Fund for Women Sponsors Umra for 200 Women
May 11, 2013
AMMAN — Some 200 beneficiaries of the Micro fund for Women (MFW) have recently left to Saudi Arabia to perform Umra (the lesser Muslim pilgrimage to Mecca), the Jordan News Agency, Petra, reported.
Launched in 1999, the MFW is a non-profit organisation that serves more than 70,000 beneficiaries across Jordan.
It has so far extended more than 500,000 loans valued at JD185 million.
http://jordantimes.com/microfund-for-women-sponsors-umra-for-200-women
-------------
Pakistani Women: To Vote or Not To Vote?
May 12, 2013
It was hoped that the parochial attitude prevalent towards women voters in Pakistan would change on this round of electioneering. All the right indications had been given before the elections: elders in various regions including Paikhel, Bajaur and the Kyber agencies had given the go ahead to women to vote, even the Taliban had issued statements to the press stating that they had "no objections to women voting" in South Waziristan if "proper purda arrangements" were available. But three days before the elections, the tide began to turn. "It is our pride to keep women away from politics. How we can alter the traditions of our forefathers," is the statement that some elders have been reported to be making. The question on everyone lips is: what will be the turnout of the 37 million registered women voters in Pakistan?
It was reported that elders in Paikhel, Makarwal, Chapri, Tola Bangi Khel, Kalabagh and Chakrala were still denying the 8,000 women in the constituency the right to vote, despite the fact that Pakistan Tehreek-i-Insaf (PTI) women candidate Ayla Malik had made frequent visits to the area, and tried to use her clout as the granddaughter of the Nawab of Kalabagh to convince women to vote – and elders to let them. The positive sign was that the youth in the area wanted women to exercise their right to vote. More worrying was the agreement between the Pakistan People's Party (PPP) and the Jamaat-I-Islami (JI) to bar women from casting their votes in Low Dir on PP-94, as both are mainstream political parties, with the former claiming progressive credentials.
Nonetheless more women are contesting elections from the Khyber Pakthunkhwa area than ever before, with two women even contesting elections from the tribal areas, both staunchly criticising the tribal attitude towards women. While the fate of women in South Waziristan appears to be better, an unknown group has warned men in North Waziristan against allowing women to cast their ballots. In the Bajaur Agency, however, the JI, Jamaat Ulema-i-Islam and Pakistan Muslim League-Nawaz is in place to ensure women vote.
Full report at:
http://www.pakistantoday.com.pk/2013/05/12/comment/editorials/women-to-vote-or-not-to-vote/
-------------
Ayatollah Khamenei stresses respect for women
May 11, 2013
Leader of the Islamic Revolution Ayatollah Seyyed Ali Khamenei says "strengthening the institution of family" and "respecting and honoring women at home" are two important and immediate needs of society.
In a meeting with hundreds of women in the Iranian capital, Tehran on Saturday, the Leader said Western dialog about women is "entirely calculated and political."
Ayatollah Khamenei added that "while this dialog currently appears to be at its peak, the path of Western dialog on women is going down the hill."
The Leader said the masculinisation of women and sexual exploitation constitutes two major parts of Western dialog on women.
"Westerners seek to [force] professions that are suitable for the physical and mental status of men on women and [try to] portray this as a privilege and something to be proud of," said the Leader.
Ayatollah Khamenei added that a high number of female intellectuals as well as cultural and political activists are a source of pride.
Full report at:
http://www.presstv.ir/detail/2013/05/11/302946/leader-stresses-respect-for-women/
-------------
UAE marks International Nurses Day
May 11, 2013
Abu Dhabi: Nurses in the UAE marked International Nurses Day on Saturday with a tribute to female Muslim nurses.
Her Highness Shaikha Fatima Bint Mubarak told the Emirates Nursing Association that the event is also in celebration of "a group of women who accompanied Prophet Mohammad (PBUH)" considered "the first nurses in history."
"Rufaida Bint Ka'ab Al Slamia was the first nurse in Islam, who devoted herself for serving the injured people," said Shaikha Fatima, Supreme Chairperson of the Family Development Foundation, Chairwoman of the UAE General Women's Union and Chairwoman of The Supreme Council For Motherhood & Childhood.
International Nurses Day falls on May 12.
"The UAE leadership gave directives to the concerned authorities to work on securing privileges and suitable conditions in order to motivate Emirati Women to join this profession," Shaikha Fatima said.
Full report at:
http://gulfnews.com/news/gulf/uae/health/uae-marks-international-nurses-day-1.1182138
-------------
First official Bangladeshi maids arrive in Hong Kong
Jolie Ho
12 May, 2013
A group of women from Bangladesh has become the first to arrive in Hong Kong from the mainly Muslim nation to officially work as maids.
The arrival of the 11 women, who will begin working tomorrow after a two-day orientation, marks the beginning of the official importation of maids from the country, which it is hoped will ease a shortage of domestic workers in Hong Kong.
After flying in yesterday, they were eager to show their determination to turn the foreign into the familiar.
"Nei ho ma?" they asked of the gathered reporters, offering the traditional Cantonese greeting.
Most of the group is Muslims, while a few are Buddhists. Two are a mother-daughter pair - Mowsami Akter, 23, and Sefali Akter, 35.
"The family that I am going to work for is expecting a baby … while my mother will go to a family with two big children," said Mowsami Akter, beaming.
She will be earning nearly HK$4,000 a month, compared with the HK$500 she earns in her home country, where she also worked as a domestic helper.
The Bangladeshi women were wearing purple T-shirts printed with the name of the agency that has arranged their employment. At home, most would wear outfits conforming with their beliefs.
The Muslim women had to agree to cut their hair, which previously touched their waists, and also agree to cook pork for their employers. Mowsami Akter said she did not mind, although her mother was a bit unhappy about the changes in the beginning.
Rokeya Akter, 23, expressed mixed feelings about the new life awaiting her. "I want to earn more money," she said, trying her best to hold her tears after having been crying on the flight. She said it was her first time away from home, and she missed her family.
"I plan to stay here for four years, so that I can earn money for my family and set aside some money to open a Chinese restaurant when I go back to Bangladesh," she said.
Prior to their arrival, the women undertook three months' training supervised by the Bangladeshi labour ministry, which included learning Cantonese, Chinese cooking and household chores. But the language barrier is clearly a headache for them and their employers, as most can only speak a handful of English and Cantonese phrases.
Another 75 Bangladeshi workers will arrive over the next three months, followed by 150 to 200 every month after that.
Full report at:
http://www.scmp.com/news/hong-kong/article/1235717/first-official-bangladeshi-maids-arrive-hong-kong
-------------
New School Opens a New Chapter for Parung Kids
By Samantha Magick
May 12, 2013
On a basketball court overlooking the fields of Parung, just outside Bogor, a tournament is taking place, accompanied by joyful cheers. Nearby, children and teachers are shrieking with laughter as they team up for sack races and tug-of-war challenges.
The community of Parung has gathered on the eve of National Education Day earlier this month to celebrate the opening of their new school, SMPN Parung 2.
The school consists of six green-hued classrooms, a principal's office as well as a staff room, a library, a laboratory and a mosque. There are shaded walkways, a large playing field, and access for disabled students. The school sits on 10,000 square meters, in an elevated position that catches the afternoon breeze.
"It's a dream come true for us," says Ismail Latif, who chaired the committee that built the school. "We have been waiting for this for seven years."
SMPN 2 Parung was built under Australia's Education Partnership with Indonesia. The community received Rp 2 billion ($206,000) for the school construction, which began last September. Most of those who worked on the building were local people, many of whom work in the construction industry.
For the past seven years, the students and teachers of SMPN 2 have been attending several different schools. Many have shared classroom facilities with a nearby elementary school. Classes could only be held in the afternoon, rooms were overflowing with students, and if it was cloudy or raining, students were unable to study properly in their dark classrooms.
By contrast, the new classrooms are filled with natural light. When classes begin, there will be morning and afternoon sessions to cater for some 445 students. In addition, the school employs 24 teachers and four administrative staff.
"There will be a big impact on the learning process," says school principal Syamsuddin. "Teachers and students will be inspired and motivated to come to this school with its modern facilities."
In the past, the school experienced a high drop-out rate because of the distance and expense of getting there. School-aged boys ended up staying around their family homes, while girls worked in a nearby garment factory or got married.
"It's not that they didn't want to go, but the cost of transportation was high. Now many of them can walk to school," Syamsuddin says. "The students can gain knowledge first. They will be better paid for their work [after graduation]."
Both Syamsuddin and Ismail believe the community will stay involved in the development of the school. "We have an investment here," Ismail says.
Full report at:
http://www.thejakartaglobe.com/news/new-school-opens-a-new-chapter-for-parung-kids/
-------------
Blair's sis-in-law 'wed a bigamist'
By MAZHER MAHMOOD
12th May 2013
TONY Blair's sister-in-law Lauren Booth has married a bigamist, it was claimed last night.
Lauren, who converted to Islam in 2010, secretly wed social worker Sohale Ahmed in a Muslim ceremony months ago.
But the furious mum of Ahmed's three children says he is still married to HER — and has complained to cops, accusing him of bigamy.
Last night sobbing Faiza accused Lauren, half-sister of former PM's wife Cherie Blair, of destroying her 16-year marriage.
She said: "She stole my husband from under my nose. It's absolutely disgusting.
"I regarded her as a friend, a Muslim sister. But she's not even a good woman, never mind a good Muslim."
Faiza, 37, told how 45-year-old Lauren stayed at her marital home in Stockport, Gtr Manchester, last year while working on a fund-raising project with Ahmed.
She said: "I caught my husband coming out of the guest bedroom where Lauren was sleeping and asked him what was going on.
"He told me Lauren was like a sister to him and he could never sleep with someone like her because she's so fat. I believed him.
"After a while I heard rumours, but I trusted them both. I finally confronted him and he told me by text he'd married her. I was devastated and so are the kids."
Full report at:
http://www.thesun.co.uk/sol/homepage/news/4924060/Tony-Blairs-sister-in-law-Lauren-Booth-wed-a-bigamist.html
-------------
Inspirational conference for women planned
12th May 2013
ORGANISERS of a religious conference will focus on prominent female role models in the Holy Scriptures to inspire women to reach their full potential.
The Women Iqra Community Centre (WICC) hosts its Heavenly Pearls in the Company of Great Women conference on Sunday, June 2 at the 3AC Centre in Cranbury Terrace.
The women-only event is being organised by Muslims but is open to all faiths and casts the spotlight on the Prophet Mohammad's wife Khadijah, and his daughter Fatimah, plus Maryam (Mary) Jesus' mother and Aasiyah Moses' wife.
It follows the success of the WICC's Muslim Woman and her Lord conference held in November and organiser Sara Raja said: "We want to help women get more out of their lives and to ensure they are not limiting themselves.
"There were so many elements to the four women we are studying – they did a lot for their communities, so let's come together and find out about who they were and how to apply their examples to our busy and hectic lives today."
Full report at:
http://www.dailyecho.co.uk/news/10414378.Inspirational_conference_for_women_planned/
-------------
URL: https://newageislam.com/islam-women-feminism/sounding-sirens,-first-female-paramedics/d/11536