New Age Islam News Bureau
26 Nov 2016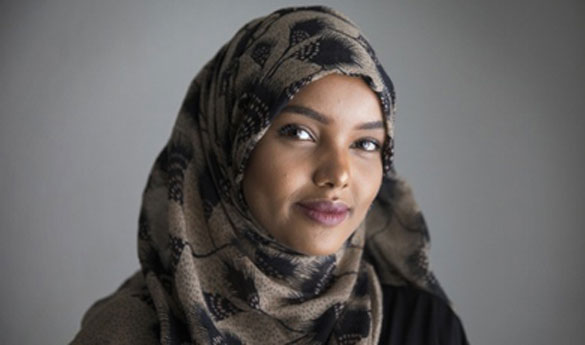 Photo: Somali-American Halima Aden, 19, posing for a photo in her home in Waite Park.
-------
• We Can't Leave Girls and Young Women Behind In the Pursuit of Education: Islamic Relief Worldwide
• Muslim Shopper Wearing a Hijab Harassed By Woman at Grocery
• Kurdish Female Fighters Celebrate International Day for Elimination of Violence against Women
• UN's Ban: Violence against Women, Girls 'Imposes Large-scale Costs'
• Women and Justice: Istanbul Summit Opens To Discuss Women's Issues
Compiled by New Age Islam News Bureau
URL: https://newageislam.com/islam-women-feminism/somali-ameri-teen-be-first/d/109204
-------
Somali-American teen to be first fully-covered Muslim contestant in Miss Minnesota USA
By Faiza Mahamud and Liz Sawyer Star Tribune NOVEMBER 25, 2016
Halima Aden knows she'll stand out at the Miss Minnesota USA pageant — and that's the point.
While other contestants don revealing bikinis during the swimsuit portion of the competition this weekend, she will cover her body from neck to wrist to ankle. Aden, a 19-year-old Somali-American, will wear a colorful headscarf and show only her face.
She will be the first fully covered Muslim woman to compete in the state pageant. She entered intent on breaking barriers for Muslim women, to counter the negative image that they are oppressed.
"The hijab is a symbol that we wear on our heads, but I want people to know that it is my choice. I'm doing it because I want to do it," said Aden, a freshman at St. Cloud State University. "I wanted people to see that you could still be really cute and modest at the same time."
But admittance into the two-day competition, which begins Saturday at Burnsville's Ames Center, does not come without a cost. The pageant has caused a rift between Aden and her mother, as well as some Somali community members who do not support her bid for Miss Minnesota USA.
Social media sites sharing news coverage of her participation were flooded with comments calling her choice to model "haram," or forbidden by Islamic law. Encouraging relatives took screenshots of the positive messages congratulating her determination, which Aden said kept her going.
Halima Aden tried on at home the burkini she will wear for the Miss Minnesota pageant. At her mother's request, she added a long skirt to cover the pants of the burkini, which her mother thought immodest.
The backlash was surprising for Aden, who made it clear to supporters and strangers alike that she would not be compromising her religious principles of modesty to compete. After contacting pageant officials, Aden was approved to wear a chaste, two-piece "burkini" during the swimsuit segment — judged on the woman's self-confidence, physical fitness, poise and grace, among other factors.
"We often tell the ladies that the swimwear competition is really won from the neck up," said Libby Watkins, assistant director of the pageant. "The Miss Universe Organization, and the state pageant producers, always do our best to make it possible for the contestants to stay true to their upbringing and diverse backgrounds."
Denise Wallace, executive co-director of Miss Minnesota USA, said the inclusive event supports Aden's right to wear whatever she feels most comfortable in because the pageant empowers "women to be confidently beautiful."
Breaking barriers
Aden is no stranger to overcoming obstacles. She said she was the first Somali-American to participate in student government in college and later crowned the first Muslim homecoming queen at St. Cloud's Apollo High School.
"You don't let being the first to do it stop you or get in the way," said Aden, who dreams of becoming a U.N. ambassador one day. "When I see that there hasn't already been somebody, I take that as a challenge for me to give it a try."
Lizeth Diaz Rodriguez, Aden's childhood friend, said she always looked up to Aden for speaking her mind and committing to whatever she set her sights on.
After receiving mailings for the competition, the women joked about entering. But then Aden actually did, with no expectation that she'd be chosen to compete on stage. Rodriguez said her friend will certainly stand out under the bright lights on stage.
"That's the point," Rodriguez said. "She's not like everybody else."
Aden's deeply religious mother, however, is troubled by her participation. Her mother, who declined to be identified for privacy reasons, said she would rather see her daughter focused on school.
But to Aden, their disagreement is an example of the growing divide between mother and daughter since the family moved to Minnesota 12 years ago. Aden was just 7 years old when the family left Kakuma, a Kenyan refugee camp where she was born.
They eventually settled in Waite Park, a suburb of St. Cloud, where Aden's mother put an emphasis on her three children's education rather than social events.
Seeking approval
Less than three days before the competition, Aden sought her skeptical mother's approval. She hadn't yet forbade the competition, but said she did not plan to attend.
Aden collected her burkini from a friend's place — she hadn't kept any pageant garments in her mother's apartment — and went home to try it on for her. Aden hoped that seeing how modest the outfit was would quell her mother's fears.
As Aden pranced back and forth in the living room, her mother sat and scowled. She did not approve. "The top is too short," her mother said. "This outfit is revealing."
The dress reached just above Aden's knees, revealing pants underneath. The swimsuit-like material, she said, exposed her figure.
Distraught, Aden sat at the edge of their black leather couch arguing that the suit was purchased from a Muslim-approved website.
"We do come from two different generations. I feel like we're a little bit more Americanized than our parents are," Aden said. "She doesn't understand it because it's not something that exists back home."
When asked if competing as Miss Somalia would have made the process less of a hassle, Aden said no.
"I am Minnesotan," she said. "I want to represent my state."
Without time to order another swimsuit, her only options were to pair the outfit with a skirt for additional modesty or withdraw from the competition altogether. She chose the pageant and hitched a ride to the mall.
startribune.com/somali-american-teen-to-be-first-fully-covered-muslim-contestant-in-miss-minnesota-usa/403051346/
---------
We Can't Leave Girls and Young Women Behind In the Pursuit of Education: Islamic Relief Worldwide
11/25/2016
CEO of Islamic Relief Worldwide, an independent humanitarian and development organisation with a presence in over 40 countries worldwide.
In 1960 the three Mirabal sisters, political activists in the Dominican Republic, were brutally murdered. Since 1981 activists have marked that day, 25th November, as a day for speaking out against violence against women and girls (VAWG). This year the date will mark 16 Days of Activism against Gender Based Violence (GBV), aiming to raise awareness - amongst men, women, boys and girls of all ages and abilities - and mobilise communities everywhere to bring about transformative change.
The theme for this year is "From peace in the Home to Peace in the World - Make education safe for all". The theme echoes the saying of Omar ibn Al Khattab "acquire knowledge and learn tranquillity and dignity" ; access to safe and quality education for all is essential if we are to promote the dignity and wellbeing of individuals, families and communities.
Today, 66 million girls are missing out on education and a high proportion of them are disabled at a time when education has the power to transform their lives, the lives of people around them and the communities i which they live.
The first command given to the Prophet Muhammed (PBUH) and his followers from God was "Iqra" which means read. It implies the concept of learning, exploring and seeking enlightenment, which is demonstrated in Islamic history. Women were at the forefront of advancing various fields of learning including Islam, science, and established charitable, educational and religious institutions: Zubayda bint Ja'far al Mansur pioneered in the ambitious project of the construction of wells and service stations along the pilgrimage route from Baghdad to Mecca; Sutayta Al-Mahāmali was a famous mathematician; Dhayta Khatun excelled in management and statesmanship; Fatima el Fehri founded the Qarawiyin mosque in Fez Morocco - the first university in the world; and the engineer Mariam Al Ijiliya made astrolabes in Aleppo. The prominence of such educated women in the history of Islam ignites my passion to use my privilege and power to promote the education of all girls and to do my part to break the barriers they face in accessing quality education.
Education is a human right for all children - for boys and girls of all ages and abilities. It is recognised in the Universal Declaration of Human Rights, and is a principle agreed by many governments. Education is key to social development but unfortunately a number of challenges, cultural norms and practices have resulted in the low access to education for millions of children, particularly girls and young women. One of these barriers is the presence of Gender Based Violence (GBV) in and around school.
Girls with disabilities are disproportionately more likely to experience violence while entrenched assumptions about girls and women roles in the household influence perceptions, devaluing girl's education. For too many girls, pregnancy caused by early marriage means the end of their education alongside other life changes over which they have no control. We cannot ignore the reality - lack of interventions supporting girls in education will perpetuate gender inequality.
Access to education is not enough. To ensure girls of all abilities receive the empowering and transformational experience that education can offer, teachers need to be trained, supported and motivated, alongside building a culture in school that condemns GBV.
GBV is not inevitable, and prevention is possible. Prevention is essential.
The Sustainable Development Goals include specific targets on Gender Equality to end GBV as a human rights violation, violations that continue to be a global pandemic . Tackling GBV sits alongside the fourth Sustainable Development Goal which seeks to ensure inclusive and equitable quality education for all boys and girls, of all abilities. These SDGs offer huge promise, but must be adequately funded if we are to bring real change to the lives of women and girls. This global initiative provides us with an opportunity to advance innovation with the clear aim of increasing access to education for girls, and enabling us to retain them in the classroom.
Men and boys, in their roles as grandfather and father, son and brother, peers and mentors, teachers and principals, or the CEO of an iNGO, can support efforts to cultivate a school culture and community environment that condemns GBV and promotes the value of women and girls. This is a call to action on violence against women and girls, join me and others uniting our visions and voices to convince, inspires and demands for a transformative change
huffingtonpost.com/naser-haghamed/we-cant-leave-girls-and-y_b_13226252.html
---------
Muslim Shopper Wearing a Hijab Harassed By Woman At Grocery
By Maggie Shepard / Journal Staff Writer
Saturday, November 26th, 2016 at 12:05am
Barney Lopez could hear the woman from across the Smith's grocery store aisles.
"You're a terrorist. Get out of here," the woman, wearing a baseball cap and sunglasses, screamed at a female shopper wearing a hijab, a head covering worn by some Muslim women.
"I left my cart to see what was going on," Lopez said.
The woman in the cap was pointing at the woman in the hijab, yelling "every racist thing you could imagine to say," store manager Andrew Castillo said Friday.
"Pretty quickly, people started shouting at the lady in the baseball cap to stop and leave her alone, that she (the woman in the cap) was being the terrorist here and we don't want her here," Lopez said.
One shopper walked to the Muslim woman's side to support her.
Others called 911 and took pictures for evidence, if needed.
Employees at the store at Yale and Coal SE stepped in front of the screaming woman, who pushed so close to them they could smell the alcohol on her breath.
"Usually, we get some people that are mentally ill and we have to get them out and they'll leave. But she was adamant about getting her message across, but it wasn't a message any of us wanted to hear," Castillo said.
That sentiment and his actions, along with the shoppers' and employees' support of the woman, earned praise on Friday from the Centre for American-Islamic Relations civil rights group.
"Normally, we would issue a negative release calling for a hate crime probe, but because of the reaction of the store staff, I think it was appropriate to thank the staff because it sounds like they went above and beyond what is called for in these situations," said CAIR spokesman Ibrahim Hooper.
About five store employees walked the Muslim woman to her vehicle, making sure she wasn't targeted by the woman, who had exited the store but remained in the parking lot area.
The raving woman finally walked away.
About five minutes later, Castillo said, police arrived and attempted to track down the woman.
Albuquerque police did not respond to a request for information on the incident.
Castillo said the Muslim woman returned to the store a few hours after the incident.
"After it was over, we (staffers) talked like, 'Did this really happen just now?' " Castillo said. "Everybody was shocked and freaked out, so when the customer came back and thanked us all for what we did for her, we were really proud of ourselves to make that kind of impact on somebody we didn't know."
Lopez said he'd like to see the woman in the cap get some help and an "education" that "treating people like that is not OK" and that it damages people.
"It was kind of difficult to shop after that, because I was hypertensive about the situation that happened. I was walking around the store like, 'What did I come here to get?' When I checked out at the register, (the cashier) was shocked and (asked) 'What is the code for ice?' Everybody there was shaken by the incident."
While shaken, Lopez said the incident made him proud and hopeful.
"I think that it's a good example of what we should be doing in our lives when we see someone being hateful to a person. We need to get in the way and speak out. Too often people turn a blind eye because it's not their business. But this is a time when we have to look out for each other," Lopez said.
After the incident, Lopez posted a picture he took of the woman and a description of what happened to his Facebook page.
Hundreds of people have responded to his post, overwhelmingly positive and supportive of the intervention.
However, a few of the posts turned negative – surprising Lopez with their intensity. They called him racist and accused him of making up the story.
But Lopez said the incident, with so many different people coming together, gives him hope.
"This is the America I know. The America I know is many different faces, many different creeds and many different people who work together," he said. "It's a reminder to be vigilant to create the community that you want to create."
abqjournal.com/896172/muslim-shopper-wearing-a-hijab-harassed-by-woman-at-grocery.html
---------
Kurdish female fighters celebrate International Day for Elimination of Violence Against Women
November 26, 2016
Kobane – Kurdish female fighters of the Women's Protection Units (YPJ) in Rojava-Northern Syria celebrated on Friday the International Day for the Elimination of Violence Against Women.
Each year on November 25, the International Day for the Elimination of Violence against Women is commemorated. The all-female YPJ forces celebrated while at the battlefront against the Islamic State (ISIS) radical group.
"By joining the ranks of the Women's Protection Units (YPJ), we aim to end the ISIS-led slavery and the brutal oppression practiced against the women in the region," YPJ fighter Hamrin Rojava told ARA News.
"On the International Day for the Elimination of Violence Against Women we express our hope for all women to be freed from persecution," she said.
The YPJ female fighters have become a symbol of resistance and women's freedom in the region.
According to the Kurdish YPJ forces, violence against women has continued for centuries in the Middle East. However, the Women's Protection Units (YPJ) believe that they've broken down all constraints and obliged the traditionally-male-dominated society to respect them.
"In Rojava [Syria's Kurdish region], similar to any other part of the Middle East, women have suffered the most under social and traditional suppression. They have been constantly exposed to violence, and their basic rights have been constantly denied by the male-dominated society," Hamrin told ARA News.
"The establishment of the Women's Protection Units (YPJ) a few years ago came as part of a revolution against the social injustice. This revolution is not only limited to Rojava, but it has reached many parts of the Middle East," she said.
The Kurdish female fighters aspire to eliminate the violence and suppression practiced by radical groups like ISIS against women.
After taking over large parts of Syria and Iraq in summer 2014, ISIS jihadists have taken thousands of women and used them as sex slaves.
The YPJ fighters have participated in major battles against the Islamic State (ISIS), with an ultimate objective to liberate the region and free women captured by ISIS.
aranews.net/2016/11/kurdish-female-fighters-celebrate-international-day-elimination-violence-women/
---------
UN's Ban: Violence Against Women, Girls 'Imposes Large-scale Costs'
November 25, 2016
Much remains to be done to turn the awareness of violence against women and girls into meaningful change, U.N. Secretary-General Ban Ki-moon said Friday.
"Violence against women and girls imposes large-scale costs on families, communities and economies," Ban said in a statement Friday marking International Day for the Elimination of Violence Against Women and Girls. "When women cannot work as a result of violence, their employment may be put at risk, jeopardizing much-needed income, autonomy and their ability to leave abusive relationships."
November 25 is the start of the United Nation's 16-day campaign to raise awareness against gender-based violence. It ends December 10, Human Rights Day.
The statistics almost defy belief. What is even harder to understand is why: why men prey on women and girls; why societies shame the victims, why governments fail to punish deadly crimes, why the world denies itself the fruits of women's full participation," Ban said at a U.N. Women-hosted Orange the World event in New York.
"This is truly a matter of life and death," he added. "In some countries, as many as 70 percent of women report having experienced physical or sexual violence from an intimate partner. In some countries, intimate partner violence accounts for between 40 and 70 percent of female murder victims."
Ban said gender-based violence also results in lost productivity for businesses and drains resources from social services, the justice system and health care agencies. The net result, he said, is "enormous suffering as well as the exclusion of women from playing their full and rightful roles in society."
Ban is observing the U.N. day for the last time as U.N. chief. Incoming U.N. Secretary-General Antonio Guterres takes over January 1, 2017.
Around the world, dozens of protests were held Friday to mark the day.
In Turkey, protesters, mostly women, in Istanbul and Ankara spoke out against a recent proposal in parliament that critics said would legitimize child marriages. The proposal was withdrawn in its current form earlier this week and submitted for review by a parliamentary committee after mass protests last weekend.
"They discussed a proposal (the child marriage bill) last week. We came together as 137 organizations to raise our voices against the laws against women that AKP (Turkey's ruling Justice and Development Party) tried to inaugurate. We will tell them that we won't let the parliament pass the bills that are against women and children," Meltem Kolgazi, an academic, said.
Thousands protest in Buenos Aires
In Latin America, tens of thousands of demonstrators marched in Buenos Aires to protest horrific violence against women, a long-ignored issue in the region. About 200 women have been killed by former or current partners so far in 2016, AFP reported.
Thousands also marched in Chile, Uruguay, Colombia, Venezuela and Guatemala, with another planned Saturday in Peru, according to the French news agency AFP.
A study by the Pan American Health Organization (PAHO) found that domestic violence, which is illegal in Latin America, is vastly underreported. A PAHO study said only 14 percent of female victims report violent crimes they have suffered.
Events focused on eliminating gender-based violence were also held this week in Israel, Australia, Afghanistan and the United Arab Emirates.
Buenos Aires protester Dora Machicado, 42, told AFP that equality for women would translate to less violence.
"Economic independence frees us from the violence of machismo," she said.
Activists are also calling for a worldwide women's strike March 8, 2017. Organizers said strikes are planned in Argentina, Germany, Italy, Russia, Israel, South Korea and Mexico.
voanews.com/a/violence-against-women-girls-united-nations/3612388.html
---------
Women and Justice: Istanbul summit opens to discuss women's issues
Erdoğan and participants pose for a group photo during Friday's opening ceremony for the summit.
The 2nd International Women and Justice Summit held by the Turkish nongovernmental organization, Women and Democracy Association (KADEM), began in Istanbul on Friday, the start of a two-day event which focuses on the plight of female Syrian refugees and gives a platform to women's issues. Academics and activists specializing in women's issues have come together in Istanbul for the summit, which is hosted by KADEM and focuses on the challenges faced by women in their day-to-day lives, ranging from the gender gap issue to the portrayal of women in the media.
This year's summit will also focus on the challenges faced by female Syrian refugees, who make up a large portion of the refugees who have fled to foreign countries since the Syrian war began five years ago, displacing millions of people.
Turkish President Recep Tayyip Erdoğan and the U.N. Women's Regional Director for Europe and Central Asia and Representative to Turkey Ingibjörg Solrun Gisladottir are among the dignitaries attending the summit, along with ministers from several different countries.The first session of the summit, titled "Women in Peace Processes," will examine the opportunities available to women who seek to play a prominent role in the eradication of conflicts around the world; namely, violence which has a much more profound effect on women than men. It will be followed by a session on Syrian refugee women who faces the loss of their families, financial difficulties and abuse. Activists and academics will also discuss women in the workforce and workplace discrimination, a key issue that hinders the advancement and growth of women in the workplace. Low wages and maternity leave will also be issues addressed in the session. Other sessions including"Women's Role in Politics" "Decision Mechanisms," "Combating Violence Targeting Women," "Cultural Codes and Masculinity," as well as "The Portrayal of Women in Cinema, Television and Social Media," will also be held at the summit.
Addressing the event on Friday, President Recep Tayyip Erdoğan said in order to reach goals for a better world and for humanity, it is important to resolve the problems faced by women in society first and foremost, expressing his hope that summit discussions would, "Illuminate the path towards a better, more equal world for everyone." The president touched upon gender equality with reference to verses from the Quran, pointing out that according to Islamic belief, both females and males are equal. The president also stressed that Islam, as a religion, rejects a belittling mindset towards women, while saying that gender-related injustice has been a problem faced by women for centuries, asserting that women have suffered more greatly than men in terms of cruelty and injustice in society. "Women face discrimination in the workplace simply because of their gender and they are forced to adhere to an image carved for them by modern society. The exploitation of women has been almost institutionalized under the guise of customs," Erdoğan said. He noted that Turkey, under his tenure as prime minister, strived to relieve the burden of women with new regulations that encouraged their participation in the workplace.
U.N. Regional Director Gisladottir touched on the plight of female Syrian refugees while addressing the summit, pointing out that Turkey has hosted an estimated 697,000 Syrian women with urgent needs, praising Turkey for providing aid to these women. Gisladottir said many of these women were impoverished and has called upon the international community to assist these women.
Gisladottir also spoke about violence targeting women, saying that this is one of the most common and tragic violations of human rights in the world, stressing that people should be treated equally regardless of race, gender, religion or culture.
dailysabah.com/nation/2016/11/26/women-and-justice-istanbul-summit-opens-to-discuss-womens-issues
URL: https://newageislam.com/islam-women-feminism/somali-ameri-teen-be-first/d/109204
New Age Islam, Islam Online, Islamic Website, African Muslim News, Arab World News, South Asia News, Indian Muslim News, World Muslim News, Womens in Islam, Islamic Feminism, Arab Women, Womens In Arab, Islamphobia in America, Muslim Women in West, Islam Women and Feminism