New Age Islam News Bureau
3 Feb 2017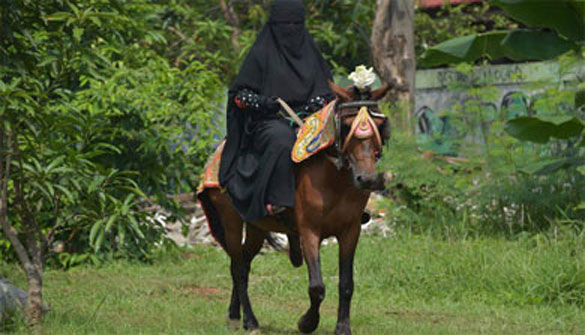 The Acehnese woman wept and covered her face as she was beaten
----
• Bid to Use Minor Girl as Suicide Bomber Foiled In Pakistan
• GCC States Need To Empower the Arab Woman
• Riyadh Celebrates First Saudi Women's Day
• DNA Test in Rape Cases Made Mandatory In Sindh, Pakistan
• World Hijab Day: Muslim Women Lament Discrimination
Compiled by New Age Islam News Bureau
URL: https://newageislam.com/islam-women-feminism/sobbing-acehnese-woman-covers-her/d/109946
-------
Sobbing Acehnese Woman Covers Her Face As She Is Whipped In Public 'For Having Sex outside Marriage'
2nd February 2017
The Acehnese woman is seen weeping and covering her face while being lashed for violating strict Islamic law in Banda Aceh, Indonesia.
The woman was sentenced to 26 lashes from a cane for her alleged crime. Her lover faced the same brutal punishment.
Aceh is the only province in Indonesia which has implemented Sharia law – which bans sexual contact between men and women who are not married.
Because Muslims make up the overwhelming majority of Aceh's population, the public largely accepted Sharia in 2014, but human rights groups are concerned about religious freedoms in the region.
Islam is the dominant religion in Aceh and over 98 per cent of the population of four million identify as Muslims.
The bylaws extend Sharia to non-Muslims and criminalise consensual same-sex sexual acts as well as sexual relations outside of marriage.
The criminal code permits as punishment up to 100 lashes and up to 100 months in prison for consensual same-sex sex acts.
"The bylaws deny people in Aceh the fundamental rights of expression, privacy, and freedom of religion," said Phelim Kine, Human Rights Watch deputy Asia director.
"Criminalising same-sex relations is a huge backward step that the Indonesian government should condemn and repeal. Whipping as punishment should have been left behind in the Middle Ages."
In October horrifying pictures emerged of a baying crowd watching an Acehnese couple accused of becoming too close in public being beaten.
https://www.thesun.co.uk/news/2765479/harrowing-moment-sobbing-woman-covers-her-face-as-she-is-whipped-in-public-for-having-sex-outside-marriage/
-------
Bid to Use Minor Girl as Suicide Bomber Foiled In Pakistan
February 03, 2017
QUETTA - The Frontier Corps personnel yesterday found a 10-year-old girl from Qambrani Road in Quetta, who was to be used as a suicide bomber in the provincial capital.
According to reports, the girl told the FC personnel she was kidnapped from Jacobabad, Sindh. She added the kidnappers told her to press the button of the explosive device at a site with a large number of policemen. The kidnappers told the girl they would give money and a house to her parents in return, she revealed. She added the kidnappers left her and fled after they spotted an FC checkpoint in the area.
After recording the girl's statement, security forces began searching for the kidnappers. No arrest has, however, been made so far.
Earlier, a similar incident happened in Lahore when the two boys who were going to be used for the same purpose were recovered. The ages of the boys were between 12 and 14.
Suicidal jackets and explosives were also recovered from the boys in Lahore.
http://nation.com.pk/national/03-Feb-2017/bid-to-use-minor-girl-as-suicide-bomber-foiled
-------
GCC states need to empower the Arab woman
February 1, 2017
The Gulf Cooperation Council (GCC) — Saudi Arabia, the UAE, Qatar, Kuwait, Oman, and Bahrain — has experienced remarkable economic transformation in the last three decades. In 1980, GCC's gross domestic product was $250 billion (Dh918.25 billion) and peaked in 2014 to $1.64 trillion — an almost seven-fold increase over three decades. GDP per capita, a gauge of living standards, rose from $18,000 to $32,000 during the same period, with oil revenues, to a large extent, providing the main growth impetus.
The drop in oil prices in recent years has put substantial pressure on the GCC's oil-based growth model. While oil prices have rebounded modestly from their low of less than $30 in early 2016, they are still much lower than their peak 2013 levels. Economic diversification has come to the fore again, and GCC governments are keen to wean their economies off oil.
However, one key lever of economic growth and diversification that has not yet been pressed in earnest is the role women play in the economic sphere. Undoubtedly, in terms of educational attainment, GCC women have made major strides — in the UAE women account for 70 per cent of university graduates and 57 per cent in Saudi Arabia.
However, judging by female labour force participation, there is still some way to go. The GCC's female labour force participation is low by global standards — ranging from 20 per cent in Saudi Arabia to 39 per cent in Bahrain and around 45 per cent in the UAE. Average participation in high-income countries is around 52 per cent.
There is compelling evidence that women can be powerful drivers of economic growth and diversification. A 2012 study by PricewaterhouseCoopers estimated that raising female employment to match male employment levels could have a direct impact on GDP of 12 per cent in the UAE.
Bangladesh case study
While the link between gender equality and economic diversification was hitherto tenuous, a 2016 research by the International Monetary Fund (IMF) shows that enhancing women's economic participation does lead to greater diversification. A case in point is Bangladesh, a traditionally agrarian economy, which has transformed itself into a global garment export powerhouse.
Today garments account for 82 per cent of Bangladesh's exports, up from 12 per cent in 1985. This phenomenal growth resulted from significant number of women entering the labour force. Almost 85 per cent of workers in the garment export sector are women and it employs 15 per cent of all Bangladeshi women in the age bracket of 16-30 years. Bangladesh is a clear testament to the economic benefits of enabling women to play a central role in the economic sphere.
Notwithstanding successes elsewhere, policies to encourage economic participation of women should take cognisance of the GCC's unique economic, social, and cultural structures. Take the economy and employment: non-tradable sectors such as real estate, construction, hotels, restaurants, and retail form a big chunk of the GCC's non-oil economy. It is difficult to attract GCC men to work in these industries, let alone GCC women. Unsurprisingly, most nationals work for the government or the public sector. This pattern is even more skewed for women, with only very few GCC female nationals working in the private sector. Governments' industrial policies should aim to transition from non-tradable, labour-intensive sectors to export-oriented services sectors such as legal, financial, consulting, energy research and technology services — a move sure to bring more GCC women into the labour force.
Not having adequate access to credit is one of the biggest impediments for entrepreneurs worldwide. The issue is even more severe for women in the GCC as they typically have less collateral and scant credit history compared to men. While microfinance schemes can help to an extent, governments need to play a greater role in ensuring that lack of access to finance does not come in the way of women entrepreneurs. One way to address this issue is to establish development funds for women entrepreneurs, akin to the subsidised housing funds which almost all GCC governments have for their nationals.
The biggest gains will come from making a conscious effort to move away from cultural stereotypes. Here the UAE is exemplary. Emirati women are increasingly breaking the cultural mould, with women making up one third of the UAE's cabinet. Increasingly they are choosing non-traditional careers: about 30 per cent of first-year students enrolled for a Bachelor's degree in aviation at Abu Dhabi University are women, compared with the worldwide average of 8-12 per cent. Other GCC countries should follow this lead.
The other cultural barrier is the unfavourable perception of women going out of the house to work. With technology such as video conferencing, virtual meeting rooms, web services and cloud-based computing, much of the work today can be done remotely from home. Targeted policies and guidelines for public and private sectors should be established to encourage the use of technology and facilitate working from home for GCC women.
"Never let a crisis go waste... it's an opportunity to do things you could not do before," so advised Rahm Emanuel, then White House Chief of Staff, in the aftermath of the global financial crisis. The drop in oil prices and renewed focus on economic diversification is an opportunity for the GCC to put women at the centre of the economic stage. Letting it go waste should not be an option.
Meenu Sethi is a gender studies scholar at SOAS, University of London.
http://gulfnews.com/opinion/thinkers/gcc-states-need-to-empower-the-arab-woman-1.1971671
-------
Riyadh celebrates first Saudi Women's Day
3 February 2017
RIYADH: Riyadh celebrates its first Saudi Women's Day, which started on Wednesday and will last for three days, with a large turnout expected.
The event, organized and hosted by the King Fahd Cultural Center in Riyadh, will include women's operetta for a female audience only.
"We want to celebrate the Saudi woman and her successful role, and remind people of her achievements in education, culture, medicine literature and other areas," Mohammed Al-Saif, general supervisor of the center, told Arab News.
The event comes in light of directives from the minister of culture and information to highlight the leading role of Saudi women in all fields.
Al-Saif said the center will be busy with activities for women only, but families are welcome to attend outdoor activities for children.
He added that the center's lobby will contain bazaars and booths that showcase the works of Saudi artists and photographers.
He said the operetta will be in the evening and will mark Saudi women's achievements over the past 50 years.
The event's schedule includes the participation of Saudi princesses in panel discussions. On the first day, Princess Al-Jawhara bint Fahad Al-Saud discussed women's role in education.
On the second day, Princess Adila bint Abdullah Al-Saud will talk about the Kingdom's heritage. She is a well-known advocate of women's right to drive, women's health awareness and their legal rights. She has spoken out against domestic violence, and has supported women's groups and organizations.
Princess Reema bint Bandar bin Sultan, the president's undersecretary for the female section at the General Authority for Sports, will address the importance of sports in the lives of Saudi women.
There were no attempts to stop the center's artistic programs by any party, said Al-Saif, who expressed gratitude for "heartwarming support and encouragement."
http://www.arabnews.com/node/1048461/saudi-arabia
-------
DNA Test in Rape Cases Made Mandatory in Sindh, Pakistan
HABIB KHAN GHORI
February 3rd, 2017
KARACHI: DNA test in rape cases has been made mandatory by the Sindh Assembly with the adoption of the government bill titled the Code of Criminal Procedure (Sindh Amendment) Bill, 2017 passed unanimously on Thursday to facilitate investigation and ensure dispensation of justice to rape victims.
Under the bill, which was one of three bills passed one after the other by the house with consensus, the DNA sample shall be collected from the rape victim by the police officer within 72 hours from the time of the incident for testing through government-recognised laboratories.
The DNA sample and its results shall be preserved in confidentiality.
The two other government bills passed unanimously after brief discussion are the Sindh Arms (Amendment) Bill, 2017, which pertains to issuance of arms licences to persons who are permanent residents of Sindh and also to federal government and autonomous bodies' employees belonging to other provinces but posted in Sindh.
The third bill, which was piloted by Transport Minister Syed Nasir Hussain Shah, was the Provincial Motor Vehicles (Amendment) Bill, 2015 pertaining to the rates of compensation which were revised in case of death and injuries to a passenger in a stage-carriage or contract carriage by amending the Provincial Motor Vehicles Ordinance, 1965.
By another amendment to the law the Sindh Bus Owners' Cooperative Society was replaced with an insurance company to prevent the society from misuse/utilisation of the compensation funds as so far there was no example in which the SBOC society had ever paid compensation to the victim in an incident.
Syed Sardar Ahmad of the MQM opposed the amendment replacing the bank guarantee with insurance company as the victim or their heirs had to run for months to get compensation, but the motion was rejected when put to the house.
However, amendments suggested by Sumeta Afzal of the MQM about increasing the death compensation from Rs250,000 to Rs 500,000 and in case of loss of both eyes from Rs140,000 to Rs250,000 were approved.
Before reading out the order of acting Governor Agha Siraj Durrani at 2.40pm to prorogue the session sine die after completion of the agenda, the acting Speaker Syeda Shehla Raza gave the floor to PPP MPA Ghulam Murtaza Baloch to table his resolution by relaxing the rules under Rule 256.
Through the resolution the assembly recommended the Sindh government to approach the federal government for grant of 80 per cent subsidy on electricity bills for agriculture tube-wells in Sindh.
The resolution was supported by all parliamentary groups and when put to the house was carried unanimously.
Earlier, Senior Minister for Parliamentary Affairs Nisar Ahmad Khuhro speaking on the general principles of the Code of Criminal Procedure (Amendment) Bill 2017 after its introduction said that in rape incidents, the cases were filed but no results could be obtained for want of evidence.
He said now the world was taking advantage of scientific research and technology by which the culprits involved in the rape could be identified.
He said some time back PPP MPA Sharmila Farooqui had also submitted a bill. He said as the DNA test had a lot of importance in identifying the persons involved in targeting innocent children, women in particular, therefore the government thought to declare the DNA test mandatory in cases of rape.
Sharmila Farooqui recalled that in 2013 her resolution was passed by the assembly for declaring DNA test mandatory in cases of rape.
She said that earlier, the samples for DNA tests used to be sent to Lahore and Islamabad, while reports were received after several months.
Faisal Sabzwari of the MQM said that it was a forward-looking legislation which will assist in providing justice to victims of rape and excesses.
He appealed to ulema to back the legislation.
Mehtab Akbar Rashdi of PML-F, Heer Soho and Naheed Begum of MQM, Dr Seema Zia of PTI and Minister Shamim Mumtaz supported the bill.
Health Minister Dr Sikander Mandhro dispelled the impression of not having any laboratory in Sindh for DNA test by pointing out that in Liaquat Medical University, Jamshoro, a DNA test laboratory was operational where in one day 10 samples could be examined.
Responding to a call attention notice of Dr Zafar Ahmad Kamali about misuse of the biometric system in schools of Mirpurkhas for sudden transfer of teachers, particularly of Urdu-speaking teachers and after greasing officials' palms, they were restored, Education Minister Jam Mehtab Dahar denied the allegation.
He said there was no discrimination on the basis of ethnicity.
In reply to the call attention notice of Syed Anwar Raza Naqvi regarding illegal conversion of residential buildings into commercial use in F.B. Area/Buffer Zone, the local government minister assured the lawmaker he would initiate an inquiry and illegal constructions would be removed.
Diwan Chand Chawla of MQM complained about water shortage in Keamari through his call attention notice.
Local Government Minister Jam Khan Shoro said the government was making efforts to overcome the water shortage by installing RO plants.
Faisal Rafique of MQM through his call attention notice drew attention to increasing street crimes in which mostly women were being targeted.
Responding to the notice Senior Minister Khuhro said that the government had taken steps to overcome crimes.
Published in Dawn, February 3rd, 2017
http://www.dawn.com/news/1312338/dna-test-in-rape-cases-made-mandatory-in-sindh
-------
World Hijab Day: Muslim women lament discrimination
February 3, 2017
A coalition of women groups under the aegis of Hijab Rights Advocacy Initiative has lamented what it called frequent discrimination and harassment of women over the use of hijab.
The groups, comprising Federation of Muslim Women Associations in Nigeria (FOMWAN), Al-Muminaat, The Criterion, Muslim Students' Society of Nigeria (MSSN) and Guild of Muslim Professionals, decried the situation, on Wednesday, in Lagos, at a media briefing to mark the World Hijab Day.
The World Hijab Day is an annual event celebrated on the first day of February in over 140 countries. The purpose of the day is to raise awareness about Islamic practice of dressing modestly in clothing that covers most of the body and to encourage non-Muslim women to experience the hijab for a day.
The groups' coordinator, Hajia Mutiat Orolu-Balogun, accused some government and private agencies in the country of involving in the discriminatory act which she described as an infringement on the women's constitutional right.
Orolu-Balogun, a lawyer, said despite their qualification, most women in hijab had been denied jobs and other opportunities.
She explained that women in hijab were also forced to expose their ears as well as their heads before writing Unified Tertiary Matriculation Examinations (UTME) or getting Bank Verification Number (BVN).
"Imagine being asked to take off your shirt or your trousers because you wanted to get your driver's licence, or being told you would not be able to vote in the next elections because you wouldn't bare your shoulders or show your cleavage in the picture on your voters card, or that you wouldn't have access to the funds in your bank account because you refused to show your bare back in order to register for your BVN. These, and worse, are what a Muslim woman who wears the hijab feels when she is asked to take off her hijab or expose her ears before she could be allowed her constitutional rights", Orolu-Balogun said.
She described hijab as religious duty and an obligation on every Muslim woman in the observance of her faith, saying that it was not culture of Arabs or a fashion accessory that one might discard at will.
"The right to believe in and practise one's chosen faith is an inalienable right of every human being, as entrenched in the constitution of the Federal Republic of Nigeria 1999 (as amended)", she added.
Also speaking, MSSN Lagos State Area Unit President, Hajia Hafsah Badru, appealed to the media to demonstrate objectivity, fairness and accuracy in reporting cases related to use of hijab.
According to her, asking a Muslim woman to remove her hijab is a form of violence against women. She said such should have no place in a progressive society like Nigeria.
"One thing we all seem to agree on is that violence against women is wrong in all its forms, whether it is physical, emotional or psychological. However, covering one's head doesn't mean that person should be looked down upon or be underestimated, women in hijab deserve to enjoy their constitutional right," Hajiya Badru said.
Click to share on Facebook (Opens in new window)Click to share on Twitter (Opens in new window)Share on Skype (Opens in new window)Click to share on WhatsApp (Opens in new window)
http://tribuneonlineng.com/world-hijab-day-muslim-women-lament-discrimination/
-------
URL: https://newageislam.com/islam-women-feminism/sobbing-acehnese-woman-covers-her/d/109946
New Age Islam, Islam Online, Islamic Website, African Muslim News, Arab World News, South Asia News, Indian Muslim News, World Muslim News, Womens in Islam, Islamic Feminism, Arab Women, Womens In Arab, Islamphobia in America, Muslim Women in West, Islam Women and Feminism, Moderate Islam, Moderate Muslims, Progressive Islam, Progressive Muslims, Liberal Islam