New Age Islam News Bureau
12 Dec 2013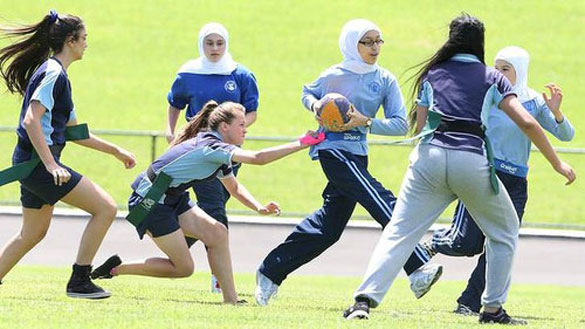 Girls from the Australian Islamic College in their debut match. Photo: Anthony Johnson
------------
• Release of Alexandria Girls Sparks More Controversy
• Baroness Warsi arrives in Dhaka
• Demand for Women-Only Buses in Istanbul
• In Afghanistan, Women's Progress in Freefall
• League in Harmony As Girls Take To the Field in Australia
• Political Will Needed to Tackle Violence against Women and Children in Africa
• Tanzania: FGM - When Women Suffer in the Name of Tradition
• Parents Worry over Invasion of Children's Privacy from Online Learning, Says Survey
Compiled by New Age Islam News Bureau
URL: https://newageislam.com/islam-women-feminism/skydiving-aseefa-zardari-jumps-humanity/d/34822
-------------
Skydiving: Aseefa Zardari 'Jumps For Humanity'
12 December 2013
Already known for her vocal stance on polio vaccination and being among the first girl childs to be administered polio drops during her mother's government, Aseefa Bhutto Zardari skydived on Tuesday to raise funds effort for victims of the Typhoon Haiyan in the Philippines.
UK-based charity organisation Disasters Emergency Committee is an umbrella group of 14 UK charities which are all associated with disaster related issues such as providing clean water, humanitarian aid and medical care.
According to Aseefa's page, she has helped raise £2, 516 to date. It further says:
"As a global citizen I have campaigned relentlessly for polio eradication in Pakistan and for affordable and credible health care systems in developing countries. I have decided to raise funds to support the victims of Typhoon Haiyan in the Philippines."
http://tribune.com.pk/story/643752/skydiving-aseefa-zardari-jumps-for-humanity/
-------------
Release of Alexandria girls sparks more controversy
12 December 2013
ALEXANDRIA — An Egyptian Misdemeanor Court of Appeals ordered the release on Dec. 7 of 21 female Islamist protesters whose jail sentences had stirred much controversy.
The 14 adults, who had each received 11 years and one month in jail, were handed a one-year suspended sentence.
The remaining seven minors, who were to be incarcerated in juvenile detention centers until the age of 18, are to be put on probation for three months.
The defendants, now known as the Alexandria Girls, were charged with sabotage, rioting and possession of weapons.
Even though the new verdict was greeted with considerable relief, it has caused nearly as much controversy as that triggered by the initial sentence, as questions are raised about the corresponding political messages.
Human rights organizations were the first to condemn the sentences as harsh and disproportionate.
The National Council for Motherhood and Childhood found the verdict to have flagrantly violated women's right to protest, and demanded the immediate release of the 21 girls.
The Arabic Network for Human Rights Information, and the Arab Center for the Independence of the Judiciary, took the same stand.
The council and three organizations issued a joint statement questioning the independence of the judiciary, which is constantly subjected to "pressure by governmental authorities to best serve their needs."
The statement added that "the country is in dire need of ending the use of the judiciary as a political tool and a weapon against the government's political opponents."
It accused the authorities of bringing back the police state that existed prior to the 2011 revolution.
For Azza Al-Ashmawi, secretary general of the National Council for Motherhood and Childhood, the verdict meant that "no one will be safe from their iron fist."
The fate of the girls is an example of how the government plans to "crush opposition," she added.
Nasser Amin, head of the Arab Center for the Independence of the Judiciary, attributed the verdict to the girls' affiliation rather than an actual crime committed.
"The government is now arresting and accusing anyone who belongs to the Muslim Brotherhood, exactly as [former President Mohammad] Morsi did with his opponents," he said. The "same old story" is being repeated, and nothing has changed since the end of Islamist rule, Amin added.
Under the title "Egypt must immediately and unconditionally release women protesters," an Amnesty International report condemned the Egyptian state for its "determination to punish dissent."
Hassiba Hadj Sahraoui, Amnesty's deputy director in the Middle East and North Africa, called the girls "prisoners of conscience" who had to be freed immediately.
"Instead of imprisoning peaceful protesters, authorities should be ensuring prompt, independent and impartial investigations into police abuse of protesters, reining in security forces, and upholding the right to freedom of peaceful assembly," she said.
The domestic and international outrage sparked by the verdict was followed by a statement issued by the office of interim President Adly Mansour, and circulated to the press by his advisor for women's affairs Sekina Fouad, in which the president pledged to intervene in the case only after all the legal procedures take their due course.
Mansour "will issue a full pardon to the Alexandria females after the final judicial process is completed," Fouad said, adding that the case would still have to go through the courts of appeals and cassation.
While this statement was seen as an attempt to contain the crisis, it raised more questions about the independence of the judiciary and the president's powers.
For Judge Ashraf Nada, head of the Cairo Court of Appeals, Mansour did not have the right to pardon the girls since they did not just violate the law that regulates protests.
http://www.saudigazette.com.sa/index.cfm?method=home.regcon&contentid=20131212189342
-------------
Baroness Warsi arrives in Dhaka
12 December 2013
British Senior Foreign and Commonwealth Office Minister Baroness Sayeeda Hussain Warsi arrived in Dhaka on Thursday morning to discuss the upcoming polls issues with the top leaders of the two major political parties. She is scheduled to hold a meeting with Prime Minister Sheikh Hasina around 11:30am at her official residence Ganobhaban and then BNP chairperson Khaleda Zia at her Gulshan residence. She will also meet foreign minister AH Mahmood Ali at the Foreign Ministry at 3pm. She will also meet the press in the afternoon before wrapping up her visit., according to UNB. Earlier on Wednesday, British High Commission in Dhaka issued a media release in this regard. The note also read that the UK government was concerned over the recent violence and arrests of senior politicians and opposition party members in a fellow Commonwealth country, with the subject raised in the Houses of Parliament and closely followed by the 500,000 people of Bangladeshi origin living in the UK. Earlier on Tuesday, the UK government issued a statement expressing its concern over the execution of war criminal Abdul Quader Molla. Warsi was scheduled to visit Bangladesh on November 3-4. Later, her planned visit to Bangladesh was postponed. Baroness Warsi visited Bangladesh in February to discuss a wide range of bilateral issues, covering the next Parliamentary elections, human rights, progress towards the Millennium Development Goals, the International Crimes Tribunal and Rohingyas. Following the recent developments in Bangladesh, Baroness Warsi also answered questions on Bangladesh live via twitter on April 18.
http://www.dhakatribune.com/politics/2013/dec/12/baroness-warsi-due-today#sthash.Lf0yEGj4.dpuf
-------------
Demand for women-only buses in Istanbul
12 December 2013
I met Zehra in Istanbul during the summer of 2012. She was working as a waitress at the café I frequented at Taksim. Always with a big polite smile, Zehra answered my endless questions about how to move around in Istanbul. She would explain to me which ferries to take, which streets are shortcuts, and which buses to avoid. She was what every woman would want to have in a city like Istanbul: a shrewd native of the city who knows the "nooks and crooks" of town. I will never forget the time she pulled her Taser gun from her purse and said, "I only use this when I'm groped."
Sexual harassment on the streets of Istanbul is anything but the "norm." When Allyson Neel reported the situation from Istanbul in January 2013, Elif, a young single woman working as an assistant to a prominent politician, criticized the piece as orientalist and commented on Twitter that the situation in Istanbul is nowhere comparable to that of India. I had a rather intense exchange with Elif. She was adamant that if you acted properly no men would harass you.
This was precisely why I was perplexed when I learned that Elif supported a possible march scheduled for Dec. 29 in Kadikoy, Istanbul for "women-only buses." When I asked why she would support this idea, and she said "because this would protect women and girls traveling without a male companion from verbal and physical harassment." I understood that Elif had been sexually harassed in public recently. She was hurt psychologically and kept repeating, "This could happen even to a hijabi [dressed according to Islamic rules]. I cannot understand; I am dressed so modestly."
Here I must provide the disclaimer that I am a supporter of "women-only transportation" in Turkey, given the situation. Allow me to explain: I know it is a temporary solution to a deeper problem, but I am not optimistic for "real" solutions from the government regarding women's issues.
Women-only areas in the public domain, including public transportation, cafes and other places, have long been a star in the Ikhwani [activist "brethren"] flags. However, examples of women-only transportation are not found exclusively in the Muslim world. Cities in Japan, India, Brazil, Mexico and Guatemala have similar programs. There are two common features in all women-only transportation programs. The first is perpetual sexual harassment. The second is politicians who use this opportunity to gain favors from voters. This is what writers for Turkey's most popular hypertext dictionary, Eksisozluk, debated with 30 pages of entries (about 300 items) between Dec. 5 and 8. Not even a government plan, but mere rumors of a just-proposed march had gotten most commentators up in arms.
The issue of sexual harassment is real for all women, young or old, hijabi or not. Yet there are other ways to minimize sexual harassment in public spaces, such as harsher punishment and better use of public security cameras. Public naming and shaming, not of the victim but the abuser, may be a good deterrent, yet none of these methods or others are being discussed in Turkey. The Turkish government and public are all too comfortable putting the blame and the responsibility on women to guard their chastity.
As Zehra, my cheerful young friend, correctly iterates, "If you share your harassment stories with your boyfriend, husband, or even father or brother, your freedom will be curtailed, and nothing will happen to the men." That is why when the news broke at the end of November 2013 that in a high school "female students demanded to eat lunch in isolation" and a curtain was hung to separate the sexes at the cafeteria, many asked what kind of harassment these young boys were capable of. AKP (Justice and Development Party) members' argument about how wrong it is to have coeducation has not yet been forgotten. Another city in Turkey, Afyon, has already started women-only buses to protect women from "incidents of theft" and overcrowding.
Consider the news of women-only beaches and swimming pools in upscale Turkish hotels, and the new trends (which have not yet reached Turkey) from Sanaa, Yemen and Egypt of women-only cafes. There are even newer alternatives as the latest Islamic cafe in Cairo, where women and men are served in separate sections and no music is played.
This kind of Islamic café trend is more likely to take hold in Turkey where gyms, beaches, pools, and cafes have sections for men and women. Already more places advertise as "family" establishments, and several of them turn away or seat unaccompanied men in different levels. This is an unspoken yet longtime custom in several small-scale Turkish eateries where male-only groups are seated on one floor and "families" (meaning females only, or females with male companions and children) are seated on a separate floor. Turks have been discreetly separating haremlik (family or female-only areas) and selamlik (male only areas) since the Ottoman era, so in the next decade it is likely that it will be called by its appropriate name.
Some people cannot help but ask, "What is next? Women-only streets?" Limits, as always, will be determined by the politics of the day.
Another argument is the commendable ability of Ikhwanis to use Western ways and means to enhance their goals. Public protests and solidarity marches are just a few. The good news is no one in Turkey expects this group marching for "women-only buses" to be gassed, water-hosed or arrested. This is the kind of march that has the AKP government's seal of approval. This kind of march also serves to solidify AKP's "conservative" base, which has been jolted, if not shaken, by the latest AKP-Gulen debacle.
Prime Minister Recep Tayyip Erdogan has calculated the loss of some Gulenist votes would not hurt his base; however, if Gulenists convince other "conservatives" or Islamist groups that AKP elites are not what they seem to be by the rumors of sex tapes or large-scale corruption or eavesdropping and surveillance of Islamic groups or observant Muslims, Erdogan would sustain heavy loses. Hence, it is a smart move to mobilize AKP's notorious "50%" base to unify under such "Islamic causes."
The more secular backlash there is on "conservative" or "Islamist" demands on sharing public spaces, the more rally-around-the-flag effect AKP — the only Islamist party in the political arena — would have on its way to the elections. Hence, we may expect more "talk" on sex in Turkish politics, be it women-only spaces in the public domain or sex tapes of AKP members — which Erdogan declared was against his conservative stand when opposition parties faced the same "dirty tricks" in Turkish politics a few years ago. If what goes around comes around for Erdogan, he will need Islamists to back him up for survival. And in the meantime, women like Elif and Zehra quietly suffer daily groping and other forms of sexual harassment on the streets of Istanbul.
http://www.al-monitor.com/pulse/originals/2013/12/women-only-bus-istanbul.html#ixzz2oFq2R4ZK
-------------
In Afghanistan, Women's Progress in Freefall
12 December 2013
NEWSER) – Women's rights have come a long way in Afghanistan over the last decade, but a Human Rights Watch researcher sees disturbing signs that the bad old days are poised to return as the US military exits. Violence against women has spiked in the last year, conservative lawmakers want to bring back stoning as punishment for adultery and abolish a minimum marrying age, and hundreds of women and girls are imprisoned for the "crime" of fleeing forced marriages or domestic violence, writes Heather Barr in the New York Times.
And then there's the "barbaric practice of virginity tests," in which females arrested on "morality" charges (or sometimes merely theft charges) must undergo a vaginal exam by government doctors who conclude whether she is a virgin. The tests aren't just "horrific," they're wildly inaccurate. The US and other countries pledge to keep funding women's services after international troops leave, but they have to back that up with action. "Support for the Afghan government and its security must depend on continued progress for Afghan women," writes Barr. "Anything less would be a betrayal."
http://www.newser.com/story/179036/in-afghanistan-womens-progress-in-freefall.html
-------------
League In Harmony As Girls Take To The Field in Australia
12 December 2013
There are cheers from the grandstand, the summer sun blazes high in the air and sausages sizzle on a nearby barbecue. But this is no regular footy game.
It's the debut match for the girls from the Australian Islamic College of Sydney, in the NRL's In League In Harmony Oztag competition for high school students.
Afsoon Rawi, a 14-year-old fan of the Canterbury-Bankstown Bulldogs, was amazed to find herself sharing the field with retired league legend Hazem El Masri, the multicultural co-ordinator for the program, which promotes teamwork and acceptance.
"I'm a big supporter of NRL," said Afsoon. "I enjoy playing it, I've watched for four years and Hazem's my biggest idol," she said.
The coach of the Islamic college's team, Said Kabalan, said the sports day was a great opportunity for the girls to meet students of different backgrounds from seven other schools.
"Sport is for everyone, no matter where you're from, or what background you're from ... no matter what your name is," Mr Kabalan said.
"The good thing about NRL today is that it's accommodating to different cultures and different religions."
El Masri, a devout Muslim and former Bulldogs fullback, would like to see more Australian athletes of different cultural backgrounds so that children have more role models.
"There are a few – but you can always have more," he said.
"You can never say five, 10 or 15 players is enough … it doesn't matter about your religion or background or culture, either way, we're here to just have fun."
Afsoon's teammate Tamena Shojai, 13, said that when her dad wished her luck on Thursday morning, he said her team could win.
But the Parramatta Eels supporter had a different aim.
"I just wanted to prove that I can play footy. Girls can do it too," Tamena said.
http://www.smh.com.au/nsw/league-in-harmony-as-girls-take-to-the-field-20131206-2ywal.html#ixzz2oFqozMx7
-------------
Political Will Needed to Tackle Violence against Women and Children in Africa
12 December 2013
The need to address HIV and sexual violence against women is an issue under the spotlight as leaders and activists gather at an international conference in South Africa this week.
Women living with HIV regularly face discrimination and are more likely to experience violence as a result of their status, not only from partners, family members and the wider community but also within institutional settings such as health care and prisons.
Dr Christine Kaseba, Zambia's first lady, said at the International Conference on AIDS and STIs in Africa (7-11 December): "One thousand women are being infected with HIV every single day and we need to see a transformation around Africa. If we fail to change the attitudes of men and boys towards women we will not reach our targets of zero new HIV infections, zero discrimination and zero AIDS-related deaths."
Gender-based violence
Gender-based violence goes on unabated - 13 million girls globally are forced into early marriages, while 45 per cent of women and girls face gender-based violence*. Connected to this, the HIV pandemic carries the face of a woman.
Gender inequality leads many women to depend entirely on men and Dr Kaseba emphasised the need for leaders who have committed to many international declarations to be taken to task about addressing the violation of women.
Dr Kaseba also talked about an unprecedented commitment with Africa now investing more in the HIV fight, which has led to a reduction in HIV infection in children, but she added: "Sexual and reproductive health and HIV are inter-connected and if we continue investing in these services it will promote health, and reduce poverty and gender inequality. In sub-Saharan Africa it is frightening as the number of women losing babies at child birth is still high."
Getting governments to act
Dr Kaseba urged delegates at the conference to engage first ladies as they make their calls to action, because they have access to the highest authorities in their countries. "Governments can do more to promote universal access to HIV treatment, care, support and human rights," she said.
It will certainly take more pressure from civil society to hold governments to account, to ensure endemic issues such as violence against women are addressed, along with protecting their sexual and reproductive health and rights.
Musician Annie Lennox, who is also a UNAIDS goodwill ambassador, spoke at the conference in the wake of Nelson Mandela's death. She said ten years ago she'd heard Mandela speak at a concert about women and children dying - he said graveyards were filling up quickly because an entire generation was being wiped out by HIV.
"Now 98 per cent of babies born [in South Africa] from mothers living with HIV are negative, an achievement which we can all celebrate, but so much more needs to be done," Lennox said.
"South Africa was blessed to have a man with such calibre and stature in its midst. Now it is in your hands - each one of us can engage wholeheartedly for what he stood for by asking, what have I done to make a difference?"
http://allafrica.com/stories/201312111336.html
-------------
Tanzania: FGM - When Women Suffer in the Name of Tradition
12 DECEMBER 2013
Female Genital Mutilation (FGM) is a devil the world over has failed to shake off. Despite various efforts by governments and different stakeholders to curb it, the problem remains a thorn in the flesh for most societies.
And, in Tanzania, fueled by some tribes that continue to hold onto ancient and outdated cultural beliefs, norms and values, women's rights are being trampled upon in the name of tradition.
Recently, this paper reported that FGM still persists in Singida District where between six and eight out of 10 women who report to hospital for delivery have undergone the cut.
It is reported that a matron at Ikungi Hospital, Ms Victoria Mmasi, said they had at first believed that most of the affected women were those of advanced age, but of late they have started noticing a rampant increase even among girls less than 18 years.
She said the majority of the FGM victims were those between 35 and 45 years, who were subjected to the cut at an early age. Ms Mmasi said they are running a special campaign with other partners in which women attend clinics where they are sensitised on the hazards of letting their children undergo the cut.
"It is women themselves who want it done to their children as a matter of tradition. But, we educate them on the risks involved. It is understood that laxity in implementation and enforcement of laws is the core reason why well-meant initiatives are failing, putting thousands of girls at risk.
Despite efforts, including enactment of laws by the government and other nongovernmental organisations (NGOs) and political leaders to fight the practice in the country, the tradition has persisted. For example, now in her 50s, Magret Beatrice (not her real name) still cannot get over the agony and shame of her teenage years.
Barely into adolescence - was subjected to one of the most severe forms of the practice - a practice long carried out in a number of regions. She was too young to understand what was happening to her. Like all other young girls in her area, she was required to go through the rite of passage before the onset of puberty.
The practice involves "cutting" a girl's clitoris and sewing of the vagina so as to create a narrow opening, just wide enough to allow the passing of urine and menstrual blood. Infibulated girls often have their legs bound together for up to four weeks to allow the freshly fused tissue to heal.
"All I know is that I had severe problems immediately after being excised. I remember going through a very agonising cycle of puberty. I remained covered in pain and humiliation,"she says The suffering caused by the practice is under the spotlight with the controversial practice widely condemned by rights and health organisations.
According to the World Health Organisation, there are about 140 million girls and women around the world currently living with the consequences of the practice. The majority of these females are in Africa, where it is routinely done in 28 countries.
An estimated 101 million girls 10 years old and above have undergone varying forms of genital mutilation in Africa. For families, it is a seal of guarantee that secures girls against any sexual encounter prior to marriage, and protects the family honour.
For infibulated girls, mutilation does not end with the childhood operation. In most cases cutting is done by a traditional practitioner without any anaesthesia and little care for hygiene. Razors, knives or scissors are used and they are rarely sterilised.
In most places where it is practised, FGM is considered an essential part of raising a girl and preparing her for womanhood and marriage. With its direct link to beliefs about premarital virginity and marital fidelity, the social pressure to adhere to the practice is intense.
Thousands of girls every year suffer health complications including severe vaginal pain, shock, bleeding and infection. Life-long consequences include infertility, childbirth complications and new-born deaths. In many instances, female circumcision is performed on extremely young girls.
In rural areas, for example, it is being done to girls under five. In some urban areas, the surgery is even conducted on new-born girls before they are 40 days old.
The practice violates a number of fundamental rights outlined under international protocols. But despite that, only 19 of the 28 countries that practice FGM in Africa have national laws prohibiting it. And, even where laws exist, prosecutions are rare.
Despite many African countries signing up to international legal frameworks Millions of girls are at risk of female genital mutilation. to protect children, traditional laws governing customary practices often override such treaties.
More than 30 million girls are at risk of being subjected to female genital mutilation over the next decade, a study by Unicef has found. It said more than 125 million girls and women alive today had undergone a procedure now opposed by the majority in countries where it was practised.
The report, 'Female Genital Mutilation/Cutting: A statistical overview and exploration of the dynamics of change', was released in Washington DC. The study, which pulled together 20 years of data from the 29 countries in Africa including Tanzania where FGM is still practised, found girls were less likely to be cut than they were some 30 years ago.
They were three times less likely than their mothers to have been cut in Tanzania and Kenya, and rates had dropped by almost half in Benin, the Central African Republic, Iraq, Liberia and Nigeria. But, FGM remains almost universal in Tanzania, Somalia, Guinea, Djibouti and Egypt and there was little discernible decline in Chad, the study found.
However, it did find that most girls and women, and a significant number of boys and men, opposed the practice. "The challenge now is to let girls and women, boys and men speak out loudly and clearly and announce they want this harmful practice abandoned," said Ms Rao Gupta.
The report recommends opening up the practice to greater public scrutiny so that entrenched social attitudes to it can be challenged. In some communities FGM, also known as female circumcision, is seen as a traditional ritual used culturally to ensure virginity and to make a woman marriageable.
It typically involves procedures that alter or injure female genital organs and is often carried out by traditional circumcisers, who play other central roles in communities. The dangers of FGM include severe bleeding, problems urinating, infections, infertility and increased risk of newborn deaths in childbirth.
The practice is defined by the WHO as a group of "procedures that intentionally alter or cause injury to the female genital organs for non-medical reasons". This year, a United Nations Children's Fund study found that FGM still remains "almost universal" in some countries and is prevalent in twenty-eight African countries, parts of the Middle East and Asia.
In a paper for the African Women Organization, Dr Ashenafi Moges noted that there is a general misconception with regards to emotion. It is hoped that the Gender Equality and Women Empowerment programme (GEWE II) being implemented by TAMWA in partnership with four other organizations can role out education against the practice.
These are the Tanzania Gender Networking Programme (TGNP), the Tanzania Women Lawyers Association, (TAWLA), The Zanzibar Female Lawyers Association (ZAFELA) and TAMWA's Crisis Resolving Centre- (CRC).
The programme is implemented in ten districts of Tanzania Mainland and Zanzibar. The districts includes; Wete (Pemba North), Unguja Urban West (Unguja West), Unguja South, Kisarawe (Coast), Newala (Mtwara), Mvomero (Morogoro), Lindi Rural, Ruangwa (Lindi) and two Dar es Salaam Districts of Kinondoni and Ilala.
http://allafrica.com/stories/201312120241.html?viewall=1
-------------
Parents worry over invasion of children's privacy from online learning, says survey
BY ELIZABETH ZACHARIAH
12 December 2013
A survey has found that parents are worried that children may be targeted by online advertisers and become victims of data mining. - The Malaysian Insider pic, December 11, 2013.
A survey has found that parents are worried that children may be targeted by online advertisers and become victims of data mining. - The Malaysian Insider pic, December 11, 2013.
Many parents in Malaysia are torn between allowing their children to use the Internet in schools to enhance their learning process and the need to protect them from being bombarded with online advertising and becoming victims of data mining, a survey has found.
The survey showed that while these parents are convinced that the efforts to enhance the learning process with ICT and Internet would bring about positive changes, they are concerned that their children's online activities could be tracked by advertisers.
The results of the survey of 400 parents, which was conducted by international non-profit group SafeGov.org with Parent Action Group for Education (PAGE), was revealed today.
"(The survey) had asked parents about the expected educational benefits as well as the potential threats to their children's privacy that school Internet services can bring," PAGE and Safety.org said in a statement today.
"The findings demonstrate the need to protect the privacy of children in Malaysia."
They were responding to the Education Ministry's plan to "better prepare Malaysia's children for the needs of the 21st century" under the National Education Blueprint 2013-2025, by leveraging ICT to scale up quality learning.
"While the majority of parents have high hopes for the benefits that modern Internet services offer to their children in schools, an overwhelming margin believe these services must not be allowed to engage in online advertising or data mining of children's personal information," they said.
It found that more than 75% of parents think Internet usage will help their children to learn creativity, problem-solving, and critical thinking. A similar number believe that it will aid their children to acquire essential skills in the Sciences and in mastering foreign languages.
However, more than 90% of them were worried that their children's online activities in school will be tracked for profit-making purposes by Internet service providers who rely on advertising.
"Although most parents (72%) believe that it is legitimate for schools to accept free services offered by Internet companies, 92% want schools to ensure that all advertising-related practices be banned from such services in schools.
Meanwhile, 82% of parents want the government to pass laws enforcing the ban on online advertising in schools and give parents full control over what kind of information about their children the Internet companies are allowed to collect, the survey revealed.
PAGE chairman Datin Noor Azimah Abdul Rahim stressed that it was important for parents to educate themselves on how to safeguard their children against any dangers on the Internet.
"We are moving towards a new era, where technology is going to be used widely in schools and we are aware of the dangers, so, parents themselves need to know what to do," she told The Malaysian Insider today.
"Schools, too, must ensure that all the firewalls are in place and operating to prevent advertising companies from obtaining information about the students."
She also noted that it was encouraging that most parents agreed on the importance of the Internet in the learning process.
"Technology in schools will have a significant impact on the learning experiences of our children and their future beyond school and education, and it's important that we have all parties on-board ready to embrace these changes," she added.
"It is our priority to ensure that the introduction of any internet services and online learning in the classroom are implemented in the safest and most non-intrusive way to protect the privacy of our children."
Meanwhile, SafeGov, which promotes the safe and secure use of cloud computing in schools, governments and other public sector institutions around the world, said the results of the survey showed that Malaysian parents held the highest hopes for Internet use in schools.
"But (at the same time), they firmly reject any intrusion into the classroom of online advertising or profiling of students for commercial purposes," said Safe Gov's Jeff Gould, adding that the survey was part of an ongoing global series of education surveys being conducted around the world.
http://www.themalaysianinsider.com/malaysia/article/parents-worry-over-invasion-of-childrens-privacy-from-online-learning-says
-------------
URL: https://newageislam.com/islam-women-feminism/skydiving-aseefa-zardari-jumps-humanity/d/34822