New Age Islam News Bureau
25 May 2019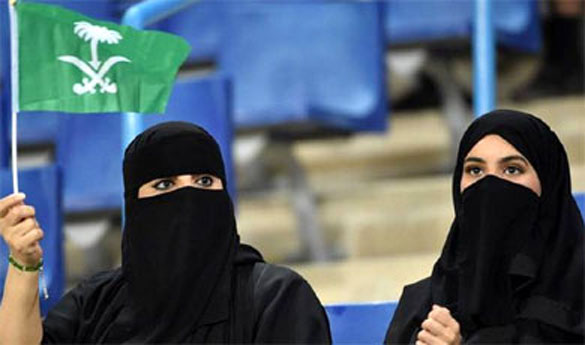 In a rare move last year, Saudi women were permitted to watch a football match in Riyadh in October last year. | Photo Credit: AFP
------
• Football Fandom Is Still Not a Level Playing Field For Women In Saudi And Iran
• The Indonesian Women Campaigning To 'Uninstall Feminism' and Oppose Anti-Sexual Violence Laws
• France's War on the Hijab Drives Muslim Women into the Shadows
• Nike's Hijab-Wearing Model Calls On Brands to Better Represent Muslim Women
• Women in the Law
• 9,000 Saudi Women to Be Employed In Driving Schools
• Saudi Arabia's Housing Goals Need Empowered Women
Compiled by New Age Islam News Bureau
URL: https://www.newageislam.com/islam-women-feminism/six-women-all-that-remain/d/118705
--------
Six Women Are All That Remain Of A Once-Thriving Jewish Community In Cairo
May 25, 2019
CAIRO: In 1971, Egyptian daily newspaper Akhbar Al-Youm published a story by journalist Abdel Wahab Mursi about Cairo's "Jewish Alley," and how it had changed during successive migrations by Jews from Egypt.
Mursi pointed out that the name is misleading and that this "alley" was in fact an entire neighborhood which, at the time of his report, was home to about 25,000 people. However, only 18 of them were Jewish, all of them elderly or widows. The rest were Muslims and Copts.
"The Jews who did not sell their property during the time of immigration never allowed others to live in the houses they left," wrote Mursi. He also writes about a number of synagogues, including one called Rab Ishmael at 13th Al-Sakkia Street. Another, called Moses Ben Maymon and also known as Hermban, at 15th Dar Mahmoud had collapsed suddenly on the first day of Ramadan in 1970. Other temples mentioned in his story include Al-Torkeya, Al-Istaz, Rab HayiinQabous, Ram Zamra and Al-Yahoud Al-Feda'eya.
Almost 50 years after the story was published, much has changed in Jewish Alley. Most notably, the entire Jewish community in Egypt, led by Magda Shehata Harun, now numbers six women, according to a statement they issued in 2016 following the death of one of their number, Lucy Sawel. As for the synagogues, all but one — the Adli Temple in Downtown Cairo — have vanished or become derelict ruins.
"Both the establishment of the State of Israel in 1948 and the outbreak of war between Jews and Arabs had a distinctive impact on the role of the Jewish community in Egypt," said Egyptian historian and writer Mohammed Abul Ghar. Most of the Jews liquidated their businesses and property and migrated to Europe, America or Israel."
Egypt was once host to the largest Jewish community in the Arab world. It was influential and involved in various aspects of Egyptian society. Although there are no accurate census figures, the Jewish population of the country was estimated to be between 75,000 and 80,000 in 1922, but had fallen to fewer than 100 by 2004.
At its peak, it included Arabic-speaking, Rabbinic and Karaite Jews, along with Sephardic Jews who had come to Egypt after they were expelled from Spain. In addition, trade flourished after the opening of the Suez Canal in 1869, attracting Ashkenazi Jews fleeing massacres in Europe. As a result, Egypt became a safe haven for Jews, who congregated in Jewish Alley and established a commercial and cultural elite. It would not last, however.
"During the era of Gamal Abdel Nasser (Egypt's president from 1954 until 1970), the conflict between Egypt and Israel increased dramatically," said Abul Ghar. "From the moment the State of Israel was established and invited Jews from all over the world to immigrate to it, Muslims started burning well-known shops owned by Jews, such as Chicoril and Ads.
"Several Israeli espionage networks, the members of which were Egyptian Jews, were discovered. In the 1980s, after Egypt's victory in the October 1973 Arab-Israeli war, some attempts to emigrate to Egypt by a few families were made. However, according to the Egyptian constitution, after someone acquires Israeli nationality he is stripped of Egyptian citizenship and so faces rejection of all applications for emigration."
In the days when the Jewish community was thriving in Egypt, Abul Ghar said that wealthy Jews monopolized certain fields of commerce, including "Mosa Dubik," "Marco E'nteibe" and "Jalabaj." They traded in scrap and toys, while "Mizrahi" and "Mozaki" organized textile auctions in Al-Mahalla Al-Kubra city.
Jewish Alley, meanwhile, was not very hospitable to non-Jews. Hajji Abdul Latif Fawzi, an 82-year-old former assistant secretary at a medical center, said that when he went there one day at the age of 10 he was hit in the eye with a stone that had been thrown at him. The Jewish residents prevented any outsider from entering their neighborhood except for the few Egyptians who worked with them in workshops and textile shops.
Fawzi said when he entered the alley, he heard someone saying "Joey ... Joey." This was a word used to describe "someone who is not Jewish" though he did not know this at the time. Then a group of young men rushed toward him and attacked.
"In the 1950s things began to change gradually in the neighborhood, as Jews started emigrating to Israel," he added.
http://www.arabnews.com/node/1501761/middle-east
--------
Football Fandom Is Still Not a Level Playing Field For Women In Saudi And Iran
MAY 24, 2019
Two weeks ahead of a potentially game-changing women's World Cup, football remains completely male-dominated in large parts of West Asia and North Africa, where female fans are still battling for a level playing field.
Women fans face obstacles in many parts of the region where rival powers Iran and Saudi Arabia have traditionally enforced rules banning women from entering stadiums.
No countries from the region will be among the 24 teams taking part in the tournament in France from June 7, but at least there are signs of flexibility in the region toward a sport igniting more and more female interest across the globe.
In Iran, rules have been relaxed since the 1979 Islamic revolution and women are selectively allowed to attend some matches.
But the fact that a ban has yet to be officially lifted indicates there is still disagreement over the issue among senior figures in the Islamic republic. Ultra-conservative Saudi Arabia allowed women into a football stadium for the first time in January 2018 for a regular domestic football league match.
Some reforms
The move was part of reforms introduced by Crown Prince Mohammed bin Salman that included allowing women to drive and take part in other sporting and artistic events.
However, the kingdom's strict brand of Islam still mandates separation of the sexes in public and women football fans are only admitted to special sections of stadiums and must wear full Islamic veils. Even so 15,000 women, penned in special sections, were among the 62,000 fans who attended the Italian Super Cup between Juventus and AC Milan played in Jeddah in January.
Rules banning women from football games in Iran were introduced by religious leaders concerned about public morals and the risk to women of unwanted attention from men in the crush to enter and leave the stadiums.
Exceptions have been made: a handful of Irish women became the first females permitted to watch a match in Islamic Iran when they were allowed to attend a 2001 World Cup qualifier between a visiting Ireland team and the hosts.
More recently 850 Iranian women were allowed to attend the Asian Champions league final between Iran's Persepolis FC and Kashima Antlers of Japan.
The women had to show up two hours ahead of kick-off, entering well before the men and going to their own separate section of the stadium.
A limited number of women were also permitted to watch Iran's men's games in the 2018 World Cup on a giant screen erected in the capital, Tehran.
World Cup in France
However, as women's football is expected to draw huge attendances at the World Cup in France, Iranian women still face challenges with their attendance at matches remaining controversial.
After a handful of women were allowed to watch a match between Iran and Bolivia in October, Iran's prosecutor general Mohammad Javad Montazeri said permitting women to watch men in shorts was "a sin".
Apart from Saudi Arabia and Iran, no other country in the region actively bans women from attending football matches but female football followers are generally in a minority.
Nevertheless, Tunisia has actively encouraged women fans by offering them free tickets to international matches while more Moroccan women are also watching the sport alongside men.
https://www.thehindu.com/news/international/football-fandom-is-still-not-a-level-playing-field-for-women-in-saudi-and-iran/article27240003.ece
--------
The Indonesian Women Campaigning To 'Uninstall Feminism' and Oppose Anti-Sexual Violence Laws
May 25, 2019
They refer to feminism as "poison". They ridicule the LGBT community.
Indonesia Tanpa Feminis or Indonesia Without Feminists — a campaign started just before the country's April 17 elections — recently went viral for its opposition to feminism as a supposed Western import incompatible with Islamic values.
Their rejection of feminism is based on the assertion that "my body is not mine, but rather Allah's" and has sparked public debate over the role of women in the world's largest Muslim-majority country.
Indonesia Without Feminists' slogan #UninstallFeminism reflects a growing, tech-savvy ultra-conservative movement that appeals to millennials with memes and graphics, that more mainstream, moderate organisations have failed to emulate.
"If we're talking about anti-feminism, that's not new," said Dr Dina Afrianty, a research fellow at La Trobe University.
What is new — argues violence against women campaigner Yuni Asrianty — is anti-feminists' clever use of digital platforms and policy advocacy to push their puritanical and conservative ideas.
Meanwhile, experts have highlighted recently that the movement also signals a marked shift towards women becoming more involved in explicitly anti-feminist activities.
A growing coalition
Indonesia Without Feminists has gained several thousand followers through its social media platforms since its creation three months ago.
It is also associated with other established conservative social movements including Indonesia Without Dating, where memes and merchandise promoting chastity have attracted almost 1 million followers.
"This movement [Indonesia Without Dating] was indeed initiated by young people for young people," Dyah Ayu Kartika, a researcher for the Jakarta-based Centre for the Study of Religion and Democracy (PUSAD Paramadina), told the ABC.
Women have become increasingly mobilised by hard-line Islamic groups and political parties in Indonesia.
A recent report from the Jakarta-based Institute for Policy Analysis of Conflict argued the mass movement against former Jakarta governor Basuki "Ahok" Tjahaja Purnama had "activated women's political agency along conservative lines".
"[These campaigners believe] mothers must mobilise against Jokowi in order to protect their children from un-Godly communism, homosexuality and other moral threats associated with Jokowi's camp," the report said.
More recently, President Joko "Jokowi" Widodo's opponent Prabowo Subianto and the Gerindra Party mobilised female volunteers in a bid to unseat Mr Widodo in the elections.
For Australian medical anthropologist Linda Rae Bennett, the Indonesia Without Feminists movement and other women-led conservative activism is a response to a proposed anti-sexual violence bill.
Importantly, the bill would outlaw marital rape.
All parties in Parliament have expressed support for the legislation, except for the Islamic-based Prosperous Justice Party (PKS).
Dr Bennett described new anti-feminist activism as a "proxy war" against the law backed by powerful male figures, who would stand to lose their right to have sex with their wives whenever they like.
Meanwhile, Azizah Nur Tamhid, a female candidate for PKS, appears to have secured another seat for the party in the recent Indonesian elections, which saw the party's vote increase.
But women's activists remain optimistic that the law will be passed eventually, pointing to a number of victories for women's rights, including the country's landmark anti-domestic violence law of 2004.
https://www.abc.net.au/news/2019-05-25/why-some-women-are-campaigning-against-equality-in-indonesia/11114288
--------
France's War on the Hijab Drives Muslim Women into the Shadows
24 May, 2019
The news this week, that the French senate has passed a law banning mothers from accompanying their children on school trips while wearing a headscarf, reminded many that mercy - even during the most sacred of Islamic months dedicated to just that - is not something often afforded to Muslims these days.
We are only half way into the fasting month and Ramadhan has already been soured with daily headlines of growing state and street-level Islamophobia. The right, it seems, views each day as a new opportunity to target some of the most oppressed sections of European society: Muslim women.
The Republicans party in France demonstrated just that by proposing an extension to the existing restrictions on religious clothing. The party explicitly stated that this law "prohibits the wearing of the veil during school trips". Leaving no wiggle-room for those who may have used the now tired excuse that it will impact all faith and non-faith groups since the text refers to, "conspicuous religious symbols".
The vote passed through the upper house of the national assembly with 186 votes in favour, 100 against and 156 abstentions.
This development in the increasing marginalisation of Muslim women at the hands of the French state may be of little surprise to many - especially the targeted community itself. Both the right and left of the country, from political parties, to writers, journalists, public figures and even artists, have not ceased to wage war on the hijab and burqa for the last 15 years.
The first ban on the veil was introduced in 2004 by then president, Jacques Chirac and applied to all schools and colleges in France. The law which was said to have been sparked by 9/11, was voted in through the national assembly with an overwhelming 494-36.
Although passed by a right wing government, the controversy was in fact sparked by two teachers, both members of radical socialists organisations, who campaigned to exclude two hijab-wearing students from their school.
The years that followed were dominated by a discourse laid out by former French president Nicholas Sarkozy, that "France is a country in which the Burqa does not belong", so it came as no surprise when a ban on face veils (ie. the burqa) in all public spaces, was introduced in 2011.
Any violation of this law would lead to a fine of $168 and possibly the need to undergo a form of citizenship re-education programme. Because in the eyes of the French government, having any desire to wear the burqa is in direct contradiction with the aggressively secular (read racist) collective national identity that must be upheld and internalised, in order to access any basic rights in France.
Then it 2016, it was the burkini that the state went after. Prime Minister Manuel Valls stated that they were an "affirmation of political Islam in the public space".
In other words, Muslim women live openly among us and they must be driven back into the shadows. So for example, when the 2011 ban was enforced, and Muslim women protested outside of Notre Dame de Paris cathedral, over 60 of the demonstrators were arrested. By 2015 alone, over 1,600 police stops related to the ban had been made, and 1,546 fines issued.
Indeed, what is strikingly recurrent in all these laws has been the organised desire, from all corners of the political spectrum, to drive Muslim women out of the public sphere.
Schools, universities, public services, and even beaches or swimming pools have all become battle grounds over access to and control over public space. In the name of "liberating" women from their so-called patriarchal religious oppression, the state is pushing Muslim women into the home and out of active political and social life.
In reality, the anti-Muslim hatred enshrined in the political practices of the republic have existed since its colonisation of Muslim-majority lands - and Algeria in particular.
Muslim women's choice of outward religious expression was both used to reinforce the otherness of the former colonies, and as an excuse to strip them of any freedoms.
Muslim women were imagined as in need of saving by the Republic, which then served as a useful justification for colonisation and its "civilising mission". Public veil burnings became one of the potent symbols of exactly that process of violent oppression masquerading as liberation.
It is clear that the French political establishment is hell-bent on continuing its long racist history of targeting Muslims, particularly those who are visibly so, because they remind them that the reality of the country is a fast-changing, racially diverse one. The empire is coming home to roost.
While the France may have pioneered institutionalising gendered Islamophobia by being the first country to implement a ban on the face veil, it is not the only country enforcing such policies.
Austria already has had the Anti-Face-Covering Act - aka burqa ban - in place since 2017 when the coalition of the country's Social Democrats and conservative Austrian People's Party sought to outdo the far-right Freedom Party after their almost victorious presidential campaign.
The burqa, which was worn by around 150 women in a country of around 8.7 million, was said to have been a hindrance to an "open society". The government introduced a law forbidding the hijab in schools altogether, just last week. Similar laws on face veils and burqas exist in Denmark, regions in Italy as well as Spain, Germany, Belgium and the Netherlands.
The current struggle is thus one over the outcome of 70 years of post-colonial migration as well as women's rights. Just as colonialism fought its war on the bodies of women in the Global South - an ongoing theme in contemporary western interventions in the Middle East - the same is true of the state's assault on people of colour at home.
It is through the policing of women's places in the public sphere that the broader exclusion of black and brown populations is being organised. Our cheap labour remains welcome, but it should remain hidden from sight. A battle which, judging by our central role in social movements, sports, popular culture, or intellectual production, has already been truly lost.
https://www.alaraby.co.uk/english/comment/2019/5/24/frances-anti-hijab-laws-drive-muslim-women-into-the-shadows
--------
Nike's Hijab-Wearing Model Calls On Brands to Better Represent Muslim Women
May 25, 2019
Nike's first hijab-wearing model has called on brands to better represent Muslim women.
Manal Rostom, who founded Facebook group Surviving Hijab, told the Wacl Gather conference in London yesterday (23 May) that she called out Nike in 2014 for not featuring "any women that looked like us".
She said: "The women looked hot in shorts with a ponytail bobbing side to side. There was no representation of Muslim women, so I emailed them."
Since sending the email, Nike has released performance headwear – which she modelled – in an attempt to normalise depictions of women wearing hijabs in sports.
Rostom explained that "even competitors" are slowly embracing diversity and driving change, highlighting Adidas, Apple, H&M and Gap for their latest efforts.
"I think we are doing great, but we need more brands to come on board so that we aren't having this conversation any more," Rostom said. "We need to stop turning heads on the street. We still have so much work to do to switch the narrative around the world.
"I'm sorry but if you bump into my hijab, what's going to happen? It's not going to explode, it's not going to bomb the room. So I really feel like there needs to be an open conversation, with sports federations, about how people can really embrace all faiths and cultures to embrace all athletes."
Rostom added that sports organisations also need to better cater to Muslim women: "I feel like all these federations and sports authorities need to have an open conversation about what can they do to welcome more faith into sport."
Also speaking at the event was trans activist Charlie Craggs, who echoed the lack of representation of the diversity of women. She said: "It wasn't until I saw Nadia [Almada] on Big Brother that I saw myself in the media and thought: 'That's me.'
"I only saw trans being laughed at on Jeremy Kyle or dead on the news. We were punchlines or punching bags."
https://www.campaignlive.co.uk/article/nikes-hijab-wearing-model-calls-brands-better-represent-muslim-women/1585647
--------
Women in the Law
25 May, 2019
Analysing the state of women's rights in India is no mean feat, as struggles for gender equality have been fought for centuries, and are not likely to conclude even in the course of the coming 50 years. It is, however, critical to periodically reflect on how those tasked with upholding women's rights in the largest democracy in the world are shaping these struggles. Recent years leading up to 2019 witnessed the judiciary, both high courts as well as the Supreme Court, engaging with arguably controversial issues, especially those lying at the intersection of non-discrimination and religious freedoms, and on most occasions, taking a view to aid uplifting the state of women's rights in the country.
Women and Religion
The Bombay High Court's decision dated 26 August 2016 (the "Haji Ali" case), allowing women to enter the sanctum sanctorum of the Haji Ali dargah, was in some ways the first of the many progressive judgments that the judiciary has been hailed for in the recent years (Dr Noorjehan Safia Niaz and Others v State of Maharashtra and Others 2016). The Bombay High Court opined that the Haji Ali Dargah Trust was a public charitable trust, open to all public. Once a public character is attached to a place of worship, the court held, fundamental rights under Article 14 (equality before law), Article 15 (prohibition of discrimination on grounds of religion, race, caste, sex or place of birth) and Article 25 (freedom of conscience and free profession, practice and propagation of religion) of the Constitution would come into play. The court found the practice of disallowing women from entering into the sanctum sanctorum to be a violation of the above-mentioned fundamental rights. While the Haji Ali Dargah Trust appealed against the decision in the Supreme Court, they soon conceded (Rajgopal 2016).
In a subsequent decision dated 22 August 2017 (the "triple talaq" case), the Supreme Court struck down the practice of talaq-e-biddat, more commonly known as triple talaq, for being violative of Article 14 of the Constitution which requires laws to be reasonable and non-arbitrary (Shayara Bano v Union of India and Others 2017). The Court held the practice to be manifestly arbitrary as it is instant and irrevocable, and leaves no room for reconciliation between the husband and wife, allowing a man to whimsically end a marital tie. The verdict was celebrated widely as it concluded countless Muslim women's struggle against the oppressive practice which had for long been considered "good in law though bad in theology" (Shayara Bano v Union of India and Others 2017; Wire 2017).
In the subsequent decision dated 28 September 2018 (the "Sabarimala" case) as well, the Supreme Court found the temple's practice of disallowing women of menstrual age as being violative of their fundamental right under Article 25 which "equally" entitles everyone to freely practise religion (Indian Young Lawyers Association and Others v The State of Kerala and Others 2018). The Court further held that the right under Article 25 has nothing to do with gender or certain physiological factors specifically attributable to women, and is equally available to both men and women of all age groups. Justice D Y Chandrachud even went so far as to liken the practice to untouchability (which is expressly prohibited under Article 17 of the Constitution), due to notions of "purity and pollution" associated with menstruation.
The obvious commonality in these cases was that they tested the boundaries of the constitutional protection for religious freedom. Also critical to the court's analysis in each of these cases was the long established test of whether the impugned practices were an "essential" or "integral part" of the religion in question (Commissioner of Police and Others v Acharya Jagadishwarananda Avadhuta and Others 2004). This was relevant as any constitutional protection of religious freedoms of those in support of the impugned practices is limited to aspects which are essential or integral to the religion, such that the absence of the practice in question would alter the very nature of the religion. In each of the cases, therefore, the finding that the practice in question was not an essential or integral part of the religion was an important tipping point.
'Love Jihad' and Adultery Case
In the famous case of Hadiya (formerly Akhila Ashokan), which came to be known as the "love jihad" case, the Supreme Court went to great lengths to uphold the decision of a 24-year-old woman to convert to Islam and marry a man of her choosing (Shafin Jahan v Asokhan K M and Others 2018). The Court sharply criticised the paternalistic approach taken by the Kerala High Court when declaring her marriage with a Muslim man as null and void. The Court noted that constitutional freedoms of an individual could not be made subservient to patriarchal social mores, as had been done by the high court when rendering a decision in favour of the petitioner (Hadiya's father). The high court's approach, it appears, was motivated by the growing fear around "love jihad," which right-wing forces allege is being practised in several states, including Kerala, even though no evidence supporting any such practice has been found (Wire 2018).
In a decision dated 27 September 2018 (the "Adultery" case), where the constitutionality of substantive and procedural provisions relating to adultery was challenged, the Court found the provisions unconstitutional (Joseph Shine v Union of India 2018). The Court also went to great lengths to highlight that in the garb of protectionism, the impugned provisions led to the subordination of women, reflecting an evolving understanding of gender justice. It found that instead of punishing the act itself, the impugned provision punished the propriety interest of a married man in his wife. Further, the Court also emphasised on sexual autonomy of a woman, regardless of marital status, being a constitutionally guaranteed freedom.
There is no doubt that the judiciary has, through these decisions, set laudable precedents for gender justice in India. However, the judicial approach in deciding these cases is not entirely free from criticism. Although the Supreme Court's decisions in the Triple Talaq and Sabarimala cases were principally in favour of women, a closer reading of the judgments reveals that the Court's findings were based on grounds other than the fact that the impugned practices treated women (or certain women) as inferior citizens.
In the triple talaq case, for instance, the Court's rationale for finding the practice unconstitutional was that it was manifestly arbitrary and illogical, and hence violative of Article 14. The Court did not express clear views on whether the practice discriminates against women on grounds of sex, while giving only men the right to avail of triple talaq. In the Sabarimala case too, a majority of the judges shied away from opining on whether the practice was in violation of Articles 14 and 15, but rather focused their attention on the right to religious freedom, under Article 25, of women aged between 10 and 50 years.
Despite the fact that the petitioners in the cases raised arguments on the basis of Articles 14 and 15, the majority refrained from expressing any clear views on the same. One may argue that the Supreme Court's approach may have been a strategic one, trying to uphold women's rights without ruffling too many feathers or opening floodgates for gender discrimination litigation. However, shying away from opining on the implication of the impugned practices vis-à-vis Articles 14 and 15 exposes the judgments to being read selectively, and somewhat curtails their usefulness in supporting future litigants in their challenges against discriminatory practices, particularly in non-religious contexts.
No Single Voice
Yet another pattern that emerges from the above verdicts is the judges' inclination to render separate opinions when giving their decisions. This approach becomes problematic in cases where even though a majority of the judges arrive at a common conclusion, they arrive at the said conclusion using different rationales. In the triple talaq case, for instance, the Court held the impugned practice to be unconstitutional by a slim majority of three out of five judges. A detailed reading of the opinions of the three judges, arguably the "majority opinion," shows that the judges hardly spoke in a common voice when invalidating triple talaq. While Justice R F Nariman and Justice Uday Umesh Lalit found the practice to be unconstitutional for being manifestly arbitrary and therefore violating Article 14, Justice Kurian Joseph focused on how an Islamic practice, which is contrary to the Quran, could not enjoy constitutional protection (Mandal 2017; Shayara Bano v Union of India and Others 2017). Similar patterns highlighting lack of consistency in the principles applied in opinions that together constitute the "majority opinion" can also be found in the Sabarimala case and the Adultery case.
Although the concern here with absence of a single voice may seem only for argument's sake at first, it has wider implications. The judges' inability to speak in one voice becomes critical when one attempts to distil the ratio decidendi (the reasoning which forms the basis of a particular decision). The ratio decidendi is the principle that a case establishes, and comprises the precedent which lower courts, and indeed smaller benches of the same court, are bound to follow when deciding future cases with similar facts or issues.
The judges' tendency in the above cases to resort to varying rationales to arrive at the same conclusion makes it difficult to understand what principles have been laid down by the court. This lack of clear principles is likely to, in turn, make it challenging for future litigants to place reliance on these landmark decisions in pursuing their legal battles against discriminatory practices.
Many Facets of Law
While it is certainly worth celebrating the largely consistent progressive approach taken by the judiciary, it is worth noting that Supreme Court judgments are merely one source of "law" in the country. Worth equal (arguably, more) attention are the initiatives, both legislative and otherwise, taken by governments in championing the cause of women's rights. Further, it is of utmost importance that the judiciary's positive contributions to the women's rights discourse are not conflated with those of the incumbent government, given that not only does the judiciary operate separately from the government, but in most cases those who challenge legislative provisions on constitutional grounds are adversaries to governments.1
Although a thorough analysis of the incumbent government's performance on gender issues is outside the scope of this article, it is worth noting that the criticisms are not few. While some have faulted the Modi government for not delivering adequately on any of its promises on women's rights and safety in its 2014 manifesto, others have levelled more specific criticisms on the implementation of particular government initiatives aimed at enhancing gender equality in the country (Johari 2019; Menon 2019; Rath 2018).
Of relevance to the discussion is also the Modi government's emphasis on Muslim Women (Protection of Rights on Marriage) Bill, 2017. One of the most consistent legislative efforts by government on "gender issues," the bill was introduced and passed in the Lok Sabha on 28 December 2017, months after the Supreme Court verdict on triple talaq. Lack of adequate support in the Rajya Sabha to make it a law led the government to promulgate (more than once) the bill as an ordinance (PRS 2019). Given the polarised political landscape in India, however, it comes as no surprise that the repeated re-promulgation of the ordinance has attracted sharp criticism from various quarters for being less about women's rights (which, arguably, already stood protected after the Supreme Court verdict) and more about punishing Muslim men (Das 2019; Rajgopal 2018).
On Reflection
There is no doubt that the courts' recent decisions have helped women in the country in their fight to establish a truly equal status for themselves. By calling out oppressive practices and striking them down for treating women as subordinate citizens, the courts have indeed paved the way for future legal challenges against discriminatory practices, whether in the context of women's religious freedoms or otherwise. It is, however, important to not lose sight of the larger picture. The National Crime Records Bureau continue to reveal shockingly high rates of crimes against women, and a recent poll deemed India to be the world's most unsafe country for women (NCRB 2016; Thomson Reuters Foundation 2018). Despite developments in law, therefore, the ground reality leaves much to be desired. One can only hope that a better place for women in the law will in due course result in a better reality for women in all spheres.
Note
1 The Union of India's stance in the Triple Talaq case, however, was unusual. The dissenting opinion, it appears, even relied on the Union of India's support for the petitioner's cause when exercising its extraordinary powers under Article 142 of the Constitution, in essence ordering the legislature to look into the matter in a time-bound manner. See Shayara Bano v Union of India (2016).
References
Das, Krishna N (2019): "India's Congress to Scrap Law Punishing Muslim Men for Instant Divorce if Voted Back to Power," Reuters, 7 February, https://www.reuters.com/article/us-india-election-muslims/indias-congress-to-scrap-law-punishing-muslim-men-for-instant-divorce-if-voted-back-to-power-idUSKCN1PW1HL.
Johari, Aarefa (2019): "BJP 2014 Manifesto Check: How Much Has the Modi Government Done for Women's Empowerment?," Scroll.in, 26 March, https://scroll.in/article/917296/bjp-2014-
manifesto-check-how-much-has-the-modi-government-done-for-womens-empowerment.
Mandal, Saptarshi (2017): "Triple Talaq Judgment and the Continuing Confusion about the Constitutional Status of Personal Law," Economic & Political Weekly, Vol 52, No 35, https://www.epw.in/engage/article/triple-talaq-judgment-and-continuing-confusion-about-personal-law-and-constitution.
Menon, Aditya (2019): "Truth of 'Beti Bhachao Beti Padhao': 56% Funds Spent on Publicity," Bloomberg Quint, 22 January, https://www.bloombergquint.com/quint/truth-of-beti-bachao-beti-padhao-funds-spent-on-publicity.
NCRB (2016): "Crime in India 2016: Statistics," National Crime Records Bureau, http://ncrb.gov.in/StatPublications/CII/CII2016/pdfs/Crime%20Statistics%20-%202016.pdf.
PRS (2019): "The Muslim Women (Protection of Rights on Marriage) Ordinance, 2019," PRS Legislative Research, https://www.prsindia.org/billtrack/muslim-women-protection-rights-marriage-ordinance-2019.
Rajagopal, Krishnadas (2016): "Haji Ali Dargah to Allow Entry of Women," Hindu, 24 October, https://www.thehindu.com/news/cities/mumbai/Haji-Ali-Dargah-to-allow-entry-of-women/article16080565.ece.
— (2018): "Triple Talaq Ordinance Brought by Govt to 'Punish Muslim Husbands': Jamiathul to SC," Hindu, 25 September, https://www.thehindu.com/news/national/triple-talaq-ordinance-brought-by-govt-to-punish-muslim-husbands-jamiathul-to-sc/article25041433.ece.
Rath, Basant (2018): "It's Important to Make India's Police Force More Welcoming for Women," Wire, 29 January, https://thewire.in/gender/india-police-gender-women.
Wire (2017): "Supreme Court's Triple Talaq Order Welcomes by Activists, Muslim Personal Board," 22 August, https://thewire.in/gender/supreme-court-triple-talaq-verdict-2.
— (2018): "NIA Finds No Evidence of 'Love Jihad' after Kerala Probe," 18 October, https://thewire.in/politics/nia-love-jihad-kerala-hadiya.
Thomson Reuters Foundation (2018): "Thomas Reuters Foundation Annual Poll; The World's Most Dangerous Countries for Women: 2018," https://poll2018.trust.org/.
Cases Cited
Commissioner of Police and Others v Acharya Jagadishwarananda Avadhuta and Others (2004): Appeal (Civil) 6230 of 1990, Supreme Court judgment dated 11 March.
Dr Noorjehan Safia Niaz and Others v State of Maharashtra and Others (2016): Public Interest Litigation No 106 of 2014, High Court of Bombay judgement dated 26 August.
Indian Young Lawyers Association and Others v The State of Kerala and Others (2018): Writ Petition (Civil) No 373 of 2006, Supreme Court judgment dated 28 September.
Joseph Shine v Union of India (2018): Writ Petition (Criminal) No 194 of 2017, Supreme Court judgment dated 27 September.
Shafin Jahan v Asokhan K M and Others (2018): Criminal Appeal No 336 of 2018, Supreme Court judgment dated 9 April.
Shayara Bano v Union of India and Others (2017): Writ Petition (Civil) No 118 of 2016, Supreme Court judgment dated 22 August.
https://www.epw.in/journal/2019/21/commentary/women-law.html
--------
9,000 Saudi Women to Be Employed In Driving Schools
May 24, 2019
RIYADH — The Ministry of Labor and Social Development has joined hands with Tatweer Education Holding Company (THC) and Human Resources Development Fund (HADAF) to create jobs for 9,000 Saudi women in the driving school sector over the period of three years, the Saudi Press Agency reported on Thursday.
Deputy Minister of Labor and Social Development Abdullah Abuthonain signed a memorandum of cooperation with Osama Al-Haizan, CEO of THC, and Juma Hamed, deputy director general of the Training Support Sector of HADAF, in this regard.
The memorandum aims to create around 900 new job opportunities by 2022 through the establishment and operation of eight women driving schools in 2019 in the cities of Hail, Arar, Najran, Jazan, Makkah, Madinah, Al Jouf and Abha.
The General Traffic Department has authorized THC to build and operate driving schools in these eight cities following the government's historic decision to allow women to drive in Sept. 2017. Accordingly, THC has drawn up plans to hire Saudi women to fill up all the positions at these schools. THC is a state-owned company managed by a board representing the ministries of finance and education as well as representatives of the private sector.
The memorandum reflects the principle of sustainable partnership seeking to realize the aspirations of the leadership through the cooperation of the government and the private sectors in line with the objectives of the National Transformation Program 2020 and long-term goals of the Kingdom's Vision 2030.
Several Saudi women who obtained their driving licenses abroad are among the instructors at a number of driving schools established in various parts of the Kingdom. Women, aged 18 and above, are qualified to apply for a driving license.
http://saudigazette.com.sa/article/567104/SAUDI-ARABIA/9000-Saudi-women-to-be-employed-in-driving-schools
--------
Saudi Arabia's Housing Goals Need Empowered Women
May 24, 2019
A year ago, much of the conversation about women's empowerment in Saudi Arabia centered on the government's decision to let them drive. Other well-publicized reforms since then have opened up opportunities for women in the military and aviation, as well as access to previously proscribed or restricted spaces, like sports stadiums and music concerts.
But away from the headlines and photo-ops, Saudi women are also being empowered by gender-neutral policy changes. One example: the government's aim to increase home ownership among citizens to 70% by 2030.
One essential requirement to reaching this goal is the growth of the mortgage industry, giving more young people—women as well as men—the opportunity to buy their first homes. Another is the acceleration of women's employment: more working women will greatly expand the demand for mortgages among women looking to buy homes, either on their own or as part of dual-income families.
Although overall employment among Saudis has not significantly improved over the past two years, more women are entering the workforce—albeit from a low base—reaching 20.2% in 2018, from 19.4% in 2017. Consumer credit is expanding, too. Credit to households has more than doubled in the past 10 years, from about $40 billion to nearly $92 billion as of September 2018.
As long as these trends continue, everybody wins. In addition to increasing the economic inclusion of women, the expansion of mortgage finance will also boost growth in the kingdom's financial sector, by creating more profit opportunities for banks—they have already welcomed the prospect of women applying for loans to buy their own cars—which in turn will make them attractive to investors seeking listed Saudi firms. Tadawul-listed banks that seize the mortgage-market potential will benefit from Saudi Arabia's recent inclusion in emerging-market indices.
Home ownership in Saudi Arabia currently rivals rates in the U.S. and in Turkey, the kingdom's regional peer. Some 60% of Saudis own their homes, which equals the proportion in Turkey, and is slightly below that of the U.S. As in most economies, more older Saudis own homes than younger people: 39% of young adults under the age 35, compared with 50% of those between 35 and 44, according to research by HSBC.
Despite the high ownership rates, there's plenty of potential for growth. Unlike in the U.S., access to mortgages and other financial products is scarce in Saudi Arabia. According to a report on financial inclusion by the King Khalid Foundation, nearly seven million Saudis don't have bank accounts; women make up 60% of the "unbanked" population. Rapid urbanization and the movement of more young people into cities increases the demand for housing stock.
Women are a large part of that demographic change. An increase of one percentage point to the Saudi workforce every year would add about 70,000 more women a year to the labor market. This would increase the demand for new products to improve financial mobility. HSBC projects the growth in female employment has the potential to generate $33 billion in new mortgage loans, or 40% of the first-time buyer demand, either as independent purchases (Saudi women have long had the right to property) or by their contribution to household income.
These trends coincide neatly with new banking policy changes that are encouraging banks to extend more housing loans. The Saudi central bank has twice extended loan-to-value limits in the past two years. In the first quarter of 2017, the maximum ratio was extended from 70% to 85%; in January 2018, up to 90%. The government has also introduced support for low-income and first-time buyers through its Real Estate Development Fund (REDF) as a subsidy for both debt-service costs and principal payments. Unsurprisingly, the government is predicting anticipating a spike in investments in the housing sector.
When social policy and state development objectives align with market opportunity, change can come quickly. For Saudi women, that could be as meaningful as some of the higher-profile changes they've seen over the past year.
https://www.aei.org/publication/saudi-arabias-housing-goals-need-empowered-women/
--------
URL: https://www.newageislam.com/islam-women-feminism/six-women-all-that-remain/d/118705
New Age Islam, Islam Online, Islamic Website, African Muslim News, Arab World News, South Asia News, Indian Muslim News, World Muslim News, Women in Islam, Islamic Feminism, Arab Women, Women In Arab, Islamophobia in America, Muslim Women in West, Islam Women and Feminism