Age Islam News Bureau
17 Nov 2012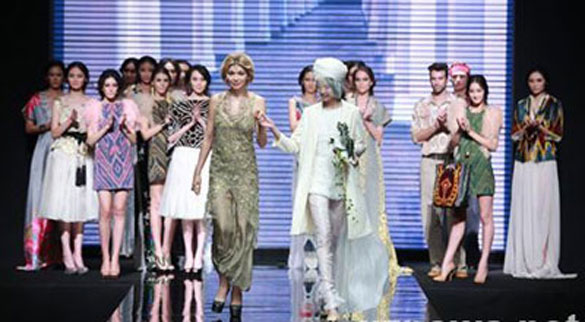 • Tashkent's Students Undergo Pregnancy Tests after Recent Cases of Childbirth
• Uzbek Presidential Daughter Presents Fashion in Beijing
• 297m African Women and Girls Lack Adequate Sanitation-Water Aid
• 60,000 Women in Pakistan Die Every Year during Pregnancy
• Group launches anti-Shisha, a kind of Smoking in Saudi Arabia, campaign
• Nigeria: Teach a Woman to Farm... and She Creates Jobs
• Princess Ameerah attends the launch of a Global Education Initiative
• Sheikha Lubna Al Qasimi: A Force to Reckon With In the Male-Oriented Arab World
• Dubai's First Lady of Comedy Uses Art to Help Heal Others
• She Went To Israel to Have Child in a 'Peaceful' Environment
• Emirati female weightlifter dreams of Olympics
Compiled by New Age Islam News Bureau
Photo: Uzbek presidential daughter presents fashion in Beijing
URL: https://www.newageislam.com/islam,-women-and-feminism/new-age-islam-news-bureau/six-indian-women-kidneys-put-on-sale-for-blood-money-in-saudi-arabia/d/9333
-------------
Six Indian Women Kidneys Put On Sale for Blood Money in Saudi Arabia
P S Jayaram and Sajila Saseendran
17 November 2012
Six Indian women are so desperate to get their convicted husbands out of a Dubai jail that they want to sell their kidneys to raise the 1.5 million rupees in blood money.
The case has generated so much concern that the Andhra Pradesh Human Rights Commission (SHRC) has directed the central and state governments to submit a report on the six construction workers who have been in jail for the past seven years, following their conviction in the murder of a Nepali guard in 2005.
Hyderabad's Human Rights Council vice-president M Bheem Reddy told Khaleej Times that the SHRC direction to the Ministry of Overseas Affairs followed a representation made by the jailed men's wives, all hailing from different parts of Karimnagar district, seeking permission to sell their kidneys to meet legal expenses.
Five of the husbands, all construction workers, were sentenced to 24 years' imprisonment while the sixth was sentenced to 10 years. Their wives, however, maintain their husbands' innocence.
The women — Sivaratri Rajavva, wife of S Mallesh; S Rena, wife of S Ravi; Ellavva, wife of Nampelli Venkati; D Padma wife of Laxman; S Padma wife of S Hanumanthu and Reshma, wife of Syed Kareem — said in their joint petition they would like to sell their kidneys to raise the Rs1.5 million required to meet the 'diya' — or blood money — expense.
"We have no money even to feed our children since our husbands left for Gulf in search of jobs and we are not in a position to arrange such a huge amount for their release. Our earlier pleas to the state and the central governments for help evoked no response, so please permit us to sell our kidneys," the petitioners said.
As per Shariah Law, convicts can be released if a victim's family accepts compensation for the harm caused, and pardons the culprit or culprits.
The women said that they were hopeful of ending the ordeal as the wife of the Nepali guard had agreed to pardon the crime if she was paid compensation of Rs1.5 million.
The victim's wife made the offer after representatives of the Indian Consulate in Dubai held negotiations with her. The petitioners said that since they were not in a position to arrange such a huge amount and their requests to the state and the central governments for help evoked no response, they should be permitted to sell their kidneys. They also brought to the notice of the commission that Kerala and Punjab governments along with some philanthropists had extended financial assistance in similar cases.
The Indian Consulate in Dubai could not be reached for comments on Friday.
However, a community leader who coordinates blood money cases for the consulate said the mission generally pursued mercy petitions and pardon cases with the Ruler's Office and the Public Prosecution.
"If the prisoners or their wives send a formal petition, the consulate will definitely take it up. But we actively pursue the cases of convicts in accidental manslaughter cases, not in premeditated murder cases," said K. Kumar, the Convenor of the Indian Community Welfare Committee (ICWC) that works under the patronage of the consulate.
"From my experience, the convicts have to serve at least half of their prison term before applying for pardon by the victim's family by giving them the blood money. In this case I don't think it is time for them yet to seek pardon. I think only the convict who received 10 years' imprisonment can try for it now by paying his share of the blood money which is usually Dh200, 000 for each life lost," he said.
The ICWC has previously secured the release of many Indian prisoners who were languishing in jails even after completing their prison terms as they could not raise the funds for the diya money.
"We will anyway look into the merit of this case and see what we can do," said Kumar.
news@khaleejtimes.com
http://www.khaleejtimes.com/nation/inside.asp?xfile=/data/crime/2012/November/crime_November25.xml&section=crime
-------------
Tashkent's Students Undergo Pregnancy Tests after Recent Cases of Childbirth
15.11.12
Young women are being tested for pregnancy in Tashkent's educational institutions after recent cases of childbirth among students.
Students are allegedly being sent for medical examination to check their general condition of health but emphasis on pregnancy test is so obvious that there is no need to give other explanations for sudden care for young women's health.
Female students' guesses are confirmed by the fact that young men are not subject to "comprehensive examination".
"We were all put through abdominal ultrasound scanning and temperature and pressure tests were performed just for show. The examination was arranged after it became known that two first- and second-year students were pregnant," a local law college student, N, said.
Other students have been reported to be pregnant in other special secondary educational institutions (SSEI).
Two students from the lyceum of the Tashkent Automobile Road Construction Institute and one railway college student were pregnant this academic year.
General pregnancy tests were performed in these and other special secondary institutions too.
A female teacher from a Tashkent law college said on condition of anonymity, though pregnancy among students of special educational establishments was not frequent, it was still commonplace in general.
"This happens every 3-4 years in every educational institution. Every time it is like an accident for us because SSEIs are part of the compulsory education system and we can neither expel nor provide an academic leave for them," she said.
Honest word
Several SSEI students in Tashkent said that they had to give a written undertaking not get pregnant until they finish their education.
These written pledges to be chaste and not to have kids are collected by SSEI administrations from every female student every year.
However, the law college teacher's confessions casts doubt on the efficiency of this preventive move against early pregnancy.
Other college and lyceum teachers also admit this, but the Ministry of Higher and Secondary Special Education cannot devise more efficient measures.
Students also believe that written undertaking to refrain from intimate relations and pregnancy and intimidations "are not working".
"Before taking our written undertakings, they told us once that early pregnancy did not comply with our people's mentality and threatened with expulsion," a railway college student said.
Everyone has sex
She and other Uznews.net interviewees think that the threat of expulsion will not stop girls who are "indifferent to the risk of pregnancy".
In their opinion, they need more liberal sexual education so that young people are not shy to discuss intimate topics with adults, including parents, teachers, medical workers, and know how to prevent undesirable pregnancy as they have already lost their chastity out of wedlock.
"If a young man asks for condoms at a chemist's shop he will be taken for a leper. Naturally, many are shy to buy condoms. Everyone has sex, but for some reason this is taken as an indecent and banned topic," a student of the Mirabad district computer technologies college, Natalya, said.
Natalya is 18 and she has intimate relations with her boyfriend, as she put it, but she does not want to have babies before marriage.
Gynaecologists also note that tabooing the topic of sex and contraception causes pregnancy among minors.
"Of course, there is promiscuity. But if society fight promiscuity, it should at least make the use of contraceptives simple and shameless practice," said the head of delivery unit of the Mirabad district maternity hospital in Tashkent.
If secondary schools had started telling boys and girls about sexual relations more openly in schools and had not banned the topic of sex, teenagers would have had healthier interest in sex.
This would help minimise pregnancy, childbirth and illegal abortions among minors.
The Uznews.net interviewee said that official general pregnancy statistics was not available even to maternity hospital workers so the scale of this problem can only be guessed subjectively.
Based on his own observations and experience, he believes that six or seven in 1,000 pregnant women were minors.
http://www.uznews.net/news_single.php?lng=en&sub=hot&cid=4&nid=21291
-------------
Uzbek presidential daughter presents fashion in Beijing
02.11.12
Gulnara Karimova on 30 October displayed her Guli fashion collection during the Mercedes Benz China Fashion Week in Beijing, which has not caused any public protest in China.
After the expulsion from the Mercedes Benz New York Fashion Week in September 2011 because of the state of human rights in Uzbekistan, the Uzbek dictator's elder daughter, Gulnara Karimova, is moving into non-democratic countries.
On 30 October, the olam.uz site reported, Karimova took part in the fashion week in the Chinese capital of Beijing, where she presented her new fashion collection of old traditional styles.
This was the first time the Guli collection was displayed abroad. Earlier, it was displayed in Tashkent in October during the Style.uz art week that Karimova herself organised.
Karimova's collection has not stirred up the world of fashion. No apparel producer has turned her ideas into mass production.
Still the Guli collection attracts some attention, but this is linked to the situation surrounding human rights in Uzbekistan and the origin of Karimova's money.
In 2011, Karimova was expelled from the Mercedes Benz New York Fashion Week. The fashion week organiser, the IMG company, then said that it was appalled by the state of human rights in Uzbekistan.
The IMG decision was welcomed by the reputable human rights organisation Human Rights Watch. Its director for Europe and Central Asia, Hugh Williamson, said that Karimova should not be given a platform at a prestigious international event such as New York Fashion Week in order to flatter her own image and that of her country.
Karimova is now forced to try her luck in Asia. She has stayed in Tashkent since summer. Perhaps the current investigation into corruption and money laundering cases in Switzerland and Sweden is preventing her from travelling to Europe.
http://www.uznews.net/news_single.php?lng=en&sub=usual&cid=31&nid=21180
-------------
297m African women and girls lack adequate sanitation-Water Aid
16 NOVEMBER 2012
BY JULIUS ODEKE
Uganda is soon joining the rest of the other countries in celebrating the World Toilet Day that is in November 19, however, a report released by WaterAid says seven in ten women in sub-Saharan Africa have no access to a safe toilet, threatening their health and exposing them to shame, fear and even violence.
This means that on World Toilet Day, 297 million African women and girls lack safe and adequate sanitation and of those 107 million don't have a toilet at all.
A survey commissioned by WaterAid of women living across five slums in Lagos, Nigeria, showed that one in five had first or second hand experience of verbal harassment and intimidation, or had been threatened or physically assaulted in the last year when going to the toilet. Anecdotal evidence from other African countries suggests that the scale of the problem may be much larger than this.
Full report at:
http://www.independent.co.ug/news/news/6841-297m-african-women-and-girls-lack-adequate-sanitation-wateraid
-------------
60,000 Women in Pakistan Die Every Year during Pregnancy
17 November 2012
ISLAMABAD: Participants of a workshop have said 60,000 women die every year due to pregnancy complications and it is unlikely that Pakistan will achieve Millennium Development Goals (MDGs) of health-related item number 5 by 2015.
In Pakistan, public sector 12 percent maternal health services was used by poor sector while 74 percent by non-poor section of society. The University of Alberta, Canada, Punjab Maternal, Neonatal and Child Health Programme and Real Medicine Foundation jointly conducted a Knowledge Dissemination Workshop to share findings of a 10-month ethnographic research titled 'Disparities in Access to Maternal Health Services in Punjab: Poverty, Gender and Exclusion'. Dr Zafar Ikram, MNCH programme chief, through his welcome speech, commenced the workshop.
Full report at:
http://www.dailytimes.com.pk/default.asp?page=2012\11\17\story_17-11-2012_pg7_15
-------------
Group launches anti-Shisha, a kind of Smoking in Saudi Arabia, campaign
17 November 2012 12:48 am
A group of Saudi women volunteers this week launched a Facebook campaign called "Live without Shisha." The campaign aims to fight the phenomena of young Shisha smokers in Saudi Arabia. This campaign came after the Ministry of interior banned restaurants and coffee shops from serving Shisha in Jeddah last month.
Live without Shisha's intentions are to reach the younger generation aging from 15 to 25 and to spread awareness about the harm caused by smoking Shisha. Even though the Facebook group is not active yet, people are already talking about it.
Full report at:
http://www.arabnews.com/group-launches-anti-shisha-campaign
---------
Nigeria: Teach a Woman to Farm... and She Creates Jobs
BY BUSANI BAFANA
16 NOVEMBER 2012
Des Moines, Iowa, Usa — Give a woman a hand-out and you feed her for a day. But teach her to farm, and how to add value to her product, and you feed her and her family for a lifetime. And if she happens to be Nigerian smallholder farmer Susan Godwin, she in turn will also provide jobs for her community and become a national food hero.
Instead of turning to financial hand-outs when her crop failed four years ago, Godwin went back to the classroom to learn new farming methods, how to add value to her product and how to draw up a business plan to access credit.
Full report at:
http://allafrica.com/stories/201211160755.html
-------------
Princess Ameerah attends the launch of a Global Education Initiative
17 November 2012
HH Princess Ameerah Al-Taweel, Vice Chairwoman and Secretary General of Alwaleed Bin Talal Foundations, attended the second day of the fourth annual World Innovation Summit for Education on Wednesday, November 14th in Doha, Qatar.
Pursuant to an invitation by HH Sheikha Moza bint Nasser, the Chairperson of Qatar Foundation for Education, Science and Community Development; Princess Ameerah attended the Launch of a new global education initiative by Sheikha Moza at WISE.
The summit was attended by more than 1,200 innovators, social entrepreneurs, ministers, educators and business leaders from more than 100 countries. "Educate A Child" is a global initiative that will deliver real progress towards the goal of bringing quality primary education to all the world's children.
Full report at:
http://www.ameinfo.com/princess-ameerah-attends-launch-global-education-319044
-------------
Sheikha Lubna Al Qasimi: A Force to Reckon With In the Male-Oriented Arab World
17 November 2012
Recently named the most powerful woman in the Middle-East for the second year running by Arabian business and the 92nd most powerful in the world by Forbes 2012, Sheika Lubna Al Qasimi, United Arab Emirate's (UAE) Minister of Foreign Trade and first female to hold a cabinet position in the UAE, is a force to reckon with in the male-oriented Arab world. BLESSING EKUM looks into the life and activities of the model to thousands of women in the Middle-East and the pillar behind her impressive success.
Full report at:
http://tribune.com.ng/sat/index.php/women-affairs/9153-sheikha-lubna-al-qasimi-behind-this-successful-woman-is-.html
-------------
Dubai's First Lady of Comedy Uses Art to Help Heal Others
By Majorie van Leijen
November 17, 2012
Mina Liccione also leads the only all-female stand-up comedy show in the region
She has been coined Dubai's 'First Lady of Comedy'; when the American-Italian Mina Liccione flew over to Dubai for a long week of performances in 2008 little did she know she would pioneer a comedy community first of its kind in the region.
"When I arrived in Dubai in 2008 there was no local comedy scene. We had to build it," the multi-talented artist says. "I chose to come to the Middle East armed only with a clown's nose, a pair of tap shoes and a dream to build something for the community here."
Full report at:
http://www.emirates247.com/news/emirates/dubai-s-first-lady-of-comedy-uses-art-to-help-heal-others-2012-11-17-1.483449
-------------
She Went To Israel To Have Child In A 'Peaceful' Environment
Shalini Narayan
Nov 17 2012
New Delhi : Six months ago, when four-year-old Yousef, the eldest child of Mira and Schilach Rabbi Schumel Schraf, left Chabad House in Delhi's Paharganj area for Israel, he drew a caricature of a man with a hat, three lines marking the contours of his face and his moustache half done in black ink on a piece of paper. Perhaps he would have completed it on his return to India two weeks from now. The room he and his two younger siblings left behind is intact — the cartoons on the doors, the half-folded clothes, a rattle, a bib in the wooden crib.
Full report at:
http://www.indianexpress.com/news/she-went-to-israel-to-have-child-in-a--peaceful--environment-recalls-a-shaken-chabad-house/1032306/
-----------
Emirati female weightlifter dreams of Olympics
16 November 2012
Twenty-three year old Amna al-Haddad trains five times a week under the close eye of a trainer in a private gym in Dubai - one of a small group of women training as competitive weightlifters in the country.
But, it is not just the physical pain of weightlifting she faces but also that of prejudice surrounding the sport, regarded in the Arab world as a male sport.
Haddad says she faced opposition from her family when she started practicing weightlifting.
"At the beginning, my family were surprised that I decided to do weightlifting, but afterwards, when they noticed the progress I was making with the sport, they became more accepting and now encourage me," Haddad told Reuters.
Full report at:
http://english.alarabiya.net/articles/2012/11/16/249940.html
-------------
URL: https://www.newageislam.com/islam,-women-and-feminism/new-age-islam-news-bureau/six-indian-women's-kidneys-put-on-sale-for-blood-money-in-saudi-arabia/d/9333