• Vienna 'Jihad' Teenager Wants To Come Home
• Melbourne Skaters Leap to Aid of Muslim Women, Lecture Public for Ignoring Abuse
• Women Unite to Improve Health and Have Fun at Dubai Women's Run
• Old Man Charged Over Muslim Woman Threat in Brisbane
• Bristol Women Leave a Light On In Solidarity with IS Terror Victims
• Times Set For Women to Enter Al-Rawdah Al-Sharifah, Madina
• Makkah Women Invite Female Pilgrims as a Yearly Tradition
• Australian Muslim Women's Association Welcomes Review of Parliamentary Burqa Ban
• Begum Akhtar made India her 'deewana'
Compiled by New Age Islam News Bureau
URL: https://www.newageislam.com/islam,-women-and-feminism/new-age-islam-news-bureau/'sisters-in-arms'--kurdish-women-fighters-ready-'to-send-isis-to-hell'/d/99430
-------------
'Sisters in Arms': Kurdish Women Fighters Ready 'To Send ISIS to Hell'
08 Oct, 2014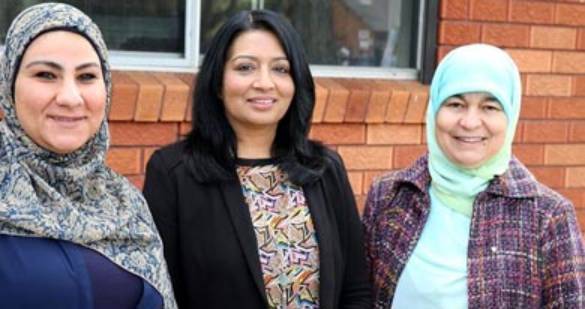 Maha Abdo (left), Dr Mehreen Faruqi and Joumana Harris president of the MWA (right) CREDIT: Damian Shaw.
---------------
Female Kurdish fighters ignite fear into Islamic State militants, who believe that they'll go straight to hell if they are killed by a woman. RT travelled to Iraqi-Syrian border to meet the YPG, the female battalion fighting IS.
The border area between Iraq and Syria is currently controlled by Kurdish volunteers after both Iraqi and Syrian military forces abandoned the border crossings.
The women fighters occupy the lookout post on the border, which allows them to monitor all IS activities in Iraq and Syria.
Rosarine, one of the women, confessed that she had never fired a gun in her life before the war against Islamic State (IS, formerly known as ISIS) began.
"The first time I fired I was scared, but my love for my country was bigger than my fear," she told RT's Paula Slier. "Islamic State thought women can't fight them, but here we are. We are not afraid because we know what we are fighting for."
The 19-year-old, who dropped out of school to join the YPG, Kurdish People's Protection Units, says that now she opens fire "whenever something moves [on the IS side]."
All the women fighters in the battalion are volunteers, who go into battle under the "Hava" (friendship) motto. Rosarine added that she and her 'sisters in arms' get full support and encouragement from their families as they're fighting to protect the Kurdish land and its people.
The commander of the Kurdish women fighters, Dalil Derki, said that his unit strikes terror into Islamic state militants, who have "twisted Islam."
"In their philosophy women don't have their own role in society. Their philosophy and culture is that they believe that if they are killed by a woman they won't go to heaven. Instead they will go to hell," he explained to RT.
According to the YPG commander, half of the jihadists on the border were killed by women fighters and "if they want to go to hell, they should keep fighting us."
Derki said that he's proud of his troops and their achievement on the battlefield as they "set an example to women all around the world."
Another female soldier, Beritan, said that she has already been in many "dangerous fights," with one battle even lasting "for an entire night and day."
"I wasn't really scared, I was more focused on killing the terrorists than dying myself," she explained.
Many of the girls told RT that they'll remain soldiers after the war with IS is over as the battle for an independent Kurdish state, Kurdistan, is underway.
The Kurds do not have their own state, with the Kurdistan region spanning adjacent parts of Iran, Iraq, Syria, and Turkey.
The Kurdish conflict with various jihadist groups taking part in the Syrian civil war, including IS, started in July 2013 in the Syrian town of Ras al-Ayn.
While Kurdish forces recently managed moderate military gains against IS in northern Iraq.
However, the jihadists seem to be taking the upper hand in the battle for the strategic town of Kobani on the Turkish-Syrian border.
http://rt.com/news/193972-kurdish-women-fighters-isis/
-----------
Vienna 'Jihad' Teenager Wants To Come Home
The Local Austria
08 Oct, 2014
One of two Viennese teenagers who are thought to be fighting with the militant extremist movement Islamic State (Isis) near Raqqa in Syria wants to return to Austria, according to a report in the Österreich newspaper.
The two girls, 16-year-old Samra and 15-year-old Sabina, are both of Bosnian origin and left Vienna in April, telling their parents in a letter that they wanted to "fight for Islam".
Samra, who is thought to have married a Chechen, wants to come home according to an inside source, as she has seen too much of the horrors of war.
Both Samra and Sabina are reported to be in an area where they will have experienced public floggings, beheadings and frequent air attacks.
Both girls, but especially Samra, are said to be in contact with their families. Sabina is reportedly not ready to return to Austria.
Last month Samra was rumoured to have been killed in Syria, but she then got in touch with friends via the social media tool WhatsApp.
Experts warn that an escape from Isis is "virtually impossible", although a Syrian woman did recently manage to flee from Isis in Turkey.
The Austrian government is working hard to tackle an increasing problem with its residents travelling to conflict zones to participate in holy war, or 'jihad.'
It has announced a series of measures to restrict the banned Isis organization, as well as proposals to withdraw citizenship or asylum status from returned fighters.
The Interior Ministry estimates 142 Austrians, including 12 women, have so far joined the ranks of jihadists in Syria.
http://www.thelocal.at/20141008/vienna-jihad-teenager-wants-to-come-home
-----------
Melbourne Skaters Leap to Aid of Muslim Women, Lecture Public for Ignoring Abuse
08 Oct, 2014
Patrick Burgess has a message for those who would stand by while minority groups are persecuted.
"It's the indifference of good people that is bringing us down," he said.
The Melbourne skater was with a group of friends in Newcastle when, police say, two women wearing traditional Muslim Hijabs were approached while driving their car.
Their alleged assailant is accused of approaching the mother and daughter, and saying, "We are Westerners and you're not meant to be here", before punching the driver's side wing mirror.
Advertisement
Police say the daughter then drove five metres and got out to fix the mirror. But as she tried to get back in the car, police allege the man forced the left side of his body into the car, took hold of the steering wheel and put his foot on the accelerator for about 10 seconds. The car was in park and didn't move.
The police statement said Mr Burgess, James Turvey, and four other men saw what had happened and became concerned for the women's safety.
As they approached the car they heard the man yell out "you Musi c---s". Police allege the man turned on the six friends and threatened to kill them. The man allegedly stole two of their mobile phones and ran off but was struck by a skateboard thrown by one of the friends. He later allegedly punched Mr Burgess.
"He was saying the worst things [to the women], racist profanities [then] he started swinging at each of us while we were trying to defuse situation as best we could," Mr Burgess told the Newcastle Herald.
Mr Burgess said he felt "so disgusted" the women had been subjected to the abuse.
"People need to know that this is not OK," he said. "The way this situation has gotten is so not acceptable, and people need to start taking action and actively condemning this sort of activity."
The case comes at a time of increasing community unrest and concern that Australia's mission against Islamic State in Iraq is fuelling attacks on Muslims in Australia.
Mr Turvey said he felt "frustrated" that other people had driven past while the attack was taking place.
"If you look at YouTube videos of verbal or physical assaults on public transport, there's grown men ... guys I'm sure on the weekend are watching footy talking about how tough they are – but when people are being abused or bullied on the streets these people are so quick to turn a blind eye," he said.
Scott William Papworth, 27, has denied verbally attacking the women and threatening to kill those who came to their aid, claiming he was only one of numerous people in the vicinity and that he had been acting in self-defence against the skating group.
Mr Papworth, of Bingleburra outside Dungog, pleaded not guilty to five charges in Newcastle Local Court on Tuesday, including that he intimidated and stalked the women, assaulted one of the men who came to their aid and stole two mobile phones.
Mr Papworth was refused bail after magistrate Ian Cheetham described the verbal assault as "made on a racial basis upon persons who were innocently going about their business".
Prosecutor Sergeant Karl Moir urged the magistrate to consider the charges "in the present climate".
"We are not just looking at a vacuum here," he told the court.
The police statement said Mr Papworth was arrested a short distance away and claimed to police that three young men had been set upon by the skaters and that he was acting in self-defence.
"The accused stated he was unaware of any Muslim lady or any incident involving a vehicle," the statement said.
Solicitor Bryony Barber said her client denied being the racist attacker, telling the court he was in town to go to the beach and visit his sister and was one of numerous people in the vicinity.
Mr Cheetham said Mr Papworth represented an unacceptable risk and refused him bail.
http://www.smh.com.au/nsw/skaters-leap-to-aid-of-muslim-women-lecture-public-for-ignoring-abuse-20141008-10rr98.html#ixzz3FY2b797s
-----------
Women Unite to Improve Health and Have Fun at Dubai Women's Run
08 Oct, 2014
DUBAI // As a full-time mother-of-two, Simran Mathew had little time to indulge in the luxury of a fitness regime until, that is, she found a passion and a goal.
The 30-year-old former Miss India has two boys, aged two and five, and last year she took on the fourth Dubai Women's Run.
"I had never run like that in my life," she said of the 5K event. "It was a challenge for me and I wanted to be a part of something."
She had a support network and this year it is she who is inspiring other mothers to take part in the fifth event, which is expected to attract up to 7,000 runners in both the 5K and 10K events.
"For me, it's about getting mums together and having fun. I didn't expect it to be as amazing as it was last year, such an amazing energy, mums with their kids and prams. We did it as a group and it was so fun," she said.
Ms Mathew said the camaraderie was what made the event special, as women were not doing it alone but surrounded by like-minded people.
Kritika Datt, 28, agreed. The Indian-born marketing manager ran the 5K last year, her first such race.
She will be taking it on again this year and is putting in the hours with the run's training group at the Dubai Ladies Club.
"It's a chance to socialise with all the girls at the training runs," she said. "It's a great atmosphere and more motivating to do it with the group, rather than by yourself."
These were the stories that motivate the run's founder, Liesa Euton, who has organised the event by herself since the start. Only this year has she been able to take on a team, as numbers of participants were too high for her to manage alone.
The race began with about 600 or 700 runners in its first year, in Al Mamzar. This year, the race on November 7 has been moved to a much more prime location, using part of the Dubai Marathon route around Al Sufouh.
"We started off with only around 5 per cent Emiratis running, but I would like to see more local women coming out, especially since we have the training runs and registration at the Dubai Ladies Club," said Ms Euton.
She said the women's run, which is only the second like it in the Arab or Muslim world, was a much-needed addition to the race calendar.
Morocco started its women's run 18 years ago and now has about 25,000 runners participating each year, but Ms Euton was confident Dubai would not take so long to reach those numbers.
"There are so many running events here in Dubai but none like this and a 5K race is very achievable for any woman to come out and do," she said.
"They can even walk it. I've had women write to me telling me they've never worked out before and now they are, so a lot of women are getting motivated to get started thanks to the race.
"I think people feel it's easier to do this as its just ladies. They don't feel like they need to compete because they're aren't men there. The local women are more likely to come as there aren't the men there, too."
The race's president, Ahmad Al Kamali, who is also the president of the UAE Athletic Federation, said: "For health, this race is very important. In the UAE things are changing.
"This year we hope to have around 15 to 20 per cent local ladies in both races. Among locals, we are a reason for some women to prepare and train for that day."
For more information and to register, visit www.dubaiwomensrun.com.
mswan@thenational.ae
http://www.thenational.ae/uae/health/women-unite-to-improve-health-and-have-fun-at-dubai-womens-run
-----------
Old Man Charged Over Muslim Woman Threat in Brisbane
08 Oct, 2014
A Brisbane man has been charged after threatening to set a Muslim woman's head scarf on fire.
The 26-year-old woman left an Islamic centre in West End on September 9 and was walking down Boundary St when three men outside a pub approached her, police say.
One then allegedly threatened to set her head scarf on fire.
A 44-year-old Windsor man has been charged with common assault, police said on Tuesday.
He'll appear in Brisbane Magistrates Court on October 27.
The arrest comes after a police crackdown on anti Muslim behaviour following heightened security and anti-terrorism measures introduced last month.
http://www.skynews.com.au/news/local/brisbane/2014/10/07/qld-man-charged-over-muslim-woman-threat.html#sthash.B7kJGtXm.dpuf
-----------
Bristol Women Leave A Light On In Solidarity With IS Terror Victims
08 Oct, 2014
WOMEN in Bristol have started a campaign of shining a light to show solidarity with the victims of Islamic State fighters - particularly children - in Iraq and Syria.
A small group of mothers is urging others to join with them tonight in lighting a candle or leaving a light on until dawn on Tuesday to demonstrate they are standing alongside the people being persecuted.
One of the women, Rae Pears said: "We had the idea that tonight from 6pm until dawn we could leave lights on in our windows as a symbol of our thoughts or our prayers being with the children who are suffering so horrifically at the hands of ISIS.
"I am so grateful to live somewhere where my children are safe and free. I cannot even begin to imagine the horror those parents face many having to watch the murder of their children or awaiting the advance of ISIS into their villages knowing what will happen when they do."
http://www.bristolpost.co.uk/Bristol-women-leave-light-solidarity-Islamic/story-23051206-detail/story.html#ixzz3FY4GIW56
-----------
Times Set For Women to Enter Al-Rawdah Al-Sharifah, Madina
08 Oct, 2014
MADINAH — Women can visit Al-Rawdah Al-Sharifah (the area between Prophet Muhammad's grave and his pulpit) three times a day, said Abdulwahid Al-Hatab, spokesman for Agency of Prophet's Mosque Affairs. The first period begins from sunup until before Dhuhur prayer while the second period starts after Dhuhur and ends around Asr prayer. The third period begins after Isha prayer and continues until 12 midnight. Women can take the eastern ladies' section, which has pathways for entrance and exit strictly for women and their safety.
Women, Saudi and non-Saudi, should follow the rules of visitation and never go in the opposite direction of the flow. They should not bring personal stuff and shoes to Al-Rawdah Al-Sharifah as the place barely accommodates visitors. Keeping quiet and not bringing food or taking photographs is very important. No books or booklets will be allowed without official approval, Al-Hatab said.
http://www.saudigazette.com.sa/index.cfm?method=home.regcon&contentid=20141008220566
-----------
Makkah women invite female pilgrims as a yearly tradition
08 Oct, 2014
HOLY SITES — A number of Saudi families have invited Syrian female pilgrims to their houses to spend some time together and get to know each other. The practice has been in use for quite some years during which Makkah women invite female pilgrims from different nationalities every year to their homes and offer them food. It is a good opportunity to build relationships with pilgrims and introduce them to the hospitality of Makkah people.
The hosts coordinate with the Arab Pilgrim Establishment's women committee to have the pilgrims over for lunch or dinner and introduce the pilgrims to the lifestyle, culture, traditions, and customs of prevalent in Makkah.
The committee's Chairwoman Samirah Al-Banani is in charge of coordination between the hosts and the pilgrims She says a prominent Makkah lady has recently invited some female pilgrims to her house and showered them with her hospitality. The host welcomed the pilgrims with a shower of rose petals.
Omaima Gazaz, executive assistant of chairwoman, is also in charge of coordination between Haj delegations and host families. "Every year Makkah ladies compete with one another to host female pilgrims at their houses and shower them with gifts and generosity," Gazaz said.
A Syrian pilgrim thought it was difficult to meet women from Makkah in their houses. However, when Gazaz told her it was easy, she was happy. Gazaz fixed her a meeting with a Saudi woman who invited her to her home.
Another Syrian female pilgrim who spent time with a Saudi woman in her house said she was impressed with how smart, generous, tidy Makkah ladies were. She praised the host program run by the establishment.
Another Syrian pilgrim described her experience with Makkah women as enriching and eye-opener. "Generosity is an innate trait in women here. I'm speechless. I don't think I can't thank the host family enough for their kindness," she said.
http://www.saudigazette.com.sa/index.cfm?method=home.regcon&contentid=20141008220565
-----------
Australian Muslim Women's Association Welcomes Review of Parliamentary Burqa Ban
08 Oct, 2014
Muslim Women's Association executive officer Maha Abdo has welcomed a review of a snap decision to seat Muslim women who wear face veils in glassed-off galleries at Parliament.
Ms Abdo said it was courageous of Prime Minister Tony Abbott to call for the reversal of the decision.
"(It was good) he reflected and listened to the voices of reason," she said.
The ruling meant face-veiled women would have been unable to sit with the public and instead restricted to galleries reserved for schoolchildren, even after being cleared by security.
"Australia's heading towards apartheid, and the funny, or sad, thing was that ... there was fear for the safety of the chambers, but what about the children?" Ms Abdo said.
The ruling followed comments Mr Abbott made about finding the Burqa "confronting".
"It was a shock to hear a prime minister, (in this role of) leadership put his personal views first," she said.
Fowler federal Labor MP Chris Hayes said it was not for the Government to tell people what they can wear.
"Anyone cleared through the security is entitled to witness the proceedings," he said,
McMahon federal Labor MP Chris Bowen told the media he did not find the Burqa confronting.
"I don't think (Mr Abbott) has shown the sort of leadership in these times of tension that would be appropriate when making those sorts of comments,'' he said of Mr Abbott's comment about the Burqa.
NIQAB: The Niqab covers the head and face, but not the eyes. It is often mistakenly referred to as the Burqa
HIJAB: A headscarf that covers the hair and neck, and not the face. It is the most common form of veiling by Muslim women
BURQA: A veil that covers the entire face and body, with a mesh window for the woman to see through
http://www.dailytelegraph.com.au/newslocal/south-west/muslim-womens-association-welcomes-review-of-parliamentary-Burqa-ban/story-fngr8hxh-1227082618302
-----------
Begum Akhtar made India her 'Deewana'
Arnab Banerjee | Oct 8, 2014
NEW DELHI: Her name is synonymous with Ghazals. Few singers could express longing, melancholy and unrequited love with such felicity and depth as Begum Akhtar, whose birth centenary celebrations began on Tuesday.
Pandit Jasraj recalls going to school as a child and stopping at a kiosk where her song, Deewana bana de, played every morning. "I was mesmerized by her voice, her rendition and the instant connect she was able to make with her listeners," he recalls.
Akhtari Bai Faizabadi or (Akhtari as she was popularly called) defied customs and lived life on her own terms. Besides Ghazals, she also sang thumri and dadra, and even for films. Her gayaki packed concerts to capacity. Audience would invariably demand an encore for Aye Mohabbat Tere Anjaam Pe Rona Aaya.
Yet the ghazal singer, who was born on Oct 7, 1914, was a loner who craved for companionship, says one of her foremost disciples Rita Ganguly, who runs the Begum Akhtar Academy of Ghazal in the capital.
Akhtari was a strict tutor. Ganguly once stated that 'ammi' could not tolerate any off-key note and would hurl the choicest of swear words if any of her shagird's deviated from 'sur.' But her love and respect for her guru remains undiminished. After much effort by Ganguly, a road is likely to be named after Begum Akhtar in Kolkata. She is also trying to get a street in Lucknow where the maestro once lived to be named Begum Akhtar Marg. Simultaneously, another road in her birthplace Faizabad, will be named after her. "I am also pleased that the house she was born in will be converted into a museum," Ganguly says.
It's not just the shishyas or the earlier generation, but many from the newer lot of professional Ghazal singers like Vidya Shah, who look up to Akhtari. "There have been trendsetters and epoch makers in Indian music, but Begum Akhtar gave ghazal the classical nature that it never had before, something that can be only attributed to her," says Shah. "And the fact that ghazal was featured in mainstream festivals and people thronged to listen to her in the same way the way they would to listen to Ustad Bade Ghulam Ali Khan is clearly indicative of how much weight she had brought to it. Therefore, it is important to celebrate a diva like her and talk about the seminal contribution she made to Indian music."
Singer Shubha Mudgal says her music spoke to listeners and moved them in that inexplicable sharing that only art is able to achieve. "Her training in classical music, profound understanding of Urdu poetry, unique voice and the passionate and expressive quality of her singing remain unmatched," she says.
But in the last couple of decades, several attempts have been made to present and popularize a certain form of Ghazal singing that could find favour with the masses. Star exponents from India and Pakistan have tried to select relatively simpler poetry that would appeal even to uninitiated audiences unfamiliar with the subtle and complex nuances of Urdu poetry. By selecting relatively simple Shayari, set to more catchy tunes, shorn of the vital elements of elaboration styled on Hindustani classical music, and packaged musically and orchestrally in the manner of a film song or popular music, attempts were made to make ghazals popular with the masses.
Mudgal says that in the process, Ghazal as a poetic and musical form seems to have lost its majestic identity to which the iconic Begum Akhtar contributed so significantly. "At the same time, it is not surprising to hear contemporary singers rendering Ghazals and Thumri Dadra compositions that were made immortal by her. Sadly, these sometimes become musical caricatures or at best, poor imitations when rendered by artistes without the genius and insights that Begum Akhtar brought to her rendering," she says.
As Dastangoi artiste Danish Hussain sums up, '"Begum Akhtar brought in this layered textual understanding of the poem in to her singing that raised the performance to some other other-worldly level. I doubt most modern singers have that kind of grasp over literature."
http://timesofindia.indiatimes.com/india/Begum-Akhtar-made-India-her-deewana/articleshow/44660113.cms
----------
URL: https://www.newageislam.com/islam,-women-and-feminism/new-age-islam-news-bureau/'sisters-in-arms'--kurdish-women-fighters-ready-'to-send-isis-to-hell'/d/99430