New Age Islam News Bureau
02 November 2020
• Hijabis In UAE Share Their Unique Challenge On Zoom, Teams Meetings
• Saudi Health Ministry Launches Online Healthy Marriage Service
• British-Iranian National Zaghari-Ratcliffe Details First Prison Interrogation, Appears In 'White Torture'
• Bahrain Vows Support For Global Woman Empowerment Efforts
• 473 Women Migrant Workers Dead Abroad Since 2016, 175 In Saudi Arabia Alone
• UAE Vows To Promote Women's Role In Maintaining Peace And Security
Compiled by New Age Islam News Bureau
URL: https://www.newageislam.com/islam-women-feminism/sindh-high-court-granted-custody/d/123345
--------
Sindh High Court Granted Custody Of A 13-Year-Old Christian Girl To Her 44-Year-Old Abductor In Pakistan
Nov 02, 2020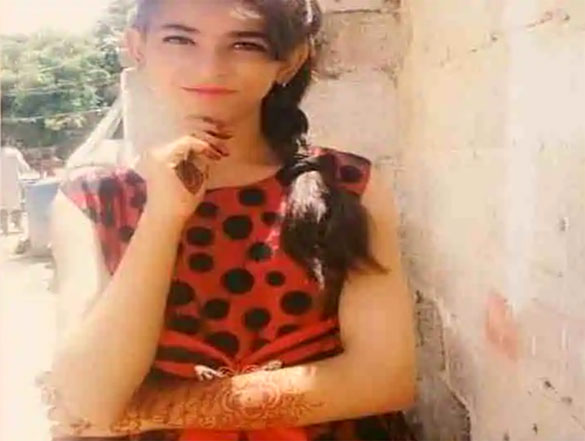 ANI photo: minor girl, who has been forcibly abducted and converted to Islam in Karachi
-----
ISLAMABAD: In a shocking incident, the Sindh High Court granted custody of a 13-year-old Christian girl to her 44-year-old abductor in Pakistan's Karachi.
The girl, identified as Arzoo Raja, was kidnapped from her home in Karachi's Railway Colony on October 13 and forcibly converted to Islam. An FIR was registered at Singh court by her family thereafter.
However, the Sindh police summoned the victim's family after two days and informed them that the kidnapper (Azhar Ali) has produced a marriage certificate with the girl that displayed that she is aged 18 years. As per the report, the girl was forcibly converted to Islam and married to the man, who is already wedded with children.
Naveed Walter, president of Human Rights Focus Pakistan (HRFP) said minority girls, particularly Christian and Hindu, are forcefully converted to Islam and married to Muslim men.
https://zeenews.india.com/world/13-year-old-christian-girl-abducted-converted-to-islam-married-to-44-yr-old-muslim-captor-in-pakistan-2321803.html
--------
Hijabis In UAE Share Their Unique Challenge On Zoom, Teams Meetings
November 02, 2020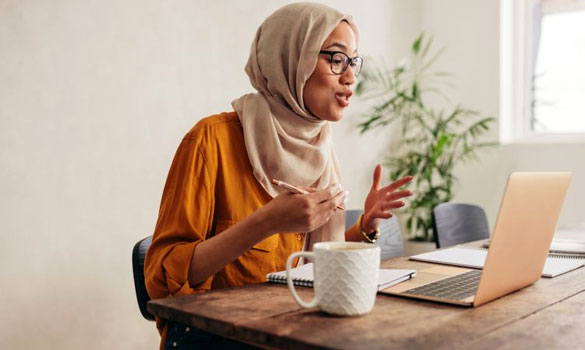 Turning on the camera for a meeting for hijabis means they also have to put on a scarf.
Image Credit: Stock image
-----
Abu Dhabi: Following the COVID-19 outbreak, working from home has become common enough. While workplace environments are hard to mirror, setting up meetings has become fairly easy through the use of video telephony and conferencing apps like Zoom and Microsoft Teams.
With no need to rush to meeting venues, workers have found they can easily log on to meetings from the comfort of their own homes. And even when they have to make themselves presentable for the camera, for most, it is not a big deal.
Still, these virtual meetings have brought in their own set of challenges for working women who don the hijab. Hijabis, as they are commonly known, follow a call to stay covered in public, specifically in front of men who are not related to them. So even if they are otherwise presentable, turning on the camera for a meeting means that hijabis also have to put on a scarf and cover their shoulders and arms.
"I was working from home for nearly six months, and only came back to the office in September. And yes, all the virtual meetings meant I was often scrambling for a hijab, especially in the beginning. Being properly dressed meant that I had to have a scarf and pin handy, and also wear a blouse with long sleeves," said Nasreen Abdullah, a 33-year-old content writer from India.
Nasreen Abdullah
Nasreen narrated how a male colleague once asked to see her on camera, but she hadn't had a scarf around. "He said he hadn't seen me in so long, and I had to rush and get one before turning on my camera. It was all just funny on hindsight," she said.
Arwa Al Khatib, 42, an American corporate communications manager, remembered when her meeting extended one day to include a male colleague.
"Initially, the meeting had only had women on the call, so I wasn't in hijab, even though I was dressed for the day, with face made up. At one point, we needed to bring in a male colleague, and I had forgotten that I wasn't in hijab. I only realised it when I heard the girls calling out to me. I quickly switched off the camera and put on the hijab," she said.
Over time, Arwa Al Khatib has made sure she was prepared for surprise meetings. "I would always dress up in the morning. And before I began my work day, I ensured that I had a black jacket next to me that went with everything, and a hijab as well," she said.
According to Sadia Anwar, 43, an entrepreneur from India, it wasn't that much different from the way senior executives often keep a jacket and tie in their rooms for meetings that are suddenly scheduled.
"I kept a jacket, hijab and pin on the desk next to me, and simply put them on before turning on the camera. After a while, it wasn't very difficult. But it did take some getting used to, having to be dressed in a scarf at home," she said.
"Actually, hijab was more of a challenge when helping my children with their schoolwork. I would be dressed for my own meetings, but not for their online classes. So if they needed any help, I would have to ensure that I stayed off camera, or that I just sneaked in my hand to make any adjustments," Anwar said.
Despite these minor hiccups, the women said they preferred the ease and flexibility of remote meetings on Zoom and Microsoft Teams. "My company is registered in Sharjah, and I often have to brave the traffic to drive down for meetings. With video conferencing apps, I can save all this commute time," Anwar said.
Al Khatib added that the ability to conduct entire meetings with the camera turned off – if the need arises - also makes things easy for hijabis. "Virtual meetings are far more flexible, and don't require one to work around everyone's schedules. So I feel they are here to stay," she said.
https://gulfnews.com/uae/hijabis-in-uae-share-their-unique-challenge-on-zoom-teams-meetings-1.74853477
--------
Saudi Health Ministry launches online healthy marriage service
November 02, 2020
RIYADH: The Ministry of Health has launched the first phase of the online healthy marriage service in government health facilities, the Saudi Press Agency reported on Sunday.
The ministry said that the service aims to automate all test procedures in the Kingdom. It starts with entering the parties' data and organizing educational sessions for them, then completing the tests and uploading the information on the "Seha" (Health) platform to match test results. A text message is sent with the approved health certificate number to the compatible parties to enable them to see the results through the Sehhaty application or the "Seha" platform.
If the two parties are incompatible they are referred to governmental advisory clinics, and the Ministry of Justice is enabled to inquire about healthy marriage certificates to complete the marriage contract procedures.
The premarital examination service seeks to conciliate couples in a way that ensures their harmony healthwise. The healthy marriage certificate is valid for six months and, in the case of infectious diseases only, the test can be repeated. This is given the importance of a healthy marriage and its active social, health and economic role, and in avoiding marriage in the case of genetic incompatibility.
https://www.arabnews.com/node/1757161/saudi-arabia
--------
British-Iranian National Zaghari-Ratcliffe Details First Prison Interrogation, Appears In 'White Torture'
October 31, 2020
LONDON: Nazanin Zaghari-Ratcliffe, the British-Iranian dual national imprisoned in Iran on contested charges of espionage, has given an account of her first interrogation in 2016.
She said she was threatened with her daughter being taken away, and her interrogators claimed her husband was a spy and gave her false information regarding her release.
Her account of her first 40 days in custody appears in "White Torture," a recently published book of interviews with women imprisoned in Iran on political charges compiled by Narges Mohammadi, who is in prison for her human rights work.
Zaghari-Ratcliffe told Mohammadi that she spent the first 40 days in total isolation. In her early imprisonment, Zaghari-Ratcliffe said she endured days without sleep, panic attacks, fainting, and regular attempts by her interrogators to force a confession of espionage.
She told the author that the ordeal was so distressing that she came to "doubt herself" and question whether the accusations were real.
"They tried to induce me to say something that didn't exist. They said they had top-secret evidence that I worked for the (British) parliament and against Iran," she said.
"I was sure that was not the case, but they repeated it so much that I doubted myself when I returned to the cell. I spent long hours in my cell wondering if the projects I had worked on had anything to do with Iran. Then I told myself that I was 100% sure that my projects had nothing to do with Iran, but after each interrogation I would review these cases over and over again," she added.
"The interrogators threatened to send Gabriella (her daughter) to London if I did not cooperate. They kept telling me that I had lost my job and that if interrogation took too long my husband would leave me. They asked me to tell them about my friends and their work projects. I had not really slept for three weeks. I had not seen my child and I was under a lot of pressure."
After her initial arrest and interrogation, Zaghari-Ratcliffe was sent to the notorious Ervin Prison.
She said after she was transferred there, she was allowed to meet her family, but she hardly recognized her daughter.
During the visitations, she said she struggled when her daughter asked her to go to her parents' house.
"Every time she (Gabriella) cried goodbye I would break down," she said. "The interrogators were present in the meeting room. When saying goodbye, I wanted to go ahead and tie her shoes for her, but they wouldn't let me and I had to leave her."
Zaghari-Ratcliffe is set to return to court on Monday in Tehran. If she is returned to prison, as she expects, she will once again be separated from her husband and daughter.
https://www.arabnews.com/node/1756641/middle-east
--------
Bahrain vows support for global woman empowerment efforts
October 30, 2020
MANAMA — Bahrain affirmed its support for all international efforts for the advancement of women, achieving gender balance in all developmental and humanitarian fields, and enhancing their contribution as an active partner in security, peace, and sustainable justice.
This came during a speech delivered by Bahraini Permanent Representative to the United Nations Ambassador Jamal Faris Al-Ruwaie to the Security Council during a virtual meeting held by the council on women, peace, and security.
The permanent representative said that this year marks the celebration of events concerned with women, security and peace, the 75th anniversary of the establishment of the United Nations, the 25th anniversary of the adoption of the Beijing Declaration and Platform for Action, the 20th anniversary of the adoption of Security Council Resolution 1325, which provides for equal participation for men and women at all levels, and to involve women in the processes of maintaining peace in light of disasters and conflicts that befall humankind.
He explained that Bahrain, under the leadership of King Hamad bin Isa Al Khalifa, supports the participation of women in decision-making posts and public affairs, and aims to enhance women's role as an equal partner in dealing with current and future challenges and opportunities.
He also indicated that the Supreme Council for Women, presided by Princess Sabeeka bint Ibrahim Al Khalifa, wife of the king, launched specific initiatives to provide the needs of Bahraini women in line with the 2030 Agenda for Sustainable Development while continuing to respect their international commitments contained in the Beijing Declaration and Platform for Action, in addition to Security Council Resolution 1325.
He pointed out that based on Bahrain's belief in the importance of education in empowering girls and women, the Kingdom took the initiative to establish a number of schools in the Syrian refugee camps in the countries neighboring Syria, as well as in the Gaza Strip.
The permanent representative also stressed that in light of the emerging global crisis, there is a need to lay the foundations for peace, reiterating Bahrain's support for the call made by the secretary-general of the United Nations in the first months of the pandemic for an immediate global ceasefire and harnessing international efforts to confront COVID-19. — Bahrain News Agency
https://saudigazette.com.sa/article/599759
--------
473 women migrant workers dead abroad since 2016, 175 in Saudi Arabia alone
Shariful Hasan
October 31, 2020
A year after she was sent to Saudi Arabia as a domestic worker, Nodi returned to Bangladesh last night, lifeless, crammed inside a coffin, only to be received by her wailing relatives on the premises of Hazrat Shahjalal International Airport.
Nodi. Photo: SK Enamul Haq
The 13-year-old girl was sent to KSA last year with a passport falsely listing her age as 27, in the same manner another teenager Umme Kulsum was also sent to the Gulf country as a domestic worker where she died at a hospital after being tortured by her employer.
Nodi's body arrived at the Dhaka airport at 4:00am. She was later buried at Khilgaon graveyard in the capital after Zuhr prayers on the same day.
According to the papers, Nodi had died by suicide in August this year. However, her family claimed that she was killed or forced to die by suicide after being tortured there.
"My daughter had been in trouble since she left for Saudi Arabia. We repeatedly told the recruiting agency about this but they did not take any steps. Now they have killed my girl. The papers say it was suicide but I saw that my daughter had signs of torture all over her body. Who do I ask for justice?" Nodi's mother Beauty Akhter wailed.
The scene was reminiscent of Nasima Begum crying last month when the dead body of her daughter Kulsum landed in Dhaka.
This year, due to the closure of flights amid Covid-19 pandemic, there have been complications in transporting the bodies to the country.
The procession of deaths, meanwhile, did not stop.
According to the Expatriates Welfare Desk at Dhaka airport, the bodies of at least 63 women arrived between January and September this year. Among them, 22 lost their lives in Saudi Arabia alone, while 14 died in Lebanon, 11 in Jordan, seven in Oman, and four in the UAE.
A total of 473 women's bodies have been returned to the country from the Middle East from 2016 till September this year. Among them, at least 81 died by suicide.
SEA OF DESPAIR FOR NODI'S FAMILY
According to the family and birth certificate, Nodi was born on December 1, 2007, which means she was yet to be 13 years of age. However, in the passport, she was said to be 27-years-old, with the date of birth shown as September 3, 1993. Although their home is in Cumilla, Nodi's passport was issued from Mymensingh.
Nodi's mother Beauty Begum and father Dulal Sheikh alleged that the employer started torturing Nodi ever since she reached KSA last year. No salary was even paid to her either.
A Rahman Lalon, owner of the recruiting agency Dhaka Export (RL-275), was informed in this regard time and again but instead of solving the problem, he threatened the family in various ways, Dulal Sheikh said.
An official letter sent to Dhaka on August 26 from the Bangladesh embassy in Saudi Arabia said that the embassy had received information that Nodi had died by suicide in Medina on August 14. The embassy contacted Mansour al-Magamisi, owner of the Saudi recruiting agency, and they also corroborated the same.
Nodi's family's opinion was sought for the body to be buried in Saudi Arabia in that letter. However, the family did not agree and a letter was sent from the Wage Earners Welfare Board to Saudi Arabia on September 2 stating that the family wanted the body to be brought back to Bangladesh.
The family also filed a case with a Dhaka court over Nodi's death and Kalabagan police has already arrested three people, including A Rahman Lalon, owner of the recruiting agency, on October 18.
How does a 13-year-old girl go abroad with falsified documents? The question remains.
Migrants' rights activists said the government needs to investigate how teenage girls are getting their passports and going abroad and which agencies are involved in this in order to stop such deaths from happening.
MOST ARE DYING IN SAUDI ARABIA
Of the 473 women's bodies returned to the country from the Middle East between 2016 and September this year, the highest number of deaths was 175 in Saudi Arabia, while 75 died in Jordan, 66 in Lebanon, 45 in Oman, 27 in UAE, and 20 in Kuwait.
At least 81 of them died by suicide, including 51 in Saudi Arabia alone. Of them, three died by suicide in 2016, 12 in 2017, 23 in 2018, 29 in 2019 and 14 this year.
Among the 14 cases of suicide this year, nine died in Saudi Arabia. They are: Nasima Begum (28), Afia Begum (36), Taslima Begum (26), and Khadija (39) of Barguna; Safia (31) of Narsingdi; Helena (29) of Moulvibazar; Mamtaz (34) of Manikganj; Nasrin (31) of Chapainawabganj; and Rekha (40) of Narayanganj.
Each of these deaths is questionable, according to their families.
Mosammat Begum is an example. She went to Saudi Arabia in April 2019 through a recruiting agency. But no one knows the mystery of her death in Egypt.
According to the Bangladesh embassy in Egypt, Mosammat Begum died after falling from the rooftop of a five-storey building on May 29, 2019. Begum's husband Abdul Aziz said he had learned through the union chairman a few days ago that someone called Begum had died in Egypt. But he did not take the matter seriously as his wife was in Saudi Arabia. It was after he got a call from Egypt that he realised it was his wife who had died.
Another worker, Abirun Begum, who went to Saudi Arabia in July 2017, was found dead at her employer's house. Her family got the news 51 days after the death. Abirun's family members alleged that her employer had brutally tortured and killed Abirun. She was not even paid her salary for two years. However, the family did not get any justice.
A similar incident happened with Nazma, who was tortured to death in Saudi Arabia, and her body was returned to the country 53 days later. Nazma went to Saudi Arabia through a local broker in December 2018 to be employed at a hospital, but she was sent to a home instead where she was tortured and sexually abused, according to the family.
"Unable to bear the torture, I stabbed myself in the neck. Many tried to die by suicide in KSA. Actually, the circumstances forced them to do so," Sufia Begum of Faridpur told The Daily Star
Kamaluddin Ahmed Chowdhury, an associate professor of the Department of Clinical Psychology at Dhaka University and director of the Nasirullah Psychotherapy Unit, told The Daily Star, "A person never dies by suicide under normal circumstances. What we see in Saudi Arabia, most of the women were oppressed or were in such a bad situation that they thought suicide is the only way to escape. In fact, people die by suicide when they have no choice. To stop this, the obstacles they face should be removed."
Those who manage to survive through the ordeal also have no end to their misery. In many cases, their families do not want to accept them, while others face mental trauma.
Runu Begum from Khulna is one of them. She returned from Saudi Arabia on October 10 and was found walking at the airport in an unstable state. She was then sent to a non-governmental organisation by the Airport Police.
According to the Bureau of Manpower, Employment and Training (BMET), more than 800,000 women went abroad between 1991 and 2019. Of them, the largest number, more than three lakhs, went to Saudi Arabia and the main crisis is there.
In 2015, Bangladesh agreed to send women as workers to Saudi Arabia. On February 2015, a 19-member delegation led by Deputy Minister Ahmed Al Fahad of the Saudi Ministry of Labour arrived in Dhaka when Bangladesh signed an agreement to this end. After that agreement, 21,000 women workers were sent to KSA in 2015, 68,000 in 2016, 83,000 in 2017, 83,000 in 2018, 62,578 in 2019, and 10,930 this year before Covid-19 pandemic broke out.
Although there is no actual report of how many women have returned from KSA, according to the embassy and various media reports over the last five years, the number is more than 10,000. Many more are reportedly waiting to return at safe homes and immigration camps in KSA with already shattered hopes.
A woman from Kurigram who went to Saudi Arabia in the hope of prosperity for her family was raped by her employer and she became pregnant. She later fled to the Bangladesh embassy in Riyadh to save her life. She eventually came back to Bangladesh two months later.
Another woman from Dhaka's North Badda who returned from KSA, said that the men of the house where she worked used to physically abuse and sexually harass her. When she protested, her hair was pulled out.
A girl from Manikganj said she used to work in the Bani Yasar area of Saudi Arabia. She jumped from the rooftop of a four-storey house, unable to bear the torture by her employers. Later, she found herself in the ICU of a hospital.
A woman from Cumilla was also tortured and needed 14 stitches on her head.
Last year, Sumi Akhter's video from Saudi Arabia went viral, where she was seen urging and pleading everyone to save her life. She was later rescued and brought back to the country.
Ministry of Expatriates' Welfare and Overseas Employment sent a report to the parliamentary standing committee concerned in August last year. The report said that they had talked to about 110 female domestic workers who returned from Saudi Arabia and 35 percent of them returned home after being physically and sexually abused, while 44 percent of these women were not paid regularly.
In a joint committee meeting with Saudi Arabia last year, Bangladesh raised the issue of oppression of female workers. Saudi Arabia, as always, assured of looking into the matter. BMET Director General Mohammad Shamsul Alam said the ministry and BMET had issued 12-point directives in December last year to ensure the safety of women workers and they are more careful about the issues.
Asked how much the situation has improved, Shamim Ahmed Chowdhury, secretary-general of the Association of International Recruiting Agencies (BAIRA), said yesterday that the agencies are often held responsible over the cases of harassment or death of Bangladeshi domestic workers in KSA, but the crisis will not be resolved unless action is taken against the Saudi employers who maltreat the workers.
A mechanism should be developed to this end, he added.
https://www.thedailystar.net/country/news/473-women-migrant-workers-dead-abroad-2016-175-saudi-arabia-alone-1987181
--------
UAE Vows To Promote Women's Role In Maintaining Peace And Security
November 2, 2020
NEW YORK — The United Arab Emirates reaffirmed its commitment to facilitating enabling environments for women and girls around the world to realize their full, equal, and meaningful participation at the UN Security Council's annual open debate on Women, Peace, and Security (WPS). The international community is observing the twentieth anniversary of the landmark Security Council resolution 1325, which established the WPS architecture.
In a written statement to the Council, the UAE said: "Over the past two decades, the WPS has been pivotal in recognizing the disproportionate effects of conflicts on women and girls, but it has particularly contributed to the recognition of them as active agents and the meaningful role they play when it comes to conflict prevention, resolution and post-conflict recovery processes. While it is our duty to protect the progress made and to ensure gains will not be lost and inequalities further deepened, the advancement of the WPS agenda is a key priority for the UAE and will remain as such during our recently announced candidacy for an elected seat on the Security Council for the 2022-2023 term with our focus on the full and effective implementation of UNSC Resolution 1325 and its subsequent 9 resolutions."
Underscoring the importance of multilateral efforts in ensuring women and women's issues are not sidelined, the UAE noted its collaboration with the Georgetown Institute for Women, Peace and Security (GIWPS) on a panel series on the role of women in post-conflict reconstruction and peacebuilding. The UAE added that together with GIWPS, it will be launching a UN Action Plan, which will outline concrete priority actions and reforms for Member States and UN agencies to introduce and extend measures that ensure post-conflict activities are gender-mainstreamed.
The UAE emphasized the importance of the number of women uniformed personnel as well as their influence in building sustainable peace. In this regard, the UAE highlighted the Sheikha Fatima bint Mubarak Women, Peace and Security Initiative which, in cooperation with UN-Women, has enabled the successful graduation of over 300 women from Asia, Africa, and the Middle East to facilitate their effective contribution to peacekeeping, conflict resolution, and all aspects of building peace. The UAE further noted that it hopes to contribute to closing some of the gaps related to gender-responsive security sector reform and called on Member States to identify and address the barriers facing women peacekeepers.
Furthermore, the UAE underlined that the international community could not dismiss the unwaveringly high number of cases of sexual and gender-based violence. The UAE condemned such crimes as they pose a serious threat to peace and security and stated that holding perpetrators accountable is a critical component of preventing and deterring the violence.
The UAE also added that funding allocated to sexual and gender-based violence is still far from covering the actual needs, and to this end reiterated the UAE's support through additional financial contributions to the UN's GenCap and ProCap programs, as well as Nadia's Initiative. The UAE called on the member states to ensure their foreign aid specifically targets similar programs and to work closely with UN entities and other organizations towards ending sexual and gender-based violence. — WAM
https://www.saudigazette.com.sa/article/599837
--------
URL: https://www.newageislam.com/islam-women-feminism/sindh-high-court-granted-custody/d/123345
New Age Islam, Islam Online, Islamic Website, African Muslim News, Arab World News, South Asia News, Indian Muslim News, World Muslim News, Women in Islam, Islamic Feminism, Arab Women, Women In Arab, Islamophobia in America, Muslim Women in West, Islam Women and Feminism