New Age Islam News Bureau
16 Feb 2018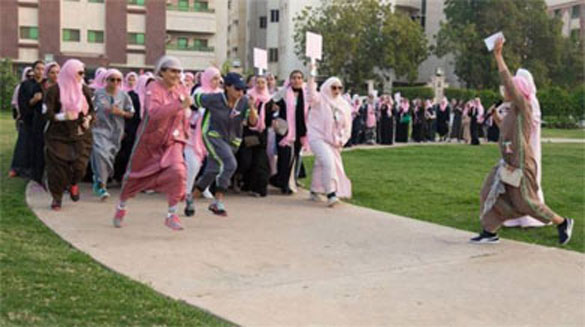 Group, which runs on the streets of Jeddah, has received positive encouragement from onlookers
-----
• Saudi Women Run To Promote Fitness Culture
• Pakistan's All-Girl Team Set To Participate In International Formula Student Racing Event
• Hijab: Muslim Women Want Action against Discrimination
• Saudi Women Can Finally Breathe In Society
• Government Too 'Politically Correct' to Back Schools Banning Islamic Hijab
• Muslim Women Protest Triple Talaq Bill In Mumbai, Address Memorandum To Governor
• UN Report Says Poorest Nigerian Women Fare Better In Nutrition than Their Counterparts in Sindh
• Iranian Women Must Remain United To Advance Rights
Compiled by New Age Islam News Bureau
URL: https://www.newageislam.com/islam-women-feminism/shoura-council-member-calls-military/d/114305
--------
Shoura Council member calls for military draft of Saudi women
15 February 2018
Eqbal Darandari, a member of the Saudi Shoura Council, called for the implementation of the mandatory recruitment of Saudi women in the military for three months to a year to prepare them to serve the country in the event of a crisis, war or attack.
In an interview with Al Arabiya, Darandari said that all citizens should be ready to serve their country, and know how to protect themselves. She added that women are no less than men and only need fitness and experience, namely in Karate, self-defense and weaponry.
Darandari had tweeted saying that joining the army is a national duty that should include men and women, and that all members of the community should be able to defend the country.
This came in light of the Vice-Chairman of the Security Committee in the Saudi Shoura Council, General Abdul Hadi al-Amri, rejecting the compulsory recruitment of Saudis, after a member of the Council hadcalled for compulsory recruitment for young men and women alike.
https://english.alarabiya.net/en/News/gulf/2018/02/15/Shoura-Council-member-calls-for-military-draft-of-Saudi-women.html
--------
Saudi women run to promote fitness culture
February 16, 2018
Jeddah: Two years ago, Jeddah-based health enthusiast Rasha Al Hambra founded Bliss Runners to encourage other Saudi women to adopt a healthy lifestyle through running.
Health experts worldwide regard running as the best form of cardio, and Rasha is determined to promote a walking and running culture in Saudi Arabia.
Rasha, a Saudi national picked up running while she was living in the United Sates.
When she returned home she conducted a survey amongst women in Jeddah to gauge their interest in running as a fitness activity.
The response was overwhelming and Rasha decided to form an all-women running group.
She decided to call the group Bliss Runners because, for Rasha, running generates a feeling of pure bliss.
On her first run, 15 women joined her—mainly family and friends.
As word spread, more women joined the group.
"It is the only form of exercise that does not require any equipment or office space," she tells Gulf News.
The group, which promotes itself through Instagram, is steadily building a strong following.
Today, Bliss Runners has 100 registered members, including 65 active runners.
The group meets thrice weekly to practice running drills, a special workout technique to improve running posture, speed, and duration. It also strengthens legs, core and upper body, and helps build stamina for longer runs.
The group does not have a specific outdoor place for members to gather and run.
Sometimes, they can be seen running along one of the numerous beautiful walking tracks in Jeddah, or along walkways near the Red Sea. They can also be seen near historical sites or in and around commercial compounds and stadiums.
"We take our runs anywhere in our beautiful city. Each run on an average is 4-6km," Rasha says.
She said that they draw attention while running, but it is usually passersby cheering for them or giving them the thumbs up.
The group takes care to ensure that runners are modestly dressed, in comfortable yet fashionable jumpsuit abayas.
"The abayas we wear are designed by local abaya designer Emaan Johaarjy, and meet the requirements of active ladies. The abayas accommodate the needs of Muslim women who work out and lead an active lifestyle, and at the same time are fashionable," Abeer Al Bayouk, one of the team leaders tells Gulf News.
In November last year, for the first time, 10 members of the group participated in Dubai Women's Run at Massari Village.
Saudi CrossFit trainer Amal Baatiya, who was also awarded the title of Woman of Substance at the event, had trained the participating members.
The group hopes one day to participate in other international running events, too.
The group recently introduced a teens training programme for both boys and girls aged between 14-18.
The intensive programme is conducted twice a week.
The General Sports Authority of Saudi Arabia has supported the group by opening up its training facilities around Jeddah and at the King Abdullah Sports City, Rasha says.
"They have also shown willingness to collaborate with us and support us with legal issues and permits."
Bliss Runners hopes to start a national youth runners team, and create and implement a running programme in schools. It is also looking for sponsors to help it realise its goals.
"I believe physical education is extremely crucial for a healthy society, and sports programmes and competitions should be a top priority in schools and universities," Mona Shaken—the team coach, told Gulf News.
The group is open to anyone interested in running and staying fit.
It has also set up a WhatsApp chat group where its members can exchange information and advice about fitness routines.
http://gulfnews.com/news/gulf/saudi-arabia/saudi-women-run-to-promote-fitness-culture-1.2172240
--------
Pakistan's all-girl team set to participate in International Formula Student racing event
February 15, 2018
ISLAMABAD: A group of female students from National University of Sciences and Technology (NUST) are employing mechanical skills to produce a car that will participate in the International Formula Student competition scheduled to be held at the Silverstone car racing track, United Kingdom (UK), this July.
Through excessive effort and hard work, the 15-member 'Team Auj' has successfully secured its place as a registered participant of the International Formula Student competition.
This initiative taken by young students raises awareness about the fact that in the motor-sports industry, women participation is gaining momentum as talented girls continue to utilize their skills and knowledge in designing and manufacturing a formula-style race car for international competitions.
The team is not only determined to land a position among the top most teams of the competition, but is also prepared to leave its impact on the society by encouraging women to put their knowledge and creativity to a better, more practical use, according a report published in an international newspaper.
Team Auj is one of the many initiatives to increase women empowerment, but what sets it apart from other campaigns is its access to an international audience.
It also aims at encouraging Pakistani women to involve themselves in projects that usually involve only men, and broaden their horizons, allowing them to become more independent.
Thus far, Team Auj has managed to win the support of some of the biggest companies in Pakistan and attract many sponsors through the unique and significant concept.
The students are demonstrating their exemplary skill to an international audience through Formula Student, enabling the world to see the real capability of Pakistani women.
It would be a delight to see the team succeed in achieving its objectives both in the UK and within Pakistan, the report in an international paper said, adding Team Auj was a praiseworthy initiative to bring about social development and create a favorable environment for advocates of social reforms.
Talking to APP, Wardah Jamal, Marketing Manager of Auj, said that it was the "first all girls team" which would represent Pakistan in the competition with car number 199 on the race track.
She said all team members were the NUST students, who were selected for the competition based on the university's BLC (Business Logic Case). BLC, she said, contained details of projected costs, sales volume, target market and the viability of the project on a larger scale.
"Due to the excellence of BLC we cleared stage one of the competition," she added.
Wardha said the team members belong to different disciplines, including electrical engineering, industrial designing and business management, while there was no mechanical engineer in the team.
"The competition is organized by the Institute of Mechanical Engineering. Hence, mechanical engineers can be an asset to any team for this competition, but Team Auj aims to prove that you do not have to be confined by your university degrees. You can explore your options if you're ambitious," she said.
"We promote youth development and women empowerment. Women are competing in a field that's restricted solely for males. Our female team members perform the work normally done by males such as cutting, grinding, welding and networking in the market."
The race car driver of team Auj, she added, was also a female, who would be competing with men on the race track.
https://tribune.com.pk/story/1635811/1-pakistans-girl-team-set-participate-international-formula-student-racing-event/
--------
Hijab: Muslim women want action against discrimination
Feb 16 2018
Nigerian Muslim Women joined their counterparts around the world to commemorate 2018 World Hijab Day (WHD), launched by a Bangladeshi woman, Nazma Khan.
Each year on February 1, Khan's non-profit organisation invites females of all faiths, backgrounds and ethnicities to wear the hijab for a day in solidarity with Muslim women worldwide.
Since its inception in 2013, more than 70 global ambassadors from over 45 countries have been involved and women from around 190 countries participate in the annual event.
This year's event, themed, #StrongInHijab saw Muslim women from around the world, joined by females of other faiths, marching through cities to break the false stereotypes about the religious head covering and the resultant molestation.
Globally, prejudice and discrimination against the hijab abound and advocacy groups have reported a rise in apparent Islamophobia and hate crimes in recent years.
"I am particularly very concerned about discrimination women who wear the hijab face in the job market," WHD's founder, Khan told Al Jazeera.
Her organization, she said, is working on building an educational programme called "Corporate Anti-Islamophobia Program (CAIP)" to lessen discrimination against Muslims in the corporate sector.
Recently in Nigeria, a graduate of Nigerian Law Firdaus Amasa was denied access to the venue of the call to the bar ceremony for donning the hijab.
"The saga of Firdaus Amasa though indeed unfortunate brings to the fore, the dislocation that exists within our journey of nation building," the Coalition of Muslim Women in Nigeria, said on the occasion of WHD celebration in Abuja.
"The colonial legacies we still hold on to have long expired and we need to move on in the direction of justice, mutual respect and common values that enhance our nationhood," said Hajiya Ramatu Sani who spoke on behalf of the coalition.
She therefore called for more awareness on the importance and propriety of the hijab, while advocating a general review of dress code in all professions to allow Muslim women wear the Islamic head cover.
At a special lecture organized by the coalition, Wife of President Hajiya Aisha Buhari said it is important to accord the desired respect for those using hijab as it connotes honour, respect, dignity and its observance being to please Allah.
Represented by Barrister Aisha Galadima Gana, Hajiya Aisha urged Muslim women to imbibe fear of Allah, etiquette, and embodiment of good character which the usage of hijab entails.
Hajiya Amina Sambo, ex-vice president's wife, called for continuous dialogue and enlightenment so that more people can understand the propriety of hijab usage.
The guest lecturer and National Legal Adviser, Dawah Coordinating Council of Nigeria (DCCN), Mallam AbdulWahab Oyedokun called for sustain efforts at ensuring that the rights of Nigerian Muslim women to use hijab are protected.
At hijab awareness rally in Lagos, the Leader of Al-Muminaat group, Hajia Khadijah AbdusSalam said Muslim women should not be sidelined based on their appearance.
Muslim women, she said, should be protected from molestation and discrimination for their choice to cover their hair.
"We are Nigerians and should neither be oppressed nor molested when we are serving our Lord through our mode of dressing," said a pharmacist, Afusat Adeshina during the rally organized by the federation of Muslim women association of Nigeria (FOMWAN), Al-Muminaat, Nasrullahil Fatih (NASFAT) and the Muslim Students' Society of Nigeria (MSSN).
https://www.dailytrust.com.ng/hijab-muslim-women-want-action-against-discrimination.html
--------
Saudi women can finally breathe in society
Hanan Al-Nufaie
February 16, 2018
I remember when I graduated from university three years ago. Almost everything was impossible for me as a female graduate dreaming to step into the labor market to pursue my dreams and be independent. That was because all jobs, except for teaching, were considered socially taboo. Women were stigmatized for all of their choices. Even breathing, if I may say so, was considered a shame at the time.
These illogical social norms and the misunderstood definitions of the role of men in the family unit have been passed on from one generation to the other. However, since the beginning of 2017, everything has dramatically changed in favor of women due to a very determined and young leader, Crown Prince Muhammad Bin Salman, who came to power to empower women.
Women used to waste all of their energy in convincing their families or husbands to allow them to work in a field that they were passionate about, such as medicine or law. Despite the painful obstacles at home, if they were given permission to breathe and go to work, the majority of society would not accept them. I vividly remember the hashtags trending on social media in those days that defamed women and their reputation and doubted the morals of women who worked in mixed-gender settings. It was sad to see hashtags calling for men not to get married to female doctors just because there was mixing of genders in hospitals. The tragedy extended even to children aged 12 or 14 who spent all their time doubting their sisters and even mothers because they were taught to closely watch their female relatives and to catch them before they committed a sin or did something immoral.
In those days, teachers would stand in the doorway of their homes at the break of dawn waiting for the school bus as drivers would not wait for more than a few seconds. If the teacher missed the bus, then she would not be able to get to work, as she could not drive. I could easily write a book on how we struggled in those days.
Our lives as Saudi women have changed tremendously since the Crown Prince came to power with his new mindset and the willpower to reform society and develop a healthy Saudi Arabia where women are considered important. He has reinforced change and empowered women in all aspects. He believes in women and their capabilities. He has not waited to persuade people who have caused our society to lag behind the world for a very long time. He started by including women in his vision, mentioning that they will contribute to the Kingdom's GDP. That gave women more value to be seen as individuals who have minds and education, and can productively add to the country's economic growth.
This quickly pushed society to accept the change that has become an undeniable reality. Women are now working in positions they never thought they would be able to work in before, such as the Customs Department, in airports, in the police and the list goes on. The historic decree permitting women to drive has also led to strict legislation on harassing women.
What has been the outcome of these rapid changes? Women are now studying and working with fervor because they know they have a place in the Kingdom. Yes, women are finally being seen as first class human beings who have the right to live normal and healthy lifestyles. The number of women in work has significantly increased. Their presence in entertainment has also increased. They work, produce, volunteer and live comfortably.
However, I know there is still some resistance from a very limited number of men who cannot absorb the idea that they have no power to restrict the lives and rights of their female relatives, but the majority of Saudi society ignores them.
Women are extremely grateful for the change they are blissfully witnessing because we know we will never return to the misery of yesterday. The role played by our young Crown Prince in supporting us to become visible to the world is historic.
http://saudigazette.com.sa/article/528453/Opinion/Voices/Saudi-women-can-finally-breathe-in-society
--------
Government Too 'Politically Correct' to Back Schools Banning Islamic Hijab
15 Feb 2018
The government is too politically correct to help schools attempting to ban Islamic hijabs, leaving teachers "alone, isolated and vulnerable", the former head of Ofsted has said.
Schools are allowed to set their own policies for Islamic veiling, but Sir Michael Wilshaw said the Department for Education's refusal to issue a formal policy had led to schools facing pressure from hardline Muslims.
He also claimed that there are some 150 schools in the country where young children are forced to wear the religious garments, which campaigners say sexualise young girls.
His comments come after St. Stephen's Primary School in east London was forced to reverse a ban on the hijab for pre-pubescent infants.
After introducing the ban, St. Stephen's was targeted by hard left and 'extremist' Islamic groups, and the chairman of governors, Arif Qawi, was forced to resign following abuse.
Those attacking the school included the Muslim Council of Britain (MCB), which is linked to the pro-caliphate Muslim Brotherhood, MEND, which host radical speakers, and CAGE, which has defended Islamic State jihadists.
Current Ofsted boss, Amanda Spielman, faced anti-Semitic abuse after backing the school's head teacher and claiming that fundamentalists wanted to "actively pervert the purpose of education… and in the worst cases indoctrinate impressionable minds with extremist ideology".
Speaking to BBC Radio 5 Live this Wednesday, Sir Michael said: "There's something like 150 schools… which in short make it compulsory for youngsters to wear a hijab – so what's happening about those schools?
"The country has enormously changed. When heads want to change things, they have now to take into account deep-seated and sincere feeling of communities, some of whom who have conservative views.
"The government needs to step in. It can no longer say it's up to the head teachers. That head might be faced with an opposition which says, well hang on, you made this decision, but there's a school half a mile away which does allow [veiling for infants and primary aged children]."
When asked if political correctness stopped the government from issuing a national policy on hijabs in schools, he replied: "Yes absolutely. There is a reticence, and it's leaving head teachers alone, isolated and vulnerable."
Sir Michael also warned that the government had not learned from the Trojan Horse scandal, when Islamic fundamentalists organised to impose a hardline ideology on public Birmingham schools, including banning sex education and music.
"The Trojan Horse issue showed what can happen, and it's really up to the Department for Education to say this is now an ongoing issue that is affecting more than a few schools. You need to come up with some policies," he said.
http://www.breitbart.com/london/2018/02/15/government-politically-correct-schools-ban-hijab/
--------
Muslim women protest triple talaq bill in Mumbai, address memorandum to governor
Feb 15, 2018
Demanding the triple talaq bill which suggests a prison term for men who use the custom to divorce their wives be withdrawn, Muslim women protested at Nagpada and Crawford Market on Thursday. They even submitted a memorandum to the police, in which they sought governor's intervention.
The Muslim Women (Protection of Rights on Marriage) Bill, 2017, has been passed in the Lok Sabha and requires an approval from the Rajya Sabha to be made into a law. The centre is keen on getting the bill passed at the earliest.
The memorandum says the women members of All India Muslim Personal Law Board (AIMPLB), a consultative group, have demanded the paragraph on Muslim women be deleted from the address made to parliament as it 'hurts the sentiments of the community' and have asked for an expert committee to modify the bill.
"The bill was proposed without consulting top religious scholars and intellectuals of the community. We thus reject the bill as it goes against the Constitution of India, women's right and gender justice, and appeal that it be taken back," said Munisa Abidi, member of women's wing of AIMPLB.
Male members of the community are of the opinion that the draft prepared by the government does not abide by the order of the Apex Court, as it would put husband behind the bars in case he opts for talaq-e-biddat or triple talaq to divorce his wife. The custom refers to the practice of 'instant' talaq by uttering the words thrice in succession.
"Female members of our community have the right to demand talaq, but as per the bill a man will be put behind bars, in case of talaq-e-biddat too. How can the government claim that protecting women's right, when they are taking away her right here," said Mahmood Daryabadi, member, AIMPLB.
As per the draft bill, a Muslim man would face imprisonment up to three years and a fine for pronouncing instant triple talaq. Triple talaq has classified as cognisable and non-bailable offence.
https://www.hindustantimes.com/mumbai-news/muslim-women-protest-triple-talaq-bill-in-mumbai-address-memorandum-to-governer/story-LlnQVYZaCncRO9QZrRhLgK.html
--------
UN report says poorest Nigerian women fare better in nutrition than their counterparts in Sindh
Faiza Ilyas
February 16, 2018
KARACHI: The latest UN report on gender equality once again highlights how serious the problem is of malnutrition in Sindh where the health status of poor rural women is far worse than their counterparts in Nigeria.
Released two years after world leaders had adopted the 2030 Agenda for Sustainable Development, the report — Turning Promises into Action: Gender Equality in the 2030 Agenda — examines all 17 Sustainable Development Goals (SDGs) and shows their impact on the lives of women and girls. It highlights how the different dimensions of well-being and deprivation are deeply intertwined and suggests measures to tackle existing structural inequalities and turn promises into action.
Part of the report is 'A four-country case study on the 'furthest behind', which analyses existing data in ways that make visible the inequality experienced by different groups of women.
The countries selected are: Colombia (South America), Nigeria (sub-Saharan Africa), Pakistan (Southern Asia) and the United States (North America).
According to the report, national rates of undernourished women and girls aged 18-49 hide important inequalities across and within countries. For instance, although Nigeria and Pakistan appear to have similar rates of undernourished women when comparing only the richest urban groups (4.2 and 4.0 per cent, respectively), outcomes differ dramatically when comparing some of the most disadvantaged groups.
"18.9pc of Fulani women (part of a large ethnic group in the Sahel and West Africa) from the poorest rural households in Nigeria are underweight, compared to 40.6pc among the poorest rural women from the Sindhi ethnic group in Pakistan," it says.
Sindhi women and girls from the poorest households, the report says, fare far worse than any other group across all wealth quintiles and locations (within Pakistan) when it comes to malnutrition (proxied by a low body mass index).
Food insecurity
While women generally report greater food insecurity, the gender gaps vary significantly across countries. Gender differences, the report says, are greater than three percentage points and biased against women in nearly a quarter of the 141 countries sampled and against men in seven countries.
"In Albania, for instance, women were 7 percentage points less likely than men to say they struggled with regular access to food for themselves and their families. In Pakistan, however, food insecurity among women was a staggering 11 percentage points higher than that among men.
"Food insecurity results in poor health and decreased nutrient intake. This is a particular challenge for children as well as pregnant and lactating women, who often suffer from anaemia as a result. A leading cause of maternal mortality, anaemia was estimated to affect 29pc of women aged 15-49 globally in 2011. The figure is higher for pregnant women (38pc)," the report says.
Household-level deprivations are widespread in Pakistan: 63.3pc of all women and girls aged 15-49 lack access to clean cooking fuel.
Seraiki women and girls are the most deprived. While 85.2pc of them lack access, 17.8pc of Urdu-speaking women and girls do, making Seraiki women and girls almost 4.8 times as likely to be deprived of access to clean energy for cooking.
Inequality in education
Pakistan and Nigeria share similar stats on inequalities in access to education, the sector which is found to have some of the largest inequalities within a country in the study.
In Nigeria, 12.9pc of women in the richest urban households are education-poor (defined as having only completed six or less years of education) compared to 99.4pc of Fulani women from the poorest rural households and 98.6pc of Hausa women from the poorest rural households.
In Pakistan, 98.8pc of women from the poorest rural households are education-poor compared to 29.3pc of the richest urban dwellers. Disparities in education are also staggering in the case of the United States. Among the urban richest, only 4.1pc did not complete high school, compared to a national average of 10.3pc.
"The rate is much higher among Hispanic women in the poorest quintile at 38.3pc, who are the most disadvantaged," the report says.
On access to drinking water, the report points out that 41pc of urban households have access to safely managed drinking water in Pakistan compared to 32pc of rural households; large differences also exist across income and ethnic groups.
"When safe drinking water is not available on premises, the burden of water collection and treatment largely falls on women and girls, who are forced to allocate significant amounts of time and limit their engagement in other activities such as paid work and education," it says.
The data from the Demographic and Health Survey (DHS) 2012-2013 was used for Colombia, Nigeria and Pakistan.
https://www.dawn.com/news/1389672/un-report-says-poorest-nigerian-women-fare-better-in-nutrition-than-their-counterparts-in-sindh
--------
Iranian women must remain united to advance rights
Leila Alikarami
February 15, 2018
A new form of protest in Iran against mandatory veiling has received much attention in the press and social media in recent weeks. The bold waving of veils on sticks by women who have no apparent affiliation with any movement has not only provoked questions among politicians and even forced some to react, but has also pushed women activists to clarify their position on this issue. Not all activists, and especially those who have a long history of struggle in advancing women's rights, have welcomed the public protests. Their concerns are manifold.
Some worry that it will push other problems that women face to the margins. Meanwhile, others are concerned that the effort against mandatory veiling, a practice begun in the early months after the 1979 Islamic Revolution, might be hijacked by other people's agendas. In particular, some say pointedly that they do not want to be branded as part of My Stealthy Freedom and White Wednesdays, the anti-compulsory hijab campaigns driven by the US-based activist Masih Alinejad, a host on Voice of America's Persian Service, which is jammed and outlawed in Iran.
For instance, Narges Hosseini, one of the young women currently detained in Gharchak prison for removing her hijab in public last month, said in a Feb. 12 interview from inside the penitentiary that she had decided to protest on a Monday to signal her independence from the White Wednesdays campaign. Hosseini remarked that she had been aware of the consequences of her action, but she nonetheless wanted to demonstrate her objection to the compulsory hijab. She also acknowledged her commitment to the goals of the Green Movement and revealed that for the 2009 presidential elections, she had campaigned for Reformist candidate Mir Hossein Mousavi, who has been under house arrest since 2011.
Amid criticisms and allegations of attempting to hijack the anti-compulsory hijab movement in Iran, Alinejad insists that this is not the case. "The banner of protest against the forced veil was passed on to me by other women," Alinejad told Al-Monitor. "The same way the banner has now been passed on to the girls of Enghelab [Revolution] Street," referring to the avenue in central Tehran where several women, including Hosseini, have publicly removed their headscarves.
Alinejad says she took inspiration for her current efforts from exiled Nobel Peace Prize laureate Shirin Ebadi when both of them still lived in Iran. Back then, Ebadi would appear at international conferences without a headscarf, provoking fury and criticism back in Iran. Ebadi always responded that there was no obligation to be veiled outside the country, because the Iranian penal code only applied within the geographical boundaries of the state.
"I was writing in Reformist newspapers at the time and wanted to do bigger things," Alinejad told Al-Monitor. "I preferred to wear the veil but uncover corruption in the parliament." After leaving Iran in 2009, she still covered her hair, but by wearing a hat. When she finally abandoned covering her head altogether, she decided to share her personal experience with others. Her intimate writing struck a chord with young girls and women who share her concerns.
Yet, many activists in Iran continue to argue that while the mandatory hijab is a cause of irritation for many women, it is unrealistic to imagine the law being revoked under the Islamic Republic. Thus, they long ago made a strategic decision to devote their energy, time and resources to fighting discriminatory laws against women in areas that could bear results, such as those involving divorce, inheritance and giving testimony.
One Million Signatures, founded in 2006, is arguably the most important campaign confronting laws that discriminate against women, including in the areas of nationality, custody of children, inheritance, testimony, marriage and divorce. The campaign did not adopt the mandatory headscarf as one of the issues in its crosshairs for an obvious reason.
Women activists and the founders of the campaign believed that given the political intricacies at the time, including the power wielded by President Mahmoud Ahmadinejad, there was no way to effectively challenge the mandatory veil. They saw no ray of hope in changing the law. Therefore, they searched for cracks to challenge and change discriminatory laws in other areas within the existing legal structure and given the prevailing political context. The new approach to fighting the mandatory dress code — although not particularly sophisticated — is nonetheless proof that the forced veil remains a key concern for many Iranian women.
My Stealthy Freedom, which began as a movement with Iranian women sending Alinejad photos and videos to post online showing them unveiled outside the confines of their homes, gave rise to another campaign run by Alinejad, White Wednesdays, for which on Wednesday women wear white head coverings or white clothing to protest the mandatory dress code. The strategy underlying Alinejad's initiatives is to communicate about events and activities in which to take part in a way that invites everyone to participate regardless of political affiliation. The campaigns rely on the latest technology: smartphones — simple and effective tools in the hands of most Iranians.
One should remain mindful that the women's movement in Iran is not monolithic. It is highly diversified, with various components adopting different strategies for dealing with women's issues. Their differences in approach have sometimes resulted in fundamental internal splits among activists, raising the prospect of losing sight of the larger objective of female emancipation and gender equality.
It is not important at this point in time who or what groups or campaigns are carrying the banner of the struggle against the mandatory dress code. Indeed, rather than intense and heated sniping over where credit belongs for advances in women's rights, there should be concern about the banner being dropped to the ground as a result of disagreements over views and strategies. More than ever, all Iranian woman sit in the same boat.
https://www.al-monitor.com/pulse/originals/2018/02/iran-hijab-mandatory-protests-alinejad-hosseini-veil.html
--------
URL: https://www.newageislam.com/islam-women-feminism/shoura-council-member-calls-military/d/114305
New Age Islam, Islam Online, Islamic Website, African Muslim News, Arab World News, South Asia News, Indian Muslim News, World Muslim News, Women in Islam, Islamic Feminism, Arab Women, Women In Arab, Islamophobia in America, Muslim Women in West, Islam Women and Feminism