New Age Islam News Bureau
22 March 2015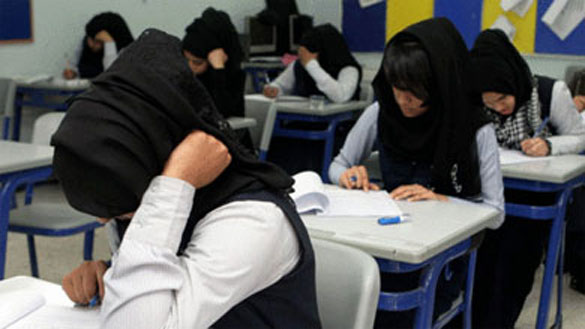 Female students continue to voice concerns about shortcomings at girls' schools. (File photo: Emirates 24/7)
---------
• Women Staffers at Prophet's Mosque Speak 17 Languages
• ISIS Posts Images of Women with Kalashnikovs
• Local Jirga Declares Girl Kari in Sindh
• Yazidi Sex Slave Escapes ISIS, Tells Her Story
'• I've Proof That Cops Picked up Salahuddin,' Wife Says
• Burnt Lady Laid To Rest in Kabul
• Saudi Women to Work Passport Control in Madina Airport
• Women Expand Community Health Services in Nigeria
• Palestinian Women Victims on Many Fronts
• Women-Only Gym Hours Nixed By McGill University
Compiled by New Age Islam News Bureau
URL: https://www.newageislam.com/islam,-women-and-feminism/new-age-islam-news-bureau/shortcomings-in-saudi-schools-dash-female-students'-ambitions/d/102057
-----------
Shortcomings In Saudi Schools Dash Female Students' Ambitions
21 March 2015
That the state of school buildings plays an important role in the overall education of a student is a no-brainer. For good facilities appear to be an important precondition for learning.
Buildings are places where students learn basic skills and assimilate knowledge while imbibing other valuable information that will help them in their lives; therefore, students should be provided with an environment that is conducive to learning and teaching while also enhancing the education process.
According to a report in Al-Sharq Arabic daily, female students continue to voice concerns about shortcomings at girls' schools and how these shortcomings affect their educational development, to the effect that it even dashes their inspirational dreams.
Reem Saud is a fifth grade student who says schools should be reasonable when asking students to buy school supplies. Art classes in particular, according to Saud, are financially taxing, especially for low-income families.
"I think I speak on behalf of all schoolgirls when I say schools burden students with a lot of work for art class throughout the year. What bothers us is that schools don't consider the financial status of students; some students come from poor families and can't afford to buy the supplies art teachers ask students to buy every month," said Saud.
"In addition, what should be creative sessions it generally turns into a drab routine work, with all treated with a single brush," she added.
Another problem is that school administrators often fail to accommodate the needs of students with disabilities. For example, students who suffer from low vision are not given priority when it comes to the distribution of seats in classes.
Saud suffers from poor vision but she has been assigned a seat in the back of the class because of a school policy that states students' assigned seating should be changed at the beginning of every semester.
"I can't see the blackboard from the back of the class. Besides, I get a terrible headache when I have to strain my eyes to try to make out what's written on the blackboard from the back of the class," she complained. "This despite the fact that I've taken remedial action."
Saud also said her school's cafeteria is too small to handle the number of students, which results in long lines during lunch and recess. "Many students are unable to buy something to eat at the cafeteria during recess because of the long lines. Moreover, there is only one window where you can buy food, causing discomfort to many," she said.
Complaints and more complaints
Amirah Salim, a sixth grader, has to study in a rented building as her school does not have its own premises. Salim said the air-conditioners in the building are in poor shape, and they are unable to cool the classrooms. In poor weather it makes it hard for students to concentrate.
She also said the school does not pay enough attention to students with special talents, with the staff performing their duties by rote. "The school should nourish and develop the special talents of students. The staff should spot them and encourage them to build on their capabilities. The school should help provide them with courses and take them out on field trips just like male students."
"Many of our demands remain unfulfilled, in addition to the fact that we have to suffer the circumstance of studying in a school building whose condition is so poor," Salim added while calling on the Ministry of Education to inspect boys' and girls' schools in Al-Ahsa as most of them are in dilapidated condition.
In some neighbourhoods, like Al-Rashidiya, there aren't enough schools for all educational grades and residents end up having to commute to neighbouring districts so they can attend the right classes.
Class schedules
Sarah Al-Sebaee, a middle school student, said the first week of each academic year is hard on students because they have to carry all their books with them until schools issue class schedules.
"Schools do not give students their class schedules until the second week of classes even though most teachers and administrative staff begin working a week before the start of the academic year. They should take advantage of this time and set class schedules and spare students the trouble of carrying all of their heavy books around," she said.
Lack of resources
Wajdan Al-Eneizi, also a middle school student, said many schools are unequipped to handle emergency medical situations. She also wants girls' schools to introduce physical education classes, as well as more activities that improve students' English, computer and public speaking skills.
"I love architecture and engineering but I know I cannot study to be an engineer because girls are not allowed to specialize in these two fields. If girls were allowed to specialize in these fields, I would do my master's and PhD in one of them," she said.
Noora Salih, a high school student, complained about the small size of her school's library. She also said students should be given crash courses to prepare them for the general aptitude test, the results of which determine what university and program students will be accepted to. Salih wants to be a lawyer and believes that women make better lawyers than men because they can talk more eloquently and are more convincing.
Academic achievement
According to sociologist Monirah Hamad, the condition of most school buildings is unsuitable for an academic institution and this has a negative impact on students' psychological state and academic achievement. "Authorities should provide PE classes to students and allow them to take field trips and provide rooms for extracurricular activities," she said.
http://english.alarabiya.net/en/perspective/features/2015/03/21/Shortcomings-in-Saudi-schools-dash-female-students-ambitions.html
-----------
Women Staffers at Prophet's Mosque Speak 17 Languages
March 21, 2015
MADINAH – Young Saudi female staffers at the General Presidency for the Affairs of the Two Holy Mosques are doing a commendable job in crowd control mechanism as well as in rendering selfless service to women worshippers at the Prophet's Mosque. They are well versed in at least 17 major languages used by most pilgrims who come from all over the world.
These young women staffers guide worshippers and pilgrims and enlighten them by speaking in their own language. "This is the outcome of intensive training and orientation courses that began nearly one decade ago," according to one of their supervisors. The languages include English, Urdu, French, Turkish, Malawi, Indonesian, Malaysian, Hindi, Persian, Hausa, Pashto, Thai and Malawi, Al-Watan daily reported. One of the women staffers said it is very easy for them to learn some languages like Urdu, which is simple and easier to pronounce. However it is very difficult to acquire and speak some other languages like Russian, Turkish and Kurdish.
The supervisor, who requested anonymity, said that nearly 97 percent of staffers are holders of university degrees, including Master's degree.
"The Presidency had started providing training to the staffers in language acquisition nearly 10 years ago. The Presidency has hired translators and preachers for this purpose," she said, adding that the staffers are allowed to join field duty only after undergoing sufficient training.
The training sessions also focused on enabling them to acquire efficiency in several areas such as performance in work, art of interaction with the public, crowd control, first aid, and work under pressure. "The staffers are in a comfortable position in their crowd control exercise at the Prophet's Mosque. They have proved their efficiency in managing women pilgrims from all corners of the globe in a systematic and orderly way, especially during rush hours at Rawdat Al-Sharif," she said.
http://www.saudigazette.com.sa/index.cfm?method=home.regcon&contentid=20150322237828
-----------
ISIS Posts Images Of Women With Kalashnikovs
22 March 2015
As reports on sex slavery and sidelining of women emerge out of territory controlled by the Islamic State of Iraq and Syria (ISIS), the militant group's supporters are trying to counter that by depicting a women-friendly utopia on social media.
In one picture posted online, as shown by the Independent, a group of women pose in their Burqas as they raise what appears to be Kalashnikov rifles, a sharp contrast to the role ISIS stipulates women should take. Another photo shows five women posing in front of a BMW with the ISIS flag on it.
Another post shows a series of pictures of a woman in a Niqab posing playfully with a man and a caption reading: True love doesn't end at death, if Allah wills it. Itll continue in Jannah [heaven]."
Other posts show women casually pushing their baby strollers, in addition to photographs of sweet delicacies such as multi-coloured ice cream and a chocolate-drenched pastry.
A photo reportedly uploaded by an ISIS supporter online. (Photo courtesy: Independent)
The photographs are an effort to normalize ISIS militants and their daily activities, according to Charlie Winter, a researcher at the counter extremism think tank Quilliam.
"When images and videos are taken together and understood together, it's all pretty clear what they are trying to get across – that Isis is not just a jihadist group fighting, it is setting up a state. It's no longer a group even, its political machinery," he told the Independent.
However, being out and about brandishing weaponry is not the role ISIS seeks to promote among its female recruits.
In February, the Al-Khansaa Brigade's media wing uploaded a 10,000 word manifesto advocating a "sedentary" role of women stay-at-home wives and mothers. The document, translated by Quilliam, also criticized concepts of gender equality.
Posts also show militants "relaxing" in waterfront areas and jumping into swimming pools. Another picture showed a group of young girls, also holding weapons, posing in front of ISIS's black and white banner.
Young girls pose with seems to be weapons in front of an ISIS banner. (Photo courtesy: Independent)
"When they show children playing in the street that's also to try and get across the idea that the war against the Islamic State [ISIS] isn't disrupting life that much that kids can't play, that Jihadis can't hang out together," Winter explained.
http://english.alarabiya.net/en/perspective/features/2015/03/22/Posts-depict-woman-friendly-utopian-ISIS.html
-----------
Local Jirga Declares Girl Kari in Sindh
March 22, 2015
Ghotki- A local tribal Jirga in Dharki area of Ghotki declared a girl Kari for marrying of her own free will.
According to details, the jirga also imposed a fine of Rs 1.2 million on the couple along with handing over a girl as Wani.
The girl married five months ago. The jirga declared the couple Kari and stated that the couple was liable to be killed if they disobey orders. Despite the orders of Sindh High Court (SHC), against, Wani and Kari practices are still common in Sindh.
http://nation.com.pk/national/22-Mar-2015/local-jirga-declares-girl-kari-in-sindh
-----------
Yazidi Sex Slave Escapes ISIS, Tells Her Story
21 March 2015
A Yazidi girl has revealed how the Islamic State of Iraq and Syria (ISIS) killed her brother and sold her as a sex slave to three men.
Samiye, who was kidnapped by the extremist group last August, said she was raped in Fallujah, west of Baghdad, when she was trying to escape from a village.
The 15-year-old managed to escape and is currently recovering at the Khanke refugee camp in Iraq, the UK's Daily Mail reported Friday
The Khanke refugee camp is home to more than 1,000 Yazidi and Iraqi families.
Displaced people from the minority Yazidi sect, fleeing violence in the Iraqi town of Sinjar west of Mosul, take refuge at Dohuk province, August 29, 2014. (Reuters)
Samiye is not the only woman abused by ISIS. In February, rights groups said in a report that ISIS captured at least 3,000 women and girls in Iraq in 2014 alone, many of them from the Yazidi minority.
ISIS militants originally attacked the area around Mount Sinjar, in northwestern Iraq, in August making it difficult for Yazidis, whose ancient religion has elements of Zoroastrianism, Christianity and Islam, as they became trapped in the mountain.
Hundreds of Yazidis were killed and thousands captured, enslaved and raped by the Sunni Muslim militants, who consider Yazidis devil worshippers.
http://english.alarabiya.net/en/perspective/features/2015/03/21/Yazidi-sex-slave-escapes-ISIS-tells-her-story-.html
-----------
'I've Proof That Cops Picked up BNP leader Salahuddin,' Wife Says
March 22, 2015
Reiterating the claim that BNP leader Salahuddin Ahmed was picked up by law enforcers, his wife today sought the prime minister's intervention again to trace her husband immediately.
"I have proof that the law enforcement agencies picked up my husband. And I believe that I will get back him if the prime minister orders the law enforcers in this regard," said Salauddin's wife Hasina Ahmed.
She made the appeal to Prime Minister Sheikh Hasina while addressing a press conference at National Press Club in Dhaka.
Hasina Ahmed also called upon the countrymen to help trace the whereabouts of the BNP leader.
"Eye witnesses of the incident like security guards and domestic helps of my house have gone disappeared. I could not trace them," she claimed.
On Thursday, the wife submitted a memorandum to the PM, seeking her intervention to trace her husband.
According to the family of Salahuddin and BNP, a team of 20/30 members of police, detectives and Rapid Action Battalion picked up the joint secretary general of the party along with his two staff, including a woman, on March 10 from a house in the capital's Uttara.
Following a writ petition filed by his wife with the High Court, law enforcement agencies submitted five separate reports to the attorney general office on March 15 saying that none of the agencies had arrested the BNP leader.
The reports were submitted by the offices of the inspector general of police, director general of Rapid Action Battalion, Criminal Investigation Department, Special Branch of Police, and Commissioner of Dhaka Metropolitan Police.
Salahuddin, a former state minister, frequently announced hartals by issuing press releases on behalf of the BNP-led 20-party alliance.
http://www.thedailystar.net/politics/salahuddin%E2%80%99s-wife-seeks-pm%E2%80%99s-help-again-73084
-----------
Burnt Lady Laid To Rest in Kabul
March 22, 2015,
Kabul- The funeral of 27-year-old woman was held Sunday in Kabul, burying Farkhunda, a female teacher of Holy Quran who was brutally killed and burnt by a mob on the accusation of burning Islam's sacred book.
Hundreds of people including the MPs, women's rights activists, religious scholars and journalists attended her funeral. But the funeral participants didn't allow Dr. Ayaz Niazi, a renowned religious scholar at Wazir Akbar Khan Mosque, to take part in the burial ceremony as he had justified Farkhunda's killing and supported the act by angry civilians.
Farkhunda was brutally beaten to death, burnt and thrown into muddy Kabul River by a mob on Thursday in Kabul, in the presence of a number of policemen after a Mullah accused her of burning Quran, which led the people to attack her with stones and sticks. Strongly condemning her death, a female lawmaker Farkhunda Zahra Naderi said in the burial ceremony that "Farkhunda was martyred."
Before leaving for the United States, President Ashraf Ghani assigned a fact-finding team to thoroughly investigate the case. The incident followed huge criticisms from inside and outside the country, after the video footages showing her being beaten harshly went viral on social media.
Farkhunda's family told news that she went to a Mullah to stop him from deceiving people by writing false Tawiz, a folded piece of paper containing the verses of Quran. But the Mullah in order to save his job and life reportedly began shouting and calling on people that the girl burnt the Quran.
The practice of writing Tawiz is common in Afghanistan, as the people wear Tawiz with a belief that it will remove any evil or affliction put on them through black magic, keep them safe and also bring them good luck.
According to the interior ministry, nine people have been arrested so far including those who posted their photos on the social media, admitting to have been involved in killing and setting Farkhunda on fire.
http://nation.com.pk/international/22-Mar-2015/burnt-lady-laid-to-rest-in-kabul
-----------
Saudi Women to Work Passport Control in Madina Airport
MARCH 22, 2015
Manama: In a breakthrough development, Saudi female officers will be deployed at the passport control counters at Prince Mohammad Bin Abdul Aziz airport in Madina.
"In preparation for the opening of the new airport and in line with the commitment to enhance the services presented by the passports general directorate, 32 women have been trained on the passport control procedures," Hisham Al Raddadi, the spokesperson for passports in Madina, said. "The officers, 23 with military ranks and nine civilians, received training on the procedures to enter passenger and passport details and fingerprints. They will be deployed at the arrival and departure counters in the new airport and they will stamp the passports after checking all the details," he said, quoted by local daily Al Watan.
Prior to the deployment decision, women officers at airports were tasked only with checking the identity of female passengers who wore Niqab, the face covering veil.
Al Raddadi said that the move was part of the drive to improve the working environment.
"We have been trained on the new tasks that included registering passengers arriving in the kingdom or leaving it," Mahra Al Gharabi said. "The practical side included hands-on training at the new airport."
Budoor Al Mutairi, another officer, told the daily that they had been trained on recognizing forged passports and on some of the tricks used by passengers to deceive officers, including the use of blood or perfume and tampering with the picture.
"It is a great step for us because our tasks were confined to checking the identities of women passengers," she said. "Now, we can deal with all passengers and we can do all the passport control work. Several officers have been trained to help ensure smooth and speedy procedures for all passengers at the new airport," she said.
In December, security authorities started deploying women officers on the Kingdom's highways and roads to check the identity of female passengers in a bid to apprehend terrorists and criminals disguised as fully veiled females.
The decision was made after female passengers refused to allow male officers to check their identity and uncover their faces.
But determined to apply a zero-tolerance towards terrorism, the authorities decided to deploy female officers to assist in the fight.
http://gulfnews.com/news/gulf/saudi-arabia/saudi-women-to-work-passport-control-in-madina-airport-1.1476158
-----------
Women Expand Community Health Services in Nigeria
March 20, 2015
Employing women as community health workers was a pretty radical change for conservative, predominantly Muslim areas of northern Nigeria.
Yet a small test using female community health workers revealed that Nigerian women and children were more likely to use health services if they could see women instead of male nurses.
Nigeria has one of the world's highest death rates of women connected with pregnancy and childbirth — and northern Nigeria is worse off than most of the rest of the country. Male health workers travel from town to town, but many women patients won't see a man for such personal issues.
One of the study's authors, Dr. Sally Findley, said the pilot study in Jigawa state required extensive community involvement and buy-in from religious leaders, even on such matters as transportation arrangements.
"We had to get permission from the state imam, the leader of all the Muslims in Jigawa, to have these female friendly motorcycles, and give permission for them to use them," Findley noted.
A professor at Columbia University Medical Center of Population and Family Health and Sociomedical Sciences, Findley added, "Most women [there] are not expected to be living on their own, providing health care essentially 24/7 or riding around meeting with families in the scattered hamlets."
he new women health workers were apparently a hit in their community. There were five times more visits to the health center after the women health workers arrived than before.
"In fact," Findley commented, "they did like this, and it did change their understanding of what they could get if they went to the facility for care."
What they could get included round-the-clock access to trained health workers, women who could handle normal births and refer complex cases to a hospital, and even assistance with family planning. Two health workers were assigned to a facility. That way, one could be out on home visits while the other was available to provide walk-in services.
The positive results of the Nigerian pilot study have prompted state officials in Jigawa to expand the program of women community health workers.
A paper describing the program by Sally Findley and her co-authors is published in the journal Global Health: Science and Practice.
http://www.voanews.com/content/women-expand-community-health-services-in-nigeria/2688859.html
-----------
Palestinian Women Victims on Many Fronts
MARCH 22, 2015
GAZA CITY, Mar 21 2015 (IPS) - Israel's siege of Gaza, aided and abetted by the Egyptians in the south, has aggravated the plight of Gazan women, and the Jewish state's devastating military assault on the coastal territory over July and August 2014 exacerbated the situation.
In a resolution approved by the U.N. Commission on the Status of Women on Mar. 20, Israel's ongoing occupation of Palestinian territory was blamed for "the grave situation of Palestinian women."
The 45-member commission adopted the resolution – which was sponsored by Palestine and South Africa – by a vote of 27-2 with 13 abstentions. The United States and Israel voted against, while European Union members abstained.
"Women's suffering doubled in the Gaza Strip in particular due to the consequences of Israel's latest offensive, as they have been enduring hard and complicated living conditions," said Gaza's Palestinian Centre for Human Rights (PCHR) in a statement released on Mar. 8 to mark International Women's Day.
"During the 50-day Israeli offensive, women were exposed to the risks of death or injury because of Israel's excessive use of lethal force as well as Israel's blatant violations of the principles of distinction and proportionality under customary international humanitarian law," said PCHR.
During the war, 293 women were killed (18 percent of the civilian victims) and 2,114 wounded, with many sustaining permanent disabilities.
However, inherent cultural, religious and legal implications have also played a part in making life untenable for Gaza's female population.
The world of 40-year-old Islam Iliwa from Zeitoun in Gaza City was shattered during a night of heavy bombardment last year during the war.
The divorced mother of three children, aged 10 to 16, lost nearly everything when an Israeli air strike destroyed her home and with it the business that she had worked so hard for years to build up.
Iliwa had been living in Dubai when she and her husband divorced, a move that makes it particularly hard for women to reintegrate into conservative Arab society.
The divorce was traumatic but Iliwa was determined to make a go of her life and moved back to Gaza in 2011 with the money she had saved up while working in Dubai.
Under Islamic law, the father would have been given automatic custody of their three children at their respective ages.
However, Iliwa decided she would pay her husband to sign custody of the children over to her as well as forfeit her rights to child support.
"I told him I would survive without him and make a good life for myself and my children," Iliwa told IPS.
"On arriving back in Gaza, I poured my life savings of 20,000 dollars into a small business which sold cleaning materials," she said.
"In a good month before the war I was able to earn about 2,400 dollars and my business was growing. However, my home and the little factory I built were both destroyed during the Israeli bombing attack. My son Muhammad was also injured," recalled Iliwa, as she broke down and wept at the bitter memory.
Iliwa and her three children were forced to flee to a U.N. shelter, along with hundreds of thousands of other desperate Gazans.
When it was safe to leave the shelter, after a ceasefire had been reached, Iliwa and her children were destitute and homeless.
However, the plucky mother of three has been able to rent a new home and slowly rebuild her business with the help of Oxfam, even though she is now making a fraction of what she used to.
The collective suffering of Palestinian women extends beyond death and injury, with forcible displacement and surviving in overcrowded shelters with inadequate facilities, including inadequate clean drinking water and food, lack of privacy and hygiene issues.
A rise in domestic violence has aggravated the situation with women having little recourse to societal or legal support with many Palestinians believing that this is a private matter between spouses.
Under Palestinian law, the few men that are arrested for "honour killings" receive little jail time and women beaten by husbands would have to be hospitalised for at least 10 days before police would consider intervening.
According to PCHR's documentation, 16 women were killed last year in different contexts related to gender-based violence.
Last year, U.N. Women in Palestine released a statement saying that they it was "seriously concerned" about the killings, highlighting that the "worrying increase in the rate of femicide demonstrated a widespread sense of impunity in killing women".
A 2012 survey by the Palestinian Central Bureau of Statistics (PCBS) said that 37 percent of Palestinian women were subject to some form of violence at the hands of their husbands, with the highest rate in Gaza at 58.1 percent and the lowest in Ramallah at 14.1 percent.
Gaza's Palestinian Centre for Democracy and Conflict Resolution (PCDCR) explained that the difficult economic circumstances, poverty and unemployment, were the reasons behind the spike in domestic violence.
"These factors reflect negatively on men's psychological status. They became more stressed and angry as they can't support their families financially, live in crowded conditions and have no privacy," PCDCR told IPS.
"There has also been a reversal in gender roles where women accept low-paying jobs which men consider below their status as the head of families or single women/widows are forced to take on the breadwinner role.
"This has all fed into men's feelings of inadequacy and to them taking their frustrations out on their female relatives," PCDCR told IPS.
http://www.ipsnews.net/2015/03/palestinian-women-victims-on-many-fronts/
-----------
Women-Only Gym Hours Nixed By McGill University
Mar 20, 201
McGill University has refused a request from female Muslim student Soumia Allalou to set aside hours for women to use its athletic centre.
McGill Deputy Provost for Student Life and Learning, Ollivier Dyens, met with Allalou to discuss her proposal.
"We don't believe in the segregation of our services, we don't believe in separating some groups from others on campus," Dyens said .
"It's always been clear, McGill is secular and co-ed, and this is what we promote."
The university does have women-only hours at one of its swimming pools, but the university says that's different.
"It's true, the pool has women-only hours, but we believe there is a modesty issue that is more predominant in the pool, mostly because people wear bathing suits," Dyens said.
He said his office received negative feedback on the idea of women-only gym hours.
"We received many e-mails. Most people don't want us to segregate our services."
Women only 'more comfortable'
The issue has been hotly debated on campus for weeks.
A petition has been circulating opposing Allalou's request, saying exclusive rights to the gym should not be accorded to any specific demographic group.
When she first made the request, Allalou told CBC News that she preferred to work out in a women-only environment.
"I think there are many reasons women would want to work out only with other women. They might feel more comfortable. They might have had bad experiences in the past," said Allalou.
The Students Society of McGill University had supported Allalou's request.
Vice-president Claire Stewart-Kanigan released a statement Friday saying she was disappointed by the university's decision.
Stewart-Kanigan said that the SSMU had been trying to broker a compromise, but that the university shut down negotiations.
"The action of unilaterally cutting off talks with an advocating student, particularly when steps were being made towards a compromise that could respect all parties' needs and concerns, is an affront to the right of students to engage with and be treated with respect by their university," said Stewart-Kanigan.
http://www.cbc.ca/news/canada/montreal/women-only-gym-hours-nixed-by-mcgill-university-1.3002816
-----------
URL: https://www.newageislam.com/islam,-women-and-feminism/new-age-islam-news-bureau/shortcomings-in-saudi-schools-dash-female-students'-ambitions/d/102057