New Age Islam News Bureau
09 June 2022
• Afghan Woman Dies Of Leukaemia While In Hiding From The Taliban Due To Her Past Work As A Judge
• MCU's First Muslim Superhero Iman Vellani Opens up about Her Role in Ms Marvel: 'This Is Definitely a Good Start'
• Post Hijab Row, More Muslim Students Seek Admission In Udupi Govt College For Girls
• Pak President Calls for Accelerating Efforts for Economic Empowerment of Women
• Women in Mena Workforce Could Increase GDP by $2t
• Iranian Women Are Relentless Despite Four Decades Of Suppression
Compiled by New Age Islam News Bureau
URL: https://newageislam.com/islam-women-feminism/sheila-rowaily-saudi-bank/d/127207
--------
Sheila Al-Rowaily, First Female on Saudi Central Bank's Board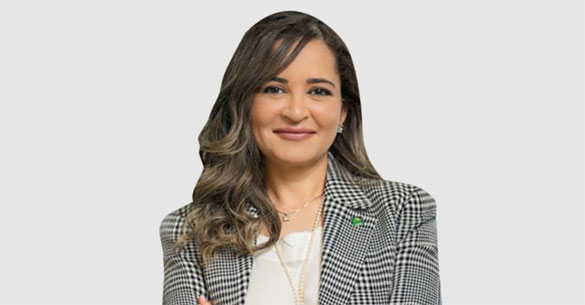 Sheila Al-Rowaily
----
June 09, 2022
RIYADH: Sheila Al-Rowaily, who worked as a financier with Saudi Aramco, has become the first woman to join the board of directors of Saudi Central Bank.
The bank, also known as SAMA, confirmed the appointment in a statement, citing a royal decree.
Al-Rowaily is the CEO of Wisayah Investment Co. since 2019, and is also a board member of Saudi Aramco Power Co. and Hassana Investment Co.
She led many innovative projects for Saudi Aramco, including the creation of Wisayah, which invests Saudi Aramco Group Companies' pension funds, defined contribution funds and other long-term investment portfolios.
According to London based economist Mohamed Ramady, Al-Rowaily's appointment to the SAMA Board should not come as a surprise to all those who knew and worked with her.
"She has a polite and unassuming character that belied her quick grasp of key issues and long-term implications for Aramco investment decisions demonstrated many times during meetings with her to discuss investment and treasury products, and one came away having learned from her," he said.
Al-Rowaily joined Saudi Aramco in 1998 as a money market trader, and from July 2005 to June 2006 she worked as a financial analyst in Dhahran. Al-Rowaily moved to Houston, Texas in July 2006 and worked there until December 2007 as treasurer.
She returned to Dhahran in January 2008 and worked as head of portfolio management at Aramco until January 2009.
From February 2009 to January 2019, Al-Rowaily worked as director of the investment management department at Aramco.
Al-Rowaily earned a Sloan Fellowship for MBA in business from MIT Sloan School of Management in 2017-2018.
She obtained a bachelor's degree in interior architecture from King Faisal University and then earned an MBA in finance from American University of Beirut in 1997.
The other members of the SAMA board of directors are Hamad Al Sayari, Khaled Juffali, Rashed Al Humaid, and Abdullah Hasan Al-Abdulqader.
Source: Arab News
https://www.arabnews.com/node/2100031/business-economy
--------
Afghan Woman Dies Of Leukaemia While In Hiding From The Taliban Due To Her Past Work As A Judge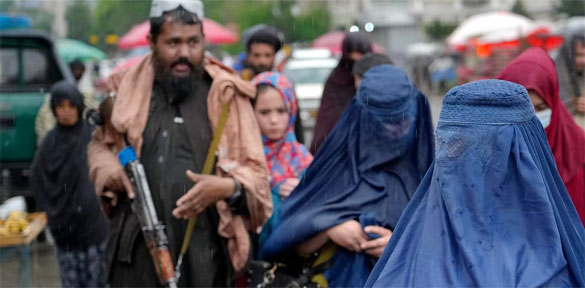 Women walk through the old market as a Taliban fighter stands guard in Kabul
(AP)
----
Maya Oppenheim
June 9, 2022
A young woman in Afghanistan died of leukemia because she was forced into hiding from the Taliban, The Independent can reveal.
The 21-year-old passed away last month because her mother could not take her for treatment, fearing for their safety due to her past work as a judge.
It comes after this newspaper revealed more than 200 female former judges were stuck hiding from the Taliban in Afghanistan last September, with campaigners warning they were at risk of being killed by the Taliban after being removed from their jobs.
Taliban officials also freed thousands of prisoners, including terrorists and senior al-Qaeda operatives, after seizing power in mid-August as US and British forces withdrew, a move that left judges terrified of revenge attacks by former inmates.
Before the Taliban takeover, Afghanistan had roughly 250 female judges. While many have since fled, campaigners say around 80 remain trapped in the country.
Nasima*, whose daughter died from leukaemia on 4 May, said: "I lost one of my children – my third girl. She had blood cancer – leukaemia. She was so young with a lot of hopes and dreams for the future.
"I requested many times for us to be evacuated from Afghanistan to save her life. But no one helped me. I lost her. I have lost my whole life. Nobody can bring back my daughter. She didn't want to die."
Nasima explained that her daughter thought they may be able to flee Afghanistan to receive healthcare in a foreign country.
"When I cried, she said 'Do not be sad mum, I am still alive'," she recalled. "She lost the hair on her eyebrows because of cancer but she still had a smile on her face.
"I didn't want my daughter to die because of my job as a female judge. That is why I could not take the risk of taking my daughter for treatment in hospital. I can't put all my family at risk if the Taliban recognise me."
Before the Taliban seized power, Nasima sent members of the Taliban and Isis to jail in her role as a judge.
"We sent kidnaping groups to prison," she said. "All the criminals whose cases I gave a verdict on were released from jail. They can easily find me which would be very dangerous for me and my family."
Nasima said she is recognisable among some Afghans for her role in supporting women's rights. When the Taliban captured Kabul, she was forced to flee her home, she said.
"I was displaced from my own house which I had memories in with my family, especially with my daughter who is no longer alive."
She explained she moved into her relatives' home but they treated her badly due to being scared the Taliban would arrest them.
"The world must know what Afghan women are suffering with the Taliban in government," Nasima added. "They closed schools for girls. They have eliminated us from politics, and they stop our salaries. Why is the world silent about our situation?"
She said some fellow female judges who applied to be resettled in the UK have received reference numbers for the Afghan Relocations and Assistance Policy (ARAP) scheme.
"The website for refuge clearly mentioned this visa is for those who were judges or worked in past government roles," she said. "When we get this number, what should we do with this? We want to process our cases.
"Do you want to see our dead bodies which have been killed by the Taliban. If no, why don't you process our documents? I tell this sad story as a mother to all who have feeling."
The Taliban has tightened restrictions on women since regaining power from the western-backed democratic government, blocking them from the workplace and secondary education and barring them from all sports. Last month, women and older girls were ordered to cover their faces while out in public and to remain at home where possible.
Marzia Babakarkhail, who previously worked as a family court judge in Afghanistan but now lives in Manchester, said imprisoned terrorists and divorced husbands were now "free, powerful and have guns".
She added: "In these cases, if any of them find their address, what will they do with them? It is clear they could kill you in order to seek revenge and more importantly, stop future women from taking part in activism.
"Unfortunately, we hear sad stories from those 80 Afghan women judges who are left in Afghanistan every day. Because the Taliban can do anything with their enemies."
Ms Babakarkhail has accused the Taliban of trying to kill her in Afghanistan in 1997 and again in Pakistan in 2007.
She said female judges with reference numbers for the ARAP scheme had seen no progress with their visa applications.
"They are in such a bad situation [and] in dire need of help," she said. "Why do their lives not matter to anyone? Please do not count us just as numbers. We are human beings. We are a part of your world and we fought for equality. I ask for action, not sympathy."
A spokesperson for the Ministry of Defence said it was not able to comment "on individual ARAP applications".
"We have relocated over 9,400 individuals and their dependents to the UK since the ARAP scheme began," they added.
"We continue to progress applications as quickly as possible, recognising processing time can vary given the complexities of individual circumstances such as location, access to IT, employment history, security checks or family circumstances."
Source: Independent UK
https://www.independent.co.uk/asia/south-asia/woman-afghanistan-taliban-judges-arap-b2095895.html
--------
MCU's First Muslim Superhero Iman Vellani Opens up about Her Role in Ms Marvel: 'This Is Definitely a Good Start'
Peony Hirwani
08.06.2022
Iman Vellani has opened up about starring in the titular role of Kamala Khan, who becomes Pakistani-American teen superhero Ms Marvel in the new coming-of-age show of the same name.
The 19-year-old actor revealed that she feels "privileged" Marvel "trusted" her with bringing a character like Kamala to life.
"There's so much weight that comes with being the first of anything," she told Variety.
Speaking of the advice the Marvel heads gave her, Vellani said: "They're like, 'You don't go to work thinking that you're the first Muslim superhero; you just go to work and have fun.'
"That's what I keep telling myself: I don't really have to go out of my way and advocate for Muslim and Pakistani representation," she said. "This is one story of one girl. We cannot represent all two billion Muslims and South Asians, but this is definitely a good start."
In the series, 16-year-old protagonist Kamala discovers her shape shifting and self-healing powers, thanks to her magical bangle.
In his review, The Independent's Nick Hilton gave Ms Marvel three out of five stars.
"Ms Marvel is another tolerable entry in the studio's ever-expanding roster of TV spin-offs," he wrote. "While there are elements of the show's visual kinetics that call to mind The Green Hornet and Scott Pilgrim vs the World, Ms Marvel is clearly targeted at a younger audience than any of Marvel's extant properties."
After this series, Vellani will subsequently reprise her role as Ms Marvel in the 2023 Marvel Studios film The Marvels, which will serve as a sequel to 2019's Captain Marvel.
Source: Independent UK
https://www.independent.co.uk/arts-entertainment/tv/news/iman-vellani-first-muslim-ms-marvel-superhero-b2097091.html
--------
Post hijab row, more Muslim students seek admission in Udupi govt college for girls
Jun 09 2022
Udupi, Jun 9: In a surprise move, the number of Muslim girl students seeking admission in government women PU college of the city, where the hijab row erupted, has increased.
Six girl students of the college had approached court seeking permission to wear Hijab while attending classes. They were adamant to wear hijab in spite of high court order of not allowing the same. They did not even write the final examinations citing the same reason.
It was thought that the number of Muslim girl students seeking admission in this college will reduce after the hijab row. Already 40 Muslim girl students have got admitted to first PU of the college according to the college administrative board. The board also confirmed that they have agreed to remove the Hijab while hearing lessons inside classroom.
President of development committee of the college, local MLA Raghupati Bhat said that 253 students are promoted to second PU and 335 students are admitted to first PU. Another 100 applications are received. The remaining seats will be filled after the supplementary examinations of SSLC.
Government college for women has recorded good results last academic year, in spite of hijab related disturbances. The school and college were closed for some days on account of the same issue. Gayathri, one of the students has scored 625 out of 625 marks in SSLC. More than 50 percent students scored 85% marks in SSLC.
Source: Daiji World
https://www.daijiworld.com/news/newsDisplay?newsID=967033
--------
Pak President Calls For Accelerating Efforts For Economic Empowerment Of Women
Jun 9, 2022
ISLAMABAD – President Dr Arif Alvi has urged the need to accelerate efforts for the economic empowerment of women and to bring them into the mainstream of the national economy, adding that the latest Information and Communication Technology tools could help in paving the way for women's financial inclusion.
He expressed these views while addressing the 1st Business Women Excellence Awards, organized by the Islamabad Women Chamber of Commerce and Industry (IWCCI) to acknowledge and appreciate Pakistan's successful women entrepreneurs, at Aiwan-e-Sadr, yesterday. The event was attended by the Founder-President of IWCCI, Ms Samina Fazal, President IWCCI, Ms Naima Ansari, members of IWCCI, women entrepreneurs, members of the diplomatic community and senior officials of the government. Addressing the ceremony, the president urged the need to economically empower women by encouraging them to participate in economic activities, improving their access to credit and finance to start their own businesses, and improving their access to branchless banking services. He said that he was a great proponent of utilizing Pakistan's huge youth bulge by providing them with quality and skill-based education to enable them to contribute to national development. He said that women, along with youth, remained the largest untapped resource, which needed to be fully harnessed for Pakistan's socio-economic development.
The president highlighted that steps had been taken to enhance women's access to financial services and the State Bank of Pakistan (SBP) was providing business loans to women entrepreneurs, however, the number of women availing these loans was low. He said that the digital inclusion of women in the financial sector could help bring financial empowerment of women as they can market their products locally and internationally using the latest technology tools. He called upon the members of the chambers of commerce across the country to make their chambers gender-balanced with the proportional representation of women. He said that as they were the custodians of trade, business and investment, therefore, they should encourage their daughters and sisters and other relatives to come out of their homes and play an active role in running the business enterprises.
The President said that Hazrat Khadija (RA) was a working woman who had employed many men including our beloved Prophet (PBUH) to carry forward her trade. This, he added, should be a role model for all Muslim women. He further added that the mother of Moulana Mohammad Ali and Moulana Shoukat Ali was an active political figure whereas the wife and sister of Quaid Azam Mohammad Ali Jinnah remained side by side with Quaid-i-Azam during his entire political struggle to win a separate homeland for the Muslims of India. He regretted that women stopped working after marriages and it was the collective responsibility of the society to encourage women to continue to work by providing them with a conducive and women-friendly environment at the workplace.
He said that it was unfortunate that in some parts of the country, women were being denied their inheritance and property rights. He appreciated the fact that Federal Ombudsperson for Protection against Harassment was also working to safeguard women's property and inheritance rights and was helping women get justice in case of the illegal occupation of their properties. President IWCCI, Ms Naima Ansari also addressed the occasion. She said that IWWCI was playing an active role in facilitating and encouraging women to start their own businesses besides helping them develop linkages with the business community.
The Founder President of IWCCI, Ms Samina Fazil said that women entrepreneurs were contributing to national development by creating employment opportunities for others and paying taxes to the Government. Earlier, women entrepreneurs from different sectors were handed over Business Excellence Awards trophies by President Dr Arif Alvi.
Source: Nation Pakistan
https://nation.com.pk/2022/06/09/president-calls-for-accelerating-efforts-for-economic-empowerment-of-women-2/
--------
Women in Mena workforce could increase GDP by $2t
by Sandhya D'Mello
8 Jun 2022
Women in the Middle East and North Africa (Mena) workforce are expected to increase their contribution to the region's gross domestic product (GDP) by 57 per cent, or $2 trillion provided they will get level playing opportunities, says a latest report by PwC Middle East.
In its latest study — Mena women in work survey 2022: Young women, powerful ambitions, PwC Middle East said women across the region are striving forward to bolster the economy by contributing to its growth and development if a conducive environment is offered to them.
Around 94 per cent of the surveyed women favoured work-life balance and training and development opportunities as their most valued employer characteristic. However, only 62 per cent of women agree that their employer provides a satisfactory work-life balance and training and development opportunities. The economic prize from getting this right could be significant.
"Identifying, developing, promoting and retaining women is essential for the success of our business and our region more broadly. Key takeaways from our most recent research include encouraging employers to create a strategy that includes investing in skills, reforming cultures, embedding equitable workplace policies, respecting personal time and wellbeing as well as developing metrics to actively track the progress in supporting female employees," Hani Ashkar, PwC Middle East senior partner, said.
The report further states that while 84 per cent of women aspire to become leaders in their fields, female employees illustrated that work is not their only priority, with 80 per cent agreeing that it is important to play a leading role in looking after their families.
Unleash women's potential
The survey highlights the career aspirations of young women and the challenges they face in achieving their ambitions across the Middle East and North Africa region and the key measures needed by Mena employers to unleash women's potential in workplaces.
The study was launched in conjunction with the Middle East Action for Diversity Council, a council of CEOs from multinationals in the region with a clear aim of leading by example as well as rallying like-minded organisations to advance diversity and inclusion within the workplace by working together and committing to change.
"We welcome all initiatives in the Mena region that aim in advancing women's careers, which requires a multi-party approach in order for any progress to be sustainable. Governments should continue to support women on a policy-level, and companies should take a more proactive approach in creating workplace environments conducive to women's success," said Norma Taki, inclusion and diversity leader at PwC Middle East.
UAE is at the forefront
Endorsing a similar view, Dalia Kamel, regional communications manager, Middle East, Turkey & Africa and Spain at Intel Corporation, said a recent diversity, equity, and inclusion survey conducted in the UAE by Intel indicates that a little under half of the respondents felt their business focuses most on gender equality, and a massive 87 per cent said their organisation has set long-term goals to achieve a diverse and inclusive working environment. "Such findings show a commendable awareness among employees and companies in the workplace on these important issues," she said.
Embedding diversity strategies for the entire career lifecycle, setting diversity KPIs to ensure fair assessments for women, and reinforcing supportive workplace cultures are critical steps for Mena employers to effectively attract, recruit and retain talented young women.
Neelam Verma, vice-president and head of investments, The Continental Group, said the UAE has always been at the forefront to bolster women empowerment in the region and this is evident as the nation has also witnessed policy-level actions towards safeguarding women's rights in professional settings which include equal pay for equal work and extended maternity leaves, among other noteworthy stipulations in the newly amended labour laws.
"Kudos to the UAE leadership for breaking age-old biases by giving key government roles to women and recognising and harnessing their potential towards developing an equal society . The private sector too has followed suit, giving women the opportunity to grow in any industry of their choosing. As a result, the UAE corporate culture holds women in high esteem today," she said. — sandhya@khaleejtimes.com
Source: Khaleej Times
https://www.khaleejtimes.com/business/women-in-mena-workforce-could-increase-gdp-by-2t
--------
Iranian Women Are Relentless Despite Four Decades Of Suppression
June 9, 2022
The 1979 anti-monarchy revolution in Iran created a sense of participation among men and women from all classes. In the marches that led to the revolution, there were professional Iranian women with no hijab or scarves and women from traditional backgrounds wearing the traditional black veil; there were women from lower and middle-class families, accompanied by their spouses and children. All these women walked shoulder to shoulder together, hoping that the revolution would bring them an improvement in their economic and social status and political freedom.
The 1979 revolution brought out large masses of Iranian women who were demonstrating for the abolition of the monarchy and for an Islamic republic. They believed that an Islamic republic would give them equality, removing all existing obstacles to the participation of women in the affairs of their country. In the excitement of the revolution and hopes for change, less attention was paid to what the founder and leader of the regime, Khomeini was saying while staying in Paris. In Khomeini's words, women would have a role in society but within an "Islamic" framework. Trusting him as a man of promises and hope, nobody bothered in those days to ask, "What does the Islamic framework mean?" and "how is it implemented in the society?"
In the first years after the 1979 revolution, Khomeini's insistence on keeping women away from active participation in the political, social, and economic aspects of society, eventually led to the imposition of the hijab on Iranian women and forced many to become housewives. In fact, many women were excluded from various fields of work. In the following decades, various policies were pursued by the Islamic Republic imposing an array of restrictions on the women of Iran.
One of the so-called "revolutionary" government's first acts was to suspend the Family Protection Law and dismantle Family Courts. Men were once again free to divorce their wives by simple declaration; they also gained exclusive custody of their children. Women could no longer file for divorce unless the right was stipulated in marriage contracts, and they lost the right to child custody. In 1981, Iran's parliament approved the Islamic Law of Retribution, introducing flogging, stoning, and payment of blood money for crimes ranging from adultery to violation of the Islamic dress codes.
The marriage age for girls was reduced to puberty, which is nine under Islamic law. By law, a girl as young as 13 years can marry, while girls even younger can legally marry with judicial and paternal consent. In the first half of 2021, over 16,000 girls aged between 10 and 14 years have married, according to official government figures.
On November 16, 2021, UN human rights experts called on Iran to repeal a wide-ranging new law that severely restricts access to abortion, contraception, voluntary sterilization services, and related information, in direct violation of women's human rights under international law.
Regime introduces two new organizations to impose hijab on Iranian women
Now, in June 2022, the regime has announced the establishment of two new repressive organizations to "control the lack of hijab". The mandate of these new entities of suppression is being completed and its policies are going to be dictated to 120 government offices. Each office is obliged to manifest ways to implement these restrictive policies on its female employees.
In 2020, Fars News Agency named 25 government agencies that are active in the field of imposing and propagating the hijab. Other media outlets later named other institutions; So much so that this year, the Red Crescent also announced its voluntary activities with the same goals. It was in April 2022 that the Secretary-General of the Red Crescent Society announced his entry into the field of "promoting hijab and chastity". According to him, this is in line with their humanitarian and relief services.
Iranian women as relentless as ever
The story of Iranian women is the story of heroism, sacrifices, resistance, integrity, hope, and optimism. Today, tens of thousands of courageous female political prisoners, human rights activists, and brave Iranian girls have joined their fellow men to reject brutality and demand freedom in Iran. Iranian women are at the forefront of most social demonstrations and protests throughout Iran. The regime in Tehran is fearful of the hidden potential of Iranian women, who are braver and more determined than ever. They have become a weapon against the tyrannical regime in Tehran.
I end this piece with a poem by renowned Iranian poet, Simin Behbahani, that I think best captures the sentiments of Iranian women.
"You want to erase my being, but in this land, I remain
I will continue to dance as long as I sustain
I speak, as long as I am living: fury, roar, and revolt
Your stones, and rocks, I fear not. I'm a flood, my flow you cannot halt."
Source: Eurasia Review
https://www.eurasiareview.com/09062022-iranian-women-are-relentless-despite-despite-four-decades-of-suppression-oped/
--------
URL: https://newageislam.com/islam-women-feminism/sheila-rowaily-saudi-bank/d/127207
New Age Islam Islam Online, Islamic Website, African Muslim News, Arab World News, South Asia News, Indian Muslim News, World Muslim News, Women in Islam, Islamic Feminism, Arab Women, Women In Arab, Islamophobia in America, Muslim Women in West, Islam Women and Feminism