New Age Islam News Bureau
29 Oct 2017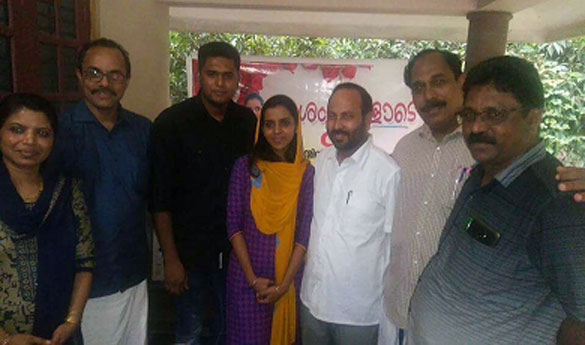 Photo: Jaseela and Tiso Tommy with their families.
---------
• Two Quebec Muslim Women Accuse Kathleen Wynne of Burqa Betrayal
• Riyadh Calls On UNSC To Address Challenges Affecting Women, Society
• Furey: Progressive Reaction to Bill 62 Lets Down Vulnerable Muslim Women
• I Said No to Marriage and Dedicated My Life To Archaeology, Says Dr Asma Ibrahim, Curator Of State Bank Museum
• Models in Headscarves and Islamic Robes Take To the Catwalk for the First London Modest Fashion Festival Aimed At 'Empowering Muslim Women' Worldwide
Compiled by New Age Islam News Bureau
URL: https://www.newageislam.com/islam-women-feminism/she-every-right-choose-family/d/113059
-----------
'She has every right to choose': Family stands by Kerala Muslim woman who married a Christian
Jaseela's family in Kondiparamba is facing a social boycott.
The storm over the marriage of Hadiya is yet to settle, and already another has erupted in Kerala. The inter-faith wedding of a Muslim woman and a Christian man from Malappuram last week, though, is different. For one, it was done with the blessings of the families of both Jaseela, the bride, and Tiso Tommy.
Besides, no one cried religious conversion.
What triggered the controversy was a directive from the mahal committee of Jaseela's village, telling residents to stay away from the reception. It also asked them "not to cooperate" with her family in future. Mahal refers to the locality under the jurisdiction of a particular mosque.
The majority of people from Kondiparambamahal heeded the directive and skipped the wedding reception. A week later, the people are still reluctant to talk to Jaseela's family.
"It is nothing but ostracism," said Jaseela's mother Najma, visibly angry. "The mahal committee wanted to show their power. What would happen to us if people who supply milk, newspapers and run shops were from this mahal? They would ignore us fearing actions from the committee. We would be forced to leave this place. Fortunately, people outside the mahal are helping us to live here now."
The mahal committee said ostracism was too strong a word to describe its action. "The mahal committee has certain powers," said Abdul Salam, the committee's president. "We had invited Jaseela's father Yusuf to give an explanation for conducting the marriage and reception. But he didn't turn up. So we decided not to cooperate with the family. We haven't ostracised his family. It is too strong a term."
Jaseela and Tommy's marriage was registered under the Special Marriage Act at Nilambur Sub Registrar Office in Malappuram on October 19. The reception was held two days later.
Apparently angered by a Muslim woman marrying outside the community, the Kondiparambamahal committee hurriedly called a meeting of its 21 executive members on October 18. The mahal has around 500 households.
The meeting decided to call for a boycott of Jaseela's family. "The committee unanimously decided not to cooperate with Yousuf's family on mahal-related and other issues as his daughter has married a non-Muslim man," read a notice put up outside the mosque by the committee.
The boycott was also announced from the mosque's public address system.
'We will fight'
Najma said her family hasn't received the notice so far. "We will fight it legally when we get the notice," she added. "The mahal committee does not have any right to ostracise us."
She said Yusuf could not meet the committee's officials when he was called because he was busy with his work. Yusuf is an assistant executive engineer with the Kerala Water Authority in Malappuram.
Najma said the family had not informed the mahal committee of Jaseela's marriage. "We knew they wouldn't approve of an inter-faith wedding," she said.
Not that Jaseela's family needed it. "They fell in love seven years ago when they were in college in Coimbatore," Najma said. "Now, they are both in the Gulf. They are working professionals, both 27. Even if we tried to stop them, they would go ahead and get married. So we decided to support them."
Nisar, a local leader of the Indian Union Muslim League and gram panchayat member, said what perturbed the committee was Yusuf's decision to arrange a reception. "No one would have cared about the marriage if there was no reception," he claimed. Nisar is a former office-bearer of the committee.
Najma does not get the logic. "Do they want to keep the marriage a secret?" she asked. "It is impossible for us to do so. We are proud of our daughter's decision. We believe she has every right to choose her partner."
Kondiparamba is in Keezhattoor panchayat. Here, the Indian Union Mulslim League dominates both political and religious life. It seems that local political rivalry played a role in the mahal committee's intervention. Najma is a leader of the Communist Party of India (Marxist), elected to the gram panchayat for three consecutive terms from 1995 to 2015.
During election campaigns, the Indian Union Muslim League leaders would unleash false propaganda branding me a Communist who doesn't follow the Islamic way of life," Najma said. "But I won despite their campaigns."
Najma suspects that mahal committee's call to boycott her family is "another way" to corner her. "I am their target," she said.
Meanwhile, realising that its inference in Jaseela and Tommy's marriage has triggered widespread outrage, the mahal committee has softened its position. "We will revoke the decision if Yusuf tenders an apology," Salam said. "It was a minor issue. Media had played it up."
Najma insisted her husband will not apologise. "The committee took a wrong decision, and they have to correct it," she said. "We are not going to apologise."
scroll.in/article/855778/she-has-every-right-to-choose-family-stands-by-kerala-muslim-woman-who-married-a-christian
-------
Two Quebec Muslim women accuse Kathleen Wynne of Burqa betrayal
A woman wears a niqab as she walks Monday, September 9, 2013 in Montreal. The Quebec national assembly has passed a controversial religious neutrality bill that obliges citizens to uncover their faces while giving and receiving state services.THE CANADIAN PRESS Ryan Remiorz / THE CANADIAN PRESS
Just over 11 years ago, then-British foreign secretary Jack Straw wrote about his discomfort with the Islamic face-covering niqabs and Burqas his constituents chose to wear while meeting him.
What followed his article in the Guardian was a raging controversy around the Islamic World and the West in 2006-07 that is an illustrative guide to how far western society — led by its liberal and left-wing politicians, feminists and academics — has regressed.
Has the fear of Islamic terror made them all into latter day Chamberlains who dreaded Hitler's Nazi Wehrmacht?
Eleven years ago, the times were a bit less politically correct. Even the liberal Toronto Star allowed for criticism of the Islamic veil. Its columnist Rosie Dimanno wrote this on Oct. 25, 2006:
"Bible-thumping is repellent, whether applied to women or children or homosexuals or any other group whose behaviour is construed as sinful. Qur'an thumping should be no less unsavoury. So spare me what that holy book has to say about veiling women, especially when even Islamic scholars are divided on it."
Today, a dozen Islamist MPs in the prime minister's caucus are in the driving seat while the NDP — under a new leader — has a desire to accommodate medievalism as the new modernism. Both would consider such writing as "Islamophobic."
Dimanno went on to write:
"(L)et's not be disingenuous here. There is ample evidence, overwhelming evidence, of religious and cultural pressures, those steeped in a firmly patriarchal code of conduct, for the marginalizing of adult (Muslim) females, practices that are fundamentally at odds with basic concepts of gender equality."
How could a piece of cloth used as a facemask — declared not to be Islamic and unnecessary by no less a figure than the head of the Al-Azhar University in Egypt — become the rallying cry of white feminists, gay activists, left-wing academics and even Premier Kathleen Wynne of Ontario?
I raised this question with two Muslim women from Quebec, one a Saudi refugee in Sherbrooke, and the other a Bangladesh-born academic in Montreal.
EnsafHaider arrived in Quebec in 2013 escaping the Arab world and its tyranny hoping to find freedom in Canada. Her Saudi husband, RaifBadawi, is still serving a 10-year jail sentence and awaiting 1,000 lashes on charges of Islamophobia.
Reacting to Premier Wynne's denunciation of the anti-Burqa law of Quebec, Haider said:
"I am shocked that Ontario's premier and women from Ontario's NDP and (Progressive) Conservative Party attacked the new Quebec law banning face-covering, particularly the Burqa that was passed near unanimously by the Quebec National Assembly."
Haider told me that on Wednesday when she heard the news of the passing of Quebec Bill 62, she was thrilled with joy. "I felt all of Canada had finally recognized the tyranny that is the niqab and Burqa and would follow Quebec's courage in standing up to oppression of women."
"But listening to Anglophone men and women attack Quebec's new law shocked me," she added. "Are Kathleen Wynne and NDP women like Nikki Ashton and Andrea Howarth plain anti-Francophone or guilt-ridden white feminists?" she asked.
Seeking other voices, I got in touch with Montreal resident Professor RoksanaNazneen, a Muslim Quebecker of Bangladeshi origin, who is currently working on her husband's municipal election campaign in Notre Dame de Ile Perrot.
I asked her if she felt Quebec's new law was discriminatory against Muslims. "No, not at all. As a Muslim woman, I applaud Quebec's Bill 62."
"Niqab or Burqa should have no place in a civil society. It is neither religious nor cultural. It is an anti-west political statement introduced by radical Islamists all over the globe," she added.
But what about the right to choose, I argued.
"Nonsense.Burqa is not a choice. If a person chooses to be a cocaine addict, will our society sit still and do nothing to stop him or her from the addiction?" she asked. "What next? Will we allow suicide jumpers to jump to their death just because they made the 'choice' to take their lives?"
Back in 2007, the doyen of Indian English journalism Khushwant Singh nailed it best when he wrote:
"Burqa is (the) single most reprehensible cause for keeping Muslims backward … it is synonymous to 'jahalat' — ignorance and backwardness. The sooner it is abolished, the better."
They don't make men like Jack Straw and Khushwant Singh anymore. Vote-banks, expensive suits, coloured socks and ethno-religious identity, not policy, drive today's politics.
torontosun.com/opinion/columnists/two-quebec-muslim-women-accuse-kathleen-wynne-of-Burqa-betrayal
-------
Riyadh calls on UNSC to address challenges affecting women, society
Arab News | Published — Sunday 29 October 2017
NEW YORK: Saudi Arabia has called on the UN Security Council and UN agencies supervising Women, Peace and Security plans, to address the challenges that hinder the development of women and society as a whole, including ending all kinds of occupation, combating anti-Muslim extremist speech and practices, and achieving comprehensive development for all people.
The Kingdom made this call during its speech at the Security Council's open debate on Women, Peace and Security on Friday, which was delivered by the political coordinator of Saudi Arabia's Permanent Mission to the UN, Manal Hassan Radwan.
"The three main challenges faced by women are occupation, the rise of violence in conflict zones and the growing danger of terrorist groups, and the outbreak of anti-Muslim extremist speech," Radwan said. "These challenges negatively impact economic and social development."
She also stressed that despite celebrating the 17th anniversary of adopting the Women, Peace and Security plan, and despite international consensus on the importance of women's role in peace, security, human rights and development, implementation of these goals is still incomplete and requires increased efforts to address the root causes of the challenges faced by women on their path to achieving their full rights.
She pointed out that women's advancement has been among the Kingdom's most important priorities and said: "Saudi Arabia has supported women's education, thus strengthening their role in the private and public sectors."
"Among Saudi women's most important achievements were taking seats in the Shoura Council, participating in municipal elections, playing an important role in the diplomatic field and taking many leadership roles." She continued: "Besides, women's advancement is at the forefront of implementing the sustainable development agenda of the Kingdom's Vision 2030."
arabnews.com/node/1184816/saudi-arabia
Furey: Progressive reaction to Bill 62 lets down vulnerable Muslim women
October 28, 2017
Police in Quebec are hoping more Muslims girls are going to have the courage to come forward when they're being assaulted at home.
Good luck with that.
It's certainly going to be an uphill battle, at least for those Quebec Muslim girls who were plugged into the news media and watched the reaction to their province's Bill 62 from many official voices across the country.
The police call comes following news last week that a 35-year-old father has been arrested for allegedly assaulting his teenage daughter throughout the course of a year with "honour-based" violence.
This happened after the girl finally filed a police complaint, her father now being charged with assault, assault with a weapon and threats.
It's sad news but those who followed the stories of Aqsa Parvez and the Shafia women – high profile cases of Canadian honour-killings – will be relieved to hear the girl at least got out in time before things got fatal.
Will other girls in a similar situation see this news and, as the police are urging, step forward to get help? Hopefully. But first the story has to get out there.
Will media outlets give it the prominence it deserves? Will it trigger a national conversation?
You'd hope that, after the Harvey Weinstein saga and the widespread encouragement for women to come forward with their own stories of harassment, this would get broad play. But then again looking at the troubling coverage of Bill 62, this girl's story is ripe to be buried and forgotten.
For context: There are many civil libertarians who are rightly disgusted by white supremacists but still support, on principle, their right to assembly and free speech. They argue freedom includes the right to hold hateful views and say hateful things.
But almost invariably these people will also make it crystal clear that they're still ferociously opposed to these ideas. Don't mistake their support for free speech with support for what's being spoken.
With this in mind, consider the response to Bill 62, Quebec's face coverings ban that clearly targets the niqab. The majority of English media personalities, politicians and alleged experts who've weighed in have expressed their opposition to the bill, most on legal grounds but many on poorly reasoned arguments that the bill, supported by people of all races and also many Muslims, is somehow racist.
Yet, and here's the troubling part, hardly any of them have couched their arguments by adding "… and just to be clear, of course I condemn this garment and really discourage people from wearing it, I'm just making a point of principle."
And by not drawing this distinction, the English Canadian progressive echo chamber leaves us with the impression that they actually approve of the draconian niqab, which is denounced by liberal Muslim women here and around the world.
They talk as if they like it, that they think people should be wearing it. Now imagine being a teenage girl who is being beaten, not over the niqab but over the much more benign hijab. How does this narrative make you feel?
Last week, Ottawa mayor Jim Watson wrote an open letter to Quebec Liberal premier Phillipe Couillard, whose government crafted Bill 62, to tell him he wouldn't be enforcing the ban on the Ottawa transit system, which is connected to the bus system of Gatineau, the Quebec city right across the river. He even called the bill "regressive legislation".
Now, the girl who came forward to Quebec police was actually from Gatineau. Would Watson's comment, which her allegedly abusive father would no doubt support, have made her feel more or less inclined to think of official Ottawa, its politicians and police service, as somewhere she could go for help?
These days it's almost every week that I connect with a new Muslim Canadian woman, intelligent and passionate, who offers nuanced criticisms of the problems within her own faith. Yet based on mainstream media coverage, you'd think these women don't exist.
The progressives have chosen to ally themselves with defenders of the status quo as opposed to liberal reformers. It's all so disappointing and, quite frankly, shameful.
Last week RoksanaNazneen, a Quebec Muslim university professor, told me about how many of her female Muslim friends are against the niqab and want to shine a light on regressive problems in their religion but many of them are too frightened. They feel the social pressure to stay silent.
And if that's how adult women who aren't being assaulted feel, think about how much worse it must be for teenage girls who are victims of assault.
torontosun.com/opinion/columnists/furey-progressive-reaction-to-bill-62-lets-down-vulnerable-muslim-women
-------
Woman reveals what it's like to live life as a Muslim lesbian
28 OCT 2017
Zayna, 40 - who grew up in Pakistan and moved to Manchester seven years ago - says she was beaten, humiliated and threatened because of her sexuality
A woman who grew up in Pakistan and moved to Manchester has revealed what it is like to live her life as a Muslim lesbian .
Zayna, 40, says she was beaten, humiliated and threatened because of her sexuality - but throughout her tormented formative years she refused to deny who she truly was.
Growing up as a young Muslim lesbian in Pakistan, the graduate says she came up against both physical and mental abuse from those that she believes had misinterpreted the messages of the Qur'an.
The Manchester Evening News reports that Zayna (not her real name) says that while studying for her PhD she was kicked out of university because fellow academics feared she was a 'dangerous' influence.
And when colleagues at an Islamic School found out about her sexuality, Zayna says she was told to leave or face action from the police.
Scholars have told Zayna that she cannot be a Muslim if she is gay, but the graduate insists that her sexuality and religion are both equally as important to her.
Now living in Longsight in Manchester, Zayna has taken the brave step to speak out about her experiences in the hope that it will help other LGBT Muslims.
She said: "I was born a Muslim and I want to die a Muslim. But if someone wants to kill me then why?Just because I'm lesbian?
"I am a strong brave person but so many people like me don't have that courage. I realised I need to come out and tell everyone about my story."
Zayna grew up in Karachi, Pakistan, as the only child of conservative Muslim parents and described herself as a tomboy.
Taught to be respectful of all races, religions and genders she still remembers celebrating Christmas with Christian friends and Diwali with Hindu friends.
Her mother was a kind woman who would give food and money to street beggars.
She describes her father as a 'kind-hearted traditional Asian man' - but she also claims she was beaten by him believing she had been out with men.
Zayna says that later, her parents simply could not accept that she was a lesbian.
Homosexuality is frowned upon in Pakistan and the country's law prescribes criminal penalties for same-sex sexual acts - although acts of homosexuality are rarely prosecuted according to a US human rights study published last year.
But, according to the Department of State document: 'The penalty for same-sex relations is a fine, two years' to life imprisonment, or both.'
Zayna realised that she was gay as a young teenager.
"On my 13th birthday I realised I was like this," she says. "Pakistani society is very conservative.
"It's very hard if you are from the LGBT community and Muslim. Muslim scholars have said to me 'you are not Muslim if you are lesbian'.
But Zayna is convinced that the Qur'an's messages about homosexuality have been misinterpreted by some Muslims.
She says: "I have seen so many LGBT people from Pakistan struggle and a lot of them don't have the courage to come in front of the media. I want to be an activist.
"I have already published my story in Urdu on some Pakistani websites and I got a very bad response.
"They are not ready to read the holy book or understand what it is saying to them."
Zayna says that when her father found out she had been spending time with another girl as a teenager, he assumed the pair had been with men and beat her.
"My father came upstairs and wanted to kill me and beat me like anything," she says. "He told me how to behave. That was the first time I felt unsafe in my own home.
"I still have that horrible pain in my lower back and can't walk properly."
Zayna's father died when she was in her early 20s and she spent years nursing her mother, who eventually died of lung cancer.
It was during this time that Zayna started a relationship with another teacher while working at an Islamic school in Pakistan.
When they were discovered, the two women were told to leave or else they would be reported to the police as prostitutes.
At the time Zayna was also a PhD chemistry student. When colleagues at her university found out about her sexuality she says she was told to leave.
"They said to me 'you are dangerous to other girls'."
When her mother died Zayna was taken in by family members. Though Zayna did not publicise her sexuality she says everybody knew and she was hated for it.
Finding her life in Pakistan too difficult to bear, she decided to move to the UK.
She took on three jobs and ate just one meal a day as she struggled to scrape together enough money to move to England.
"At that time I changed my name and I would cover my face because I was scared. I didn't want to show my face. I wanted to make myself normal."
Eventually Zayna got a work permit and started a management masters degree in the UK.
Slowly but surely she started to embrace the UK's gay culture and nightlife and has since had several relationships with women.
But she has not always found UK attitudes to the LGBT communities to be so liberal.
On one occasion a man she knew insisted on questioning her about her sexuality and tried to persuade her into a relationship.
The 40-year-old, who works as a senior position in a management company, has now been in the UK for seven years.
She also joined LGBT International and the Birmingham-based LGBT group, Finding A Voice.
"I now have peace of mind that no one is going to kill me," she says, "I can't tell you those feelings in words."
-------
I said no to marriage and dedicated my life to archaeology, says Dr Asma Ibrahim, curator of State Bank museum
29 OCT 2017
RIZWANA NAQVI
Renowned archaeologist shares struggles of following an unusual career path for women in Pakistan
In 2006, the State Bank decided to establish a museum. At that time, there was a small display on the fourth floor of the State Bank where they had a modest collection of artefacts. This was the time when Dr Asma Ibrahim was doing her post-doctorate in archaeology after getting a Fulbright scholarship at the University of Wisconsin, Madison.
"When the post for this museum was announced, I applied and was hired. I was given a free hand to plan and set up the museum." She calls the museum her "baby".
Pakistan's first state-of-the-art Monetary Museum
The museum is Pakistan's first state-of-the-art Monetary Museum; it has an art gallery and is also a member of the International Council of Museums and the Commonwealth Association of Museums.
Dr Ibrahim recalls that soon after she joined the State Bank, her mother was bedridden after suffering a stroke. "That was a tough time for me, as I had to look after my mother and deal with the museum at the initial stages. My mother passed away just a month before the inauguration of the museum but I didn't cancel the date of the inauguration of the museum."
Now, the fully-accessible museum — wheelchair friendly, deaf and dumb friendly, and blind friendly — comprises eight galleries. It houses two coin galleries (coins from pre-historic age up to the eighth century AD in one gallery, and the other for Islamic coins from the eighth century till recent times); a currency gallery; stamp gallery (with stamps dating back to 3,000 BC); the State Bank gallery which exhibits the record of the SBP's foundation; the State Bank Governors gallery; and an art gallery.
Of special interest are the murals by Sadequain relating to various themes of the State Bank which he was commissioned in the 1960s. A huge mural called 'Freedom Fighters' and a Quaid-i-Azam mural (20 feet by 10 feet) was donated by the late artist ZahoorulIkhlaq.
In order to attract more visitors, the State Bank museum has been made fully interactive. From the displays, to the lighting, everything leads the visitor from one thing after the other.
"To make this museum attractive, I trained six interns from the visual studies department at Karachi University for the first time in museum graphics." Audio commentaries complement the displays.
"Everything is digitalised; for instance, if one wants to find out about any coin from the 7,000 coin collection, it is just a click away," she says. The museum is also included on Google Arts & Culture space since August 14. And the 3D virtual tour of the museum is very popular.
The future of archaeology haunted by the past
Dr Asma Ibrahim's passion for archaeology dates back to her student days when she was briefly introduced to the subject of human evolution.
As the Karachi University did not have a department of archaeology, she had to enrol in the department of history where, to some extent, she studied archaeology as well. And it was because of her love for the subject that she assiduously fought against the discrimination and bias she faced at every stage and which made her carry on with her work.
Similar to establishing the museum, gaining professional recognition as a woman in the field of archaeology was tough.
Ibrahim faced an initial setback at securing a position at the department of archaeology.
"After doing my masters, I approached Dr Khursheed Hasan, then director general of the Department of Archaeology and Museums run by the government of Pakistan, in a bid to join the department. He scolded me — in fact snubbed me — and sent me back saying that girls cannot join the archaeology department."
Disappointed, she took up journalism, wrote for several publications and wrote two course books for children as well.
After attending a course at the Lahore Museum by Dr Ahmed Hasan Dani, an authority on Central Asian and South Asian archaeology and history, she acquired a PhD in numismatics (study of coins) on Dr Dani's advice.
In 1990, she finally joined the Department of Archaeology and Museums through the Federal Public Service Commission. "But because the department was not happy with me being there, I was posted in the exploration and excavation branch which was kind of a dungeon and a storehouse for all sorts of bones and material excavated from different sites and was a very horrifying place. Perhaps they thought I will run away," the archaeologist says.
However, she stuck to her guns and set about cleaning and organising the whole branch.
In the same year, a French mission headed by a woman archaeologist, arrived in Pakistan and Dr Ibrahim sought her DG's permission to go for excavations. He refused straightaway, saying that girls were not allowed to go for excavations. However, on her persistence he conceded on the condition that she furnish a letter signed by her parents that if anything happens she herself will be responsible. Her mother signed the letter for her and she was allowed to go.
Whereas Dr Ibrahim fought to make a place for herself in the field, she understands why few women followed her footsteps. Some young women do join the department, but leave without completing their studies, especially after marriage. "They are not allowed to go for field work, leaving their children behind for two to three months, to work on the field. It's a social and cultural problem," she says.
The archaeologist takes cues from one of her teachers, who was her mentor. She advised the young Asma to not wait for others to do something but do whatever she can in her capacity. In doing so, at least at the State Bank Museum, Dr Ibrahim gained support from the bank and its governor who provided sufficient funds to carry out her ventures.
She recalls in a light-hearted way that the principal of her school, Safia Khan, used to tell her, "Asma you are not like an ordinary girl; ordinary girls get married, have children; but you are an extraordinary, intelligent girl. You should do something different in life."
The archaeologist seems to have taken that advice to heart. She refused to marry the person who told her that she will have to give up archaeology. "I thought over it and everything was going in favour of archaeology and so I said no to marriage and dedicated my life to archaeology. And I never regretted it."
The case of the Persian mummy
In 2000, she became quite famous when the case of a Persian mummy made headlines.
The archaeologist recalls that "The mummy was claimed to be of an ancient Persian princess over 2,600 years old, encased in a carved stone coffin placed inside a wooden sarcophagus. When I saw the mummy I could tell that it was a fake as there was fungus on it which meant there was a dead body inside."
Despite pressure from everyone to declare it authentic, she held her ground and took a stand against the influential person who had bought it at a high price. "In the present day, they could have just shot me and left but at that time it was different," she adds laughing.
After the mummy incident, she had a job offer from England as she was receiving death threats from the mummy buyers and being pressurised to call it authentic. The department, too, had penalised her for taking a stand and again sent her to the exploration branch. But she refused to leave the country. "It's all circumstances and destiny, like [when] I got hold of this mummy I didn't know I would get worldwide fame due to that. But your determination in life and goals are also important," she concludes.
Preserving and smuggling relics
Dr Ibrahim is unhappy with the storage condition of ancient relics at the National Museum.
"Previously it was because of shortage of funds but now the Sindh government has sufficient funding, yet there are no plans for training staff to take care of these things. Everything cannot be treated in the same manner. If it is textile it needs a different kind of storage than manuscripts and stone objects."
Vocal about the state of affairs, she says that unless the flaws are flagged things will not improve. "Brushing the problem under the carpet will not solve the problem."
As for ancient relics being stolen or caches being recovered, she attributes these instances to illiteracy and poverty. "People are illiterate and don't know the value of these things. While working in Balochistan we could see antiquities being smuggled through Iran. But when told not to do so they would say 'Madam, do we consider these things or care for our hunger?'"
About the involvement of foreigners in theft of antiquities from excavation sites, she says that though there may have been instances in the past, smuggling has become difficult because everything is computerised and scanners are in place.
"At some point, it was very common all over the world for foreign missions to take things along with them," she says.
"In fact, when a foreign mission went anywhere for excavation they were allowed to take a certain percentage of the excavated relics under the contract. This was because the locals did not have the expertise and relied on foreign missions for excavation. Due to this, during the early stages of excavations in the Indus region, a large amount of material was taken away. Now, Unesco has made a rule that if a country wants to take back their collection they can do so, and a lot of countries are taking back their collections."
As far as allegations of theft from museums are concerned Dr Ibrahim says, "Things are stolen because you don't know where they are located. If they are not properly digitalised how would you know where they are?"
Tapping our potential
The museum is not the only thing that keeps Dr Ibrahim busy. She does a lot of voluntary work, is president of the Karachi Conference Foundation, and runs an NGO — the Sindh Exploration and Adventure Society — which does conservation work and documentation of heritage.
Along with a fellow archaeologist, she also established, with their personal funding, a Centre for Archaeological and Environmental Research in Korangi. The centre has a conservation lab, a library, a documentation centre and holds trainings in ancient arts and crafts.
To date, there is no department of archaeology in Karachi University. "This is very sad and I have brought it up at all forums that we need a department of archaeology."
But merely setting up a department will not change anything, she says. "It's all interrelated. If there are no jobs, or there's a ban on recruitment, the students feel discouraged. Why would anyone study a subject when there are no jobs for it? The government has to work on this, create jobs so students see a future in this field and are encouraged to study."
Pakistan is rich in archaeological sites, she points out. "In Balochistan, especially, there is a site at almost every kilometre but there is no department of archaeology in Balochistan, either. Khyber Pakhtunkhwa, however, is doing well in this regard. There is a big department and they have a [flourishing] job market."
images.dawn.com/news/1178712/i-said-no-to-marriage-and-dedicated-my-life-to-archaeology-says-dr-asma-ibrahim-curator-of-state-bank-museum
-------
Models in headscarves and Islamic robes take to the catwalk for the first London Modest Fashion Festival aimed at 'empowering Muslim women' worldwide
Dozens of models took part in the inaugural event at London's Grosvenor House Hotel yesterday to showcase the leading designers of the 'modest fashion' world.
Similar events are due to take place across the United Arab Emirates in Dubai and Doha, Qatar, over the coming months.
It was founded by two Muslim women, London-based Doctor Fahreen Mir and human rights barrister Sultana Tafadar to ensure 'the permanent presence of modest fashion in the mainstream fashion industry'.
Designers from across the globe showcased their Islamic designs at London Modest Fashion Festival this weekend +14
Some models wore headscarves while others opted for turbans or other headdresses. One is pictured wearing an ornate gold dress and full-length coat +14
Designers from across the globe showcased their Islamic designs at London Modest Fashion Festival at the Grosvenor House Hotel in the centre of the capital this weekend
The women claim those who choose to cover most or all of their bodies are 'not adequately catered for' by designers and want to change perceptions of them to the rest of the world.
But they stress modest dressers are not just women from 'particular religious and cultural identities' and should be 'celebrated, empowered and supported to make their own choices - sartorial or otherwise'.
The event also describes its objective as: 'To break archetypes and pre-conceived notions of the modest dresser and instead to recognise and celebrate their achievements, and to empower and inspire others to combine substance with style.
'The concept of this platform was borne out of a desire to promote the life and lifestyle of the Modest dresser.
Among the models was 20-year-old Somalian-American model Hamila Aden who was the first ever contestant to compete in her Miss USA state pageant in a hijab and 'burkini'.
She was born in a refugee camp in Kenya but moved to St Cloud, Minnesota aged six.
She gained international media attention for her bold presentation of her Muslim faith and has since been featured in Vogue and walked for designers in New York and Milan.
The inaugural catwalk was hosted by Dr Myriam Francois-Ferrah, a Franco-British journalist who specialises in Islam in France and the UK.
Her career began as a Hollywood actress aged 12 in Ang Lee's Sense and Sensibility, when she played Margaret Dashwood alongside Kate Winslet and Emma Thompson.
She now has a regular column for the New Statesman and her documentaries on religion have been shortlisted for awards.
dailymail.co.uk/news/article-5006171/London-Modest-Fashion-Festival-showcases-Islamic-dress.html#ixzz4wtVAKBTw
URL: https://www.newageislam.com/islam-women-feminism/she-every-right-choose-family/d/113059