New Age Islam News Bureau
9 Jul 2013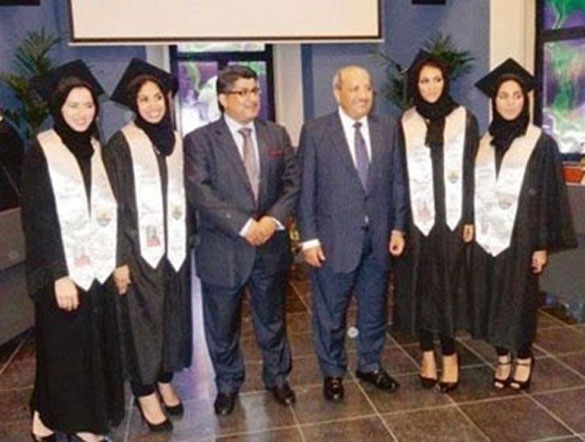 Four Saudi female medical students have become the first doctors to graduate as part of a Saudi scholarship programme at the University of Maastricht in the Netherlands. (Photo courtesy: Okaz newspaper)
-------------
• Sri Lankan Nationalist Group Demands Hijab Ban
• No Physical Education for School Girls: Saudi Scholar
• Pakistani Textile Targets India's Women for Shalwar Kameez-Dupatta
• Saudi female students excel in Holland after rejection by home universities
• Mayor of London Criticised For Suggesting Women Go To University to Find Husband
• Saudi Child 'Injected' With Aids Virus Demands SR50m
• Female Genital Mutilation: Shifting From Tradition to Education
• Inna Shevchenko, Topless Femen Activist, Wins Asylum in France
• Plan for Women Prisoners' Rehab, In Jails of Multan and Larkana
• Liberal Jewish Female Activists Blocked at Western Wall
• Sheikha Fatima Greets Wives of Arab and Islamic Leaders on Ramadan
• Women in Egypt at A Crucial Crossroads Post-Mursi
• Pakistan Domestic brutality victim happy at nose surgery
• Sudanese Minister Calls for the Importance of Coordination between Women and Agricultural Renaissance
• Three Jordanian Women Assault Kuwaiti Mother, Son
Compiled by New Age Islam News Bureau
URL: https://www.newageislam.com/islam,-women-and-feminism/new-age-islam-news-bureau/shariah-courts-for-women,-by-women-to-come-up-in-4-indian-cities/d/12516
----------
Shariah Courts for Women, By Women to Come Up In 4 Indian Cities
ZEESHAN SHAIKH
Jul 09 2013
Mumbai: In a first-of-its-kind initiative in the country, Shariah courts exclusive meant to handle cases pertaining to women will be set up in Mumbai, Pune, Ahmedabad and Dindigul. These courts are expected to adjudicate on matters like divorce, polygamy, maintenance, custody of children and property rights.
The Bharatiya Muslim Mahila Andolan (BMMA), which is fighting for the rights of Muslim women and demanding codification of Muslim Personal Law, will set up these courts. It plans to take this initiative further in states like West Bengal, Orissa, UP, MP, Bihar, Karnataka and Jharkhand in the next six months.
"Women have failed to get justice from the Imarat-e-Shariah, or Shariah courts run by the All India Muslim Personal Law Board. Their decisions are not based on Quranic principles. Therefore, we have decided to set up Shariah court which will be run by women," BMMA founder member Noorjehan Safia Niaz said.
The BMMA is planning to train 20 women to begin with. "They will be told about the rights of women as per the Holy Quran so that they can give an informed judgment," Niaz said.
Shariah courts, or Darul Quaza as they are popularly known, are vital instruments of the Alternative Dispute Resolution (ADR) mechanism in the country's judicial system. Though these institutions are called courts, they function more like counselling centres whose decision is not binding on the parties.
The All India Muslim Personal Law Board runs a number of Shariah courts. In Bihar, Jharkhand and Orissa, there are Imarat Shariah, which operate on the same principles.
These courts are headed by Quazis who are well-versed in Islamic jurisprudence. Women's groups have, however, complained that these centres are biased towards men.
Islamic scholars have reaised doubts about the new centres. "Counseling needs to be within the confines of Islam law. One has to see if the new venture has the necessary expertise and knowledge to pass judgments on religious matters," Maulana Burhanuddin Qasmi, director of Markazul Maarif, a social religious organisation, said.
http://www.indianexpress.com/news/shariah-courts-for-women-by-women-to-come-up-in-4-cities/1139298/
----------
Sri Lankan nationalist group demands hijab ban
Source: XINHUA | 2013-7-8
OLOMBO, July 8 (Xinhua)-- A hardline nationalist group in Sri Lanka is calling for the government to ban the hijab, a traditional dress for Muslim women, citing security reasons, the head of the organization said here Monday.
The Bodu Bala Sena (BBS), which also includes prominent Buddhist monks among its membership, demanded that the government ban the covering headdress insisting that recent events proved it was a threat to security.
The reasoning provided by the BBS is that a recent underworld member was arrested in Colombo while he was disguised as a Muslim woman wearing the enveloping garment. "We believe that most people will not talk about this issue because it is religiously sensitive. However, it is an important issue and we will take this up with top government officials in order to protect the people of this country,"BBS head Galagodaatthe Gnanasara Thero told the media.
The BBS organization is accused of inciting and organizing violence against Muslims in the country and has been criticized by moderate Buddhist organizations and leading Buddhist monks in the country.
In February, the Muslim community bowing to intense pressure from the BBS decided to withdraw issuing Halaal certification for local products.
The BBS has also held massive rallies around the country to ban cattle slaughter and demand that Buddhism be given prominence in the country.
http://www.shanghaidaily.com/article/article_xinhua.asp?id=152216
----------
No Physical Education for School Girls: Saudi Scholar
July 09, 2013
A member of Saudi Arabia's top seven Islamic scholars has ruled out any plan to end a long-standing ban and allow school girls to have physical education.
Sheikh Saleh Al Fowzan, a member of the Supreme Scholars Authority in the conservative Moslem Gulf Kingdom, said Islam prohibits such lessons for girls. "This will not happen Insha Allah (God willing)," he said in a YouTube film published by the Arabic language daily Al Saudeh and other Saudi newspapers. "What is the use of physical education for girls.
What have the boys benefited from such lessons? Never mind the girls. Regardless of what they do in their attempts to introduce such lessons to girl's schools in Saudi Arabia, this will not happen. Muslims have faith and Insha Allah they will not open this door."
http://www.emirates247.com/news/region/no-physical-education-for-school-girls-saudi-scholar-2013-07-09-1.513725
----------
Pakistani Textile Targets India's Women for Shalwar Kameez-Dupatta
July 08, 2013
Hyderabad: Enthused by the good response to its range of women's wear in India, Pakistan's leading brand Lala Textiles plans customised products for the Indian market. The 65-year-old company believes it has something different to offer for Indian women in its Shalwar-Kameez-Dupatta range. Lala Textiles sees huge potential in the Indian market and has joined hands with Fair Lady, a Surat-based importer, to market its products.
Lala Textiles CEO Pervez Lala believes the innovative concept, good quality and the affordability of the products are the company's USP. "Our products are 15-20 percent cheaper when compared to India but the main thing is the difference of concept and of quality. That is the reason we are successful here. People need something new. They like us. We have a different concept which India lacks," he told IANS. He was here to showcase his brands at 'Surat dreams', a textile exhibition which concluded Sunday. The company, through its distributors in India, is currently selling the products which are available in Pakistan. "We see huge potential. We will definitely go for customised products for India. It takes time because we are also in the learning process. We are in the process of finding out the tastes of Indian women, the colours and the dresses they like."
Lala pointed out that the market in India is huge for Shalwar-Kameez-Dupattas, constituting 50 percent of the overall textile market. After participating in various shows in Delhi and Mumbai, Lala Textiles displayed its products for the first time in southern India. "We see a huge market in south India, especially in Hyderabad, where there is a large Muslim community."
Lala's grandfather started the company after he migrated from India to Pakistan at the time of the partition in 1947. Today the company has a turnover of 3.5 to 4 billion Pakistani rupees and also has presence in markets like Bangladesh, Britain and the UAE. "From the concept to finished product, everything is done in our company. We don't outsource any work," said Lala, the third generation businessman of the family. He claimed that Lala Textiles is the only company in Pakistan which caters to all four segments of society - lower middle class, middle class, upper middle Class and the elite. "We have suits with a price range of 600-700 to 3,000-3,500 rupees. We are very economical with good quality," he said. Lala is of the firm belief that liberal trade between India and Pakistan will benefit the common man on both sides. He said people in both the countries would have access to cheaper products. He said the business community was facing a lot of problems regarding visas and they were requesting both the governments for a liberal policy. "We have some technical issues. We are already discussing with the ministries of trade and commerce. Insha Allah (God willing) things will get better," he said about the talks to grant most favoured nation (MFN) status to India. Lala was hopeful that liberal policies by the two countries would promote bilateral trade and business.
http://news.oneindia.in/feature/2013/pakistani-textile-firm-targets-indias-women-1249379.html
----------
Saudi female students excel in Holland after rejection by home universities
9 July 2013
Four Saudi female students, previously denied admission to their favorite programs in the kingdom, have graduated at a Dutch university in record time, completing their course requirement faster than other students.
The University of Maastricht in the Netherlands has recently honored Areej Mahjoob, Rahmat al-Dawla, Tasneem Banjar and Afnan Kamel on completing their doctorate degrees as part of King Abdullah Foreign Scholarship Program.
The students were among the first cohort of Saudi students to join the University of Maastricht since the launch of the King Fahad scholarship in 2007.
An estimated 450 Saudi students are studying in the Netherlands as part of the king Abdullah scholarship.
Six years earlier, the four female students could not obtain admission to their favorite academic programs at Saudi universities despite having completed high school with excellent grades.
"I was disappointed although I obtained 97.50 percent [in high school]", Areej told al-Watan newspaper.
"I wanted to study law, but because it is a narrow field in Saudi Arabia, I opted for medicine. I didn't have luck going to America, but luck smiled to me in Holland," she added.
Banjar and Kamel finished their high schools with a grade of 95 percent. They went to King Abdul Aziz University to study nursing, but their aspiration was bigger and sought to study abroad. They were awarded King Abdullah scholarship to go study in the Netherlands.
Dawla's story was not much different, except that she had a one-year old baby to take to Europe. When she was not admitted to her medical school in Saudi Arabia, she opted for mathematics. The day she found the opportunity to travel abroad, she grabbed it, and in Holland she succeeded.
http://english.alarabiya.net/en/life-style/2013/07/09/Saudi-female-students-excel-in-Holland-after-rejection-by-home-universities.html
---------
Mayor of London Criticised For Suggesting Women Go To University to Find Husband
09 July 2013
The mayor of London, Boris Johnson, has been accused of sexism after joking that the increase in the number of women attending university in Malaysia was down to their desire to find a husband.
Johnson, no stranger to controversy, risked accusations of sexism after he made the remark at the launch of the World Islamic Economic Forum (WIEF) at City Hall, London, where he appeared alongside the Malaysian prime minister, Najib Razak. Asked about the role of women in Islamic societies, Razak said: "Before coming here, my officials have told me that the latest university intake in Malaysia, a Muslim country, 68% will be women entering our universities."
Johnson interrupted him, suggesting the female students went to university because they "have got to find men to marry". Laughter can be heard from audio from the meeting, but the mayor has since been reprimanded for the comments.
Sophia Furber, a reporter at Estates Gazette who was at the forum, tweeted that the mayor's comment had made some in the room uncomfortable. "It was painful," she wrote. "I don't think the Malaysians thought it was as funny as Boris did."
She later told the Guardian: "I think the Malaysians were a bit taken aback by the remark. I felt that the comment was a bit naff and not in the spirit of the event, since the Malaysians/WIEF came across as very sincere about promoting women in business.
"There were some groans from audience members – especially from professional, hijab-wearing ladies."
The Evening Standard's political correspondent Pippa Crerar, who was also at the forum, called it "a stupid comment but it was clearly a joke and was met with the groans it deserved". The Everyday Sexism campaign group, which documents incidences of sexism, called the comments "pathetically archaic, unacceptably sexist and hopelessly out of touch".
Labour's shadow equality minister, Kate Green, called on the mayor to apologise. "Boris Johnson may think his buffoonery allows him to get away with his outdated opinions but this isn't funny. These comments are insulting to the women across the country and across the world who have gone to university, worked hard and used their talents to get on," she said.
Soon after the comments were reported, the official @MayorofLondon Twitter account was bombarded by female graduates informing Johnson of the reasons they went to university. "Hey Boris, I've managed to finish my degree with a first but no husband, can you give me some dating advice?" asked Caitlin Gleeson, while @charcoaltache asked: "I went to uni twice and still don't have a husband. Is it because I studied science? Advice appreciated."
Male tweeters also added to the debate. Chris Jones tweeted: "If there's one thing I can't stand about uni it's all the women trying to marry me."
London assembly's Labour group leader, Len Duvall, said the mayor's comments were "beyond offensive". He said: "It beggars belief that he would say a thing like this. He has insulted over half the country and has done down the hard work of millions of women in the UK who have gone to university, are studying at the moment and work a damn sight harder than he does.
"Boris's view of the world was formed on the playing fields of Eton and in the Bullingdon Club. Sexism of any kind is unacceptable."
Last year Johnson denied being sexist following allegations that he was disrespectful to female politicians. The mayor was confronted with a dossier of public exchanges made during his four-year term, to highlight concerns over his "disrespectful, patronising way at meetings" towards female assembly members that "you do not display when dealing with male assembly members", according to Jennette Arnold, Labour chair of the assembly.
Johnson responded: "I have not been more robust towards female rather than male assembly members and I do not believe I have been remotely sexist."
http://www.guardian.co.uk/politics/2013/jul/08/boris-johnson-women-university-husband
----------
Saudi Child 'Injected' With Aids Virus Demands SR50m
July 09, 2013
The family is a 12-year-old Saudi girl who was given contaminated blood by mistake at a local hospital is demanding SR50 million (Dh49.5 million) damages although doctors have said she has not been infected with the deadly Aids disease.
A Saudi court in the capital Riyadh has just started hearing the case of Riham Al Hikmi at the request of her father after she was mistakenly given contaminated blood by a technician at a government hospital in the southern province of Jazan.
"The family is demanding SR50 million. This sum is much below the compensation of around 160 million Euros normally given in similar cases worldwide," her lawyer Ibrahim Hikmi said, quoted by Ajel Arabic language daily.
Full report at:
http://www.emirates247.com/news/saudi-child-injected-with-aids-virus-demands-sr50m-2013-07-09-1.513698
----------
Female genital mutilation: shifting from tradition to education
9 July 2013
Before their 12th birthdays, hundreds of thousands of girls worldwide undergo a painful and very dangerous procedure known as Female genital mutilation (FGM).
Often done in unsanitary conditions, the procedure is traditionally performed by an older woman with no medical training.
Girls are held down and, without the use of anaesthetic or antiseptic, the elder partially or completely removes the young girl's external genitalia, using basic tools such as knives, scissors, pieces of glass and razor blades.
Full report at:
http://www.maltatoday.com.mt/en/newsdetails/news/national/Female-genital-mutilation-shifting-from-tradition-to-education-20130708
----------
Inna Shevchenko, topless Femen activist, wins asylum in France
8 July 2013
France has granted asylum to a feminist activist who hacked down a Christian cross last year in Kiev with a chainsaw, the Ukrainian woman said on Monday.
Inna Shevchenko sought asylum last February after receiving threats over the act in August 2012 – during which she was topless – which was meant as a protest against the prosecution of the Russian feminist punk band, Pussy Riot.
Full report at:
http://www.guardian.co.uk/world/2013/jul/08/inna-shevchenko-femen-asylum-france-pussy-riot
----------
Plan for Women Prisoners' Rehab, In Jails of Multan and Larkana
July 08, 2013
ISLAMABAD - The Federal Government will launch a project for training and rehabilitation of women prisoners in jails of Multan and Larkana.
The project is part of new initiatives to be taken by National Vocational and Technical Training Commission (NAVTTC) and it will be executed through funding of Asia Foundation and Aurat Foundation, official sources.
The project will be implemented by concerned jail authorities with the technical cooperation of NAVTTC.
According to official figures, Ministry of Education and Training will spend an amount of Rs 5,271.388 million during current year to fund 10 on-going projects including Rs 350 million to NAVTTC to fund 134 development projects.
Full report at:
http://www.nation.com.pk/pakistan-news-newspaper-daily-english-online/islamabad/08-Jul-2013/plan-for-women-prisoners-rehab
----------
Liberal Jewish Female Activists Blocked at Western Wall
Reuters
July 08, 2013
JERUSALEM — Several thousand ultra-Orthodox protesters effectively blocked Jewish women activists campaigning for equal worship rights at the Western Wall from holding a monthly prayer session on Monday at the holy site.
Israeli police spokesman Micky Rosenfeld said members and supporters of the Women of the Wall group were escorted by police to a spot a short distance from the Western Wall "to make sure there would be no incidents."
A spokeswoman for the movement, which is challenging the Orthodox monopoly over rites at the Western Wall, called the incident a setback after a court decided in April the women could legally don prayer shawls that Orthodox ritual says are meant for men only.
Full report at:
http://www.voanews.com/content/liberal-jewish-women-activists-blocked-at-western-wall/1697212.html
----------
Sheikha Fatima Greets Wives of Arab and Islamic Leaders on Ramadan
Jul 9, 2013
WAM ABU DHABI, July 9th, 2013 (WAM) -- H.H. Sheikha Fatima bint Mubarak, Chairwoman of General Women's Union, and of the Family Development Foundation and Chairwoman of Supreme Council for Motherhood and Childhood has sent congratulatory cables to the wives of Their Highnesses Presidents, Kings and Princes of the Arab and Islamic world on the advent of the Holy Month of Ramadan.
Sheikha Fatima wished them good health and happiness and for their people peace and prosperity.
http://www.wam.org.ae/servlet/Satellite?c=WamLocEnews&cid=1290005523232&p=1135099400124&pagename=WAM%2FWamLocEnews%2FW-T-LEN-FullNews
----------
Women in Egypt at a crucial crossroads post-Mursi
8 Jul 2013
Safaa Abdoun
"There is a real sense of jubilation in the streets of Egypt and by no means violence."
This was a cry constantly reiterated and genuinely felt by millions of protestors who took to the streets during the week of June 30 calling for the ouster of President Mohamed Mursi.
Unfortunately, the reality was very different. The streets of Egypt weren't safe for the 101 women who were subjected to various types of sexual violence during the protests between June 28 and July 3.
Neither were they safe for 45 victims of mob sexual assaults on July 4 or another 33 victims on July 5. And they remain a dangerous place for women.
Full report at:
http://www.trust.org/item/20130708171017-37lck/?source%20=%20hppartner
----------
Pakistan Domestic brutality victim happy at nose surgery
FAIZA ILYAS
9 July 2013
KARACHI: "I'm so happy that I've got my nose back! Now I can show it to my relatives and all the village women who had laughed at me and said that doctors were lying to me and I could never have a nose again," says Lali Bai, a domestic violence victim being treated in a Jinnah Postgraduate Medical Centre ward.
Lali has undergone multiple surgeries over more than two months for her nose reconstruction and is set to leave the JMPC in a few days.
"I'm greatly satisfied with the job done by the doctors as this small nose looks more appropriate on my face than my natural nose, though I'm having a little difficulty in breathing," she says with a smile in her native Sindhi language.
Full report at:
http://dawn.com/news/1023746/domestic-brutality-victim-happy-at-nose-surgery
---------
Sudanese Minister Calls for the Importance of Coordination between Women and Agricultural Renaissance
July 09, 2013
Khartoum - The Minister of Welfare and Social Security, Mashair Al-Doleib called for the need of coherence and coordination between women, the economic and social renaissance and social justice.
Addressing a workshop of experience and evaluation of no interests' loan project for rural women, The Minister praised the role of the Women's Union in the development of women. Full report at:
http://news.sudanvisiondaily.com/details.html?rsnpid=224369
----------
Three Jordanian Women Assault Kuwaiti Mother, Son
7/9/2013
KUWAIT CITY - Three Jordanian women and an Egyptian man were arrested for assaulting a Kuwaiti woman in her 50s and her 22-year-old son in Hawally area. However, the Egyptian was later released after investigations revealed that he was not involved in the quarrel. According to sources, a quarrel broke out between a Kuwaiti woman and three Jordanian women at a parking lot of a commercial complex in Hawally area during which a Jordanian woman slapped the Kuwaiti woman and assaulted her with the help of her friends. When the Kuwaiti woman's son intervened to settle the quarrel, he also received a slap from one of the women.
Full report at:
http://en.ammonnews.net/article.aspx?articleno=22165#.UdyRBTu-rXA
----------
URL: https://www.newageislam.com/islam,-women-and-feminism/new-age-islam-news-bureau/shariah-courts-for-women,-by-women-to-come-up-in-4-indian-cities/d/12516