New Age Islam News Bureau
23 Jan 2014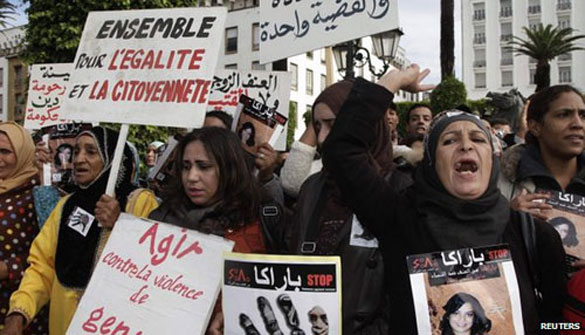 Violence against women and gender inequality are the subjects of frequent demonstrations in Rabat
----------
• Morocco Amends Controversial Rape Marriage Law
• Two British Women Charged With Syria Terrorism Offences
• Indian Woman Faces Death Penalty after Surabaya, East Jawa Drug Bust
• Lifting the Veil on the Life of Muslim Women in NZ
• Marvel's Muslim Teenage Girl Superhero Spurs Mixed Pakistani Reactions
• Longtime Expat to Represent Women's Wing in Islamabad
• Hairy Hijabs Cut From Platform Art Exhibit in Melbourne
• No Seat for Syrian Women at the Peace Talks
• War Heroine Rahela Still At War With Life
Compiled by New Age Islam News Bureau
URL: https://newageislam.com/islam-women-feminism/sharia-action-dubai-rape-victim/d/35413
-----------
Sharia in action in Dubai: Rape victim faces jail for sex outside marriage
Dubai to charge Austrian woman victim for illegal sex
January 23, 2014
An Austrian tourist who claimed she was raped by a policeman's son in Dubai in the United Arab Emirates has been told that she is facing jail herself - for having sex outside of marriage.
The 24-year-old woman reported the rape to local police expecting that they would take action against the accused, and instead found herself facing charges.
And even more amazing she claims that she was told by one of the policeman that she complained to that she could escape charges if she were prepared to marry the man that she alleged had raped her in a car during an attack on December 2nd, which is a public holiday in Dubai.
She had been in the region with friends on holiday and accepted an offer by the man to drive her home. But once they had walked into an underground car park underneath a five-star hotel in Yemen he had raped her, she claims.
The man then tried to drive the woman away from the hotel but she managed to jump out of the car screaming for help – where other guests helped her and the police were called.
As well as facing charges of sex outside marriage it is also alleged that she had been drinking. Both actions are illegal in United Arab Emirate State.
According to Austrian media the man initially claimed that the woman had offered him sex because she was drunk, and then later claimed that she was a prostitute who had demanded money for sex – something she also denies.
The Austrian Embassy refused to comment but did confirm reports about rape allegations on a Austrian tourist.
The investigations are continuing and the woman is not at this time being held in custody.
CCTV footage from the garage has reportedly been handed to the police for analysis.
Just last year a young Norwegian interior designer Marte Deborah Dalelv was sentenced to 16 months in prison after suffering a similar fate and being raped and convicted of sex outside marriage.
Interestingly both the latest case involving the Austrian woman and the earlier case involving the Norwegian woman had both involved in making complaints at the same police station in the in Bur area of Dubai.
The 24-year-old Norwegian was convicted and sentenced on charges of having unlawful sex, making a false statement and illegal consumption of alcohol.
But after international protests she was pardoned and released. The man was also freed.
In the United Arab Emirates, as in some other countries using Islamic law, a rape conviction can require either a confession, or the testimony of four adult male witnesses.
http://austriantimes.at/news/General_News/2014-01-21/50360/Dubai_to_charge_Austrian_women_victim_for_illegal_sex
------------
Morocco amends controversial rape marriage law
January 23, 2014
The parliament of Morocco has unanimously amended an article of the penal code that allowed rapists of underage girls to avoid prosecution by marrying their victims.
The move follows intensive lobbying by activists for better protection of young rape victims. The amendment has been welcomed by rights groups.
Article 475 of the penal code generated unprecedented public criticism.
It was first proposed by Morocco's Islamist-led government a year ago.
But the issue came to public prominence in 2012 when 16-year-old Amina Filali killed herself after being forced to marry her rapist.
She accused Moustapha Fellak, who at the time was about 25, of physical abuse after they married, which he denies. After seven months of marriage, Ms Filali swallowed rat poison.
The case shocked many people in Morocco, received extensive media coverage and sparked protests in the capital Rabat and other cities.
Article 475 provides for a prison term of one to five years for anyone who "abducts or deceives" a minor "without violence, threat or fraud, or attempts to do so".
But the second clause of the article specifies that when the victim marries the perpetrator, "he can no longer be prosecuted except by persons empowered to demand the annulment of the marriage and then only after the annulment has been proclaimed". This effectively prevents prosecutors from independently pursuing rape charges.
In conservative rural parts of Morocco, an unmarried girl or woman who has lost her virginity - even through rape - is considered to have dishonoured her family and no longer suitable for marriage. Some families believe that marrying the rapist addresses these problems.
While welcoming the move, rights groups say that much still needs to be done to promote gender equality, protect women and outlaw child marriage in the North African country.
"It's a very important step. But it's not enough," Fatima Maghnaoui, who heads a group supporting women victims of violence, told the AFP news agency.
"We are campaigning for a complete overhaul of the penal code for women."
http://www.bbc.co.uk/news/world-africa-25855025
--------
Two British women charged with Syria terrorism offences
January 23, 2014
Two British women were on Wednesday charged with raising money suspected of funding terrorism in Syria, the Metropolitan Police announced in a statement.
Amal Elwahabi, 27, from North West London and Nawal Msaad, 26, from North London were charged with offences "related to terrorist activity in Syria... contrary to section 17 of the Terrorism Act 2000".
They will appear at London's Westminster Magistrates' court on Thursday.
"Metropolitan Police Counter Terrorism Command will continue to pursue individuals and networks in the UK seeking to support terrorists engaged in the Syrian conflict," added the statement.
Britain's intelligence services estimate that around 500 British fighters are currently in Syria, and fear they will return radicalized.
Two British men were charged last week with travelling to Syria for the purposes of terrorism, while another man was arrested on suspicion of attending a terror camp in the war-ravaged country.
http://english.alarabiya.net/en/News/world/2014/01/23/Two-British-women-charged-with-Syria-terrorism-offences-.html
------------
Indian Woman Faces Death Penalty after Surabaya, East Jawa Drug Bust
January 23, 2014
Surabaya. Customs officers at in East Java's Juanda International Airport arrested an Indian woman on Sunday night after finding an alleged 1.7 kilograms of crystal methamphetamine hidden in her luggage, an official said on Thursday.
The 40-year-old woman arrived in Surabaya on a flight from Hong Kong. Officers noticed a suspicious package while x-raying her luggage and brought a drug-sniffing dog over for an inspection. When the dog indicated that there was contraband inside, the officers searched the suitcase and discovered crystal meth hidden in the lining.
"When [the suitcase was] taken apart, the official found traces of crystal meth on the suitcase's lining," Iwan Hermawan, head of Juanda Custom's Office, said on Thursday.
Custom's officers said the drugs were worth Rp 2.3 billion on the black market.
The woman, an English teacher identified only as "M.R.," claimed the crystal meth wasn't hers. It belonged to her neighbor in Hong Kong, a Nigerian man, who asked her to transport it to Surabaya and give it to another man, she said.
She was charged with trafficking more than a kilogram of drugs, which means that she could face the death penalty under the nation's strict drug laws.
Her's was the first drug bust of the year at Juanda airport. In 2013 there were twelve instances of attempted drug smuggling at the airport. In 2012 there were only four.
http://www.thejakartaglobe.com/news/indian-woman-faces-death-penalty-after-surabaya-drug-bust/
-----------
Lifting the veil on the life of Muslim women in NZ
Lynn, a New Zealand-born European, took on the name Siti Aminah after her conversion to Islam while living in Malaysia in the late 90s.Although she still professes to be a firm believer of the faith, Ms Aminah said she has had to
Full report at:
http://dailymail.org.uk/news/469962/Lifting-the-veil-on-the-life-of-Muslim-women-in-NZ.html#.UuBVEdLTn4Z
------------
Marvel's Muslim teenage girl superhero spurs mixed Pakistani reactions
January 23, 2014
LAHORE, Pakistan (UPI Next) --Some Pakistanis are embracing a new Marvel comic-book superhero modeled on a Pakistani Muslim teenage girl living in the United States as a chance to burnish Pakistan's image in the West, while others express reservations.
The latest incarnation of "Ms. Marvel" -- there were two earlier versions -- is to hit store shelves Feb. 5. Marvel Entertainment, the creator of Spider-Man, Hulk, Iron Man and other fictional superheroes, announced in November it was introducing Ms. Marvel, whose secret identity is "Kamala Khan," a 16-year-old daughter of Pakistani immigrants living in Jersey City, N.J., and dealing with life between two cultures.
Some Pakistanis told UPI Next, the introduction of Ms. Marvel presents a chance to improve the image of Pakistan, often maligned for widely reported brutal treatment of women, religious extremism and terrorist violence.
Several women in Pakistan said seeing a Pakistani girl as a superhero would be novel for the patriarchal society.
"I'm excited about the concept," Qurat Ul Ain Arif, a 22-year-old Lahore graduate student told UPI Next.
"It will be interesting to see how a teenage Muslim girl being a superhero juggles traditional family values and a most advanced culture like the U.S. at the same time," said Arif, who studied for a semester in Pittsburgh.
"A positive image of Pakistan will be portrayed through the character of Kamala Khan. I am sure Kamala Khan is going to represent the true picture of Muslim families living in U.S. Moreover, girls are facing the same situation which Kamala Khan's story represents."
Anum Kazmi, an FM radio announcer in Lahore, said she expects the character will represent a combination of traditional values and modernization.
"The positive impact of the new Ms. Marvel will give Pakistani girls the confidence that they have a role to play for the betterment of the society," Kazmi told UPI Next.
Ruby Razzaq, a senior journalist based in Lahore, sees Kamala Khan as a part of the evolution of women's status in Pakistan.
"Kamala Khan will help mothers to have faith that their daughters can play an important role, as do their sons, in building the future," Razzaq told UPI Next.
Mobarak Haider, a Virginia-based Pakistani author who wrote "Taliban: The Tip of a Holy Iceberg," a book about fundamentalist Muslims, sees Ms. Marvel as an amalgamation of Muslims living in the United States.
"Pakistanis will feel proud to see their girl helping people and playing a positive role," Haider told UPI Next. "Kamala Khan is not only representing her compatriots in this role, but Muslims as a whole. Her character could have a great impact on Muslim families living in the U.S. The concept will make parents understand that by giving girls confidence, they can build a fabulous future."
Not everyone is thrilled. Some women voiced strong concerns, even expressing suspicion of a conspiracy to discredit Pakistani society.
"It is unrealistic for a girl to be a superhero," housewife Sanam Iqbal told UPI Next. "The dress Kamala Khan will be wearing doesn't represent our Muslim culture either.
"I can't expect that Kamala Khan is going to build our country's image. I am sure there will be a conspiracy behind this idea, either to disrespect our family values or to damage our religion."
Hina Gulraiz, a Lahore dentist with in-laws in the United States, said Kamala Khan would create problems in Muslim families trying to follow their normal ways.
"I visit the U.S. often and I am sure that if Kamala Khan's character hurts our values in any case it will not be accepted. We don't want our girls so open to the world, because it is against our religion and values," Gulraiz told UPI Next.
Amjad Saleem, owner of Saanjh Publications, which publishes novels, poetry and Muslim philosophy books, predicted that readers will rush to buy comic books depicting Kamala Khan.
"Kamala Khan will be the talk of the town, like Malala Yousafzai," he said referring to the well-known teenage Pakistani girls' education activist.
"People will go for this book because of the unusual concept. Young people, both hardliners and progressive thinkers, will be buyers," he predicted.
Pakistan is about to get its first homegrown male and female movie superheroes in "Nation Awakes," from Karachi director-producer Amir Sajjad, who sees Ms. Marvel as helping Pakistan's image. He said he hoped her character would not hurt Muslim values or the customs of Muslims living in the United States.
"Pakistan is known to the world and the new Ms. Marvel will also be a sellable commodity," Sajjad told UPI Next.
"We have 6 to 7 million cinema-goers here in Pakistan, and I am hopeful that Pakistanis would be eager to see Kamala Khan representing them on an international level," he said.
Syed Noor, a Pakistani film director and chairman of the Pakistan Film Producers Association, has announced plans to make a film about a superhero called "Ali."
"I am energized by the idea of seeing a Pakistani Muslim superhero girl," he told UPI Next. "The success of this idea will also help us move towards having female heroes."
http://www.upi.com/Top_News/Special/2014/01/22/Marvels-Muslim-teenage-girl-superhero-spurs-mixed-Pakistani-reactions/21385611094776/
------------
Longtime expat to represent women's wing in Islamabad
January 23, 2014
Professor Maimoona Marsood Ahmed has been appointed as the president of the Women's Wing of Overseas Pakistanis for the "National Peace Committee for Interfaith Harmony" (NPCIH), which was recently constituted by Prime Minister Nawaz Sharif.
NPCIH President Seyed Ayaz Zaheer Hashmi issued the letter of appointment.
NPCIH aims to ensure and inculcate peace and harmony between Pakistanis of all faiths in line with the aspirations of Quaid-e-Azam Mohammad Ali Jinnah – the founder of Pakistan.
Maimoona is the daughter of renowned Pakistani religious scholar Malik Ghulam Murtaza, who lived and worked at the Islamic University, Madinah, for many years before he returned to Pakistan.
Maimoona served at the Pakistan International School at Nasiriyah (PISR-N) in Riyadh for 18 years, where she headed the Islamic Studies and Arabic department.
She also served as headmistress and vice principal of the school for an extended period of time.
Maimoona became more popular due to her regular appearance as Qur'an teacher on various Pakistani TV channels.
She is also the author of an Urdu book "Adab-e-Dua", which is a collection of various prayers and supplications for salvations of the faithful.
Maimoona received her primary education in Madinah and earned a Masters degree and MPhil from Punjab University in Lahore-Pakistan.
She also traveled to the United States where she served in various Islamic institutes.
http://www.arabnews.com/news/513806
------------
Hairy Hijabs Cut From Platform Art Exhibit In Melbourne
January 23, 2014
Sydney Morning Herald
Photos of women depicted wearing Hijabs have been pulled from a forthcoming art exhibition in Melbourne's CBD.
The Platform art gallery in the Degraves Street underpass made a last-minute call on Monday to exclude the photo collection, claiming its representations of Hijabs could imply disempowered women.
The photos at the centre of issue show women with hair draped around their necks and faces to resemble the Islamic veil.
Australian expat artist Catherine Lane had been booked to exhibit her photo series on feminine beauty at the Platform art space on January 31, until gallery directors pulled the pin.
Lane, 25, was told the gallery directors believed her work was ''putting forward the position that all women who wear the Hijab are not empowered''.
She said her artwork aimed to explore the cultural parallels between women of all backgrounds.
''In particular, it examines comparable expressions of beauty and its shared social value,'' she said.
''It explores female beauty as a point of fellowship … an empowering expression that can unify women from different cultures.''
Gallery director Angela Brophy did not answer questions about why she thought the photos could be construed as offensive, but provided a statement saying they had the potential to be misread
''We understand that while the artwork was not produced with the intention of causing cultural offence, it had the potential to do so,'' her statement said.
Lane, who had flown to Melbourne from London for her eagerly awaited exhibition, said that the motivation behind her artwork was the ''polar opposite'' of suggesting hijab-wearing women were disempowered.
The Australian Muslim Women's Centre for Human Rights' Tasneem Chopra said this was not the first time the Hijab had been a divisive issue.
But it could be culturally dangerous when artists drew on minority community symbolism, she said.
A male nude photo on display at the underpass gallery was partly blackened out in 2008 after a member of the public complained to the Melbourne city council, which co-owns the space. The move was condemned as arts censorship.
http://www.smh.com.au/entertainment/art-and-design/hairy-hijabs-cut-from-platform-art-exhibit-in-melbourne-20140122-3194a.html#ixzz2rAmHcYKM
------------
No Seat For Syrian Women at the Peace Talks
January 23, 2014
The talks in Syria began today, with the Syrian government and opposition exchanging accusations and invectives. Missing was the voice of nonviolent civilians, especially women, even through they have been trying for months to have a seat at the table. "When we talk about women at the table, the men see them as the tablecloth," said Hibaaq Osman, an NGO leader who has been working with Syrian women and pushing for their inclusion. "The future of Syria should not exclusively be decided by those who carry guns."
Syrian women have suffered immensely throughout the conflict. The estimated 100,000 killed so far includes not just men, but thousands of women and children. Women activists have been detained as part of government crackdowns on the rebel opposition and have been raped and tortured in detention. An investigation by the Women's Media Center tracked reports of rape and deliberate, politically-motivated attacks on women. When a soldier in the Free Syrian Army was captured by government forces, women from his family were brought to the prison and raped in front of him. In another sickening story, three sisters recounted how a group of Syrian army soldiers broke into their house in Homs, tied up their father and brother, raped the three women in front of them, and then opened their legs and burned their vaginas with cigarettes, saying "You want freedom? This is your freedom."There have also been reports of women and children being used as human shields or hostages by armed groups.
In areas controlled by the fundamentalist rebel groups, extremists have imposed oppressive rules on women and girls, reversing freedoms of movement, expression and other rights women had previously exercised. In some cases, women and girls have been prevented from working, going to school or just leaving their homes without a male guardian, even to flee violence. Human Rights Watch has reported that some extremist Islamist groups in northern Syria, such as Jabhat al-Nusra, the Nusra Front, and the al-Qaida linked Islamic State of Iraq and the Levant (ISIS), are imposing strict and discriminatory rules on women and girls, such as requiring them to wear headscarves and full-length robes, limiting their ability to carry out essential daily activities, to move freely in public or to attend school.
The humanitarian crisis is acute. Some 4 million Syrians have been internally displaced. Food and access to it is so restricted in some of the military-contested areas that children are dying from starvation. "There are children who are eating roots and leaves off the trees," said Kefah Ali Deeb of the National Coordination Committee for the Forces of Democratic Change. "Believe me; this is not my imagination. There is more suffering than you could imagine."
Syrians desperate to escape the war have fled to Turkey, Lebanon, Egypt, Iraq and Jordan, sometimes arriving by the thousands in a single day. Some three million Syrians are now refugees, over 80% of them women and children. Large numbers of women whose husbands have been killed or are off fighting have suddenly become heads of their households, but bereft of resources to care for their children. Relief agencies and host countries are overwhelmed by the numbers and the need. And although the refugees living abroad are spared the immediate impact of the fighting, many are unfortunately still subjected to violence, sexual assault, and abysmal living conditions.
According to a U.N. Women study, child marriages and domestic violence are on the rise among refugee families. As refugees grow more destitute, parents are more inclined to pull their daughters out of schools or marry them off at younger ages in exchange for dowries. Early marriage is seen as a way to ensure that daughters are cared for and fed, and to generate scarce income for the family. But girls sold into marriage are extremely vulnerable to abuse, lose opportunities for education and risk serious health hazards of early pregnancy.
Some refugee women have been forced into prostitution by their families, under the cover of short-term marriage arrangements. Women and girls sold into marriage are sometimes abandoned or sold again to brothels or traffickers, where their abuse and exploitation only worsens.
Syrian women, many of whom were involved in the initial pro-democracy, nonviolent uprising against Bashar al-Assad, have been risking their lives to address the humanitarian crisis--distributing humanitarian aid, monitoring human rights and providing emergency help. Syrian women have brokered local ceasefires to enable aid to get through. While the fighting has raged around them, women have continued to organize, build civil society groups and train themselves to play a role in designing a unified, democratic Syria.
These women have repeatedly called on the international community to include their voices in peace efforts. From January 11-13, 2014, 47 Syrian women gathered under the auspices of UN Women to hash out their positions. "We cannot remain silent regarding events unfolding in Syria, such as daily death, massive destruction, starvation, displacement of hundreds of thousands of Syrian families in Syria and abroad, the spread of terror and violence, ongoing detentions, acts of kidnapping, destruction of infrastructure and the spread of diseases, particularly among children," said Syrian activist Kefah Ali Deeb at a UN press conference.
The women called for the effective participation of women in all negotiating teams and committees in a proportion of no less than 30%. They called for senior gender experts to be fully integrated into the UN mediation team. "We want there be a meaningful participation of women in the entire political process, including in the formation of the transitional governing body, the constitutional drafting committee, the drafting of the election law, mechanisms of transitional justice, the local administration and local committees for civil peace," said Syrian activist Delsha Ayo at a UN press conference.
The women are desperate to deal with the immediate human catastrophe. "Large numbers of women have been arrested, kidnapped or disappeared. They include our families, our friends, our colleagues," said Kefah Ali Deeb, activist and member of National Coordination Committee for the Forces of Democratic Change. "We must get the detainees released from prison and break the sieges that are driving stranded populations to starvation."
But they are also looking down the road, and many have been working on principles for a new constitution. "We have been watching what happened in Tunisia and Egypt and Libya and there are a lot of lessons to prepare ourselves," said Sabah Alhallak, the women's coordinator for the Syrian Commission for Family Affairs. They insist that any eventual constitution guarantee women's equality and penalize all forms of discrimination and violence against women.
While Lakhdar Brahimi has met with the women several times and has encouraged their participation as observers, he has not agreed to grant them an official role. Unfortunately, even at the peace table, the men with guns will continue to have the loudest voices.
In response, the groups CODEPINK, Women's International League for Peace and Freedom (WILPF), MADRE, Karama and the Nobel Women's Initiative are gathering at the talks under the banner of "Women Lead to Peace" to support Syrian women. The day before the official talks begin, they will hold a Women's Summit with women from former conflict zones such as Bosnia, Liberia, Guatemala and Ireland speaking about their experiences of transitioning from war to peace. Syrian women and humanitarian aid workers will share their stories and experiences of life in Syria and refugee camps. There will then be a modeling of the negotiations: a look at what the official peace talks could and should look like. On January 22, the women will stage a peace rally outside the official talks. You can sign their petition to the international community and watch the Summit.
The Syrian women and their global allies understand that the Syria crisis is so deep and complex that it will take a long time to end the fighting and even longer to rebuild, but they see no other option. "We are lawyers, engineers and professors; we are housewives, nurses and other medical professionals; we are 50 percent of society and we are determined to stop the war," said Rafif Jouejati, director of FREE-Syria (the Foundation to Restore Equality and Education in Syria). "If Geneva II fails, then we will keep going to make Geneva III, IV or V work. We will keep pushing the men who are making war until they make peace."
http://www.opednews.com/articles/No-Seat-For-Syrian-Women-a-by-Medea-Benjamin-Refugees-War_Syria-Revolution_Women-140122-332.html
------------
War heroine Rahela still at war with life
January 23, 2014
Rahela Begum, a war heroine (birangona), still fights for her existence - 42 years after independence. Despite her supreme sacrifice for the nation, Rahela is yet to get recognition from the authorities. She has to carry on the curse of history and face the harsh reality of revealing her tale, the tale of Rahela. One of her daughters were divorced while another daughter is yet to get married. Chompa Khatun, daughter of Rahela is now staying with her mother along with a three year old child. Chompa was divorced last year, after an interview of Rahela was telecast in a television channel.
"A television channel telecast my interview. After I revealed the tale of and curse of my life, my daughter was subject to immense torture from her in-laws. At one stage last year, she was divorced," Rahela told the Daily Star. Chompa was married to Milon of village Goalia in Sirajganj Sadar upazila in 2008. Rahela lamented that her younger daughter is yet to get married till now due to the curse of her life. Her son is yet to get better job for the same reason, according to Rahela. Lamenting her fate, she said, "I have not received recognition from the government even after 42 years of independence. There is nobody to look after my poverty-stricken family." Rahela, wife of Akbar Hossain, and her father took shelter in a house of Belgati village of Sirajganj district during the liberation war. That is where the occupation troops found them; and attacked and violated her. Her husband left her after the incident. "The men of the then Rokhhi Bahini men managed to save my family." she added.
Along with her children, she lives at a slum of Soyadhangora area of the district headquarter. Her divorcee daughter Chompa and her son work as day labourer to provide for the family. Rahela went to Shahbagh in February 2013 to join thousands of people demanding the punishment of war criminals. She also spoke out amongst mass rallies at Shahbagh. "We are so unfortunate that our names are not included in freedom fighter list since 42 years of independence. We do not get support from the government or the society despite our supreme sacrifice," cries Rahela.
Like Rahela, there are many women of Sirajganj who had suffered indescribable cruelties at the hands of the Pakistani army, the curse of which have to carry as long as they may live. Of them, 35 war heroines were identified after the liberation war. In 1973, Bangabandhu came to Sirajganj to meet them. "Just 22 out of 35 identified war heroines are still alive. They all are living in poverty and social negligence. They do not get social recognition as a freedom fighter so they are living in pain for decades," commented Freedom Fighter Amena Begum, who collected the list of war heroines. She urges the government to provide war heroines social recognition as freedom fighters. Talking to the Daily Star, Gazi Sohrab Ali, commander of Sirajganj district unit of Muktijodhha Shangshad also demanded the recognition of war heroines as freedom fighters.
http://www.thedailystar.net/country/war-heroine-rahela-still-at-war-with-life-7914
------------
URL: https://newageislam.com/islam-women-feminism/sharia-action-dubai-rape-victim/d/35413