New Age Islam News Bureau
02 October 2020
• Zahra Association Launches Breast Cancer Awareness Campaign in Saudi Arabia
• Two Female Apprentices Confirmed For Upcoming Season in Saudi Arabia
• Australian Man Jailed After Stomping On Pregnant Muslim Woman
• A Muslim Woman Doing Her Job Should Not Be a Big Deal
• Terror Charges Follow Islamic State Woman Repatriated To Italy
• Turkey Has 'Zero Tolerance' For Violence against Women
• Egypt Sentences 2 TikTok Women, Sherry Hanam and Zamorrdoa, to 6 Years for 'Inciting Prostitution'
Compiled by New Age Islam News Bureau
URL: https://www.newageislam.com/islam-women-feminism/shamsia-alizada-afghan-teenager-topped/d/123018
--------
Shamsia Alizada, Afghan Teenager Who Topped University Entrance Exam Eyes Presidency
October 1, 2020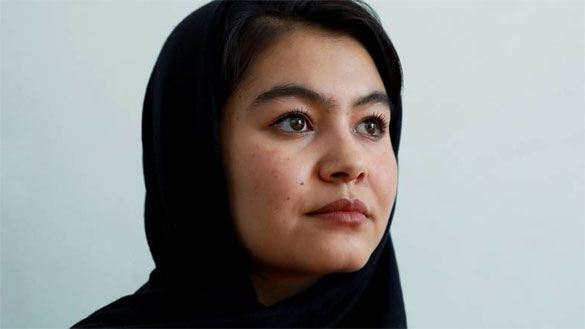 Shamsia Alizada,18, who has come top in the country's university entrance exam, speaks during an interview at her house in Kabul, Afghanistan September 25, 2020.
(Reuters)
----
Her success has come two years after she narrowly escaped a Daesh attack which killed dozens.
An Afghan teenager who topped the university entrance exams after narrowly escaping a Daesh attack has set her sights on becoming the country's first female president.
Shamsia Alizada, the daughter of an Afghan coal miner, came first out of more than 170,000 students, winning widespread praise in a country where girls were once banned from going to school.
Her success came in spite of a personal tragedy two years ago when a Daesh militant suicide attack in west Kabul killed dozens, including fellow students at the exam preparation class she was supposed to go to.
She had changed her plans at the last minute to attend another event.
"I was lucky," she said quietly in an interview with the Thomson Reuters Foundation in a coffee shop in Kabul, her hands tightly wrapped around a glass of warm green tea as she spoke of wanting to work towards a brighter future for her troubled country.
"Medicine will help me do that, but I'd like to strive further to work for the women of Afghanistan," added Alizada, who now plans to study at the University of Kabul.
She hopes to become a brain surgeon, but is also considering a diplomatic career, she said, adding, "one day, I'd even like to be the first female president."
Alizada's success comes at a pivotal time for the country, whose government this month began power-sharing talks with the Taliban Islamist militant group that ruled the country until its overthrow in 2001.
Women's rights have improved dramatically since those days, when the group banned women from going out to work and girls from attending school, and many fear their hard-won gains could now be at risk.
The Taliban say they have changed and will let girls be educated, but fears remain that women's rights will deteriorate if the group regains influence.
About 2.2 million girls are still out of school and less than 30 per cent of women in Afghanistan are literate, according to United Nations agencies.
Alizada attributes her success in part to supportive parents who treated her as equal to her two brothers - something she said was rare in Afghanistan, where girls "often lag behind".
'OPPORTUNITIES TO RISE'
Born shortly after the US-led invasion, she is part of an ambitious, young post-Taliban generation, growing up with opportunities that her own family didn't enjoy.
"My mother was in Kabul during the war and escaped to Ghazni," Shamsea explained, referring to the family's native province south of the capital.
When she took her exams at the university campus, she said, she was nervous but excited.
"I wanted to do well. My parents had always supported me to study hard and I had waited for this day for years. I didn't want to disappoint them," she said.
As she waits for university classes to start, Alizada said she was spending her free time taking walks with her friends in the neighbourhood or reading poetry.
Her older brother is studying engineering in India and she said she hoped to also win a scholarship to study in Britain, the United States or Canada.
But her ambitions are not just personal.
"Ten years from now, I'm not only hoping to practise medicine, I'm hoping that women across Afghanistan - in both big cities and small villages - will have opportunities to rise and to change the future of this country," she said.
"I want to help make this happen."
https://www.khaleejtimes.com/world/rest-of-asia/afghan-teenager-who-topped-university-entrance-exam-eyes-presidency
--------
Zahra Association Launches Breast Cancer Awareness Campaign In Saudi Arabia
October 02, 2020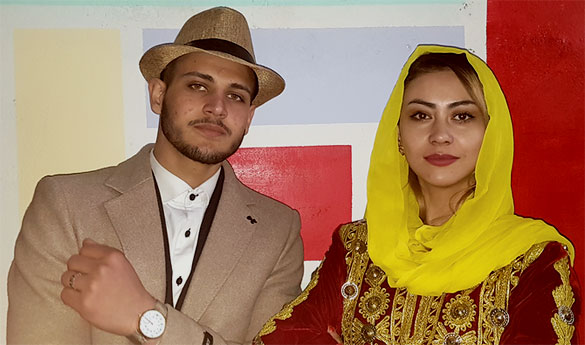 Riyadh Gov. Prince Faisal bin Bandar and Princess Haifa bint Faisal, president of the Zahra association, launch the breast cancer awareness campaign on Thursday. (SPA)
-------
JEDDAH: October is Breast Cancer Awareness month, and Riyadh Gov. Prince Faisal bin Bandar and Princess Haifa bint Faisal bin Abdul Aziz, president of the Zahra Breast Cancer Association, launched the annual national breast cancer awareness campaign on Thursday.
The association was one of the first bodies in the country dedicated to raising awareness about the disease and providing support to patients and survivors. And its mission is far from over, with more outreach programs and initiatives in the pipeline.
While most people are aware of breast cancer, many forget to follow the vital steps toward detecting the disease in its early stages, but the association is leading the fight to highlight the need for regular checks. This year's campaign is called "Al-Afu wal Afiyah" and will, according to Princess Haifa, run online through social media and e-marketing campaigns.
As always, the association's campaign aims to correct misconceptions about breast cancer and raise awareness among women in particular, but also society in general. This year's campaign also focuses on the role the environment can play in women's well-being. It stresses the importance of regular testing, even for those living a healthy lifestyle, and encourages early breast cancer screening.
The campaign will feature online workshops and lectures and discussions with women currently undergoing treatment for breast cancer and women who have survived it.
Princess Haifa added that the association has several ongoing partnerships with organizations in the public and private sectors that contribute to its development projects across the Kingdom, including its annual breast cancer awareness campaign.
Known to be the most common cancer in women worldwide, it is the leading cause of death among Saudi women, according to a retrospective epidemiological study conducted in 2012.
The findings showed high-incidence rates occurring at an earlier age in Saudi women than in those in Western countries.
Since early 2003, awareness workshops and seminars have been conducted in a number of institutions in Riyadh, and awareness campaigns run in shopping centers were later expanded throughout the Kingdom.
The association will take part in the Civil Society Communication Group Forum (C20) of the G20 Summit on Wednesday, Oct. 7, which will address support for cancer survivors and the best ways to enhance their role in society.
https://www.arabnews.com/node/1743066/saudi-arabia
--------
Two Female Apprentices Confirmed For Upcoming Season In Saudi Arabia
By Jonathan Harding & Tom Ward
SEP 30 2020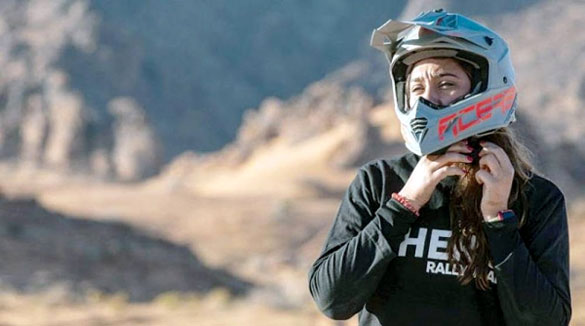 Lisa Allpress walks out of the weighing room before becoming the first female jockey to win a race in Saudi Arabia
Edward Whitaker (racingpost.com/photos)
-----
Saudi Arabia has taken another step forward in its stance on women in racing following the confirmation of two female jockeys as apprentices for the upcoming season.
A team of seven international jockeys, including Nicola Currie, became the first women to race in the country during the Jockeys' Challenge in February, the day before the $20 million Saudi Cup.
The first race of the points-based competition, which also featured male riders including Frankie Dettori and will take place again next year, was won by New Zealand's champion jockey Lisa Allpress.
The presence of female apprentices in Saudi Arabia, as well as a small number of domestically based female trainers, is a notable development for a country often criticised over its record on women's rights.
Prince Bandar bin Khalid al Faisal, chairman of the Jockey Club of Saudi Arabia (JCSA), said: "The Jockeys' Challenge was a big hit in Saudi Arabia. To have the first race of the jockeys' championship won by a female jockey was very special to us.
"I'm happy to report we've had three or four female trainers who have taken their licences, and for the first time ever we have two lady jockeys who are now apprentices and working with trainers.
"For all the ladies who were here last year, they really need to feel proud as they've inspired generations and we can see the results within the first year.
"I hope in the not too distant future we can see these ladies develop into professional jockeys who can compete at a regional level as well as a national level."
The renewal of the Jockeys' Challenge for 2021 comes after the JCSA confirmed prize-money for next year's two-day Saudi Cup meeting would be increased to $30.5 million.
https://www.racingpost.com/news/two-female-apprentices-confirmed-for-upcoming-season-in-saudi-arabia/452549
--------
Australian man jailed after stomping on pregnant Muslim woman
By Jessie Yeung
October 2, 2020
(CNN)An Australian man who punched and stomped on a pregnant Muslim woman has been sentenced to three years in prison.
Rana Elasmar, a mother of four, was 38 weeks pregnant when the attack took place last November, according to CNN affiliate Nine News. She was sitting in a Sydney cafe, wearing a hijab, when Stipe Lozina approached her table.
After briefly speaking to her, Lozina punched Elasmar several times and stomped on her head when she fell to the ground. Elasmar's friends and other patrons leapt from their seats to restrain him.
Lozina allegedly made a racist remark before the unprovoked attack, according to Nine News. Elasmar told Nine News that she had been focused on protecting her unborn baby.
She suffered minor injuries in the attack and her son was unharmed.
"If you feel the right to physically or verbally abuse somebody who looks a bit different than you, then Australia's not the right country for you," she told reporters outside court last month.
Months after the attack, Elasmar was still experiencing the physical and psychological effects, her sister told CNN affiliate Seven News in June.
Lozino pleaded guilty to assault, but he claimed it was not an Islamophobic or racist attack. "I don't hate them, but I don't get along with them. I've got no business with them," Lozina said in court, according to Nine News.
On Thursday, he was sentenced to a maximum three years in jail, with a non-parole period of two years.
https://edition.cnn.com/2020/10/02/australia/australia-pregnant-woman-attack-intl-hnk-scli/index.html?utm_source=feedburner&utm_medium=feed&utm_campaign=Feed%3A+rss%2Fcnn_latest+%28RSS%3A+CNN+-+Most+Recent%29
--------
A Muslim woman doing her job should not be a big deal
Mariam Khan
1 Oct 2020
I'm getting increasingly tired of the constant game of 'spot the hijabi' that we seem to be playing nowadays. Look, a Muslim woman in a hijab on Bake Off! And hey, the hijabi who rides horses! Khadijah Melah is an amazing jockey but you'd be hard pushed to find a headline without her hijab mentioned. Like a warped version of Where's Wally?, people seem intent on identifying Muslim women solely based on their clothing and their inherent 'Muslim-ness'. Most recently, a post of a female hijabi Muslim police officer holding a baton – that's been shared with me far too many times – has gone viral after being taken at last week's anti-lockdown We Do Not Consent rally.
I find myself wondering why people are so obsessed with this image, because I know first-hand that a Muslim woman doing her job is not new or noteworthy. Of course, online haters and Islamophobes have come out in full force with one social media user writing 'the enemy within, the face of jihad. Inside the authorities, different rules for the Muslim "copper" compared to British officers. We are broken. It's too late.' In another post I saw, the author has commented: 'Muslims are not to trust or make peace with non-Muslims' with another user writing '…not fit for the job and not British'. The suspicion and contempt towards Muslims in these spaces is constant but it's still shocking still to see comments dripping with hatred, and there seems to be a disturbingly deep-routed belief that Muslims are evil – that they are a threat and have some sort of secret agenda that needs to be prevented. It's horrifying to be abused for having a different faith. The police officer in question, however, also received a huge amount of praise. I saw posts like 'she was very impressive'; 'she looks like an absolute badass' and 'she has left the traditional life of staying indoors & pleasing her master.' Often when we hear about Muslim women or see them in the headlines, the narrative around them isn't one of strength but of having been subject to a hate crime. There certainly is a basis for this: in 2018 the charity TellMAMA, which allows people from across England to report any form of Anti-Muslim abuse, received reports of 1,891 anti-Muslim hate crimes and incidents from 20 police forces in the UK.
We also hear prejudice and Islamophobia directed towards them, like when Prime Minister Boris Johnson described them as looking like 'letterboxes' and 'bank robbers' in burqas and niqabs (which in turn led to a 375% increase in anti-Muslim incidents, according to TellMAMA). So I suppose it's jarring for the public to see a Muslim woman outside of these narrow confines. Yet while the Islamophobes have responded by tearing her down, there has also been another agenda at play: the well-meaning individuals who have essentially sensationalised the act of a woman doing her job. Their personal biases and limited perception of what a Muslim can and can't do, and who she is in terms of contributing to our society, have been challenged. These same people – some Muslim, some not – then reacted by taking to social media and going too far the other way, congratulating, lauding, and making Muslim women out to be superheroes simply because they are not staying at home and submitting to 'oppressive' roles. This approach is patronising but mostly fuelled by othering. There seems to be an unconscious understanding that Muslim women are not like everyone else. That they are lacking and are only now playing catch up to be 'empowered' or to have the ability to be emancipated or strong. This view reinforces hierarchical structures because it positions one group as completely enlightened against another that is still not. The story built around Muslim women is that they are submissive, weak and lacking agency. It has been promoted so consistently that it makes it almost impossible for Muslim women to be anything else – and even those people who consider themselves 'woke', or believe in Muslim women being able to hold their own, have internalised it. The idea that this group actually contribute to the British economy, to culture and society, is then written off completely. And so a Muslim woman doing her job somehow becomes viral news, as if this is something new to acknowledge when there are millions of Muslim women who are journalists, engineers, doctors and teachers. Muslim women haven't started to suddenly become powerful – we always have been. During the Second World War, Noor-Inayat-Khan, a Muslim woman who was a British spy as part of the Special Operations Executive (SOE) lost her life in service of Britain. There is a whole world of powerful Muslim women, we are just never allowed to hear about them.
When people see my hijab they treat me like I'm illiterate, like I have no intellectual capacity. I have been berated at bus stops because I don't look like I speak English and patronised in job interviews because the way I look doesn't match what's on my CV – or simply what people imagine a Muslim woman should be. I've been asked the question: why aren't other Muslim women like you? – as if that is some sort of compliment and we should all be the same. Not every 'successful' Muslim woman we see needs to be touted as a figurehead. That singular narrative is tokenistic, demeaning, lazy, restricting and it disregards everything Muslim women have achieved – despite the prejudice and abuse we have faced, and no doubt will continue to endure.
https://metro.co.uk/2020/10/01/muslim-woman-police-officer-should-not-be-news-13354348/
--------
Terror charges follow Islamic State woman repatriated to Italy
Joe Snell
Oct 1, 2020
Italy arrested a woman who joined the Islamic State on Tuesday after she and her four children were returned to the country from a displaced person's camp in Syria, according to the Italian authorities.
The repatriation follows a debate that has steadily fallen from the global radar as to whether individuals who joined the Islamic State and other armed groups should return to their countries of origin. And now, as the four children sit in foster care pending a decision by an Italian juvenile court, there is also the mounting challenge of how to reverse indoctrination among minors.
"Nobody has the right solution in how to do this," said Lorenzo Vidino, the director of George Washington University's Program on Extremism. "It's one of the reasons why countries are reluctant [to repatriate]. But there is, generally speaking, a consensus on the moral duty to repatriate the children irrespective of the difficulties that come with that."
Alice Brignoli, her Moroccan-born husband and their three children traveled from the north of Milan to Islamic State-controlled territory in 2015. Alice later gave birth to a fourth child in Syria.
Brignoli and her family were captured by Kurdish forces and brought to Syria's Al-Hol displacement camp. Located in northern Syria close to the Syria-Iraq border, Al-Hol houses displaced individuals from former Islamic State-held territory. As of March 2019 and in the course of only a few months, the camp swelled to 74,000 people, many of which were women and children. As of May 2020, the number lingered at 68,000, including 10,000 foreigners from over 50 countries.
Abandoned by their governments and under the care of the Kurdish-led force that had recently defeated IS, some residents still fly the Islamic State flag and impose their own disciplinary measures.
Authorities confirmed that Brignoli's husband died this month at the camp from an intestinal infection. She returned to Italy willingly, Italian Carabinieri Lt. Col. Andrea Leo told the Associated Press, after she was convinced it was her best choice considering the conditions she has lived in over the last five years. Upon returning to Italy, Brignoli was hit with terror-related charges and will face trial.
"I didn't think Italy would make the effort to come here and take me away," Brignoli told Italian newspaper The Sheet.
Italian authorities told the Associated Press they hope Brignoli will help them find additional Italian families that joined the radical group.
Italy's contingent of foreign fighters that joined the Islamic State and other armed groups is relatively small compared to other Western European countries, but the repatriation debate still rages in national security discussions. Foreign fighters linked to Italy in various forms totaled 135 as of July 2018, according to a study by the International Centre for Counter-Terrorism. That number is dwarfed by the some 1,900 foreign fighters that traveled from France and almost a thousand from Germany and the United Kingdom. Over 90% of Italy's foreign fighters were male and, bucking trends in other European countries, a majority were born abroad.
Italian authorities accused Brignoli of assisting in the radicalization of her children against the West and "embracing the cause of global jihadism." The children are in foster care pending a decision by an Italian juvenile court.
Many countries refuse to take their citizens back, citing national security concerns, while some accept returnees on the condition they face terrorism-related charges. But states are far less equipped to deal with the thousands of children that lived or were born in territory held by IS. A PBS Frontline documentary uncovered that alongside witnessing atrocities and being subjected to radical militarized training, children were being taught to conduct suicide attacks against Western targets.
"There's a more proactive approach [in Italy] when it comes to children and the idea is to make an effort to bring them back," Vidino told Al-Monitor, "but a lot of European countries are really struggling with this."
https://www.al-monitor.com/pulse/originals/2020/09/syria-al-hol-islamic-state-isis-italy-repatriate-terrorism.html
--------
Turkey has 'zero tolerance' for violence against women
Mehmet Tosun
01.10.2020
The Turkish president on Thursday said his country has zero-tolerance for violence against women, marking the 25th anniversary of the Fourth World Conference on Women.
"We fight violence against women with a multifaceted, holistic approach and with the principle of zero tolerance," Recep Tayyip Erdogan said in an over 4-minute-long video message.
2020 marks 25 years to the conference in the Chinese capital, which passed the Beijing Declaration and Platform for Action. It set a path-breaking agenda for women's rights and gender equality.
"We can never tolerate even a single woman in our country being exposed to violence, incurring the violation of her rights, law, and dignity," Erdogan said.
"Even 25 years after its adoption, the Beijing declaration remains a milestone for the rights of women and girls. We attach great importance to the review process of the declaration at the local, regional, and global levels."
He said the world falls far behind what was committed in 1995.
"From this day on, it is clear that more needs to be done," he said.
"In Turkey, in recent years, we have taken historic steps to strengthen the role of women in life, based on the principle of "strong women, strong family, strong society."
The president said Turkey provided more educational opportunities to women and encouraged their participation in the labor force.
In recent years, he said, the female workforce in the country increased by nearly four million and crossed 10.6 million, while female employment rose by nearly three million to reach 8.9 million.
"Also during this period, the female labor force participation rate increased by 6.5% to reach 34.4%," Erdogan said.
"When we took office, the female literacy rate among the population aged six and above was 79.9% while this rate rose to 95.3% in 2019."
Pandemic and women rights
The head of state said Turkey appreciates that one of the priorities determined by Volkan Bozkir, a Turkish diplomat elected as president of the 75th UNGA session, for this year's assembly is "improving the living standards and the rights of women, ensuring their full and equal participation in all spheres of life and strengthening their status within society."
"We will continue to provide all the necessary support to Mr. Bozkir in this meaningful work," he said.
Erdogan pointed out that the COVID-19 pandemic has shown "how fragile women's rights are, even after 25 years [of the Beijing declaration]."
In many countries, violence against women has escalated, and thus the socio-economic burden on their shoulders has increased, he said.
"In Turkey, taking into account the possibility of escalation of domestic violence [during the virus outbreak due to restrictions], we have opened new guesthouses for women, and thus further strengthened our capacity to protect victims in the face of deplorable incidents," he said.
Besides, Erdogan said the government has implemented employment measures, and women-friendly policies.
"Through the social support helpline, and a specially developed mobile application, we have ensured that cases of violence and abuse are immediately reported to the relevant units," the president said.
"It is the responsibility of all of us to make sure women come out stronger."
https://www.aa.com.tr/en/life/turkey-has-zero-tolerance-for-violence-against-women/1992618
--------
Egypt Sentences 2 TikTok Women, Sherry Hanam and Zamorrdoa, to 6 Years for 'Inciting Prostitution'
October 1, 2020
Egypt has sentenced two TikTok influencers to six years in prison for "inciting prostitution".
Sherifa Rafat and her daughter Nora Hisham, known as Sherry Hanam and Zamorrdoa, have also been fined 100,000 Egyptian pounds ($6,356). The prosecution has said that they will remain under police supervision for three years after they're released.
Sherry's official YouTube page has almost 70,000 subscribers and has a selection of videos, each with thousands of views. The latest is her sitting on a sofa fully dressed, talking about pregnancy.
The mother and daughter were arrested on 10 June, charged with "using social media to solicit prostitution," and kept in pretrial detention.
Egyptian lawyer Ashraf Farahat, who is well known for pursuing female social media stars, reported the two women to the public prosecutor.
Farahat has an online campaign, Let's clean it, which targets female TikTok influencers he says "violate family values".
Over the past several months Egypt has arrested several women on charges ranging from "disturbing family values", "prostitution" and "inciting debauchery and immorality".
The women have large followings on TikTok and post videos of themselves lip-syncing to pop music, or just explaining to other women how they can earn money online by raising the number of followers.
The crackdown on female Tiktok stars started in April and has seen nine women arrested.
In August, thousands of people signed an online petition to put pressure on the Egyptian government to free the TikTok women from prison.
Egyptian authorities have waged a war on women's right to express themselves.
Women's rights advocates say Egypt's legal system does not protect females and instead punishes them when they speak out about sexual violence and abuse.
https://www.middleeastmonitor.com/20201001-egypt-sentences-2-tiktok-women-to-6-years-for-inciting-prostitution/
--------
URL: https://www.newageislam.com/islam-women-feminism/shamsia-alizada-afghan-teenager-topped/d/123018
New Age Islam, Islam Online, Islamic Website, African Muslim News, Arab World News, South Asia News, Indian Muslim News, World Muslim News, Women in Islam, Islamic Feminism, Arab Women, Women In Arab, Islamophobia in America, Muslim Women in West, Islam Women and Feminism