New Age Islam News Bureau
31 May 2022
• Khadijah Safari Who Teaches Kickboxing To Females In Milton Keynes Receives Honour From The Queen
• Karnataka Waqf Board To Set Up 10 Colleges for Women
• Starbucks KSA Opens First All-Saudi Female Operated Store
• Tanzila Khan: Disability Rights Campaigner Tells Young Women 'The World Is Yours'
• Saudi Women Outnumber Men in Job-Training Program
Compiled by New Age Islam News Bureau
URL: https://newageislam.com/islam-women-feminism/shaista-gohir-pakistan-british-uk/d/127141
--------
Shaista Gohir, Pakistan-Origin British Women's Rights Campaigner Appointed to the House of Lords in the United Kingdom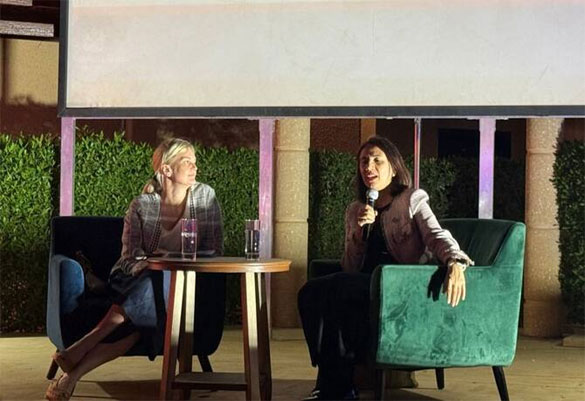 Shaista Gohir. Photo by reporter
----
May 31, 2022
LONDON/LAHORE: A leading women's rights campaigner of Pakistan origin has been appointed to the House of Lords in the United Kingdom.
Shaista Gohir will sit on the crossbenches, meaning she will not be affiliated with any party, But according to The Sentinal, she will now have a say on the laws passed by Parliament, as well as scrutinising the work of government.
Gohir has been recommended by the independent House of Lords Appointments Commission, with the move approved by the prime minister and the Queen, but she is yet to be formally introduced to the House.
The commission makes recommendations for non-party political life peers, as well as vetting most other nominations for membership of the House of Lords. Gohir's is one of only seven appointments recommended by the commission since 2016.
According to The Independent, Gohir is a women's rights campaigner and highly influential Muslim woman, who heads up the national award-winning charity Muslim Women's Network UK (MWNUK).
Her achievements have included setting up the national Muslim Women's Network Helpline.
Gohir also successfully challenged the Foreign Office policy on charging 16 to 17-year-old forced marriage victims repatriation fees, which was scrapped in 2017.
In 2021, she founded a new charity, the Nisa Global Foundation, to help women and girls in developing countries.
"It means an awful lot to me that I am representing the charity sector. During the Covid pandemic, it became the fourth emergency service, yet we are often not given the kudos that we deserve," Birmingham Mail quoted Gohir as saying.
"It is about time more people from the charity sector were in the Lords, who know of the issues that are impacting on the daily lives of so many people, more so now with inflation and austerity.
"It means when legislation is going through we can put forward people's experiences and how it will impact on them. It is also important that more women are represented — only about 28 percent of peers are women," she added.
Source: Pakistan Today
https://www.pakistantoday.com.pk/2022/05/31/pakistan-origin-british-womens-rights-campaigner-made-life-peer/
--------
Khadijah Safari Who Teaches Kickboxing To Females In Milton Keynes Receives Honour From The Queen
Khadijah Safar
----
30th May 2022
Mum of four Khadijah Safari owns MK's Safari Health Hub and Safari MMA, which she founded to teach women how to defend themselves amid rising hate crime and Islamophobia.
She converted to Islam in 2009 but vowed not to give up her passion for marital arts.
When she was unable to find a women-only club to train in, she made the decision to plough her £5,000 savings into setting up her own.
A spokesman said: "Women from all different backgrounds, cultures and socio-economic groups came together. Labels were left at the door and for once true equality was seen.
The group of women included victims of domestic abuse, lawyers and police officers, women of religious belief, and those from the LGBTQIA community,.
Over the past 10 years Khadijah has opened 10 more locations throughout Milton Keynes, Birmingham and London, making a name for herself as a Muslim woman doing martial arts.
Her spokesman said: "It was baffling to Khadijah as she had grown up as a 'British majority' and was suddenly being seen as an 'ethnic minority'. She had no idea that women from different cultures were so disconnected from even with the thought of doing sport, let alone actually participating in it.
"She led successful advocacy campaigns and communications, so the right conversations were being had, not just to speak to individuals but to generations of misguided cultural beliefs. If you can change the mindset of the older generation, then you can lay a pathway for the younger ones to walk proudly with their sporting achievements."
In 2020 lockdown shut and Safari's gyms had to close. Khadijah promptly implemented a system that allowed members to access online classes.
She developed and launched programmes, working alongside local organisations, including mental health prevention for women, sessions for inactive children and youth from lower socio-economic groups, with a strong focus on the BAME communities, and youth programs for those facing homelessness or financial challenges.
Khadijah was awarded British Empire Medal (BEM) in this year's New Year's Honours List for her hands-on contribution to diversity and inclusion in martial arts.
This month she was presented with the medal by the Lord-Lieutenant of Buckinghamshire, Countess Elizabeth Howe.
Source: Milton Keynes
https://www.miltonkeynes.co.uk/news/people/muslim-woman-who-teaches-kickboxing-to-females-in-milton-keynes-receives-honour-from-the-queen-3713797
--------
Karnataka Waqf Board to set up 10 colleges for women
30th May 2022
KALABURAGI: The Karnataka Waqf Board has decided to establish 10 degree colleges for women at 10 places across the state, including Kalaburagi, Yadgir and Raichur districts, said board chairman Moulana Sahfi Saadi on Sunday.
Addressing a press conference here, Saadi said that the Waqf Board has decided to bring awareness among people of the Muslim community on the importance of getting education.
To prepare youths from the Muslim community to face competitive examinations, including IAS and IPS, the Waqf Board is also constructing a well-equipped coaching centre for which it has acquired 30,000 sqft land near Lal Bagh in Bengaluru.
The foundation stone for the centre will be laid in June. Philanthropist Jiya Ulla Sharif has announced to donate Rs 15 crore for the centre.
"The government has sanctioned Rs 2.5 crore for the construction of a degree college and hostel in Tumakuru," he said. To a question, he said the Waqf Board will conduct a survey of the new properties of under its purview shortly.
Source: New Indian Express
https://www.newindianexpress.com/states/karnataka/2022/may/30/karnataka-waqf-board-to-set-up-10-colleges-for-women-2459573.html
--------
Starbucks KSA opens first all-Saudi female operated store
May 31, 2022
Alshaya Starbucks KSA has launched its first all-Saudi female operated Drive-Thru store in the Eastern Province of Saudi Arabia as part of its ongoing commitment to creating more work opportunities for Saudi women in line with the Kingdom's 2030 vision.
The new all-female Drive-Thru only store located on the Coast Road is a significant step towards increasing its women workforce to 30% by the end of 2022, with plans to launch many more Drive-Thru stores over the coming years in Saudi Arabia, said Starbucks KSA.
Managed by a team of all Saudi female partners, the store will continue to deliver the Starbucks Experience that brings customers great coffee at their convenience. Partners will be responsible for all aspects of store operations, customer service, day-to-day administration, and brewing coffee for the customers, it said.
"This is an exciting time for our Saudi partners to lead our first all-female driven operation in the country as they set new benchmarks and progress in their career journey at Starbucks", commented Andy Holmes, President of Starbucks MENA at Alshaya Group.
"Our first all-female Saudi partners operated Drive-Thru store in KSA is a significant step towards creating more opportunities for women as we continue to build on the local female talent and empowering them in the workplace. As we continue to see a spike in more Saudi women joining the workforce in various sectors, we demonstrate active support to the Kingdom's focus on empowering Saudi youth and highlighting the role of women by offering access to wider employment and career opportunities," said Holmes.
Alshaya & Starbucks take pride in offering a supportive and encouraging work environment for its partners. Today, women make up 20% of Starbucks KSA's workforce. With the first all-women Starbucks Drive-Thru store launch, the company has further plans to expand its network in Saudi Arabia with more Saudi female partners, he said. – TradeArabia News Service
Source: Trade Arabia
http://www.tradearabia.com/news/RET_396925.html
--------
Tanzila Khan: disability rights campaigner tells young women 'the world is yours'
Nicola Kelly
31 May 2022
Tanzila Khan does not like people feeling too sorry for themselves – or for her.
"I don't like sob stories or tragedies," said Khan, who is a disability and women's rights campaigner in Pakistan. "I'm not saying they don't exist – we can all face adversity – but I think we need a more positive approach to solving problems. I wanted to present people with disabilities in a more positive way.
"When I looked at the world, I didn't see a space for myself. Not in TV series, not when I read a book … there was nobody who represented people with disabilities. I decided, 'I'm going to create that space.'"
Khan, 31, wrote a short comedy film, Fruit Chaat, addressing some of the challenges she faced growing up in Pakistan as a wheelchair-user. It touches on four aspects of life for a young woman with disabilities: education, employment, entrepreneurship and love.
Inspired by her own experiences, Khan said the film is relevant to many women.
"As soon as you start moving around the world, you face challenges. It's difficult to find a school or a university that is wheelchair-friendly and has an elevator, so I had to pick the institution first, then my degree. Being yourself, out in the world, is the greatest accomplishment," she said.
Khan believes her messages resonate with a wider audience when humour is added. "Tragedy and comedy always go hand in hand – and I choose to find comedy in every tragedy."
Khan's advocacy work around menstrual health demands a different tone: anger.
In Pakistan, Khan launched Girlythings.pk, delivering menstrual, reproductive health and maternity products to women anonymously.
"When we talk about Pakistan, it's one country but there is a lot of diversity," Khan said. "There are a lot of women who are empowered and have agency – but in the same country, you can find women who have never left the house or gone to school, so there are challenges across those diversities. For many women who work and go to the office, companies don't have access to menstrual care, so what does she have to do? She has to quit the meeting," she said. "It creates a barrier."
Girlythings, she added, redresses imbalance. The reaction to these topics has, Khan said, been "extremely welcoming", with significant support from Pakistani men. "It made me think: 'Why haven't we talked about this earlier?' I'm only one person and I want to reach every corner, but this response makes me feel hopeful that our society is becoming very progressive."
Last week, Khan was in the UK, picking up her Amal Clooney Women's Empowerment award as part of the Prince's Trust International awards ceremony. It has given her, she said, even more motivation to continue with her advocacy work.
And her message to other young women? "The world is yours. Whatever you want to do, just do it. Be bold. Step up and own it."
Source: The Guardian
https://www.theguardian.com/global-development/2022/may/31/tanzila-khan-disability-rights-campaigner-tells-young-women-the-world-is-yours
--------
Saudi women outnumber men in job-training program
RASHID HASSAN
May 30, 2022
RIYADH: Saudi female graduates outnumber their male counterparts in an on-the-job training program launched by the Human Resources Development Fund (Hadaf).
Hadaf said that more than 61,000 male and female graduates with a diploma, bachelor's degree, or higher degree had benefited from the Tamheer program since its launch in 2017.
Of this figure, 74 percent of participants were female.
Riyadh, Makkah, and the Eastern Province were the top three regions represented by participants.
Tamheer aims to help Saudi nationals acquire the expertise and skills required for the labor market through practical training in the workplace in line with their major or field of study.
It also helps raise their employability and stimulates the private sector to attract trained nationals once they have completed the training phase.
Tamheer provides a monthly financial stipend of SR2,000 ($533) for graduate diploma holders from technical, health, and administrative institutes and colleges, and SR3,000 ($800) for people with a bachelor's degree and above.
It also bears the insurance costs for trainees when they are in the work environment for the practical element of the program.
The training period ranges from three to six months.
Trainees receive an experience certificate upon successful completion of the program.
To qualify for the program, applicants need to be higher education graduates and have been unemployed for at least six months.
Hadaf has renewed its invitation to establishments to offer training opportunities through the Taqat national labor portal.
It encourages companies to train Saudi graduates enrolled in the program. It is funded by Hadaf using the fees paid in a parallel program called Nitaqat, the Saudization scheme aimed at decreasing unemployment rates while also mobilizing the country's human capital to its full potential.
When companies pay for Saudization units to reach a particular range in the Nitaqat program, this money is used as incentives for graduates in Tamheer.
Companies that offer on-job training through Tamheer also benefit from the program since Hadaf defrays the company's financial expenses by paying the trainees a monthly incentive.
Employers get the chance to know about the skills and qualifications of Saudis in the labor market and hire the most qualified people to work for them.
Companies registering in the program must meet specific requirements to qualify for it.
There should be a clear plan for trainees, a mentor appointed for every 10 trainees, a monthly attendance record, and feedback for trainees.
Tamheer allows government, semi-government, and private establishments to enroll.
It helps develop the Saudi economy and society by enabling young people to be part of the workforce.
Source: Arab News
https://www.arabnews.com/node/2092961/saudi-arabia
--------
URL: https://newageislam.com/islam-women-feminism/shaista-gohir-pakistan-british-uk/d/127141
New Age Islam Islam Online, Islamic Website, African Muslim News, Arab World News, South Asia News, Indian Muslim News, World Muslim News, Women in Islam, Islamic Feminism, Arab Women, Women In Arab, Islamophobia in America, Muslim Women in West, Islam Women and Feminism