New Age Islam News Bureau
17 March 2020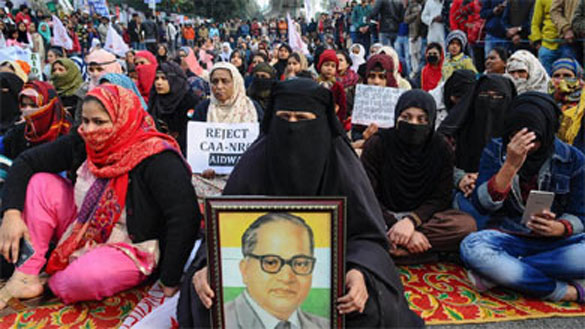 Shaheen Bagh Protest
------
• Striking Women Win Bumper Pay Rise in Turkey
• Bahrain: Women Constitute Nearly Third of Investors in Bourse
• Syria Has Far More Female Palestinian Prisoners than Israel — but No One Cares
• Qatar Charity Celebrates Achievements of Women
• Saudi Private Sector to Give Mandatory Two-Week Leave to Pregnant Women, Sick People
• Coronavirus in Kerala: Two Women from Malappuram Test Positive, Had Visited Saudi Arabia
Compiled By New Age Islam News Bureau
URL: https://www.newageislam.com/islam-women-feminism/shaheen-bagh-women-cap-number/d/121328
--------
Shaheen Bagh Women May Cap Number Of Protesters To 'Respect' CM's Statement That Not More Than 50 People Will Be Allowed To Assemble At A Place At Any Given Time
Mar 17, 2020
NEW DELHI: Shaheen Bagh women may cap the number of protesters at the site to minimise the coronavirus threat and to "respect" the chief minister's statement that not more than 50 people will be allowed to assemble at a place at any given time. However, the protest will continue until the Centre listens to their demands, they say.
According to the women, at least two meetings were held on Monday to decide the course of action. The women, who have been protesting against CAA, NRC and NPR for the last three months, put forward their suggestions to continue their "democratic civil disobedience movement," while also taking "practical" steps to counter the global pandemic. They reached a consensus on some points, including the closure of the makeshift school until further notice.
"The decision to close the school was to ensure safety of the children. We will have more meetings to decide our plans for the future," said Hena, one of the protesters. The protests will continue, she asserted.
Some of the ideas under consideration are to have just one entry point, which would be guarded by a volunteer equipped with a temperature gun. At least eight-ten stands with hand sanitiser bottles may be kept near the protest site. The protesters have started crowdsourcing masks and sanitisers to be distributed among the locals and the shopkeepers. "The shops along the protest site can keep the sanitisers accessible for those entering and exiting the site," Hena said.
Several other suggestions have been made by the women protesters. "We may limit the number of performances on the stage so that locals don't crowd the area. We have also asked the men who surround the area to move further away from the site," said another protester.
"We may come up with 4-hour shifts so that everyone can continue being a part of this movement safely. After their shift gets over, one batch can leave and another can take over," she said, adding that they are trying to rope in doctors who can spread awareness about the virus. "The women will listen to professionals more. So, we have appealed to the medical fraternity to come and tell us what steps we can take to stay safe. Our fight can't stop because it's for the future of this country," said Hena.
https://timesofindia.indiatimes.com/city/delhi/shaheen-bagh-women-may-cap-number-of-protesters/articleshow/74663880.cms
--------
Striking Women Win Bumper Pay Rise in Turkey
MARCH 15, 2020
WORKERS from the Seoil Plastik factory in Koaceli province, east of Istanbul, celebrated victory on Saturday after winning a bumper pay rise bringing an end to weeks of strike action.
The mostly female workers, part of the Tire-Is union, walked out on March 2 in a dispute over pay and union recognition.
The factory is based in the Koaceli Organised Industrialised Zone – one of 13 established across Turkey in the 1980s to deal with the environmental impact of rapid industrial growth.
But they are largely inefficient and are known as notorious hubs of exploitation, with a low paid and poorly unionised workforce.
At least 70 workers at the factory walked out after pay talks collapsed earlier this year. The union announced that a deal had been struck with management on Friday bringing an end to the dispute.
As a result, the workers won a 17 per cent two-year pay award along with additional holiday allowance, time off for marriages, births and bereavements and an end to the practice of hiring workers through private recruitment agencies on short-term precarious contracts.
https://morningstaronline.co.uk/article/striking-women-win-bumper-pay-rise-turkey
--------
Bahrain: Women Constitute Nearly Third of Investors in Bourse
March 9th, 2020
Women make up 29 percent of total investors at Bahrain Bourse (BHB), and the value of shares held by them is currently BD580 million, Bahrain Bourse (BHB) chief operating officer Narjes Jamal has said.
In a statement issued yesterday after BHB hosted a bell-ringing ceremony to mark the celebration of International Women's Day, the official said the total volume of shares held by female investors is 711m.
"As industry setters, we are hosting a variety of ring-the-bell events in order for all stakeholders to take action in achieving the goals of gender equality."
According to Ms Jamal, across companies listed on Bahrain Bourse, women currently have 2pc board representation and 7pc hold CEO positions compared to 16.9pc and 4.4pc respectively on a global level.
"As a stock exchange, we are working alongside listed companies and industry professionals to take practical action in advancing gender equality through voluntary guidance documents, internal policies, training, mentoring, raising awareness, and educating market participants on gender equality and the role of gender diversity in enhancing business performance."
"We aim to reinforce the importance of the role of females in executive and board positions across the capital markets, going in line with our efforts in promoting sustainability, in which 'gender equality' falls under the 'social' angle of sustainabilty," she added.
Ms Jamal was joined by Central Bank of Bahrain (CBB) Governor Rasheed Al Maraj and BHB chief executive Shaikh Khalifa bin Ebrahim Al Khalifa in ringing the market-opening bell.
BHB is partnering 81 other global exchanges for a week of bell-ringing activities for the second consecutive year, in partnership with the United Nations Sustainable Stock Exchanges (SSE) Initiative, the World Federation of Exchanges, IFC, UN Global Compact, UN Women to help raise awareness and highlight opportunities for the capital market ecosystem to advance gender equality and sustainable development.
The event was held for the sixth consecutive year globally. This year, the UN's International Women Day was themed 'I am Generation Equality: Realising Women's Rights'.
Held throughout March, these bell-ringing events aim to raise awareness on women's economic empowerment and the opportunities for the private sector to advance gender equality and sustainable development.
As part of the events, participants are encouraged to make commitments to improve gender equality in their markets, improving diversity in senior management and on the boards of directors, or improving transparency on gender policies and practices.
Last year, Bahrain Bourse announced its voluntary commitment towards the United Nations Sustainable Stock Exchanges (SSE) initiative in promoting sustainable and transparent capital markets.
The SSE initiative focuses on sustainable disclosure of environmental, social and governance (ESG) factors.
https://www.albawaba.com/business/bahrain-women-constitute-nearly-third-investors-bourse-1343696
--------
Syria Has Far More Female Palestinian Prisoners than Israel — but No One Cares
by Elder of Ziyon
MARCH 16, 2020
I have seen scores of articles, tweets, and protests about how Israel holds large numbers of Palestinian women prisoners, and how they are supposedly mistreated.
But how many Palestinian women are in Israeli prisons now?
As of September — only 40. And that number has been steadily decreasing throughout the past decade — there were 61 in 2017, and 73 in 2008. NGOs, the UN, and anti-Israel activists spend thousands of hours publicizing this and claiming that Israel tortures and abuses these women.
They never admit that the women are usually terrorists.
There have been plenty of women who have been involved with terror attacks against Jews. It seems sexist to assume that women are innocent — especially since Palestinians celebrate their female terrorists.
But the sheer amount of attention that these activists give women in Israeli prisons makes the below story most interesting:
The Syrian regime has been holding 110 Palestinian women in secret detention throughout its vast prison network, with a large number of them tortured to death, a human rights organisation has found.
The London-based organization Action Group for Palestinians of Syria (AGPS) revealed that in addition to at least 486 Palestinian women who have been pronounced dead since the Syrian civil war began in 2011, 110 others have been secretly detained by the regime of Bashar Al-Assad and at least 34 have been tortured to death within its prisons.
The group has stated that it believes the number of Palestinian women who have been killed overall throughout the war are much higher than is officially acknowledged, as the regime has reportedly kept their names secret and left their cases undocumented, as well as the fact that many families of the victims refuse to reveal their relatives' names out of fear of retaliation by the regime.
The organisation cited the accounts of former Palestinian female detainees of the regime who said that they were regularly subjected to intense psychological and physical torture during their detention, including heavy beatings with irons sticks, electric shocks and rampant sexual abuse.
If these NGOs cared about the welfare of Palestinian women prisoners so much, why has everyone been silent about those imprisoned, tortured, and killed in Syria for the past nine years?
Even the worst reports from the biggest anti-Israel liars do not approach the reality of what is happening in Syria. Yet there is silence on Syria and lots of noise about Israel.
The double standard needs to be called out for what it is — antisemitism.
Elder of Ziyon has been blogging about Israel and the Arab world for a really long time now. He also controls the world, but deep down, you already knew that.
https://www.algemeiner.com/2020/03/16/syria-has-far-more-female-palestinian-prisoners-than-israel-but-no-one-cares/
--------
Qatar Charity Celebrates Achievements of Women
March 09 2020
Qatar Charity (QC) marked International Women's Day (IWD) to celebrate women's achievements and acts of courage and determination.
The celebration of this day, which is observed on March 8 every year around the world, came under the theme for the year 2020 - 'I am Generation Equality: Realising Women's Rights'.
"As ordinary women have played an extraordinary role in the history of their countries and communities, Qatar Charity attaches importance to its female humanitarian workers. Qatar Charity considers the women working as its field staff or volunteering in its events as key partners in the success of its relief missions and the implementation of its charitable activities," QC said in a statement yesterday.
Qatar Charity's relief team, which includes many women, have contributed to providing emergency aid to the needy in several areas hit by disasters across the globe.
Also, QC implements many projects to empower women economically, offer educational courses for mothers, build schools for girls and support widows and mothers of orphans. Qatar Charity's office in the Gaza Strip implemented an awareness project for the mothers of orphans last year, benefiting 400 women from different areas.
The project helped educate mothers on various social topics, including skills for education and modification of orphans' behaviour, as well as orphan money management skills, the statement noted. The mothers also came to know about new methods to deal with their orphaned children and meet other societal challenges.
Further, QC has opened the Al-Shaimaa Secondary School for Girls in Beit Lahia, north of the Gaza Strip, to benefit 1,920 female students.
https://www.gulf-times.com/story/657946/Qatar-Charity-celebrates-achievements-of-women
--------
Saudi Private Sector to Give Mandatory Two-Week Leave to Pregnant Women, Sick People
March 16, 2020
RIYADH — Saudi Arabia has made it mandatory for private sector companies to grant 14 days' sick leave to pregnant women and patients with respiratory, autoimmune and chronic diseases, or tumors, Saudi Press Agency reported on Monday quoting Ministry of Human Resources and Social Development.
The ministry has also called on companies to ensure that all employees returning from abroad must isolate themselves at home for 14 days and should not be allowed to return to work except after the end of the quarantine period. The returnees who show symptoms of the coronavirus (COVID-19) must immediately be referred to medical care, the report said.
The ministry's move follows the decision by the national committee tasked with the following up on coronavirus developments as part of the Kingdom's efforts to prevent the spread of the deadly virus.
As per the rule, pregnant women and people with respiratory and chronic diseases, immunodeficiency and users of immunosuppressant drugs, shall be given a mandatory two-week leave, and it shall not be deducted from their leave balance, the report added.
Based on the decision by the Ministry of Interior to suspend international flights for passengers for two weeks, starting from March 15, those who had not been able to return, will be considered to be on exceptional official leave.
The ministry also appealed to owners of firms and companies to abide by these decisions, welcoming any observations or reports via the smart phone app "Maan lirrad", the Unified Call Center number "19911" or via the ministry's accounts on the social media.
http://saudigazette.com.sa/article/590963/SAUDI-ARABIA/Saudi-private-sector-to-give-mandatory-two-week-leave-to-pregnant-women-sick-people
--------
Coronavirus in Kerala: Two Women from Malappuram Test Positive, Had Visited Saudi Arabia
Mar 16, 2020
MALAPPURAM: Two women, who had returned to Malappuram from Jeddah in Saudi Arabia after performing Umrah, were tested positive for coronavirus infection.
District health authorities have said that both the women have been admitted to isolation wards at Government Medical College in Manjeri.
Coronavirus outbreak live updates
District collector Jafar Malik said that the health condition of both the patients was stable.
One of the patients is native of Vaniyambalam in Vandur. She returned from Jedhah at Karippur airport in an Air India flight on March 9. Another one is a native of Chemrakkattur in Areekode. She arrived at Nedumbaseery airport on March 12 in an Air India flight.
The district administration has directed all passengers of these flights to contact district-level control room as early as possible.
According to the authorities, the Vaniyambalam native arrived at Karippur at 7.30am on March 9. She was received by a ten-member team of relatives and the team went to their relative's house in Shappin Kunnu. From there, they went to their ancestral home in Mattakkulam. Following this, they went to a relative's house in Shanthi Nagar before arriving at her home at 4pm.
The Areekoe native arrived at Nedumbassery at 7.30am and she travelled in a tourist bus owned by Benzy Travels along with 40 others and reached at Karippur haj house at 2.30pm. From there, she went to her house in a car.
According to the health department authorities, both the women had approached Government Medical College, Manjeri on March 13 and they had been admitted to isolation wards of the hospital.
District collector said that the process of preparing the list of persons who maintained contact with these women are on.
https://timesofindia.indiatimes.com/city/kochi/coronavirus-in-kerala-two-women-from-malappuram-test-positive-had-visited-saudi-arabia/articleshow/74661254.cms
--------
URL: https://www.newageislam.com/islam-women-feminism/shaheen-bagh-women-cap-number/d/121328
New Age Islam, Islam Online, Islamic Website, African Muslim News, Arab World News, South Asia News, Indian Muslim News, World Muslim News, Women in Islam, Islamic Feminism, Arab Women, Women In Arab, Islamophobia in America, Muslim Women in West, Islam Women and Feminism