New Age Islam News Bureau
29 Jan 2020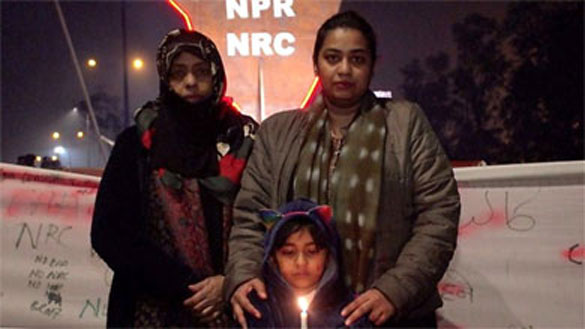 Three generations of one family join women camped out in a Delhi suburb in protest against the citizenship law
------
• "Look At Your Headscarf," Muslim Woman Abused and Assaulted in East London
• Israeli Police Detain 5 Palestinian Women at Al-Aqsa
• Sharjah All Set For Fifth Edition of Arab Women Sports Tournament
• Saudi Women Tops in World Bank Study
• Saudi Justice Minister Appoints First Woman to Senior Position at Alimony Fund
• Pakistani Woman Architect Yasmeen Lari Wins Prestigious Jane Drew Prize
Compiled By New Age Islam News Bureau
URL: https://www.newageislam.com/islam-women-feminism/shaheen-bagh-traitors-targeted-hardliners/d/120923
--------
Shaheen Bagh: The 'Traitors' Targeted By Hardliners in Poll Battle
Jan 29, 2020
Are thousands of Indian Muslim women peacefully demonstrating against a controversial citizenship law really "traitors"?
That is the accusation from several federal ministers on the campaign trail in Delhi ahead of elections in the capital on 8 February.
The polls pit the Bharatiya Janata Party (BJP) which runs India's government, against the Aam Aadmi Party (AAP) which governs Delhi. The AAP, headed by charismatic chief minister Arvind Kejriwal, is hoping to return to power, pointing to its record on affordable healthcare, education, electricity and water.
The protesters making headlines in Shaheen Bagh, a Muslim-dominated neighbourhood in Delhi, find themselves at the centre of this battle.
What has the BJP said?
The charge levelled at the women protesting against the Citizenship Amendment Act (CAA) has been led by the home minister, BJP president Amit Shah.
He told supporters to press the button for the BJP with "so much anger that protesters in Shaheen Bagh feel the current".
Other party leaders have followed suit.
Anurag Thakur, the junior finance minister, was censured by the election commission after he incited the crowd at an election rally to shout "shoot the traitors" while railing against those at Shaheen Bagh. He defended his comments by saying he was merely reflecting the "mood of Delhi".
Yogi Adityanath, the chief minister of neighbouring Uttar Pradesh, said the men of Shaheen Bagh were sending their women out to protest while they stayed home and slept, because they were too afraid to come out themselves.
Yet another minister, Parvesh Varma, swore the protesters would be "sent packing" within hours of a BJP victory, adding that if left unchecked, they would "rape and kill".
Other party members have called the election a battle between "India and Pakistan", which critics have denounced as a clear attempt to stigmatise Muslims.
So, what is happening in Shaheen Bagh?
Residents, mostly Muslim women, have been staging a continuous sit-in on a public road for more than a month.
Videos from Shaheen Bagh show women singing songs, clapping and passing tea and food to one another.
It has been a rare moment - one of the few times anyone can remember India's Muslim women coming out in such large numbers and leading a movement of this nature, although many others from different religions have sat alongside them in solidarity. They have read each other the preamble of India's constitution, made speeches reaffirming their citizenship and sung patriotic songs.
Shaheen Bagh has captured the imagination of many Indians.
The peaceful nature of the demonstrations have been in stark contrast to other protests against the citizenship law in which more than 30 people have been killed - most of them in Uttar Pradesh state - and the police accused of brutality.
The BJP for its part has painted the Shaheen Bagh protesters as extremists, who are seeking to break the country apart with the support of the AAP and its leader, Arvind Kejriwal.
What is the CAA?
The act offers amnesty to non-Muslim illegal immigrants from three neighbouring Muslim-majority countries.
It amends India's 64-year-old citizenship law, which currently prohibits illegal migrants from becoming Indian citizens.
It also expedites the path to Indian citizenship for members of six religious communities - Hindu, Sikh, Buddhist, Jain, Parsi and Christian - if they can prove they are from Pakistan, Afghanistan or Bangladesh. They will now only have to live or work in India for six years - instead of 11 years - before becoming eligible to apply for citizenship.
Under the CAA people holding Overseas Citizen of India (OCI) cards could lose their right to live and work in India indefinitely if they break local laws, no matter how minor the offence.
Several petitions argue that the law is illegal, claiming that it grants citizenship on the basis of religion - which goes against the country's secular values enshrined in its constitution. Those challenging it include political parties, civil society and Muslim groups.
Adding to the fears is a government pledge to carry out a widespread exercise to weed out "infiltrators" from neighbouring countries. Many Muslim citizens fear they could be made stateless, given that the exercise relies on extensive documentation to prove their ancestors lived in India.
The government has defended the law, saying it will give sanctuary to people fleeing religious persecution and Mr Shah has vowed that it will not be rolled back.
Why is Shaheen Bagh being targeted?
"What the BJP is trying to do is very clear. Polarisation is a tried and tested method that has won them elections in the past. But the million dollar question is, will it also work in Delhi?" political commentator Neerja Chowdhury told the BBC.
Many critics have said the protesters are an easy target for the Hindu nationalist BJP, as they are largely Muslim, and have said they demonstrate precisely why Muslims are afraid of the CAA.
The BJP comments have also caused a stir on social media. Although there are some who agree with the criticisms against the protesters, many say it is a clear indication the BJP has been rattled by Shaheen Bagh.
AAP supporters say the BJP's tactics show how desperate the party is to avoid defeat.
The hashtag #KejriwalAgainstEntireBJP was the top India trend on Tuesday afternoon.
Ms Chowdhury said that although it was expected the BJP would come out strongly as the election drew nearer, she was still surprised by the tone of the campaign.
"We have had many lows in Indian politics and electioneering. But I don't ever remember a legislator telling people that they would be raped and killed," she said.
https://www.bbc.com/news/world-asia-india-51276867
--------
"Look At Your Headscarf," Muslim Woman Abused and Assaulted in East London
Jan 28, 2020
A Muslim woman had her Hijab pulled in a targeted assault after walking past a group of young women who were stood outside of out of a youth centre in East London.
Tell MAMA can reveal that the assault involved anti-Muslim and Islamophobic language, including comments like "look at your headscarf", "f**king Muslim", and "stupid Muslim".
To protect her identity, we are withholding the exact location of the incident, but we can reveal that the Metropolitan Police hate crime investigation is ongoing.
She informed Tell MAMA that on the evening of January 13, after leaving work, amid cigarette smoke emanating from the young women she passed and gusty winds and drizzling rain, the hood from her coat had been blown down, revealing her hijab, which is when one of the young women rushed towards her and slapped the back of her head.
The Muslim woman was then punched, slapped in the face, and had her hijab pulled, and she was only able to retrieve her mobile phone after a prolonged struggle.
She also complained about the staff at the youth centre who did not contact the police when the assault occurred, adding that she had faced abuse before when walking past the centre from work.
In the 2018 reporting cycle, Tell MAMA identified 1,196 perpetrators, of whom, a vast majority (where identifiable), were male (482), demonstrating the overwhelming gendered nature of the problem, and around 15 per cent were female (181) which mirrors the finds of the previous reporting cycle where a clear minority of perpetrators were female (17.1 per cent).
Consistent with previous reports verified reports to Tell MAMA in 2018 revealed that, from the 925 victims where information was available, 44 per cent wore the hijab or other veiling practice (n=401), not including the niqab, which itself, accounted for 6 per cent of cases reported to the service.
You can get advice from our confidential and free helpline on 0800 456 1226. Or through our free iOS or Android apps. Report through our online form. Or contact us via WhatsApp on 0734 184 6086.
https://tellmamauk.org/look-at-your-headscarf-muslim-woman-abused-and-assaulted-by-a-group-of-young-women/
--------
Israeli police detain 5 Palestinian women at Al-Aqsa
Abdelraouf Arnaout
28.01.2020
JERUSALEM
Israeli police on Tuesday detained five Palestinian women in the courtyard of Al-Aqsa Mosque in Jerusalem.
The women were detained near Al-Rahma gate of Al-Aqsa Mosque, said the Jerusalem Islamic Waqf, a Jordan-run organization responsible for overseeing the city's Islamic and Christian sites.
The Israeli police gave no reasons for the detention.
The Islamic Waqf identified the detained women as Islam Manasra, Samah Mahameed, Nafisa Khuais, Mali Eid and Naheda Salah -- sister of Sheikh Raed Salah, leader of the Islamic Movement in Israel.
The detention coincided with Israeli settlers breaking into Al-Aqsa Mosque under Israeli police protection.
Over the past months, Israel intensified its persecution of Palestinian worshippers at Al-Aqsa Mosque.
https://www.aa.com.tr/en/middle-east/israeli-police-detain-5-palestinian-women-at-al-aqsa/1716390
--------
Sharjah All Set For Fifth Edition of Arab Women Sports Tournament
January 29, 2020
The spotlight is on Sharjah which will transform into a mega-women sporting platform for 78 clubs from 18 Arab countries who will compete in nine sports at the fifth edition of the Arab Women Sports Tournament (AWST), organised by Sharjah Women's Sports (SWS) between Feb.2–12.
AWST 2020 will record the largest participation ever in the history of the event. The UAE tops the list with 15 participating clubs, followed by the Saudi Arabia with 12. Bahrain has eight clubs, Kuwait with six, Oman with three and Qatar with two teams, will round off the participation of GCC in the tournament.
The rest of the participating countries include Algeria with seven clubs; six clubs from Jordan; Egypt with four clubs; Libya and Syria with three clubs each; Sudan, Tunisia, and Palestine with two clubs each; and Lebanon, Iraq, Morocco and Comoro Islands with one club each.
The UAE will compete in all nine sports: shooting, basketball, volleyball, table tennis, athletics, show jumping, fencing, archery and karate.
Nada Askar Al Naqbi, Deputy Head of AWST's Supreme Organising Committee, Head of its Executive Committee, and Director General of Sharjah Women's Sports, said: "Since its inception, AWST has celebrated women in sports.
The tournament has played a major role in nurturing strong relationships and cooperation between Arab countries and provided a platform for advancing the skills and capacities of sportswomen and served as a steppingstone to continental and international sporting events.
"SWS's journey to empower Arab athletes and advance women's sports is based on the vision of His Highness Dr Sheikh Sultan Bin Muhammad Al Qasimi, Member of the Supreme Council and Ruler of Sharjah, and the directives of Her Highness Sheikha Jawaher Bint Mohammed Al Qasimi, wife of His Highness the Ruler of Sharjah and Chairperson of SWS, to create an ideal and nurturing sports environment for women because we believe in the value of sports as a vehicle for social development and progressive social change."
Several high-ranking sports officials will be in attendance including Prince Talal Bin Badr Bin Saud Bin Abdulaziz Al Saud, President of the Arabian Sports Council (ASC) and Chairman of the Union of Arab National Olympic Committees (UANOC); Prince Faisal Bin Al Hussein, President of the Jordan Olympic Committee and member of the International Olympic Committee; Dr Ashraf Sobhi, Minister of Youth and Sports in Egypt, and Lydia Nsekera, Member of the International Olympic Committee, President of Women's Sport at the International Olympic Committee; Algerian runner Hassiba Boulmerka, the first Arab athlete to win the gold medal in the 1,500m race, and the second Arab Olympic medallist in the 1993 Summer Olympic Games in Barcelona.
The Supreme Organising Committee (SOC) announced that the basketball, volleyball, archery, show jumping, and karate competitions will kick-off on Monday, Feb.3; followed by table tennis on Tuesday; shooting on Wednesday; athletics on Saturday; and fencing on Sunday.
13 facilities are in place for AWST 2020, including six state-of-the-art sports venues across Sharjah for the competitions and seven sports halls that would be utilised for team training.
The main sports hall and shooting hall at SWS will host team training sessions as well as the basketball, volleyball and shooting competitions (rifle and pistol 10m).
Basketball training and competitions will take place at the Samnan branch of the Sharjah Sports Club, while its Al Hazzanah branch will host the karate, table tennis and fencing competitions.
The training and competitions in pistol shooting 25m will be held at Al Dhaid Sports Club, while Al Thiqah Club for Handicapped will be the venue for the athletics and archery training and competitions. The Sharjah Equestrian and Racing Club will host the training and competitions for equestrian and show jumping.
The basketball and volleyball training, as well as competitions, will take place at the Sajaya Young Ladies of Sharjah, Wasit Youth Centre, University of Sharjah and the American University of Sharjah.
The fencing training will be hosted at the Sharjah Children (Al Jazat) and Sharjah Youth Centre, while karate training will be held at the Sharjah Self-Defense Sports Club.
Bahrain athletes will participate in all sports except show jumping, while Saudi Arabia will compete in all sports except shooting.
Kuwait is gearing up to take part in the shooting, basketball, volleyball, table tennis, athletics and karate competitions. Shooting and athletics will be the only sports Omani athletes will participate in, while Qatari sportswomen will compete in fencing and shooting.
Jordanian sportswomen will be aiming for top spots in basketball, volleyball, table tennis, athletics, show jumping, and karate. Algerian athletes will concentrate on volleyball, table tennis, archery, karate, shooting and basketball, while Egyptian clubs will compete in shooting, basketball, volleyball, table tennis, fencing and karate.
Syrian sportswomen will take part in volleyball, basketball, and karate. Libya will participate in table tennis, athletics, and karate, while Sudanese athletes will compete in athletics and show jumping. The Tunisian teams will compete in volleyball and basketball.
Palestinian sportswomen will test their might in athletics and karate. Iraq and Morocco too will participate in only one sport each, archery and table tennis, respectively.
Lebanon athletes will concentrate on show jumping, while Comoro Islands sportswomen will take part in athletics.
https://www.gulftoday.ae/sport/2020/01/28/sharjah-all-set-for-fifth-edition-of--arab-women-sports-tournament
--------
Saudi Women Tops in World Bank Study
TALAT ZAKI HAFIZ
January 27, 2020
Wide-ranging reforms have given Saudi women the lead when it comes to improved economic opportunities, according to a World Bank Women, Business and the Law (WBL) report.
The study looked at reforms in 190 countries targeting restrictions on women's work options.
A series of performance indicators was used to rank countries, with the Kingdom scoring 70.6 out of 100.
For the past decade the World Bank's WBL project has focused on gender equality and worked to empower women. Its coverage of 190 economies is based on eight indicators relevant to women's economic participation: Mobility, workplace laws, pay, marriage, parenthood, entrepreneurship, assets and pension.
The mobility indicator examines constraints on women's freedom of movement, while the workplace indicator analyzes laws affecting women's decisions to enter and remain in the labor force. The marriage indicator assesses legal constraints to marriage alongside the parenthood indicator evaluating laws affecting women's work after having children.
Saudi Arabia has made an outstanding improvement in six out of the eight indicators, with a top ranking among GCC countries.
Undoubtedly, the Kingdom's Vision 2030 reforms have helped Saudi women achieve the outstanding ranking. Government initiatives have empowered women and provided them with equal work opportunities.
Additionally, the Saudi government has allowed women to drive in order to commute easily between their homes and workplace, and also introduced regulations related to women's work and business, such as giving women 21 years of age and over the right to travel, and protecting women from discrimination, especially with regard to employment and salaries.
All these reforms and others have encouraged Saudi women's participation in the economy and the labor market.
Women's contribution to the economy will grow in future in order to meet one of the Vision's main objectives — raising female participation in the labor market from 22 percent to 35 percent by 2030.
Talat Zaki Hafiz is an economist and financial analyst.
https://www.arabnews.com/node/1618616
--------
Saudi justice minister appoints first woman to senior position at alimony fund
January 29, 2020
JEDDAH: The minister of justice and president of the Supreme Judicial Council, Walid bin Mohammed Al-Samaani, has ordered the appointment of Shorooq bint Mohammed Al-Jadaan as deputy director-general for alimony affairs. She is the first woman to assume a leading position at the alimony fund.
The fund aims to ensure alimony is paid to beneficiaries as quickly as possible, and help achieve a financial balance for families, in fulfillment of the Kingdom's Vision 2030 plan.
"This appointment is not surprising from a ministry and a country that has taken upon itself to ensure equity and empowerment for women in all governmental and private sectors," said Saudi lawyer Nujood Qasim.
Such decisions strongly support efforts to raise the level of participation by women in the workforce, one of the goals of Vision 2030, by providing a wider range of career options and encouraging them to play a bigger role in the development of the country, Qasim added.
The second phase of the alimony fund was launched in November 2019. It has achieved a number of successes since its inception, in particular improving the speed of responses to requests and communication with applicants and beneficiaries through its online platform.
It has also reduced the time taken from final approval of applications to the payment of alimony, which can now be done in a matter of hours.
The Ministry of Justice has implemented a number of initiatives in the past few years to increase the number of female employees and improve their representation in promoted positions. In late 2017, it started to provide special sections for women in courts around the country and appoint female notaries. Previously it was rare for women to work in courts.
Women can now work as social researchers and administrative assistants. More women are also working in the ministry's digital transformation project, and in related fields such as computer science, software engineering and information systems.
In addition, there has been a huge increase in the number of registered female lawyers, from only 10 in 2013 to 487 by November last year.
https://www.arabnews.com/node/1619676/saudi-arabia
--------
Pakistani woman architect Yasmeen Lari wins prestigious Jane Drew Prize
January 28, 2020
Sana Jamal
Islamabad: Pakistan's first female architect, Yasmeen Lari has been awarded the prestigious Jane Drew Prize 2020.
The award recognises the contributions of women architects.
"I am honoured and grateful to have been chosen for this award," Lari told Gulf News. "This award not only recognises my efforts but the contribution of Pakistan in the field of architecture," she added. The prize would also be a source of inspiration for Pakistani women working in different fields, she said.
The award is named after Jane Drew, an advocate for women in a male-dominated profession.
Previous winners include Grafton Architects founders Yvonne Farrell and Shelley McNamara, Kathryn Findlay of Ushida Findlay, Zaha Hadid, Amanda Levete and Odile Decq.
Lari, 79, made her mark by designing some of the most iconic buildings in Karachi city, the country's commercial hub.
In recent years, however, she combined her architectural knowledge with traditional skills to design zero-carbon structures for the underprivileged.
In Pakistan, she is considered as one of the most successful providers of disaster relief shelters in the world.
Low-cost, zero-carbon, zero-waste housing
The 2005 earthquake, which killed nearly 80,000 people and left 400,000 families displaced, changed Lari's life forever. It was then that the architect behind some of the country's landmark buildings devoted all her energies to providing homes to the marginalised.
She developed a low cost, carbon-free structure technique, using renewable materials and based on traditional heritage, to help rehabilitate the earthquake victims.
"Using simple indigenous materials such as earth, lime and bamboo, we built thousands of flood and earthquake resistant houses that are both cost-effective and eco-friendly" Lari said.
The shelters tested to resist movements higher than 7.5 on the Richter scale.
Since 2010, her strategies have helped develop over 50,000 bamboo, lime, and mud shelters in northern Pakistan and Sindh province, making Pakistan's zero carbon conservation program as one of the largest in the world. With the low cost, zero carbon, zero waste housing technique, she aims to improve the lives of the poor while reducing greenhouse gas emissions and climate change impacts.
https://gulfnews.com/world/asia/pakistan/pakistani-woman-architect-yasmeen-lari-wins-prestigious-jane-drew-prize-1.69329499
--------
URL: https://www.newageislam.com/islam-women-feminism/shaheen-bagh-traitors-targeted-hardliners/d/120923
New Age Islam, Islam Online, Islamic Website, African Muslim News, Arab World News, South Asia News, Indian Muslim News, World Muslim News, Women in Islam, Islamic Feminism, Arab Women, Women In Arab, Islamophobia in America, Muslim Women in West, Islam Women and Feminism