New Age Islam News Bureau
22 March 2020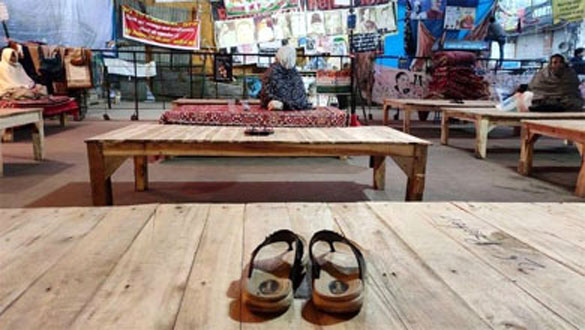 Protesters have left footwear on the benches at Shaheen Bagh to mark Sunday's janata curfew | Photo: By special arrangement
------
• Shaheen Bagh Protest to Continue on Janta Curfew with Only Two Women Maintaining A Distance of More Than A Meter
• Petrol Bomb Thrown at Shaheen Bagh Protest Site, No Injuries
• Women to Continue Sit-In at Shaheen Bagh; Four-Hour Shifts Planned
• New York Couple Wed In Marriage Officiated from Friend's Window During COVID-19 Outbreak
• Afghanistan- Daikundi women drug addicts want treatment
• Egyptian Salafists In Uproar Over Bill Restricting Polygamy, Underage Marriages
• What Pregnant Women Need To Know During Pandemic
Compiled By New Age Islam News Bureau
URL: https://www.newageislam.com/islam-women-feminism/shaheen-bagh-protest-continue-janta/d/121375
-------
Shaheen Bagh Protest to Continue on Janta Curfew with Only Two Women Maintaining A Distance of More Than A Meter
Mar 22, 2020
NEW DELHI: The women protesters in Shaheen Bagh will continue with their protest on Sunday, the day when Prime Minister Narendra Modi has urged people to remain inside their houses under a self-imposed curfew. The women have been blocking a side of a road connecting southeast Delhi to Noida since mid-December to protest against the amended citizenship law.
On Monday, the Delhi government said gatherings with more than 50 people were not allowed in the wake of the novel coronavirus pandemic. The size of gatherings has since been reduce to 20 people.
"On Sunday, we will sit under small tents (at the protest side). Only two women will sit under each tent and maintain a distance of more than a metre between them," a protester who did not wish to be named said.
Another protester, Rizvana, said the women had been taking every precaution and they were covered in burqa all the time.
"Washing hands regularly is part of our lifestyle. We offer namaz five times a day and we wash our hands every time," she said.
Ritu Kushik, another protester, said women aged above 70 and children aged less than 10 were not being allowed at the protest site.
"The women are not sitting on the mattresses any more. Cots have been placed and there's a minimum distance of three meters between every two cots. Not more than two women can sit on a cot," he said.
Taseer Ahmad, one of the key organisers, said sanitisers and masks had been arranged in enough numbers, and the protest site was being disinfected at regular intervals.
https://timesofindia.indiatimes.com/city/delhi/shaheen-bagh-protest-to-continue-on-janta-curfew/articleshowprint/74757124.cms
-----
Petrol Bomb Thrown at Shaheen Bagh Protest Site, No Injuries
March 22, 2020
New Delhi: A petrol bomb was thrown this morning near a police barricade at Delhi's Shaheen Bagh, heart of protests against Citizenship (Amendment) Act or CAA. Later a biker was seen throwing a crude bomb near Jamia University, about five km away from the protest site.
"Petrol Bomb was thrown on barricades away from the (Shaheen Bagh) protesters, we have recovered some bottles used in the case and are investigating on it," senior police officer Kumar Gyanesh was quoted as saying by news agency IANS. The incident took place at around 9:30 am.
"Two people were seen on a bike near the barricades, we are checking the CCTV footages for detailed investigation," he added.
The unique sit-in protest at Shaheen Bagh, conducted mostly by women, has been on for more than 90 days. The peaceful protest, which inspired similar demonstrations across the country, has made international headlines. They have been protesting against the Citizenship Amendment Act, National Register of Citizen (NRC) and National Population Register (NPR), which they call "anti-Muslim" .
On Saturday, as some of these protesters held a meeting with cops, differences emerged as one group favoured continuing the agitation, while some people said it should be called off.
The attack comes on a day when millions across India are observing a "Janata Cufew" call by Prime Minister Narendra Modi amid rising number of coronavirus cases.
At Shaheen Bagh, the organizers have said agitation would continue, adding that the protesters were being provided with masks and hand sanitisers and there was no need to be scared, reported news agency Press Trust of India. The size of the gathering, however, has been significantly reduced.
"If PM Modi wants us to be safe from coronavirus, then he should have withdrawn CAA, NPR and NRC. We will hold our protest tomorrow too," Salima, one of the protesters at Shaheen Bagh, told news agency ANI on Saturday.
Earlier this week, Delhi government banned gatherings for more than 50 people amid COVID-19 scare, Chief Minister Arvind Kejriwal had said: "No religious, social, cultural and political gatherings comprising more than 50 people will be allowed in Delhi till March 31. The restriction is applicable to protests too."
https://www.ndtv.com/delhi-news/petrol-bomb-thrown-at-shaheen-bagh-protest-site-no-injuries-2198758
------
Women to continue sit-in at Shaheen Bagh; four-hour shifts planned
22 Mar 2020
The women of Shaheen Bagh will continue with the protests though there was a scare to their lives earlier on Sunday. A man riding a motorcycle is alleged to have hurled Molotov cocktail at site and another near the Jamia Milia University's gate number 7.
ShaheenBagh protest is going to be symbolic today. entry is not allowed till 9PM. What a bful way to protest instead of sitting protestors kept their shoes at the same place.More power to you #ShaheenBaghprotest #CoronaUpdatesInIndia #JantaCurfew @ReallySwara @Khushbookhan_
"We will continue to sit. The police should do their job of apprehending the miscreant, but we will not be running away. The protest is extremely important to us, but in the light of the Corona Virus pandemic, only five women will be sitting at the protest site and each woman will only do four-hour shifts. We are also looking at how to manage those who will come," asserted Hina Khan, who is one of the main protestors at the site.
The police have increased their patrolling in Shaheen Bagh, where women have been sitting for 99 days to protest the Citizenship Amendment Act, National Register of Citizens and National Population Register. A police team found six petrol-filled bottles at the site.
The deputy commissioner of police said that the CCTV footage from the area was being examined to probe the incident.
https://www.nationalheraldindia.com/india/women-to-continue-sit-in-at-shaheen-bagh-four-hour-shifts-planned
----
New York couple wed in marriage officiated from friend's window during COVID-19 outbreak
March 22nd 2020
NEW YORK CITY (STORYFUL) - A New York couple had their wedding on the streets of Manhattan on Friday, following the closure of the city's marriage bureau over coronavirus concerns, with the ceremony officiated by a friend from his fourth-story window.
A New York couple had their wedding on the streets of Manhattan on Friday, Saturday 20, 2020, following the closure of the city's marriage bureau over coronavirus concerns, with the ceremony officiated by a friend from his fourth story window. (Katie Kaufman-Gibbons via Storyful)
In a note on her Instagram account, Jennings explained that the two had planned to get married in October but moved it up, only to find the bureau shuttered.
"After several hours of crying (& drinking)," she wrote, a friend with proper credentials offered to marry them outside his apartment.
https://nebraska.tv/news/nation-world/new-york-couple-wed-in-marriage-officiated-from-friends-window-during-covid-19-outbreak
----
Afghanistan- Daikundi women drug addicts want treatment
3/21/2020
MENAFN - Pajhwok Afghan News) NEILI (Pajhwok): A number of drug-addicted women info-icon , who have been living with addicted men in ruined places of Neili, the capital of central Daikunid, province, say the government should facilitate their treatment so they return to normal life.
According to statistics with the Public Health info-icon Department, 25,000 men and 10,000 women and children are addicted to different types of drugs in the province.
A Pajhwok reporter visited an under construction building in Nelli two days back where tens of drug addicts are living.
Under construction buildings, bridges, culverts, parks and cemeteries are places where drug addicts spend their days and nights.
The addicts move everywhere in the city during day and mostly beg to earn money buy drugs. After 5:00pm in the evening, they return to their places of gathering to spend their nights.
The woman, a resident of Neilli, said she lost her spouse to the conflict and was currently living the half-constructed building with male and female addicts.
But few minutes later she agreed to talk but outside the building. Reza Gul was in hurry to fill her cigarette from drug. Wearing old cloths, she said she could not speak for more than 10 minutes otherwise one should massage her body.
She said after her husband was killed in a clash with Taliban info-icon , her in laws expelled her from home and separated her from her two daughters.
'When they expelled me from home, my own family also refused to get me in. This place became my destiny,' she said with deep sorrow and disappointment.
Fatima, not a real name, is another addicted woman. She said her husband was addicted to drug and encouraged her to consume opium.
'Every time my husband used to take drugs, I would fight with him. He also encouraged me to drug to end my opposition.'
After three years, her husband died and she had to leave their house and now she is unaware of her three children.
Fatema did not want to speak more about her personal life and asked the government to provide opportunity for her treatment so she live a normal life.
Mubarak Rezaee, head of the Afghanistan info-icon Independent Human Rights Commission (AIHRC), said: 'Living together of women addicts with men drug addicts is a matter of concern for us and it is government responsibility to rehabilitate drug addicts and create special hospital for them.'
He said AIHRC for Daikundi had often contacted relevant authorities for construction of special hospital for women drug addicts.
Laila Hussaini, a civil society activist, said 'It is very unfortunate that the number of drug addicts is on the rise. The government should take stern action to control this.'
Qurban Elham, acting head of the Public Health Department, said 25,000 men and 10,000 women and children were addicted to different types of drugs in Daikundi.
'This statistic is alarming, keeping in view the total population of Daikundi and it is on the increase every year,' he said.
Elham said a 10-bed hospital for treatment of female drug addicts had been built and would be officially launched soon. He said a 20-bed hospital for men drug addict was operational in the province from past few years.
'In case a welfare organization, the governor or his deputy take responsibility for accommodation, food and other expenses, the health department is ready to collect all women addicts and start their treatment until a special hospital for them is official opened.'
Women Affairs Department Director Masuma Hussaini said they could only refer women drug addicts to hospitals and could not provide them more support in this regard.
https://menafn.com/1099892750/Afghanistan-Daikundi-women-drug-addicts-want-treatment
------
Egyptian Salafists in uproar over bill restricting polygamy, underage marriages
22/03/2020
CAIRO--Egypt's ultraorthodox Salafists are rising up against a bill proposed by the government to rein in polygamy by committing Muslim husbands wishing to take a second wife to get written approval from their first wives.
The Salafists said the proposal oversteps the Islamic religion, which gives men the right to have four wives at one time.
"You cannot eliminate a licence that was given by God to men by man-made law," said Salafist activist Sameh Abdel Hamid. "Laws are OK so long as they do not violate religious rules."
Egypt is among Arab countries that allow Muslim men to marry more than one wife. Some countries, including those in North Africa, have introduced restrictions to polygamy. Tunisia banned it in 1957.
Nonetheless, Islam restricts polygamy by making it necessary for men who have more than one wife to treat each wife fairly and on equal footing. The Quran says, however, such equal treatment is not possible.
Authorities proposed the bill to — among other things — restrict polygamy and curb related social ailments. Parliament's Committee on Constitutional and Legislative Affairs has debated the measure and referred it to al-Azhar, Egypt's highest religious authority, for review.
"I think there is more openness in society now for restricting polygamy," said MP Samir Rashad, a member of the committee. "Islam gives men the right to marry more than one wife but this right is far from unfettered. I also believe that the changes happening in our society require a rethink of the way this right is practised."
Salafists, who accuse those propagating the new rules of overlooking the licence Islam gave men, are strongly opposed to the bill. "If approved into law, this bill will cause the whole society to collapse," Abdel Hamid said.
The proposed legislation will introduce new terms to marriage contracts, requiring husbands to get written approval from their first wife to be able to contract a second marriage. However, it is considered unlikely that many women would be willing to sign a statement allowing their husbands to marry other women.
Marriage registration officials would not be able to register the marriage in the absence of such statements or they would be subject to penalties, including suspension.
Apart from trying to curb polygamy, the bill seeks to eradicate the marriage of underage girls, which is rife in some parts of Egypt, often driven by the desire of poor parents to get money in return for marrying off their daughters.
The measure would also make it necessary for husbands who divorce so they can marry again to provide their estranged wives with a monthly pension. It would give women the right to divorce without approval of their husbands and without filing for divorce at Egypt's Family Courts.
Under present regulations women seeking separation file a complaint at Family Courts, which sometimes can take years to reach a settlement.
Salafists object to women's right to divorce, which they describe as "an insult to men," warning it would increase Egypt's already high divorce rates.
In 2018, divorces increased 6.7% to 211,554 compared with 2017, the Central Agency for Public Mobilisation and Statistics, the official statistics agency, stated.
Women's rights groups have been mobilising in support of the bill, accusing Islamists of encouraging polygamous practices.
"They are behind the increase in these practices," said women's rights advocate Azza Kamel. "Sorry to say, these practices are humiliating to women and lead to the loss of their rights."
https://thearabweekly.com/egyptian-salafists-uproar-over-bill-restricting-polygamy-underage-marriages-0
----
What pregnant women need to know during pandemic
March 22nd 2020
by Tara Jabour
STEUBENVILLE, Oh. (WTOV) — Concerns are growing as the spread of COVID-19 continues, and many are asking what does this mean for pregnant women?
"We are seeing that the younger population is being infected with the COVID-19 virus. So all people are susceptible and we also know from previous experiences that pregnant women are sometimes more susceptible to these upper respiratory problems," said Dr. Patrick Macedonia a Gynecologist at Trinity Hospital.
Dr. Macedonia says that if you are a pregnant woman experiencing COVID-19 symptoms the first thing you should do is communicate with your physician.
"The American College of OBGYN just recently published an algorithm that if you are pregnant, then call your physician or your care provider because there is a program that they will put you through with a lot of questions and from there they will decide if you need test or quarantine," said Dr. Macedonia.
"The placenta is a protection for the fetus. So what we have learned from patients who have tested positive and delivered is that the fetus is not infected," said Dr. Macedonia.
Keeping our social distance while chatting with Dr. Macedonia. Hear from him tonight on @WTOV9 as we talk about what pregnant women need to know during this pandemic.
Right now at Trinity Hospital, they are set up to helo women who are delivering and have tested positive for the virus.
"When you deliver a baby everybody wants to kiss the baby, hug the baby but I think we have to understand that we just can't do that today because of the way that the virus is transmitted," Dr. Macedonia said.
He said that his best advice for all pregnant women is to follow the CDC guidelines of social distancing, washing your hands and staying home.
"The best recommendation for breastfeeding today is to express your milk into a container with a pump. Then let a healthy person feed your baby," said Dr. Macedonia.
"This is all going to back to normal but in the meantime, we have to do the best we can to protect everybody," said Dr. Macedonia.
https://wtov9.com/news/coronavirus/what-pregnant-women-need-to-know-during-pandemic
-----
URL: https://www.newageislam.com/islam-women-feminism/shaheen-bagh-protest-continue-janta/d/121375
New Age Islam, Islam Online, Islamic Website, African Muslim News, Arab World News, South Asia News, Indian Muslim News, World Muslim News, Women in Islam, Islamic Feminism, Arab Women, Women In Arab, Islamophobia in America, Muslim Women in West, Islam Women and Feminism