New Age Islam News Bureau
24 March 2020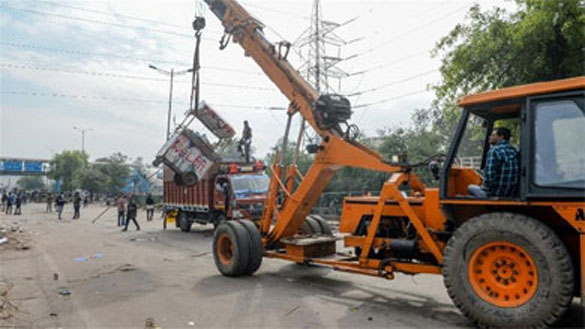 Shaheen Bagh area cleared of the protest [Sajjad Hussain/AFP]
-----
• COVID-19: Muslim Women in Dallas Banned from Mosques: Told Their Gender Is Itself A Health Risk
• Women's Beauty Salons Raided by Yemen's Houthis
• Iranian Women's Sitting Volleyball Looking To Secure Place At Paralympic Games: Coach
• Sports for All Federation Honours Female Saudi Athletes
• High Time to Unlock Women's Value In Business
• Saudi Arabia-Returned Woman Tests Positive Of Coronavirus In UP
• Celebrating Women Change-Makers All Over the World, Cartier To Honora Women At Expo 2020 Dubai
• The Taliban Doesn't Care About Women's Rights and Neither Does the Afghan Government
• Banat Masr: New All-Women Project To See Light In Egypt
Compiled By New Age Islam News Bureau
URL: https://www.newageislam.com/islam-women-feminism/shaheen-bagh-anti-caa-sit/d/121390
--------
Shaheen Bagh Anti-CAA Sit-In Removed Amid Coronavirus Lockdown
March 24, 2020
New Delhi: Police in India's capital broke up the longest-running protest against Prime Minister Narendra Modi's citizenship law on Tuesday, citing a ban on public gatherings because of the coronavirus outbreak.
Dozens of people, many of them women, have been staging a sit-in protest since early December on a street in the Shaheen Bagh neighbourhood, which has become a focal point for opposition to the law seen as discriminating against Muslims.
Hundreds of police in riot gear surrounded the protesters early on Tuesday and told them to leave, said Delhi's joint police commissioner D. C. Srivastava.
"It is a dangerous environment, with this coronavirus, we urged them to leave," he told reporters.
Some demonstrators resisted the police and at least nine people had been detained, six of them women, Srivastava said, adding there was no violence.
Television showed police taking down tents and billboards at the protest site with bulldozers.
Delhi is under a lockdown until the end of the month to halt the spread of the virus and public gatherings of more than five people have been banned.
The Citizenship Amendment Act, which eases the path for non-Muslims from neighbouring Muslim-majority countries to gain citizenship, triggered weeks of sometimes violent protests against Modi's government after it was passed in December.
At least 78 people have been killed in demonstrations triggered by the law across the country, a large number of them in another part of Delhi in clashes between Hindus and Muslims.
Critics say the law discriminates against Muslims and it has deepened concern that Modi's administration is undermining India's secular traditions.
Modi's ruling Hindu nationalist Bharatiya Janata Party denies any bias against India's 180 million Muslims.
Even before the coronavirus epidemic, the protest at Shaheen Bagh had become a thorn in the government's side, and there had been calls by hardline Hindu groups linked to Modi's alliance and residents in the area to clear it out.
India has reported 471 cases of the coronavirus but health experts have warned that a big jump is imminent, which would likely overwhelm the underfunded and crumbling public health infrastructure.
https://gulfnews.com/world/asia/india/india-police-clear-out-shaheen-bagh-protests-citing-coronavirus-1.70588548
--------
COVID-19: Muslim Women in Dallas Banned from Mosques: Told Their Gender Is Itself A Health Risk
3/23/2020
by SAMEENA KARMALLY
To slow the spread of the COVID-19 virus in the U.S., mosques—like other houses of worship—have adhered to Centers for Disease Control protocols and made the difficult decision to limit prayer services.
In Dallas, the recent DFW Imam Advisory describes three levels of restricted activity: The lowest level of restriction prohibits specific people from entering the mosque including those older than 60 or younger than 12; those with health issues, symptoms of illness, and anyone who has traveled in the last 14 days.
And, all women.
For decades, as a Muslim woman, I have been directed to pray in side rooms, back rooms, up fire escapes, in windowless basements and airless outdoor buildings in Texas heat. I've been told piety for women means praying at home, preferably in a closet.
Now I'm told my gender is itself a health risk.
The local prohibition of women mirrors a national Islamic ruling on COVID-19 that states: "Elderly adults, women, children and individuals with symptoms of disease shall stop coming to mosques for daily as well as Friday prayers."
Gender-based discrimination in American mosques is nothing new. A national survey of mosques found that the majority have physical barriers to demarcate women's prayer areas.
These spaces are rarely equal and often substandard. Most mosques in the survey—63 percent—scored "fair" or "poor" on a scale for a women-friendly mosque. No wonder female attendance in American mosques hovers around 35 percent, falling short of male attendance.
Excluding women from the mosque does not conform with medical guidelines, Islamic principles or good public policy. The other exclusions are reasonable: the elderly are a high-risk group, children under 12 are notoriously bad hand-washers and people with symptoms or recent travel history are potentially disease carriers. The ban on women has no reasonable or religious basis.
The Quran establishes that men and women are spiritual equals:
"The believing men and believing women are allies of one another. They enjoin what is right and forbid what is wrong and establish prayer and give charity and obey Allah and His Messenger."
(9:71)
Because Islam compassionately exempts women from regular mosque attendance—men are obliged to attend at least weekly—this exemption is often used to justify discrimination. However, the Prophet himself made no gender distinction in times of plague or in instructing worshippers to stay home in dangerous weather.
The mosque is the center of spiritual learning and growth for all. Sexist policies contrbute to the systematic erasure of Muslim women within their own religious community.
More recently, many mosques locally and nationally have cancelled all services for all congregants—regardless of gender. I credit Muslim male leadership for quickly responding to a worsening situation.
However, at some point the lower level of restriction—and its explicit ban on women—may go back into effect. As a public health crisis looms large, it may not be a good time to bring up concerns of sexism. Perhaps there is never a "good" time to address discrimination, so the time is always right, and right now.
Gender discrimination rooted in the misogyny of South Asian and Arab culture is the hallmark of suburban mosques in the metroplex, despite notable efforts to curb sexism in immigrant Muslim communities.
In contrast, Masjid Al Islam, the biggest community of African-American muslims in Dallas, cancelled services for all worshippers without reference to gender and did not sign onto the DFW Imam Advisory.
The ban on women entering the mosque may continue for months. Perhaps this is a blessing in disguise. Once the immediate pandemic health crisis is over, Muslim women who have been banned for no legitimate reason should evaluate whether a community that casts them out is one worth rejoining.
https://msmagazine.com/2020/03/23/muslim-women-banned-for-no-legitimate-reason-containing-covid-19-is-not-an-excuse-for-sexism/
--------
Women's Beauty Salons Raided by Yemen's Houthis
23 March, 2020
The government of the Houthi coup in Yemen has adopted twenty precautionary measures that it claims are meant to fight COVID-19 such as the closure of beauty salons for women.
This procedure reminds Yemenis of what the leader of the coup had previously stated that women's Islamic robes were a reason behind the delay in their "divine victory."
Local sources in Sanaa told Asharq Al-Awsat that Sultan Zabin, a Houthi official, ordered dozens of armed men to carry out the new repressive campaign after the militias issued decrees banning beauty salons and tailors for women's clothing.
According to the sources, the owners of salons in Sanaa said that armed Houthis raided their shops alongside female security personnel from the Zaynabiyyat group and asked them to shut down under the threat of arrest.
Rights activists in Yemen accuse the Houthis of implementing protocols that are very similar to those of ISIS and al-Qaeda. In fact, the militia group stated that these shops are one of the main reasons that have delayed its ability to defeat the legitimate government.
Repressive Houthi campaigns started to become more strict last December after a series of speeches by their leader, calling on his followers to protect the Yemeni society from what he described as an "invasion by Western culture" and to consecrate "Yemeni identity" hinting at the Houthis' beliefs imported from Iran.
The armed Houthis launched a similar campaign last year in Sanaa, where they burned women's gowns while repeating the "Khomeinist chant", claiming that they are one of the reasons behind the delay in victory.
The group had launched several campaigns over the past few years against restaurants and cafes under the pretext that they allow for mixing between genders, before giving them the green light to reopen in exchange for financial royalties imposed on owners.
Previously, the group had clamped down on ads for women's makeup, and confiscated mannequins from clothing stores.
Since they took over Sanaa in 2014, the insurgents impose strict conditions on student clothing on university campuses. They also ban mixed-gender graduation ceremonies and tell school pupils to wear traditional clothes during ceremonies.
Human rights groups have observed the group assaulting many girls in Sanaa University due to their outfits, which they claim goes against the beliefs that the group's leader, Abdul-Malik al-Houthi, had talked about.
https://aawsat.com/english/home/article/2195151/women%E2%80%99s-beauty-salons-raided-yemens-houthis
--------
Iranian Women's Sitting Volleyball Looking To Secure Place At Paralympic Games: Coach
March 24, 2020
TEHRAN – Head coach of Iran's women's sitting volleyball team Maryam Iranmanesh says that they are hopeful of securing their place at the 2020 Paralympic Games.
Team Melli took part in the previous edition in Rio for the first time ever but failed to qualify for the knockout stage.
The team want to participate in the Games once again but they need to take part in the qualification tournament.
"We wanted to take part at the qualification in Canada but we missed the competition due to coronavirus outbreak," Iranmanesh said.
"We can book a berth in the Paralympics because we have trained for six months and we are well-prepared for securing our place in the games," she added.
"We have a team consisting of young and experienced players and it will help us to gain the great success in the upcoming events," Iranmanesh concluded.
https://www.tehrantimes.com/news/446293/Women-s-sitting-volleyball-looking-to-secure-place-at-Paralympic
--------
Sports for All Federation Honours Female Saudi Athletes
March 8, 2020
RIYADH — The Sports for All Federation (SFA) is celebrating some of the incredible accomplishments of the country's female athletes who have competed on both local and international stages. Annually on March 8, the world comes together to celebrate the accomplishments of women, and what a year it has been for female athletes in Saudi Arabia!
Last month, the SFA launched the Women's Football League (WFL), a nationwide community-level league that is open for females aged 17 and above, under the banner of the Quality of Life Program. Registration is currently open for females from across the Kingdom to join as players, coaches and referees.
The WFL, fully funded by the SFA with the goal of enabling and encouraging women to participate in more physical activity, is a league for women by women. The historic launch of this league is preceded by the success of the Saudi Greens soccer team last year.
In the fall of 2019, the Saudi Greens soccer team finished second in the Global Goals World Cup, a tournament hosed alongside the United National General Assembly for amateur athletes to help realize the UN's Sustainable Development Goals. Women from across Saudi joined together to form the Greens team and compete for UN SDG No. 15: Life on Land.
The Saudi Greens team initially participated in the Global Goals World Cup in Denmark in May of 2019, where their impressive performance qualified them for the New York tournament. The Global Goals World Cup marks the first time a female Saudi community sports team competed in an international tournament.
"As the SFA recognizes the accomplishments and new opportunities in sports for women in Saudi Arabia, we look forward to the future. We are working toward further realizing Vision 2030's goal of female empowerment, of which a key component is encouraging and enabling youth."
Under the umbrella of the Women's Football league, the SFA will be launching additional events to target girls aged 16 and under.
http://saudigazette.com.sa/article/590573
--------
High Time to Unlock Women's Value In Business
RANIA NASHAR
March 08, 2020
RIYADH: Women in business is a global issue with important socio-economic implications that needs action on priority.
It entails specific issues including glass ceilings at the workplace, the challenges and obstacles in entrepreneurial pursuit, low participation of women in STEM (science, technology, engineering and mathematics) careers and across different industries.
Studies indicate that there is a strong correlation between female employment ratios and GDP growth, with improved business outcomes (including productivity, profitability and innovation) where there is representation of women in the workplace.
Barriers to employment that hinder women entering the workforce increase unemployment and poverty rates, and can have an adverse effect on economic output and growth.
Research from the OECD estimates that the gender gap costs the economy some 15 percent of GDP. The unequal and unfair pay is one of the most pressing and discouraging disparities.
According to an Accenture study, worldwide, women continue to earn 63 percent less than men do.
From a socio-economic perspective, the unfair and unequal pay deepens already entrenched social inequality, which, if left unaddressed, could further impact consumer and business development.
Women are less present in jobs of the future. Global Gender Gap Report 2020 from the World Economic Forum, points to a major underrepresentation of women in classic STEM fields, with less than 20 percent of roles in cloud, engineering, data and AI occupied by women.
Employment conditions and cultures often discourage women to remain in work, with many leaving the workforce to fulfil care responsibilities. This diminishes the pool of valuable talent and skills from which employers need to draw.
For example, Accenture estimates that women carry out 76.2 percent of all unpaid care work hours performed globally (more than three times more than men), with women's unpaid work valued at up to 39 percent of global GDP.
A culture of diversity and equality is a powerful multiplier of innovation and growth. According to ILO, three in four businesses say gender diversity initiatives deliver profit increases of 5-20 percent, leaving value on the table in less diverse organizations.
Female representation in top roles continues to make slow progress.
The proportion of women in senior management globally has changed by only around eight percent, from approximately 21 percent in 2012 to 29 percent in 2019, and still falls short of the 30 percent, tipping point, expected to begin achieving gender parity. In 2019, there were just 33 female CEOs in the Fortune 500 list.
Fewer women in leadership positions deprive organizations of talented brainpower and new ideas that come from diversification in leadership.
Research from Accenture shows that in equal, empowering work environments, not only women are four times more likely to advance, but men benefit and rise faster too.
A BCG analysis estimates that if women and men around the world participated equally as entrepreneurs, global GDP could ultimately rise by approximately 3 percent to 6 percent, boosting the global economy by $2.5 trillion to $5 trillion.
While the conditions for women in business have been improving in the last couple of decades, more and quicker reforms and actions are required by governments and businesses to unlock the full value.
Barriers to women's employment and advancements into leadership positions must be eliminated, while increasing support through work-life transitions.
This would include measures that help build essential skills (such as digital and STEM) for jobs of the future and promote cultures that enable them to grow their careers.
Particularly governments must not miss the opportunity to build the pipeline of young girls which is still a key issue in most countries.
Legal frameworks need to be strengthened and broadened to include financial inclusion, social inclusion, educational inclusion, and cultural inclusion.
In addition to harassment or discrimination must include acts of bullying and domestic abuse which are significant impediments for women to unlock their full potential.
Equity and fairness in pay can be achieved by improving the application of the equal pay principle, combating segregation in occupations and sectors, monitoring initiatives to combat vertical segregation, breaking stereotypes, and increasing transparency about the pay gap.
Increasing women-owned businesses requires special fiscal and non-fiscal policy measures. Large companies could look to expand their business relations with women-owned enterprises, including small businesses and women entrepreneurs.
Both governments and businesses must unlock the advancement and full leadership potential of women by driving reforms, fostering an inclusive environment and encouraging new ways of working including flexible working.
https://www.arabnews.com/node/1638331/business-economy
--------
Saudi Arabia-Returned Woman Tests Positive Of Coronavirus In UP
Mar 23, 2020
PILIBHIT: A 45-year-old woman who had returned from Saudi Arabia on March 20 has been tested positive for coronavirus in this district of Uttar Pradesh, officials said. The woman, a resident of Har Raipur village, had gone to the Arab nation in a group of 37 people for performing 'Umrah' (pilgrimage), a senior government official said.
She was admitted to the isolation ward of the district hospital after she showed signs of the virus. Her sample was sent to the King George's Medical University (KGMU) in Lucknow and the reports arrived on Sunday night. Chief Medical Officer Seema Agarwal confirmed that the woman has been tested positive. District Magistrate Vaibhav Agarwal said the woman is being treated at the district hospital and utmost vigil is being maintained after the detection of the first case in the district.
Other members of the group are being quarantined, he said. The state government has declared a lockdown in the district till March 25 and officials are making all-out efforts to ensure its strict implementation.
https://timesofindia.indiatimes.com/india/saudi-arabia-returned-woman-tests-positive-of-coronavirus-in-up/articleshow/74781340.cms
--------
Celebrating Women Change-Makers All Over the World, Cartier To Honora Women At Expo 2020 Dubai
March 24, 2020
Expo 2020 Dubai and Cartier have announced a collaboration to present the Women's Pavilion, celebrating women change-makers all over the world. The Women's Pavilion takes a new look at the contribution of women and their impact on society, shining a light on the countless achievements, past and present, that have driven forward economies and enhanced their communities.
UN Under-Secretary-General and Executive Director of UN Women Phumzile Mlambo-Ngcuka, and international human rights lawyer Amal Clooney — both defenders of and campaigners for women's rights, women's empowerment and gender equality — are lending their support to the pavilion.
The pavilion will play an exciting role in "The World's Greatest Show" of human brilliance and achievement, as it celebrates women, known and unknown, from every land, culture and religion, who are still making history and stimulating change.
In the spirit of Expo 2020 Dubai's theme of "Connecting Minds, Creating the Future," the Women's Pavilion will take visitors on an educational journey showcasing both male and female contributors to women's empowerment and gender equality and will highlight important milestones for women's rights, as well as the challenges that women are still facing today.
Mlambo-Ngcuka said: "I applaud the UAE for dedicating a space for the millions of visitors to Expo 2020 Dubai to learn about the crucial roles that women play from communities to the world stage, while recognizing the challenges they still face every day.
"These challenges cannot be solved by governments alone, but through meaningful and substantive collaborations with the private sector, civil societies and committed individuals. The Women's Pavilion, in collaboration with Cartier, is setting a needed standard for corporations to rethink their approach to gender advocacy — and is a powerful platform to cascade the gender equality message to the world."
UAE Minister of State for International Cooperation and Director General of Expo 2020 Dubai Bureau, Reem Al-Hashimy said: "Gender equality is an essential pillar of all sustainable development — the foundation on which the health and prosperity of communities, and indeed humanity at large, is built.
"The Women's Pavilion highlights the crucial roles that women have long played as linchpins of their communities and drivers of economies, and underscores Expo 2020 Dubai's firm commitment to empowering all women to drive their own development and create a better future for us all."
Cyrille Vigneron, president and CEO of Cartier International, said: "We are thrilled and honored to collaborate with Expo 2020 Dubai, which offers a unique occasion to share our vision for a better future and a more inclusive society, with men and women across the globe. Highlighting the impact women of all cultures have had across time, focusing on both known and lesser-known achievements, the Women's Pavilion weaves a strong inspiration for generations to come."
https://www.arabnews.com/node/1646291/corporate-news
--------
The Taliban Doesn't Care About Women's Rights and Neither Does the Afghan Government
By Sabera Azizi
March 23, 2020
Two days before the Persian New Year, in broad daylight, a young Afghan woman lay lifeless on the ground, her face covered in blood. She was lynched by a mob of men, not in the remote outskirts of the country, but in the capital.
In the heart of Kabul, not too far from the president's palace, on March 19, 2015, Farkhunda Malikzada was beaten to death. A witness at the time told The New York Times, that her attackers "were like kids playing with a sack of flour on the floor."
The crowd threw punches, stones, and sticks at her. Then, they ran a car over her body and set her on fire while more than a dozen policemen stood by.
Five years on, the Afghan government has failed to bring all of the perpetrators of that attack to justice. Afghanistan's justice system is flawed, but the government hasn't prioritized women's rights either.
Farkhunda's case underscores the government's unwillingness to defend women's rights. Not only did the government fail to deliver justice, it did little to ensure that such a wicked act against a woman would never repeat.
Najla Raheel, a lawyer who represented Farkhunda's family, revealed that "Some government officials didn't want 49 men punished for the death of one woman."
A United Nations report confirms this practice, highlighting "the frequent failure of State officials to exercise due-diligence in investigating, prosecuting and punishing perpetrators, and providing reparations to survivors, [which] contributed to the existing high rate of impunity and strengthened the normalization of violence against women in the Afghan society."
Protections for Afghan women are merely on paper and rarely enacted as the government lacks the political will. Heather Barr, the co-director of the Women's Rights Division at Human Rights Watch and an expert on Afghanistan, notes that "The Afghan government has been an unreliable supporter — and sometimes even an enemy — of women's rights. The administrations of both Afghan President Hamid Karzai and Ashraf Ghani have frequently brushed aside women's rights." This is so because the Afghan government has few incentives to support basic human rights.
Since the demise of the Taliban's regime, gains in women's rights have largely been due to the pressure from the international community. International experts had a significant influence in the creation of the Afghan constitution, reaffirming the rights of women and increasing their presence in the government through gender quotas.
In the last 19 years, the Afghan government has used women as window dressing for gender equality to appease international donors. This is why Afghan women mustn't rely on the government to prevent another tragedy like Farkhunda's.
As the discussion for peace is ongoing, Afghan women need to ensure that not only would the Taliban not violate their rights, but that the current government will not ignore them.
Sabera Azizi is a freelance writer and an expert on Afghanistan. She previously worked for the Afghan government and can be followed on Twitter @saberaazizi.
https://thediplomat.com/2020/03/the-taliban-doesnt-care-about-womens-rights-and-neither-does-the-afghan-government/
--------
Banat Masr: New All-Women Project To See Light In Egypt
Ati Metwaly
23 Mar 2020
Known for his strong presence in the music field, Egyptian musician, conductor and vocal coach Mohamed Osman is preparing a new project, Banat Masr (Girls of Egypt), an ensemble composed of women musicians.
In the past years, Osman has gained popularity with a number of musical projects he handled, with Ayamna Helwa (Our Beautiful Days) being among his shining stars. Founded in 2003, the ensemble consisting of young singers and a few instrumentalists has performed at many renowned venues, participated in local and international festivals and was featured on national television. Ayamna Helwa has also appeared alongside well-known Egyptian singers, such as Medhat Saleh, Ali El-Haggar, and Hala Roshdi.
Banat Masr is a new musical endeavour that Osman began working on a few weeks ago and which within days has received much higher feedback than he expected.
The idea of Banat Masr came to Osman after years of working on Ayamna Helwa, Monshedeen Masr, Sahibet Al-Saada television programme hosted by Isaad Younes on CBC, and many other projects, and with other musicians.
"I noticed that in Egypt we have many female talents who are not in the limelight. Banat Masr will be an opportunity for all women to shine, whether as vocalists or instrumentalists," Osman told Ahram Online.
He added that as Ayamna Helwa continues to grow, it can no longer focus on all new talents emerging in the scene. Moreover, Ayamna Helwa has established its own style, one that attracts many musicians and audiences but might not be the choice for many others.
The call for applications to a new ensemble that Osman launched a few weeks ago has already shaken the status quo.
"When I revealed the idea of Banat Masr, I was thinking I'd receive a few dozens of women interested to participate in the new ensemble. I was happily surprised to find that over 400 women sent videos of their works. Most applicants are vocalists though there are also numerous instrumentalists. I already chose 60 vocalists who will come to the final audition once it takes place." Osman specified the minimum age of applicants at 18. The majority of the women who applied are in their 20s and 30s with a few in their 40s, making it a multi-generation collection of musicians.
Osman aims to find either professional musicians interested in becoming part of Banat Masr or highly qualified semi-professionals, all required to have a high proficiency in reading music. He pointed out that it is possible that a few instrumentalists from the national orchestra will join the project.
Following the Ayamna Helwa's format, each member of the new ensemble will have their solo opportunity, however, Banat Masr will probably become larger in the musical scale.
"Preliminarily, I am thinking of a chamber ensemble consisting of a maximum of 15 musicians, in addition to vocalists, the number of whom can reach 25. All vocalists will be soloists; as such the choir will consist of soloists, with each member having an opportunity to present her talent during the performances. It's a teamwork."
Throughout his career, Osman worked primarily in Arabic repertoire and heritage-related compositions, several original works, and some arrangements. Due to its novel character, Banat Masr will have a place for the members to explore other musical genres.
"I depend on the teamwork and individual musical passions of the participants. For example, if one of them has a special interest in jazz, why not incorporate that into our future performances? While I expect that Oriental music will still be our base, the fact that the ensemble will include a few musicians representing classical music will definitely add new angles and open Banat Masr to different repertoires," Osman explained.
"An all-women ensemble consisting is definitely not something new. What triggered me is the fact that several female talents might find it difficult to get their place, and a few choirs and ensembles we have in Egypt have their own members. I wanted to open the door for more female talents as well as implement new ideas I have while introducing fresh ideas that the ensemble members will contribute to."
Once Banat Masr begins working, the ensemble will be promoted on social media and other Internet channels.
"I am not in a hurry. I will definitely begin by giving to the members extensive vocal workshops, topped with exercises of working in an ensemble. I want to make sure to reach perfection before showcasing our work.
http://english.ahram.org.eg/NewsContent/5/33/365829/Arts--Culture/Music/Banat-Masr-New-allwomen-project-to-see-light-in-Eg.aspx
--------
URL: https://www.newageislam.com/islam-women-feminism/shaheen-bagh-anti-caa-sit/d/121390
New Age Islam, Islam Online, Islamic Website, African Muslim News, Arab World News, South Asia News, Indian Muslim News, World Muslim News, Women in Islam, Islamic Feminism, Arab Women, Women In Arab, Islamophobia in America, Muslim Women in West, Islam Women and Feminism