New Age Islam News Bureau
10 Sept 2013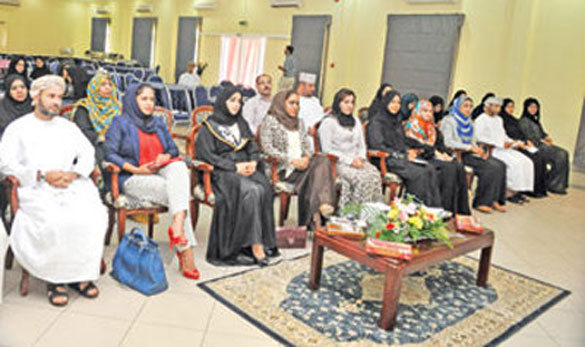 Photo: Muscat Seminar Focuses on Challenges Women Face in Tourism Sector
-----------
• Unsafe Abortion Putting Women's Health at Stake in Bangladesh
• Oxfam: Afghanistan needs more policewomen
• Pakistan SC Decision on Women Voting To Have Far-Reaching Effects
• 400 Girls Forced To Find a New School in Jeddah
• Non-Saudi Mothers of Citizens Get Their Rights
• Trendy Clothing Retailer Wrongly Fired Muslim Worker over Head Scarf, Judge Rules
• Muscat Seminar Focuses on Challenges Women Face in Tourism Sector
• Self-Proclaimed 'Sorcerer' From the Golan Heights Manipulated Woman into Sex
• 'One in Four Men across Asia Admit To Having Committed Rape'
• Emirati Women Participate In Swedish Leadership Event
• Pak Nurse Wins International Award for Excellence in Neonatal Nursing
• Deputy Mayor to Lead Mostly Female Ticket for Jerusalem Municipality Elections
Compiled by New Age Islam News Bureau
URL: https://www.newageislam.com/islam,-women-and-feminism/new-age-islam-news-bureau/sexual-abuse-of-asian-girls-in-uk-missed-because-of-focus-on-white-victims/d/13440
-----------
Sexual Abuse of Asian Girls in UK Missed Because Of Focus on White Victims
Alexandra Topping
10 September 2013
Muslim group says many girls in UK do not report attacks because they are frightened to bring shame on their families
Asian girls are the hidden victims of child grooming gangs, dipping under the radar of police or social services, according to a report released on Tuesday. Vulnerable girls and some boys are being sexually exploited by gangs of men but are being missed by the authorities because agencies are too focused on a model of grooming involving white victims, according to research from the Muslim Women's Network UK.
The report, Unheard Voices: the sexual exploitation of Asian girls and young women, suggests that Asian girls, including Muslims, are under-reporting abuse to police and authorities because they fear not being believed, or because they are threatened with bringing shame and dishonour on their families.
"I knew we would uncover cases, but I was shocked at the numbers coming forward and the horrific nature of the crimes," said Shaista Gohir, chair of the network, based in Birmingham. "What we discovered is that these sexual predators will target any girls who are vulnerable and accessible, regardless of their background, ethnicity or faith."
Over a five-month period researchers gathered evidence mainly from professionals working in in charitable organisations but also spoke to social services, police, youth work, health care, education, justice and voluntary organisations. They uncovered 35 cases where young Asians said they had been victims of abuse. The majority said they had been abused by men of the same background. For example, Afghan girls were more likely to be abused by Afghan men. "It's a worrying figure," said Gohir. "This was a small-scale, unfunded study. If we managed to collect so many case studies in a short space of time, what is the reality? It is likely to be far worse."
The majority of the girls were unwilling to speak to the authorities, and none would bring charges against their abusers, said Gohir. "Blackmail was a key factor in these girls complying and not speaking out, and the shame and honour card was used time and time again," she said.
Girls were also worried about the consequences of speaking out or being forced into a marriage. In one case, a girl named in the report as Parveen said she was groomed by her stepfather's brother and his friend from the age of 12. When she developed sexual health problems at 14, her parents forced her to undergo hymen repair surgery and forced her into a marriage. She ran away and now lives separately from them.
The majority of child-sex offenders in Britain are white men, but recent cases in Rotherham, Derby and Oxford featured groups of Asian men grooming vulnerable white girls. According to the Child Exploitation and Online Protection Centre, in 2012 97% of identified victims were white, but the centre recognised victims were likely to be reluctant to report abuse. A spokesman said: "Stereotyping victims or offenders is inaccurate and creates unnecessary risks – this report illustrates this point clearly."
Recent reports have suggested that Sikh girls have also been targeted by mainly Muslim gangs, but Saidah Sultana, a Muslim convert who works with vulnerable girls in Birmingham, said common misconceptions about Asian girls put them more at risk. "Muslim girls aren't untouchable: people have a perception that all young Muslim girls are locked up at home," she said. "Young Muslim girls are like anyone else: if they want to go out, they can find a way out."
Sue Berelowitz, the deputy children's commissioner, said the report echoed the commissions fears that victims who did not fit the most recognised model were being missed. "One of these myths was that only white girls are victims of sexual exploitation by Asian or Muslim males as these men only abuse outside of their own community, driven by hatred and contempt for white females. This belief flies in the face of evidence that shows those who violate children are most likely to target those who are closest to them and most easily accessible," she said. She added that the children's commissioner inquiry into gangs "uncovered many ethnic minority victims and we became extremely concerned by the failure of agencies to seek out and identify these children".
The cases detailed in the 126-page report included females aged from nine to 30. They came from London, the West Midlands, Yorkshire and Lancashire. They followed patterns seen in other high-profile cases, where vulnerable girls are groomed by younger boys or older "boyfriends" who then introduced them to other men. One third of victims had suffered child sexual abuse, often familial abuse.
A close family member of one 12-year-old girl featured in the report told the Guardian that the child was groomed by boys her own age in school, before being introduced to men in flashy cars. At the age of 14, she was found in a the locked attic room of one of her abusers. Older family members in the house said her abuser was "looking after her" because she had problems at home. "She was filthy, with burns and scars all over her body – it was horrific," said the woman, who did not want to be named. She reported the abuse to police but was told they could not help because the girl would not report her abusers. She was seen not as a victim but as a "temptress" by some family members and others in the community. "She was seen as a dirty girl who had been sleeping with men - but she was just 14, she was a victim," she said.
Baroness Sayeeda Warsi, the minister for faith and communities, said authorities had to be aware that child abuse came in many forms. "Certain types of abuse – under-reported, misunderstood – may be overlooked by the authorities," she said. "The case studies collected together in this report are finally shining much needed spotlight on a problem that has largely, and tragically, gone unnoticed in the past."
Nazir Afzal, head of the Crown Prosecution Service for the north-west, said group-grooming cases suggested most victims of child groomers were white, but added that "women and victims from minorities are even more reluctant to report these crimes, in part because of honour and shame issues".
The network's report was important because it highlighted that "it is the availability of victims, coupled with their vulnerability that leads to them being targeted by these predators. Vulnerability is universal and not confined to particular races," he said.
The report also suggests that some abusers pressure their victims to tell the authorities they are at risk of forced marriage, to remove them from the family home. Salma, a young woman of Pakistani heritage in her 20s from a Northern town, told the Guardian that her sister has been targeted from the age of 20. When her family went to the police, they were dismissed When her sister wanted to leave the family home, she was helped by police. "They said we were going to put her into a forced marriage, but we were modern girls," she said.
Her sister started a relationship with a Pakistani young man at university, before her behaviour became erratic and she began to be picked up regularly by his other family members. "She would come back with bruises on her collar bone and say she couldn't remember where she had been or she didn't want to talk about it – in the toilet there would be blood discharge. When I heard about the Rochdale cases, it fell into place," she said.
The family, which was without a father figure, was unable to prevent her leaving. "She was at their beck and call. If you tried to stop her, she would fight with you."
Salma has not seen her sister for nearly two years. "I don't know what has happened to her, I don't even know if she is alive. I have lost my sister," she said. "People have to know that anyone can do this, and anyone can be a victim. [The abusers] find a weakness and they exploit it," she said. The network's researchers found that the promise of marriages, or false "Islamic marriages", was sometimes used as a controlling tool.
"In other cases, girls might be wanting to escape strict or controlling families, and when an older boy has said he wants to marry a girl, it is seen as a form of escape," said Gohir. During interviews for the report – the researchers did not speak to victims directly, but accessed their stories through third parties, and interviewed 73 people close to the victims – Gohir spoke directly to a number of young men who said secret nikahs [wedding ceremonies] were used to trap girls to ensure the "link" was not broken. So-called wives were then shared between a group, said one man.
Gohir said as a member of the Muslim community, it had not been an easy decision to release the report. "We took a decision that the safety and wellbeing of these victims and potential future victims was far more important than the so-called honour of the community," she said. "There are a minority of deviant people who are commit such abhorrent crimes in every community. This research in no way suggests that all Muslim men are rapists or paedophiles. Indeed, the overwhelming majority condemn such behaviour, and Muslim men have helped and supported this research."
Some names have been changed.
Imrana's story: 'I have no idea how many times was raped'
Imrana has been quiet for a long time. Now in her 50s and a mother of three, she says she has tried to put the childhood abuse she suffered behind her and carry on with life. But now, decades after being abused for years , including being raped by a gang, she has decided to speak anonymously to the Guardian so that other victims might come forward.
Her abuse started when she was five. Her mother's cousin, who was living in the family house, would bribe her with sweets before raping her. "How many times it happened I have no idea, but it was frequent. The memories are all there," she says.
"I have memories of going to nursery school with no underpants on after he attacked me."The man's brother also started to abuse her, Imrana says. Around the age of seven, she remembers being taken to a wood were she was repeatedly raped by a group of around six to eight men, younger than her previous abusers.
"I just took their hand and went with them," she says. "The sexual abuse was part of my life. I have the memories still. If I go into the woods or the park, they come back. Sometimes it's uncomfortable, if I'm with my children – I sometimes don't understand why I'm feeling a particular way and then I will remember."
The abuse finally stopped when Imrana's mother caught her cousin abusing her daughter. "One day he'd finished having sex with me in a store room. Mum was calling for me. He put me in a sack and was doing his belt up and mum opened the door. She basically caught him in the act," she says. She remembers him walking to the bus stop to leave. "My relationship with my mother, for the next 23 years, was very strained. The belief in the family was that I had as a child had done something to lead him on."Imrana told anyno one about the abuse she suffered, but after recent cases came to light she decided it was time to speak out, although she wants to conceal her identity to protect herself and her family.
"These two men abused me and then introduced me to another group. That's child abuse, but there is also a link to gangs," she says. "I felt it was important [to speak out] because I've come across other cases of women sexually abused in the family and then abused by total strangers. For me, this happened more than 45 years ago and I know that it is still happening in our communities, but no one is talking about it and services are not picking it up. I just felt it was important to highlight it."
Imrana also wanted to highlight that abuse does not happen to only one type of girl or only in cities.
Imrana's name has been changed.
http://www.theguardian.com/society/2013/sep/10/abuse-asian-girls-missed-white-victims
-----------
Unsafe Abortion Putting Women's Health at Stake in Bangladesh
Udisa Islam
September 10, 2013
Selina lives in Shewrapara, Mirpur with her husband and two-year-old son. After the birth of her first child, her menstruation became irregular. The next time she conceived, she was unaware of her pregnancy. When Selina went for a pregnancy test to a nearby Surjer Hasi clinic, it was already too late. The pathologist said she was positive and suggested she go for an abortion. He gave her a visiting card of a woman who performed late-term abortions. But Selina was not ready for it.
Just like Selina, Rita (not her real name) also received the visiting card from the pathologist at the same clinic. The unmarried 32-year-old only realised her pregnancy after four months due to irregular menstruation, even though she had experienced this since adolescence.
She took the visiting card from the pathologist and went to the prescribed woman. The person she found was by no means a professional physician; locals said the nurse had worked at a clinic and then started the abortion business around seven years ago.
Rita went through a two hour-long abortion process, but her problems did not end with it. Her menstruation did not stop for next three months and when she consulted a doctor, Rita was told that due to the unsafe abortion, she would not be able to conceive again in her life.
Another spine-shivering example of the condition of the maternal health sector has been found in the country. An unwanted pregnancy took Meena, around 17 years old, to a traditional birth attendant recently. As a treatment, the attendant inserted a herbal tree into her uterus which resulted into severe pain and heavy bleeding. Later Meena was cured by consulting a doctor who treated all her complications which resulted from that unsafe abortion.
Unsafe menstruation regulation (MR) and abortion are accelerating the maternal mortality rate in the country. Statistics show an estimated 572,000 women suffer from complications arising from unsafe abortion every year. Health experts say couples should be aware of family planning methods to avoid unwanted pregnancy. Such awareness can help decrease the rates of MR and abortion in the society.
The actual number of abortion-related deaths remains under a cloud as the statistics exclude the number of the fatalities resulting from a lack of proper medical and technological facilities, experts say.
In Dhaka, there are at least 2,000 unregistered places where late abortions are performed and in many cases, these procedures are undertaken by traditional birth attendants or nurses. Abortion is legal in Bangladesh only when it is essential to save the mother's life. Yet, a procedure the government terms "menstrual regulation," which involves vacuum aspiration to bring on menstruation and thereby establish non-pregnancy is legal in the first trimester (three months).
Despite the legal provision, unsafe abortion continues to take place, especially in cases where girls become pregnant before marriage. Many girls turning pregnant before 18 lack knowledge of reproductive health and how to access medical services, so they try to escape the situation by opting for unsafe procedures, despite the risks to their chances of conceiving in future.
Investigations have found that pathologists who provide expectant mothers with contact details of the unprofessional abortionists often belong to reputed clinics like Surjer hashi, Mother Care etc, and that these clinicians receive commissions from the abortionists in addition to the clients.
In Shyamoli, there are over 20 places where the illegal procedures are carried out. Usually, the owners of the business rent a house portraying themselves as a family. It has been found that they have connections with many government and private clinics that provide them with clients. Usually they charge Tk500 to Tk10,000 per abortion; the rate varies depending on the financial ability and social status of the client. The clinic officials who refer the cases receive at least 20% commission from each.
Wishing not to be named, a senior officer of Marie Stopes Society, said: "Every day many girls come to us for late abortions but we do not do it. We facilitate safe MR within 10 weeks from conception. So people go to unsafe places as our law does not permit abortion after 10 weeks of conception. There is an exception only if the mother is suffering from some kind of physical complications. So the whole system is responsible for the establishment of these illegal abortion centres as well."
Syed Mohammad Sarif, director of Child and Mother Care under the Department of Family Planning, said: "We have assigned responsible people at every post who are accountable for their acts, but they never monitor the overall situation."
"We know that our nurses help to do abortions, many staffs including pathologists provide the addresses where one can go for abortion. But we do nothing. If we can penalise them through transparent trials the situation may improve," he added.
Director General of Health Service Dr Khandhakar Md Shefayatullah said: "We are continuing our campaign to make couples aware of reproductive health and procedure and providing them with safe MR services if they want to avail that. But when it is matter of abortion, we do not operate that."
"Abortion is a very sensitive procedure whether you do it within the time or after that," he added.
http://www.dhakatribune.com/safety/2013/sep/09/unsafe-abortion-putting-women%E2%80%99s-health-stake
-----------
Oxfam: Afghanistan needs more policewomen
10 September 2013
AFP, Kabul
Women make up only one percent of Afghanistan's police force and as a result women are reluctant to seek justice for rising levels of violence, international aid agency Oxfam said Tuesday.
There is an average of one female police officer for every 10,000 women in Afghanistan, where reports of violence against women rose by 25 percent in 2011-2012, Oxfam said in a report.
Women who join the police face huge challenges, both inside and outside the force, such as violence, sexual harassment and lack of equal treatment to their male colleagues, it said.
"Policewomen often lack basic items, such as uniforms, which male colleagues receive. Many find themselves performing menial tasks (such as making tea)," the report said.
Many receive little or no training and are rarely able to engage in core police functions such as investigating crimes or carrying out arrests, it added.
"We are not treated the same as the men. Even when we are at the same rank as the men, it is us that the commander asks to make tea or do typing," a female officer was quoted as saying.
Interior ministry spokesman Sediq Sediqqi admitted that there were problems involving women in the force, but said that the government was determined to fight them and recruit more female officers.
"Many women are not interested because it is a difficult task. We are involved in fighting terrorism from day to day," Sediqqi told AFP.
"There are some social barriers there too. The public is still not ready to accept that women should join the police," he said.
He said around 2,200 women serve in Afghanistan's national police force, but that the government plans to double the number by 2014, before landmark presidential elections in April.
Afghan forces are formally responsible for security across the country, marking a major milestone as US-led combat troops prepare to withdraw after 12 years of fighting the Taliban.
Afghanistan's 350,000-strong security forces, which include around 157,000 police, are suffering a steep rise in attacks as the NATO mission winds down, with police and army casualties said to have increased by 15-20 percent since 2011.
http://english.alarabiya.net/en/perspective/features/2013/09/10/Oxfam-Afghanistan-needs-more-policewomen-.html
---------
Pakistan SC Decision on Women Voting To Have Far-Reaching Effects
WASEEM AHMAD SHAH
September 10, 2013
The Supreme Court of Pakistan is set to decide a crucial issue related to disenfranchising women during Aug 22 by-elections in two National Assembly constituencies in Nowshera and Lakki Marwat districts. In a significant judgment on Aug 26, the Peshawar High Court had asked the Election Commission of Pakistan (ECP) to conduct re-polling in several women's polling stations in NA-5 Nowshera and NA-27 Lakki Marwat.
The judgment has now been under challenge before the apex court as the candidates of Pakistan Tehreek-i-Insaf, leading in those constituencies, have been requesting the Supreme Court to set aside the judgment and direct the ECP to notify the results.
A two-member bench of the Supreme Court comprising Justice Khilji Arif Hussain and Justice Ijaz Ahmad Chaudhry on Sept 3 took up for preliminary hearing the appeal filed against the judgment and issued notices to different respondents, including the personal staff officer (PSO) to the PHC Chief Justice Dost Mohammad Khan on whose report the chief justice had taken suo motu notice of the issue and then the impugned judgment was delivered. The court has now fixed Sept 10 for next hearing.
Advocate Athar Minallah represented PTI candidate for NA-5 Imran Khattak and contended that in general elections only a single female voter had cast vote in NA-32 constituency of Upper Dir, but the high court had not taken notice of that.
Heading a two-member bench on Aug 26, the high court chief justice had observed that it was regrettable that in a country where a woman twice became prime minister, female voters had been deprived of their right of adult franchise. The bench ruled that barring women from casting vote was a detestable act which could not be approved by court.
It is not acceptable that a vast majority of voters are deprived of their fundamental right of electing persons of their choice,
the bench had ruled.
The returning officers of the two constituencies had informed the court that in around 54 polling stations in the two constituencies women had not turned up to cast votes.
Barring women from casting votes through different tactics is a recurring phenomenon.
Sometime written agreements took place between the contesting candidates and elders of an areas, whereas on other occasions disenfranchisement of women took place through verbal agreements. In several areas even without agreements, it is an understood reality that women would not turn up to cast votes.
During the general elections it was reported from eight districts of Khyber Pakhtunkhwa that female voting did not take place in certain areas. Because of the same background the PHC judgment received appreciation, especially from civil society organisations.
"There is a long struggle behind this judgment of the high court and we have been demanding since long that re-polling shall be held in constituencies where females are barred from casting vote," said Shabina Ayaz, the resident director of Aurat Foundation. She said that during general elections written agreements were signed in some of the areas by the candidates and leaders of different political parties, which was illegal.
In the past when seats were reserved for women in the local councils, including in the new devolution system during Pervez Musharraf regime in 2001, several religious groups had opposed it and even religious edicts were issued terming the move un-Islamic. The first local government elections were held in different phases in 2000 and 2001 and at that time the groups averse to women's participation had not only tried to stop them from contesting polls, but also from voting.
Following those polls in 2001, four identical writ petitions were filed by Aurat Foundation on behalf of some females who claimed they were barred from voting. A bench of the high court comprising Justice Shahjehan Khan Yousafzai and Justice Ejaz Afzal had on March 17, 2004, dismissed those petitions on technical grounds, but clearly pronounced such acts as unconstitutional.
"We strongly deprecate all such means, devices, threats and even agreements aimed at restraining the female registered voters from participating in the electoral process," the bench had ruled.
"There was no cavil with the preposition that every citizen of the country has a right to form or be a member of political party as enshrined in Article 17(2) of the Constitution, which included the right to contest and participate in election," The bench had stated.
It took the high court almost nine years to decide the issue in clear terms through the recent judgment. One important thing discussed in the judgment was the recommendations of the high court, asking the ECP to prepare suggestions for the federal government for drastic changes in the Representation of Peoples Act 1976 so as to ensure maximum participation of female voters in the polls and to provide punishment for all those elements involved in barring females from exercising their fundamental right of casting vote and choosing their representative.
Legal experts believe that the Supreme Court judgment in this case would be of far-reaching consequences. In case, the judgment of the high court was set aside and the ECP directed to issue the official notification concerning the returned candidate, it would encourage the elements involved in such acts and would be a setback to the struggle carried out by civil society organisations in this regard.
http://www.dawn.com/news/1041585/sc-decision-on-women-voting-to-have-far-reaching-effects
-----------
400 Girls Forced To Find a New School in Jeddah
September 10, 2013
JEDDAH — About 400 girl students of a private school have been asked to search for another school because the landlord of the building wants his property back.
Parents were surprised when they received SMS text messages asking them to come in person and pick up their daughters' files and tuition fees and relocate their daughters to other schools.
When parents talked to the principal and teachers of the Little Garden Private School they were shocked to discover that the teachers were facing the same fate and have been asked to search for another school.
The principal is working against time to locate other schools willing to accommodate the huge number of students. The principals of several schools she approached refused to accommodate the displaced students.
She advised the parents to find schools for their children but parents said it was difficult for them at this point of time to find a school in Jeddah because the academic year had already started. Most parents are worried that they will not be able to find schools for their daughters soon and that their daughters might miss the whole school year. The annual tuition fees at the school ranges between SR7,000-SR10,000.
Abdul Majeed Al-Ghamdi, spokesman of the Jeddah Education Administration said the landlord had asked the school owner to vacate the property a year ago but the latter failed to do so. She should have searched for another school or at least informed parents earlier so that they would have time to find alternative schools, Al-Ghamdi said.
The school administration has agreed to help the students who want to be transferred to public schools, he said. Those who want to go to private schools should search for a school and inform the administration in case of any problem with admission.
"We've formed a committee to look into this problem," he said.
Faridah Farsi, chairwoman of the private school committee at the Jeddah Chamber of Commerce and Industry, said the committee is not the competent authority to deal with the problem. "We're only responsible for the level of curricula taught by a private school and how to develop such curricula."
http://www.saudigazette.com.sa/index.cfm?method=home.regcon&contentid=20130910179878
-----------
Non-Saudi mothers of citizens get their rights
September 10, 2013
JEDDAH – Non-Saudi mothers of Saudi citizens are now entitled to enjoy most of the basic rights and privileges of Saudi women, according to a landmark decision taken by the Council of Ministers here on Monday.
The weekly session of the Cabinet, chaired by Crown Prince Salman Bin Abdul Aziz, Deputy Premier and Minister of Defense, approved a number of regulations in this regard.
Minister of Culture and Information Dr. Abdulaziz Khoja said in a statement to the Saudi Press Agency (SPA) that the Cabinet approved granting non-Saudi mothers permanent residence status in the Kingdom without a sponsor. The State will bear their housing cost and allow them to work for others in the private sector. Employing such women will be counted in the percentage of Saudization.
Dr. Khoja said that non-Saudi mothers will be treated as Saudi nationals in terms of receiving general and university education as well as medical treatment in government hospitals. The Cabinet approved deleting paragraph three of its earlier decision which said that Saudi children of non-Saudi widows will be their sponsors according to Iqama regulations. Approval was also given for deleting paragraph five of the same decision which said that the sponsors have to meet non-Saudi widows' living expenses if they were not able to work due to a legal obstacle.
Dr. Khoja said the Cabinet also a passed a law to combat cybercrime. It endorsed the resolution, passed by the 33rd GCC summit held in Bahrain, with regard to the unified law to combat cybercrime in GCC countries. This will be considered as a guiding law for four years and forthwith it will be renewed automatically unless any member state objects to it.
The law will be called "Riyadh Document for the unified law to combat information technology crimes of the GCC countries."
The legislation targets those who create websites and publish information on the Internet or a computer network for the benefit of a terrorist group to enable contacts among its leaders or its members, to promote its views or funding. It also prohibits the dissemination of ideas that could affect public order or morality.
Most members of the six-nation GCC – Bahrain, Kuwait, Oman, Qatar, Saudi Arabia and the United Arab Emirates – have tightened their laws against cybercrime in recent years.
The Cabinet approved the standardization and gauging system, which aims at facilitating trade exchange with other countries by keeping pace with the global standardization and gauging systems.
At the outset of the session, Dr. Khoja said, the Cabinet reviewed international efforts and measures aimed at deterring the Syrian regime from committing any more inhuman practices against its own people. It renewed the Kingdom's firm position toward the Syrian crisis and its appeals to the international community to fulfill its humanitarian responsibilities to save the Syrian people and end their sufferings.
The Cabinet identified that among the most important reasons for instability in the Middle East are the continued Israeli occupation of the Palestinian territories, the rejection by the Israeli authorities of all international initiatives and resolutions, and their insistence to aggravate the situation through a host of atrocious practices against the Palestinian people.
The Cabinet condemned Israeli acts of aggression on worshipers at the Aqsa Mosque after Friday prayers, the ongoing storming of the Mosque, and the non-stop building of settlements to wipe out all hopes of establishing a Palestinian state in which the Palestinian people enjoy a decent living.
http://www.saudigazette.com.sa/index.cfm?method=home.regcon&contentid=20130910179940
-----------
Trendy Clothing Retailer Wrongly Fired Muslim Worker over Head Scarf, Judge Rules
By: Paul Elias The Associated Press
September 10, 2013
SAN FRANCISCO — A U.S. federal judge in San Francisco has ruled that trendy clothing retailer Abercrombie & Fitch wrongly fired a Muslim worker who insisted on wearing a head scarf.
U.S. District Judge Yvonne Gonzalez Rogers said the company violated anti-discrimination laws when it fired Hani Khan from its Hollister store in San Mateo, California, in 2010.
The company claimed the head scarf violated its policy governing the look of its employees, which it said was part of its marketing strategy. The store argued that deviating from its look policy would affect sales.
But the judge said Abercrombie & Fitch offered no "credible evidence" that Khan's head scarf cost the company any sales.
"Abercrombie only offers unsubstantiated opinion testimony of its own employees to support its claim of undue hardship," Rogers said.
The U.S. Equal Employment Opportunity Commission filed a lawsuit on Khan's behalf in 2011.
"Abercrombie & Fitch does not discriminate based on religion and we grant religious accommodations when reasonable," spokesman Bruce MacKenzie said. "It is our policy not to comment on pending litigation."
A trial on the company's liability is scheduled for later this month. The judge said the jury is free to award punitive damages if it chooses.
It's the latest employment discrimination charge against the company's so-called "look policy," which critics say means images of mostly white, young, athletic-looking people. The New Albany, Ohio-based company has said it does not tolerate discrimination.
Abercrombie has been the target of numerous discrimination lawsuits, including a federal class action brought by black, Hispanic and Asian employees and job applicants that was settled for $40 million (U.S.) in 2004. The company admitted no wrongdoing, though it was forced to implement new programs and policies to increase diversity.
http://www.thestar.com/business/2013/09/09/abercrombie_fitch_wrongly_fired_muslim_worker_over_head_scarf_judge_rules.html#
-----------
Muscat Seminar Focuses on Challenges Women Face in Tourism Sector
Muscat Daily staff writer
September 10, 2013
MUSCAT - A symposium in tourism was organised at the Oman Tourism College (OTC) on Monday, under the theme 'The Growing Role of Women in Tourism', in cooperation with the Oman Women's Association at Seeb.
Organised under the patronage of H H Sayyida Basma Fakhri al Said, speakers from the public and private sectors discussed the challenges faced by women in tourism.
Shaima bint Ali al Raisi, a municipal council member, delivered the opening speech.
The chief guest, Talal al Zadjali, assistant business development manager and head of market studies at Oman Development Bank, discussed the issue of providing financial assistance and support to women-owned small businesses.
Following this, a paper titled 'Tourism Investments and Benefits for Media' was presented by Mariyam al Alawi.
Dr Mohammed Gamal spoke on 'OTC, In the Past and Future: Its Role and Programmes to Enrich Tourism-related education in the Sultanate'.
The working paper highlighted the importance of tourism education for sustainable tourism development in Oman, and in promoting the country as a unique tourist destination.
This will also provide more job opportunities for young Omanis and graduates.
Dr Gamal highlighted some of the challenges and difficulties that exist to improve the quality of tourism educational programmes, especially in terms of public awareness, training perspectives, market demands, labour requirements and global competitiveness.
He further added, "The paper also highlights the facts, figures, the vision, aims, future strategies, current situation, services and facilities available at OTC which is one of the leading higher educational institutions in Oman that specialises in tourism and hospitality industry."
http://www.muscatdaily.com/Archive/Oman/Seminar-focuses-on-challenges-women-in-tourism-sector-face-2jnx
-----------
Self-Proclaimed 'Sorcerer' From the Golan Heights Manipulated Woman into Sex
September 10, 2013
The 39-year-old woman found the "sorcerer" on the internet; asked for his help to overcome emotional stress of breakup.
A self-proclaimed "sorcerer" from the Golan Heights manipulated a woman into having sex with him as part of a series of "magical treatments" he was providing her to help her recover from a break-up with her boyfriend, Tel Aviv police said.
Things became more complicated for the alleged victim, when during questioning by police she admitted that she had asked the man to physically attack her ex-boyfriend's girlfriend, after which police detained her for three days before releasing her to house arrest on suspicion of conspiring to cause someone bodily harm.
The story began six months ago, police said, when the woman found the 39-year-old Golan Heights resident on the Internet and asked him to help her with holistic treatment to recover from emotional despair caused by the break-up. Over the coming months the man held a number of meetings with the woman, during which he promised that through the power of sorcery he could make her boyfriend come back to her – all while charging her thousands of shekels in fees.
During a recent treatment, the man allegedly convinced the woman to have sex with him, saying that it was a ritual needed in order to make the magic work.
The man, who was arrested Sunday night by Ramat Gan police, could face charges of sexually assaulting the woman against her will. Police said Monday that they are trying to find other female victims of the man, and checking reports of other con men using similar methods to garner sex and cash from women in despair.
http://www.jpost.com/National-News/Police-Self-proclaimed-sorcerer-manipulated-woman-into-sex-and-bilked-her-out-of-thousands-325615
-----------
'One in Four Men across Asia Admit To Having Committed Rape'
RUKMINI S
September 10, 2013
Nearly one out of four men in a United Nations study of 10,000 men in Asia admitted to having committed a rape, a report released on Tuesday shows. Marital rape was by far the most common type of rape, followed by the rape of an intimate partner.
Sexual entitlement — the "belief that men were entitled to sex regardless of consent" — was the top reason men gave for committing a rape and half of the men who admitted to rape said they had committed their first rape as teenagers. The authors of the report urged better understanding of men's lives following the finding that childhood abuse and neglect of a man were strongly correlated with his likelihood of committing rape as an adult.
The study, 'Why Do Some Men Use Violence against Women and How Can We Prevent It? Quantitative Findings from the UN Multi-country Study on Men and Violence in Asia and the Pacific' was conducted by Partners for Prevention, a regional joint programme of the UN Development Programme (UNDP), the UN Population Fund (UNFPA), UN Women and United Nations Volunteers (UNV) programme in Asia and the Pacific. It covered 10,000 men in nine countries - Bangladesh, Cambodia, China, Indonesia, Sri Lanka and Papua New Guinea.
This is the first ever multi-country survey to assess the prevalence of rape, violence against partners, and men's reasons for committing these acts. One of the reasons the survey was able to get the kind of responses it did is likely the way the questions were framed; men were not asked directly whether they had committed rape, but were rather asked questions such as, "Have you ever forced a woman to have sex?", or "Have you ever had sex with a woman who was too drugged or drunk to indicate whether she wanted it?".
There was considerable variation between countries, from a rape prevalence rape of 10% in urban Bangladesh to 62% in Papua New Guinea. In south Asia (Sri Lanka and Bangladesh), nearly all the reported partner violence occurred within marriage, and physical violence was more common than sexual violence. (Marital rape is not considered to be a crime in several countries including India.)
Partner rape was far more prevalent than non-partner rape across regions, a finding that is also reflected in India's official statistics that show that the majority of sexual assault in India is committed by persons known to the victim. Moreover, the UN study did not disaggregate the category of 'non-partner', the authors told The Hindu in an email, which could potentially include a friend, neighbour or acquaintance.
But all violence against women, whether it occurs in the public sphere or in the family, is still a government and police issue, Emma Fulu, Research Specialist of Partners for Prevention, and lead author of the report, told The Hindu in an email. "Changes are needed to address rape, including marital rape, from the individual to policy levels. For example the police and governments have a major role to play to ensure that adequate legislation is in place as well as comprehensive legal mechanisms to guarantee women's effective access to justice. And this study shows that to prevent violence from occurring in the first place it is equally vital to address social norms that make violence against women acceptable, including men's belief that they have the right to sex within marriage, and promote non-violent and caring ways to be a man," Ms. Fulu said.
Just under half of them men who admitted to rape said that they had raped more than one woman. Between 2 and 8 per cent of men also admitted to raping another man. Most men who had raped another man had also raped a female non-partner. There was significant overlap between men who had raped another man and committed a gang rape against a woman. The study found that vast majority of men who committed rape — 72 to 97 per cent across countries — faced no legal repercussions. The report recommended ending impunity for men who rape and changing social social norms related to 'the acceptability of violence and the subordination of women'.
Despite the high prevalence of rapes by men when they were teenagers, a research finding with resonance in India, Ms. Fulu did not advocate changing India's juvenile laws. "It does not make sense to remove the human rights of one group to address the human rights of another," she said to The Hindu. "Juveniles should not be tried as adults but this does not necessary preclude them from facing some form of detention. However, they also require age-appropriate rehabilitation. Our priority must also be to work with boys and adolescents to change social norms and behavior to prevent perpetration of rape by teenagers – this includes programmes that enhance the knowledge and skills of young people and help them to understand gender equality, healthy sexual practices, consent and foster respectful relationships," she said.
http://www.thehindu.com/news/one-in-four-men-across-asia-admit-to-having-committed-rape/article5111420.ece?homepage=true
-----------
Emirati women participate in Swedish leadership event
September 10, 2013
DUBAI: A delegation of 14 female senior level managers from the UAE, participating in the second edition of the Women Leadership Exchange Programme, recently returned to Dubai following a successful visit to Sweden.
Organised by Dubai Women Establishment (DWE), in collaboration with Women 4 Sustainable Growth and MiL Institute, the Women Leadership Exchange Programme is a unique management leadership programme created to expedite knowledge sharing on methods for sustainable and participatory leadership.
The first part of the programme comprised of an overseas excursion to Klippan and Malmo in Sweden, from Aug.25- Sept.1, in an effort to divulge the participants different styles of leadership, cross-cultural communication and sustainability.
On the occasion, Shamsa Saleh, CEO of Dubai Women Establishment, said, "Following the noble example set by Sheikha Manal Bint Mohammed Bin Rashid Al Maktoum, president of Dubai Women Establishment, wife of Sheikh Mansour Bin Zayed Al Nahyan, deputy prime minister and minister for presidential affairs, UAE; Dubai Women Establishment has consistently created opportunities and developmental projects to strengthen the role of UAE women in business and professional fields.
Staying competitive in an increasingly global marketplace requires cultivating fresh perspectives from talented employees — regardless of gender — to have opportunities to advance and contribute. DWE's many training programmes and initiatives are specifically designed to serve this need through the nurturing and development of women leaders, as well as establishing an international representation of Arab women in positions of leadership."
Hessa Tahlak, director of research and development in Dubai Women Establishment added, "The Women Leadership Exchange Programme reflects Dubai Women Establishment's ongoing objective to provide important professional and personal development programmes for the Emirati working woman, in an effort to boost the number of leadership opportunities available to them.
The second edition of WLEP saw 14 young Emirati women work together with their Swedish counterparts to examine a number of pertinent issues connected to sustainable leadership such as critical and innovative thinking, international relations; as well as learn about subjects such as worldwide urbanisation and international business relations.
WLEP 2013 comprised of 14 female senior level managers with 5-10 years of management experience, selected from different public and private organisation.
The list included Amna Kayed, director of leasing in Saif Al Ghurair Group; Muna Bin Kalli, director of Sheikha Manal Cultural Office; Nisrin Mohammad Safar Al Harmoodi, director of marketing and communication in the Department of Economic Development; Huda Taher Al Tamimi, learners services management manager in Hamdan Bin Mohamed E-University; Fatma Abdulkarim, executive director of finance on TECOM Investments; Fatima Mohamed Al Awadi, head of section business development and projects in Dubai Health Authority; Nawal Al Ghazali, senior accountant from Du; Amina Mansoor Ahli, public prosecutor from Dubai Public Prosecution; Thuraya Al Zarooni, public prosecutor from Dubai Public Prosecution; Mariam Al Afridi, director of marketing and corporate communications of Dubai Media Inc; Dalal Saeed Al Shehhi, deputy director of strategic planning and performance management department in Ministry of Labor; Shaikha Al Haddad, advisor to the CEO in Emirates National Oil Company Limited (ENOC) LLC; Hanan Mansoor Ahli, project manager — Strategy in Emirates Competitiveness Council — Ministry of State; Hanan Al Marzouqi, project manager — Communications in Emirates Competitiveness Council — Ministry of State.
Over the course of the 6-day trip, the participants travelled to the Swedish cities of Malmo and Klippan where they had the opportunity to meet and interact with their Swedish counterparts, as well as attend special workshops that explored each participant's reasons to join this programme and their expectations from it.
WLEP will comprise of two sessions — the first of which was the excursion to Sweden in August, 2013, followed by a second session in Dubai in January, 2014.
The Exchange Programme is part of the UAE Women Leadership Programme, which was launched in 2008 and lasted for 2 years, in cooperation with the Mohammed Bin Rashid Programme for Leadership Development, where 33 Emirati women participated from various public and private sector entities involved in the educational, legislative, real estate, health, administrative, transport, communication and banking sectors embark on a journey of empowerment and career development through an intensive and innovative curriculum.
http://gulftoday.ae/portal/e1a6f1cf-c41b-4a2c-acdd-2d0e20ceb578.aspx
-----------
Pak Nurse Wins International Award for Excellence in Neonatal Nursing
September 10, 2013
KARACHI - A proud moment in the nation's history was achieved when Anila Ali Bardai, a nurse of Aga Khan University Hospital, received the Award for Excellence in neonatal nursing, becoming the first Pakistani to receive this award. She won the award at the opening ceremony of the 8th International Conference of the Neonatal Nurses in Ireland. Nurse Christine Sammy from Kenya shared honours with Bardai, while Nurse Netasyi Gowero from Malawi was the runner up.
The award giving ceremony was organised by the Save the Children and the Council of International Neonatal Nurses (COINN). Ireland Health Minister Edwin Poots joined the nurses in honouring the three neonatal nurses for their commitment for saving mothers and newborn babies in some of the hardest places to work around the world. Previous winners were from Ghana and India. "Anila, Christine and Netsayi were selected over a number of outstanding candidates for their leadership and passion for ensuring every newborn to survive," said COINN President Karen. Nurses provide care to sick newborns but there are very few nurses, like the 2013 award winners, who dedicate themselves to newborn care. Of the three million newborn deaths globally, Pakistan has the third highest number.
As a head nurse at the AKUH's intensive care unit, Anila strives to reduce newborn deaths and provides counselling to those parents who have lost babies. She supports mothers of sick babies, providing guidance on breastfeeding and teaching them how to use kangaroo mother care to keep their babies healthy and maintain a proper body temperature. Anila is an alumna of AKUH's School of Nursing and Midwifery. Commenting on the achievement, Dr Keith Cash from AKUH said, "This is fantastic recognition for nurses who provide essential care in different countries of great need. At AKUH, we are committed to educate nurses and midwives who can make such a difference. Our new degree in Midwifery, the first in South Asia, will further support the excellent work done by the neonatal nurses."
Each year, three million newborn babies die during the first month, and these figures do not include the additional 2.6 million babies who are stillborn. Three out of every four newborn deaths occur in south Asia and Africa where there is a shortage of health workers. Most newborn deaths are preventable with care which skilled nurses or midwives can provide.
"Nurses like Anila, Christine and Netasyi show how it is possible to rewrite the statistics on newborn deaths with greater investments in training, basic equipment plus a belief that newborns are not born to die," said Professor Joy Lawn from London School of Hygiene and Tropical Medicine. This award was created to highlight the fact that nursing care is vital to reduce the neonatal death toll.
The nursing care is also essential to meet the Millennium Development Goal for child as more than 43 per cent of under-five deaths globally occur in the first month of life.
http://www.nation.com.pk/pakistan-news-newspaper-daily-english-online/karachi/08-Sep-2013/pak-nurse-wins-award-for-excellent
-----------
Deputy Mayor to lead mostly female ticket for Jerusalem municipality elections
By DANIEL K. EISENBUD
September 10, 2013
Deputy Mayor Naomi Tsur announced Sunday morning at a downtown Jerusalem press conference that she will lead a historic, primarily female party called Ometz Lev ("braveness of heart") in the October 22 City Council elections.
"The formation of Ometz Lev marks the first time that representatives from all over Jerusalem have joined forces to better deal with the challenges facing the city," said Tsur, who currently holds the Strategic Planning, Conservation, Environment and Healthy City Portfolios.
"The list focuses on promoting the role of women in the decision-making process, as well as working toward a more equitable, healthier, cleaner and more accessible city," she continued.
According to Tsur, Ometz Lev has already succeeded in attracting a prominent cross-section of female leaders from Jerusalem, including from the Ethiopian community, immigrants from Europe, North and South America and leading business figures.
"I'm excited and happy for the opportunity to be the first in Israel to establish a municipal list predominantly made up of women," said Tsur.
"Women constitute at least half of the population and deserve at least equal representation in the city's decision-making process."
Despite Tsur's assertion that she is "making history" with a primarily female list, she has only revealed the names of four women to be included on the ticket of roughly 20 candidates – 18 of whom she claims will be female. Tsur said the women presently on the list include City Council member Edna Friedman, Jerusalem businesswoman Debbie Ben-Ami, Ethiopian leader Yaffa Sahalo, and the first haredi woman to ever run for city council, Masada Porat.
As deputy mayor, Tsur's achievements include opening municipal committee meetings to the public, creating over 50 community gardens, reducing pollution in the Old City, creating the Railway Park, aiding in the conservation and development of the Gazelle Valley, and initiating a global network to promote sustainable and responsible tourism to pilgrim cities, including Jerusalem.
In terms of her party's priorities, Tsur said atrisk youth, the elderly and people with special needs will be placed with "pride and confidence at the top of our agenda."
According to Tsur's spokesperson, the remaining names will be released in the coming days.
http://www.jpost.com/National-News/Deputy-Mayor-Naomi-Tsur-to-lead-mostly-female-ticket-for-Jerusalem-municipality-elections-325572
-----------
URL: https://www.newageislam.com/islam,-women-and-feminism/new-age-islam-news-bureau/sexual-abuse-of-asian-girls-in-uk-missed-because-of-focus-on-white-victims/d/13440